Hello to all the wonderful people out there, Welcome to my personal space! My name is Renji Bala (Renji Anooj) and I am 33 years old, Indian origin. My home town is Kerala. At present, I live in Hyderabad, India with my hubby Anooj, my parents and my adorable 2 year old twins – Dhwani & Dhruv. Enjoy product photography and product styling, a computer geek and a shopaholic! Well, all makeupholics are by default shopaholics too, isn't it ?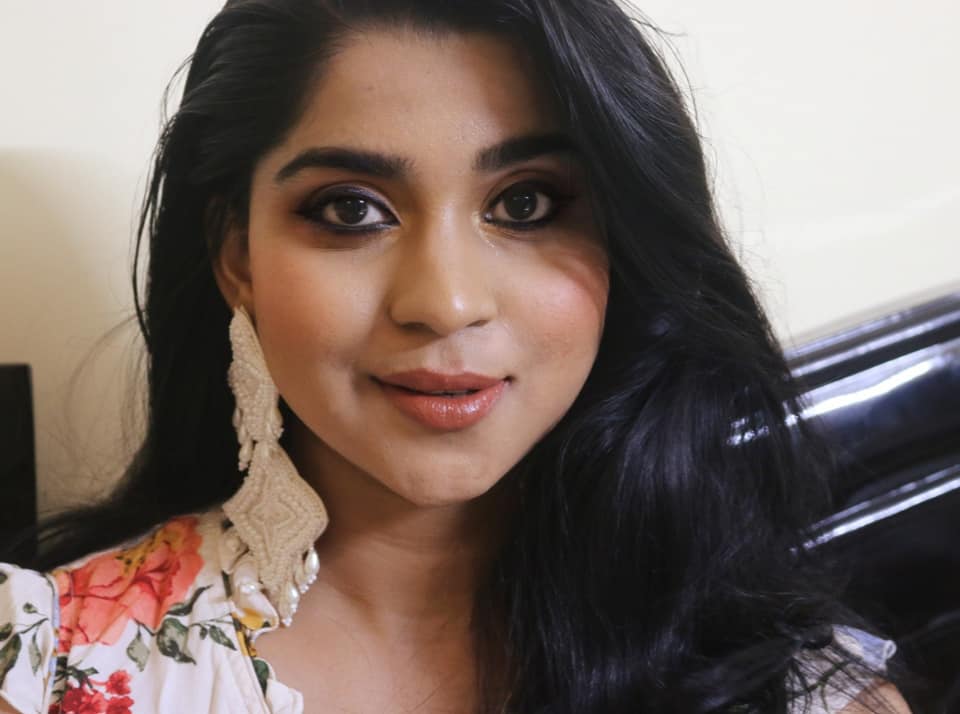 Makeupholic World is my little world where I talk about all the things that I love. I believe that a woman whose smile is open and whose expression is glad has a kind of beauty no matter what she wears…
I am the CEO and Founder of India's fastest growing Ayurvedic and Skincare Brand – Shesha Ayurveda. I am raised in Kerala, India and I have a deep connection to the ancient Ayurvedic wisdom and cultural traditions of Kerala as well as natural medicine. I also come from a family of doctors, naturopaths and skincare enthusiasts. Always a passionate nature and art lover,  I believe that Ayurveda and exotic plant, natural ingredients can calm our bodies, mind, and spirit. To bring the best of classical Ayurvedic Formulations to western world thereby promoting the wonderful message of Ayurveda as well as spreading my state, Kerala's cultural values resulted in my brand Shesha Ayurveda.
I started Makeupholic World on Feb 14, 2011 as a place to share my love to people with similar interests. I knew my blog would be the best place for that and that's how I created this wonderful space called Makeupholic World. Today, I collaborate and work with a number of UK, US, India & other International brands. Makeupholic World has grown a lot through all these years. Have collaborated and continue to collaborate with over 250+ brands. If any product is gifted by a brand, I mention it as ** PR sample at the end of the post.
Eye color – Brown, Hair Color – Black,  Hair Texture – Natural Black Wavy, Skintype – Combination – Sensitive, Shade reference MAC – NC37
You can find everything from product reviews, hauls, favorites, wishlists & random outfit posts and everything I love – here on my blog. I have also started making a few YouTube videos recently. Second to my blog – my most active social media account is my Instagram. With over a 19k + Insta Family, I create content for various beauty and skincare brands.
Professionally, I gathered domain & product knowledge in Health & Beauty category by working with one of the largest e-commerce company in the world, Amazon. Professionally, Worked as a AI Quality Analyst with around 7+ years of IT experience. A proud Pixi Beauty Blogger Ambassador and also in the official bloggers list for some of the world's best beauty brands like Charlotte Tilbury, Guerlain, UrbanDecay, Instytutum etc to name a few.
For my full media kit, blog statistics, PR inquiries or any business inquiry  or media collabroations etc – Email me @ renjianooj@makeupholicworld.com
Thanks for stopping by!
Much Love,
RENJI ANOOJ
FACEBOOK | TWITTER | INSTAGRAM | BLOGLOVIN | PINTEREST | GOOGLE+ | YOUTUBE
© 2021 MAKEUPHOLIC WORLD – ALL RIGHTS RESERVED – WEB DESIGN BY THEMEFOREST