Before doing the review of all the brushes that i bought recently…Let me share the snaps of my cute Sigma Brushes…..I ordered for Sigma Travel Kit "Naughty in Black"(original price for the whole kit was 49$ but I got it for 39$, 10 $ discount :D:):P)  and F80 Synthetic Kabuki(16$) 
 I got 2 free gifts for the purchase I made
one F50 brush(18$) and a travel size E25 brush(9$)
My order total was 55$ plus shipping charge(14.74$)
I got a discount of 5$ on applying the code LOVE2012 and the final total including shipping and  discounts is 64.74$
and my free gifts was worth 27$
I am happy with the order I made….Brushes arrived quickly…
wow…wohowwwooooowwwwwwww……………….
My New Sigma Travel Kit "Naughty in Black" and F80 Synthetic Kabuki arrived….so excited to see whats inside
[Click on each image to enlarge]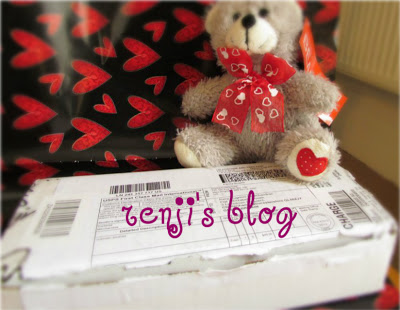 Big surprise arrived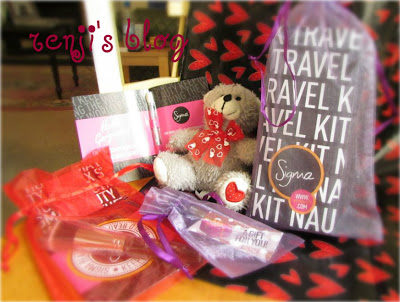 wohooowooooowwww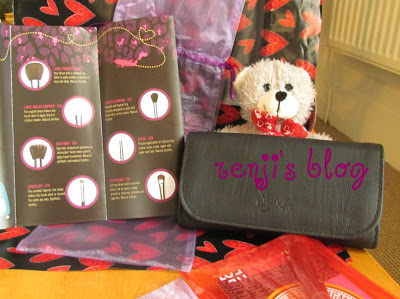 Huv s my new Sigma Travel Kit "Naughty in Black"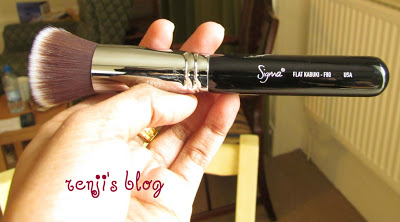 My Best Friend from Sigma Family-F80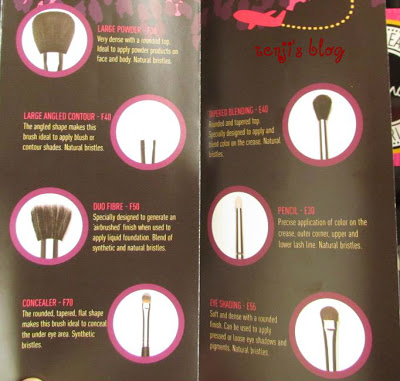 a lil description about my lullabies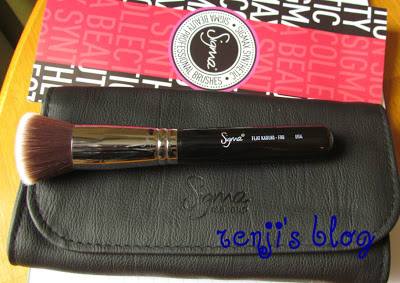 F80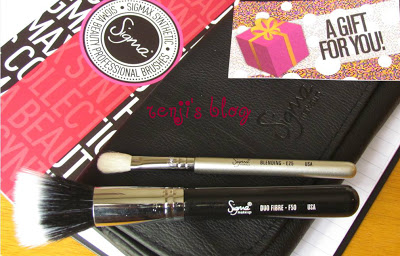 My free gifts:D :D- F50 and E25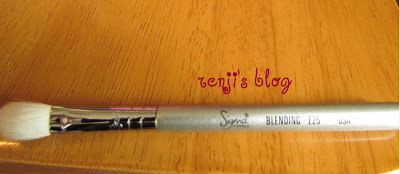 My Free Gift E25 blending Brush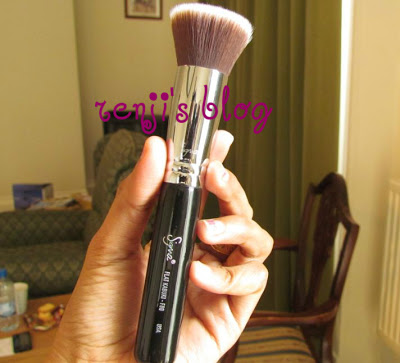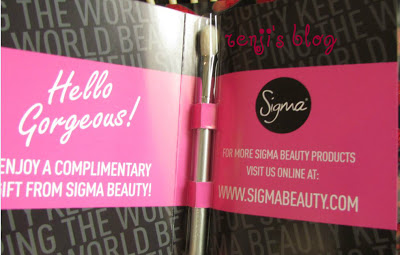 How my E25 free gift was packed 😛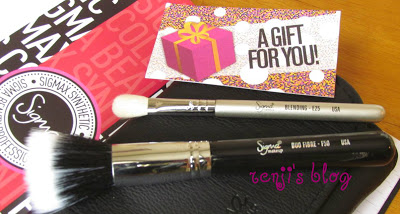 A closer look of my Free Gifts 🙂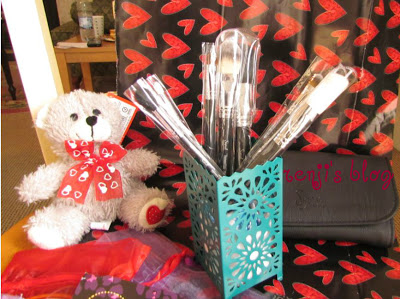 my brush holder which I bought specially for sigma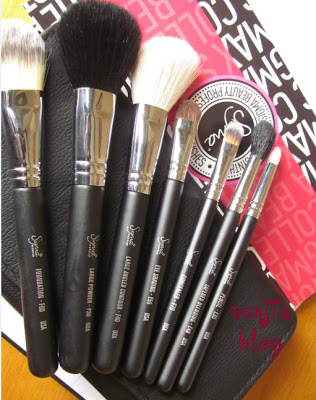 the whole kit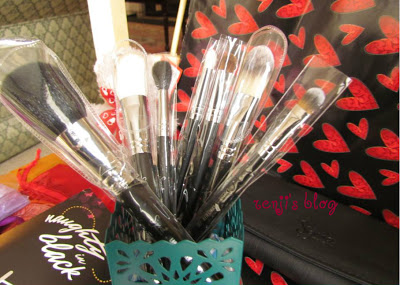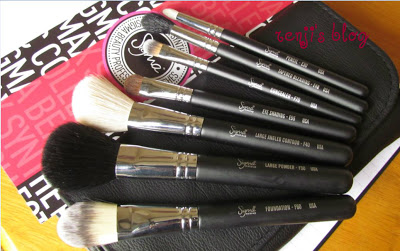 My Travel Kit "Naughty in Black"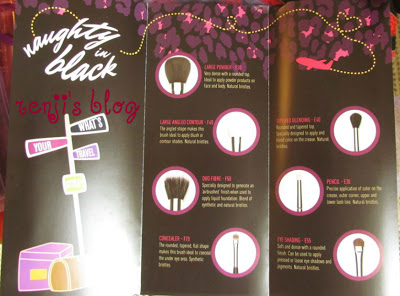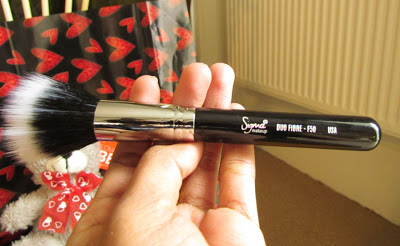 My Free Gift F50 a closer look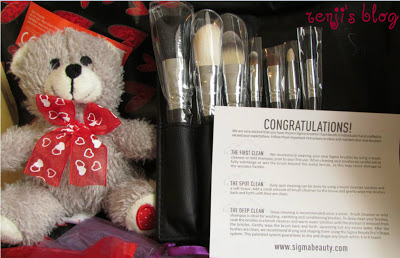 Proud owner of This lovely kit




















































Brushes in my kit includes
Pencil – E30

 For precise application of color on the crease, outer corner, upper and lower lash line. Natural bristles.
Tapered Blending – E40

 Specially designed to apply and blend color on the crease. Natural bristles.
Eye Shading – E55

 Evenly applies pressed or loose eye shadows and pigments on the lid. Natural bristles.
Large Powder – F30

 Perfect for flawless, even blending of powder products on face and body. Natural bristles.
Large Angled Contour – F40

 Best for application of blush, bronzer and contouring powder. Natural bristles.
Foundation – F60

 Perfect to apply liquid or cream foundation. Can also be used to conceal large areas. Synthetic bristles.
Concealer – F70

 Ideal to conceal small and defined areas of the face using cream and liquid products. Synthetic bristles.
I also Purchased Flat Top Synthetic Kabuki F80
This exclusive flat top synthetic kabuki was designed to deliver a flawless makeup application. The Sigma Makeup F80 is a buffer brush that can be used to blend powder or liquid products. The short and dense bristles make it easy to buff your liquid foundation. The long handle adds comfort to your makeup application. The synthetic fibers are ideal to be used with liquid products and can be easily cleaned. Made of Synthetic Sigmax HD filament


My Free gifts were Blending E25 and DUO Fibre-F50


Blending E25
Oval-shaped brush with gently chiseled sides. Blends and softens the look of powder or cream shadows. Ideal to apply eye shadow primer, base eye shadow colors, and blend harsh lines.
Specially designed to generate an airbrushed finish when used to apply liquid foundation. It can also be used to apply blush, highlight shades and loose pigments. Blend of synthetic and natural bristles

.


Hope you all enjoyed my sigma haul..I will review each brush separately…Just now I washed all my brushes and I've left that to dry..all way..:) 🙂 so excited about doing makeup with it…..My next target is the colored brush kits from Sigma…


You too can order your favorite brushes online now….
Click here to order yours now…..
Sigma have free gifts for your purchase and they ship worldwide…