Hiya dearies…Huv is the Sunday going on?
Today, I am going to review my first product from Etude House.
I also wished a lot to try Etude House Products some day…
When I saw this in Ebay, I was super excited to order this and try this out…
So, Today's review is about

Etude House Apricot Stick; Shade#1(Grape Flavour)
What Etude House claim about Apricot Stick
Price: 4$ ; Comes in a twist up packaging ; Similar to Revlon Kissable Stain.
Swatches & my opinion about Etude House Apricot Stick
The first thing I noticed about this is its fruity grape smell, Its just amazing…
Its very sheer while applying, One needs to apply over and over again to get that color on the lips…In the swatches also, I reapplied it several times to show the color….
Its more like a lip balm. It doesn't heal chapped lips.
The color lasts for about 3 hours and soon it fades away..You need to reapply it several times, Moisturising part is ok, not that great…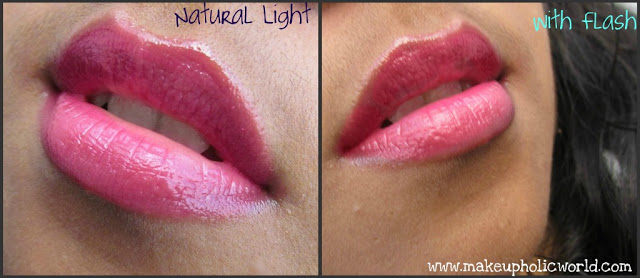 The one thing I like is the packaging, It Comes in a twist up pencil kinda packaging which is good. But, for 4$, I expected a lot from this..
I will never recommend this to you, If you are looking for a moisturising lip pdt or something which stays on for 6-8 hours…This is just good to use, while you stay te whole day @ home…ehhee:P

Overall Rating I give for this is 2/5

Will I repurchase
No ,Never