Hiya my wonderful butterflies..Hope you all are enjoying your weekend!
This weekend is just like another busy weekday for me, Was completely engaged in cleaning and arranging my home. Today We are expecting two of our friends from Kerala to visit our home.Super excited!
I thought of doing a small review about another fruity shower gel from Body Shop,
At least some of you might be wondering, Why this girl always review a lot of shower gels…eeeh??
Well, My answer to all is For this full swing summer, I can't have enough of shower gels…
Maybe, because I prefer the gel like consistency of shower gels to boring soaps
So, Today I am reviewing 

The Body Shop Raspberry Ripple Bath and Shower Gel
Keep reading to know my thoughts about it ……………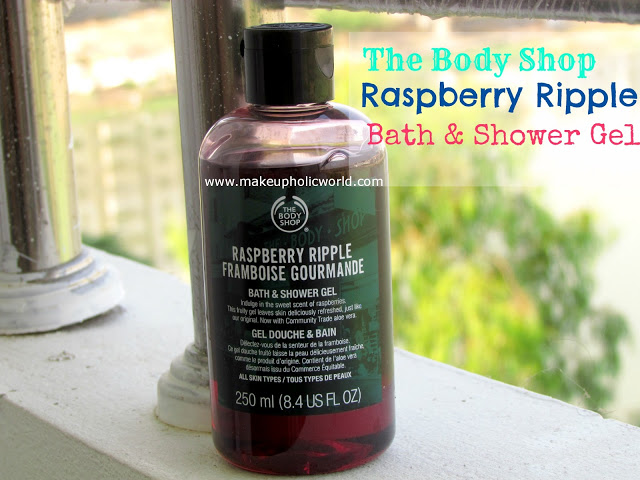 What does Body Shop claim about Raspberry Ripple Bath and Shower Gel
A beauty classic returns. This soap-free bath and shower gel leaves skin clean and fragranced with the sweet scent of raspberry.
Packaging & Price
Comes in a bottle of Qty: 250 ml; Price: around 5 GBP; I picked it from a store in Birmingham during sale time.

Ingredients
Aqua (Solvent/Diluent), Sodium Laureth Sulfate (Surfactant), Cocamidopropyl Betaine (Surfactant), Sodium Chloride (Viscosity Modifier), Glycerin (Humectant), Polysorbate 20 (Emulsifier), Parfum (Fragrance), Phenoxyethanol (Preservative), PEG-7 Glyceryl Cocoate (Emulsifier), Sodium Benzoate (Preservative), Citric Acid (pH Adjuster), Benzophenone-4 (Sunscreen agent, Ultraviolet Light Absorber), Disodium EDTA (Chelating Agent), Rubus Idaeus Fruit Extract (Natural Additive), Aloe Barbadensis Leaf Juice (Skin Conditioning Agent), CI 17200 (Colour), CI 14700 (Colour), CI 42090 (Colour).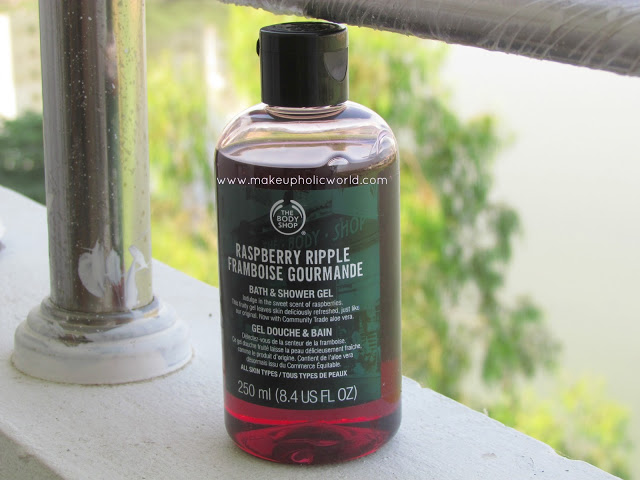 How to use
Use with a Bath Lily to create a rich lather. If product gets into eyes, rinse with clean water.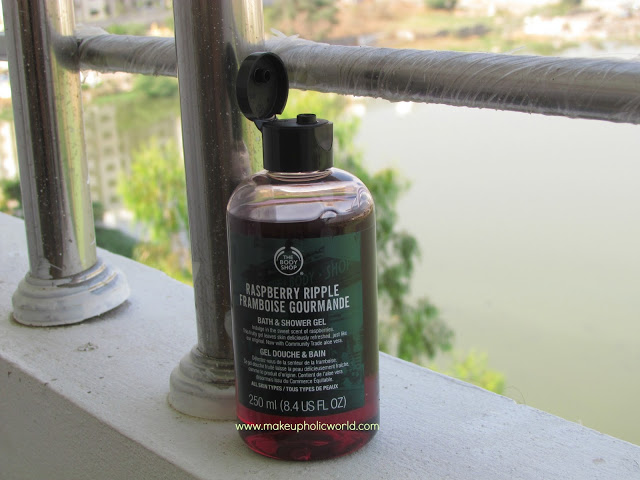 My thoughts about The Body Shop Raspberry Ripple Bath and Shower Gel
The first thing which comes to my mind about this shower gel is its frangrance similar to 
Raspberry Ripple Ice cream. amazing, isn't it?
It lathers up nicely and leaves skin smooth and fresh! great for summers. It leaves a lingering, refreshing smell of raspberries on your skin.I absolutely love this in the shower and  one great thing about it is that, You need a tiny amount and so, the bottle lasts for a long time. The color of this shower gel is also a hot pink. A must try shower gel from body shop…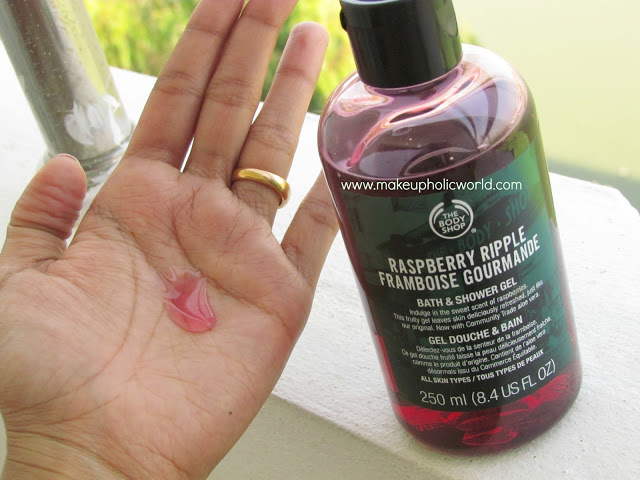 Pros
great fruity smell

great for summers

lathers well

leaves skin clean, smooth

great value for money

travel friendly packaging

A lil goes a long way
Cons
I don't have any cons to say about it, If you don't like raspberries, don't buy it! 
Overall opinion : A great body cleanser, which smells of raspberries and leaves skin smooth and clean.
Rating: 5/5
Have you tried The Body Shop Raspberry Ripple Bath and Shower Gel; If yes , do you like it? which is your favourite Shower gel?