Hello dearies….Hope you all are enjoying the week!! my week started with the 30 day Eye-makeup Challenge…I am really enjoying the tag!! hope you guys are also having the same fun!!! 3 of my dearies were asking me about my hair care routine, They gave me the idea of posting this new series
My Hair care routine,
I will blog about those specific steps I follow to take care of my hair and how I keep my hair healthy, manageable etc….
I dedicate this hair care section to my dearest friends 🙂 <3

Makeupholic World Hair care lessons:
Vol 1:

DIY for promoting hair growth & get rid of hair fall problem…..

…
In this DIY post, I am showing you step by step instructions on how to create a hair cleanser which can make your hair dandruff free, silky smooth and helps in hair growth

Items Needed
Apple Cider Vinegar

Luke Warm Water(1/4 cup)

An Empty bottle(i use TBS body cleanser empty) use any bottle which you like, glass is the best

Rose Mary Essential Oil
Before moving onto the DIY, A little about each ingredient I used for this DIY
Rosemary essential oils
>>are known to promote hair growth and strengthen hair by stimulating the hair follicles. With regular use of rosemary oil hair fall decreases. Head massages using rosemary oil help stimulate blood flow to the scalp. This nourishes the scalp, reversing dryness and dandruff. Apply rosemary hair oil to your hair and scalp regularly to keep your hair lustrous and healthy.
Apple Cider Vinegar
Apple cider vinegar, when used as a rinse, will make your hair feel smooth and shiny, and provide a bit of extra clarification to remove oil and dirt. It balances your hair's pH, which helps seal the cuticle and make the hair smoother. It can also help with dandruff, clear away greasy build-up, and soothe itchiness and irritation of the scalp.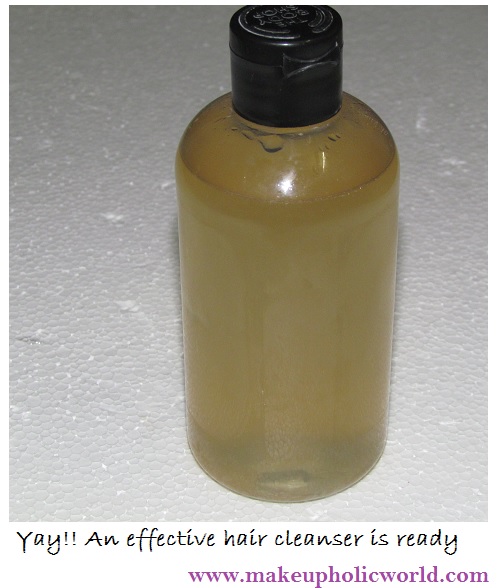 Usage Instructions
After wetting your hair using luke warm water, gently pour the liquid onto the hair (careful about spilling onto eyes, it really pains) massage it onto the roots and when you finish pouring the liquid onto entire hair, rinse your hair with it at the end of your bath..leave it off for 10 minutes before washing off with a normal shampoo Make sure to rinse it out well afterwards, or your hair might feel a little crunchy
Note
Don't worry, the vinegar smell will dissipate once your hair dries, so you don't have to go around smelling like salad all day… 😀

Benefits of this DIY solution
>> simulates the scalp to promote hair growth.
>>helps in preventing dandruff and hairfall
>>removes itching of scalp
>>leaves hair smooth and silky, do this treatment once every week for good results
>>balances your hair's pH


My hair is very smooth and silky after the usage!! Hope you all liked this simple DIY, In the upcoming weeks, I will share what else I do everyday for treating my hair….


Hope you guys enjoyed this new section!!!
let me know what do you think about this DIY..Have you ever tried this method?

Bubbyyye