The shade I am going to review today on my dear Renji's blog is something very bold, very bright very Dangerous! Its from

Retro Matte Collection 2013 – "Dangerous"

  😀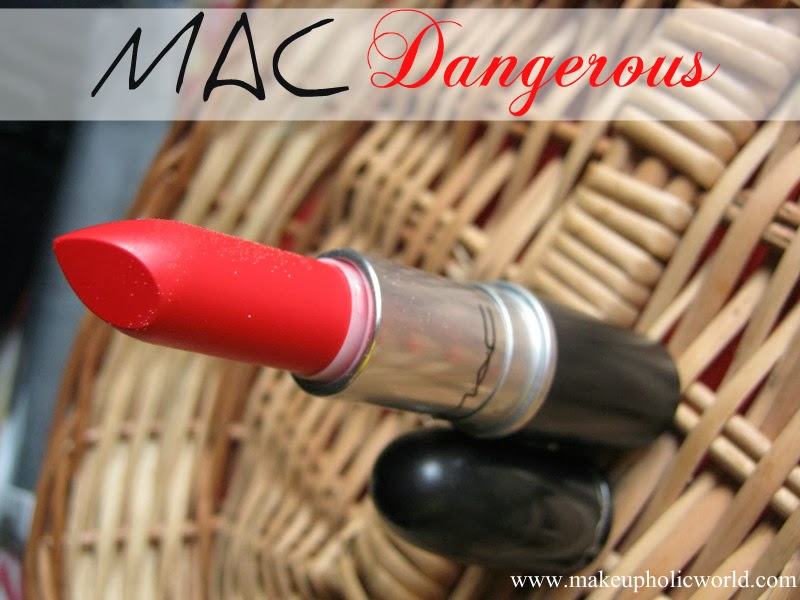 What Mac Says
Inspired by Ruby Woo's overwhelming popularity and one-of-a-kind texture, M•A•C introduces new bold shades in its Retro Matte finish. Eye-catching colours like Dangerous and All Fired Up create a look that's fiercely feminine. M•A•C also premieres Pro Longwear Lip Pencils in a vibrant colour palette, giving this long-lasting and transfer-proof lip pencil an exhilarating makeover.
Colour plus texture for the lips. Stands out on the runway. Simmers on the street! What made M·A·C famous.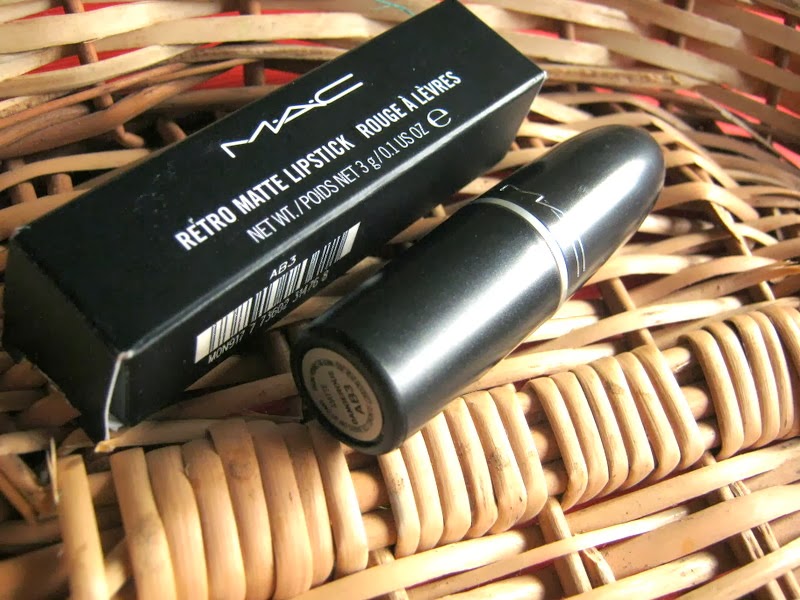 Price: 1190 INR :'( I know Priced increase from 990 INR to 1190 INR…it's a pain for every makeup addicts L
Quantity:

3g or 0.1 U.S o.z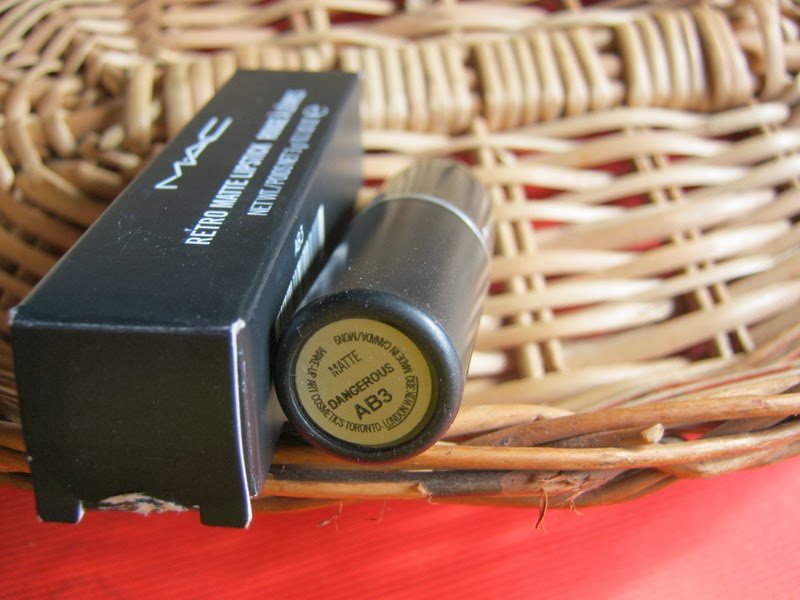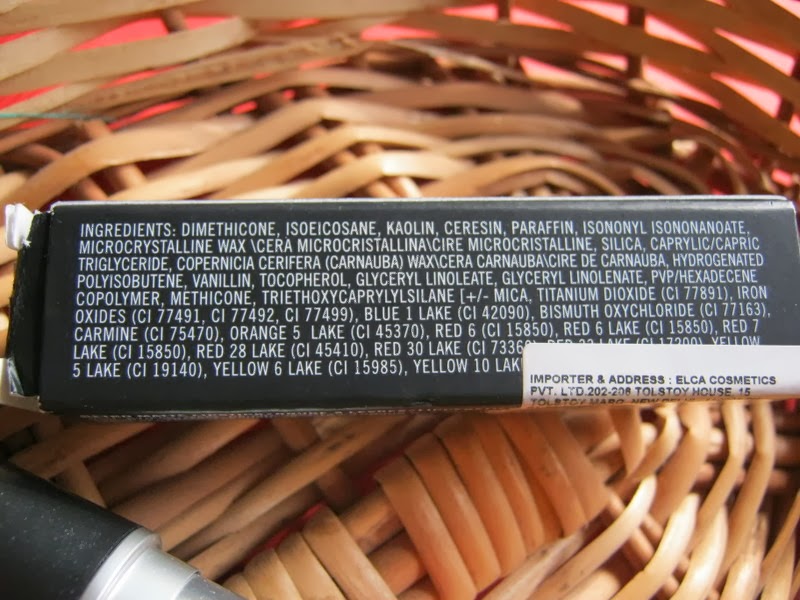 I wasn't sure about "Dangerous" because I was after "Flat out Fabulous" and Relentlessly Red" but the time I tried dangerous on my lips I could not resist my self from buying it..Haaaahh *sigh* I know It's hard to resist your self once you step inside MAC store. The only problem is many a time the shades are OOS L
Mac Dangerous is bright Orange Red next to Mac Lady Danger. Lady Danger is more towards Orange and Dangerous is more towards Red, if that makes sense 😀 MAC Dangerous is bold, it's bright, its orange- Its red, its colourful and It's Me 😛 yes its totally me… I am in love with this shade now 😀 Texture is not super matte like Ruby woo but its smooth and glides easily on lips. No tugging or pulling what so ever.
Colour Pay off is awesome. Highly pigmented, opaque finish, one swipe and you are done. It can cover any sorts of pigmentation on lips. Honestly speaking I am glad I brought this shade and hence, the latest joined rest 3 😀 . Although I am very fond of Matte lipsticks but those who have dry lips like me must always prep your lips before applying matte lipsticks. Or else it will make your lips look like Zombie … lolzzz no I am serious. Always use a clear lip balm underneath before applying matte lipsticks. This is what I doJ. Staying power is quite around 4-5 hours on me without any snacking and then starts fading from inside of lips. One thing is annoying about MAC matte lipsticks- they are transfers like hell. Anywhere, on fingers, hands, and even on teethes. I wonder how 😕 😕 :/
Packaging is not to excite, it's like regular line but still – Black is always classy.
More pictures, Swatches, LOTDs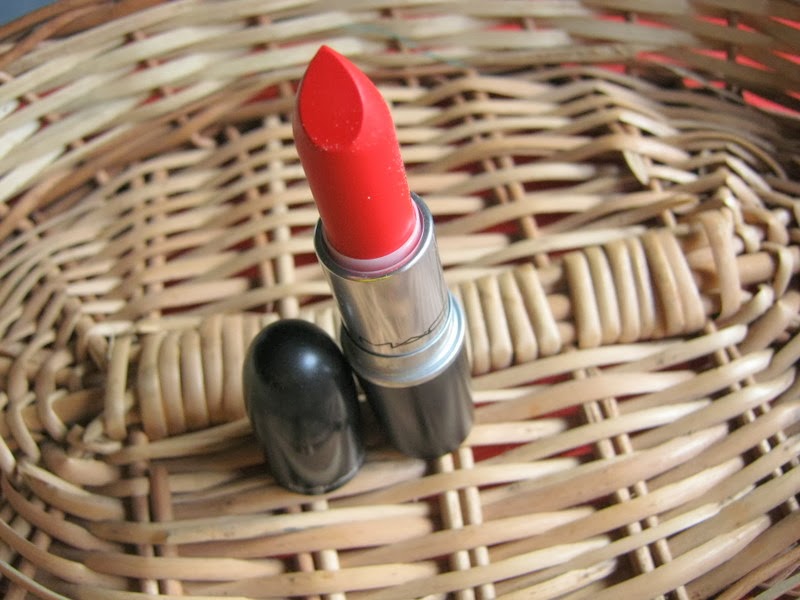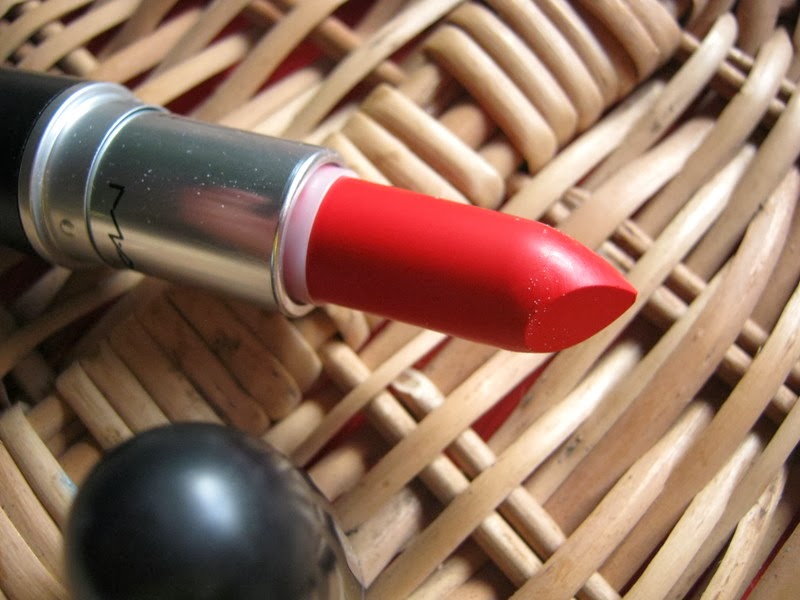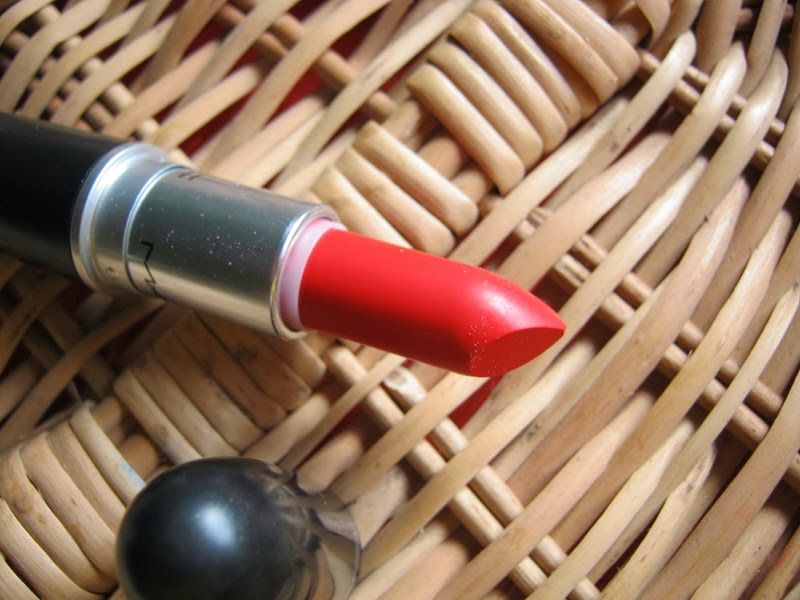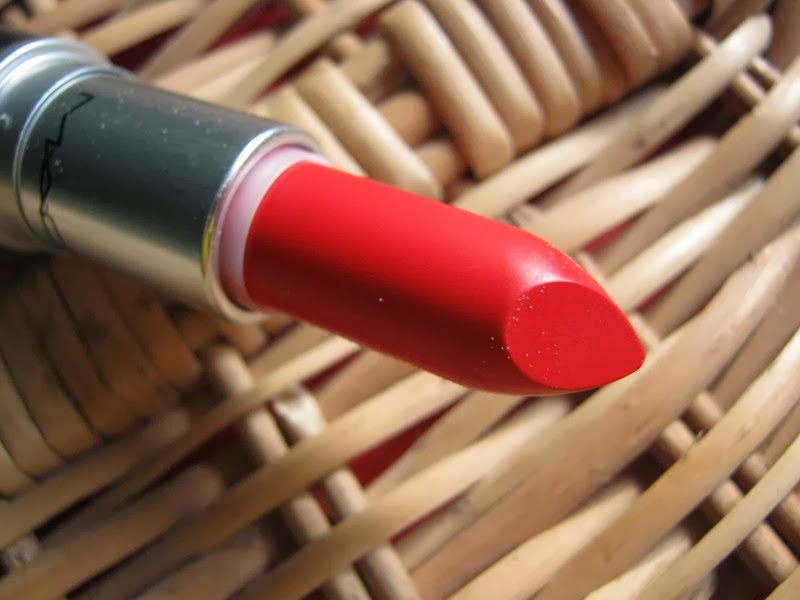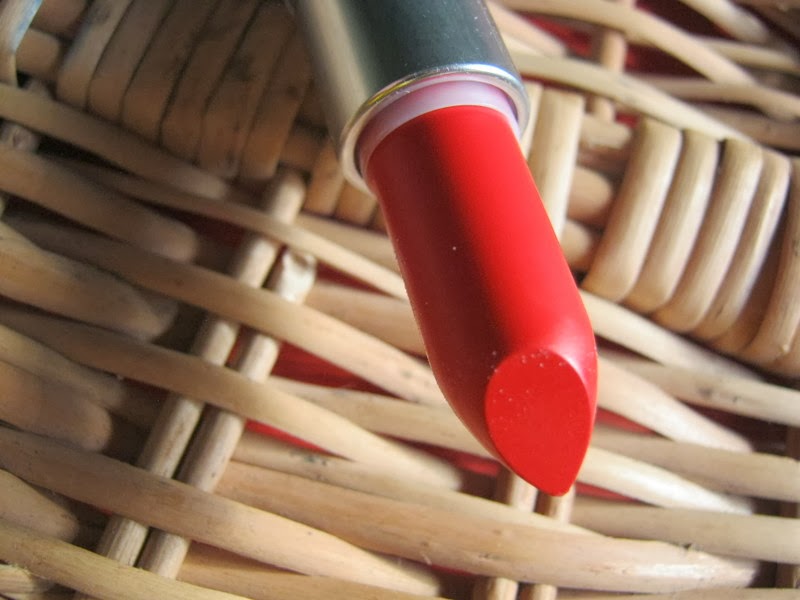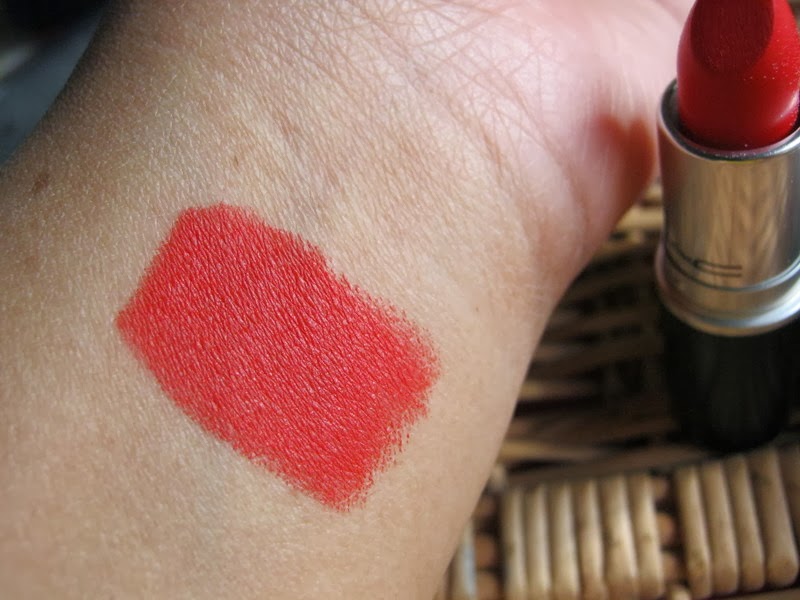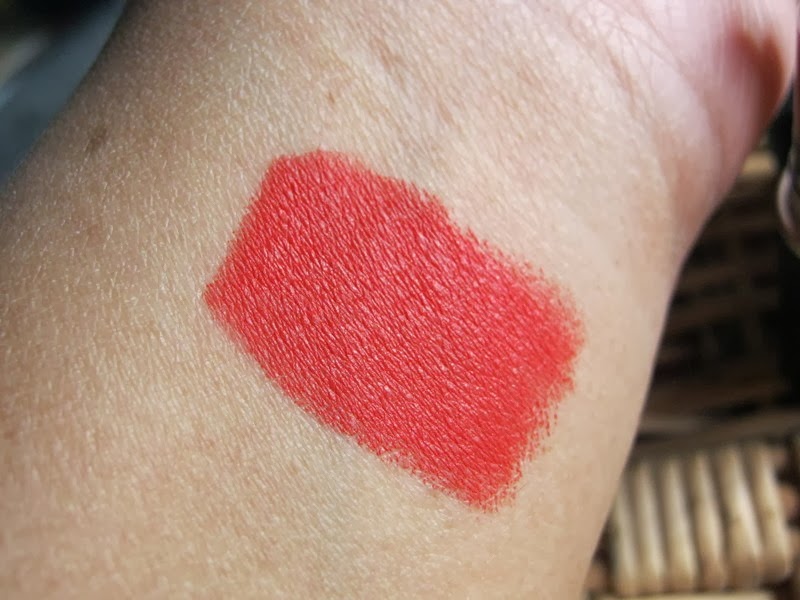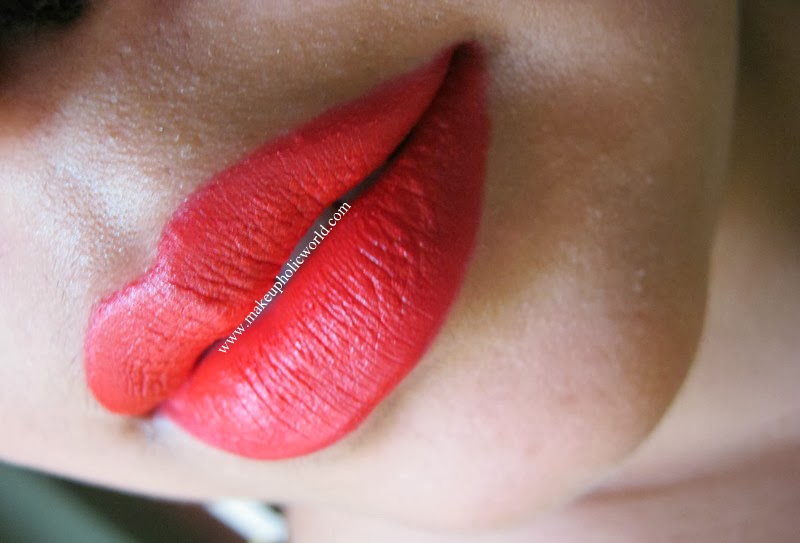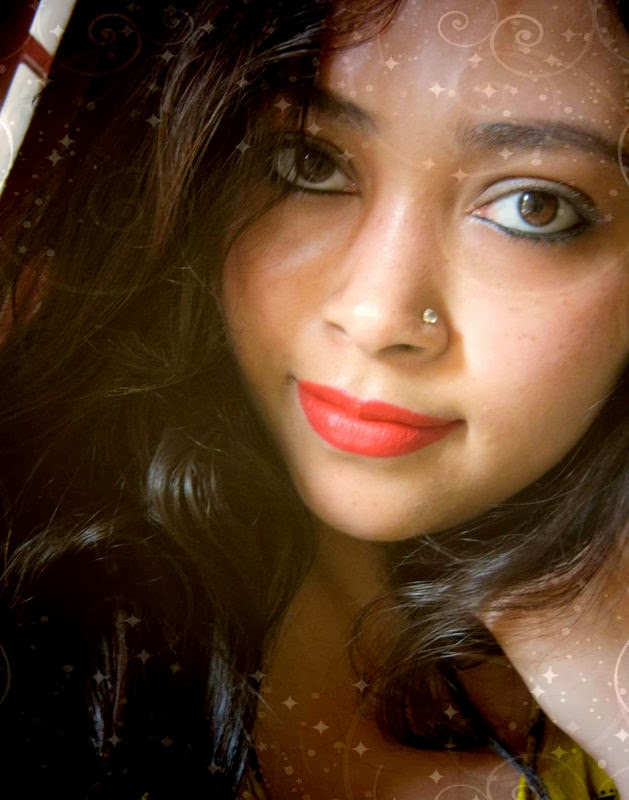 Pros 
         

The colour – Mix of RED and ORANGE!

         

Non tugging feelings.

         

The staying power is superb.

         

Highly pigmented, can cover any pigmented lips.

         

The Vanilla Smell, trade signature smell of MAC J

         

Love how it looks on me. Bold and bright.

         

Does not gives dry flakes.

         

Its matte but non drying on lips.

         

No Smudging or Budging.

         

Doest not accentuate fine lines.
Increase in price.

Availability
Rating: 4.5/5
Verdict:  If you like bright coral, red, oranges and bright bold lip colours then this is a must have for you! Availability is concern but its permanent now so possibilities are you can get if you want. A must have for me!!
Makeupholic World : Awesome swatches, LOTD and review dear….
No doubt its absolutely stunning on you!