Hiya makeupholics…This post is going to be an unboxing of Cutiepie Marzia 2 Memebox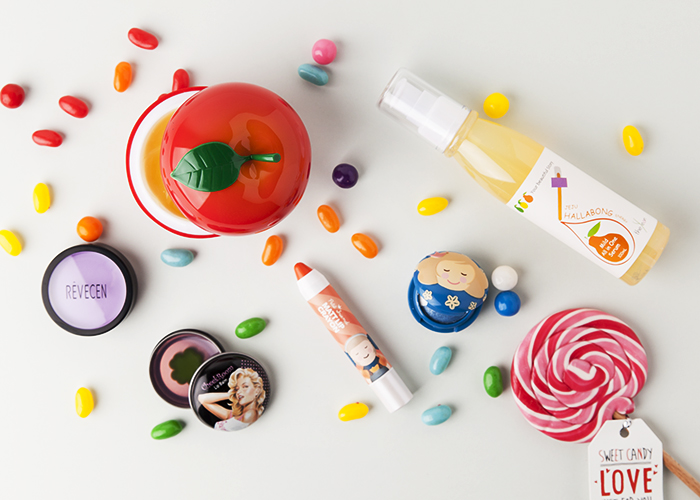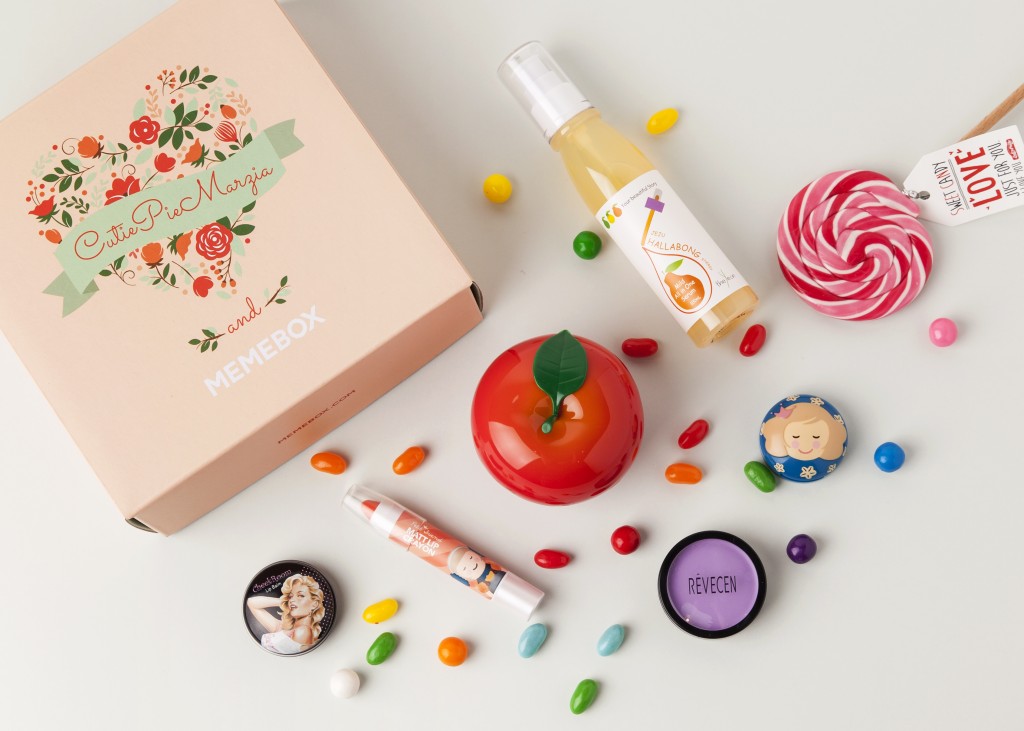 What Memebox claim about CutiePiemarzia Box 2
CutiePieMarzia fans rejoice! Memebox is thrilled to bring you the 2nd collaboration with the fabulous CutiePieMarzia. With over 4 million subscribers on YouTube, CutiePieMarzia's beauty channel is filled with darling moments and we're sure you'll fall in love with her 2nd box right away!
Marzia's 2nd box is packed with some of the loveliest items we've ever laid eyes on, so if you missed out your chance to grab her 1st box, don't miss out this time! CutiePieMarzia fans know she won't disappoint, and this box is packed with the best of K-beauty we know you're going to love!
Always on top of her beauty game- grab this box and you'll see what we mean!
What all I received
Tony Moly Red Appletox Honey Cream
Cheek Room Lip Balm Clover 04 Apple Clover
Shara Shara Petit Friend Matte Lip Crayon
Shara Shara Triple Shine Color Shadow
Theyeon Jeju Hallabong Energy Mild All-in-one Serum
Revecen Face Control Foundation #002 Violet
I also received the mystery item Mr MJ Bee Tox Control Cream 🙂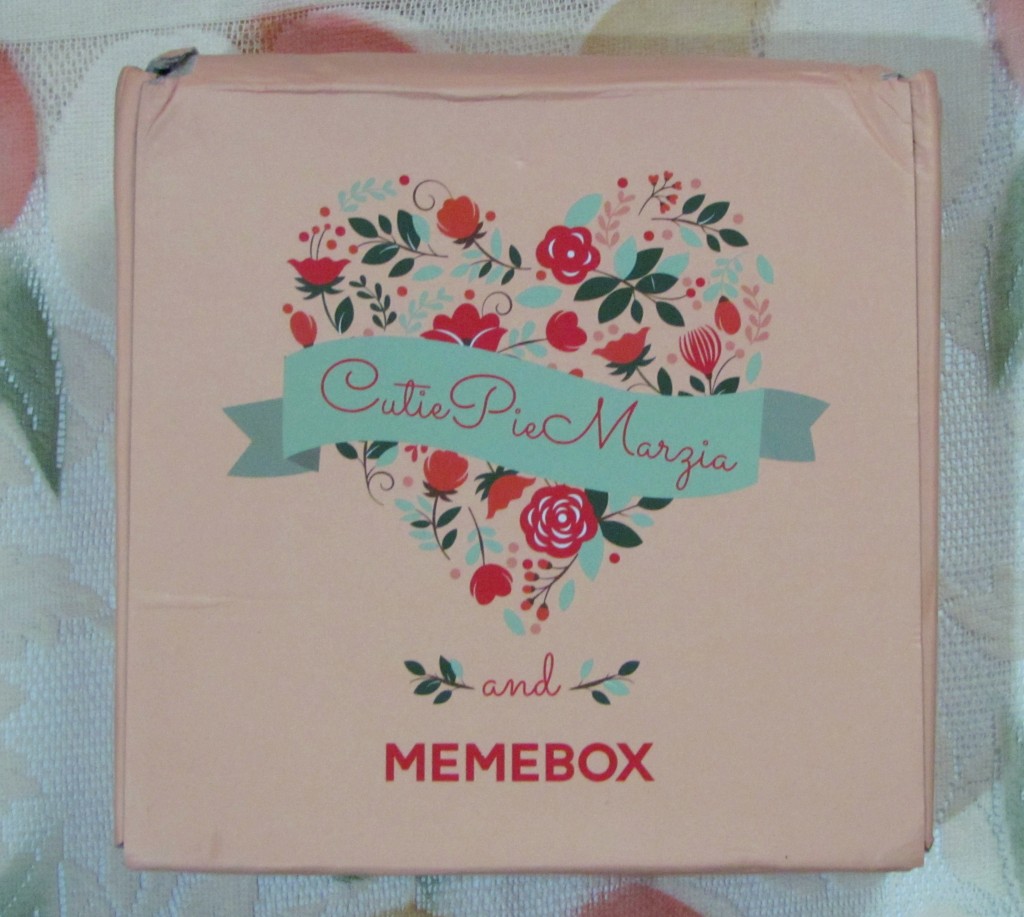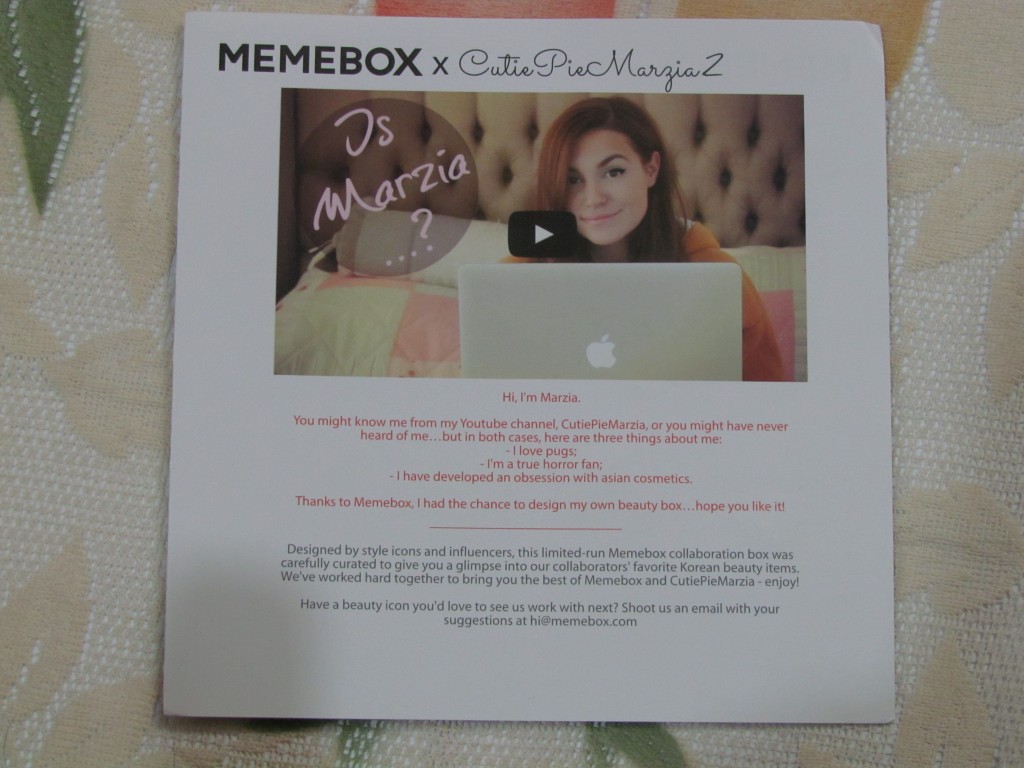 This particular box is one of their collaboration boxes, which are curated by a vlogger /blogger,  CutePieMarzia. The collaboration box contents are always revealed before purchasing, so you can decide whether or not you're interested in a box ahead of time.
The Cutie Pie Marzia 2 box cost $23 plus $6.99 shipping. Most of the time, unless it's a "Superbox", Memeboxes usually contain a mix between  full size and deluxe size samples. In the case of the CutePieMarzia 2 box, all 6 items are full size.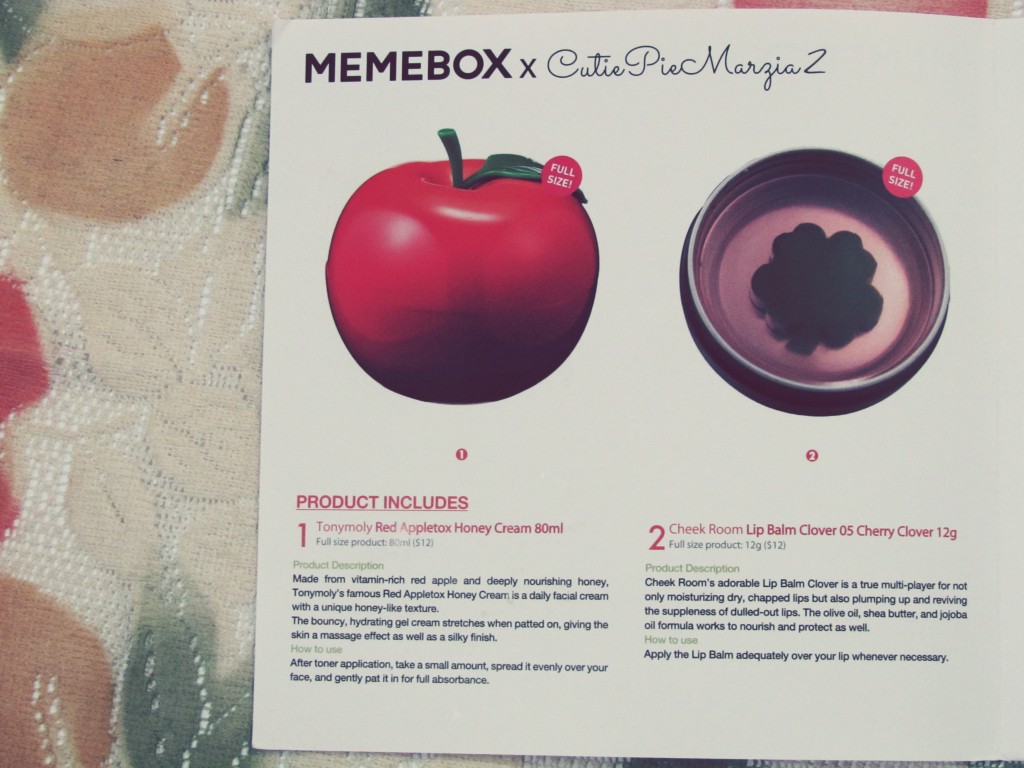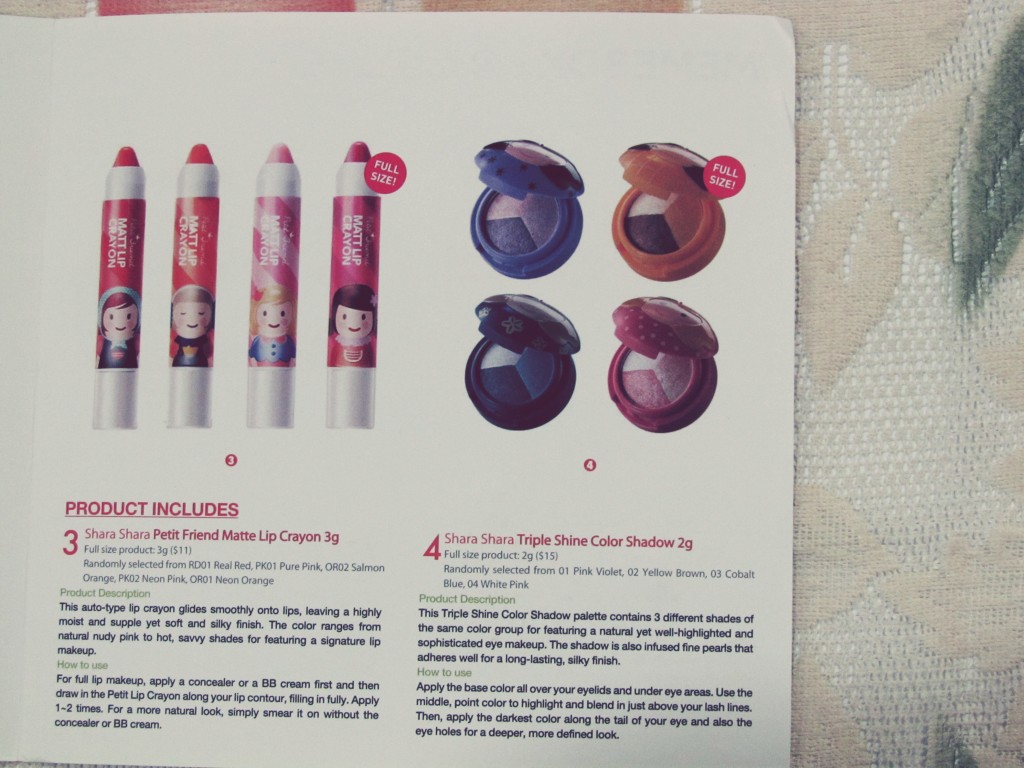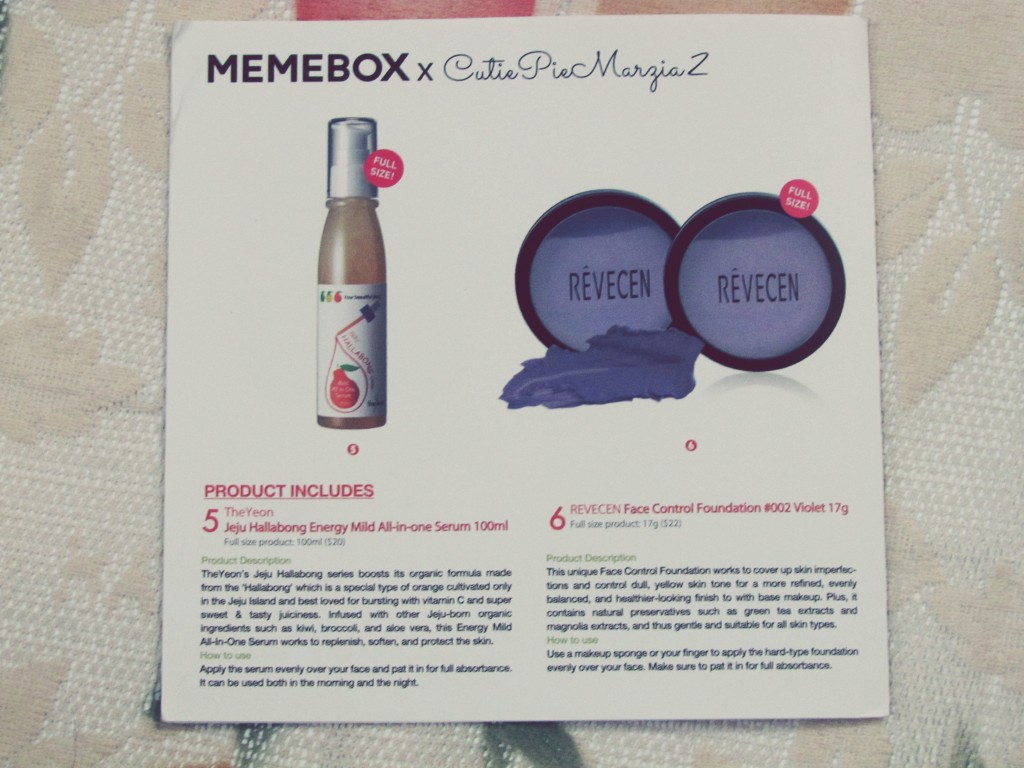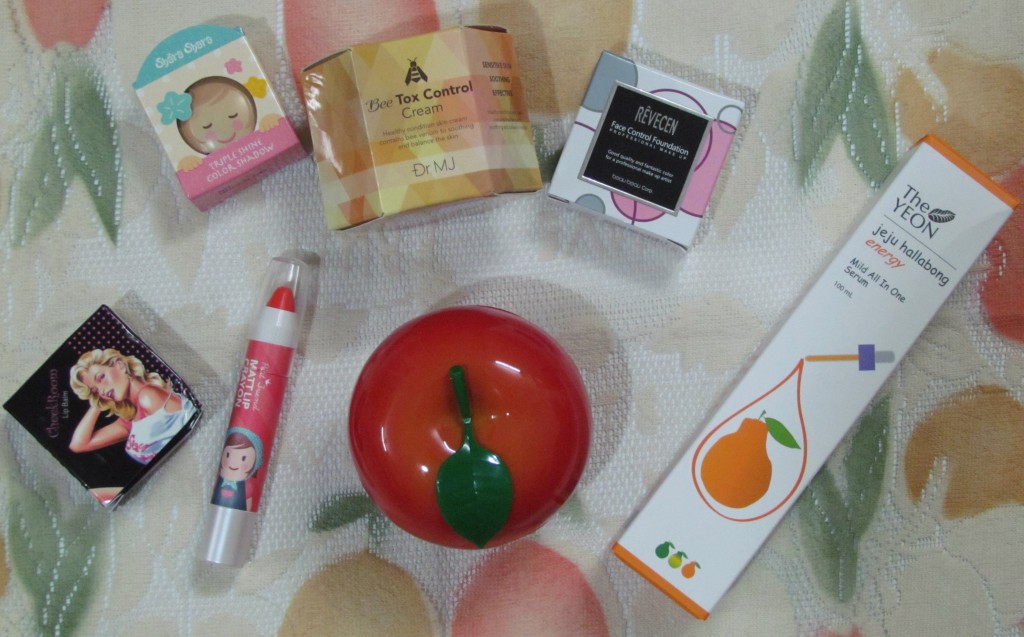 Bonus Product: Dr MJ: Bee Tox Control Cream
This cream contains bee venom and propolis extract, tea tree, and trehalose extract, which is a combination of different herbs. It also contains Hyaluronic acid, which is an excellent moisturizer. It gives teh skin vitality and long lasting moisture, is non-sticky and contains no color, parabens, or mineral oil. Other than the Appletox cream, I think this is my favorite item!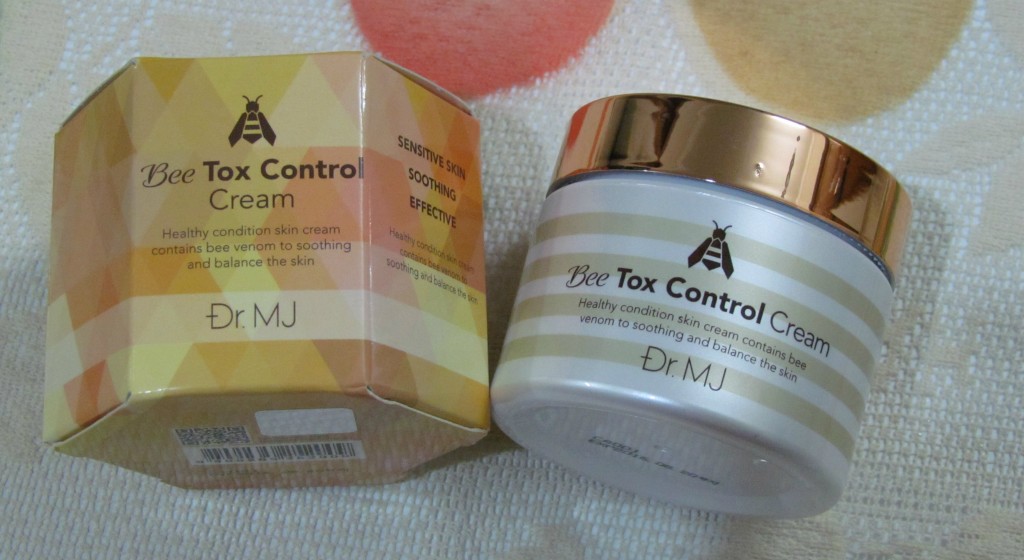 TonyMoly: Red Appletox Honey Cream (Full Size Product: $12)
Wow, What an adorable packaging by Tony Moly –  Red Appletox Honey Cream. Its the highlight of the entire box. This cream is made from red apples (obviously!) as well as black honey, manuka honey, royal jelly and propolis. The ingredients work together to increase skins elasticity, increase moisture, and soothe skin problems.
Seeing this cream it looks and feel sticky and gel-like, but once it's applied, it absorbs fairly quickly and has no sticky residue. Memebox suggests using this after toner application, as it's an AHA gel and has some exfoliating properties, however I have read that it can be used in many different ways, even as a sleeping pack if so desired. The great thing about this cream is that it can be used on dry or oily skin, so it's very versatile! I love this….Already used it once a sleeping pack and my skin loved it…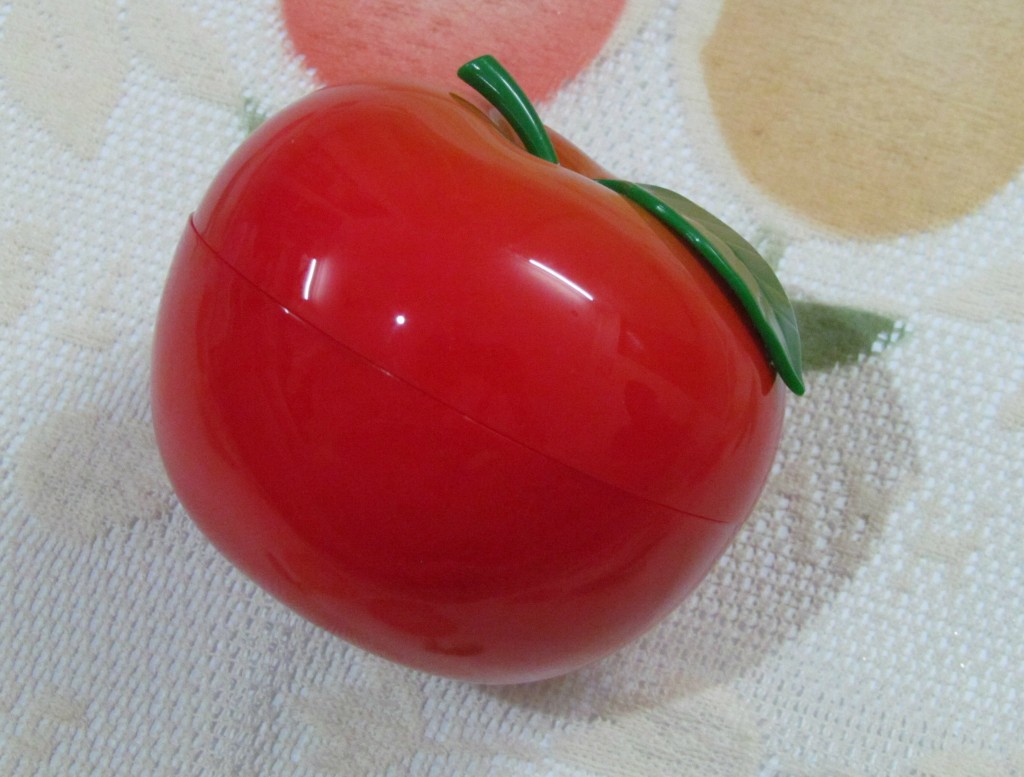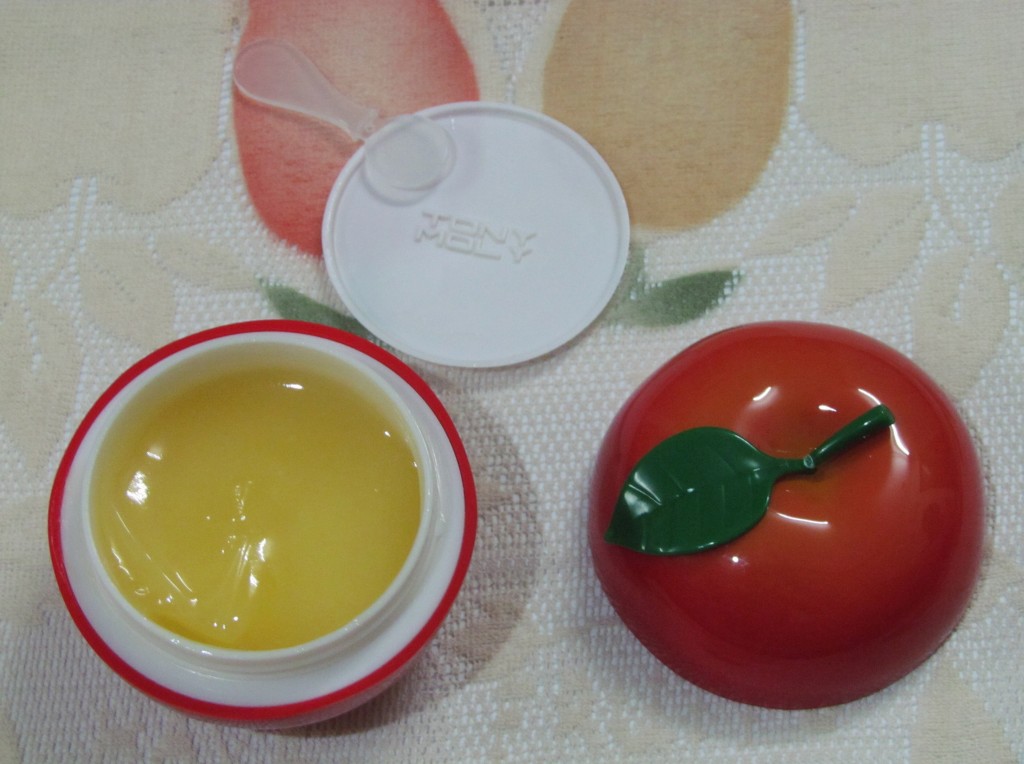 Cheek Room: Lip Balm in "Cherry Clover" (Full Size Product: $12)
Perhaps this is a brand I hate for being the packaging appear so cheap, their products are cheap, and yet they keep appearing in Memeboxes. This is a basic lip balm that contains olive oil, shea butter and jojoba oil and has a very strong cherry scent, which is actually nice. This balm has a very sticky texture with no color payoff.
Revecen: Face Control Foundation in "Violet" (Full Size Product: $22)
 This face control foundation is used to cover up skin imperfections and control dull, yellow skin tones. It creates a more even tone to the skin, and creates a smooth finish as a base makeup. It contains natural preservatives such as green tea and magnolia extracts, and is suitable for all skin types.  Its an excelelnt makeup base. I also use it as an eye shadow base. Its really good!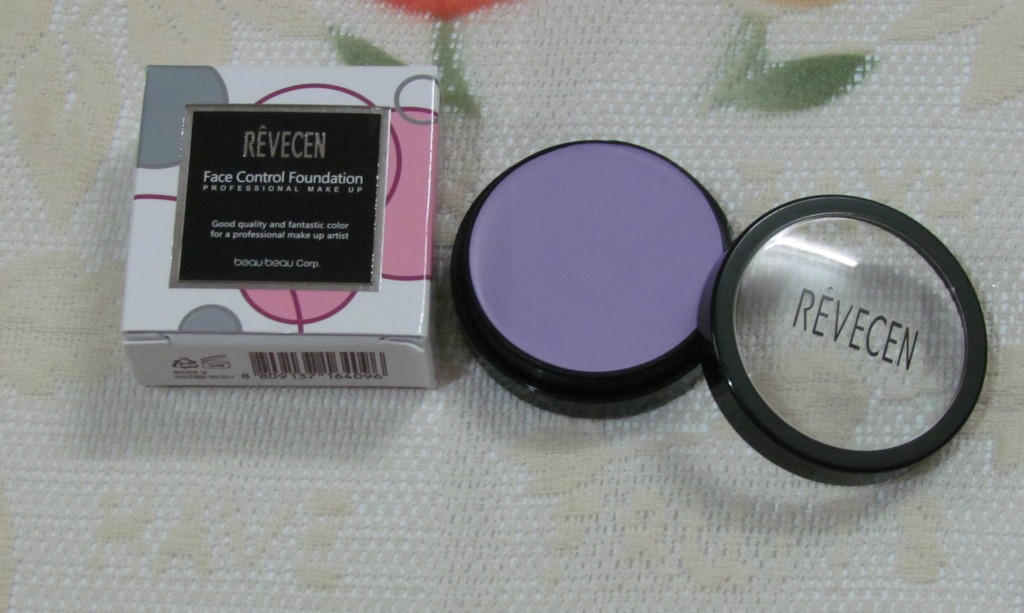 Shara Shara: Petit Friend Matte Lip Crayon (Full Size Product: $11)
This one here is a neon orange shade lip color. Its not my kind of color… I haven't swatched it; But have seen many online swatches…This definitely goes into one of those blog sales or a free gift .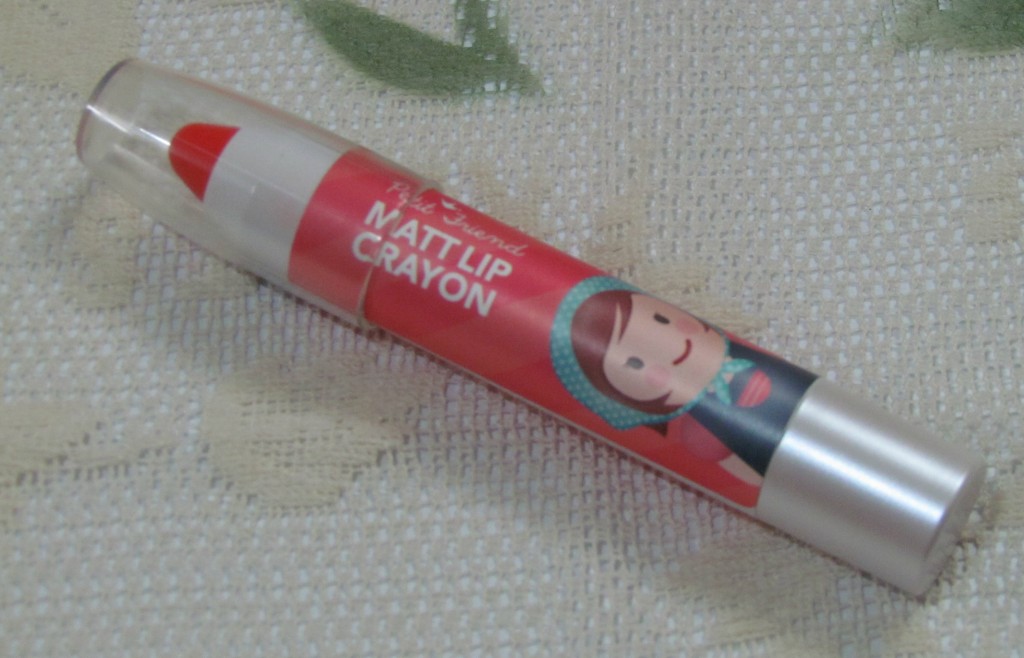 Shara Shara: Triple Shine Color Shadow (Full Size Product: $15)
This seriously looks so girly and childish to me…This is a cute product; But as memebox claims its 15$- I am quite surprised..Most of the shadows like this are available for 1- 2$. This one is shimmery and lasting power is very poor.. i only like this for the packaging!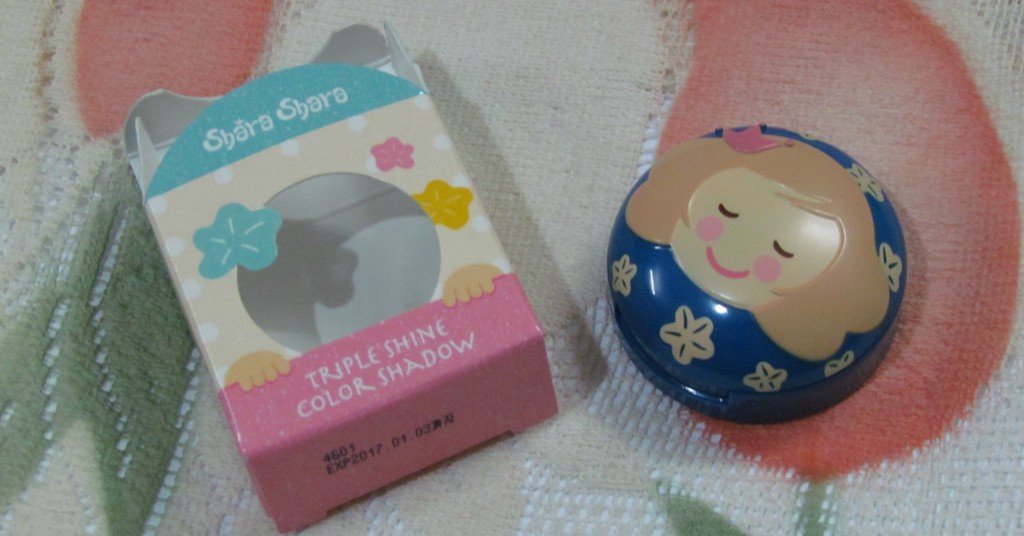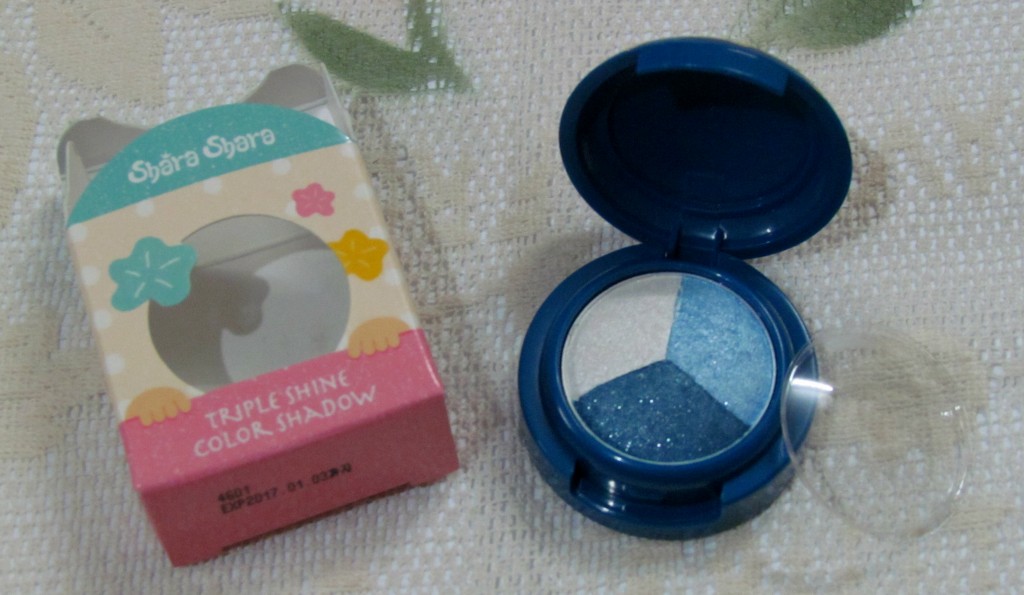 Jeju Hallabong: Energy Mild All-In-One Serum (Full Size Product: $20) 
This serum is made with "hallabong", which is a special type of orange cultivated only on Jeju island. This particular serum is infused with jeju-born ingredients such as kiwi, broccoli and aloe vera, and works to replenish, soften and protect the skin.
It has an essence sort of a consistency. While serums tend to be a little oily, this is more of a watery, gel-like feel. It absorbs quickly, and leaves no residue on the skin. I absolutely love the citrusy scent as well. I have already added this into my skin care routine, although I might use it as an essence rather than a serum. I use this mostly after I wash off the face masks.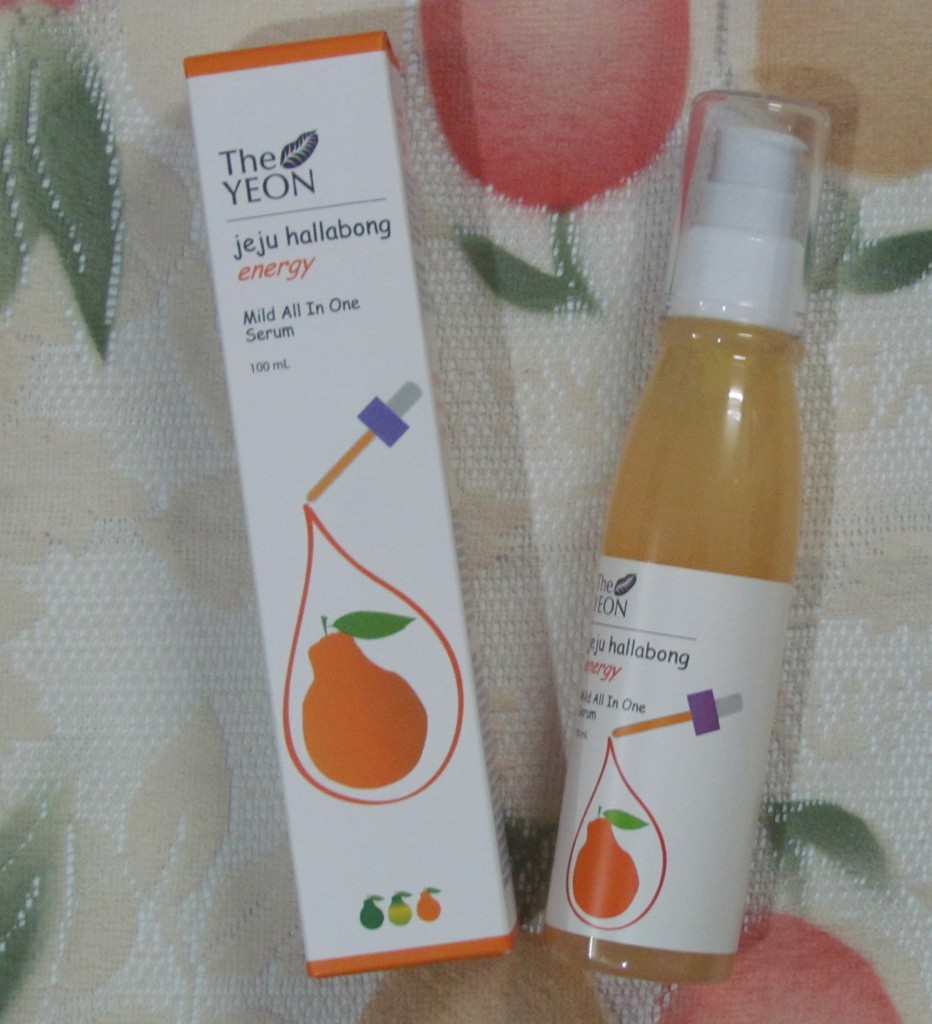 November  Memebox Coupon Codes
November Coupons
1.Save 10% on Shop USA orders above $40 (limit 2x use): 9WDQGS
2.Save 20% on orders above $200 (limit 2x use): N7LGZ3
3. FREE Shipping on orders above $30 in Shop Global 
DX7SJH
4. 5 $ off coupon – YPIVOU ; RZP1NU – (For Orders Above 30 $)
5.MEMEBUNDLE3: $5 off an order with 3 memeboxes or more ;
6.MEMEBUNDLE4: $8 off an order with 4 memeboxes or more
There are some Exciting boxes which are coming up on Memebox if you are planning to purchase some of them. I will paste the links down below.
Hope you Enjoyed reading this 🙂
Are you a fan of memebox? Which is the latest box that you tried?