Finding the perfect concealer to match your foundation can be difficult, but each Revlon ColorStay 2-in-1 Compact Makeup and Concealer features a perfectly-paired cream makeup with complementing cream concealer, expertly matched to be one shade lighter than the makeup.
This unique 2-in-1 compact combines Revlon's famous ColorStay technology with a unique sweat-resistant formula to provide flawless, fresh-looking makeup all day long, so you can feel confident your makeup will look its best in any situation. Choose Your Match. Choose Revlon ColorStay 2-in-1 Compact Makeup and Concealer.
Revlon Colorstay 2-in-1 Compact Makeup & Concealer – NZD $41.95
FEATURE/BENEFITS/KEY INGREDIENTS:
• Expertly-matched pairs of longwearing makeup and concealer in one convenient compact.
• Each concealer shade is expertly matched to complement the makeup, taking the guesswork out of perfecting your skin tone and flaws.
• Makeup blends seamlessly to an even, demi-matte finish that lasts.
• Concealer camouflages dark circles and imperfections for a flawless look.
• Sweat resistant.
• Lightweight, blendable formula with buildable coverage.
Available in 9 skin tone perfecting shades
NATURAL BEIGE
SAND BEIGE
MEDIUM BEIGE
BUFF
NUDE
NATURAL TAN
TRUE BEIGE
IVORY
WARM GOLDEN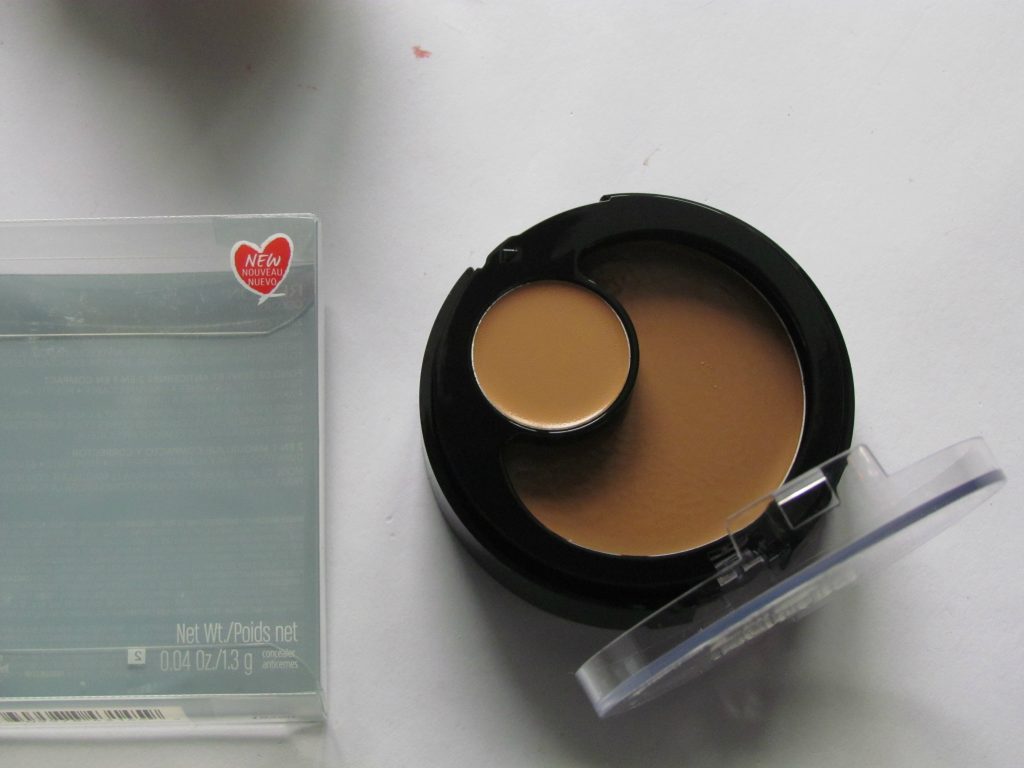 The chic packaging includes a concealer to camouflage imperfections, a lightweight makeup for smooth finish and all-day coverage, a mirror for touch-ups on the go and Revlon applicator for precision and blending.
More Pictures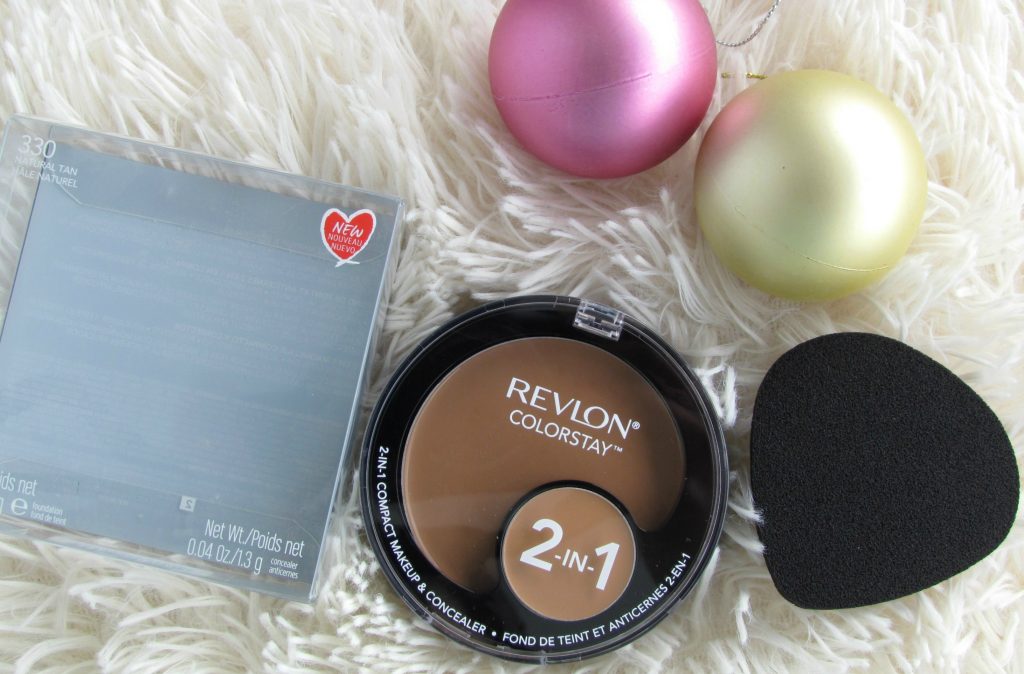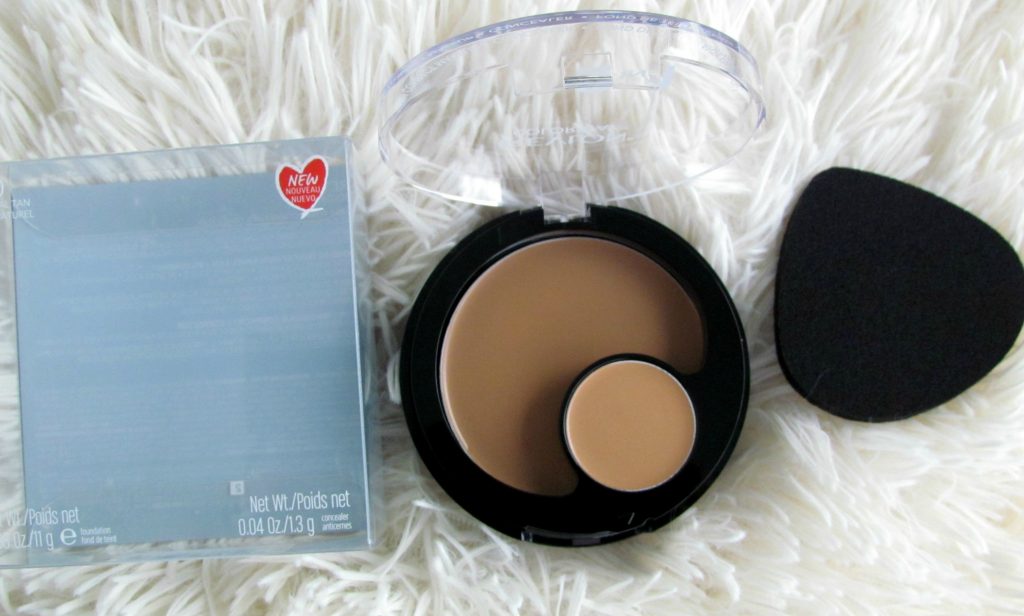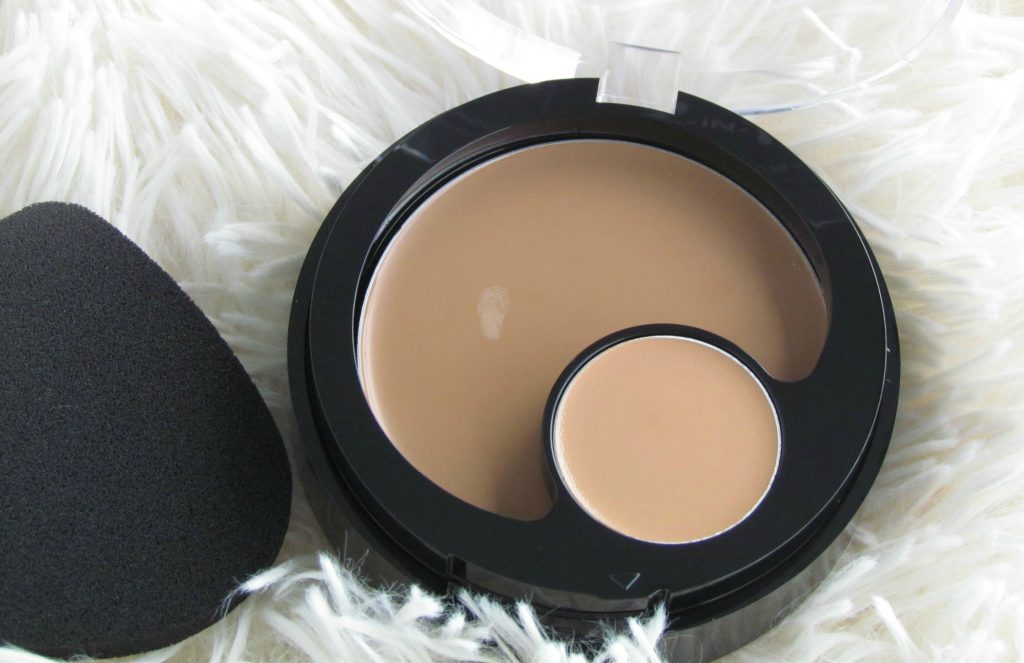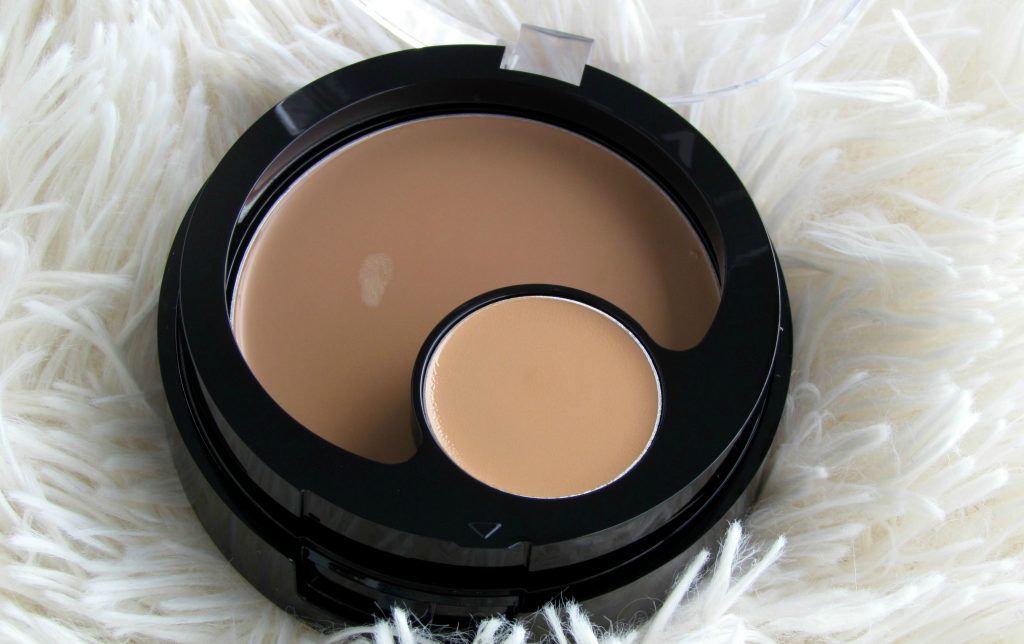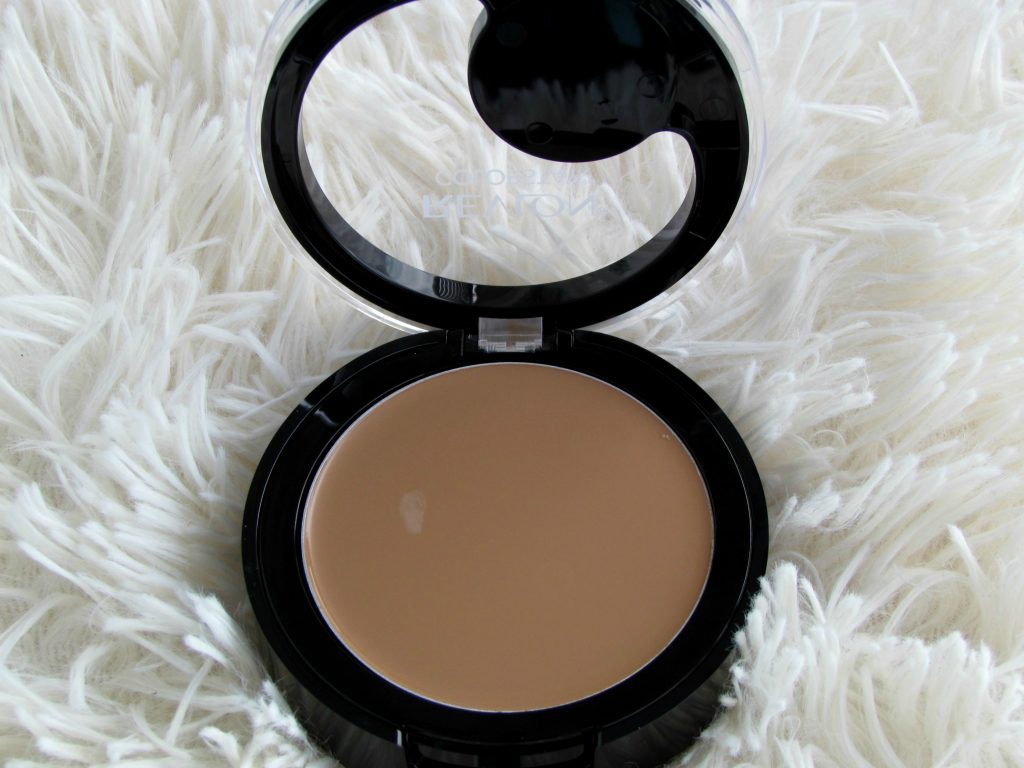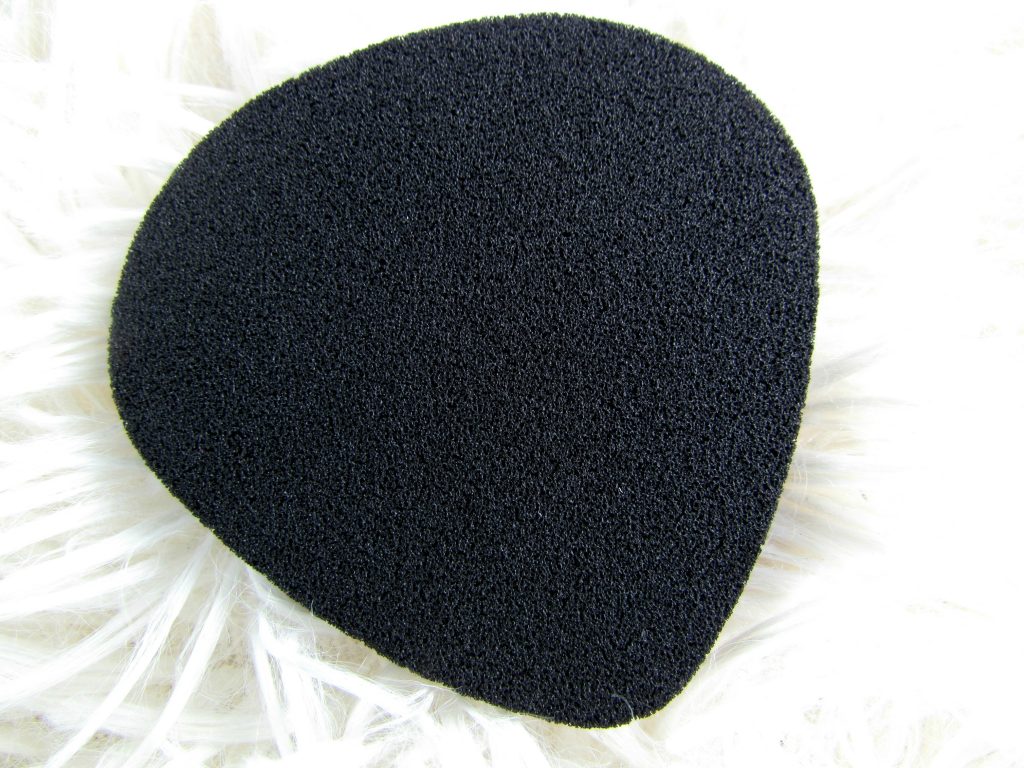 My experience using this Revlon Colorstay 2-in-1 Compact Makeup & Concealer
Before I even start writing about this, Let me confess – I have never been a fan of creme based foundations. I like cream concealers, But not foundations. Most of the creme compact foundation sets to a powder finish. I feel it to be very heavy and almost feels like I have a mask on my face.. In short – I am not into cream compacts and I prefer actual liquid cream foundations.
Packaging – I found it pretty interesting as it comes as 2-in-1. A foundation shade along with a concealer shade that is one shade lighter. All of this in a big compact. As you can see from the picture, When you open it and you'll find the concealer that is located on a tray over the foundation. Now that tray flips up and reveals the foundation completely. And finally beneath the foundation you'll find a generously sized well which holds a teardrop shaped sponge for applying and blending the foundation and a mirror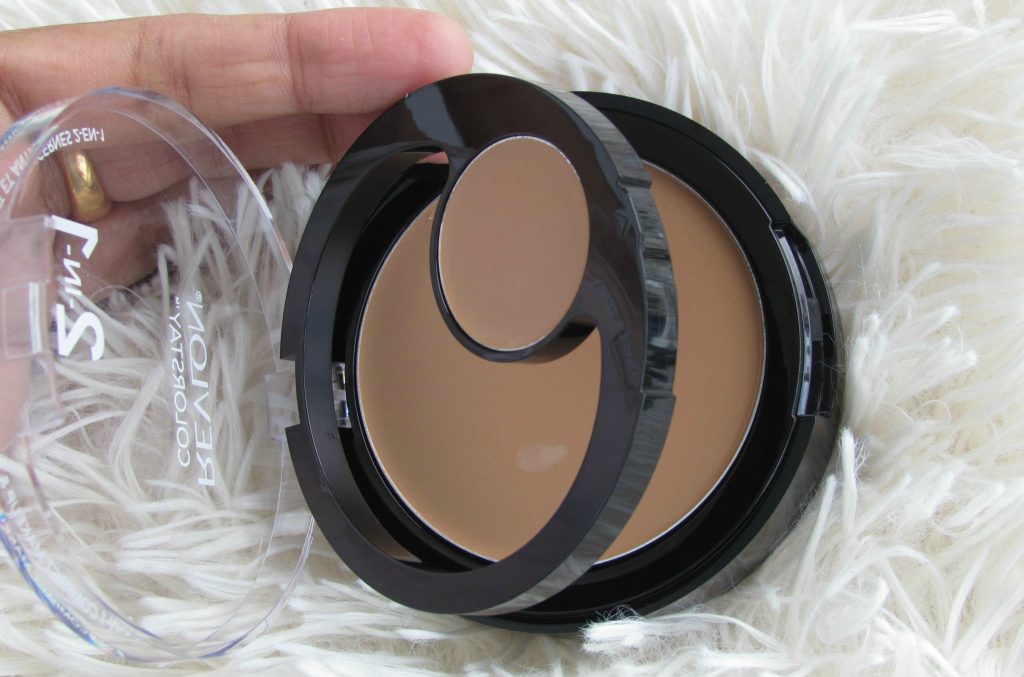 I have combination skin (oily t-zone area and dry/normal everywhere else) and also have sensitive skin. I received the whole collection for reviews. All of my cousins and family took out most of them..I couldn't hide it from them.. hahhhahhaa.
https://www.instagram.com/p/BDLW3njxlXa/?taken-by=makeupholicworld
Out of the ones, The best shade that suits medium skintones with yellow undertones are 330- Natural Tan and 310 Warm Golden. In one glance, you will think all of the shades are way too dark- But, it's not true. Once you swatch the product, the real color shows off. Hopefully you can see in the pictures the outer layer when swatched reveals the true color of the foundation.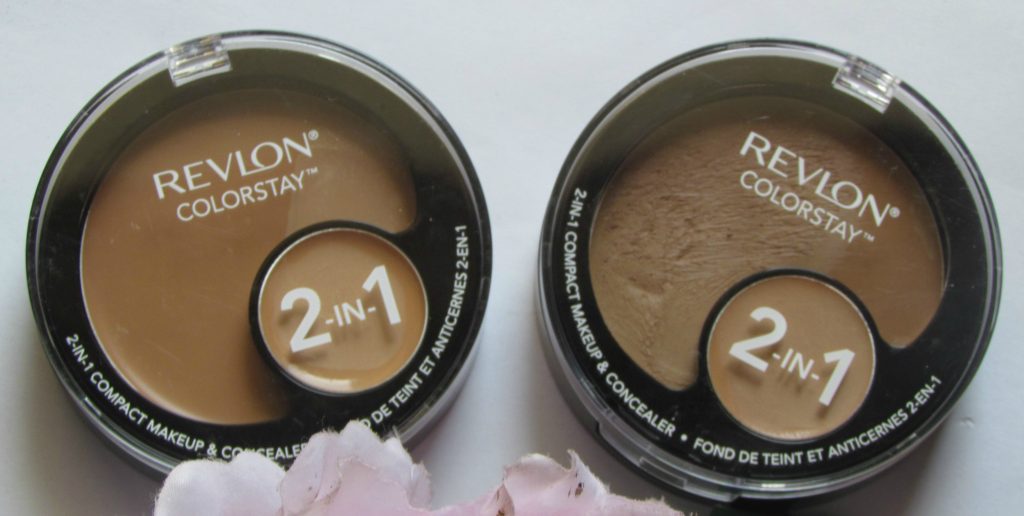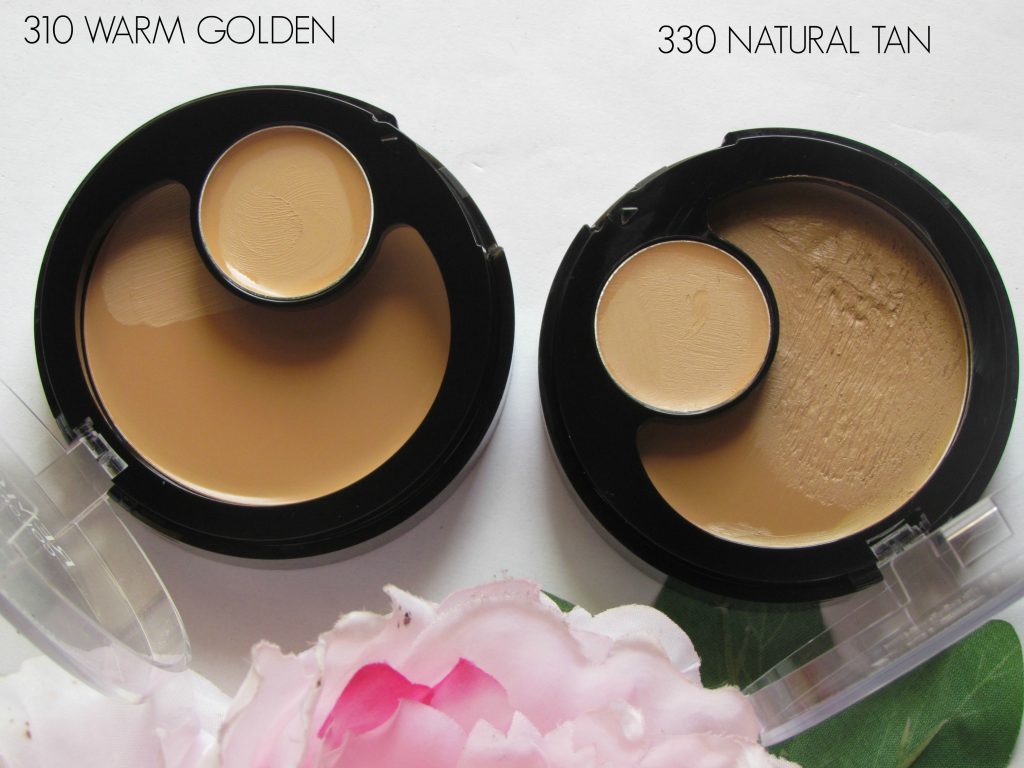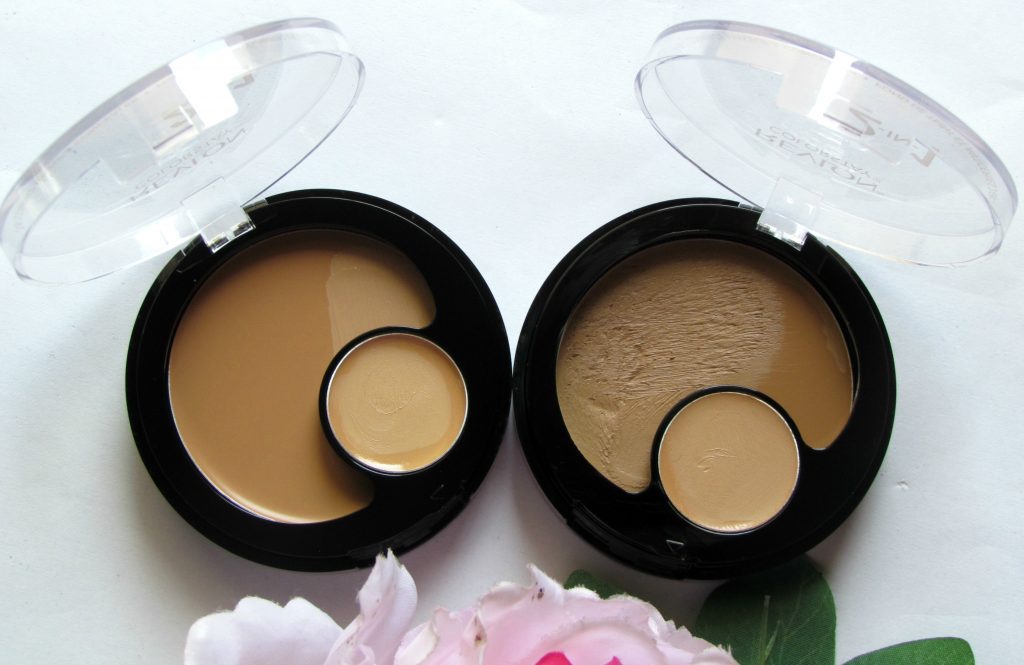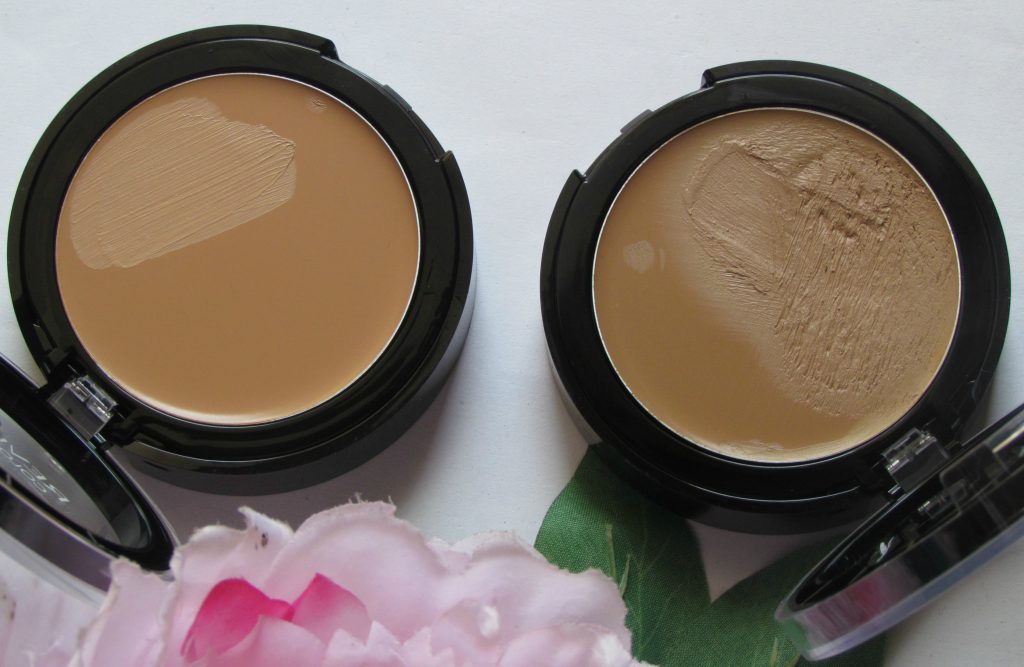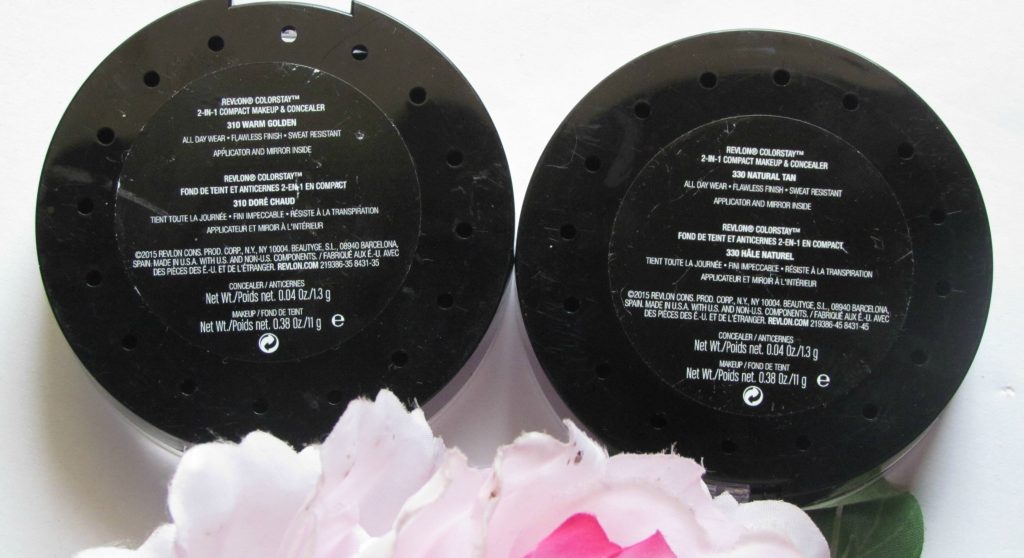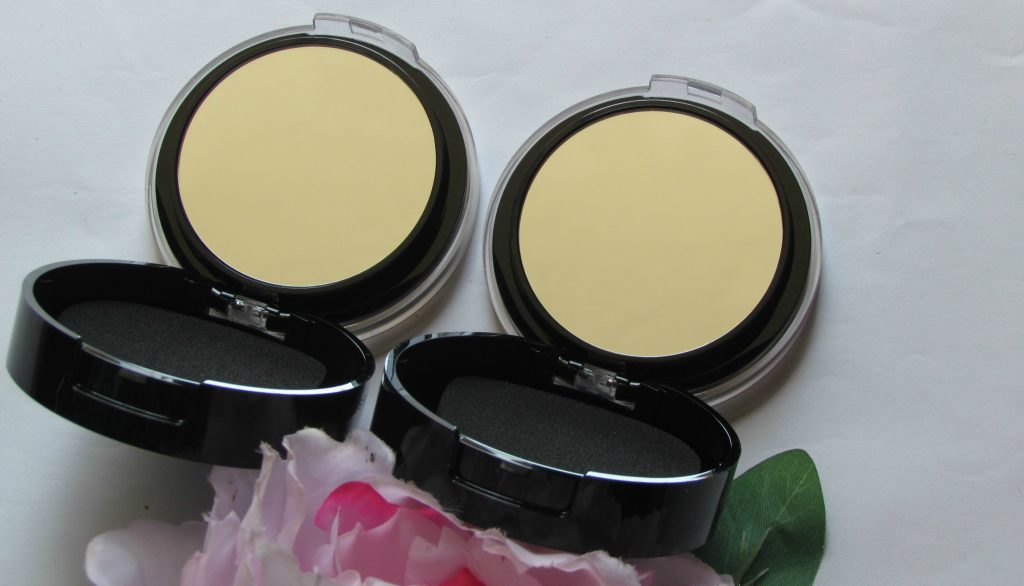 Formula, Pigmentation – Before applying this product make sure you moisturise and prime your face well. This foundation is best suited for normal & combination skin types. People with dry skin might not like this. This foundation-concealer duo comes with a sponge. I don't use it as I prefer to use my brush for applying this. I love the formula of the foundation and the concealer.  They are very creamy, easy to blend and apply and they don't make your face look oily or greasy. It feels light-weight on face. The concealer shade is tad lighter and it does a good job in brightening the under eye area. I apply a separate corrector prior to using this on my under eye area. I am not a fan of this concealer. I would say, it's best to do spot concealing on face. For under eyes I prefer my MAC studio finish concealer.
Longevity  – The coverage is medium and is buildable for a high coverage. I set the foundation using Ben Nye translucent powder. The foundation does cling to dry patches despite its satin matte finish. Priming and moisturising the facial area well is the key to applying this evenly. For about 6 hours, Foundation stayed after which my t-zone area started getting oily and I had to touch up. Foundation started clinging onto dry areas around my nose and it started to fade after about 7 hours of wear.
Here are the swatches!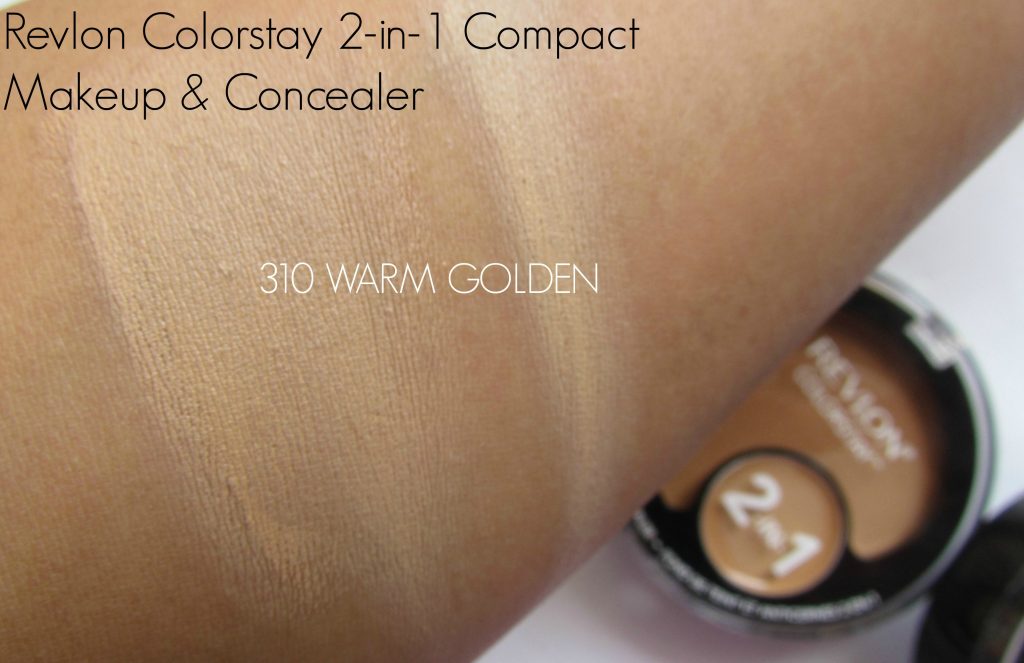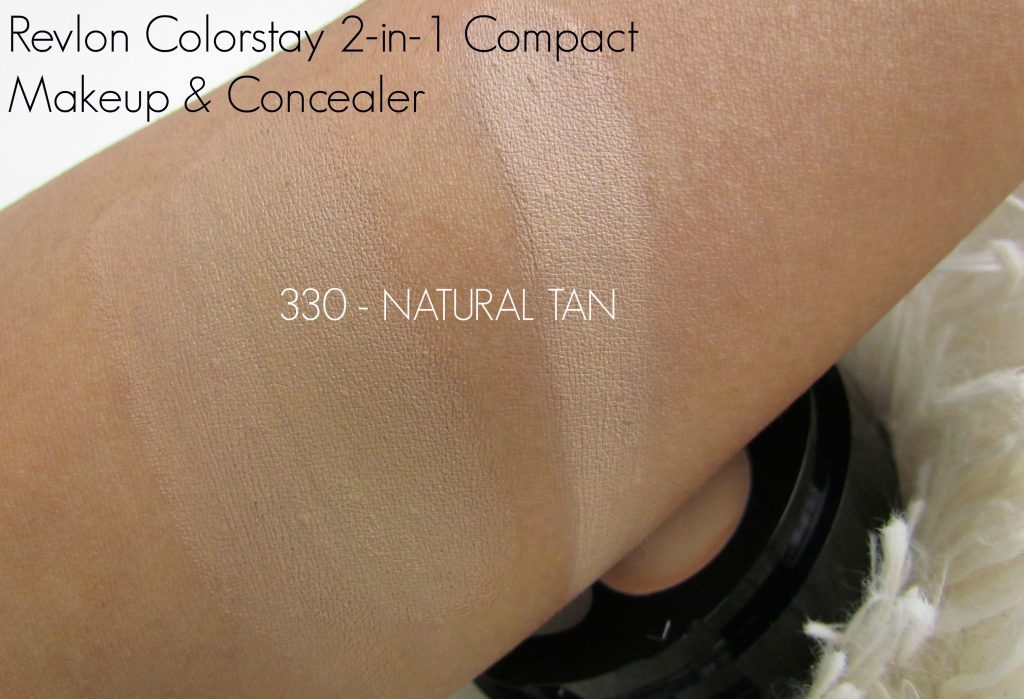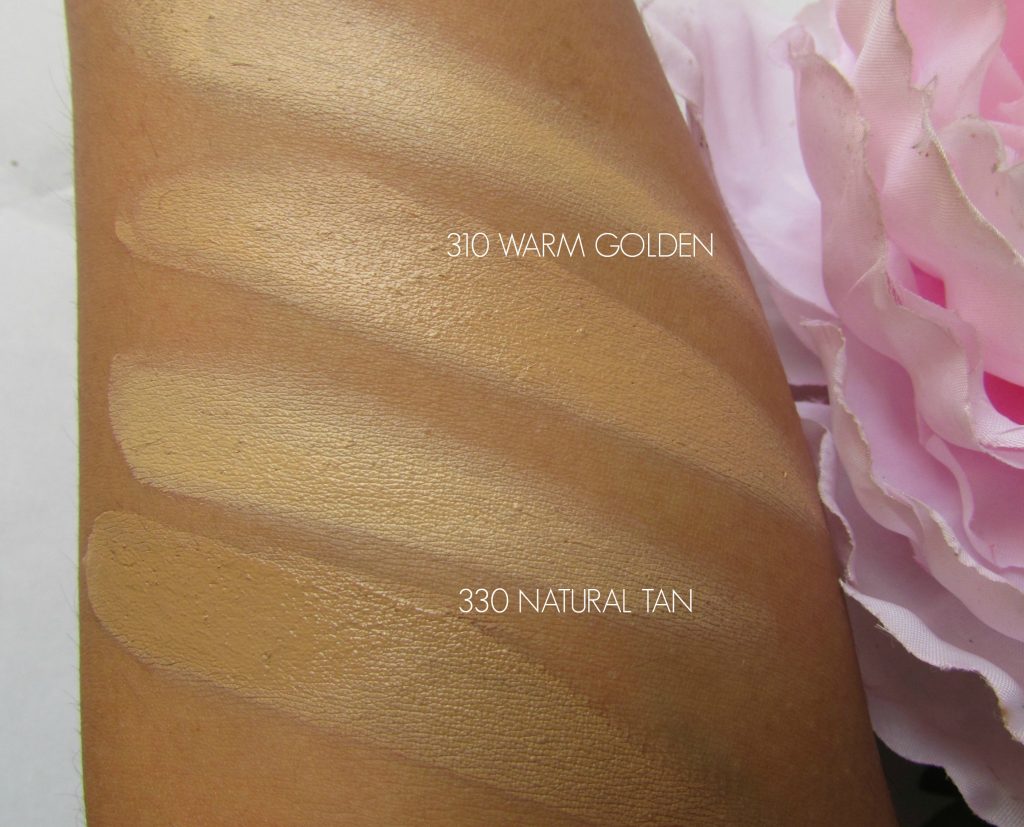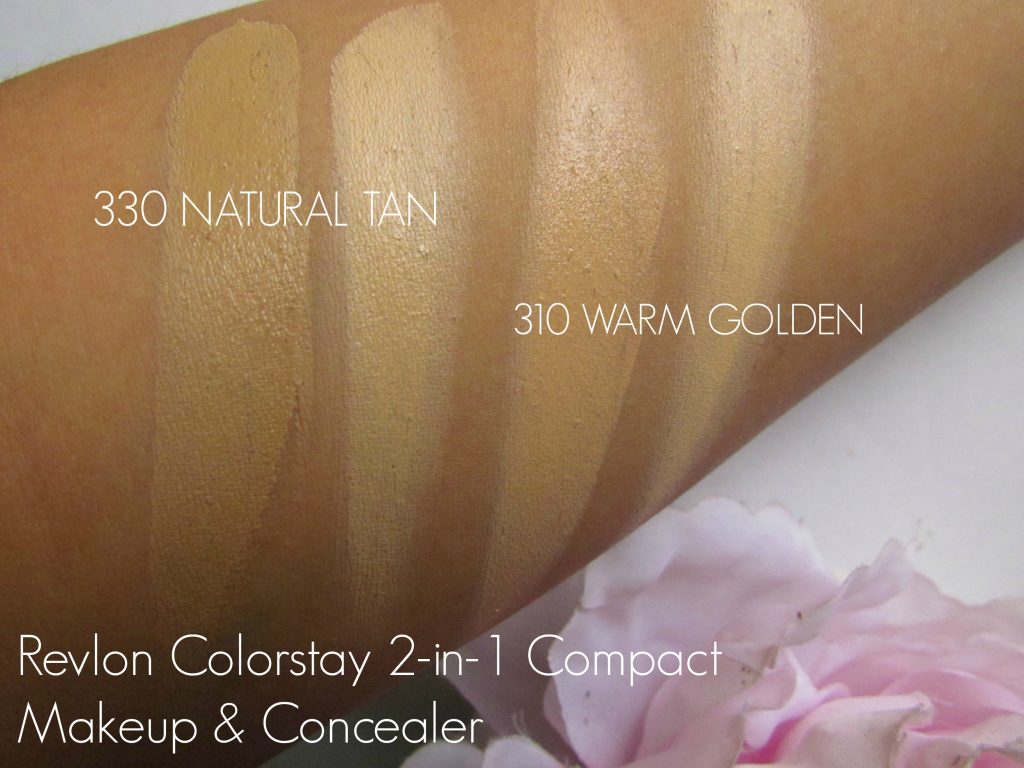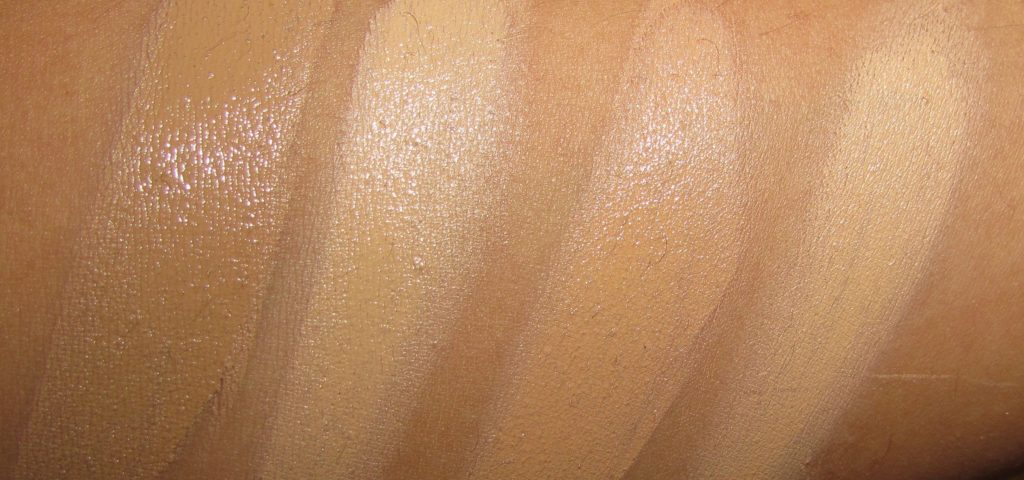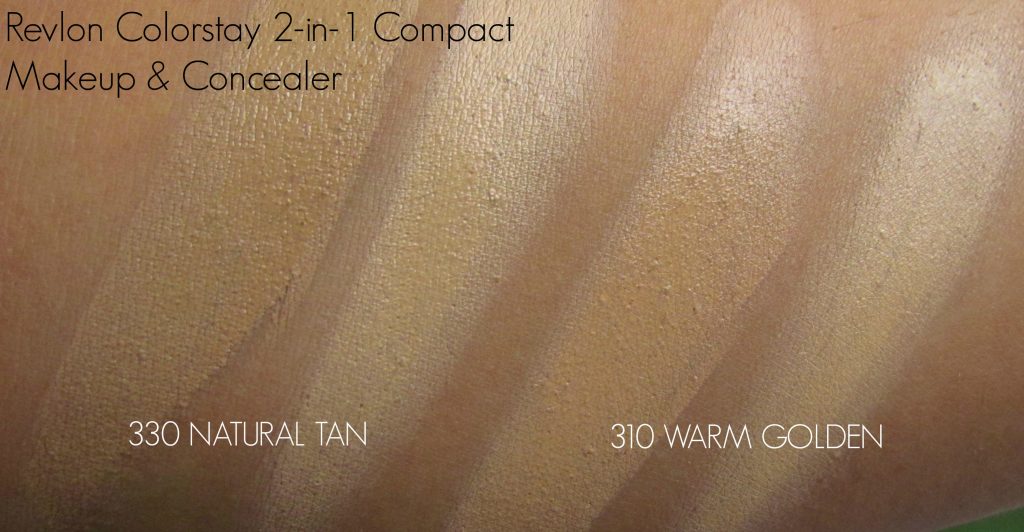 In this FOTD below. The right side shows the foundation freshly applied. and the left side photo is taken after 6-7 hours of wear. you can maximise this picture to see how the foundation started to fade and clinging onto the dry patches on my facial area.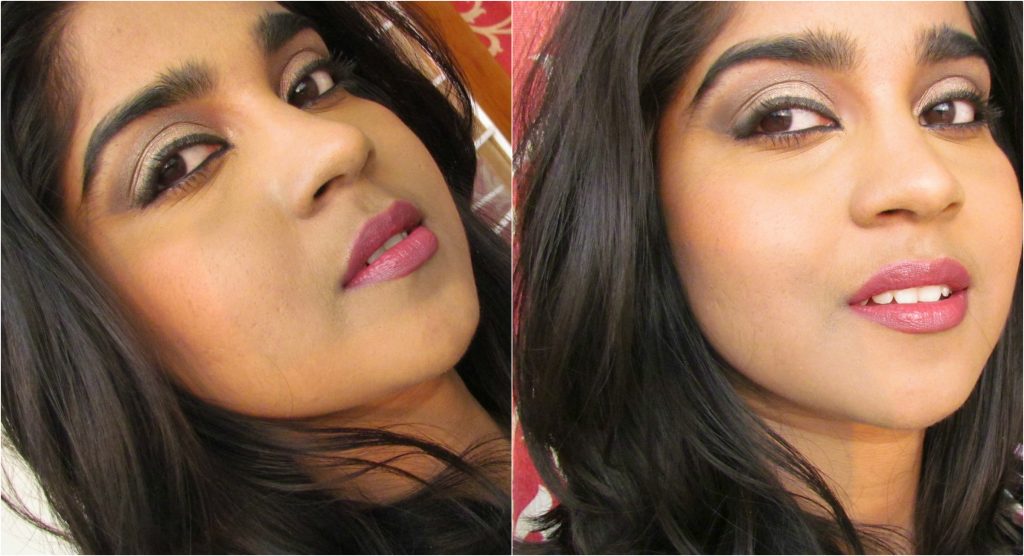 Overall, I think this foundation-concelaer duo is best for summer months when your skin is not very dry. It's definitely not suited for winter months.. If you have oily skin- You will like this. Packaging is chunky yet, good for travel. The formula applies easily and can be blended effortlessly, and provides a satin-matte natural finish. The coverage is medium-high. It feels light-weight on face. The formula of the concealer is thicker than the foundation, It doesn't work great for dark circles around the eyes, It works for spot concealing on face. Dry skin people- stay away from this. I got a wear time of about 6 hours after which it started to settle and flake onto the dry areas of my face and my t-zone turned oily as well.
Tips to keep in mind if you are buying this compact – The actual shade of the product is actually quite a bit lighter than how it looks in the compact as you can see from pictures….Please keep this in mind while buying this online etc. 
Revlon Colorstay 2-in-1 Compact Makeup & Concealer retails for NZD $41.95 is available at Farmers and other department stores across NZ, In Australia- you can find it at Priceline.
Have you tried Revlon Colorstay 2-in-1 Compact Makeup & Concealer ? 
** Product sent by brand PR. However, my review is honest and unbiased as always.