Along with a good shampoo and conditioner that suit your hair type, a good hair oil is vital in completing your hair care routine Different hair oils are for different purposes- to moisturize scalp and hair, to prevent hair fall, to fight dandruff, to promote hair growth, reduce itchiness of scalp, impart shine and make hair bouncy  etc.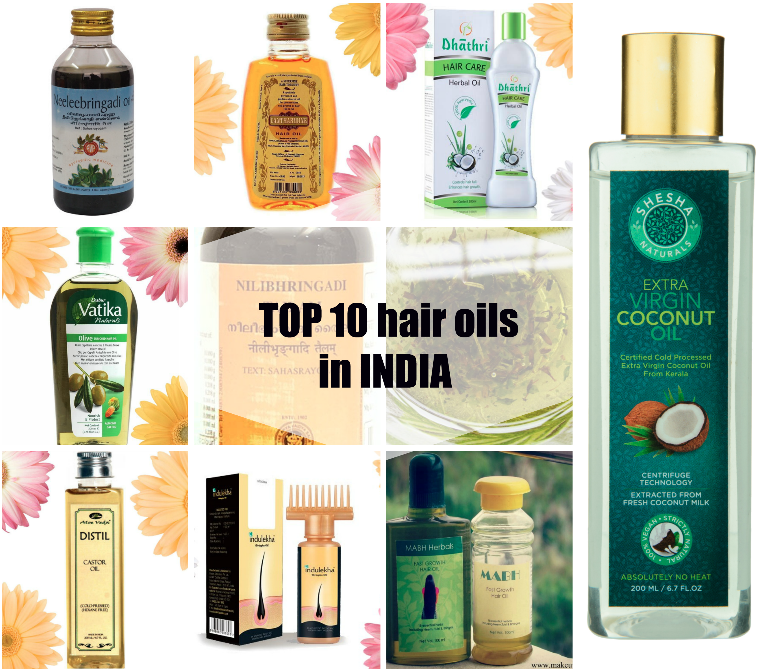 Why is it important to use a hair oil
– Improves circulation to the scalp and acts a natural cleanser
– Helps sooth dry, itchy scalp and clears it of minuscule dermatitis issues
– Fights scalp infection and dandruff, improves overall scalp health
– Encourages hair growth and strengthens hair follicles for thicker hair strands
– Helps regain lost shine and hair texture
In this post I am listing the best oils for hair growth & reduce hairfall in India. All of these oils are tried and tested by me. These are not listed in any particular order. All of these are easily available online in India and available for shipping abroad.
KOTTAKKAL ARYA VAIDYA SALA NILIBHRINGADI KERATAILAM – INR 185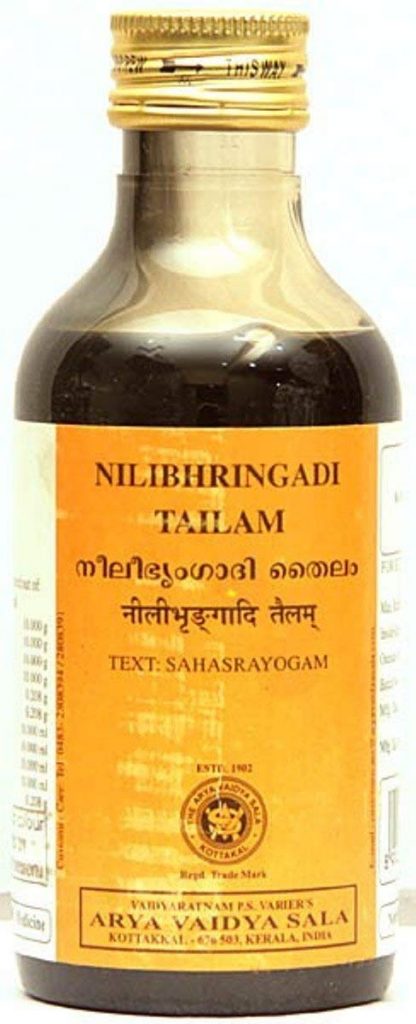 One of the best hair oils I have ever used. Kottakkal Arya Vaidya Sala Nilibhringadi Keratailam is a an excellent oil for all types of hair. It's a Ayurvedic hair oil, used to improve quality of hair, to treat split hairs, premature graying and baldness. This herbal oil is formulated based on Kerala Ayurvedic principles.  It helps maintain and promote the health of the hair and scalp, providing anti-fungal and anti-dandruff actions. It can prevent and reverse premature graying as it cools the head, bestowing a refreshed mental state and a calm, peaceful sleep.  An ideal hair oil for abundant growth of long, dark and dense hair. Gives a cooling effect to hair post wash and drying. I use this oil as a pre wash treatment and after washing and towel drying my hair – I apply few drops Shesha Naturals VCO as a hair post wash oil. This way my hair feels soft, bouncy and I don't face any hair scalp itchiness or hairfall problems.
AVP NEELIBRINGADI HAIR OIL – INR 211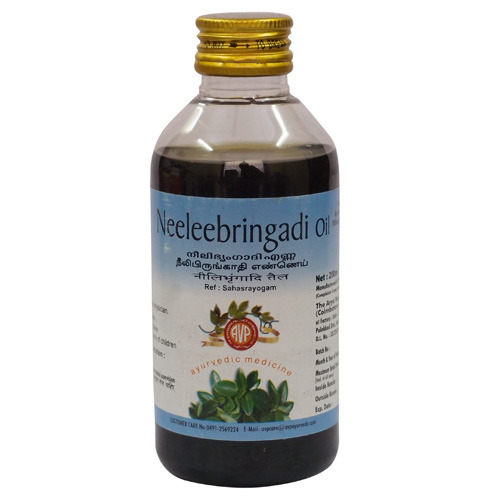 AVP Nilibhringadi Keratailam is a herbal formulation with coconut oil as base. It's a Ayurvedic hair oil, used to improve quality of hair, to treat split hairs, premature graying and baldness. This herbal oil is formulated based on Kerala Ayurvedic principles.
It has a strong ayurvedic herbs fragrance and you can pour a little to the steel bowl or any platter and place it on top of warm water to melt the oil a little bit as well heat a little bit. This slight warm oi lcna be massaged directly on the scalp and roots of your hair. Cover your hair with a shower cap and leave for about 30 -45 minutes before washing your hair using a mild hair cleanser.  I use it is a pre wash hair oil twice a week. I use this alongside Kottakkal oil as well as Shesha Naturals VCO. Most of weekends when I tend to stay at home. I oil my hair and leave it for a good 45 minutes before washing.
Boosts hair growth and promotes healthy scalp
Cools off the entire body
Prevents dandruff
Promotes sound sleep
Moisturizes hair
Prevents hair fall
SHESHA NATURALS COLD PROCESSED EXTRA VIRGIN COCONUT OIL FROM KERALA – INR 299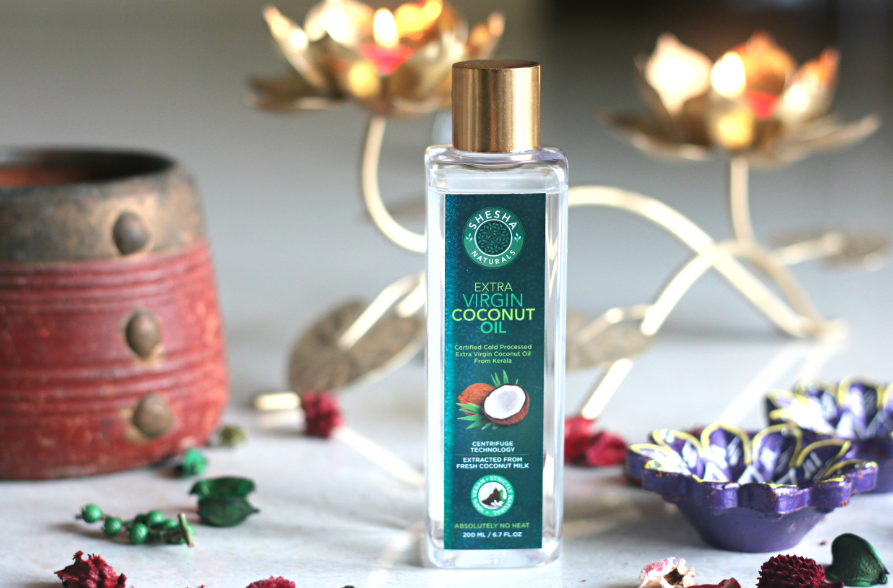 During my childhood, I always remember my mom bathing me after a long massage session using the ever famous coconut oil. Mom used to use everything from coconut. From making awesome cookies, wonderful Kerala cuisines and even the tender coconut water to make natural vinegar etc. My hair and skin always remained healthy until now. My hair is really thick and I never faced any hair related problems. Thanks to the wonderful coconut oil and also the genes. 
The main difference between regular coconut oil and virgin coconut oil lies in their processes of extraction. While the former is extracted by cold compression or cold milling of Copra (another name for dried Coconut kernels) with a moisture content of around six percent, the latter is extracted from the coconut milk obtained from fresh coconuts. Thereafter, using processes such as fermentation, churning (centrifugal separation), refrigeration, and the action of enzymes, the oil is separated from the water or moisture.
However, in the case of virgin coconut oil, the raw materials and the process of extraction should not allow any involvement of heat. Shesha Naturals has taken utmost care about the manufacturing of virgin coconut oil, throughout the whole process, utmost care is taken to ensure that the kernels and the raw material, i.e. the coconut milk, are not subjected to heat or sunlight.
Shesha Naturals Cold Processed Extra VCO is extracted from fresh coconut milk without any chemical processes, it is the purest form of coconut oil, water white in color. What I really love about this is – It gets absorbed to skin real quick. Normal oils will be greasy on skin and take hours to get absorbed. Shesha Naturals Cold Processed Extra Virgin Coconut Oil is very very light weight and it instantly gets absorbed into skin.
Centrifuge Technology – Made using Centrifuge technology making it India's Best VCO
'Absolutely No Heat' involved in the process making it India's best VCO.
Excellent for haircare, Shesha Naturals VCO is a effective conditioning treatment for rough and dull looking hair. It soothes the dry sensitive skin or scalp and adds lustre to damaged hair. Take required quantity and apply to scalp and gently massage hair from root to tip. Leave for about 20 minutes, Wash your hair using a mild hair cleanser and luke warm water.
It protects the skin from infections caused by bacteria, viruses and fungi, prevents dandruff and promotes hair growth if used regularly.
MABH Fast Growth Hair Oil – INR 400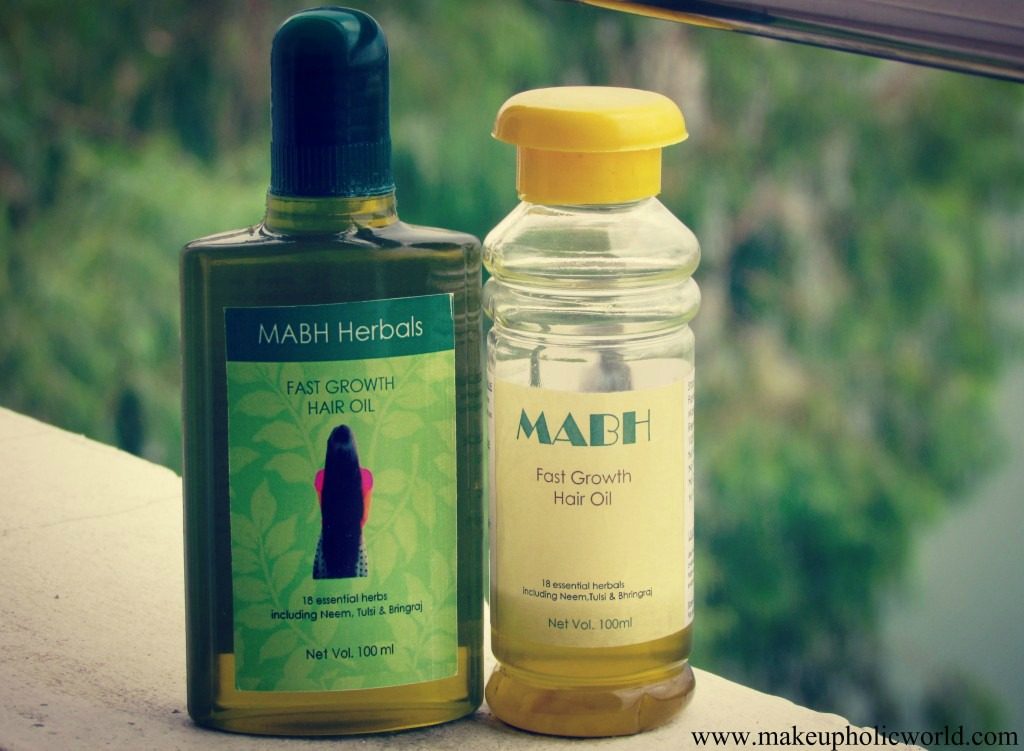 I was introduced to MABH hair oil by my blogger friend Lancy. I was super impressed by the fact that MABH oil was made using all natural ingredients and doesn't contain any preservatives/parabens/any other harsh chemicals and most importantly, It was made using 18 essential herbs and is made by Lancy's mom. I got excited and decided to use it. MABHhair oil is completely natural and preservative free; I think it's made of the Curryleaves,Tulsi,Amla,Virgin Coconut Oil, Neem, Bhringraj, Henna, Castor Oil, Hibiscus, Mustard, Brahmi, Ashwagandha, fenugreek and some more unknown secret ingredients. This oil is handmade by Lancy's mom and it's one of the best oils ever!
 Aloe Veda Distil Cold Pressed Hexane Free Castor Oil – INR 225

Aloe Veda Distil Cold Pressed Castor Oil is excellent for reducing itchiness on your scalp and the roots of your hair will regenerate new hair growth and also thicken thinning hair within months. it's one of the best oils to promote hair growth.
Cantharidine Hair Oil – INR 43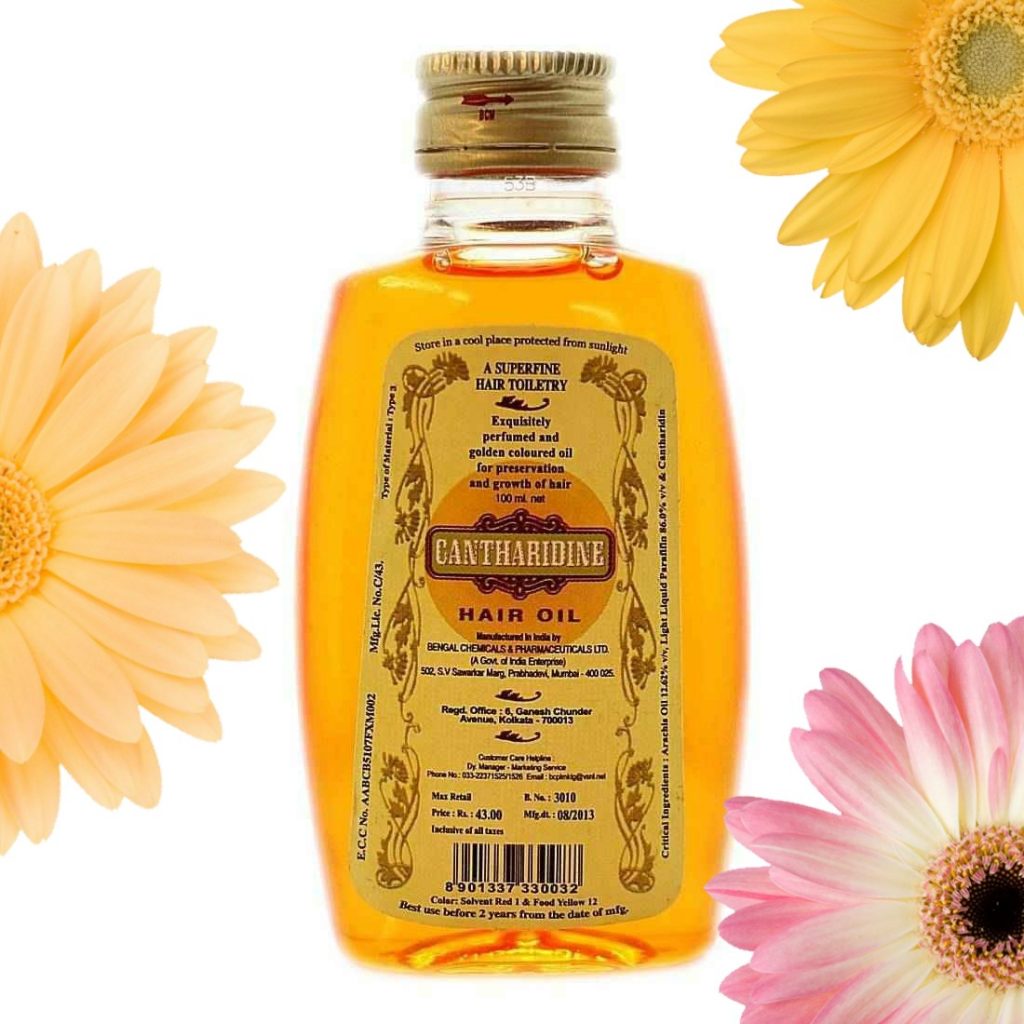 Cantharidine Hair Oil is a golden colored oil for preservation and growth of hair. It helps reduce hair fall. Helps in re-growing the hair, Makes hair stronger from inside, Helps in premature greying etc, Helps in preventing dandruff and dry scalp, Helps to avoid thinning of hair. it's a non sticky oil. it has a light fragrance. Main Ingredients include Sandalwood
 Dabur Vatika Olive Enriched Hair Oil  -INR 120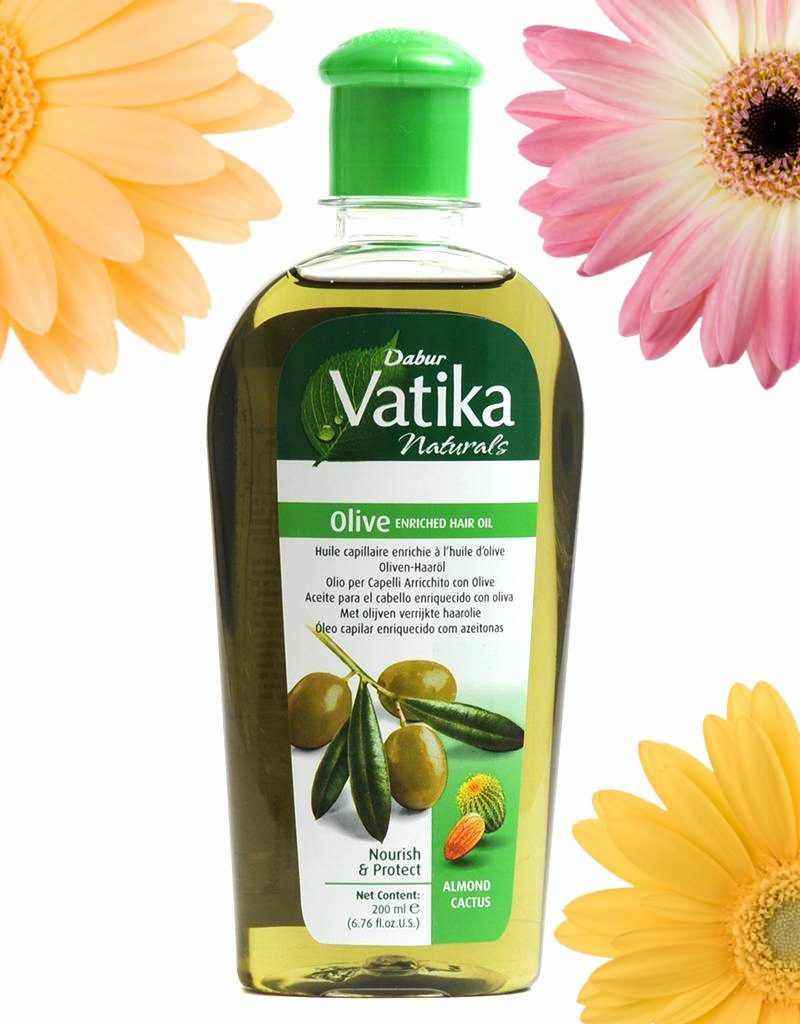 Dabur Vatika Olive Hair Oil is an excellent hair oil for your hair. It contains Virgin Olive Oil and nourishing extracts of Almonds, Cactus, and Lemon Complete natural nourishment for problem-free, beautiful hair Almond coats, conditions, and softens your hair. Cactus – Gives your hair volume and health. Lemon – Regulates sebum flow and helps keep dandruff away.
Dhathri Hair Care Herbal Oil – INR 275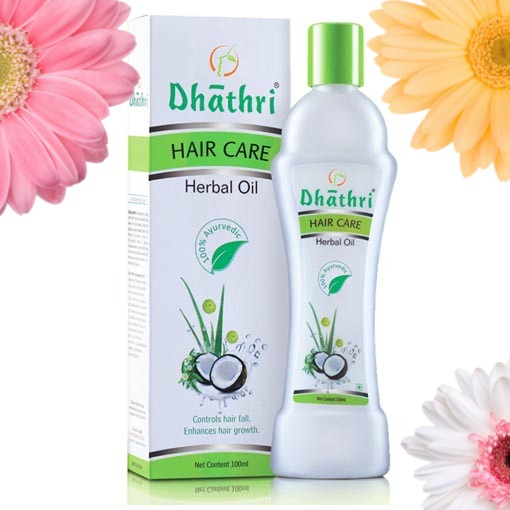 Dhathri Hair care Herbal oil trims down the root cause of hair problems leading to hair fall, stimulates and promotes new thicker hair growth and gives a healthy, long unbreakable hair. The Ayurvedic hair oil helps to keep hair from losing nutrients, which is one of the major problems for hair breakage and hair loss.
 Indulekha Bringha Hair Oil Selfie Bottle – INR 432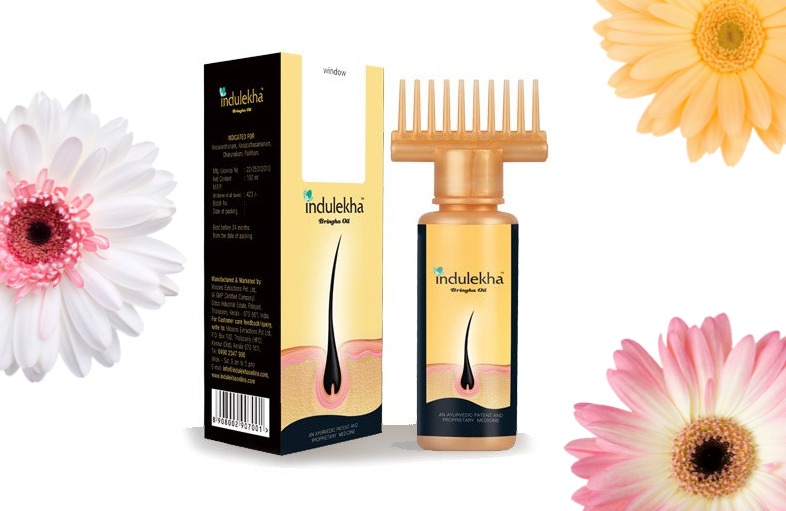 Indulekha Bringha Hair Oil Selfie Bottle is itself an applicator comb attachment that allows 100 percent medicament on to your scalp and distribute all over the head. Oiling is made super easy by the innovative packaging. A gentle squeezeand combing is enough to spread the Indulekha bringha oil on to all over the scalp. Indulekha Bringha Hair Oil uses the ancient secret formulas of Ayurveda for long and lustrous hair. With regular application you are sure to notice growth of new hair. The herbs used in this hair oil stimulates the hair follicles and helps in the growth of new and healthy hair. It not just facilitates and accelerates hair growth but also makes your hair healthier, thicker and shiner. For best results, massage your scalp gently after applying this oil and leave on for at least an hour before washing off with a mild shampoo.
 Juicy Chemistry Lavender & Sage Hair Oil – INR 600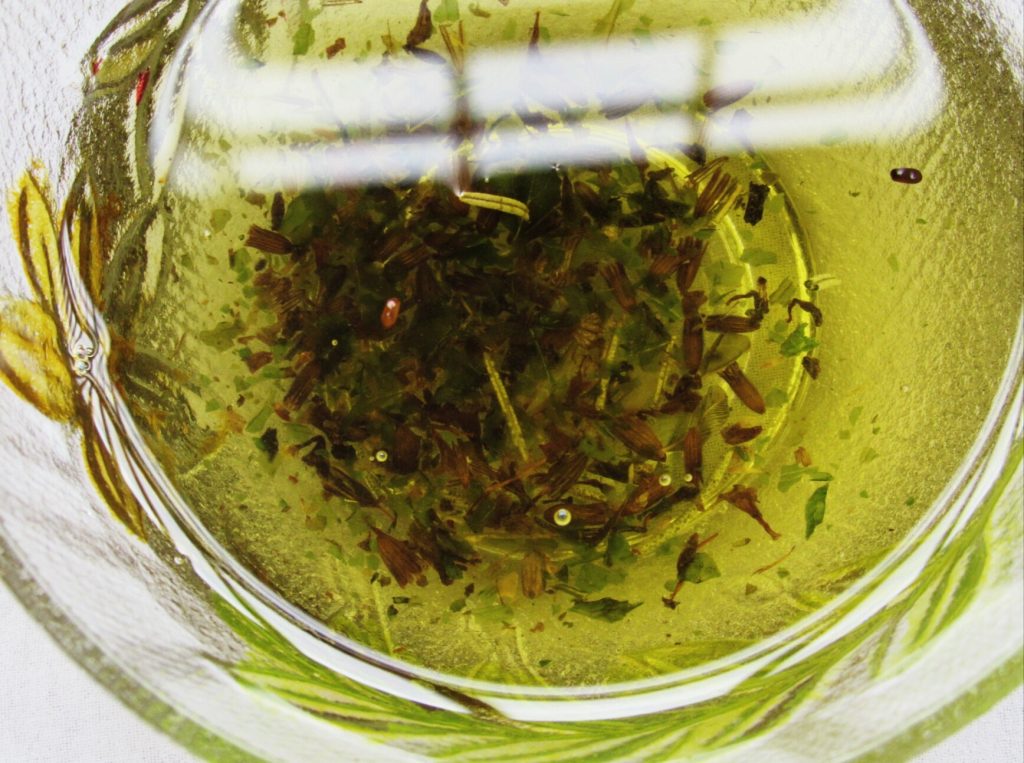 Formulated with carefully selected ingredients that penetrate deep in to the hair and scalp , our hair oil is fortified with seven essential oils and 5 carrier oils that feed nourishment directly to the roots of your hair and scalp.
Hope you all liked our list of top hair oils.
** Pic Source : 1,2,4,5,6,7,8,9 
** This post contains affiliate links.