Take your time away from that iPhone and all other gadgets. Invest a little time for your skin care. As per skin experts, by your mid-twenties, you really need to start taking care of your skin," Though that's a time when acne should be over. Breakouts, brown spots, and dry patches are more likely to attack your skin especially if you not pay attention to your skin health. We all live in a busy world with crazy time management. None of us eat healthy or sleep on time. Too many harsh environmental factors and sun damage too. Shiseido's Ibuki range is specifically formulated for skins in their mid 20's to early 30's.
IBUKI skincare offers your skin a consistent approach, to HYDRATE dryness, PERFECT skin texture by eliminating oiliness, breakouts, roughness and visible signs of fatigue, and PREVENT against damage caused by harsh environmental factors that your skin is exposed to everyday.
Easy and simple to use, yet formulated with the latest skincare technology to raise your skins resistance on the inside, for beautiful skin on the outside.
Read more to find out if this range is perfect.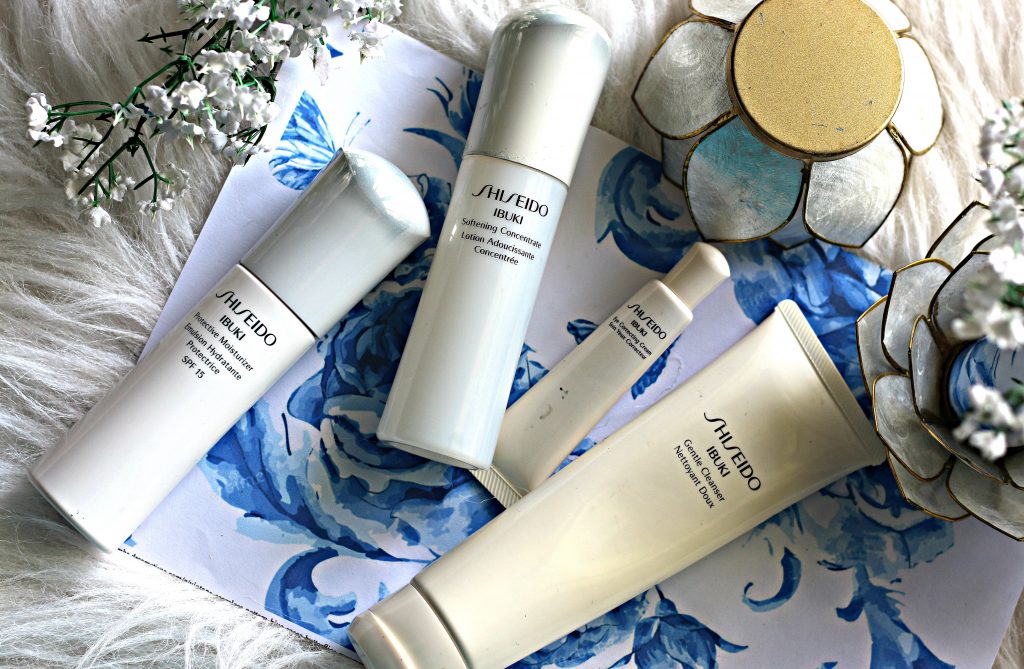 I have 4 different products from Shiseido IBUKI line
– IBUKI Gentle Cleanser
– IBUKI Softening Concentrate
– IBUKI Eye Correcting Cream
– IBUKI Protective Moisturiszer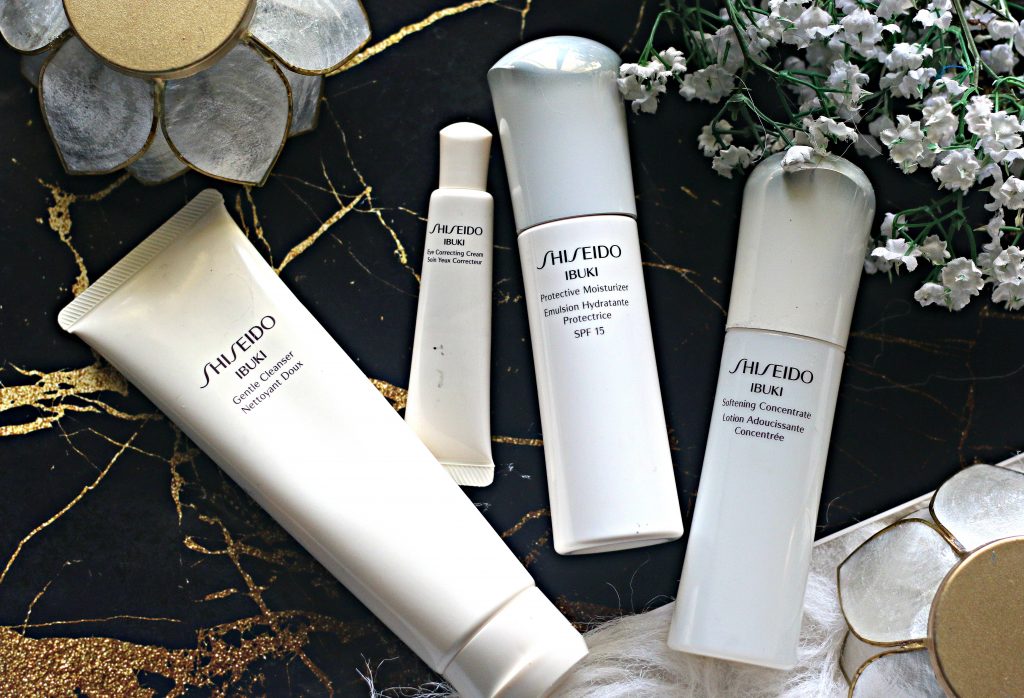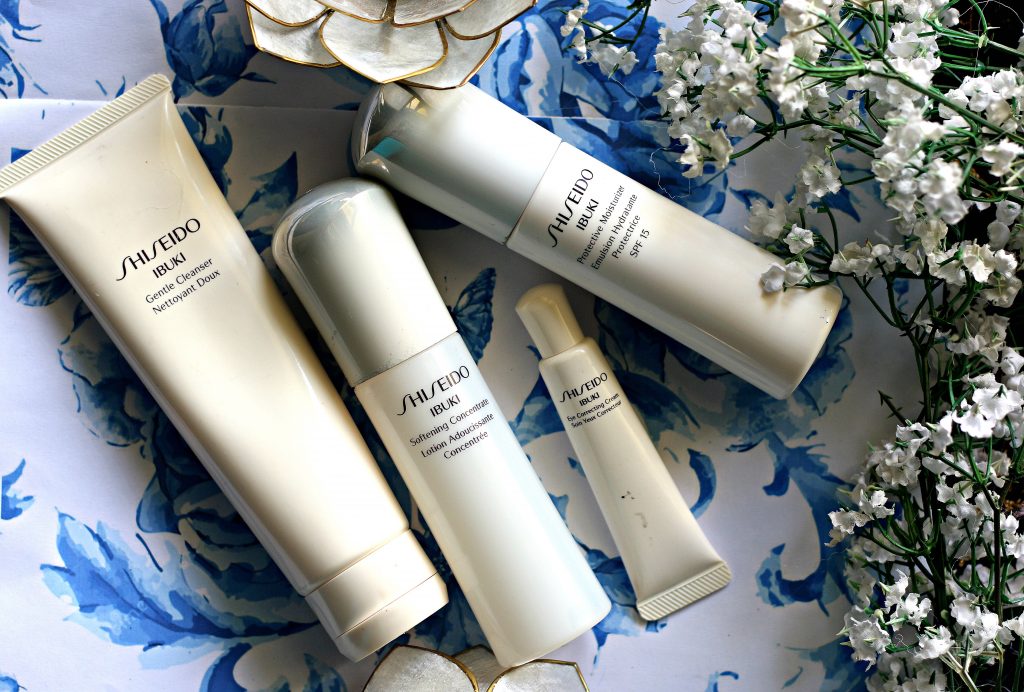 Step 1 – Cleanse
'Double cleanse' is Shiseido's cleansing ritual, the first cleanse removes make-up, and the second cleanse removes dirt, pollution and impurities. IBUKI Gentle Cleanser is a extra gentle cleanser that lathers quickly into a rich foam to remove impurities and harmful excess sebum without stripping away skin's essential moisture. Skin feels refreshed, and silky smooth to the touch.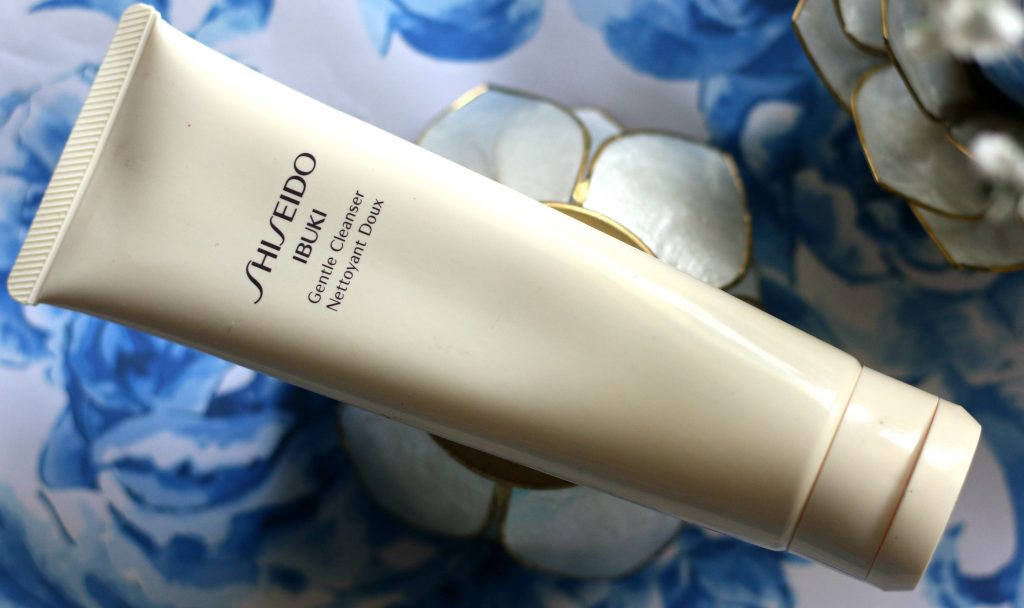 Packaging makes it very convenient to use. The tube packaging. USD$30.00 for 125 mL of product. This cleanser is suitable for all skintypes including the sensitive skin as per the company claim.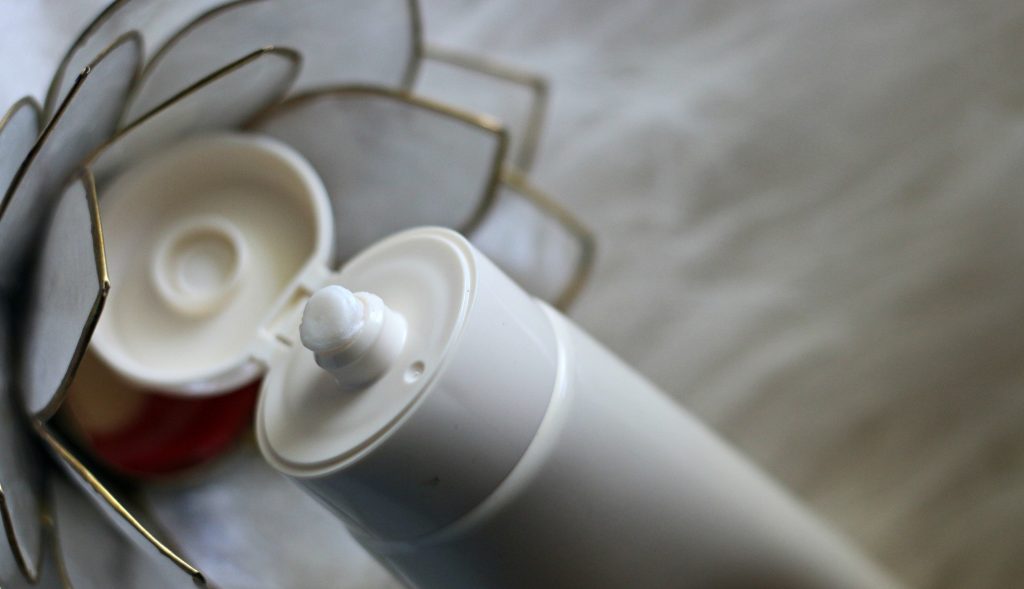 Me and my mom loved this cleanser. For using along with my Pebblesonic device, I like this cleanser. What I noticed about this is that – it's very gentle on skin. I have a sensitive skin and this never gave breakouts to me. It's not effective in removing makeup on the face. So before using this, make sure you have taken off your makeup using a proper makeup remover. Apply a small amount to the fingers or your cleansing brush/device and massage in circular motions onto skin. Lather and rinse. It quickly lathers into a rich foam, remove dirt and cleanses the skin without stripping away skin's essential moisture. It has a pleasant fragrance. Skin feels silky smooth and soft after washing face using this.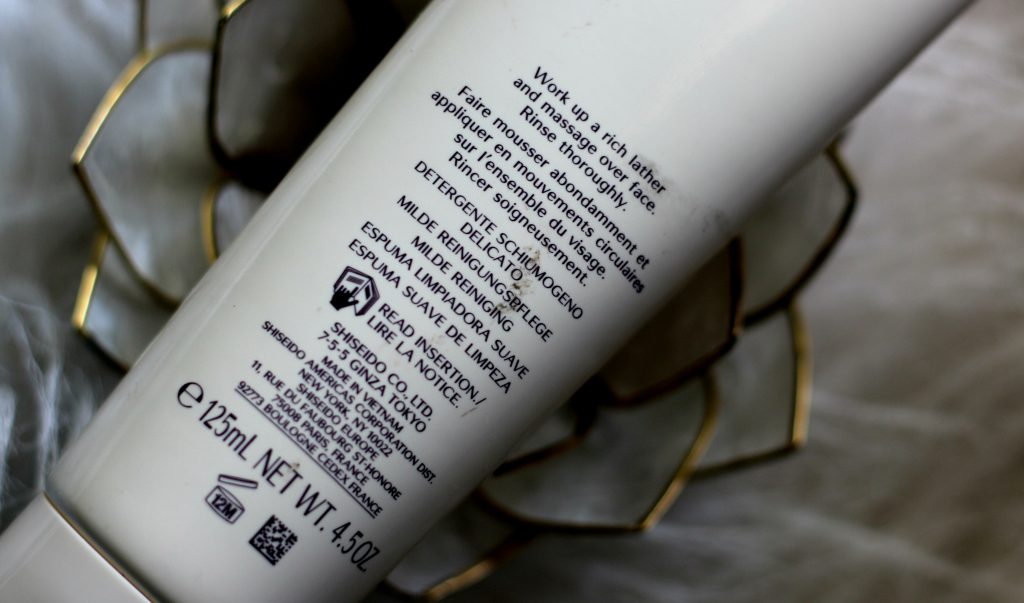 it is formulated WITHOUT Parabens, Sulfates & Phthalates. Full list of ingredients below
-Fatty Acid Capturing Ingredient: Thoroughly removes fatty acids from deep within pores to prevent damage and breakouts.
-AMT: Cleanses and preserves skin's natural moisture.
-TMG: Natural exfoliant to clarify and smooth skin's surface.
-Trehalose: Provides moisture during cleansing.
Water, Stearic Acid, Peg-8, Myristic Acid, Potassium Hydroxide, Glycerin, Lauric Acid, Alcohol Denat., Butylene Glycol, Glyceryl Stearate Se, Trehalose, Polyquaternium-7, Cocamidopropyl Betaine, Sodium Methyl Cocoyl Taurate, Tocopherol, Fragrance, Disodium Edta, Sodium Benzoate, Limonene, Hexyl Cinnamal, Butylphenyl Methylpropional, Betaine.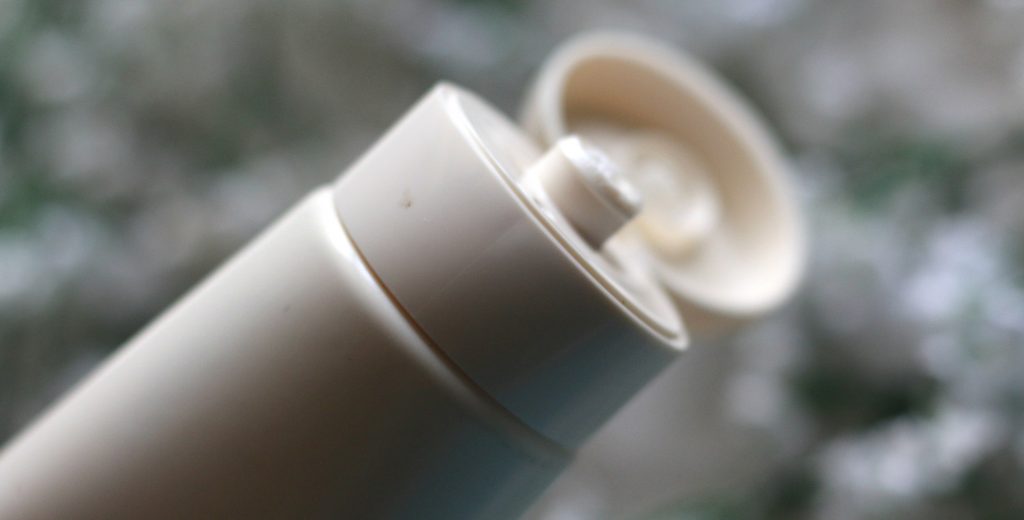 Step 2 – Soften
Soften: instantly infuse generous moisture into skin with a Shiseido softener. Prepare your skin to be hydrated, smooth, supple and soft, more receptive to further treatment.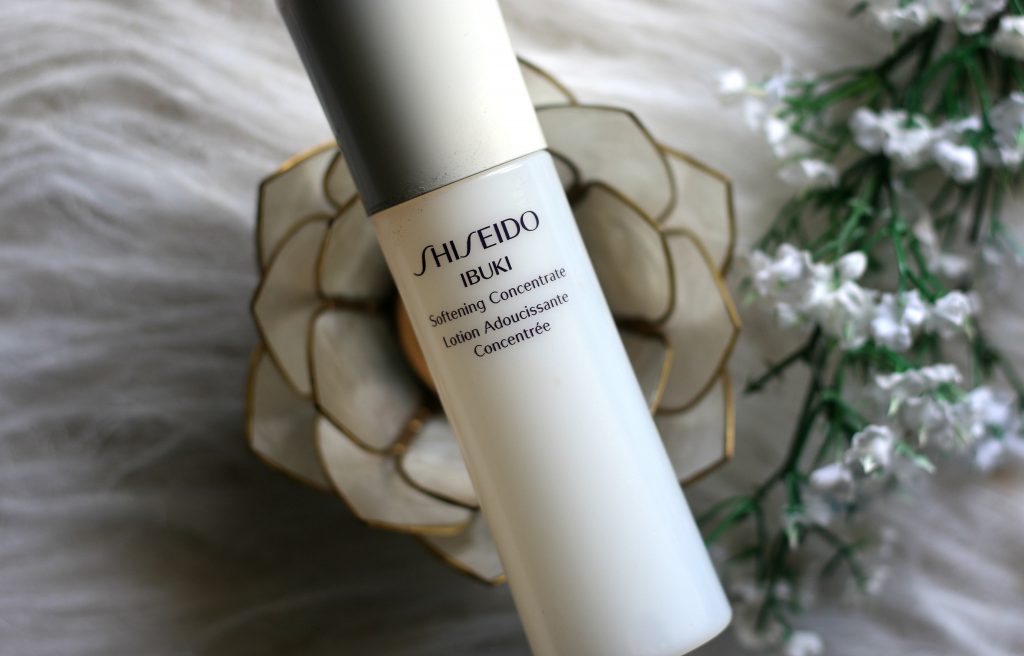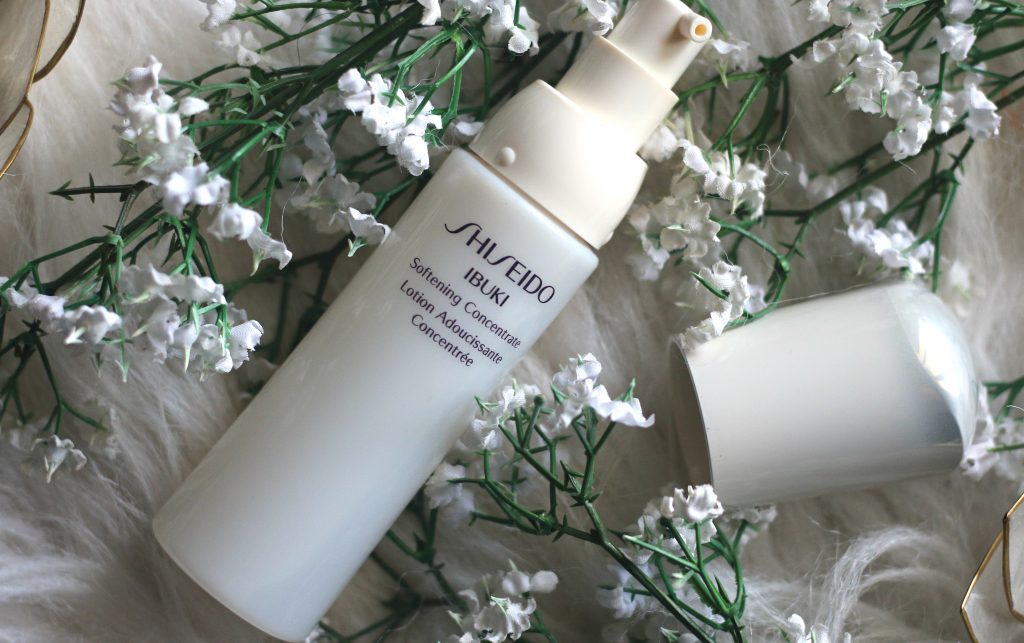 This product is also formulated without any parabens, sulphates or Phthalates. Smooth over face after cleansing. Well, This is one product I am disappointed with- from this range. It made my skin very oily. It was impossible to apply it during day time because of that reason. Too much shine and oily face – though I have a combination skin. So, I feel this is not for my skin type. Smooth over face after cleansing. Also, fragrance of this is very strong! and I don't like alcohol based toners. It leaves a tacky, oily feeling to the skin. I don't recommend this. My mom with oily skin disliked it as well.
Packaging wise, I find them to be very heavy and bulky – not travel friendly at all. USD$24.00 for 2.5 oz/ 75 mL of product.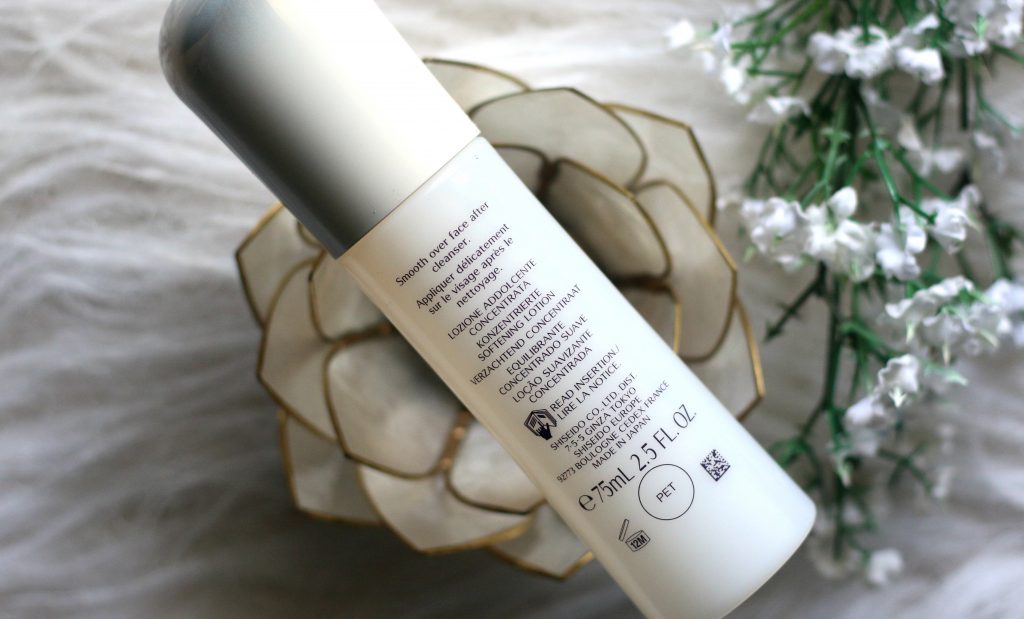 Here are the full list of ingredients
-PhytoResist Complex: Supports skin's natural resistance to external stressors.
-Hydro-Concentrated Formula: Promotes deep penetration and retention of moisture to soften skin.
-Microscopic Emollients: Maintain moisture and soften dry skin.
Water, Dipropylene Glycol, Glycerin, Sd Alcohol 40-b (Alcohol Denat.), Peg-8,Peg/ppg-17/4 Dimethyl Ether, Butylene Glycol, Trehalose, Phenoxyethanol, Peg-60 Hydrogenated Castor Oil, Hydrogenated Polydecene, Isostearyl Alcohol, Isostearic Acid, Carbomer, Betaine, Erythritol, Peg/Ppg-14/7 Dimethyl Ether, Alcohol, Behenyl Alcohol, Fragrance, Polyglyceryl-2 Diisostearate, Xanthan Gum, Sodium Stearoyl Glutamate, Sodium Metaphosphate, Potassium Hydroxide, Stearyl Alcohol, Phytosteryl/Octyldodecyl Lauroyl Glutamate, Limonene, Hexyl Cinnamal, Butylphenyl Methylpropional, Benzyl Benzoate, Linalool, Lamium Album Flower Extract, Citrus Junos Seed Extract, Tocopherol.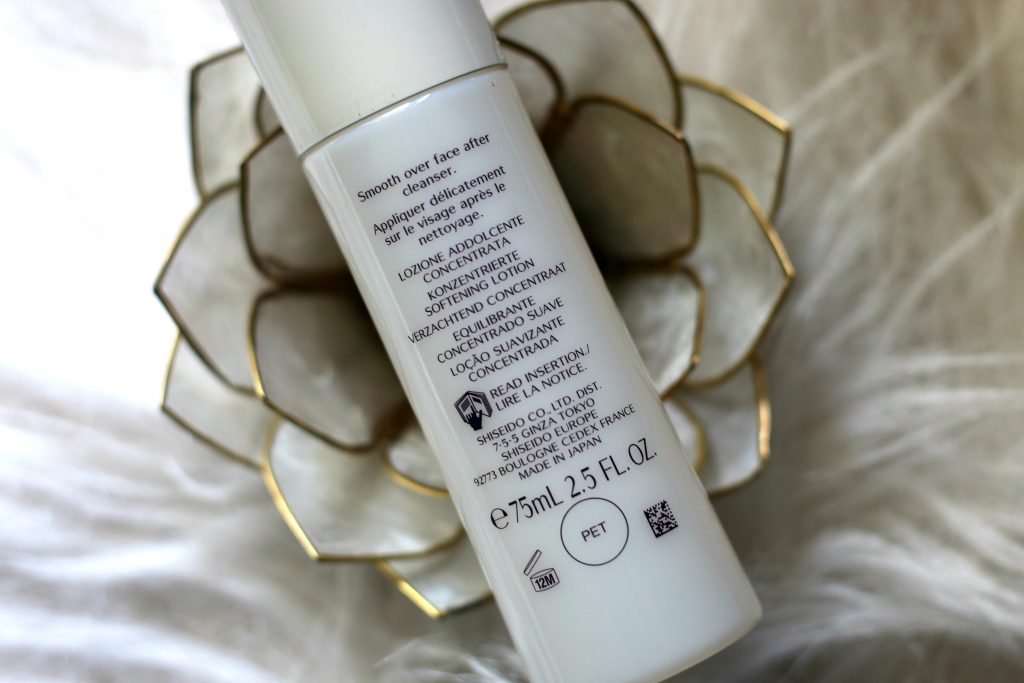 Step 3 – Correct
Correct delicate eye contour concerns with a targeted Shiseido eye cream. IBUKI eye correcting cream is a cool, comforting eye cream that diminishes the appearance of dark circles, puffiness, and fine lines.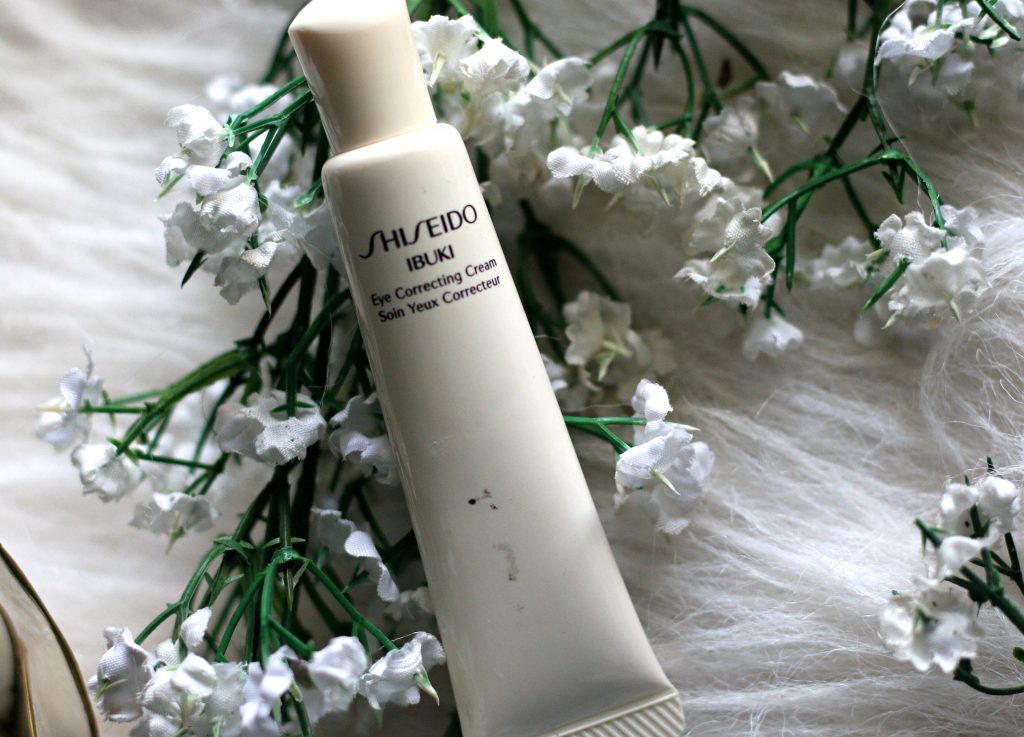 Packaging is very convenient. As it comes in a plastic tube, application is easier. You don't have to worry about dipping your hands into a jar. The tube cut opens easily so that you get to use till it last. Price – $40.00 for 0.53 oz/ 15 mL
I mainly used this cream on my under eye area before applying a concealer. Gently pat this cream on the under eye area. Concealer glides on easily and is easy to blend as well. Doesn't crease the concealer etc.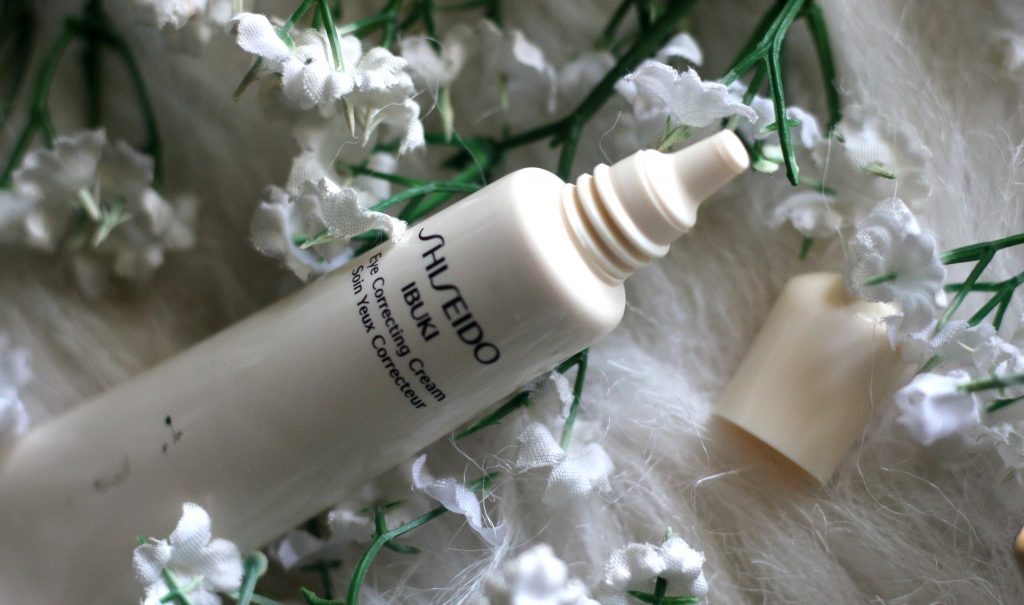 Shiseido claim that this soothing eye cream supports cells' natural resistance to internal and external aggressors. Shiseido's exclusive inner-derm light-enhancing powder reflects red light to increase vibrancy and counteract darkness creating brighter, more youthful-looking eyes.
I didn't notice any difference on dark circle reduction. But, My concealer was easier to blend and apply and as it's non greasy and hydrating. Now, if you ask me – is it hydrating enough for dry under eye area or for harsh winter months. my answer is no. This product is totally not worth your money. For colder months, I prefer a thick eye cream.
It's good if you are someone who don't have extremely dry under eyes and not face any major dark circle issue..If you want a cream that wears well under concealer- go for it. Also, if you have deep-set wrinkles and sagging of eyes – this is not the right product for you.
it is formulated WITHOUT Parabens, Sulfates & Phthalates. Full list of ingredients below
-PhytoResist Complex: Helps protect surface cells from environmental stressors.
-Vitamin E Acetate and Houttuynia Cordata Extract: Minimize puffiness and support natural cellular metabolism.
-Lempuyang Extract: Diminishes the appearance of circles and dullness.
-Inner-Derm Light Enhancing Powder: Reflects red light to increase vibrancy and counteract darkness.
Water, Dimethicone, Alcohol Denat., Glycerin, Butylene Glycol, Dipropylene Glycol, Polymethylsilsesquioxane, Diphenylsiloxy Phenyl Trimethicone, Peg-10 Dimethicone, Disteardimonium Hectorite, Titanium Dioxide (Ci 77891), Pentaerythrityl Tetraethylhexanoate, Trehalose, Peg-150, Isostearic Acid, Mica, Disodium Edta, Alcohol, Fragrance, Betaine, Tocopheryl Acetate, Sodium Citrate, Tin Oxide, Aluminum Hydroxide, Limonene, Citric Acid, Menthol, Hexyl Cinnamal, Butylphenyl Methylpropional, Hydrogen Dimethicone, Polysilicone-2,Iron Oxides (Ci 77491), Benzyl Benzoate, Linalool, Talc, Citronellol, Lamium Album Flower Extract, Citrus Junos Seed Extract, Houttuynia Cordata Extract, Tocopherol, Dimethicone/Methicone Copolymer, Zingiber Aromaticus Extract.
IBUKI Protective Moisturizer Broad Spectrum SPF 18 is a multiactive protecting daytime formula that supports the skin's natural defenses and boosts radiance with a soft, reflecting power.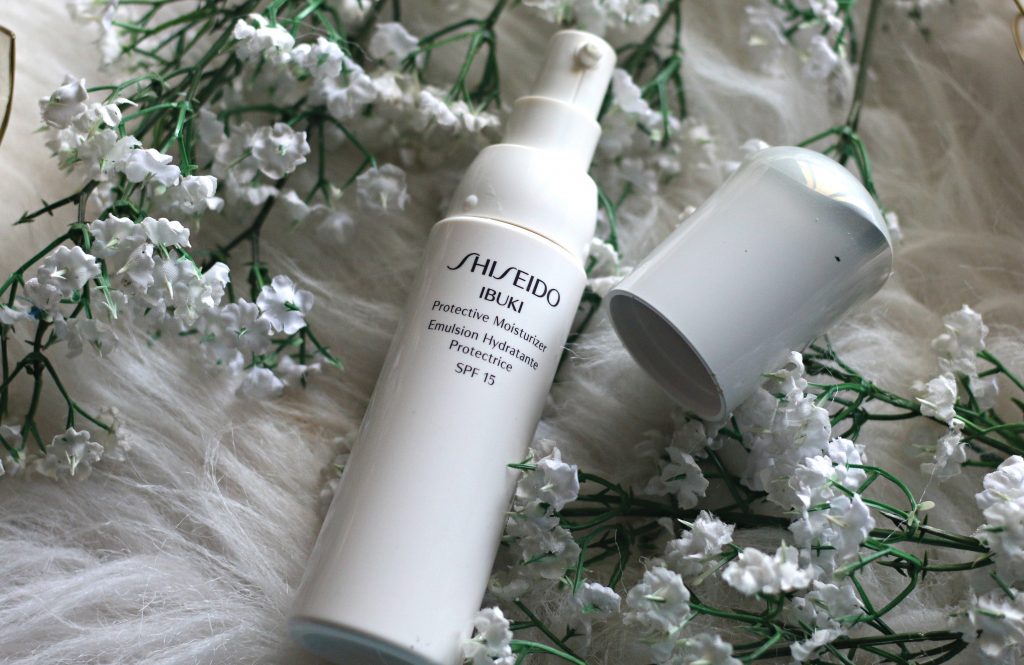 Shiseido claims – this protective moisturizer corrects the appearance of unevenness such as visible pores, breakouts, blemish marks, and skin roughness. It supports a healthy skin surface and creates an incredibly smooth, uniform texture, while providing lasting hydration and enhancing the benefits of skin care products to follow. Soft reflecting red and gold powder particles give the skin a luminous glow.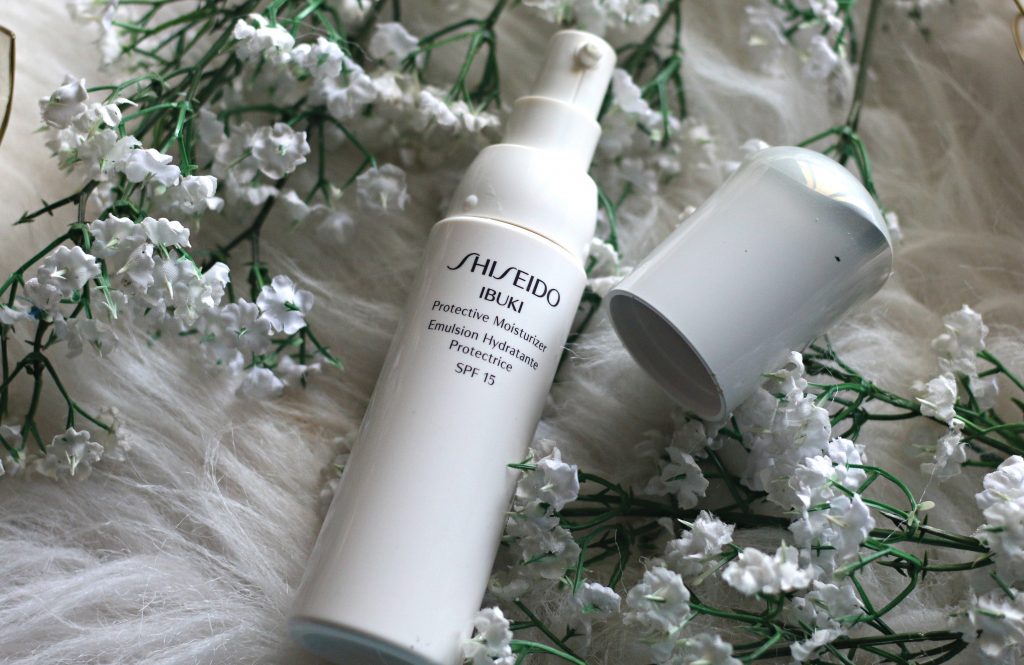 Price – $45.00 for 2.5 oz/ 73 mL ; Packaging is similar to the softening concentrate.
Here are the full list of ingredients
-PhytoResist Complex: Supports surface cell's natural strength.
-Glycylglycine: Improves the visible appearance of pores and roughness.
-Peony Root Extract: Minimizes the appearance of breakouts and blemishes.
-Witch Hazel Extract: A source of antioxidants.
Water, Sd Alcohol 40-B,Glycerin,Dipropylene Glycol,Dimethicone,Ethylhexyl Palmitate,Polybutylene Glycol/Ppg-9/1 Copolymer,Silica,Trehalose,Betaine,Glycyl Glycine,Lauryl Betaine,Paeonia Albiflora Root Extract,Hamamelis Virginiana (Witch Hazel) Leaf Extract,Lamium Album Flower Extract,Citrus Junos Seed Extract,Zingiber Aromaticus Extract,Peg-20 Glyceryl Isostearate,Triisostearin,Triethanolamine,Isostearic Acid,Alcohol,Butylene Glycol,Carbomer,Batyl Alcohol,Behenyl Alcohol,Acrylates/C10-30 Alkyl Acrylate Crosspolymer,Trisodium Edta,Sodium Metabisulfite,Bht,Phenoxyethanol,Sodium Benzoate,Benzoic Acid,Fragrance,Titanium Dioxide,Mica.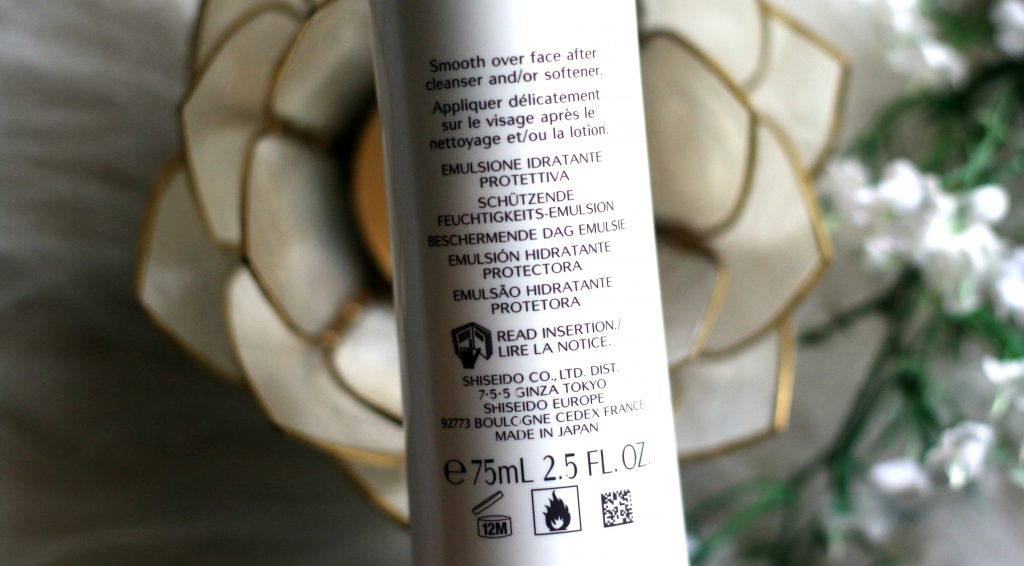 Smooth the moisturizer all over face after cleansing and softening. As it has SPF – it meant for the day time. Now, This is a good moisturizer with spf for morning use. It's best for summer months. No significant improvement on pores or blemishes as it claims. But, It's a great moisturizer that hydrates skin. After washing face using IBUKI gentle cleanser, this can be applied. my mom like it. But, It didn't suit my sensitive skin. I got breakouts when I tried it and I stopped using it. It's consistency is light weight, get absorbed by skin pretty quick too. But, as I said – not my favorite. I would not recommend this to you if you have sensitive or acne prone skin.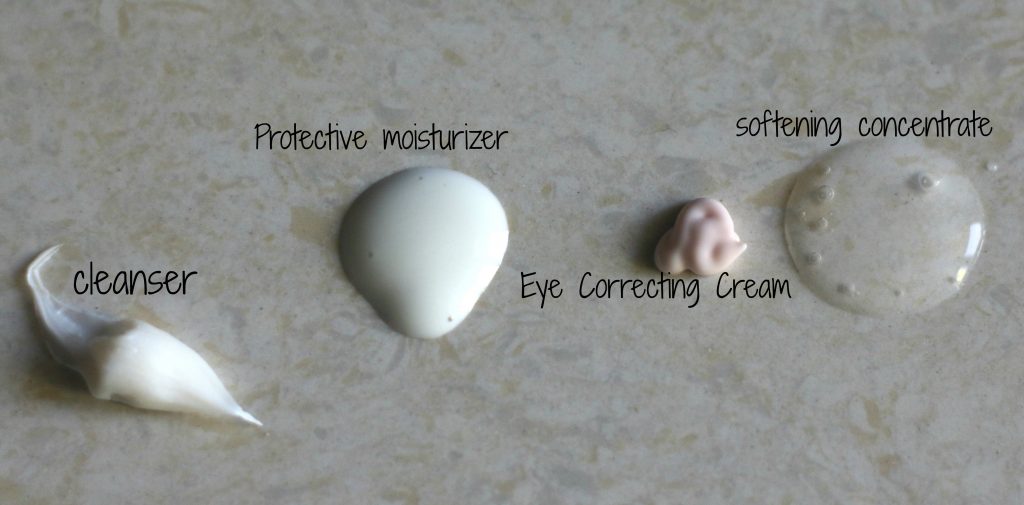 Overall, these products are quite over hyped. Apart from cleanser – other products are really not worth it's price. There are better products in the market. Also, a great tip in buying skincare line that suits your skin -Always check the ingredient list. Make sure there are no harmful chemicals.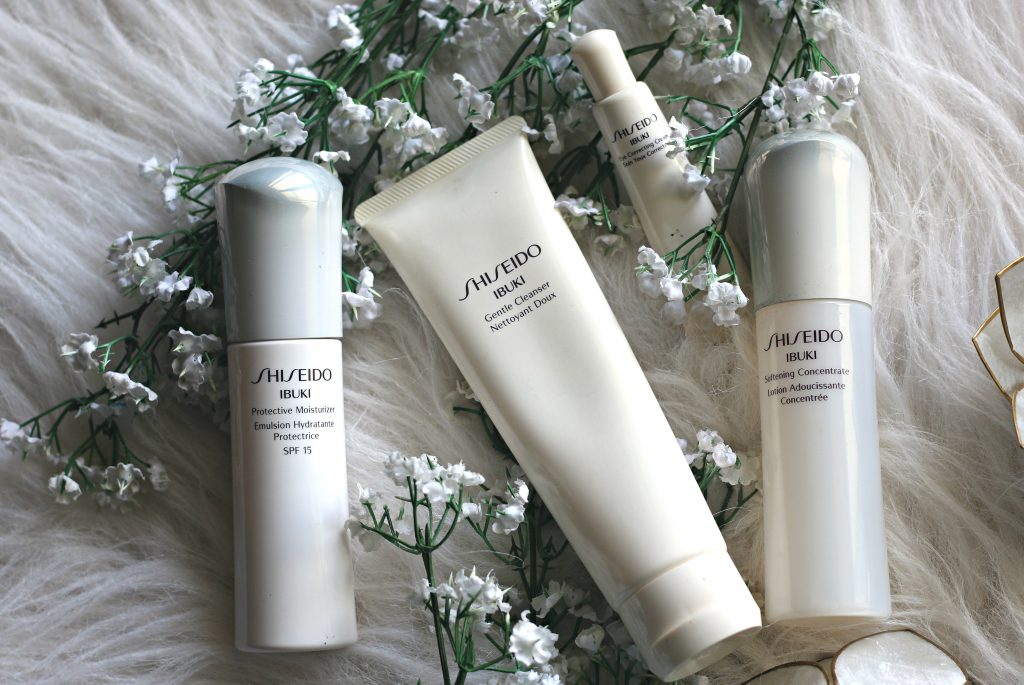 Have you tried IBUKI range from Shiseido ? If yes, What are your thoughts about them ?
** Products sent by brand PR. However my reviews are honest and unbiased as always.