Cleansing is an important step in every skincare routine. After removing my makeup using a cleansing balm or makeup remover. I like to double cleanse my face. I don't exfoliate my facial skin every day. But double cleansing every night is a must do step for me. Especially, for people like me who wear a lot of makeup during the day time. I don't stick to a single brand when it comes to cleansers. I keep on changing them depending on the kind of makeup I use – Well, in a way that determines how effective my cleanser should be. Being a girl with sensitive skin – It's often difficult to get a cleanser that is effective yet mild on skin. Two months back I got an opportunity to try some of the Kat Burki skincare line. I got their Cleanser and Collagen Gel. In this post, I am sharing my experience of using them.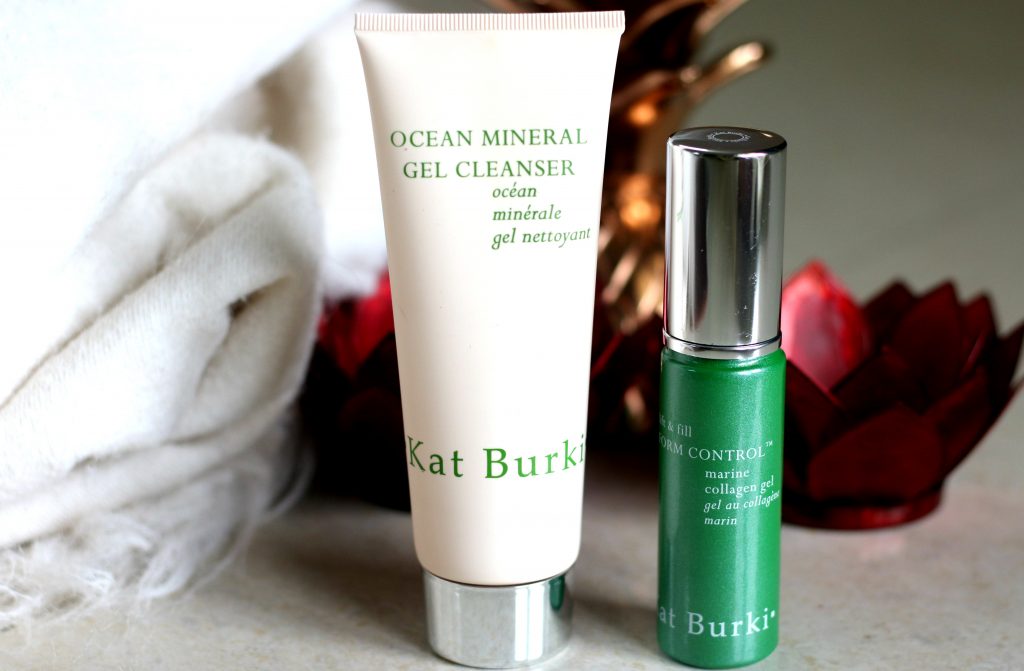 I was so excited to try the Ocean Mineral Gel Cleanser that claimed – it is to deal with skin concerns such as: Aging Skin, Sun Damage, Hyperpigmentation, Free Radical Damage, Large Pores etc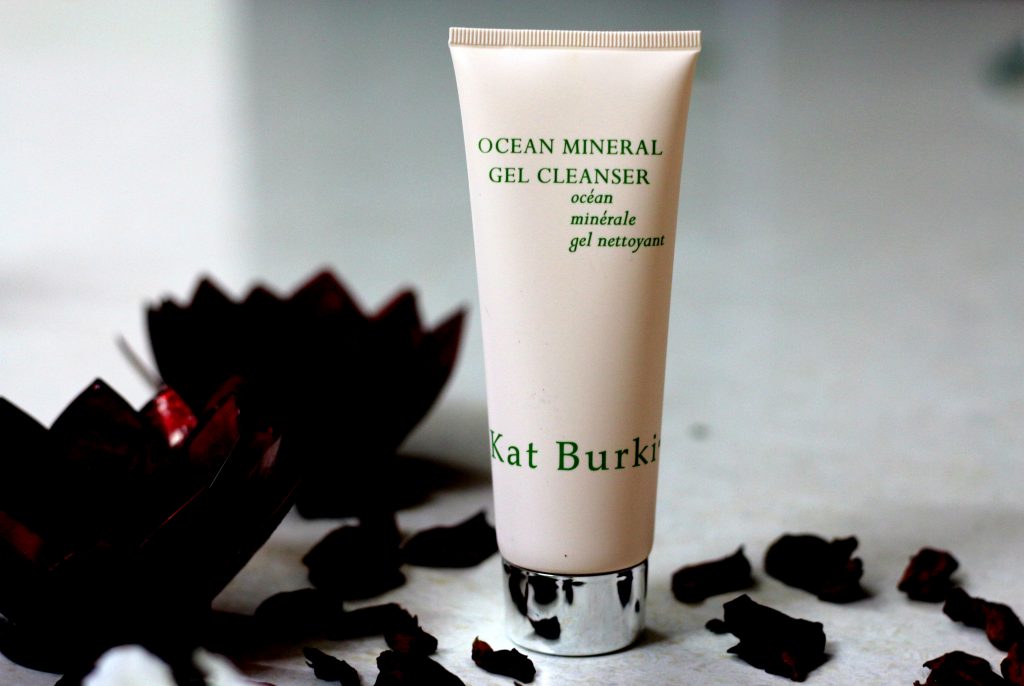 Like how Danish writer Karen Blixen once wrote – "The cure for anything is salt water sweat, tears, or the salt sea." ; It's true that the minerals of the ocean are known to have incredible cleansing properties which help to boost the body's natural healing and repair processes.
Kat Burki Ocean Mineral Gel Cleanser (formerly Ocean Mineral Face Wash) utilizes the magic of the ocean to cleanse skin with a rich and foamy lather that gently removes impurities without causing a dry or tight feeling.
Kat Burki Ocean Mineral Gel Cleanser can be used both day as well as during night. Best to be used as your first cleanse. You can take required amount on your palms. rub it on your palms and gently massage onto face and neck for 60 seconds. Can be used on wet or dry skin. Rinse clean with water or warm washcloth. The packaging is nothing fancy. A tube packaging that is very convenient.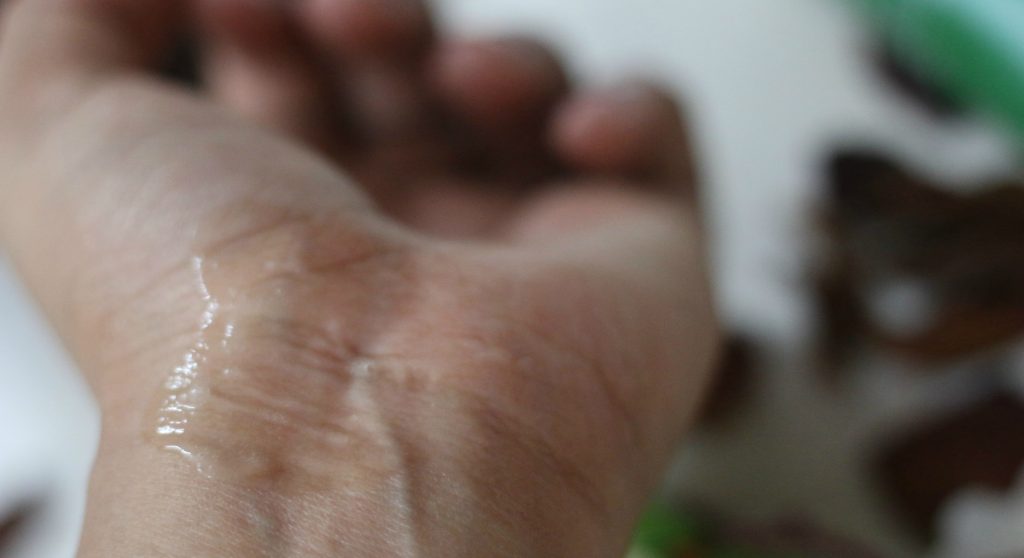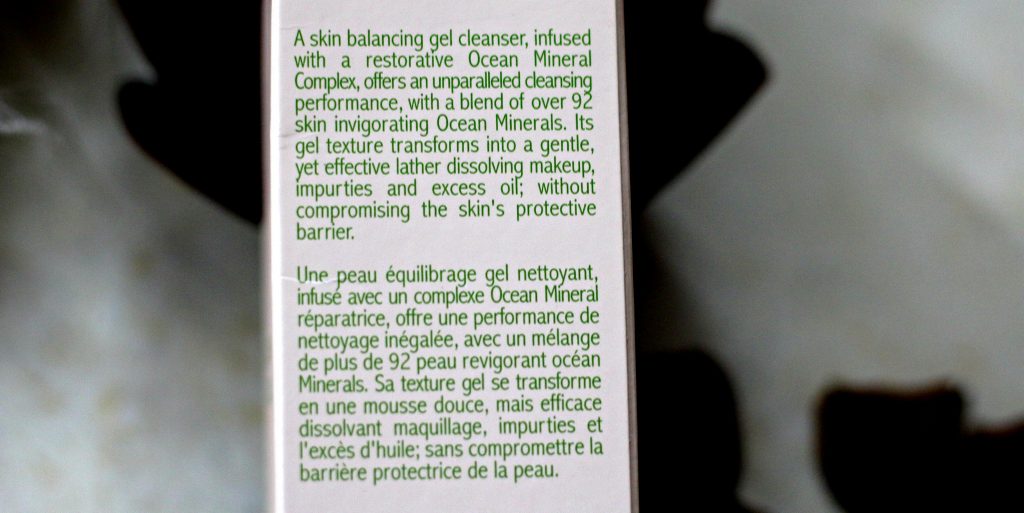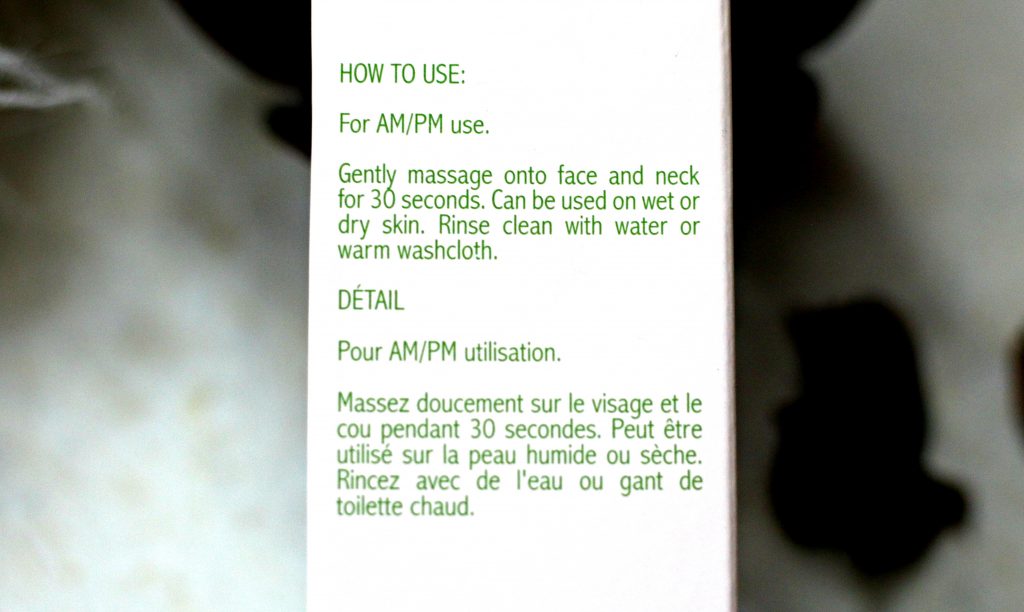 • Removes impurities and makeup
• Removes excess oil without irritation or dryness
• Brightens skin
• Restores softness and Protects skin's barrier (retains moisture)
• Soothing (suitable for sensitive skin)
• Formulated WITHOUT: Parabens, Synthetic Dyes, Synthetic Fragrances, Gluten, Sulfates, Petrolatum and Mineral Oils
This cleanser can be used by Normal, Combination and Sensitive Skin.
Key Ingredients:
Organic Grapefruit, Orange Peel and Rosehip: reduces hyperpigmentation and balances skin tone
Ocean Minerals: over 92 different types of ocean minerals exfoliate and cleanse, removing dead skin cells and excess sebum that lead to breakouts
Essential Oils: help the skin to hold on to its natural moisturize
| Ingredient | Rich In | Action | Results |
| --- | --- | --- | --- |
| KB5TM Complex (Gotu Kola, Arnica, Calendula, Lavender & Chamomile) | Plant saponin (Antibacterial Agent) Essential Oils Vitamin A Bisabolol (Anti-irritant) | Supports skin's elasticity Helps stimulate collagen production Helps increase microcirculation Antibacterial, Anti-inflammatory Strengthens capillary walls | Skin elasticity is improved Glowing Complexion |
| Ocean Mineral Complex (OMC92) | Sodium, Potassium, Calcium, Magnesium (Blend of 92+ Ocean Minerals) | Activates enzymes necessary for proper cellular function | Strengthens skin structure Skin readily accepts re-mineralizing and restorative properties |
| Rose Hip Seed Oil, Orange Peel Tincture & Grapefruit Seeds | Vitamin C | Brightens skin Decreases hyper-pigmentation | Skin feels soft and dewy |
| Tea Tree Oil | Antiseptic and Antibacterial | Healing | Skin is clearer |
| Methylsulfonylmethane (MSM) | Oxygen Sulfur Compound | Skin cells become more permeable | Skin is absorbent and receptive to plumping and hydration |
What I really like about this cleanser – First of all, While using this product, make sure it doesn't go near your eye area. It stings badly. I like the light weight texture of this gel cleanser and it removes light makeup. I usually remove my makeup and then use this as a first cleanse in my CTM routine. I like the fact that it was not very drying on my sensitive skin and it didn't irritate my skin. I see a ot of negative reviews about this product. I think all those are false claims. Me with sensitive ski nand my cousin with a normal/oily skin liked this. The fragrance is a mix of clean salty scent mixed with essential oils. Definitely not a favorite fragrance for me. But, nothing unpleasant either.
I used this on damp skin and I found this cleanser don't lather much. But it does the job of squeaky cleaning the face, leaves no residue behind. It does exactly what a cleanser is supposed to do. It clears up the impurities and dirt from face and after you wash off. Initial 30 seconds to 1 minute -You feel your skin to be really tight.  After that face turns really smooth to touch. If you are using it at night. You would need a hydrating moisturiser afterwards. For me, As I use it as a first cleanse, I make sure I follow up with a cleansing balm that is moisturising on my skin.
Ingredient list of this cleanser is impressive though. Has 92 skin invigorating ocean minerals. Formulated WITHOUT – Parabens, Synthetic Dyes, Synthetic Fragrances, Gluten, Sulfates, Petrolatum and Mineral Oils. The ingredients include, tea tree oil, rose hip seed oil, orange peel, grapefruit seeds, ocean mineral complex, gotukola, arnica, calendula, lavender, chamomile etc. Kat Burki suggest to use this as  first cleanse. They also have a Vitamin C Nourishing Cleansing Balm ($65), which is a second cleanse.
Kat Burki FORM CONTROL™ Marine Collagen Gel – $150.00
I was very excited to try this product. Especially I have heard so many rave reviews about this one. Kat Burki FORM CONTROL™ is a marine collagen gel that contours less defined areas by encouraging correction to fill in shape and form. It's for all skin types.
Offering maximum lift and fill, pure algae keratin regenerates skin cells while botanical hyaluronic acid, fused with silk amino acid proteins, instantly fills the epidermis to visibly smooth fine lines and wrinkles and improve elasticity. Fourteen known collagen boosters encourage skin cells to uptake the marine collagen for filling and plumping, and are also proven collagen generators, increasing skin's own collagen production. The brand's signature KB5™ Complex, along with reishi mushroom and plant stem cells, promote deep hydration.
Now, this product can be used in a number of ways
AM: Targeted Treatment
Apply a thin layer on expression lines and targeted areas. Allow 3-4 minutes for complete absorption.
PM: Night Treatment
Apply a thin, even layer to face and neck. Allow 3-4 minutes for complete absorption. Follow with nightly skincare routine.
Weekly Anti-Aging Treatment (2-3x/week)
Apply a generous even layer to face and neck. Allow 15-20 minutes for complete absorption. Remove residue with water or warm washcloth, if desired. Follow with Vitamin C and a hydrating cream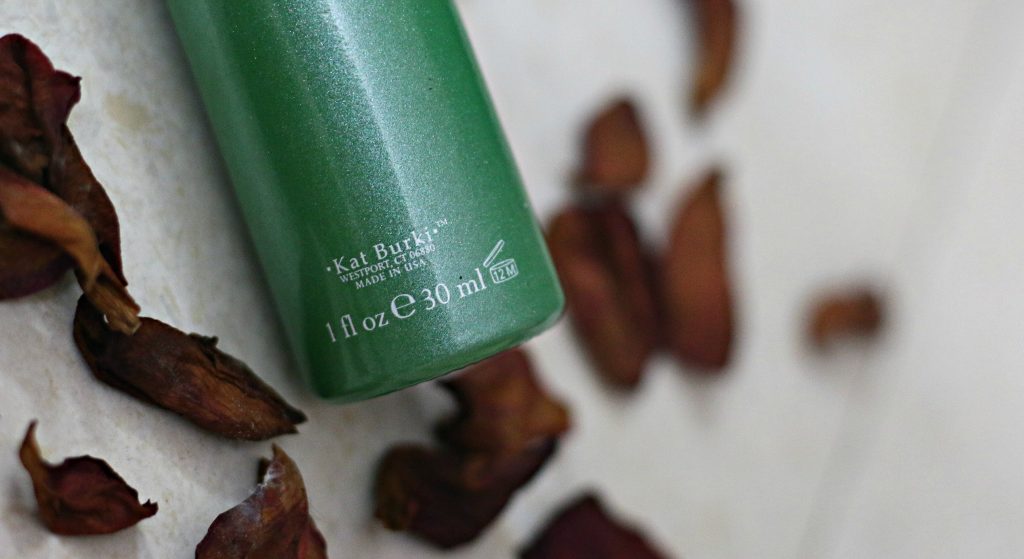 Ingredients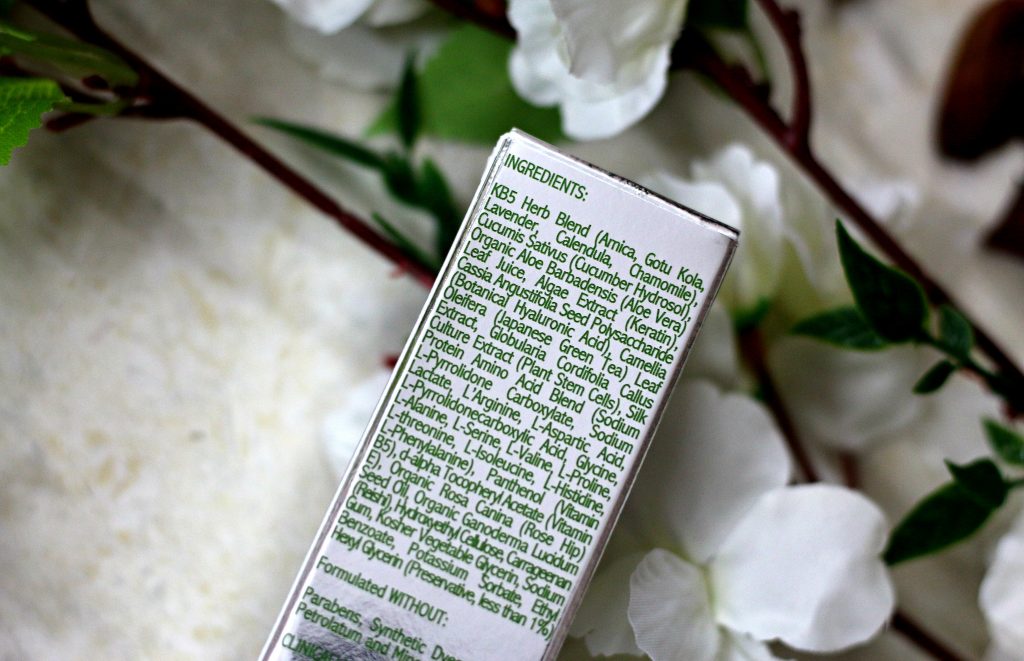 KB5™ Complex (Arnica Montana (Arnica), Centella Asiatica (Gotu Kola), Lavandula Angustifolia (Lavender), Calendula Officinalis (Calendula), Matricaria Recutita (Chamomile)), Aloe Barbadensis Leaf Juice (Aloe), Cucumis Sativus Oil (Cucumber Hydrosol), Globularia Cordifolia Callus Culture Extract (Plant Stem Cells), Ganoderma Lucidum Extract (Reishi), Panthenol (Vitamin B-5), Tocopherol (Vitamin E), Rosa Canina Seed Oil (Rosehip Seed Oil), Hydroxyethylcellulose, Glycerin, Carrageenan, Algae Extract (Seaweed Keratin), Cassia Angustifolia Seed Extract (Botanical Hyaluronic Acid), Camellia Sinensis Leaf Extract (Green Tea), Sodium PCA (Sodium Pyrrolidone Carboxylate), Sodium Lactate, Arginine, Aspartic Acid, PCA (Pyrrolidone Carboxylic Acid), Glycine, Alanine, Serine, Valine, Isoleucine, Proline, Threonine, Histidine, Phenylalanine, Sodium Benzoate, Potassium Sorbate, Ethylhexylglycerin (Preservative, less than 1%), Phenoxyethanol (Preservative, less than 1%)
Though this product is super expensive. It's performance justifies its price. I totally love this. It's Free from parabens, synthetic dyes, synthetic fragrances, gluten sulfates, petrolatum and mineral oils. Kat Burki Form Control Marine Collagen Gel is part of their Anti-Aging line.
The texture is very lightweight gel which is very hydrating on skin and is quickly absorbed by skin. Smell of cucumbers, very fresh and soothing. About the packaging – This luxe glass bottle, green colored iridescent shimmers with a pump. Luxury in every way.  Love the fact that Kat Burki products don't contain water, alcohol or dimethicone. Price tag is worth it.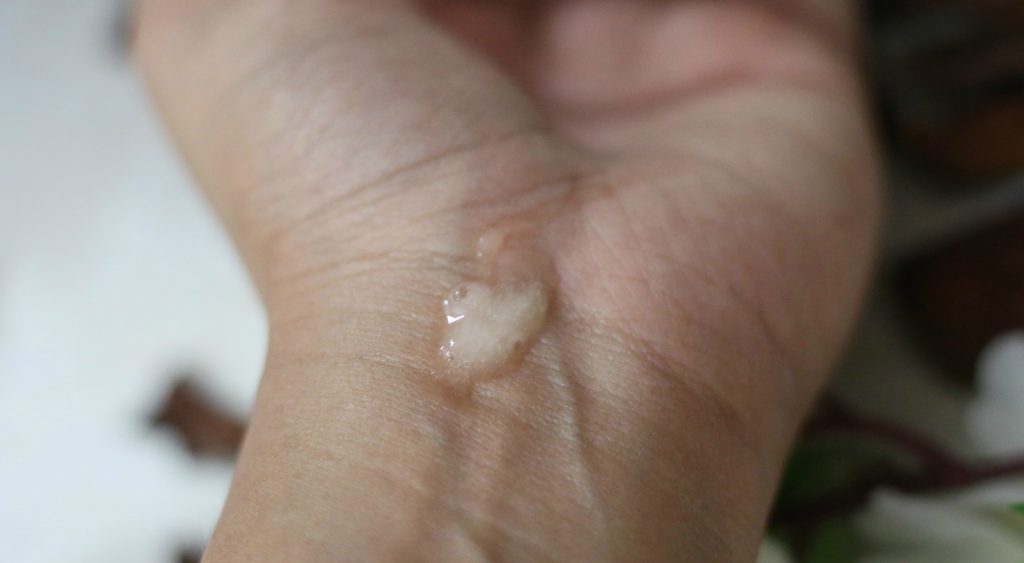 Kat Burki claims that this marine collagen gel contours less defined areas by encouraging correction to fill in shape and form. Offering maximum lift & fill, pure algae Keratin regenerates skin cells while Botanical Hyaluronic Acid fused with Silk Amino Acid Proteins instantly fills the epidermis to visibly smooth fine lines and wrinkles and improve elasticity. 14 known Collagen Boosters not only encourage skin cells to uptake the Marine Collagen for filling and plumping, but are also proven collagen generators to increase skin's own collagen production. Further boosted by KB5™ Complex and Reishi Mushroom, Plant Stem Cells promote deep hydration.
You may use it before your regular moisturizer for immediately plumping, or under your moisturizer as a serum for long-term benefits. I prefer to use this as a serum. The texture is super light weight and it instantly sinks into your skin. Once applied, allow it to sit on your skin for about 3-4 minutes before applying other products so that it can absorb properly.
Within few weeks of using as a serum at night – I definitely see my skin feeling plumper and more nourished. I never really noticed any sculpting or contour effects so far. I think that's a long term usage goal. I like serums that are non sticky, fast absorbing and which rejuvenate skin.  Also, being a light weight product. You can also layer this with other products in your skincare routine such as facial oils and moisturizer etc. Using this since 2 months. I have only a quarter of product left. Which means a bottle of 1 oz. or 30 ml is sufficient for 2-3 months if used daily once
For the $150 price point, it is definitely a luxury product, but I've really enjoyed using this and will recommend to those looking for a plumping and nourishing serum. I really felt my skin to be plumped, more hydrated, radiant and youthful. Even though it is marketed as an anti-aging product, I like to think that people in their late 20s and early 30s can also use this as a preventative measure. I am in my late 20's. Love this product.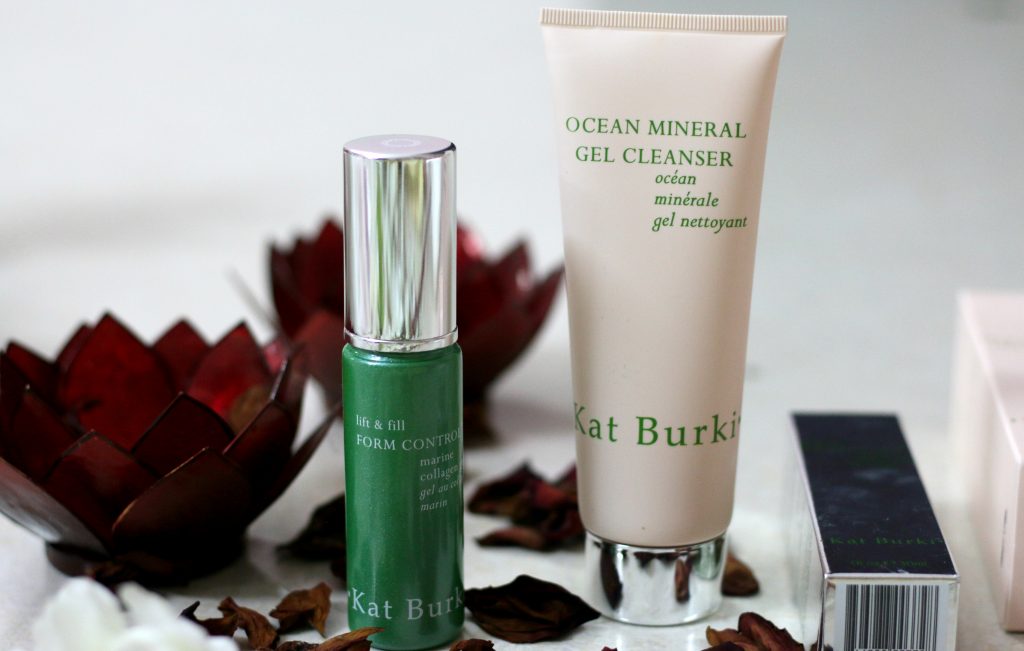 Overall, these two products are nice and it's worth trying. I like the collagen gel more and I would like to try their Vitamin C intensive face cream and Vitamin C nourishing cleansing balm and Power Trio Radiance Oil next. Will keep you all posted about those products as well.
** Products sent by brand PR. However, my views are honest and unbiased as always.