Is your makeup remover removing makeup properly every time you cleanse your skin? Does your face cleanser really cleanse skin? I love my Clarisonic Mia 2 in Pink (review here) color. This Mia 2 – White was kindly sent across by the brand for editorial review purpose! Today, I am featuring why I love my Mia 2 Cleansing tool over other cleansing brushes.
Clarisonic Mia 2 Skin Cleansing System – $169
Clarisonic Mia 2 Skin Cleansing System – $169 is a gentle, two-speed cleansing brush that removes dirt, oil, and makeup up to six times better than hands alone, plus a foaming gel cleanser.
For all skin types – even sensitive
2 facial cleansing speeds – delicate & universal
1 minute T-Timer feature
Waterproof
Mia 2 Works with all brush heads
This set contains:
– Clarisonic Mia 2 White (with Radiance Brush Head)
– USB enabled charger
– 1 oz/ 30 mL Refreshing Gel Cleanser
Refreshing Gel Cleanser Ingredients
Water, Glycerin, Coco-Betaine, Sodium Cocoyl Glycinate, Peg-120, Methyl Glucose Dioleate, Sodium Chloride Dipropylene Glycol, Lauric Acid, Triethanolamine, Phenoxyethanol, Fragrance, Caprylyl Glycol, Linalool, Limonene, Benzyl Benzoate, Tetrasodium Edta, Argilla / Magnesium Aluminum Silicate, D160535/3.
FEATURES
2 Speeds: 'Delicate' and 'Universal'
With varying levels of sonic cleansing speed, you can customize your Clarisonic Mia 2® facial cleansing experience to address your specific skin concerns.

Designed for compromised or fragile skin, Speed 1 'Delicate' is gentle enough to cleanse skin that's very sensitive.
'Universal' speed is for all skin types and provides sonic facial cleansing six times better than hands alone. Universal is developed for normal daily use and enhances cleansing by 26% compared to Speed 1.

1-Minute Pulsing T-Timer
For even and thorough sonic cleansing, Clarisonic Mia 2 features a T-Timer that pulses momentarily to indicate it is time to move the facial cleaning brush to another part of your face.
Interchangeable Facial Brush
Choose from a variety of interchangeable facial cleansing brush heads for your Clarisonic Mia 2, each uniquely designed and engineered for specific skin types or conditions. Visit Clarisonic Cleansing Brush Head Comparison Chart for more information.
2 Year Warranty
Clarisonic Mia 2 comes with a warranty covering any manufacturer defect-related problems resulting from everyday use of the product.
Proper Cleansing of skin is basic in every skincare routine. If you wear makeup – Double Cleanse – that's the answer. Cleansing your skin every night before sleep is necessary to remove make-up, those impurities, dead skin cells, and excess oil build up etc. While your normal facial cleansers or makeup removers can effectively remove all make-up on eyes and face as well as cleanse the skin.. The patented Clarisonic Sonic Cleansing Brush uses a sonic frequency of more than 300 movements per second to deeply cleanse the skin in a more effective, gentle way than your normal or regular devices. Result is Clean, smoother, brighter skin.
Before you start to use the Clarisonic Sonic Cleansing Brush, charge the Clarisonic handle for at least 24 hours.
My steps to cleanse using this 'magic device' as how I describe it!
remove all makeup from eyes first.
Take a normal cleanser or gel. cleanser directly to moistened skin or to a damp brush head. If you have sensitive skin, make sure you use 'sensitive skin brush head'
Push the on/off button to turn on your cleansing brush
Adjust the desired speed by clicking on the button
Work the cleanser your way by moving the brush head in small circular strokes. Clarisonic recommends: 20 sec on forehead, 20 sec on nose and jaw, 10 seconds on one cheek, 10 seconds on the other cheek.
Don't be too harsh on your skin. Don't over exfoliate or over cleanse as well. Stick to recommended settings and usage time specified by Clarisonic.
Make sure to replace your brush head every 3 months for best results
I love Mia 2 – White. It comes with two speed settings, delicate and universal. You can use delicate for sensitive skin. I use delicate speed setting. Universal is meant for all skin types. The 1 minute timer is my favorite feature. It gives you full control of the device. You exactly know how long to keep the device on each area of your face. Mia 2 is fully waterproof which means you can use while in the shower as well. You get approx. 80-100 minutes of use once fully charged.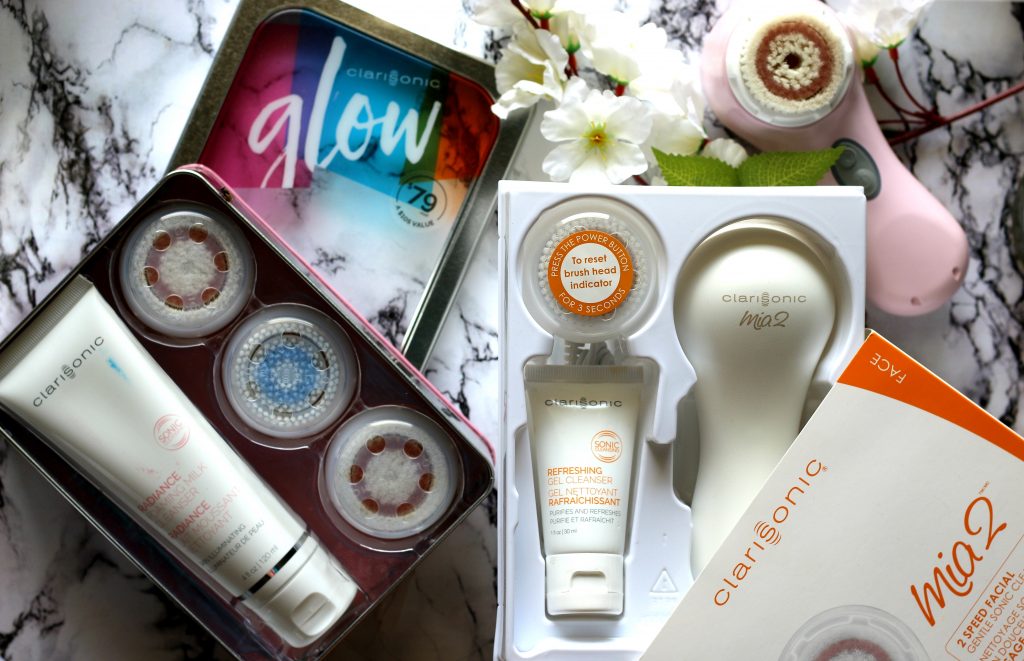 This lovely 'In the Glow Set' from Clarisonic contains a set of comforting brush heads, plus luxurious cleanser to leave you with a more radiant, glowing complexion.
Read the full review here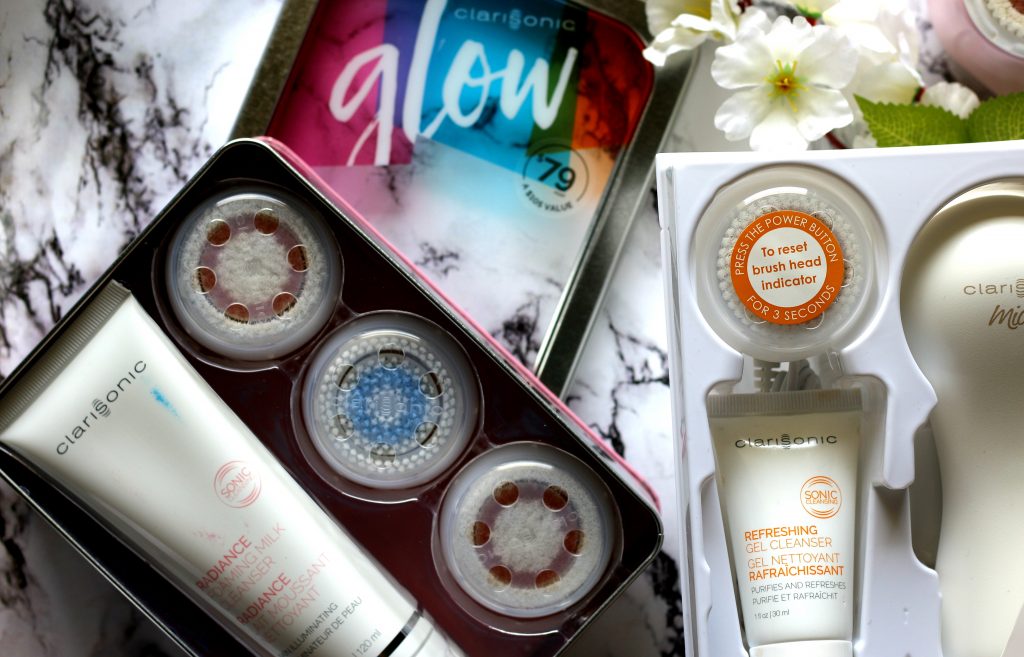 Overall, its a great skin gadget ever! I love Clarisonic Mia 2. It makes my skin feel smooth and clean. FYI, Initially, when you start using the cleansing brush – It might break you out at first. I suggest using it every 2 days to begin with; then going every other day then finally making it mandatory every night. best gift you can give your skin!
Availability – Clarisonic In the Glow Brush Head Set – $79 ($105 value) can be purchased from Sephora or Clarisonic Site
Do you use a facial cleansing brush ? What's your favorite brand ?
** Product sent by brand PR. However, my review is honest and unbiased as always.