Holidays are one of my favorite time. I know well that all my favorite makeup brands come with such dreamy collections and value gift sets around that time of the year. I literally wait for every holiday season.
Makeup Brushes are one of the makeup tools I can't live without. I can't imagine applying makeup without using brushes. I have plenty of them – Zoeva, Sigma, MAC, PAC, Eco Tools and many many brands drug store and high end! However, I can't have enough of them. In this post I am featuring one of the value brush sets I recieved from brand PR during holiday time.
IT Cosmetics All That Glitters Brush Set ($58/$130 value)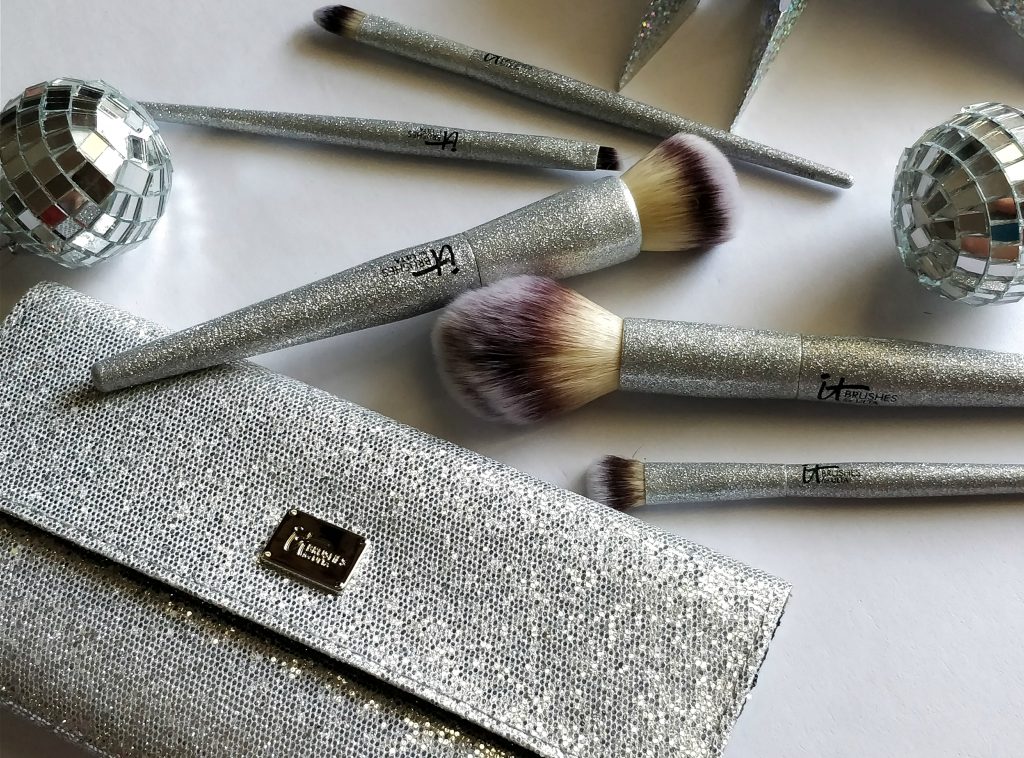 IT Cosmetics All That Glitters Brush Set comes in a very dreamy packaging! It features five silver glitter handled full-sized makeup brushes.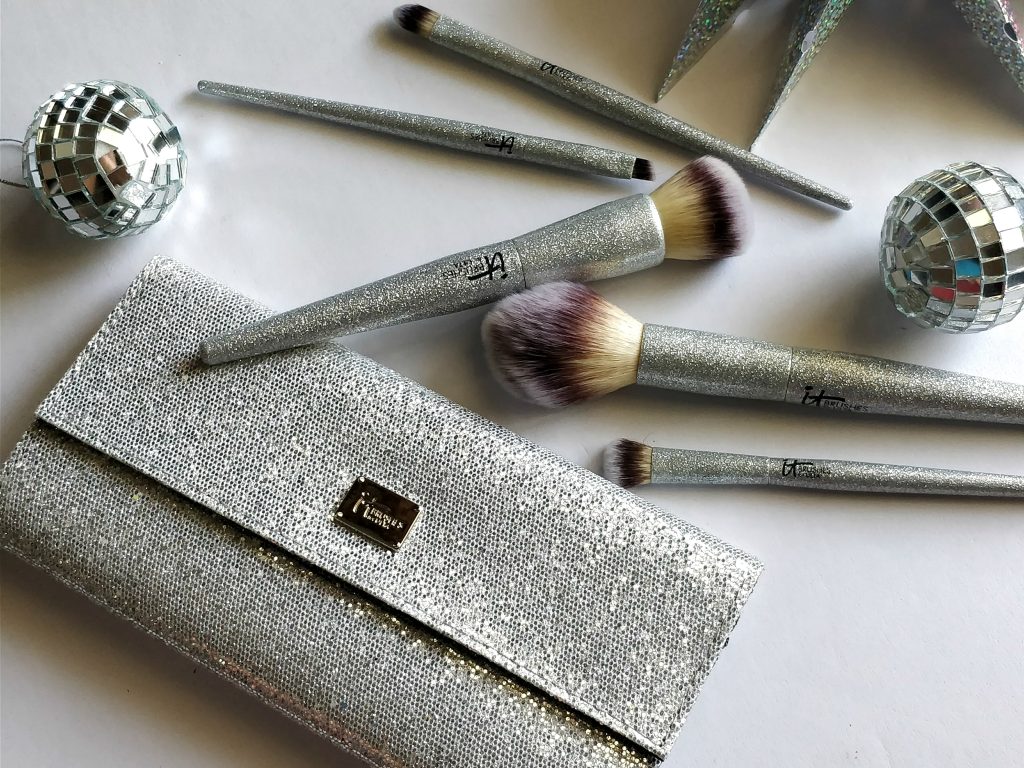 The set comes in a fold out makeup brush clutch bag holder located on the inside flap. Great while travelling. You just don't need to worry about your brushes lying all over!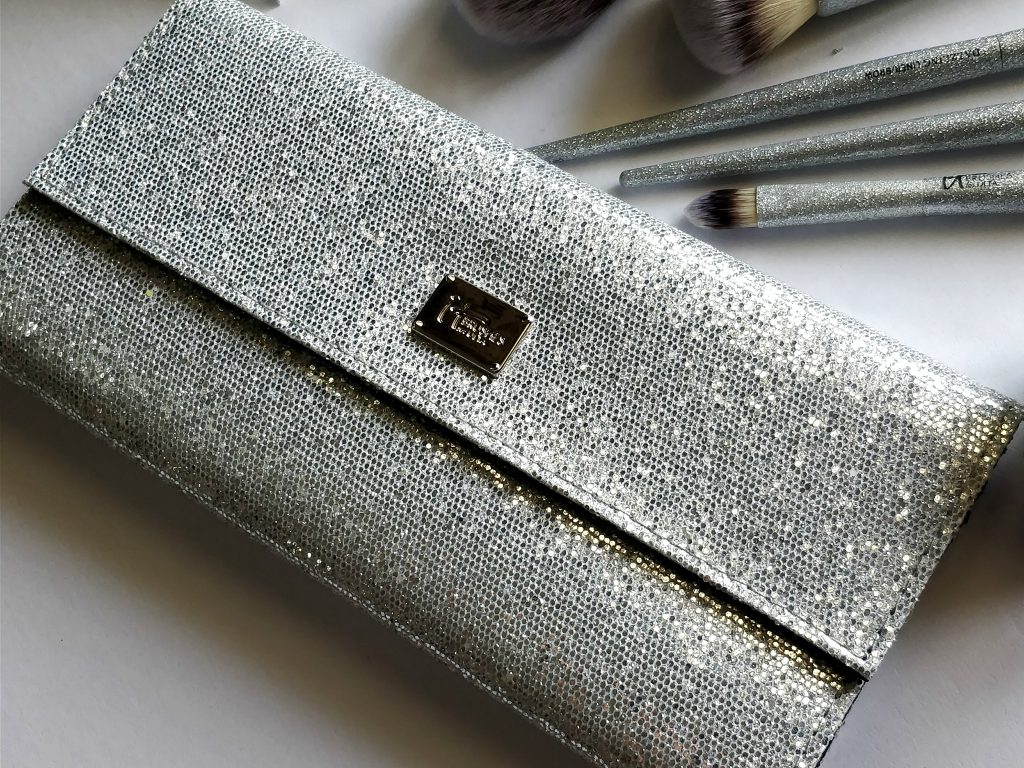 Moreover, the shimmery, sparkly silver clutch bag matches well with the brush handles inside. All brushes easily fit into individual slots which hold them firmly and safely in the clutch bag which also has an interior zippered pocket! How cool is that ?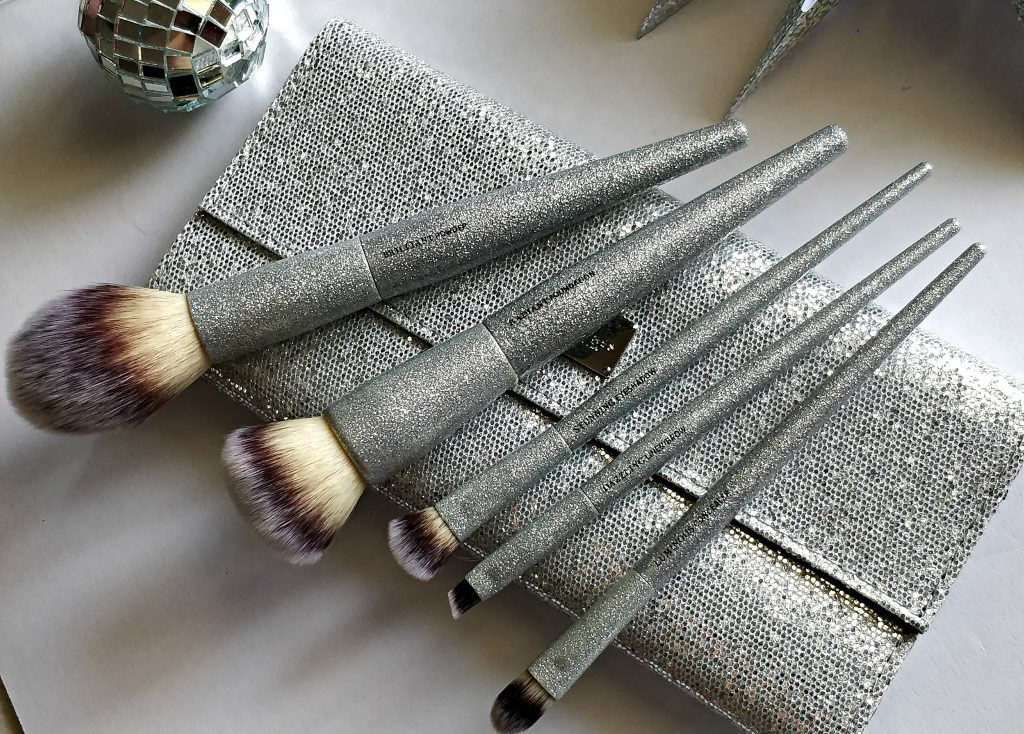 With the silver sparkly detailing etc, these brushes tend to look heavy than normal brushes. But, infact they're actually very lightweight to hold. Feels comfortable to hold. The brush heads are amazing! Super super soft and dense. IT Cosmetics is known to make super luxurious soft brushes.
Here are all the brush details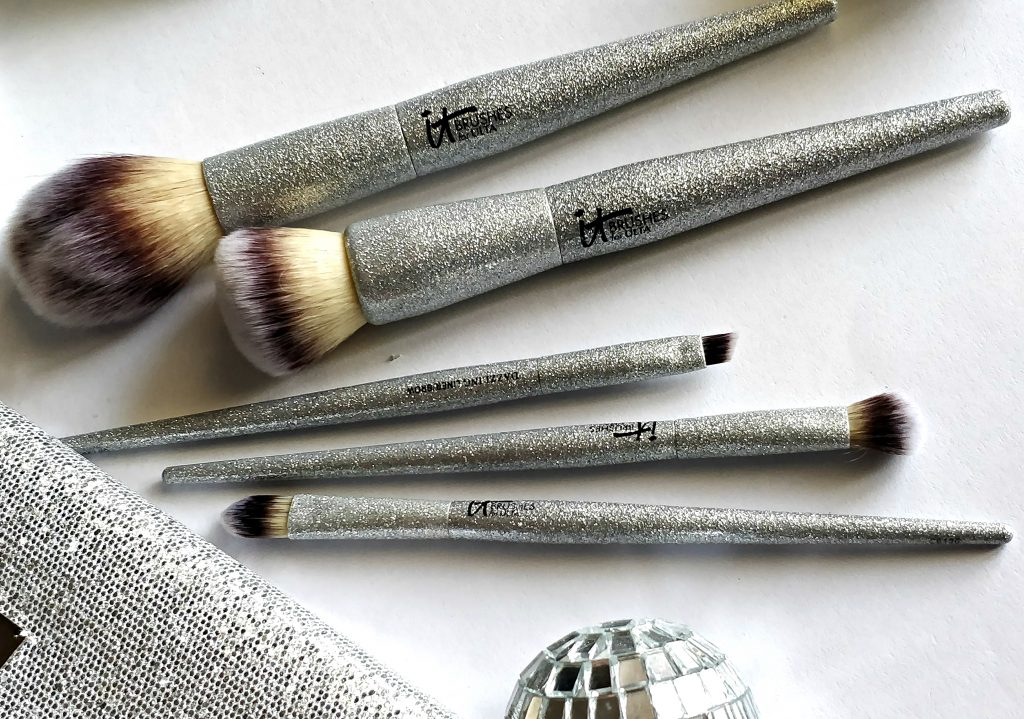 Brilliant Powder Brush – Super Soft, round tapered brush for the perfect powder application.
Radiant Foundation Brush – Very dense, dome shaped brush for a smooth and even foundation. application.
Stunning Eyeshadow Brush –  Small dense rounded fluffy brush for blending eyeshadow all over your lids.
Luminous Concealer Brush –  Firm bristle for a precise concealer application.
Dazzling Liner/Brow Brush –  Flat, angled brush for defining your lash lines and filling in your brows.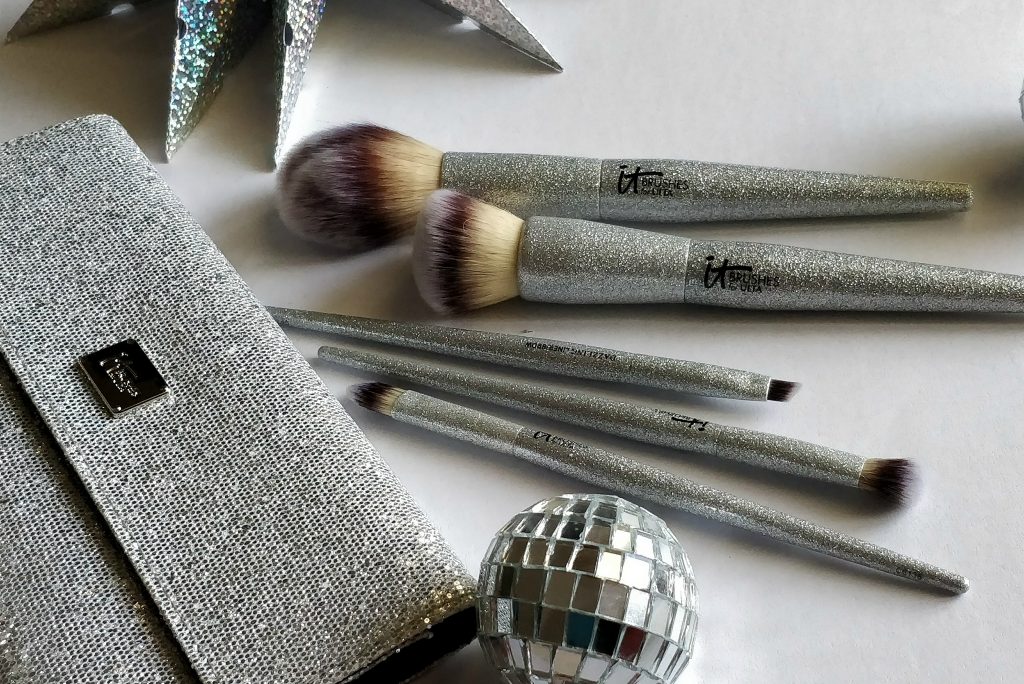 The bristles of the brushes are super soft,  no shedding, and it retain the shape after a cleaning. Set includes two large face brushes and three small brushes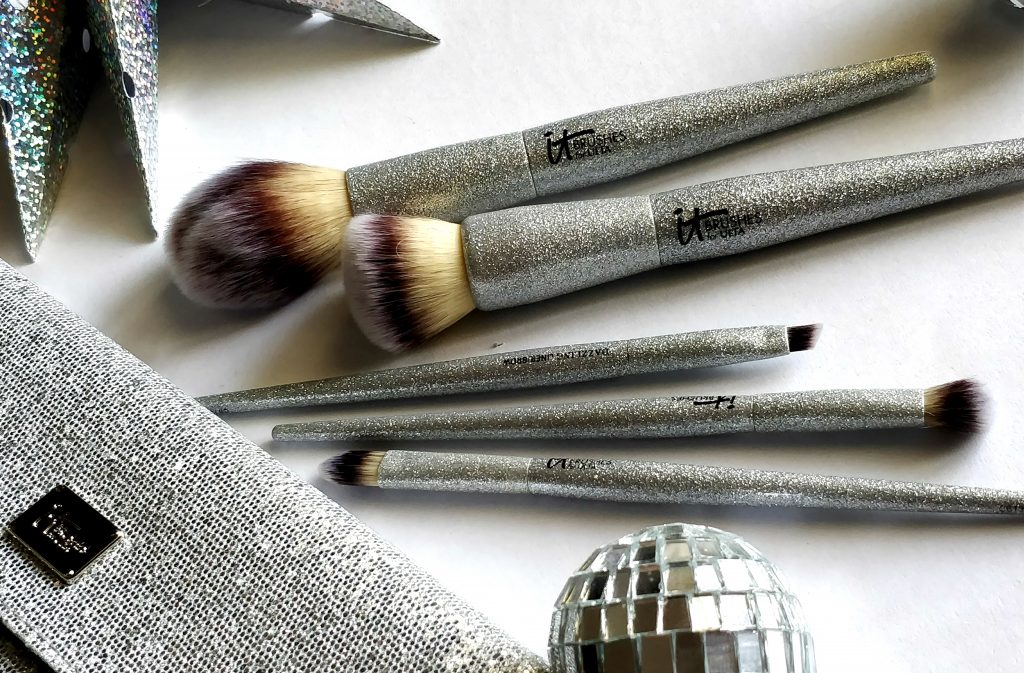 Brilliant Powder Brush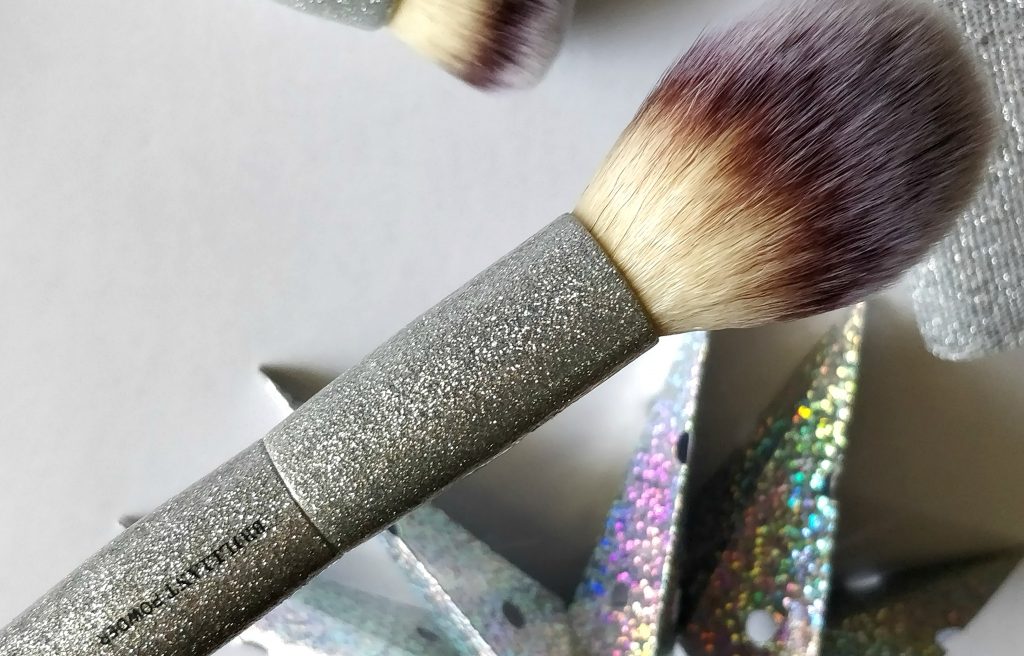 Brilliant Powder Brush is super cool. What I love about this brush is the shape of the bristles. It's slightly tapered end allows easiest powder application. Particularly to set the under eye concealer and face. Also good to apply powder blushes. I love it!  Picks up the right amount of product and it is super soft on the skin too.
Radiant Foundation Brush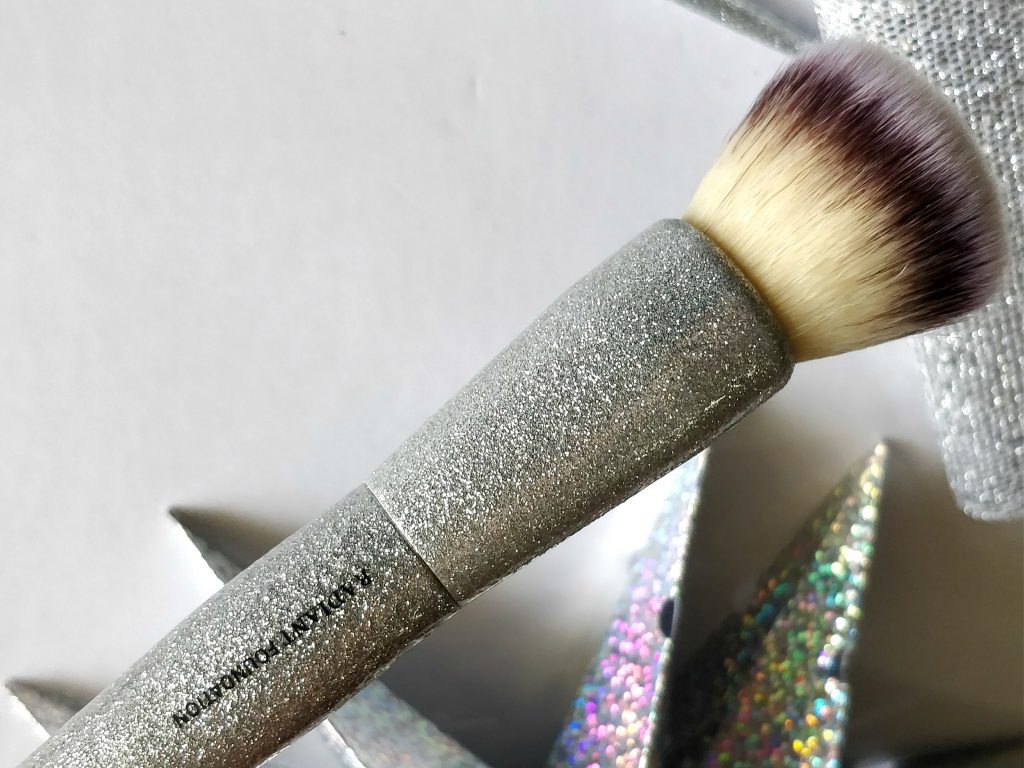 Dense, dome shaped brush that is perfect to apply liquid foundations. I love to blend my foundation using this brush. Easy to work with. You may also use this brush to apply cream contour colors.
Dazzling Liner/Brow Brush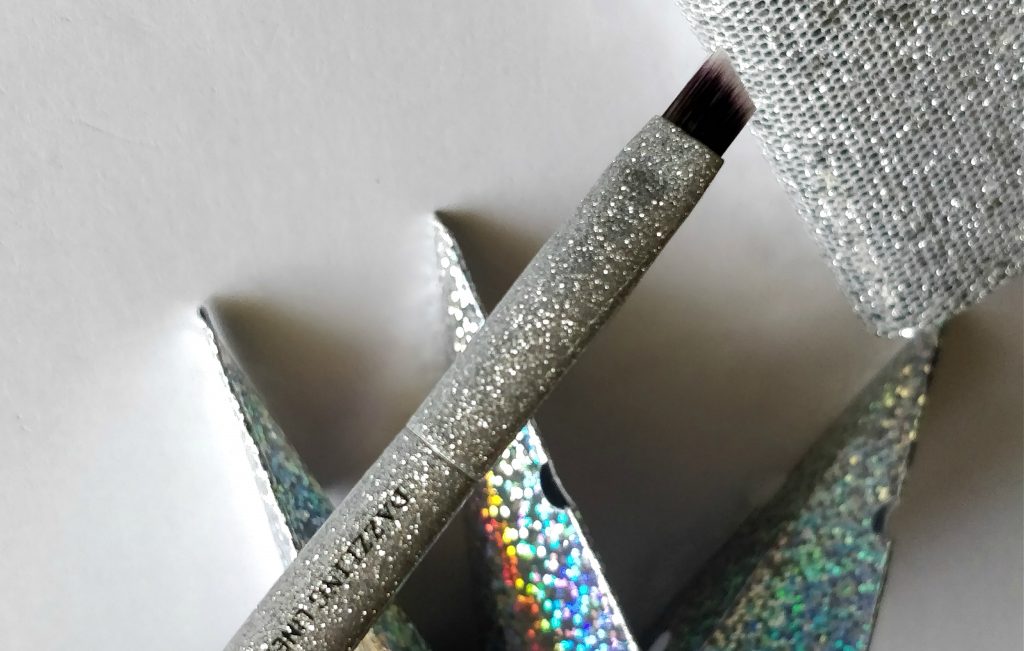 Love this flat angled brush to fill in my brows and apply gel liner
Stunning Eyeshadow Brush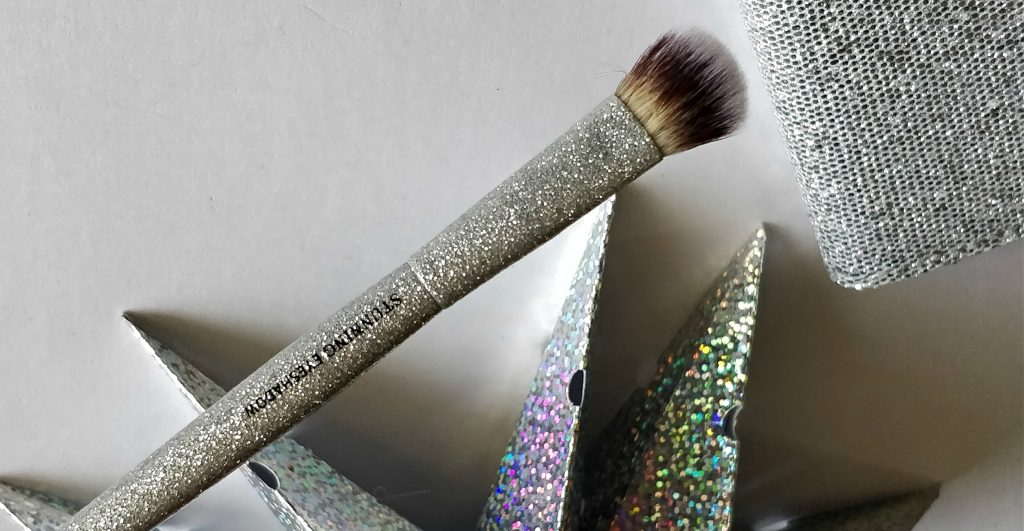 This fluffy ends of this stunning eyeshadow brush perfectly blends out color on your lid or in your crease effortlessly. There is no problem to pick the right amount of product though the brush edge is dense. Super easy to work with!
Luminous Concealer Brush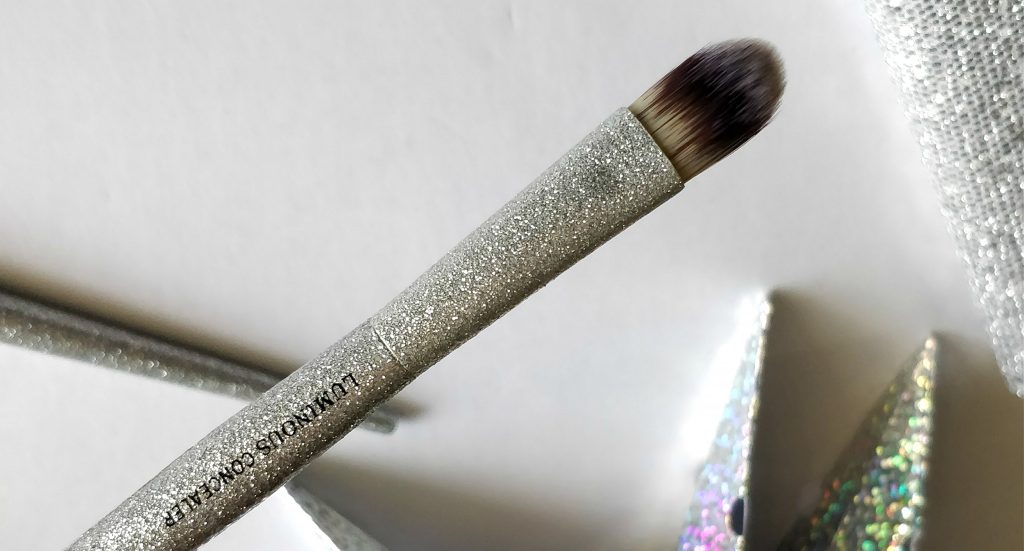 Least used brush from this set. I like to put my concealer using my fingers as I find that way tad easier to blend in the product. I use it to put color on my brow bone area.
Overall, this is a nice brush set that features all essential brushes in one place. Shimmering silvery clutch that comes along allows to carry your brushes around in style too. Considering other brands brush sets and holiday sets – Price wise and quality wise ; I think this is a perfect choice! Quality of the brushes is top-notch, and they're really beautiful to look at. If you are lookin for a perfect travel brush set or perfect brush set to gift your friend or sister who is a beginner at makeup – This is a great choice! Note – They're made with "Luxe cruelty free hair." to give that flawless airbrushed results every time.
** Product sent by the brand PR. However, my review is honest and unbiased as always