No eye makeup is complete without eyeliners. I love long lasting waterproof eyeliners. In this post, I am featuring some of the new shades in Urban Decay 24/7 Glide-On Eye Pencils. Shades – Alkaline, Zero, Heartless, Demolition & Roach.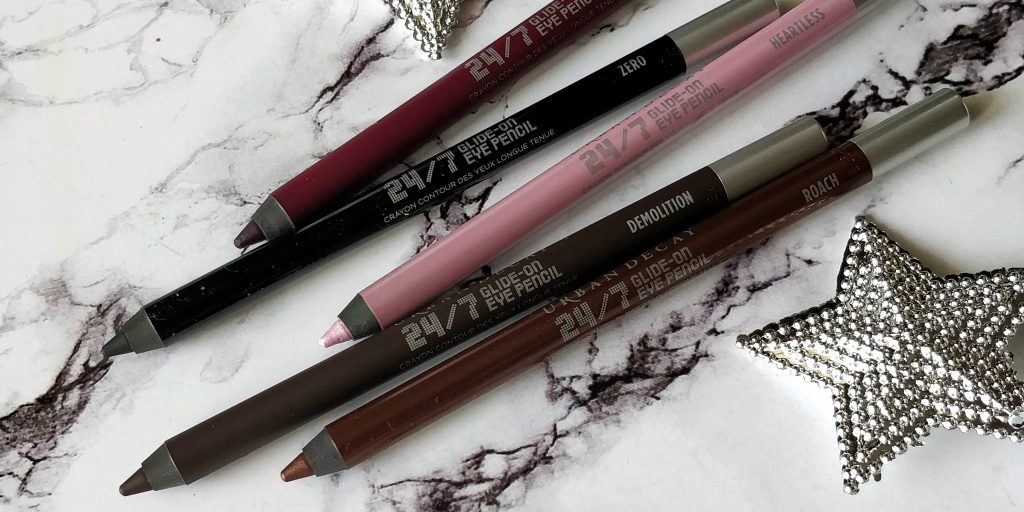 Net Weight: 1.2g e 0.04 US oz.
These Glide-On Eye Pencils are $20 each and can be purchased from here
Urban Decay 24/7 Glide-On Eye Pencils are Creamy, long-lasting, and waterproof. The texture is velvety-soft and it glides on easily. Formula stays soft and creamy for blending (about 30 seconds) and then dries down to a long-lasting finish that WILL NOT budge.

Urban Decay 24/7 Glide-On Eye Pencils are not retractable, When it starts to get dull, you can use any sharpener to grind them back to a perfect point. I put these in the freezer for an hour first before I sharpen it.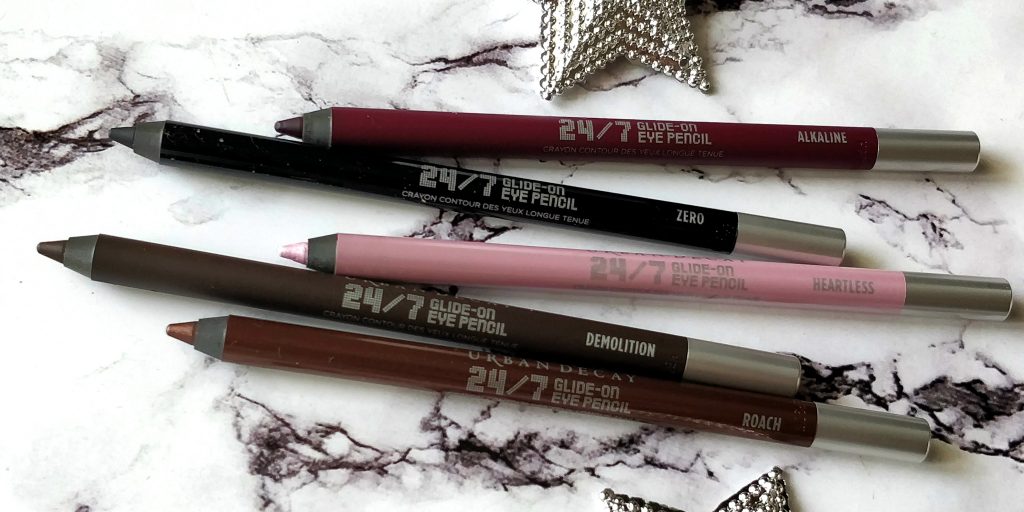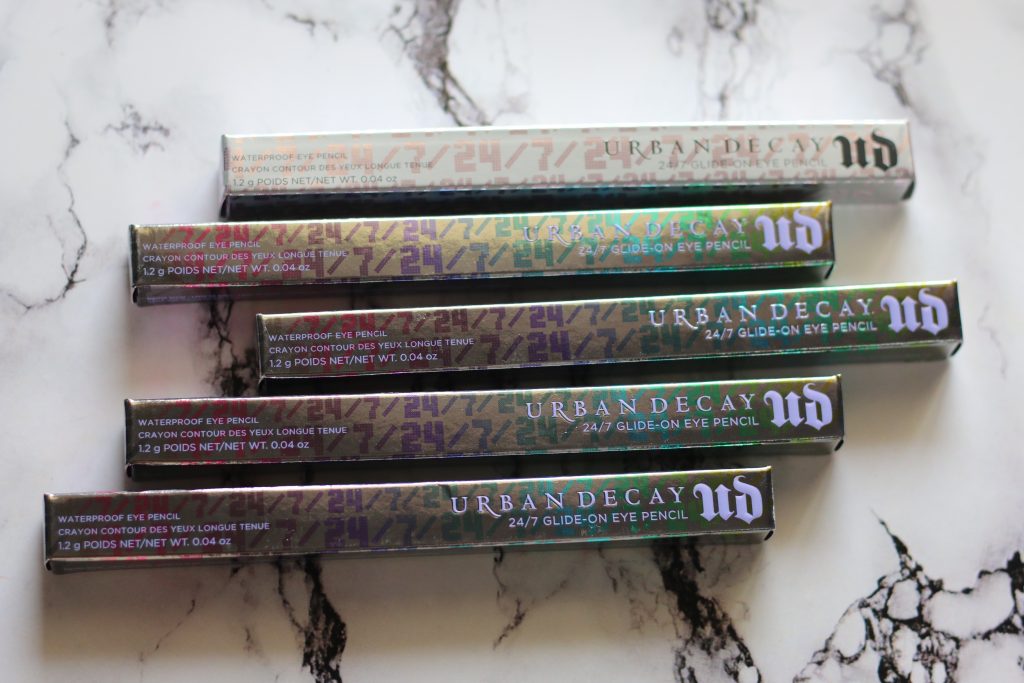 The color on the outer part of the pencil shows the actual shade of the eye pencil.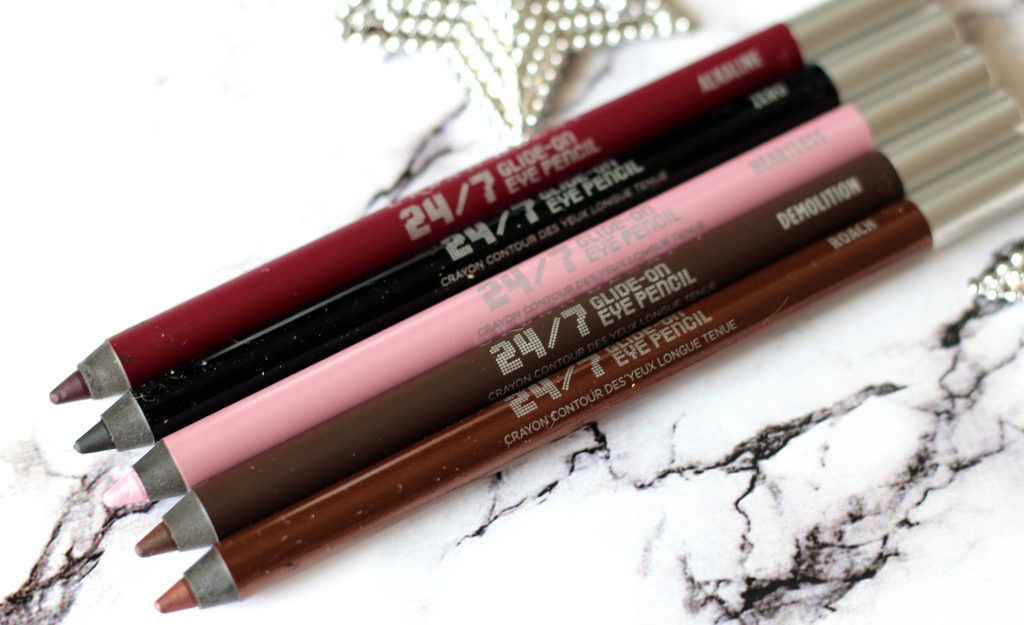 Roach – A medium bronze – brown color with gold and bronze shimmers. Its of medium pigmentation and can be layered to get a more intensified finish. It also look beautiful when applied on top of matte black color.
Alkaline – Alkaline is a pretty deep plum/whine color. Lovely shade and again, one of my favorite. They glide on beautifully and don't budge at all thanks to the waterproof formula.
Heartless – Heartless is a light frosted pink, It's a multipurpose shade—It's more than just an Eye Pencil. You can pretty much use it anywhere you want to brighten and highlight for an illuminated look. (like the inner corner of the eye, the brow bone or the cheekbone etc).
Zero – My favorite black color after the shade 'Perversion' from Urban Decay. Glides on smooth on the waterline and lash line and the color lasted longer on my waterline. I apply 2 layers of this to my waterline and it lasted for almost 8+ hours. What I love about these are – It won't budge, it's waterproof and the pigmentation is buildable. You can layer the color for a more intensified look. The creamy consistency is easy to work with. Even if you use this to blend for a smokey eye look. You got to be real quick as it dries in less than 30 seconds to a matte finish.
Demolition – Demolition is a medium brown shade with a matte finish. All of the darker colors are super pigmented. One swipe will give you such an opaque and vibrant color and you only need a tiny amount. a little goes a long way. Lasts for over 8 hours.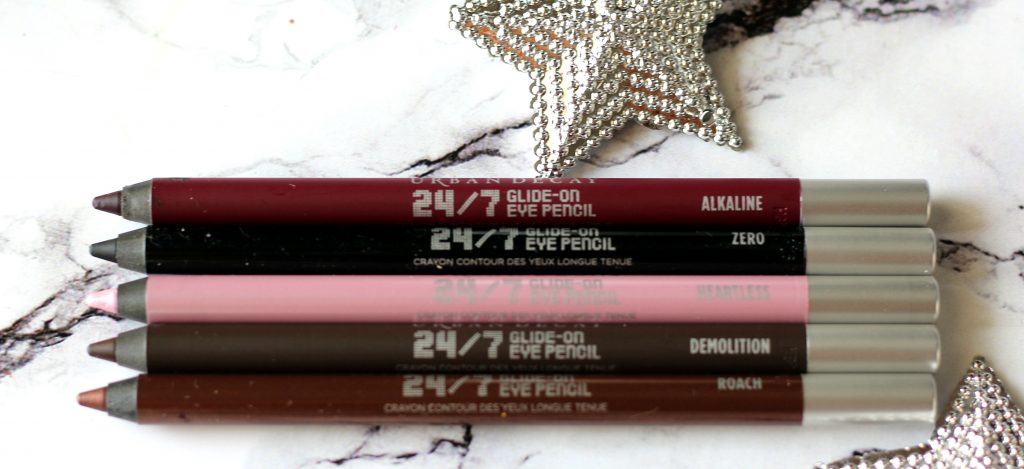 These are formulated WITHOUT Parabens, Sulfates & Phthalates. Staying power is more than 8 hours and it doesn't budge, transfer etc. Applies creamy and has amazing pigmentation. All shades are waterproof as well. When it starts to get dull, you can use any sharpener to grind them back to a perfect point. Urban Decay definitely has one of the best eyeliners I have ever used.
** Products sent by brand PR. However, my review is honest and unbiased as always.