Dr. Audrey Kunin easily understand skin concerns and what kind of products various skin savvy customers are in search of. After all, she's been an expert in healthcare & skincare category and providing beauty advice to millions of devotees since years. Through her constant communication with patients, Dr. Kunin realized a need for accessible, effective, non-prescription skincare solutions. That's how DERMAdoctor skincare line was invented.
DERMAdoctor, her line of targeted, problem-solving products, fuses dermatological treatments with luxury cosmeceuticals. From anti-aging to acne to enlarged pores and more, DERMAdoctor's therapeutic offerings are perfect for your skin.
In today's post I am featuring two of my favorite products from DERMAdoctor.
– Kakadu C™ Brightening Daily Cleanser with Vitamins C, A & AHAs
– Kakadu C™ Intensive Vitamin C Peel Pads with Ferulic Acid & Vitamin E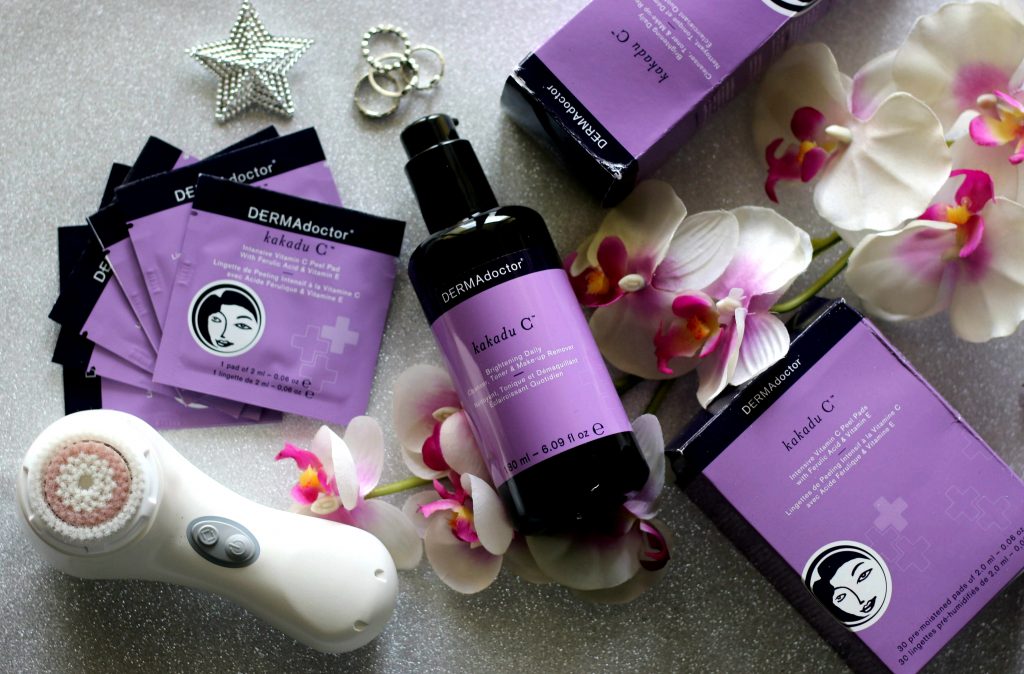 Kakadu C™ Intensive Vitamin C Peel Pads with Ferulic Acid & Vitamin E – $78 ; 30 pads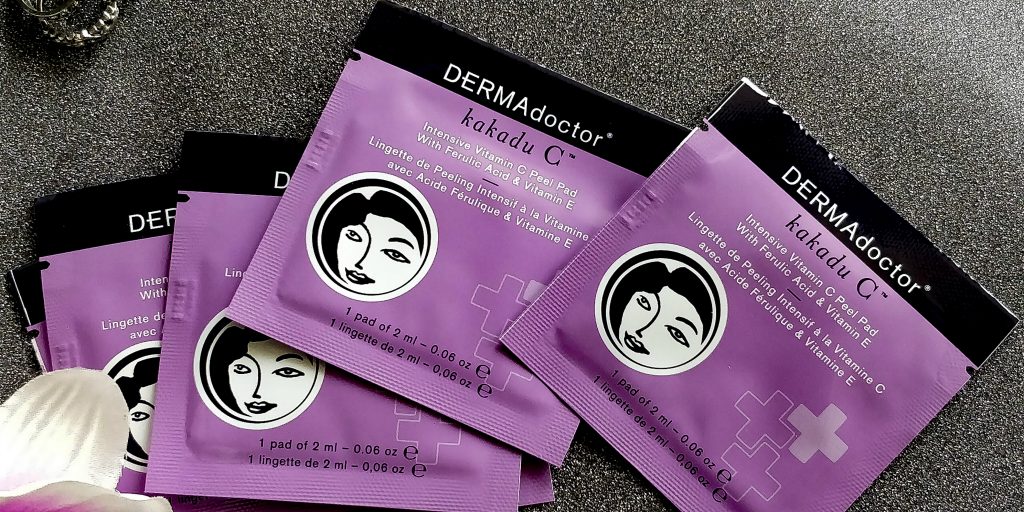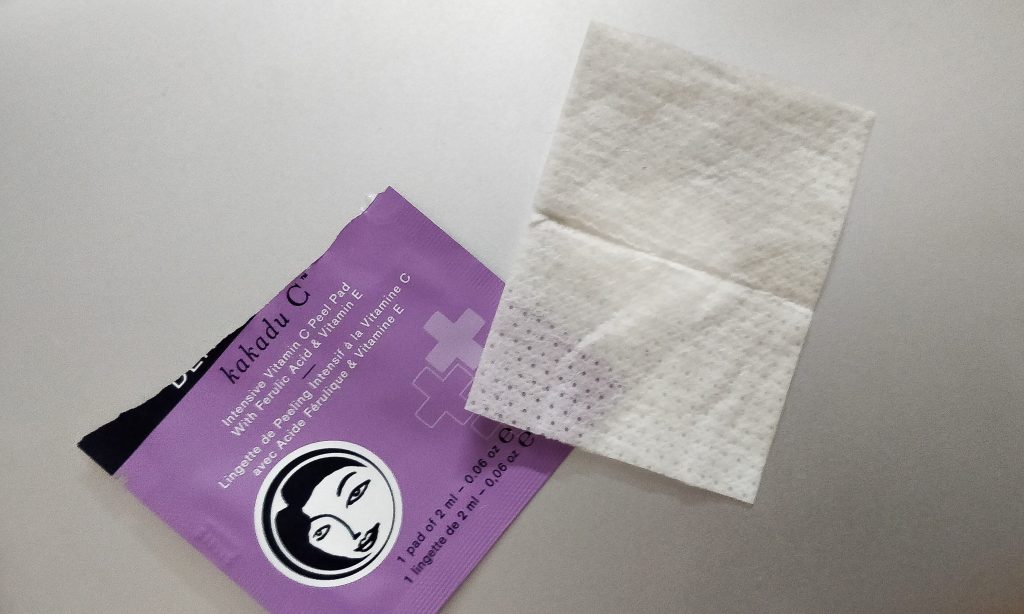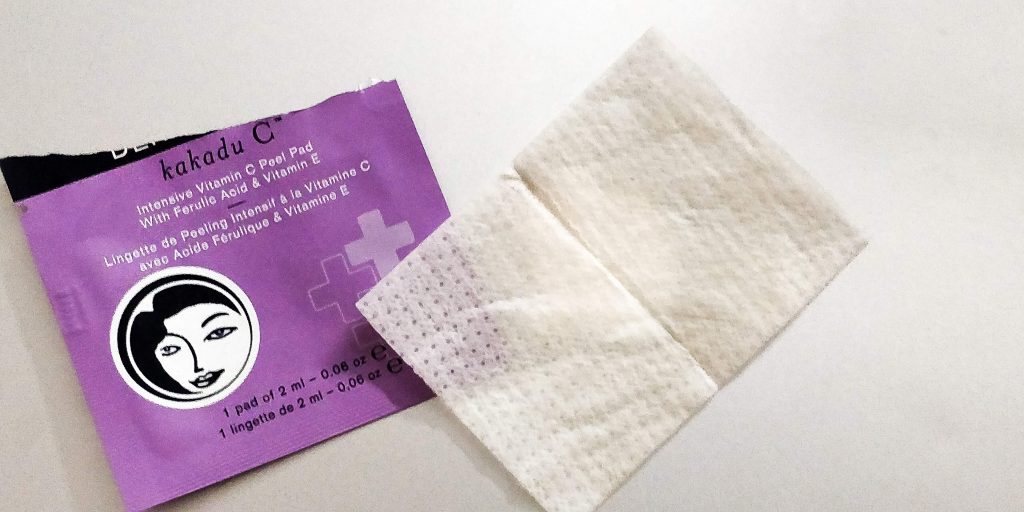 It's quite big for my face; You may choose to cut it in two pieces and use it.
Before I move to my review on the products above. I would like to introduce my readers to acid peeling, Peel Pads etc. How and when to use them ? What are its benefits ? etc
'Exfoliation' is one of the beneficial skin care step if you want your skin to look healthy and free of acne etc. Exfoliation is the process of sloughing off dead skin cells that'd have accumulated on the surface of your skin.
There are two kinds of exfoliation – mechanical (scrubbing) and chemical (peeling).
A normal exfoliator or a facial scrub exfoliates the skin mechanically by means of friction ; Thanks to the abrasive particles that it contains (micro-grains of sugar, salt, bicarbonate, etc) ; When rubbed against your skin, these particles polish its surface.
A scrub is ideal for –
deep cleaning of face by sloughing away all impurities and dead skin cells
removing blackheads from skin
Increase skin's microcirculation and refine pores etc
A Chemical Peel or a Acid Peel, on the other hand, exfoliates the skin chemically by means of its active ingredients. It consists of fruit acids or enzymes that dissolve dead cells.
A peel is ideal for –
deep cleaning of your face
unclogging pores
smoothing and softening the skin surface
If you want consistent long – term results.
Words – 'acid' and 'peel' might sound scary at least for some of you! Peel Pads – they're typically the facial rounds or squares pre-soaked in an acid like glycolic acid, which is an AHA, to chemically exfoliate your skin. It's a product that you rub all over your face. But as much terrifying as how "acid peel" sounds, at-home peel pads are actually the quickest, easiest, and most importantly, painless way to get smoother, brighter-looking skin without having to visit a dermatologist.
While Max-strength acid peels are performed by a trained professional, you can buy some less powerful (and less expensive), 15-minute treatment at-home-peel-pads that you can use in the comfort of your own home.
Usually the peel pad contain an active ingredient of glycolic, lactic, salicylic acid or combination of acids at a concentration of around 10% ; This peel helps remove excess oil, clear breakouts, and promote healthy collagen production.
The facial peel pads are a wonderful product for those who struggle with uneven skin texture, if you have a bumpy skin, enlarged pores, skin that is extremely oily, or someone who is acne-prone would want to use glycolic pads to exfoliate and unclog their pores for a clearer skin.
What makes these peel pads easy to use and well-preferred – Well, You just introduce these pads into your normal skincare routine and best part is you don't have to change any other product in your routine. Also, they show significant improvement in your skin quite quickly – reduced fine lines, clear pores, less blackheads, less acne and reveal more radiant and clearer looking skin.
While I say about Peel Pads – I also want to remind you guys about certain pointers to keep in mind before starting to use Facial Peel Pads
If you experience any sort of skin irritation, wash product off, discontinue the use and immediately consult with a physician.
People who are allergic to salicylates (found in aspirin) should not use products containing willow bark or salicylic acid.
Pregnant or nursing women should talk to their doctor before using any products containing salicylic acid.

Sunburn Alert:

Peel Pads may contain alpha hydroxy acid (AHA) that increase the skin's sensitivity to the sun and particularly the possibility of sunburn. Use a broad-spectrum SPF 30 sunscreen, and limit sun exposure
I got introduced to this DERMADOCTOR Kakadu C Intensive Vitamin C Peel Pads with Ferulic Acid & Vitamin E – $78 ; SIZE 30 x 0.06 oz/ 1.77 mL (pre-moistened pads)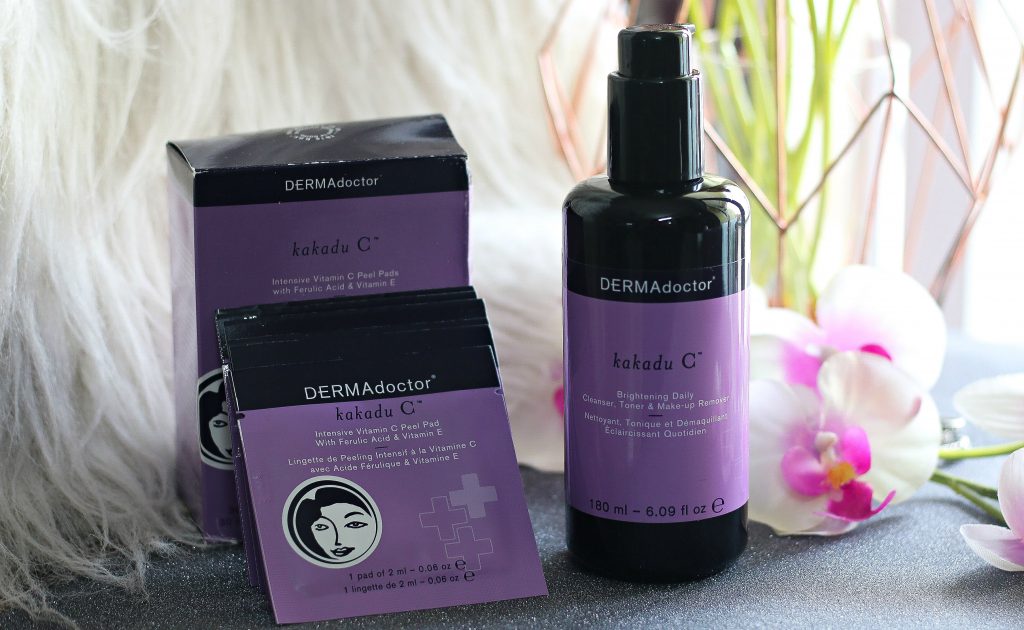 This intensive formulation features 7 sources of AHA & BHA plus Ferulic Acid. Antioxidant boosters, like Australian Lime Caviar, help protect against free radical damage. Balanced with a calming complex that leaves skin feeling hydrated and luminous.
It's basically a set of high-potency vitamin C and ferulic acid soaked pads for a smoothing daily peel. Its beneficial for the dullness and uneven texture of the skin as well as reduce dark spots or acne scars on skin.
Brand Claims – Feel the difference with Kakadu C™ Intensive Peel Pads. Each pad features peel plus soothing actives in one for the appearance of brighter, smoother, firmer, and more even skin. Each pad delivers a powerful punch of kakadu plum, one of the richest natural vitamin C sources known on Earth. The intensive formulation features seven sources of AHA and BHA, plus ferulic acid. Antioxidant boosters, like Australian lime caviar, help protect against free radical damage. The formula is balanced with a calming complex that leaves skin feeling hydrated and luminous.
Ingredients
Vitamin C: An antioxidant that helps protect and brighten the appearance of skin over time.
Australian Lime Caviar: Helps protect against free radical damage.
Lactic Acid: Helps even skin's appearance and supports natural turnover.
Willow Bark: Provides antibacterial properties.
Aqua, Glycolic Acid, Rose Centifolia Flower Water, Lactic Acid, Potassium Hydroxide, Mandelic Acid, Hyaluronic Acid, Polysorbate 20, SD Alcohol 40-B, Glycerin, Terminalia Ferdinandiana Fruit Extract, Microcitrus Australasica Fruit Extract, Salix Nigra (Willow) Bark Extract, Malic Acid, Algae Extract, Superoxide Dismutase, Camellia Oleifera (Green Tea) Leaf Extract, Camellia Sinensis (White Tea) Leaf Extract, Aloe Barbadensis Leaf Juice, Squalane, Papain, Ferulic Acid, Vitamin E Acetate, Oleanolic Acid, Enantia Chlorantha Bark Extract, Phenoxyethanol, Potassium Sorbate, Ethylhexylglycerin, Butylene Glycol, Sodium Benzoate, Citric Acid.
How to use – The pads should be applied to freshly cleansed skin, left on for 1-3 minutes, then neutralized with water and followed by a moisturizer. Wear a broad spectrum SPF 30 daily too.
Now, How often should you use Peel Pad –
For all skin types –

DON'T OVER EXFOLIATE YOUR SKIN

. When you start using this – Skip all other scrub/exfoliators etc. And don't use it on your skin more than once a week initially.
If you have sensitive skin use Peel Pads every 2nd/3rd night for the first 2 weeks. Monitor your skin condition – Often, acid can be very drying and skin tolerance needs to be built

Depending on your skin tolerance level – You can increase to once daily until all the pads are used up. But, this usage of once daily has to go slower depending on your skin tolerance.
** Note – Be sure to read my pointers above on things to keep in mind before you start to use Peel Pads.
Which skin types can use Peel Pads – Skins of all types can benefit from exfoliation in general. In the case of sensitive or acne-prone skin, I would rather recommend you opt for a peel rather than a more abrasive scrub. Sometimes skin tingles upon application so you can feel it working, but skin feels soft afterwards. Again when skin tolerance is built up – This itchy/tingling sensation gets lowered.
Remember – Always use a SPF afterwards if you're using this in the AM. I use it at night.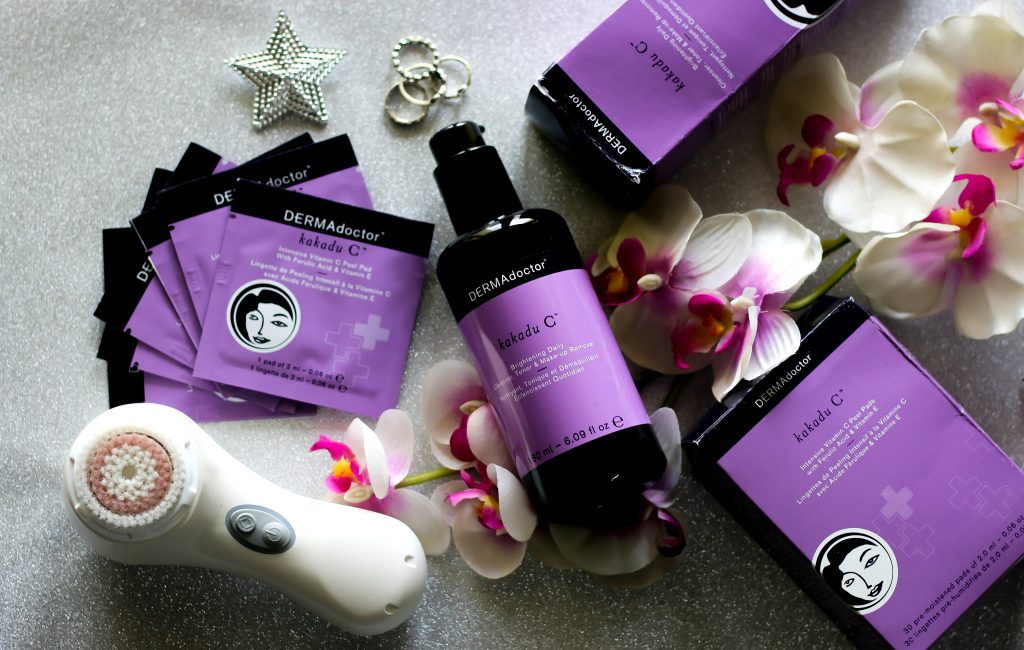 With consistent use of this Peel Pad, you will see a reduction in pore size and an improvement in overall complexion and blemishes quite quickly – often within 2 or 3 weeks. They are definitely a bargain for 30 treatments, regular masks alone costs $7-$8 in stores with similar ingredients. This is a absolutely mess-free and easy process. Pads do not dry out like some other brands I tried greatest advantage is that they are individually packed. Travel friendly, Hygienic as well. The longer you use them, of course, the better the results.
Kakadu C™ Brightening Daily Cleanser with Vitamins C, A & AHAs – $36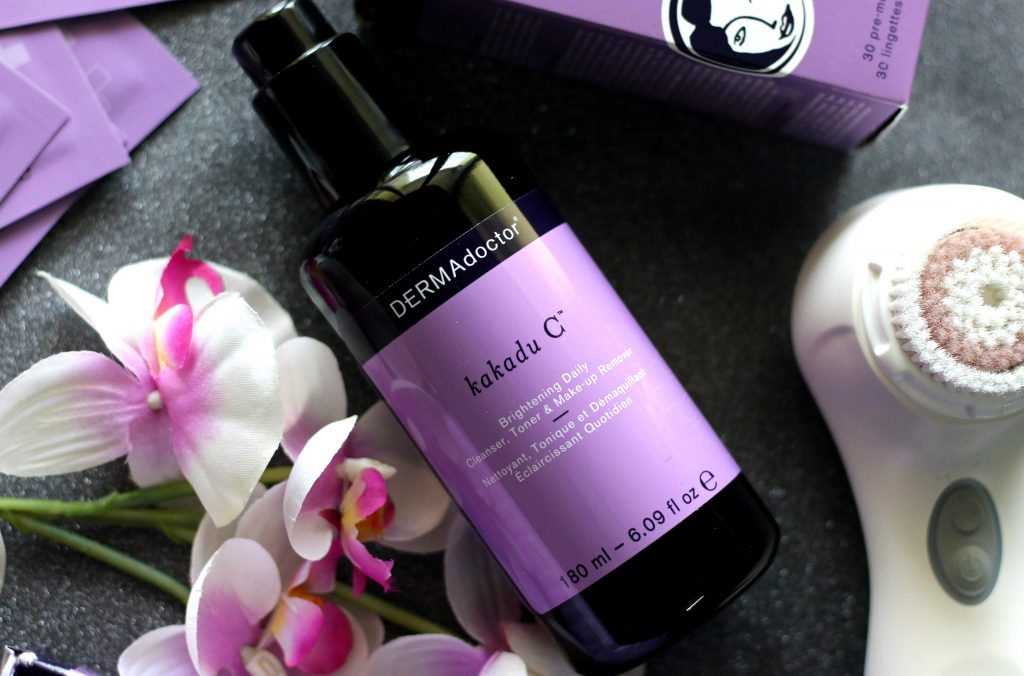 SIZE – 6 oz/ 177 mL ; Glass packaging is a little bulky to carry while travel.
A three-in-one daily rejuvenating cleanser, toner, and makeup remover.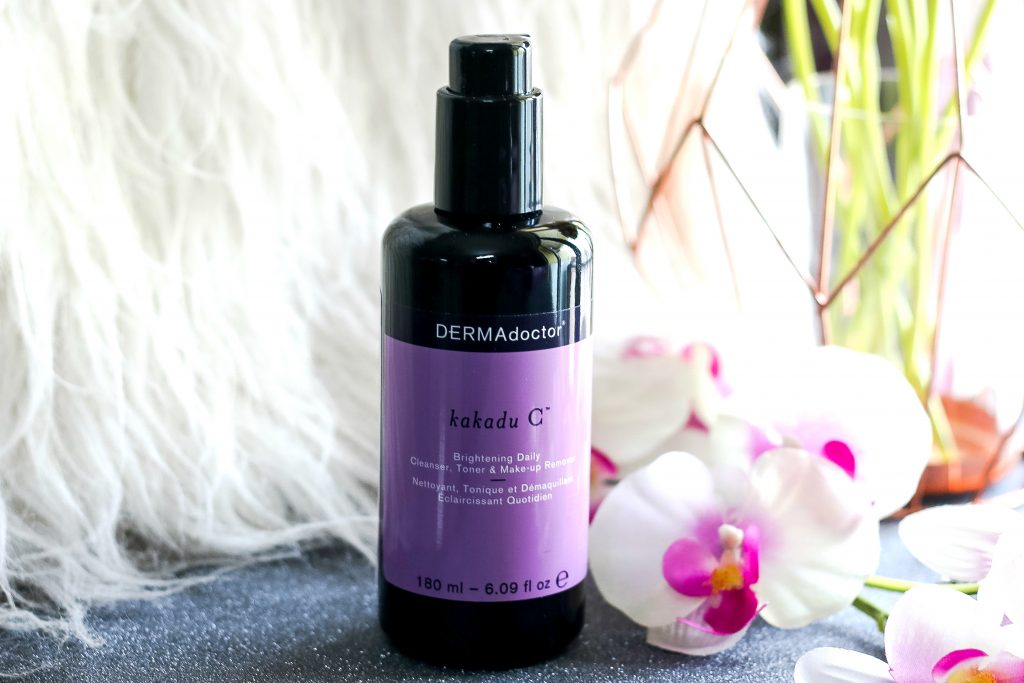 Pamper skin with this gentle, hydrating, soap-free foaming gel that helps dissolve cosmetics, remove impurities, and leave skin feeling fabulously refreshed and radiant radiant. Vitamin C helps brighten and even complexion while vitamin A and AHAs help to fight visible signs of aging. formulated WITHOUT Parabens, Sulfates, Phthalates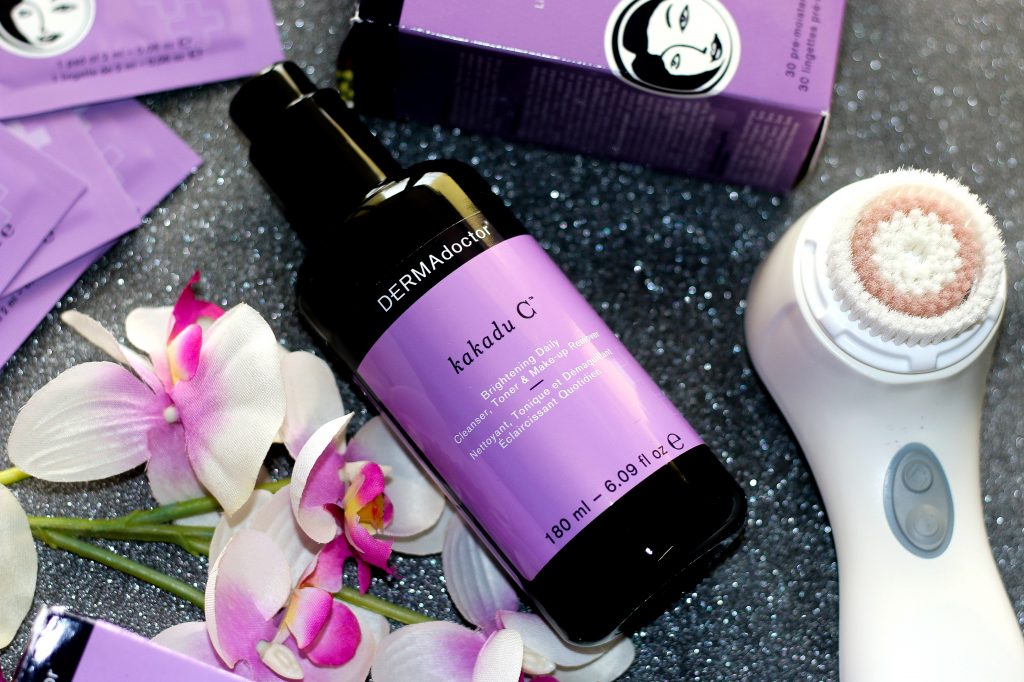 The Kakadu C Cleanser contains no glycolic acid. Instead, it has lactic and malic acids to gently resurface. See a full ingredient list below
Aloe Barbadensis Leaf Extract, Decyl Glucoside, Glycerin, Lactic Acid, Hamamelis Virginiana (Witch Hazel) Extract, Sorbitol, Xanthan Gum, Sodium Hyaluronate, Malic Acid, Propyl Gallate, Aqua (Water), Gallyl Glucoside, Epigallocatechin Gallatyl Glucoside, Terminalia Ferdinandiana (Kakadu Plum) Fruit Extract, Prunus Armeniaca (Apricot) Fruit Extract, Aniba Rosaeodora (Rosewood) Wood Extract, Citrus Aurantifolia (Lime) Peel Extract, Citrus Aurantium Dulcis (Orange) Peel Extract, Vanilla Planifolia Fruit Extract, Citrus Grandis (Grapefruit) Peel Extract, Mangifera Indica (Mango) Fruit Extract, Cocos Nucifera (Coconut) Oil, Magnesium Ascorbyl Phosphate, Tocopheryl Acetate, Retinyl Palmitate, Sodium Phytate, Phenoxyethanol, Ethylhexylglycerin.
Apply to dry skin and rub gently in a circular motion. Rinse with warm water. This product contains Vitamin A and alpha hydroxy acids, so it is meant for more matured skin and should be used in tandem with a moisturizer and SPF for daytime.This cleanser is suitable for teens and adults. It's a gentle, soap-free formula that contains AHA exfoliators to help keep pores clean and brightening Vitamin C from the Kakadu plum. If you have a sensitive to acne prone or a oily skin or if you are someone with a lot of hormonal acne break out issues ; You can give this a try.
I really love the way it lathers on my skin. What I like about it the most is that – it doesn't dry out the facial area upon washing. The packaging with the pump dispenser makes it super easy to use. It really helps brighten the skin and make your skin squeaky clean. I use this at night as a double cleanse after my makeup removal. After removing my makeup and a good lymphatic drainage massage using my cleansing balm. I take about 2 pumps of this on my Clarisonic and massage in circular motions and finally wash off using cold water. It helps remove any traces of makeup that is left out and make the face super clean.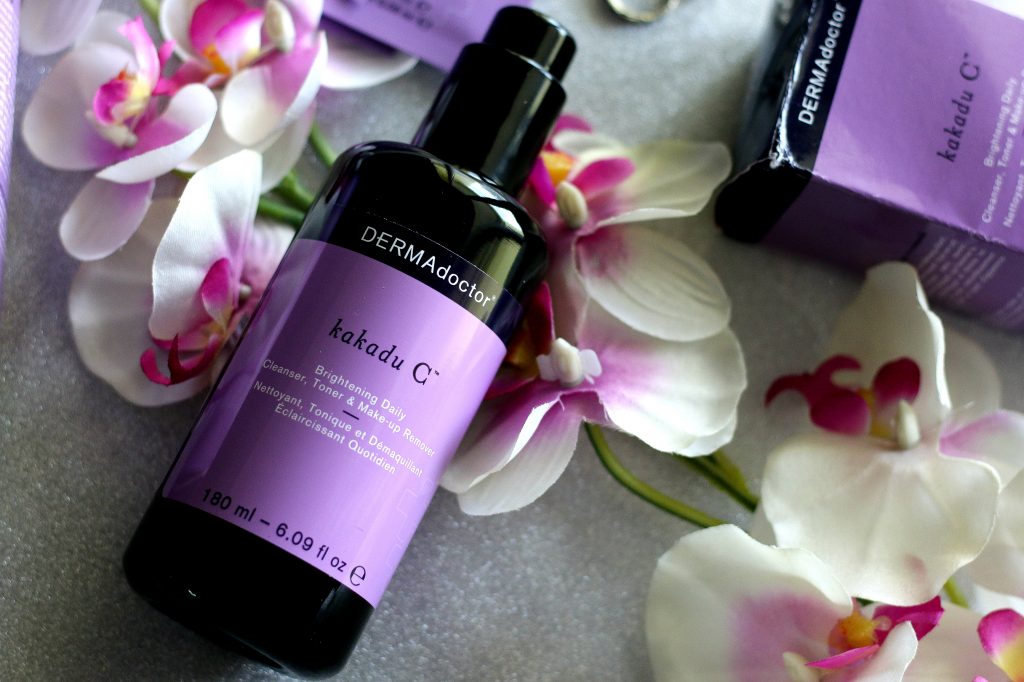 The Kakadu C cleanser is formulated to be gentle/non-drying and is soap-free, so it shouldn't dry out your skin. Make sure to follow up with a moisturizer that suits your skin type.
Overall, I love Kakadu C cleanser and I think it's perfect for my sensitive skin. I notice my skin softer and more radiant without any breakouts when using DERMAdoctor products. This cleanser is excellent for acne because it in non-drying and contains ingredients that gently resurface the skin and clean out pores. It also could help clear up hyper pigmentation caused by acne marks because it contains Vitamin C. The Kakadu Cleanser is pH balanced to fall within the skin's natural 4.5-5.5 pH level. This product is a makeup remover, cleanser and toner in one, so you may skip your toner and move straight onto your favorite serum/moisturizer/eye cream.
Note – Sunburn Alert: These products contains an alpha hydroxy acid (AHA) that may increase your skin's sensitivity to the sun and particularly the possibility of sunburn. Use a broad spectrum SPF 30 sunscreen, and limit sun exposure while using this product and for a week afterwards.
---
Availability – Sephora, Ulta, DERMAdoctor etc
** Products sent by brand PR. However my review is honest and unbiased as always.