Hi to all my dearies…I am going to review another favorite product of mine
Lotus Herbals PAPAYABLEM Papaya-n-Saffron Anti-Blemish Crème
(Click on the images for a larger view)
What Lotus Herbal Claim about Papayablem
This unique blend of papaya, saffron, almond and apricot not only clears blemishes, spots and scars from the face, but also makes the complexion fair and imparts a smooth and spotless glow to the face.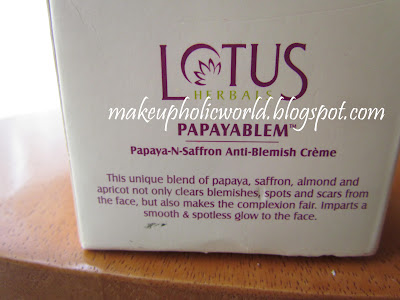 Packaging and Price
Comes in a small jar of 50 Gm and the price is 285INR


Directions for use
Cleanse face. Apply in dots. Gently massage in upward direction. Can be used at any time of the day. For best results use before going to bed at night.






Ingredients
Almond Oil- Excellent emollent & skin nourishing properties. Natural source of Vitamin E. Apricot Kernel Oil- Good moisturizing, softening & skin absorbing properties. Rich in skin conditioning Vitamin E. Clove Oil- Antiseptic & anti-acne. Papaya E
Swatches: :D:P


My Views about the product
I didn't use any lemon pure cleanser as mentioned in the dirsctions…I washed my face with baby soap..and I cleansed and toned my face using body shop cleanser and body shop tomer..and then I took a very lil creme and i applied it like dots not all over..only on areas wher I felt discolorations such as around nose..ur cupids bow..and redness and also on acne scars…
I felt this creme to be very oily…and it has a mild yellow color…It has the smell as that of papaya..But as its night time It was ok with me…I noticed the creme got blended easily. In the morning I felt my skin to be very soft…and skin appears to be clear…I had only minor blemish on my face and so it got cured easily with this creme..But I have noticed my friends saying this didn't work for their major scars..maybe this shows results very slowly…


Pros:


You just need a tiny amount of product and so one jar will last almost 3 months

nice fragrance…good for sensitive skin

fades fresh acne spots(not major ones) and removes tan

leaves skin area soft

Comes with a seal cap like other face packs and creams

can be used for all skin types

easily available

I have seen this in amazon too
If you have too many acne scars and blemishes.It might not work for you..For seasonal blemish such as reddening around the nose and mouth area due to allergy or seasonal changes, this is effective

Pricey

Can't be applied on the eye area because it has clove oil in it
Have you tried Papayablem..Do you like it???