Guest Post 2
Author: Rajalekshmi
Find her blog Voiceofrm
Hi Girlies,

This is going to be a review about the

elle18 eye sparklers in Gun powder

. Priced at just Rs.85/- these eye sparklers are truly a treat to the shoppers like me.

I wanted to try out more shades but refrained myself with one for trying. As I have a special place in my heart for grey liners and eyeshadows, I picked the shade called Gun Powder. The packing is very cute and it has this huge elle girl with pink hair printed on it. The cap though made of plastic fits pretty tight and I find no qualms taking it as a travel buddy.Gun Powder is a pencil grey color with a subtle silvery sheen to it. I liked the color very much.

On the eyes, the eyeliner glided easily without tugging and it's highly creamy. I did not use it in my waterline because I am extremely skeptical about using metallic shades in my waterline. Though the pigmentation is superb, the staying power is an utter drab. More over it also creases very badly and settles in to the lines on my lids. As I had bad experience using it as an eye shadow base (as it creases and settles). I tried using it to line my upper lash line, and then I smudged it using a smudger and applied liquid/pencil liners close to my lash line. Somehow I find that the sparkler stays on my eyes for some more time.
Now, let me summarize the pros and cons.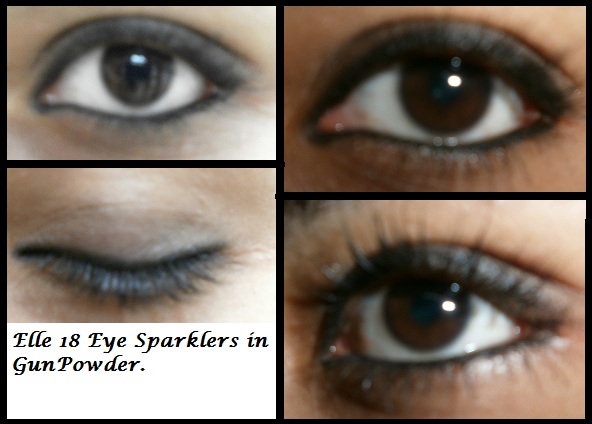 Pros
very cheap.

Good pigmentation.

Creamy texture aids easy and smooth application.

Travel friendly cap.

Cute girly packing.
Cons
As its pencil type and needs to be sharpened, product wastage is apparent.

Staying power is very average. It just stayed one-two hours when used as a base and when used the way I have mentioned, it stays for around 3 hrs after which it disappears. (I do not have oily lids)
Overall, it's a nice product for experimenting your looks before investing in costly colors.
might repurchase some other shades from this range solely for experimenting.

For just 85 rupees what's the harm in trying Right?

PS: I am just learning the eyeliner application and Pls forgive if you notice some stupid mistakes
and do point them out.

Love,
Raji from voiceofrm.

MakeupholicWorld Edit>>>>>> Hi Raji, Welcome to MakeupholicWorld, You have got beautiful eyes..Luvd ur review:)


Note: This is a guest post. The review is based solely upon the author's experience.