Hi all…..Hope you all are doing absolutely fantastic….Today, I thought of reviewing a moisturiser from Body Shop
Its the Body Shop Carrot Moisture Cream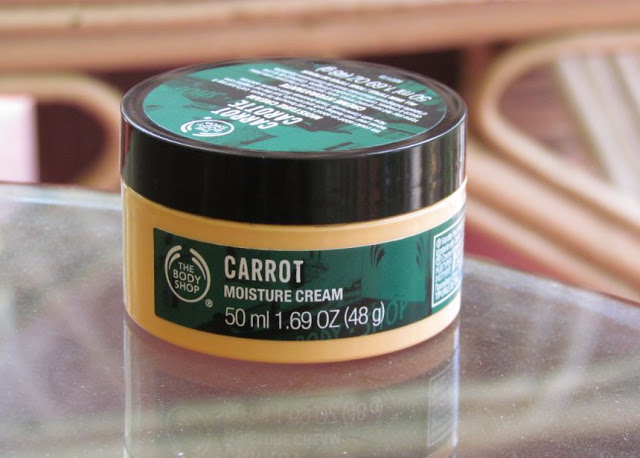 What do the Body Shop claim about Carrot Moisture Cream
Best if you want to: Hydrate and protect your skin with a rich, moisturising, non-greasy daily moisture cream that leaves the skin feeling beautifully soft and supple.
Best for: all skin types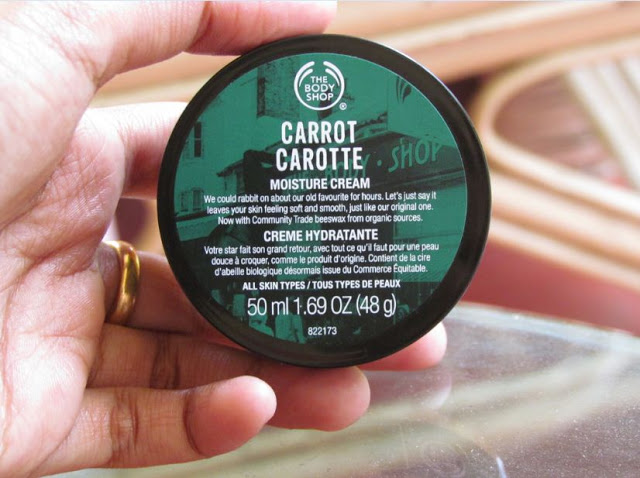 Packaging and Price
Comes In a round tub as shown in the snaps
I bought mine from Body Shop UK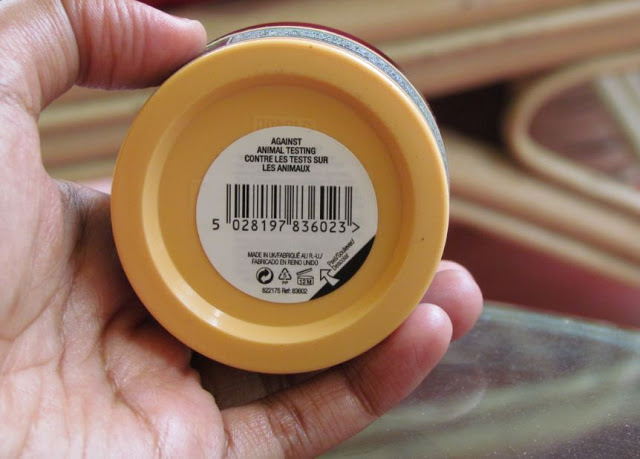 Ingredients
Aqua (Solvent/Diluent), Prunus Amygdalus Dulcis Oil (Emollient), Cetearyl Alcohol (Emulsifier), Glycerin (Humectant), Methyl Glucose Sesquistearate (Emollient/Skin Conditioner), PEG-20 Methyl Glucose Sesquistearate (Emulsifier), Dimethicone (Skin Conditioning Agent), Stearic Acid (Emulsifier), Lanolin Alcohol (Stabiliser/Emollient), Cera Alba (Emulsifier/Emollient), Sesamum Indicum Seed Oil (Skin-Conditioning Agent), Benzyl Alcohol (Preservative), Phenoxyethanol (Preservative), Potassium Sorbate (Preservative), Helianthus Annuus Seed Oil (Emollient), Xanthan Gum (Viscosity Modifier), Parfum (Fragrance), Tocopherol (Antioxidant), Ascorbyl Palmitate (Antioxidant), Geraniol (Fragrance Ingredient), Citronellol (Fragrance Ingredient), Linalool (Fragrance Ingredient), Beta-Carotene (Colorant), Daucus Carota Extract (Natural Additive), Daucus Carota Sativa Seed Oil (Natural Additive), Eugenol (Fragrance Ingredient), Alpha-Isomethyl Ionone (Fragrance Ingredient), CI 14700 (Colour), CI 15510 (Colour).
My opinion about Carrot Moisture Cream
This is one among the most cheapest moisturisers from Body Shop. It costs £4 for 50ml and is really good value. It is in a black tub, where you just need to unscrew the top and apply.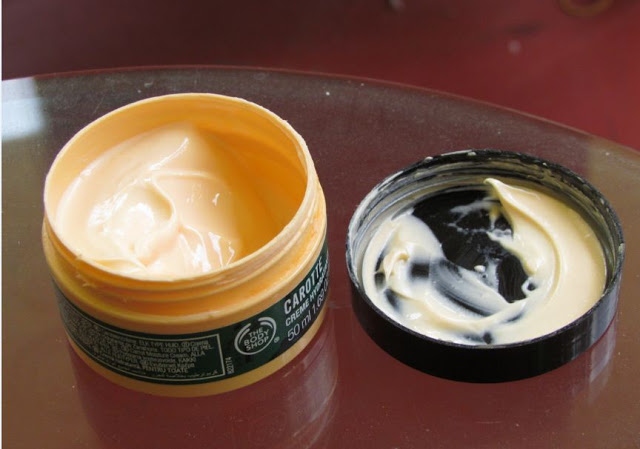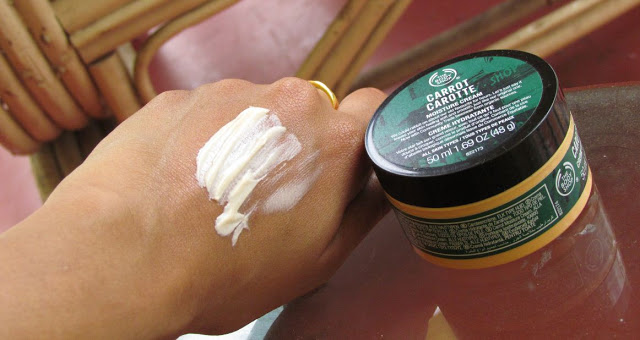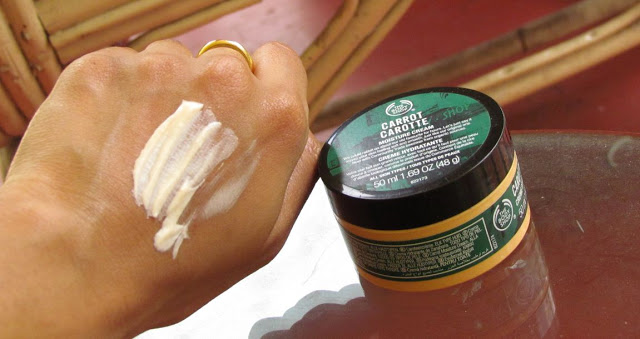 I usually apply to my face after cleansing and toning…
You just need a little amount to cover the entire face and neck…The design of the tub also means you can get all the moisturiser out of it and you don't feel like you are throwing any away. But I hate this tub kind of packaging due to hygiene issues..You always have to dip a spatula or spoon to get the product.
The moisturiser is orange in colour and has quite a pleasant scent, no carrot smell :(…not too overpowering. It is really moisturising, and makes my skin feel smooth and soft. It is not greasy on my skin..make sure you take a very little product or else it will make the face greasy…I used to apply it as dot to areas I need exrtra moisture(such as chin, around nose area)
This moisturiser is described as lightweight but I find it quite heavy on my skin so have to wait for a few moments before applying make up but it is perfect for night application, the texture means it is really effective to massage into the skin as it does not sink in straight away and is quite a thick cream.
Overall Its a good product, It didn't cause any irritation on my skin. I have a combination skin, but with the cold weather certain areas of my skin tends to get dry like around my nose chin and jaw area . This moisturiser really help keeping them stay soft. Doesn't leave any patches behind. I can't say its foundation friendly..I don't think so…Its best for a night time application. Although it says for all skin types I wouldn't recommend it if you have oily skin because its a little heavy, this is good for dry or combination skin. I only use this at night since it doesn't have any SPF/UV protection i..I don't know whether this available in India,
Pros
excellent moisturiser for dry skin

thick cream, but if right amount is used doesn't make face greasy

best for night time usage

list of ingredients mentioned

contains community trade bees wax
Cons
availability might be an issue

tub packaging is quite unhygenic
I think its best suited for dry skin.
Hope you find my review useful…Bye dearies….
Have you tried The Body Shop Carrot Moisture Cream? Do you like it