Guest Post 4
Author: Rajalekshmi
I am back with another review. And, this time it is the all new and celebrated Dove Elixir in the Hair Fall rescue Variant.
This one came to my possession due to sheer luck. Yes girls! Giving wild guesses at face book competitions does help. I received this for guessing the accessorize eye shadow palette correctly from Renji.
The sacred flora of Greek Goddess Aphrodite or the object of the great philosopher, Confucius' renowned study – the rose; and it now lends itself beautifully to Dove Elixir. Rose with Almond Oil known to be available in far Southern parts of Asia, make for the virtuous concoction – Hair Fall** Rescue by Dove Elixir. The golden drops of elixir breathe life into fragile hair that fall easily, to nourish and protect hair from damage. The potion of Dove Elixir – Hair Fall** Rescue to reduce hair falldramatically. To give you the goodness of overnight oiling in 30 minutes.
*vs. coconut oil ** due to breakage
Directions to Use the Dove Elixir | Hair Fall** Rescue:
• Gently pump out a few drops of the precious Dove Elixir.
• Applied Before Washing: hair is soft and nourished.
• Applied After Washing: helps protect your hair from damage.
• Indulge your tresses with the replenishing qualities of Elixir 30 minutes before your hair wash.
Price: Rs. 185/-
Shelf Life: 24 months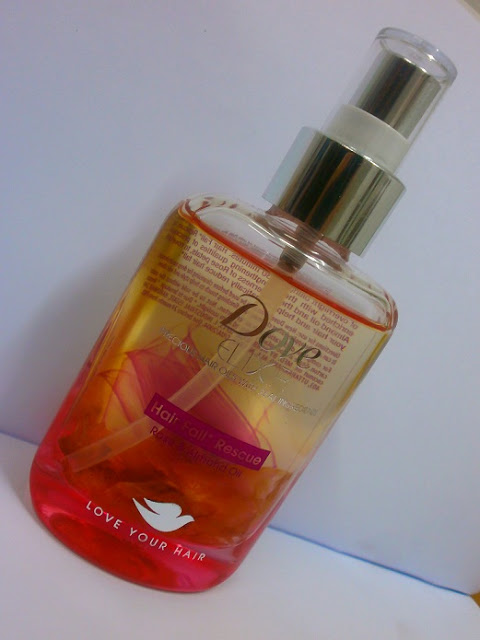 The first thing I noticed and went awww… was their packing. This one is a real eye candy and unlike my parachute hair oil, this sits prettily in my vanity table. The whole look of it spells sophistication syllable by syllable every time I see it.! There are little rose petals inside the oil and they add to the beauty of it.
The product comes in a glass bottle with a pump dispenser. I like the idea of using pump dispenser fro hair oils. It helps in controlling the amount of product and mainly helps in keeping the bottle oil free. The glass bottle comes inside a white sturdy cardboard box.
And then I again went aww.. when I smelled it. It has a very pleasant floral fragrance to it. The floral fragrance is very natural and authentic.
I tried this product on 30 minutes before washing my hair and the texture is very light unlike the normal coconut oil. And, on application, this hair does not feel as greasy and as oily as normal hair oils. Due to this reason, we might end up using more than what is actually required.
Now coming to the performance part, this product did make my hair look and feel better. My hair felt more conditioned and soft. I do not like oiling my hair for overnight and this product perfectly fits the bill. It also makes my hair tangle free and manageable when applied in little quantity while styling it.
Now let me summarize the pros and cons.
1. Pretty looking bottle.
4. Oil is very light and apt for people like me who detest oil in their heads.
5. The oil does satisfy its claim.
6. Makes hair tangle free and manageable when used akin to a serum.
7. A little quantity is sufficient.
8. Controls fizz to certain extent.
Cons:
1. Not completely free from chemicals.
2. Glass bottle needs to be handled with care.
Rating: 4/5.
Will definitely recommend and repurchase.
Hope you girls loved the review.

MakeupholicWorld Edit>>>>>> Hi Raji….I am so glad that you loved the gift:) I am yet to try this…Will surely try this and will let you know the results:))


Note: This is a guest post. The review is based solely upon the author's experience.