Hiyaa my beautiful friends….Today, I am going to share with you all some of my most recent hauls….i got these ones on offers and so I am so excited about them….:)
here are the snaps…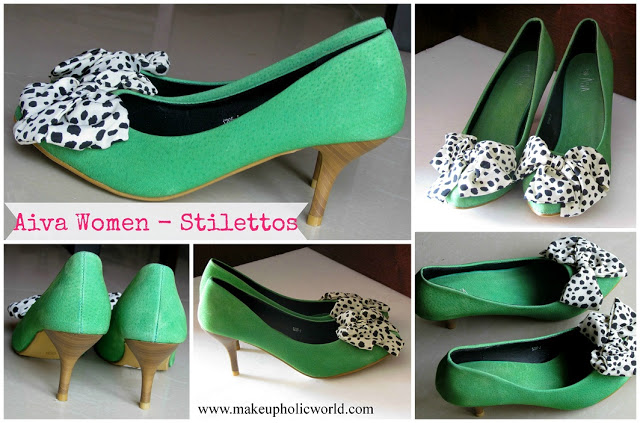 A lil about this item:)
Aiva Women – Stilettos
This pair of stunning bellies by Aiva, is a worthy combo of looks and premium quality. It sports a sophisticated colour tone with contemporary design, which lends you admirable looks. The
bow pattern
accentuates the look further. The interiors offer you a cushioned ride, round the clock.
Features
Colour: Green

Style: Slip-ons

Pattern:Round toe

Detailing: Bow pattern

Style it up with a pair of bright denims and an appealing top for a chic style statement.

Care Tips
Gently brush away dust or dirt using a soft cleaning brush.
You can also use a dry soft sponge or hand towel to restore surface.
Price: 1099 INR
yippie…here comes the next item….
Multicoloured Polkadot Wedge from Aria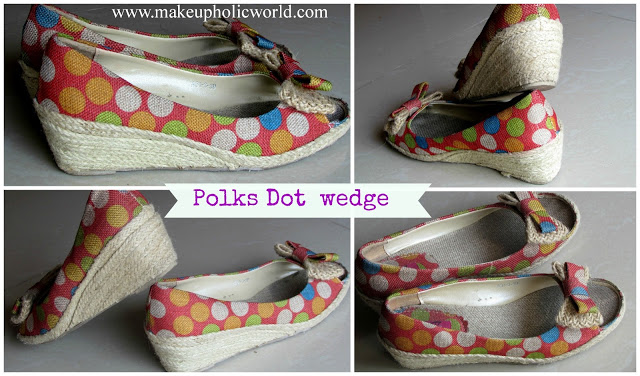 A lil about them:)
Polka dot Wedge by Aria
Animate your wardrobe and add happiness to your state of mind by just dressing up in this happy red shoe from ARIA. The combo of polka printed jute on the upper and the bow, creates unique vision. A high wedge heel offers height that's steady and comfortable to keep you firmly on your foot as you walk down the aisle.
Espadrille wedge heel

Polka dots print
Specification
Colour
Multicolour, Red
Outer Material
Fabric
Inner Material
Synthetic
Heel Height
5 cm – 8 cm
Sole Type
Rubber
Occasion
Casual
Price: 450; original price 899 🙂 got on 50% off sale….
Now, moving onto the next item:)
Cute Pink Wedge with butterfly bow from Aria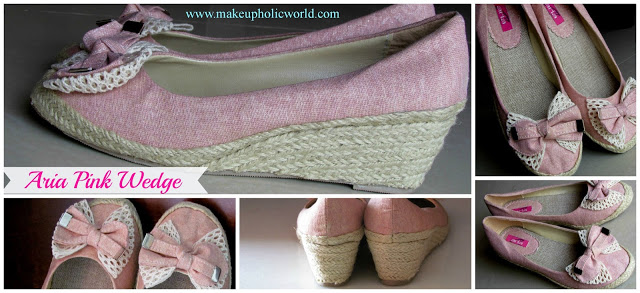 A lil about them:)
Aria Pink Wedge
Soar to fabulously trendy pinnacle on the pink espadrille from ARIA. This vivacious version takes a bold tint knotted bow that adds versatile elegant look and gives you the freedom to enjoy its sense as long as the evening allows.
Sparkling upper

Bow at vamp
Specification
Colour
Pink
Outer Material
Fabric
Inner Material
Synthetic
Heel Height
5 cm – 8 cm
Sole Type
Rubber
Occasion
Casual









Price: 450; original price 899 🙂 got on 50% off sale….

Now, there is one more product, which is yet to arrive…..will update about it once I receive it:)
Also, In another post ,i will specify, from where I ordered these cute ones from and Will update you all on my shopping experiences with those sites:) :*
Wait for that makeupholics and shopaholics…:)


Hope you liked my haul post:)
which is ur favourite among these 🙂

Be sure to enter my ongoing international giveaway
to win an URBAN DECAY NAKED 2 PALETTE by clicking here

Happy Weekend all!!!!
bye
xoxoxox