Today I am gonna review 

Forest Essentials Kashmiri Saffron and Neem Delicate Facial Cleanser
If you are a regular reader of my blog, you might have read about my Forest Essential Haul!!
If not, Read about my haul here
I received this as part of the Forest Essentials Ladies Essential Kit..This is a trave sized bottle of 50 ml, Full sized bottle is 200 ml…To know my experience about the facial cleanser…Keep reading!!
The first rule of Ayurvedic skin care is to cleanse, tone and nourish. The secret to proper cleansing is to remove dead cells and toxins, clear clogged pores and clean make-up without stripping the skin's natural oils and moisture content. These Facial Cleansers contain Anantmool is very effective for acne and pigmentation. Kumud is firming and toning. Nagkesar has skin re-texturising, toning and firming properties. Honey absorbs impurities from the pores on the skin, making it an ideal cleansing agent. Steam Distilled Rose Water is a natural astringent. It tones and rehydrates the skin. Marigold or Calendula has a high content of flavonoids that act as anti-oxidants in the body. Jasmine is mood uplifting, tones the skin, neutralizes oil production and evens skin tone. Kewda is anti oxidant and cooling. Neem is healing, cooling, and purifying. Saffron gives the skin a warm glow.


Making of the Product:

Well documented Ayurvedic herbs are infused in Organic Neem and Saffron to the best effect

Product Benefits:

Forest Essentials Facial Cleanser gently cleanses your face to remove dirt and exfoliates dead skin cells making it clean and fresh.

How to use:

Use small amount onwet skin to cleanse and moisturisethe skin. Rinse well with water.

• Oils are cold pressed by hand • They are 100% paraben free and contain no mineral oil, petroleum by-products, SLS, sulphate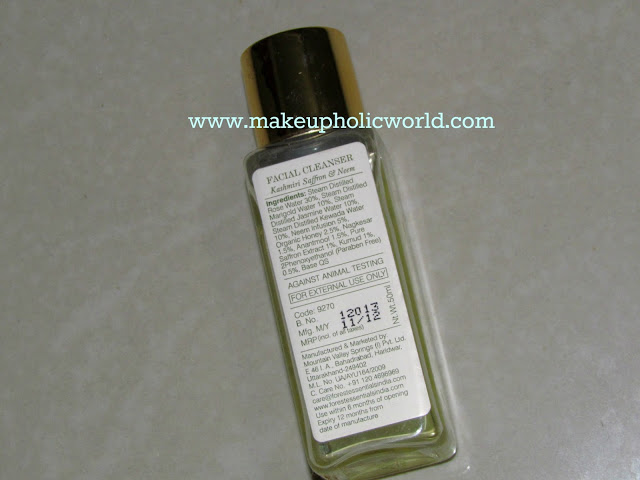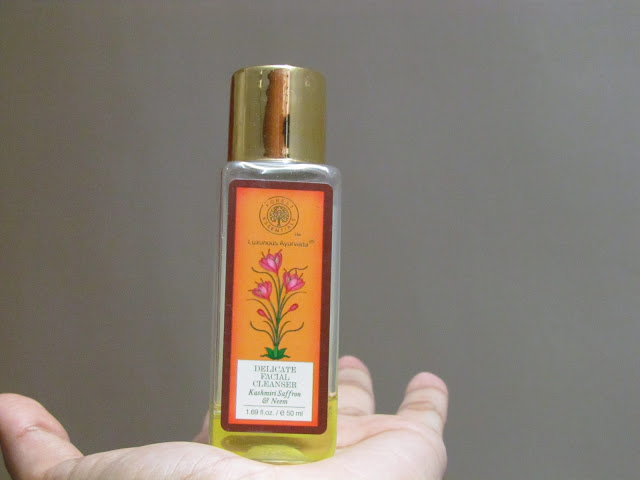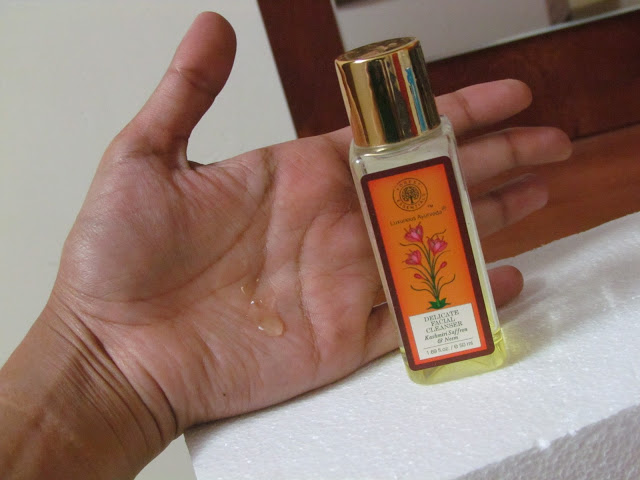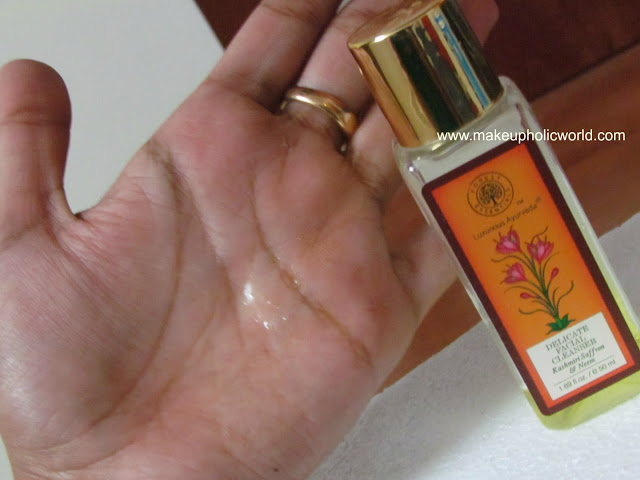 My opinion about Forest Essentials Kashmiri Saffron & Neem Delicate Facial Cleanser
I got this 50 ml bottle as part of ladies essential kit.. The light yellow coloured liquid comes in a bottle with a screw on golden cap. The packaging comes with an additional plastic stopper to avoid leakage.
Its a gentle foaming cleanser with a pleasant smell. This is my 2nd bottle of the facial cleanser and I'm sure I'll repurchase. it lathers very mildly and I must say, I didn't irritate my super sensitive skin. like all FE products, this one is also free from parabens. it gives a refreshed feel to facial skin. I follow using panchpushp facial toner which I love…
Pros
gentle facial cleanser with a pleasant smell

doesn't dry or irritate skin

lathers mildly

available in regular and travel sized bottles

paraben free
I have no con other than the packaging, I wish if it comes in a tube packaging 🙂 The plastic stopper is very hard to remove each time that I have removed it completely and is now pouring the liquid in small qty whenever I need it….
I recommend this to all who are looking for a gentle and mild facial cleanser…