Hi dearies…Hope you all are doing absolutely fantastic!! How is the weather at your end?? Here in Hyderabad…its awesome weather now!!! Today's post is going to be my shopping experience with amazon.in. I am so excited to post this being an amazonian myself!!!
Note: This is not a sponsored post. All products are purchased using my own money
So, Lets move on to my shopping first shopping experience with amazon.in
A little about Amazon!
Amazon.com, Inc. is an American multinational electronic commerce company with headquarters in Seattle, Washington, United States. It is the world's largest online retailer. Amazon.com started as an online bookstore, but soon diversified, selling DVDs, CDs,video and MP3 downloads/streaming, software, video games, electronics, apparel, furniture, food, toys, and jewelry. The company also produces consumer electronics—notably the Amazon Kindle e-book reader and the Kindle Fire tablet computer—and is a major provider of cloud computing services.
Vision of Amazon
Our vision, at Amazon, is to be Earth's most customer centric company; to build a place where people can come to find and discover virtually anything they want to buy online. With Amazon.in, we endeavour to build that same destination in India by giving customers more of what they want – vast selection, low prices, fast and reliable delivery, and a trusted and convenient experience – and provide sellers a world-class e-commerce platform.
Customers can now shop with confidence from any seller on Amazon.in and benefit from a safe and secure online ordering experience, convenient electronic payments and cash on delivery, easy returns, Amazon's customer service with 24×7 support, and a globally recognized and comprehensive purchase protection provided by Amazon's A-to-Z guarantee.
We are excited to get started with Books and Movies & TV, with additional categories coming soon. It is still "Day 1" and we will relentlessly focus on expanding selection and raising the bar for customer experience in India.
My experience with amazon.in
I placed my order on 5-June-2013; I ordered 3 books


The Promise –

Nikita Singh

Life is What You Make it –

Preeti Shenoy

Can Love Happen Twice-

Ravinder Singh
How to place an order with amazon
>>Select items you need and add item to cart
>>When you add an item to your cart…It will show any update like whether you have already purchased the product previously etc on top…Also, it displays different buying options from which you can choose the least payment option!! awesome…isn't it?
>>After adding product to cart, click on proceed to checkout!!
>>Select your delivery address..If no addresses are existing, add a new one and hit "deliver to this address"
>>Choose the shipping method and hit continue…Now, for a limited period, all orders qualify for free shipping!!
>>Select your mode of payment and again click continue and that will take you to the payment gateway wherein you make the payment!!
Ordering is as simple as that!!


Now, one of the greatest advantage I found while placing orders for Books is that
Search Inside the book feature, which allows you to view a peek inside the book,
What is Search Inside?
The Search Inside!™ feature lets you look inside thousands of books and search through millions of pages to help you find the book you want to buy. Through Search Inside!™ you can preview a book and browse through its content like you would at a bookstore. This feature has been included into the Books search functionality which means your search results will display books that have your search phrase in the title, author's name, or within the pages of the book.
Does my book have the Search Inside feature?

You will find the 'Click to Look Inside!' sign on top of the image of the books which have this feature. Once you're on the detail page of a particular book, you may click on the 'Look Inside!' sign which will take you to the Amazon Online Reader where you can view different sections of your chosen book, and search inside it.
How It Works
Find Results Across Millions of Pages
Let's say you want to search for books which have information on 'intermolecular collisions' or recipes on how to make 'chocolate fondue'. Just like any other search on Amazon.in, simply type the phrase in the search box and click Go. You will get a list of books that contain that term in the author's name, the book's title, or in the book's text. For each match, you will see the page number, an excerpt with the search term highlighted and a link to view the actual pages using the Amazon Online Reader.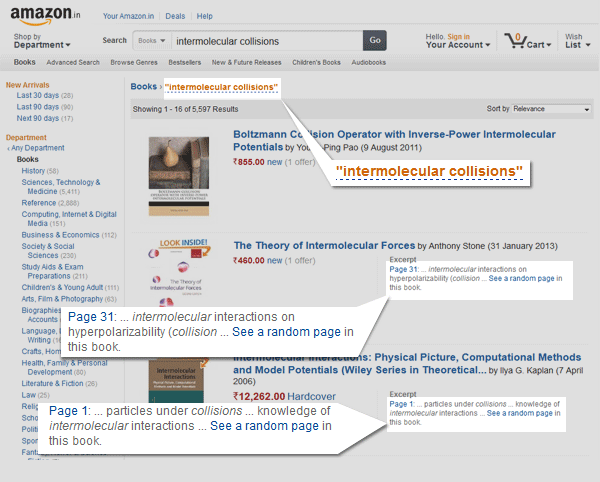 Search Inside the Book
The Search Inside!™ feature lets you look for words within the text of the book. To use this feature, you would need to sign in to your Amazon account with your e-mail address and password. Once you are signed in, just enter the phrase in the search box of the Amazon Online reader and click Go. You'll then see a list of matches for that phrase in the book, below the search box. You can follow the links to see the terms highlighted on a particular page.
More Features
Explore more features on Search Inside!™
Altogether, an amazing shopping experience, Now, Lets come back to the order I made…As I said, I placed the order on 5th June 2013, As soon as I placed my order and made a payment..I got an email confirmation about the order as well as payment received. I received my order the very next day!! super quick!! Delivery was through FedEx!!
Here is a sneak peak of my order!!

Pros
wide selection of categories, as of now, books, movies..more categories coming soon!!

fast shipping

COD option is available
Con
Packaging is amazing…but, I feel, the packaging can be improved a little bit…In US and UK, this packaging is enough, But , here in India, Just the cardboard packaging doesn't help…What if it rains…Our country has unpredictable climatic conditions and unpredictable way of handling packages!! So, I suggest Amazon sellers to improve the way they currently pack the products, i do agree, cardboard casing is quite sturdy, book reaches without any damage, but, Why to take risk!! what if the books are cased in a bubble wrap or waterproof covers before placing them in cardboard box!!
That's all about my first shopping experience with amazon.in!!!
I have already placed two more orders on Sunday and I received them today!!!
Super excited!! Will update this post with those pics as well soon!!!
I recommend the website to all you shopaholics!!
Have you purchased anything from amazon.in yet? Share in your experiences in the comments below!!