Hope you all are enjoying the Saturday!!! Mine is quite boring here as  I didn't go anywhere outside….
So, Today I thought I will do a pool of posts 🙂
This post is in response to a reader query….Query Quoted below- Name changed!
>>Neelima asks…
Hi Renji! I am a follower of your blog! seeing your tutorials and posts since the time you started the blog!! Appreciate your effort! Today I am writing to you to ask a help from you….I'm Medium complexioned…I want you to do an easy everyday makeup look that I can wear to office…My office is located in South Part of India where people do little or less makeup..I want the look to be very minimal, natural looking…I love to wear eye shadows, have only one palette Naked 1…Suggest me looks using the shades in the palette. I am not a lipstick person However I wear and like new market launch Lip stains….
So, today's  makeup look is going to be very minimal and can be done within 8-10 minutes 🙂 I have explained the 10 steps to create this look  🙂 This is the look which I wear most of the time to office….Hope you will like it too 🙂
Easy Everyday Makeup for College & Workplace!!

Here's the finished look 🙂 All pictures taken in natural Day light without flash………….
Click on the image for a bigger view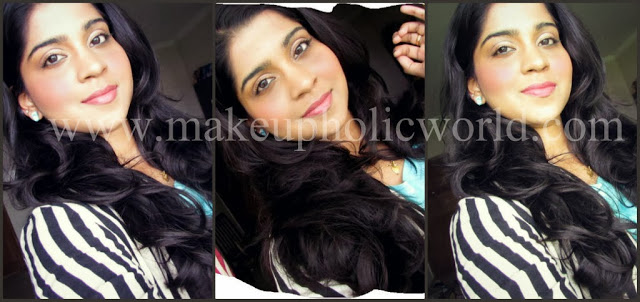 Hope you like it Neelima 🙂
Dearies, I hope you all enjoyed the picture tutorial 🙂 Don't forget to comment below your opinion about this look 🙂 If you have any suggestions, Quote it down below 🙂
Stay tuned for more tutorials and posts in future 🙂

Bye dearies 🙂
Enjoy Your Evening!