Hi beauties….Today I am wit ha DIY for you all makeupgeeks!!
Every girl loves face mask! 
Face masks are a great way to feed your skin healthy antioxidants. I love creating my own homemade masks at home since it's inexpensive and the natural ingredients are gentle on my super sensitive skin. 
How about making your own home made mask with a tasty seasonal fruit and some honey? Here we go!!
Follow these simple steps to make this 
DIY: 
How to make a Strawberry Facial Mask at Home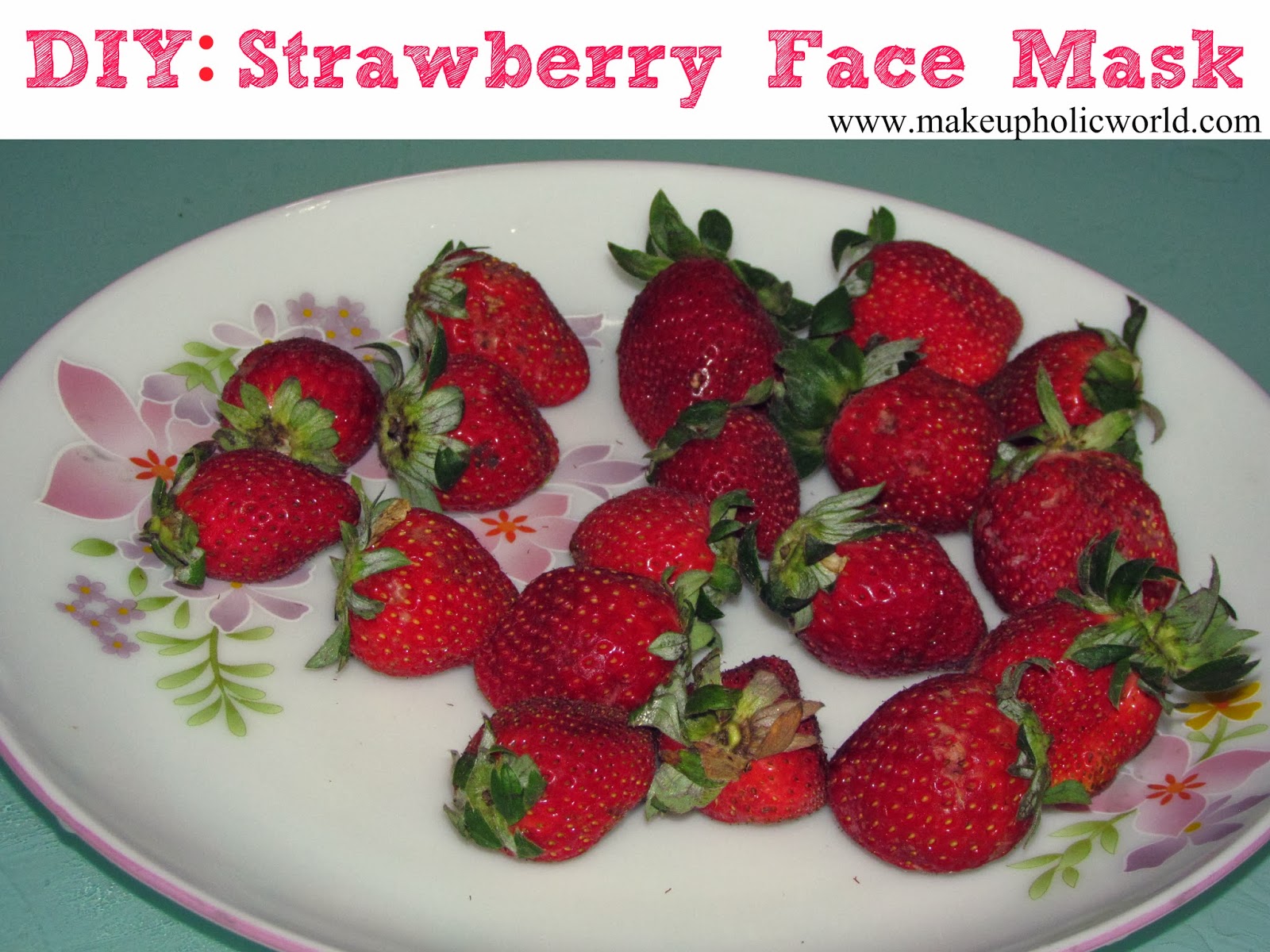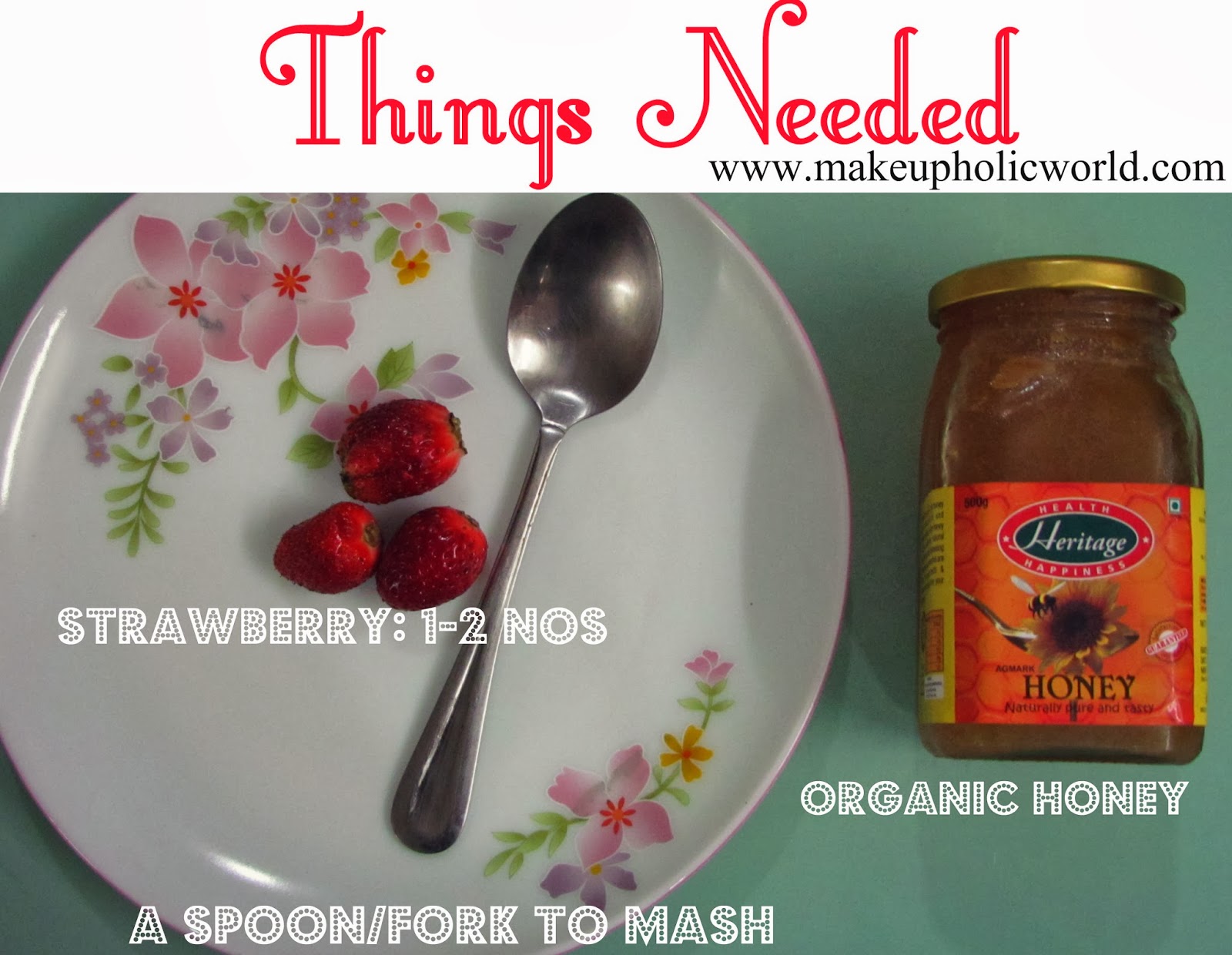 Put 1-2 strawberries and rinse them with lukewarm water.If you want your facial mask to be ultra cool and refreshing, rinse with cool water (not freezing cold) after the warm water. Pull all the stalks off and dry the fruit with a clean cloth.

Add 1 teaspoon of honey. Mix them in with the strawberries until a smooth mixture is made. Make sure it is blended well and not just all stuffed together.

Apply the mixture to your face and neck generously, keeping away from sensitive areas like your eyes. Put a little extra on dry skin areas, and if the dry skin is around your lips, it's okay to get some on your tongue if you over-apply. All the ingredients are edible.

Leave the mask on for 10-20 minutes or until its dry

Remove with warm water and a cloth. Don't scrub too hard, but make sure you get everything off. You don't want bits of cream, strawberries and honey stuck to your face.
Now, wondering how is it going to help us….Read on
Lets see what are the benefits of strawberry
Strawberries are known for their antioxidant as well as astringent properties hence the facial mask will not only prevent the signs of aging but also helps in getting rid of dead skin cells too. It will also rejuvenate the dead skin cells.
Strawberries are known to be good sources of vitamin C, hence they help in making your complexion clear too. They also helps to minimize the occurrence of wrinkles and fine lines too.
The presence of Omega 3 fatty acids in these delightful fruits helps to give a shine to the skin as well as make it more even and brighter too. It is due to this reason that dry and flaky skin too is treated with the facial mask of Strawberries.
Strawberries are said to be loaded with salicylic acid which works effectively in minimizing the occurrence of acne and reduces acne scars too.
If you thought strawberries are good only as face masks for your skin, well then you are wrong. There are some more interesting things to know about strawberries for your skin benefits. Catch them up in Extra Beauty Bytes:
You can use strawberries for getting rid of puffy eyes. Slice down strawberries and keep two of the slices on your eyes and relax for 10 minutes.
Strawberries can also be used as effective tooth whiteners too. Just crush down a few strawberries into a fine pulp and gently massage your teeth.
You can use strawberries for de-tanning too. Strawberries help in lightening pigmentation marks also. For both these purposes just mix lemon juice to strawberries and apply for 15 minutes. Wash off.
If you want to get glowing skin, you can mix strawberries with cocoa powder and honey. Apply for 15 minutes and then wash.
Preperation:

Take a bowl and add to it fresh strawberries which should be mashed properly. Now add yoghurt to it and blend it well with strawberries. Now apply this face mask over your face and neck and leave it for around 20 minutes. Wash off with lukewarm water.
———————————————
For Oily Skin : 
1-2 strawberries,1 tbsp of oatmeal,2tbsp of fuller's earth
Preparation:

Take all these ingredients in a bowl and grind them well in a food processor. Make sure it gets converted into a fine paste. Now apply it on your face and leave for 20 minutes. Wash off with lukewarm water to get a soft and glowing skin.
————————————————-
For Skin Tightening
1 egg white,

½ cup sliced strawberries,1 tbsp of organic honey,½ tbsp of lemon juice
Preparation:
In a bowl add all these ingredients together and make a fine paste.  Now evenly spread it on your face. Make sure you have cleansed your face well. Apply it on your face and neck. Leave for 15-20 minutes and then wash off with cold water.
 Hope you liked this DIY post on Strawberry Face Masks…Do share your thoughts about this DIY 🙂