Hi Girls, Talking about a collection that never got launched in my country …is really thrilling and at the same time sad thing but again obsession for MAC is something that I want to share with you all. So here I am going to review Mac Lipstick Kelly yum yum from MAC Sharon and Kelly Osbourne Collection. The lipstick is a part of Kelly Osbourne collection.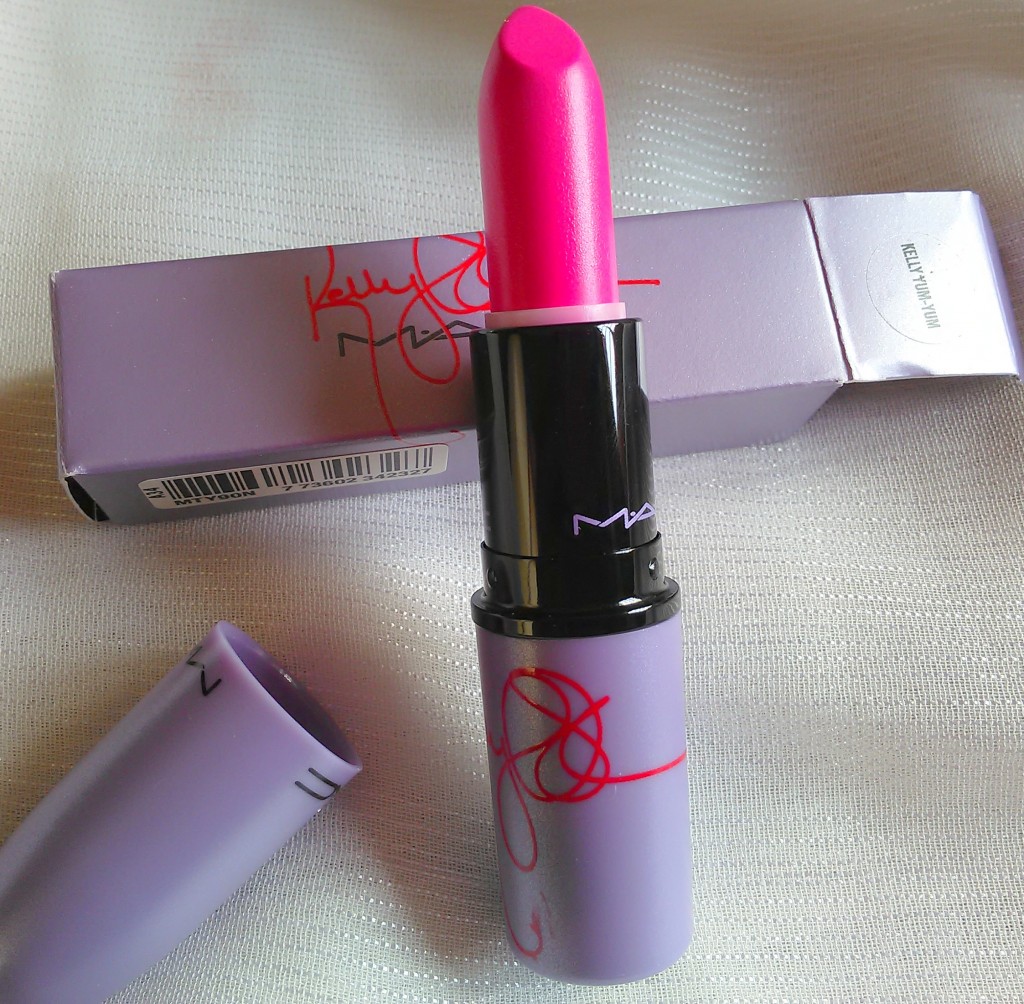 Price:  $17.50.
MAC teams up with Sharon and Kelly Osbourne for a limited edition makeup collection featuring a two part collection that includes a MAC Sharon Osbourne Collection and a MAC Kelly Osbourne Collection release.
Each collection includes makeup for eyes, lips, face, and nails with limited edition packaging that's red for Sharon and violet for Kelly!
The collection was launched online on 2nd June 2014 and internationally on august 2014.
The Kelly's collection consists of 4 limited edition lipsticks:
Matte Lipstick in Strip Poker, a light nude.
Matte Lipstick in Riot House, a light vivid orange.
Satin Lipstick in Kelly Yum Yum, a bright blue pink.
Matte Lipstick in Dodgy Girl, a light lavender.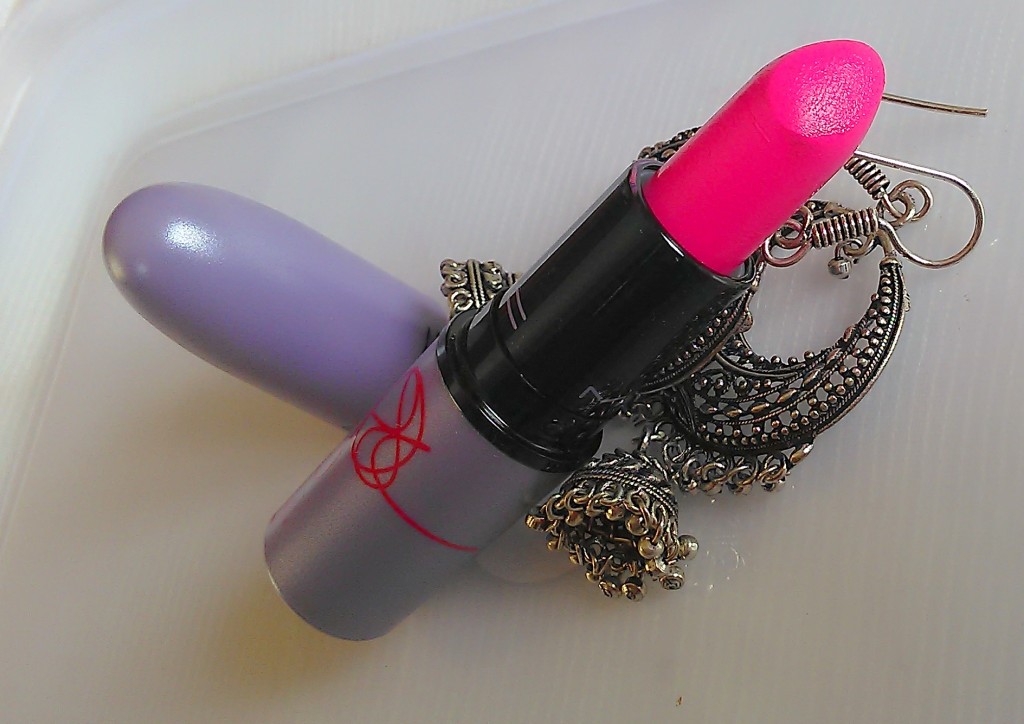 Packaging:
Kelly yum yum was launched under Kelly's collection. The lipstick comes in a pretty shade of lilac with her signature over the M.A.C logo. The lipstick tubes have the same look like box packaging.
More Pictures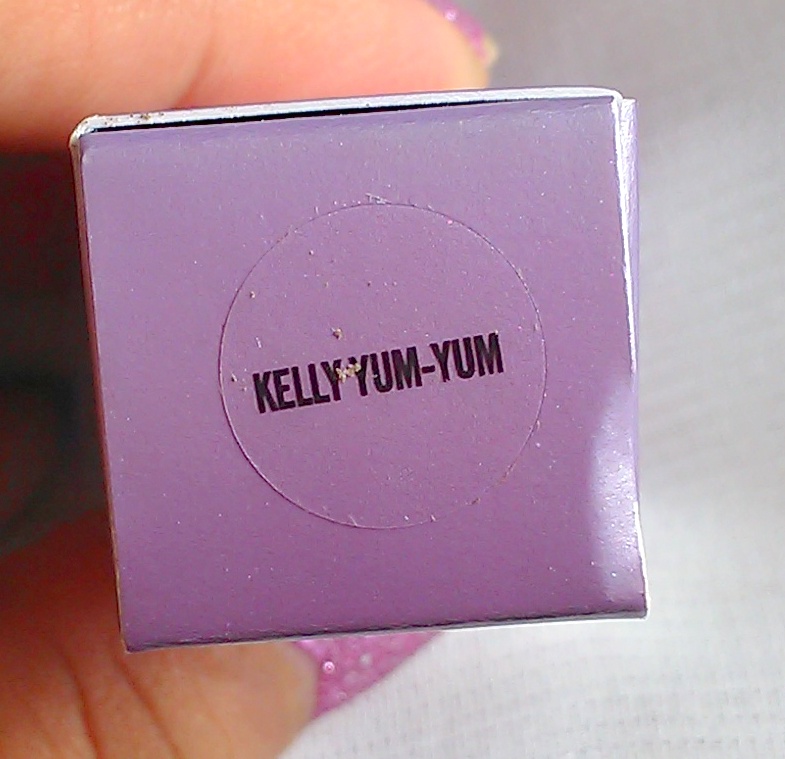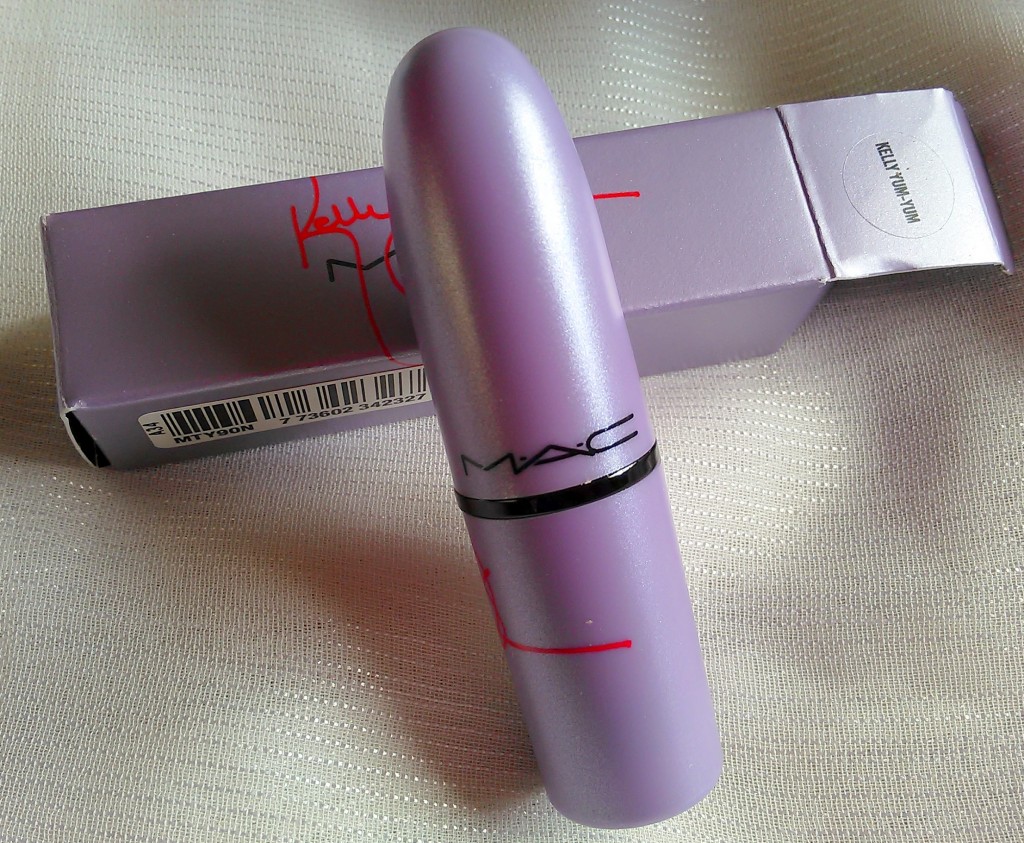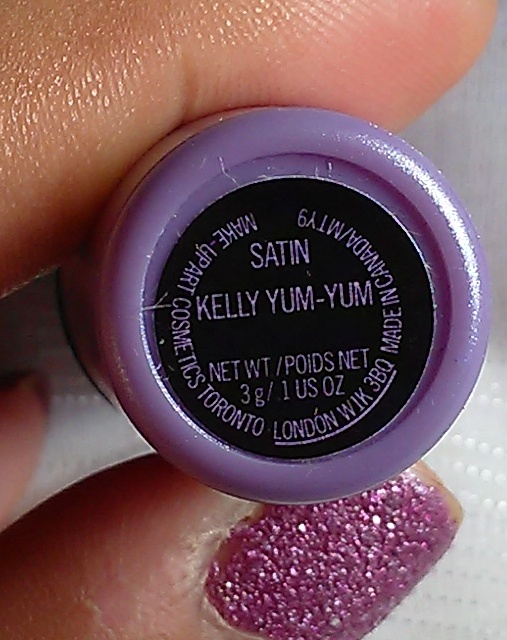 Coming to my experience:
The lipstick is a bright blue pink lipstick with satin texture for which it glides super smoothly on lips without dragging the lips terribly. As usual it has signature vanilla smell that mac lipstick usually have. The shade is pretty dupable no doubt. Like Mac lipstick Candy yum yum is more cool tone pink compare to Kelly yum yum. And there are various brands in which you can find out the dupe shade. This particular collection didn't launch in India and I wanted to have atleast one lipstick from this different limited edition packaging (being a lipstick lover which is quite obvious). The packaging is one and only thing that I think one should go for it else I am not a big fan of this particular shade as it is dupable. Infact in this collection I found only this lipstick might suit Indian skin tone , rest are just not for us….I hope MAC listen to it…:P The lipstick stays pretty 6 hours on my lips and leaves a deep pink stain on my lips after fading which I just love love love. Another thing the shade is pretty experimenting type as one can go with the lipstick only which would look quite neon or with some different lip liner one can make the shade look more hot pink according to their desire or can tone it down a bit if desire J The shade will suit fair to medium skin beauties but it might wash dusky skin beauties.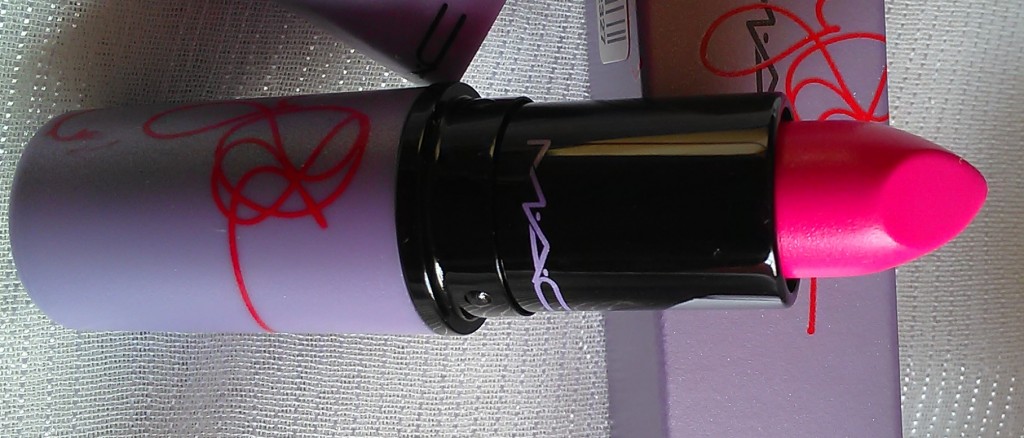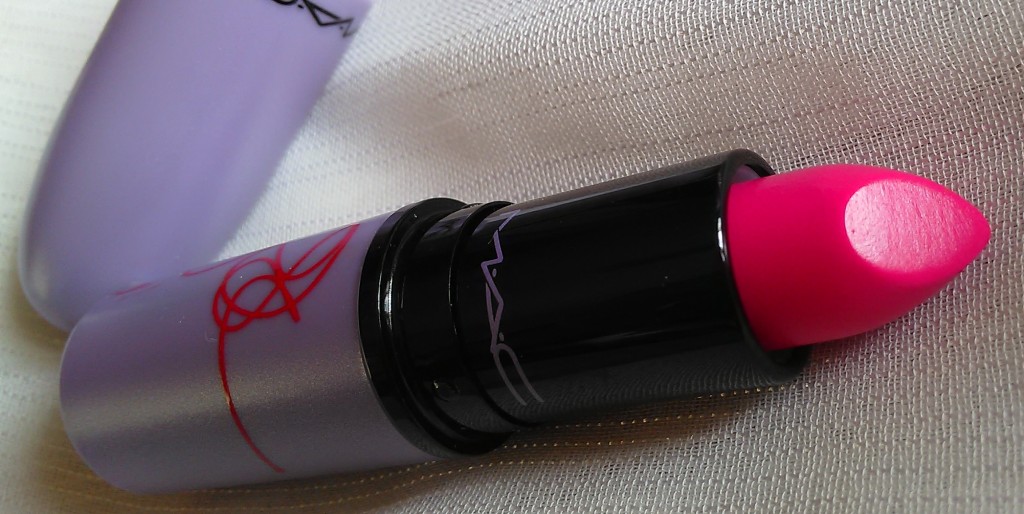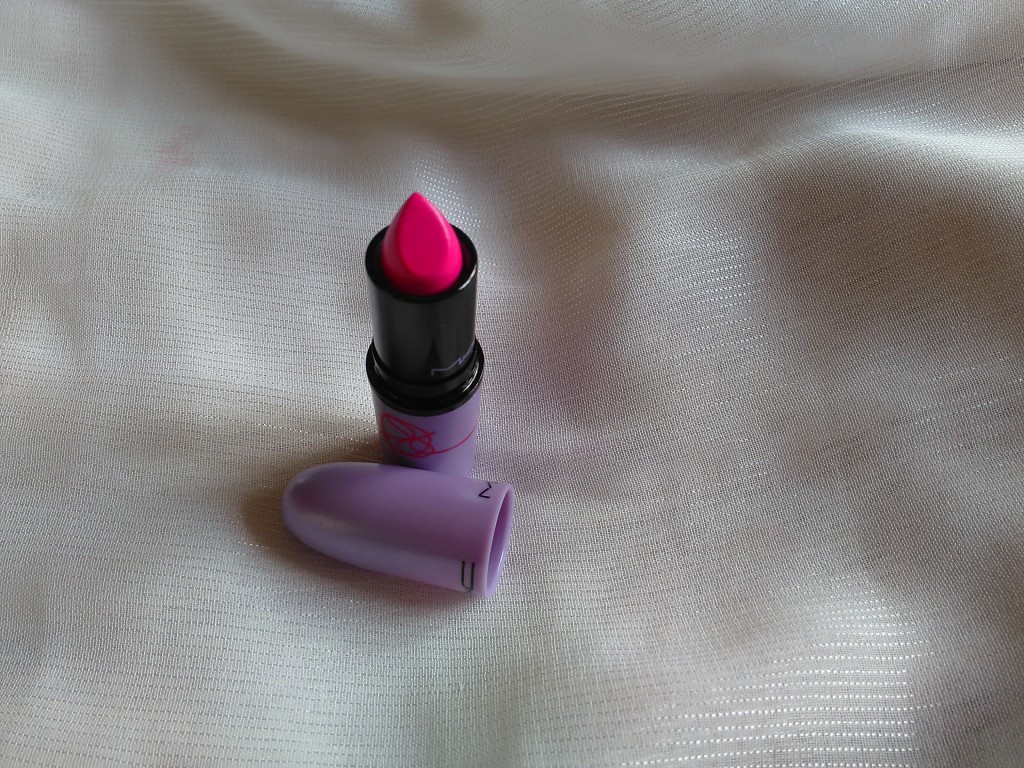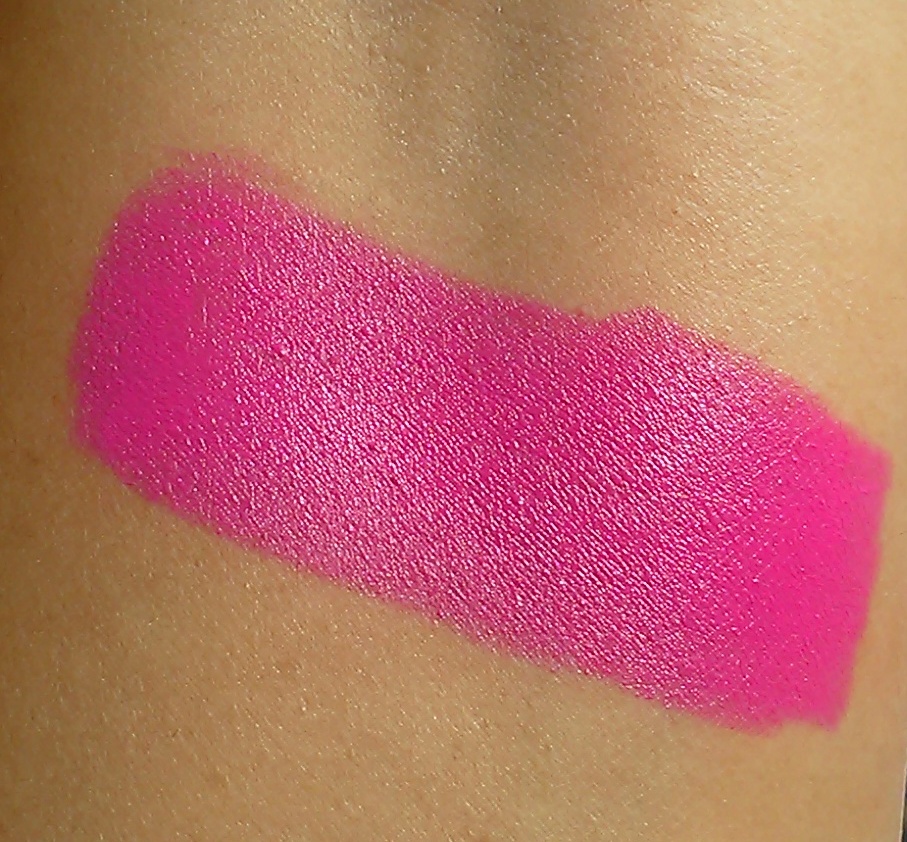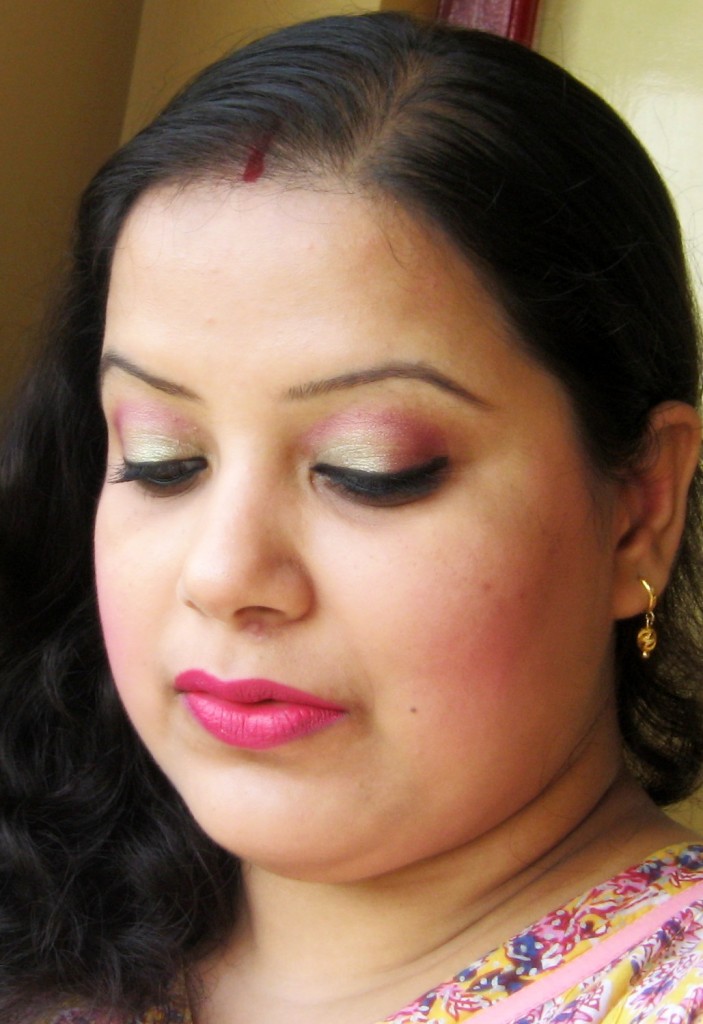 So summing up again….
Pros:
Nice lilac color packaging.
The lovely signature of Kelly on the lipstick case.
Vanilla scent that I totally love.
The perfect pink for fair to medium skin tone.
The staying power is very nice, 6 hours+.
The shade is a perfect hot pink.
Satin in texture.
No dragging of lips while applying lipstick.
Cons:
The collection didn't launch in India which is really annoying.
It is quite a dupable shade so nothing special about the lipstick shade leaving the different packaging.
My rating:  4/5
My recommendation: Obviously I am a mac and lipstick lover so for me whenever I add any mac lipstick on my stash the feel is like winning a trophy for what I love so this lipstick definitely holds special position in my heart like other mac lipstick…( I have big heart you see 😉 but if I judge generally then definitely leaving the packaging there is nothing to fall for this particular shade which are quite dupable and cheap in other drugstore brand.
By contributor: Samannita