The change in seasons isn't just the perfect opportunity to switch up your wardrobe… It's also a great time to checkout new makeup hues and textures! I was in search of some variety of  lipstick shades. That's when Loreal contacted me and gave me these shades for review. Its the all new Loreal Paris Collection Star Red lipsticks. 7 gorgeous, tempting lip shades that are supposed to be the signature red lipsticks of the L'Oreal ambassadors who endorse them. Excited, isn't it? Today's post is going to be the swatch post or first impression post of these newly launched lipsticks. Please bear with photographs. I am on my holidays now and I have clicked these using my phone. hence- There is a lighting issue. I will be reviewing each one of this separately with LOTDs. Stay tuned for it.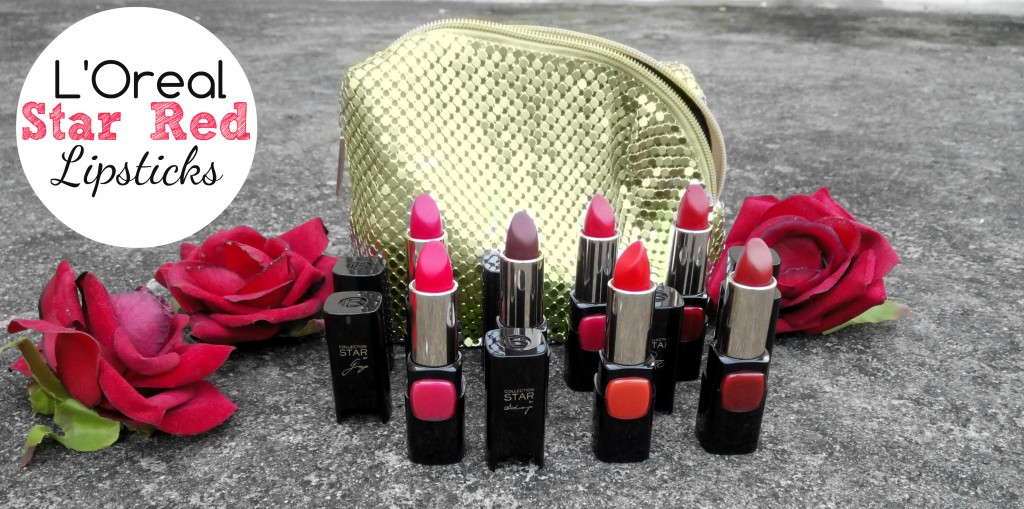 What does  Loreal claim about these beautiful lipsticks
L'Oréal Paris starts the new year painting 2015 RED! Presenting the the Color Riche Collection Star range. A rouge for every woman. Discover a shade of red that is as unique as you are! The range includes 7 exquisite matte shades that are chosen by 7 ionic L'Oréal Paris ambassadors. 
 
The Collection is created with a revolutionary and innovative formula that delivers bold, luscious color that lasts for a full 6 hours, making it the ultimate beauty indulgence. The range is enriched with new Light Illum complex that delivers a rich matte effect. The Velvet Fusion capsules and Ultra Gliding Shine Oils provide smooth and silky application. Pure pigments deliver intense color and Jojoba oil gives perfect hydration up to 4 hours.
New L'Oreal Collection Star Lipsticks has 7 shades that are launched here in India.
Pure Garnet
Pure Scarleto
Pure Amaranthe
Pure Fire
Pure Rouge
Pure Vermeil
Pure Brick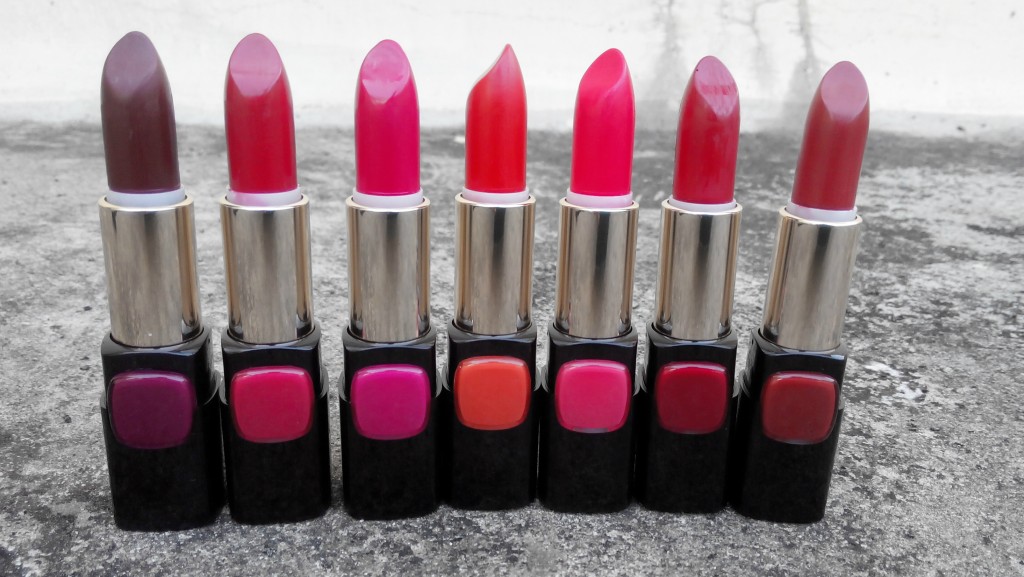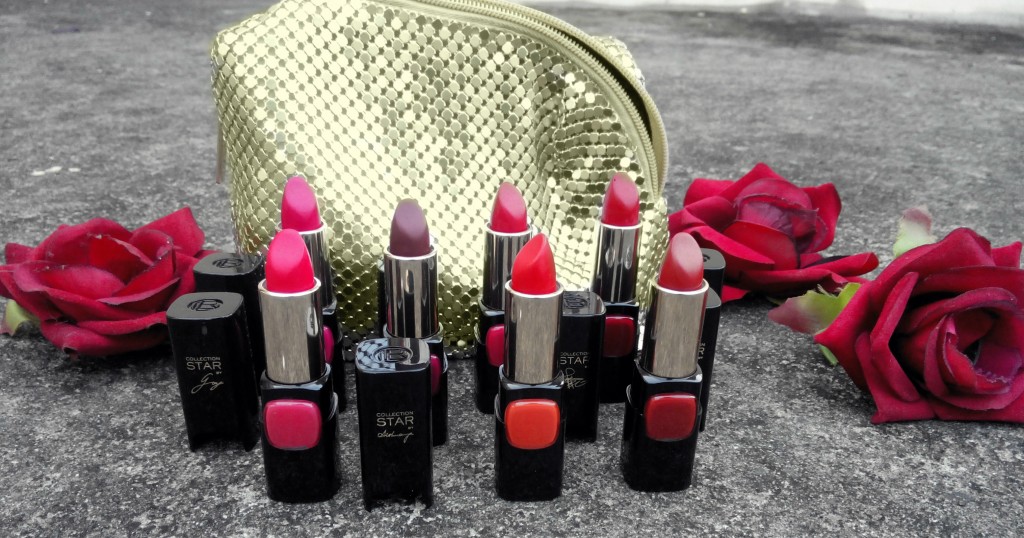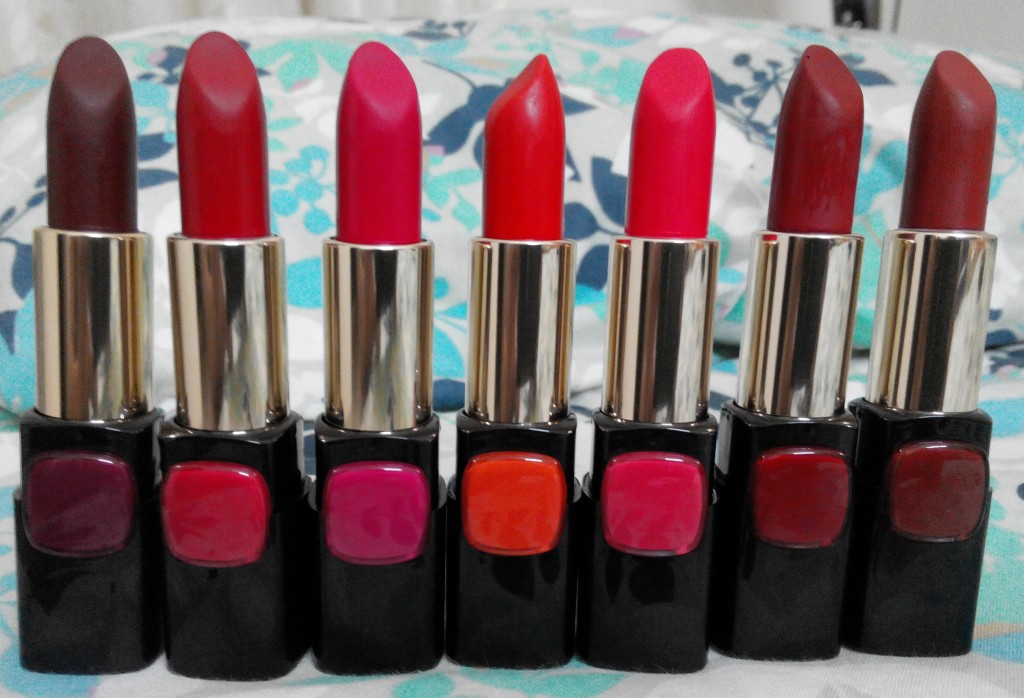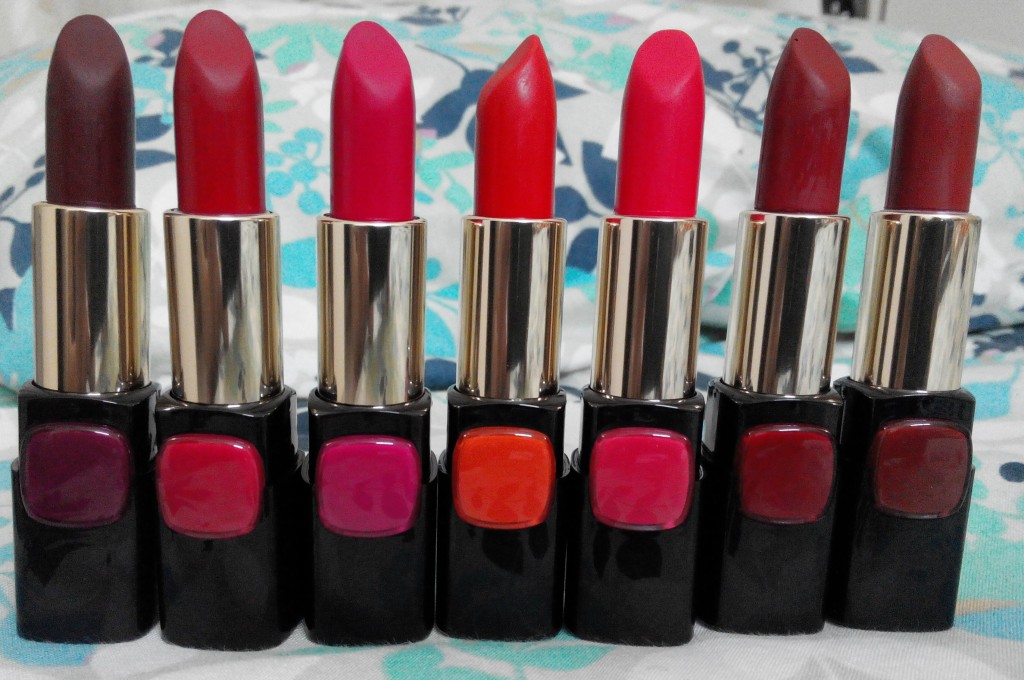 Comes in a classic black packaging – similar to loreal moist matte's. applies smoothly. One can layer it to get the desired pigmentation. All of them are slightly different shades that work with the different undertones of the skin, complementing you perfectly.  Definitely not just reds alone. A mix of bright shades. Priced at 995 INR each. The lipstick formula itself is a satin finish, so is super long-lasting. Tonight for a function, I wore it and it easily survived heavy meals. Price is on the higher side . But, I feel its still ok as most of the brand lipsticks are priced at 2-2.5k
I'd recommend using a lip liner with these just to get a really clean finish and pop a bit of lip balm underneath to prevent any dry feeling at the end of a day's wear. About the formula- Its matte just  Enjoy the swatches! All swatches are taken in natural daylight without flash.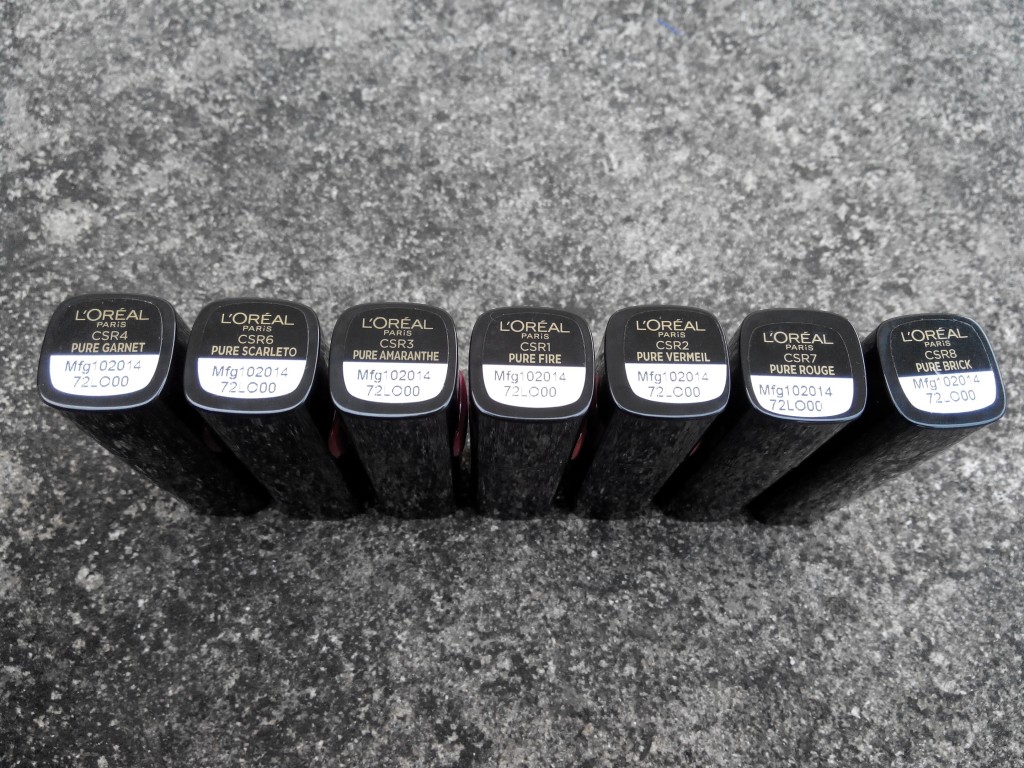 Pure Garnet – by  Sonam Kapoor is a perfect fall shade. Gorgeous deep wine color with red undertones.Reminds me of MAC dark side, diva etc.
Pure Scarleto – A bright red pink shade that brightens up your face instantly. Similar to YSL Rose Crazy
Pure Amaranthe – Bright pink- Now, I really don't know what is this shade doing here..its not even red…
Pure Fire -a bright orange shade with little pigmentation compared to others. Need to layer this up to get that perfect orange pout.
Pure Vermil – Again a bright fuchsia shade
Pure Rouge – by Freida Pinto; My favorite from the lot.
Pure Brick – by Aishwarya Rai; Omg, such a deep red! another gorgeous shade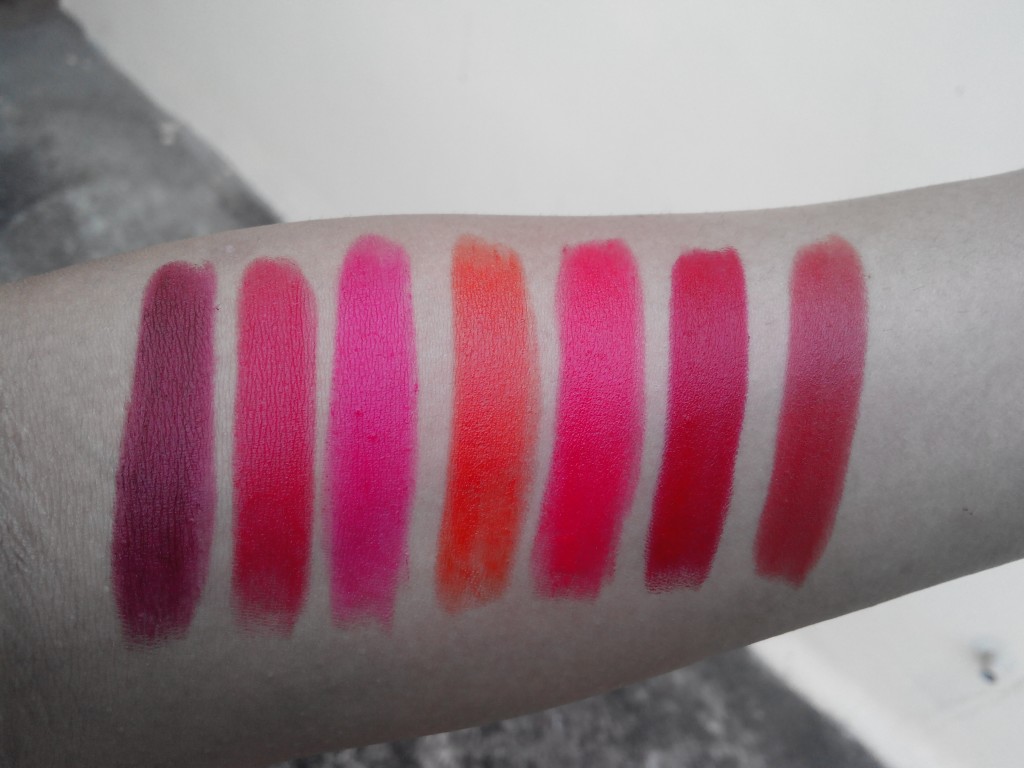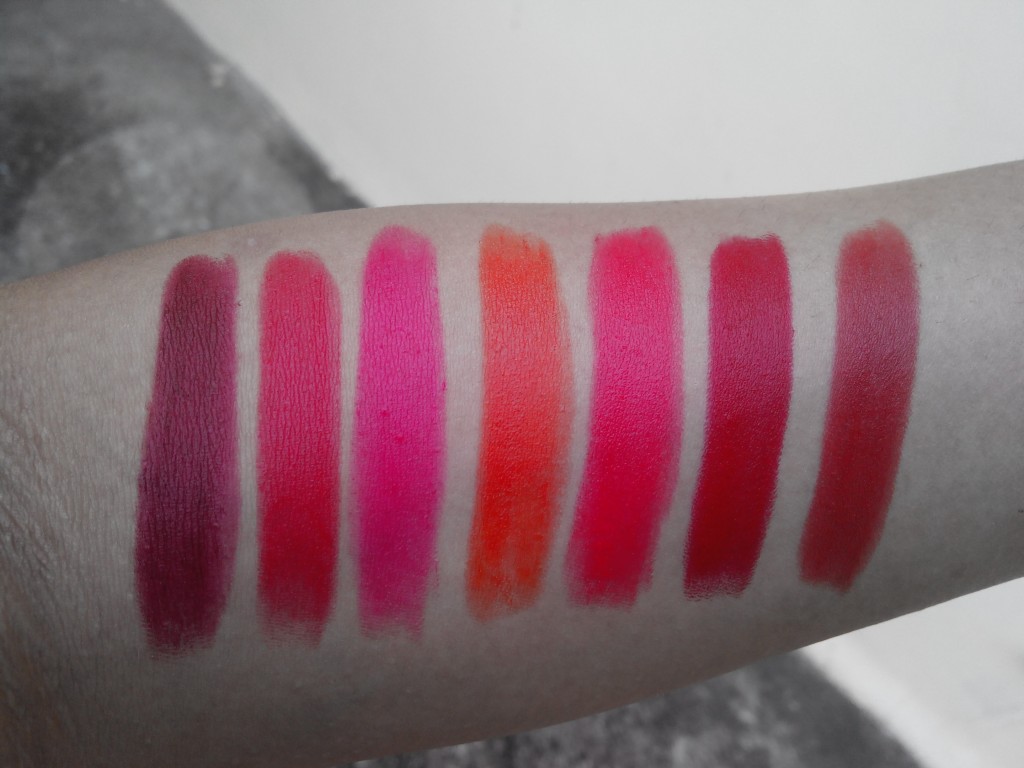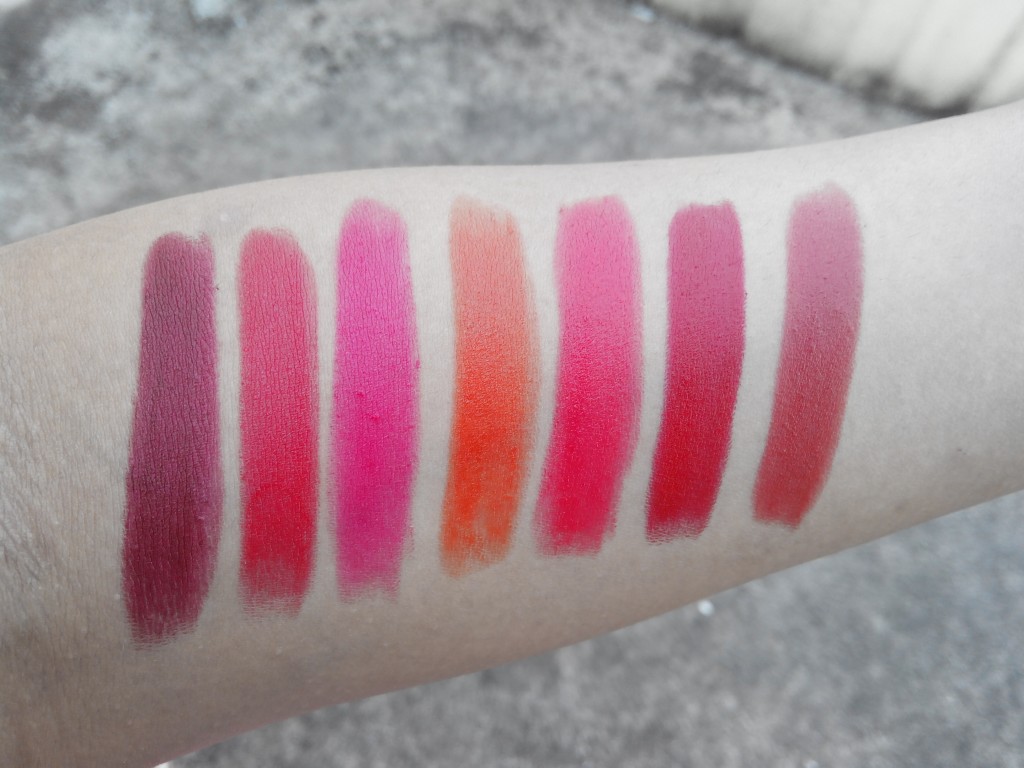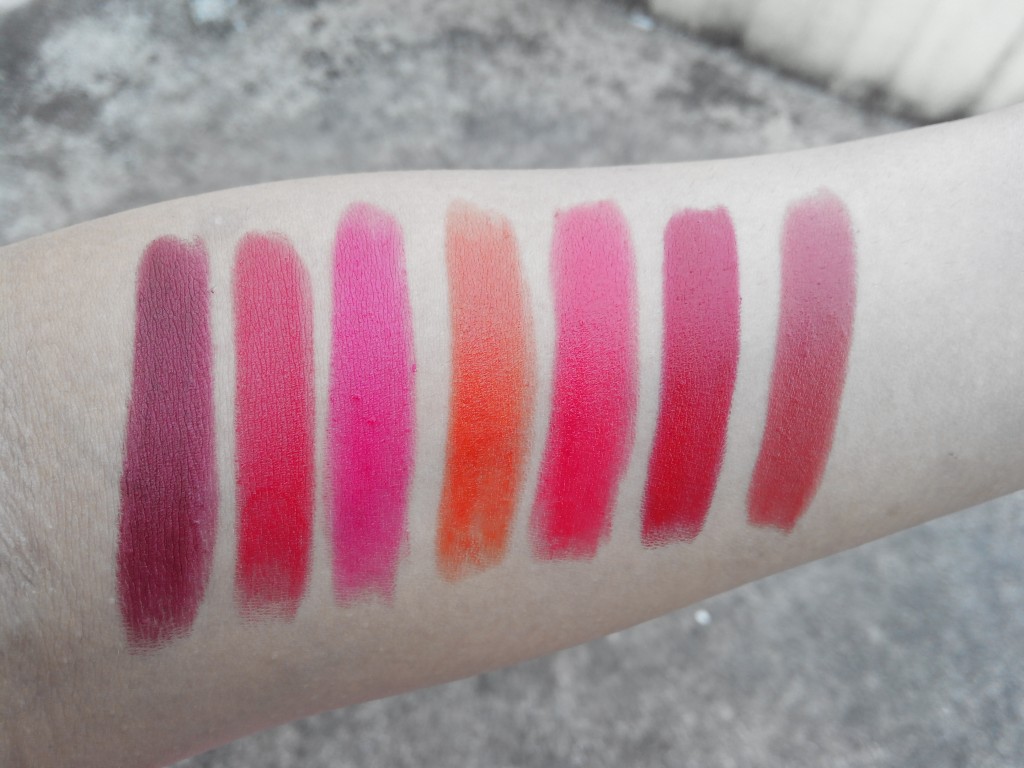 Are you guys excited about this new launch. What are your top picks among these?

**Product send by brand for consideration. My review remains honest and unbiased as always