Body scrubs exfoliate dead skin cells and impurities from your skin leaving your skin feeling silky smooth. Coconut is known for its soothing and nourishing properties. Roses act as a natural skin astringent for they effectively improve the tone and texture of your skin while pampering it. Like coconuts, roses are also anti-bacterial and antiseptic and heal skin irritations. I have seen several DIY blog posts  featuring body scrubs with rose and coconut.  But, me as a lazy girl never bothered (read – "no patience") to try out the DIYs. That's when I found this body polish with (Coconut & Rose) from Gia Bath & Body Works. Continue reading to find out why I love this so much…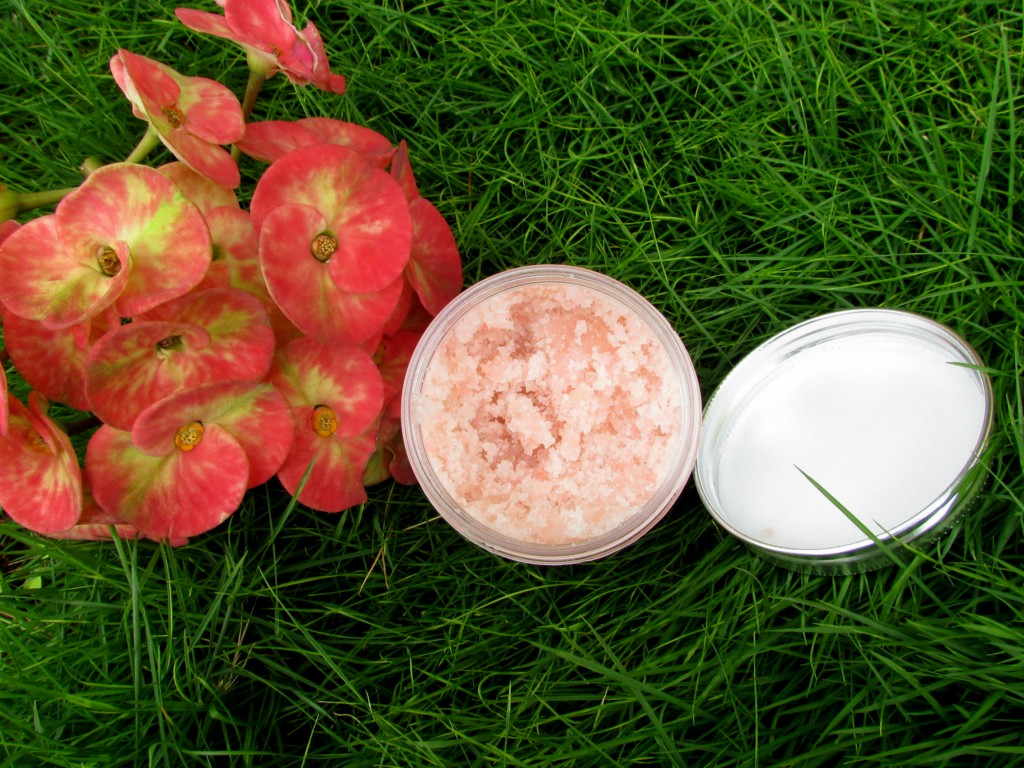 Gia bath and body Works is a premium brand that makes luxurious handcrafted bath and body treats. They are known for creating Stunning Soap Cupcakes and attractive bars.
What does the brand says about their products
Our products are made in small batches, giving each bar the attention that your skin deserves.
We use Skin loving oils like Virgin Olive oil, Castor bean Oil, Virgin Coconut oil and Avocado Oil. Each bar of soap also contains butters like Shea, Cocoa and Mango.The Fragrance and Essential oils we use are of superior quality. We do Not use any preservatives, SLS, SLES or foaming agents in any of our products. Against Animal testing. Most importantly each bath and body treat we make is handmade with love. Our range also includes Body butter, Shower gel, Cleansers, Body Polishing Scrub and Body Mist.
Who is behind the brand
The wonderful Gayatri Brown based in Mumbai. Professionally, a Make-up Artist and Stylist, Skin Consultant, Salon Owner, a mother of a 3.5 year old daughter, GEORGIA- hence the name GIA.
Making women look prettier than they already were with make-up is what Gayatri does in her professional life but wanted to make quality products for women to pamper not only their face but their body too. This led to the creating a line of products that were not only handcrafted without chemicals but also nourishing and deliciously scented. Gayatri devotes most of her time creating these bath and body treats
Nt Wt: 150 g ; Price : 590 INR; Comes in this plastic round jar with a screw top lid.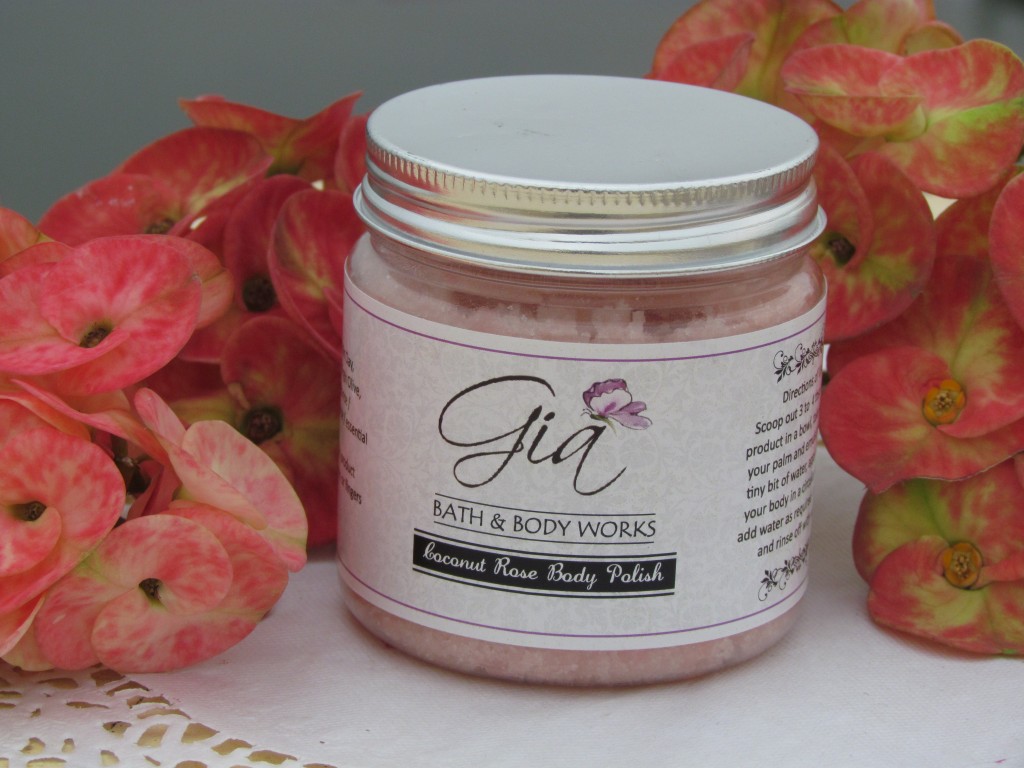 Directions to use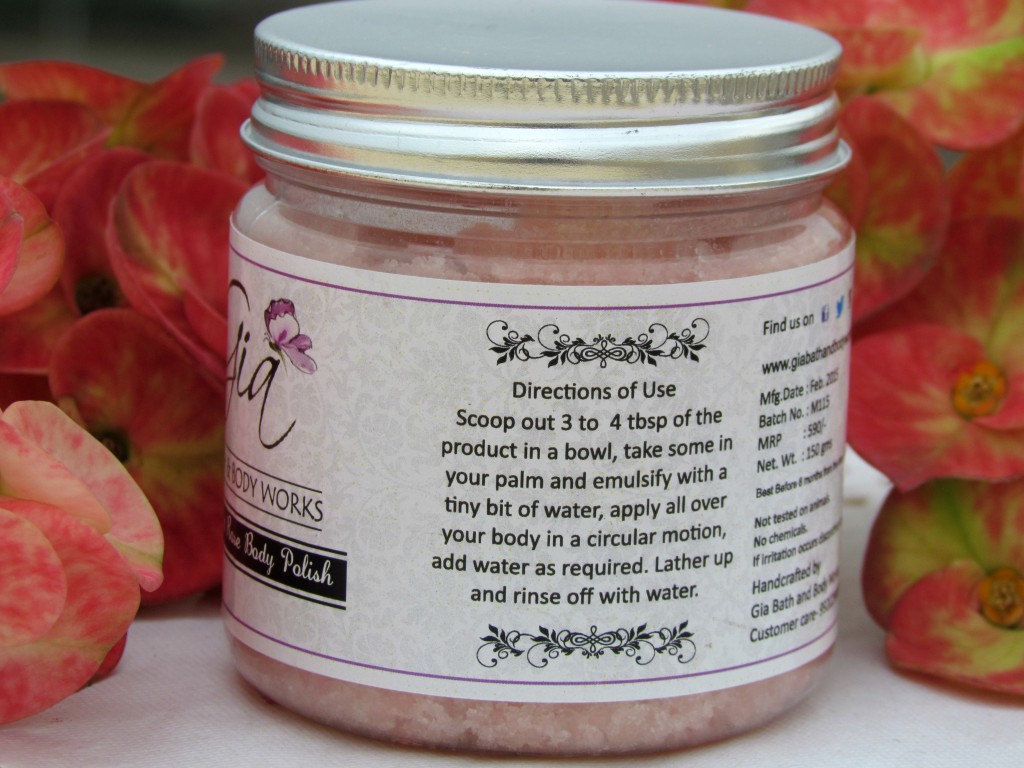 Ingredients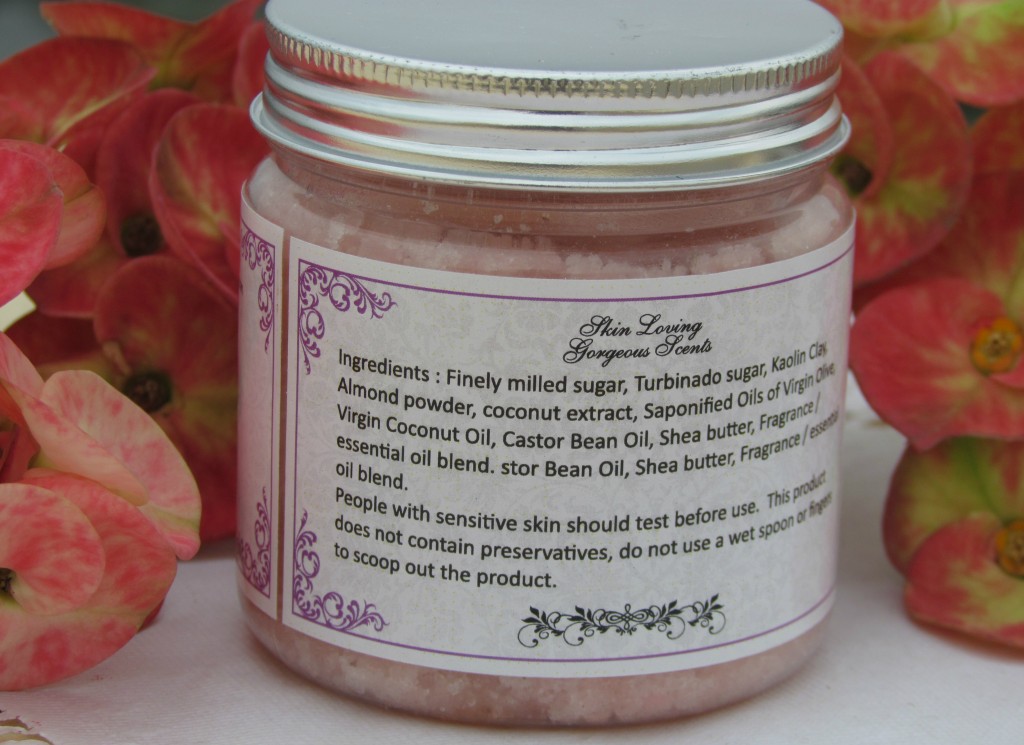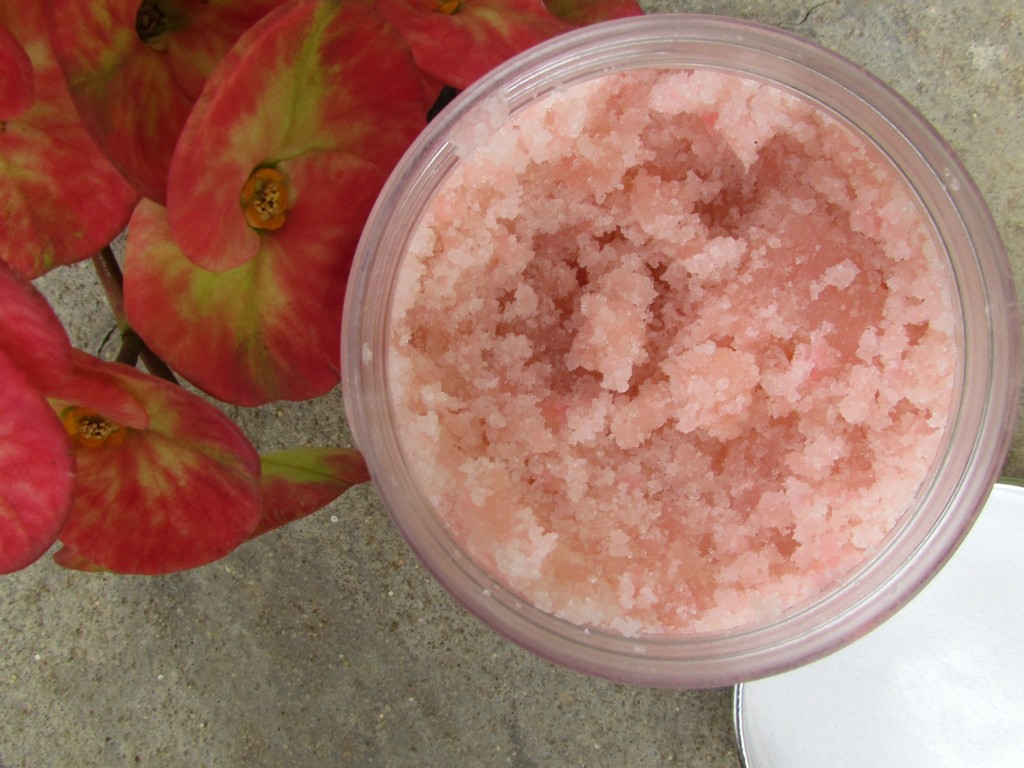 More pictures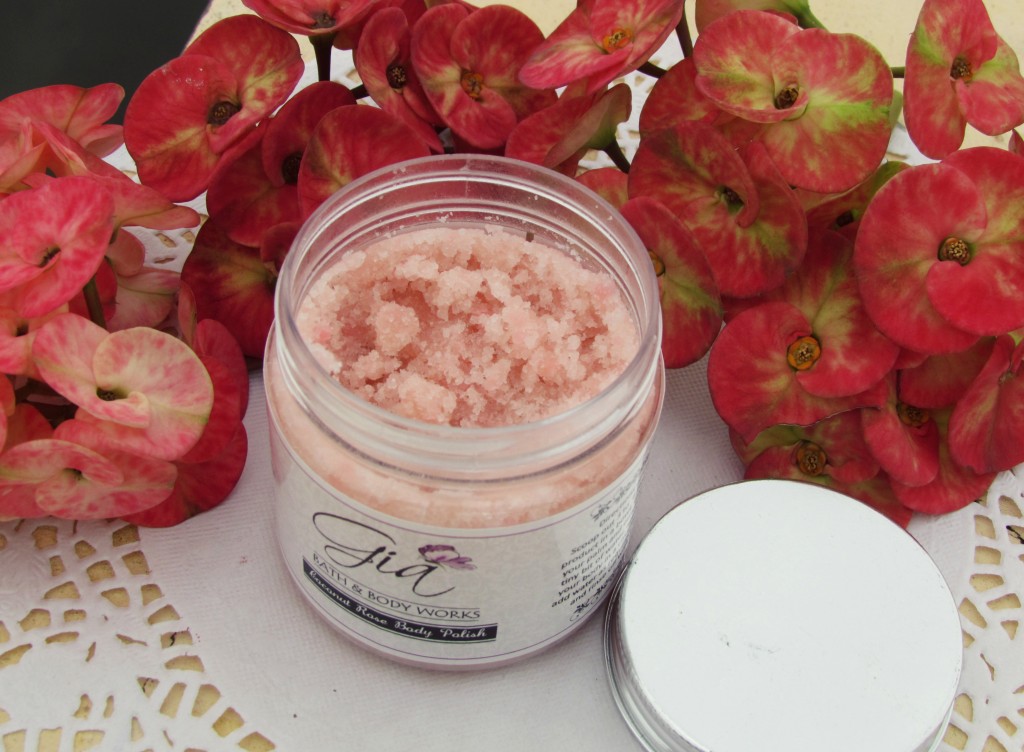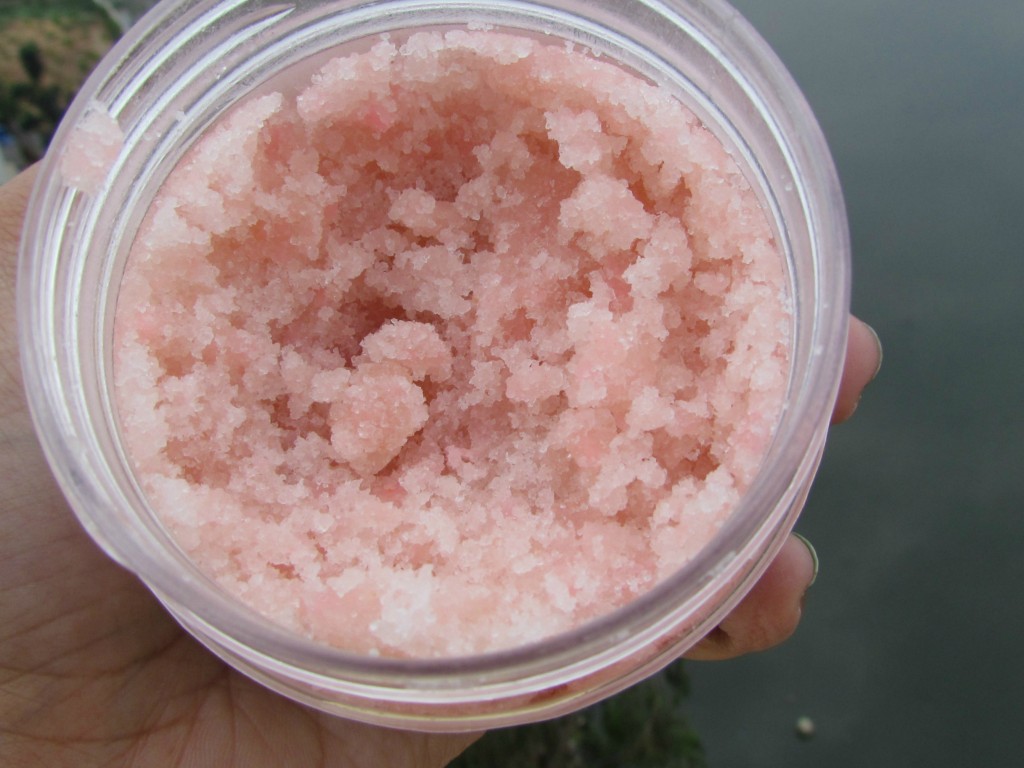 Why I love this body polish so much
This was part of my haul featured here. The best time to use a body scrub is during a hot bath or shower. I apply it to areas of my body that need extra exfoliation and attention.
I have these left over marks from ingrown hairs on my leg area. I massage the scrub (mixed with very little water) concentrating more on these areas gently, in circular motions, use a bath mitt for scrubbing, leave on for 10 minutes. Then, I hop in the shower and massage the scrub a bit more when I'm under the water which actually helps the scrub work more efficiently. One tip while applying body polishes is -Be as gentle as you can while massaging onto the skin ( little to no pressure).
The sugar crystals dissolve and it seems to release the oils in the scrub and my skin feels silky soft and hydrated. The smell alone is enough to make you want to buy it. Its worth every penny. My skin feels really supple and the smell of coconut and rose lingers on my skin for long. I don't feel the need of a moisturiser afterwards. Girls, this is a must buy product from the brand!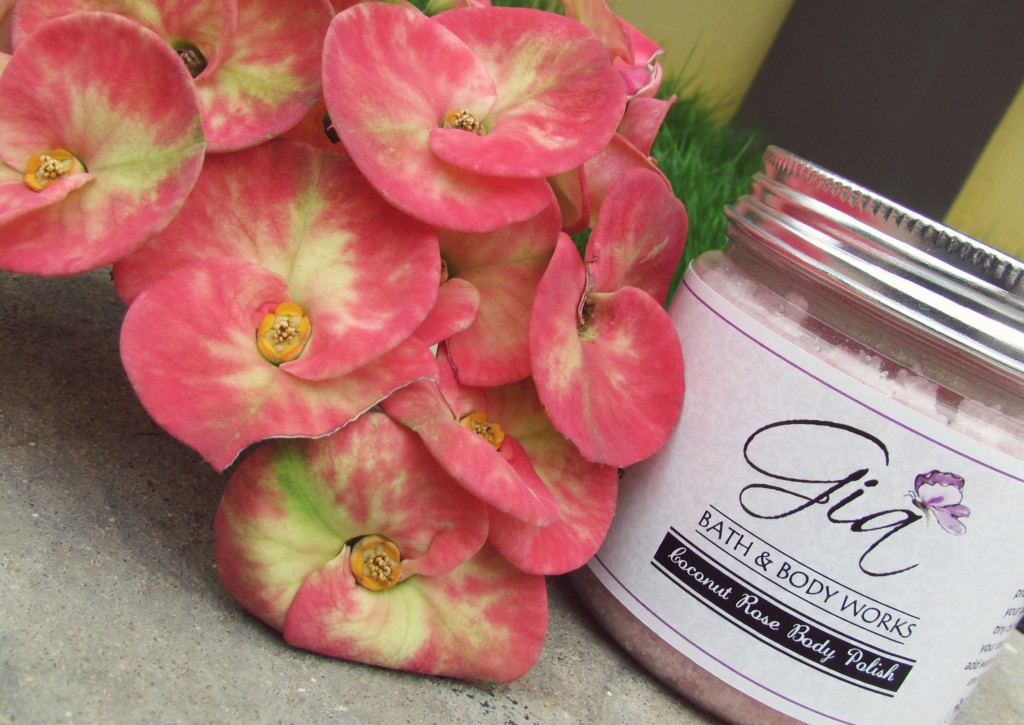 The lovely soothing fragrance alone is enough to make you want to buy it. Its worth every penny. My skin feels really supple and the smell of coconut and rose lingers on my skin for long. Girls, this is a must buy product from the brand! Totally recommend.
You can order Gia Bath & Body Works products by visiting their Facebook Page here or through their website here
If you are from Mumbai- You also have a chance to buy Gia Bath & Body Works products.
Find Gia Bath and Body Works at The Pink Chandelier- A Very Upscale Lifestyle and Fashion Event.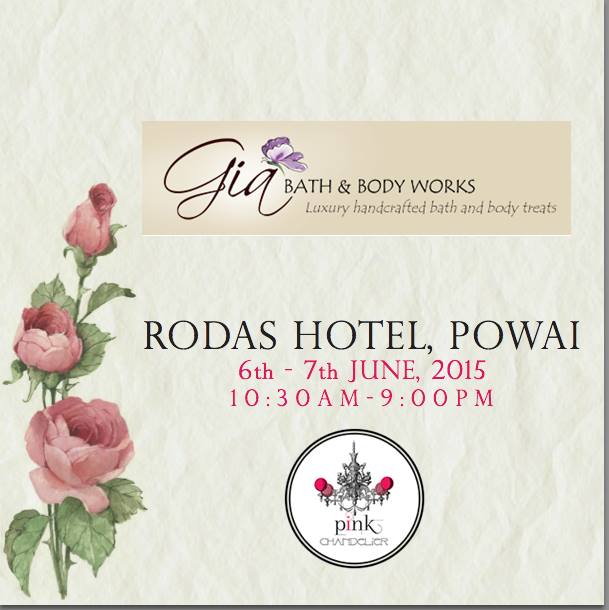 A quirky and Upbeat Market at the very happening – He Said She Said at Andheri. Gia Bath and Body works are also having a huge giveaway at the event worth 3500 INR. Drop by for Bespoke and Uber Cool Stuff.