Color takes over with the Objects of Affection collection by MAC, filled with all the shades you need to make your season bright. This review is going to be very special- I never experimented with glitters/pigments. When I saw this holiday set at Nordstorm website- That too for 35$ . Its actually a 60$ value product. I had to pick it..I am a big fan of rose/gold eye shadows. This set comes with 4 eye pigments and one glitter.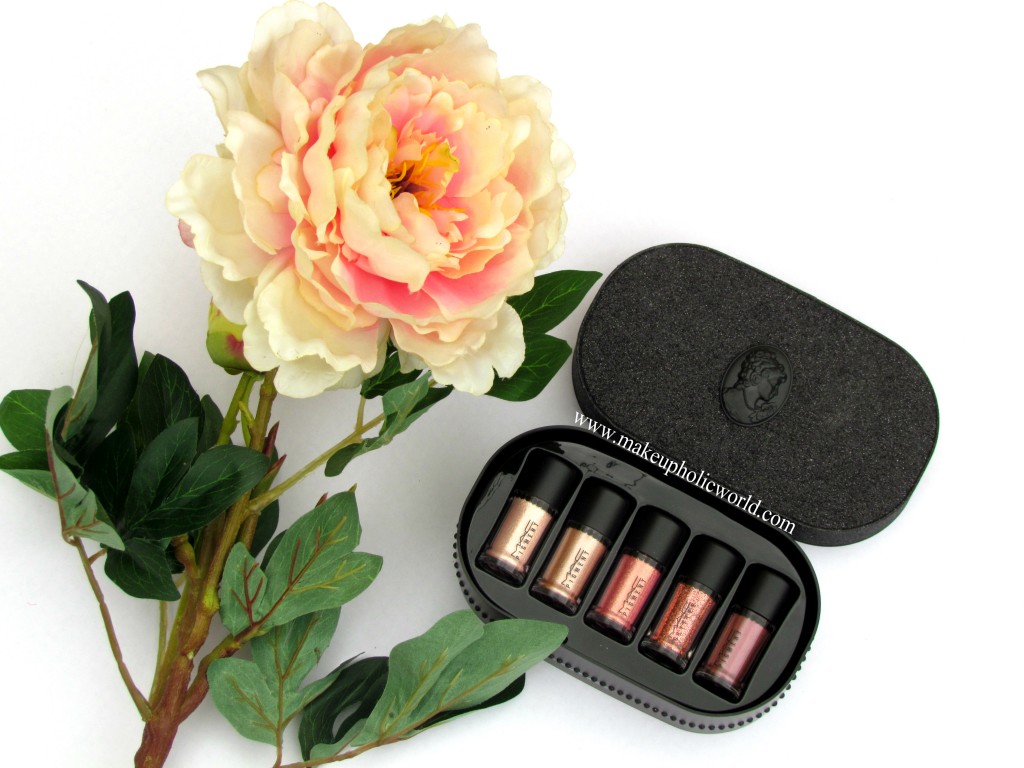 The Pigments and Glitter Set features five sparkling hues to give you extra dazzle when you need it. Pink + Rose Pigments + Glitter retails for  $35 USD. Net wt:  (4 x 0.09 oz. / 1 x 0.14 oz.) [LE]
Shades include:
 Whisper Pink is described as a soft beige pink with pearl. [LE]
 Tan is described as a muted pinky brown bronze. [P]
 Rose is described as a rose with copper sparkle. [P]
 Heritage Rouge is described as a dirty brown plum. [P]
 Reigning Riches is described as a soft copper glitter. [LE]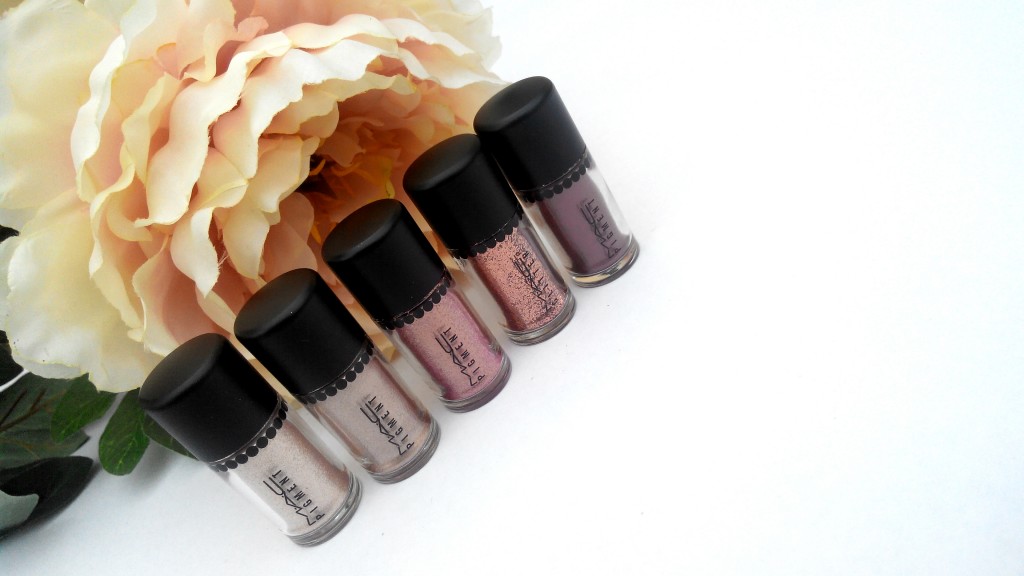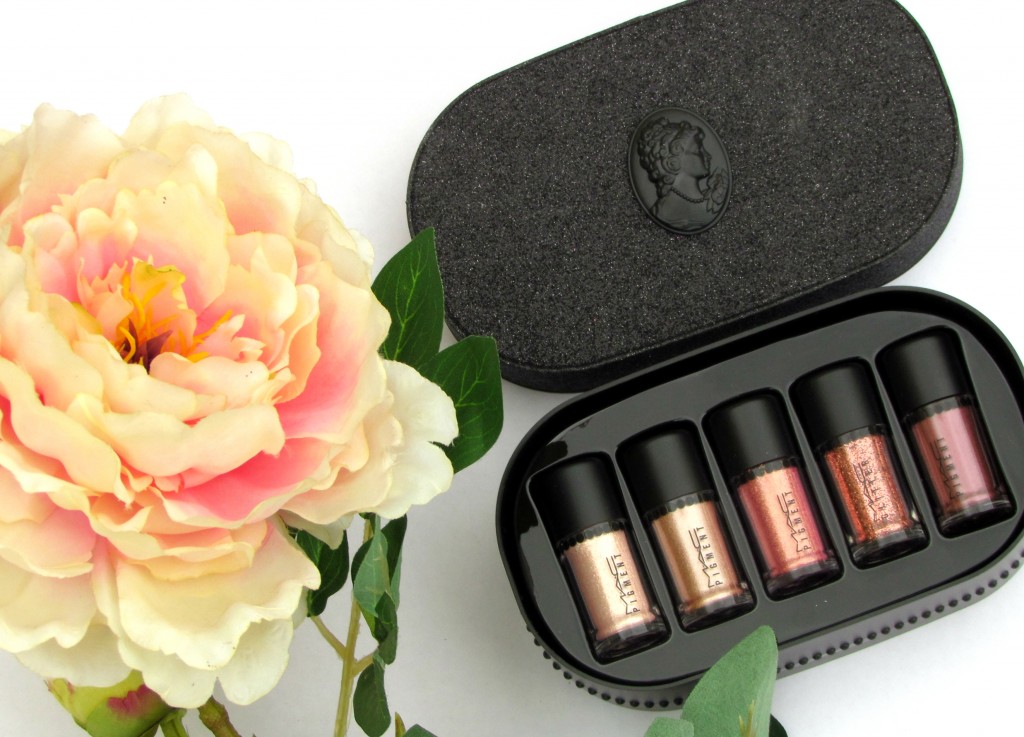 The set with pigments and glitter is in a beautiful package. If you take the beautiful cover of the box, There are five pigments and a glitter. Pigments are loose powders that can be used as eye shadow. They are highly pigmented and so you just need a teeny bit .  These are not full size pigments, but mini's. Oh when I say mini's… there is 2.6 gms per bottle , which is more than in the Essence Colour Arts Pigments (1.8 grams) and full size NYX Pigments (2.5 grams) . Full size of MAC pigments containing 4.5 grams (which is really very much). 2.6 gm is a good amount.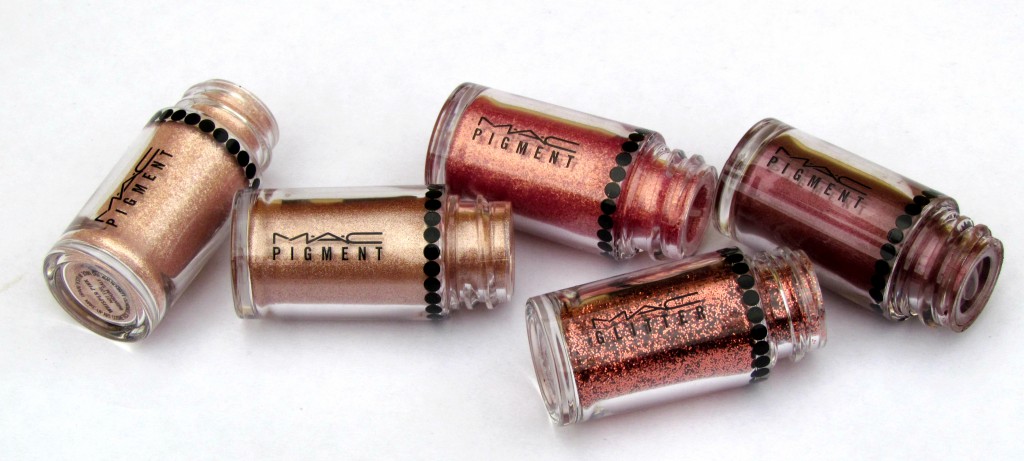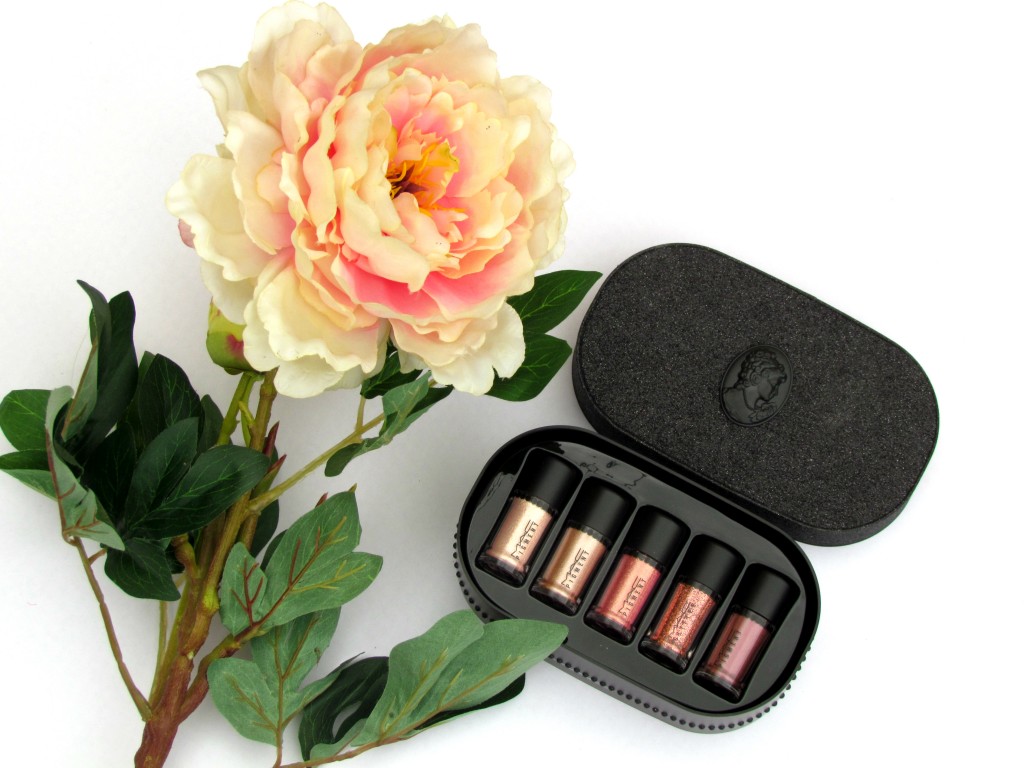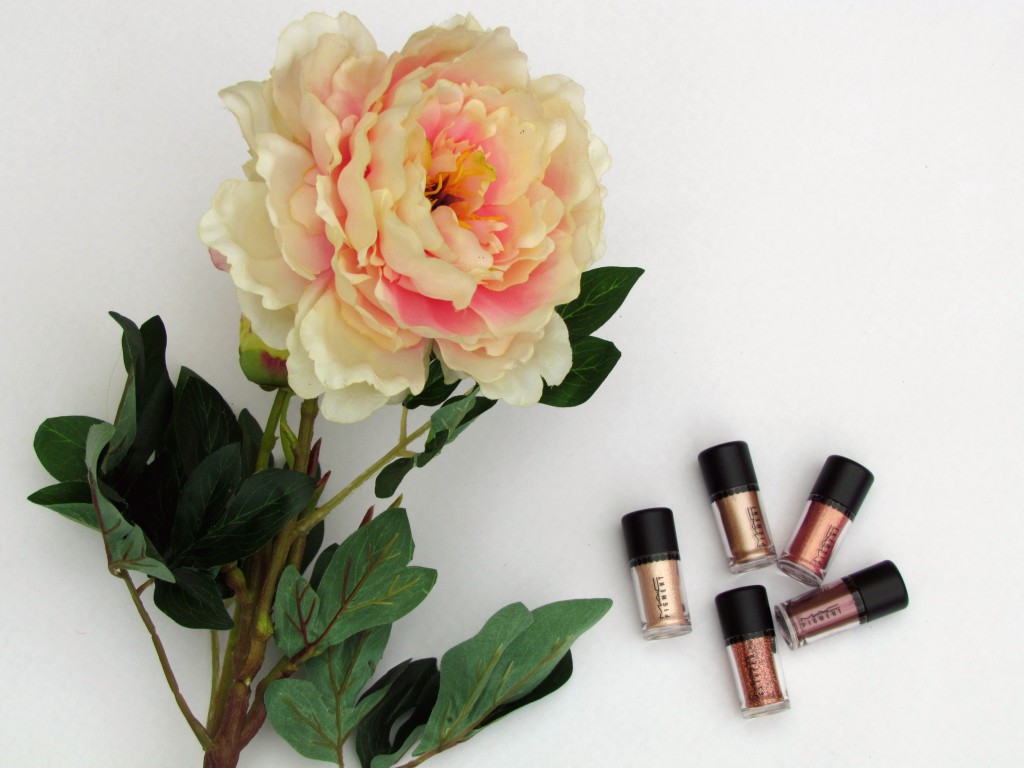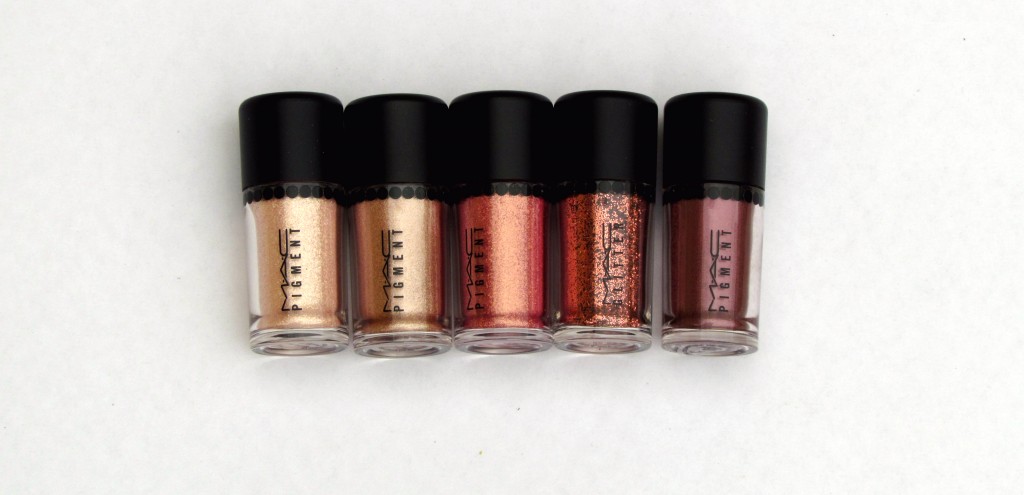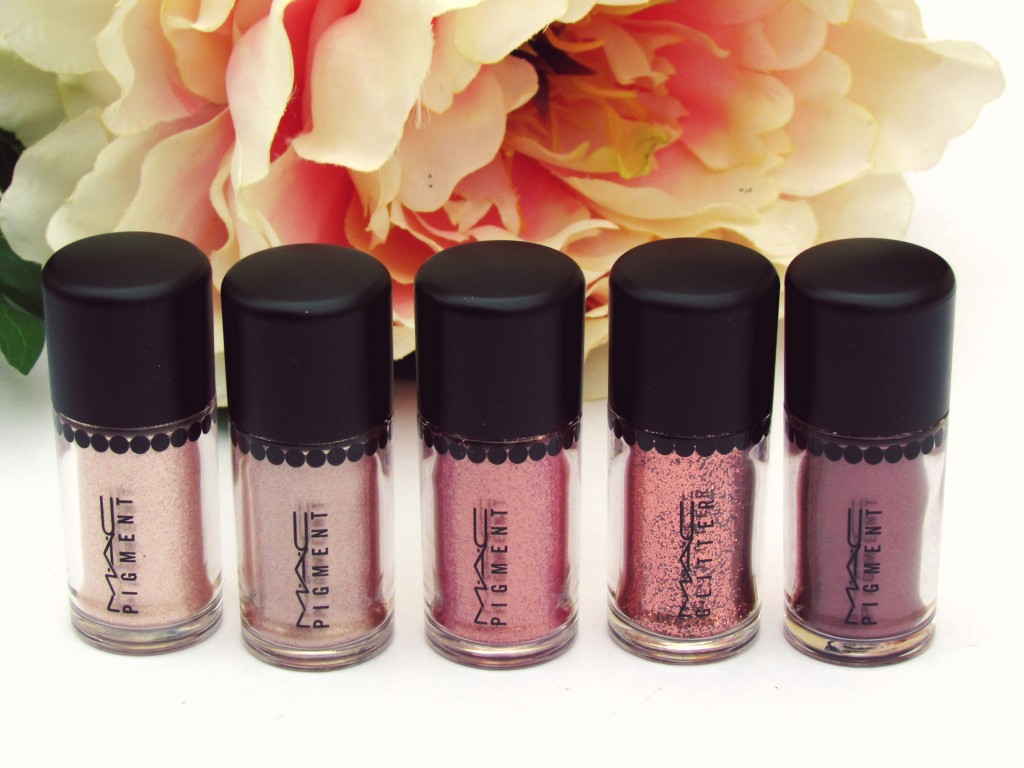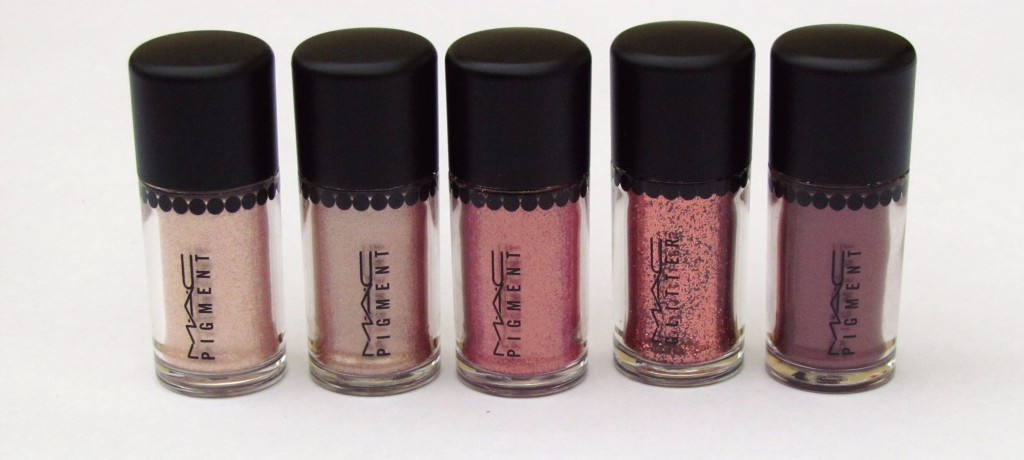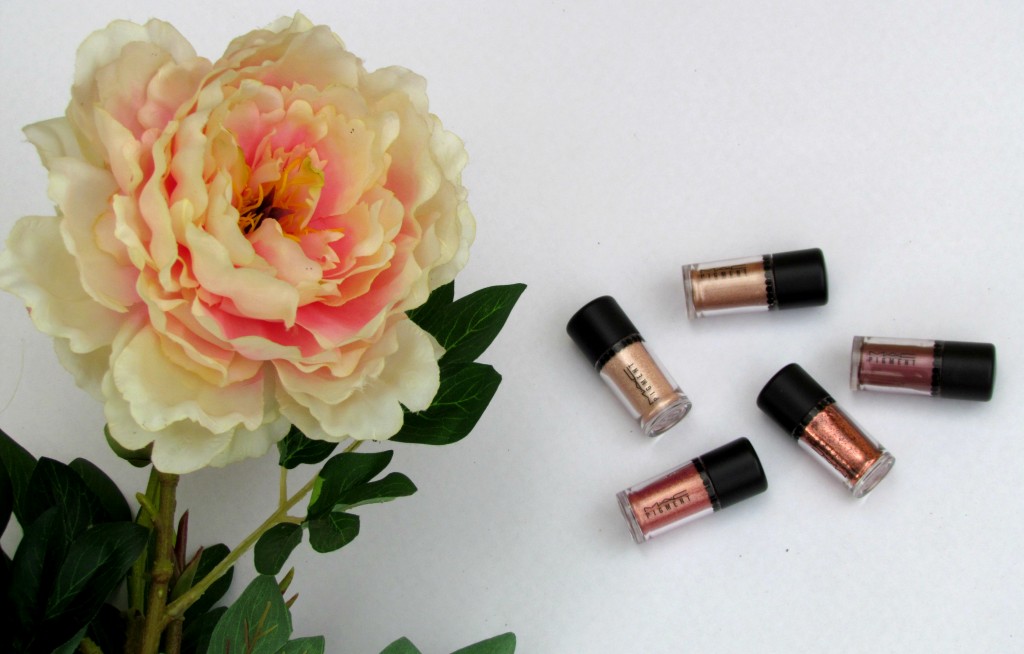 If you the open the screw cap of the pigment jar,  all you see is a extra piece of plastic , This prevent the loose powder from flying everywhere. Without the stopper its a lot messier . If you go in with a brush , no matter how careful you try to pick the product, there is still too much product sitting on your brush, gives fall out if you apply it on the eyelids. My way of using and working with it is : First, take a teeny bit of loose powder onto a small mixing plate( or in a bowl , whatever you have lying around ), tap and go over there with your brush. That works a lot easier and there s only less wastage. Fast and easy way to work with pigments.
Whisper Pink is the lightest of out of all. It is a pale pink color with beautiful golden glitter. You might call this color almost duo-chrome –  From one side it is  pale pink and the other side light displays more of a golden sheen.
Tan is a warm champagne color . it has a metallic finish and a beautiful shine.
Rose is most special pigment out of other five! It is a pink -colored eye pigment, with a strong presence of warm, golden glow. Pink and gold glitters in Rose are quite striking. My favorite!!
Reigning Riches is not a  loose eye shadow pigment. Its a glitter. Reigning Riches is a warm copper . The glitters are coarser than those in ordinary eye shadows. I am yet to find out how to use it. This glitter is NOT recommended for use in the eye or lip area. I might use it for nails.
Heritage Rouge is the darkest pigment of the bunch. It is a beautiful , dark plum shade with a brown undertone . Very beautiful for Smokey eyes!! Love it!
Here comes the swatches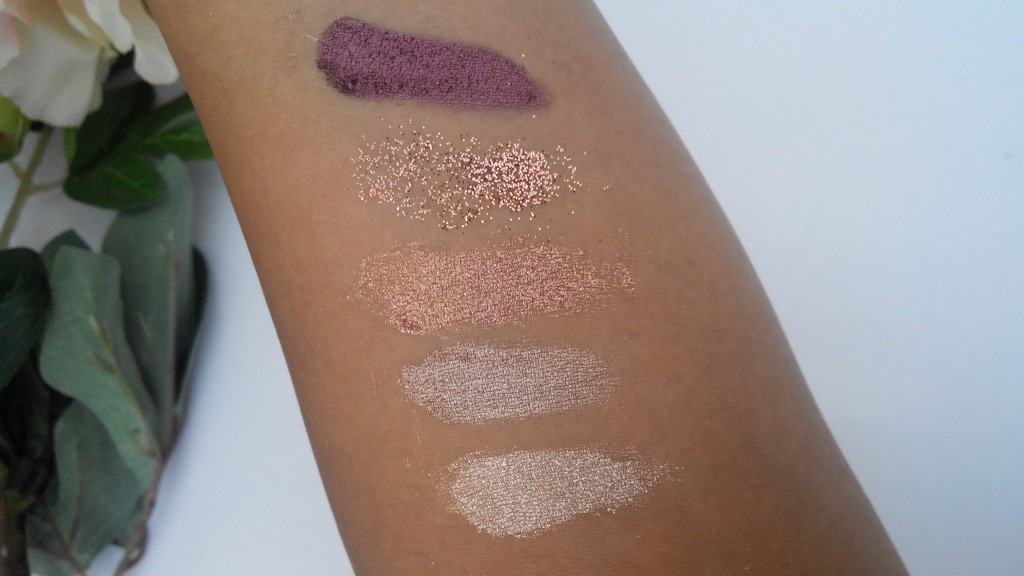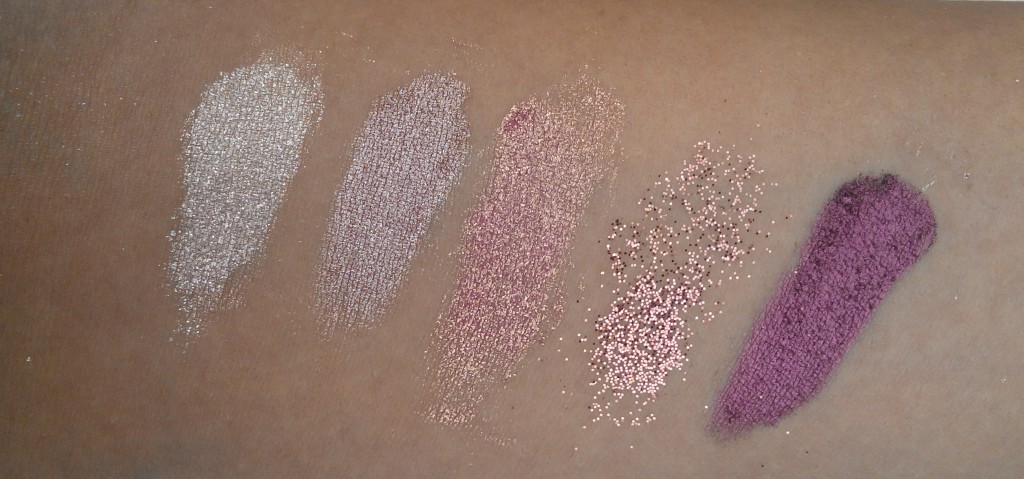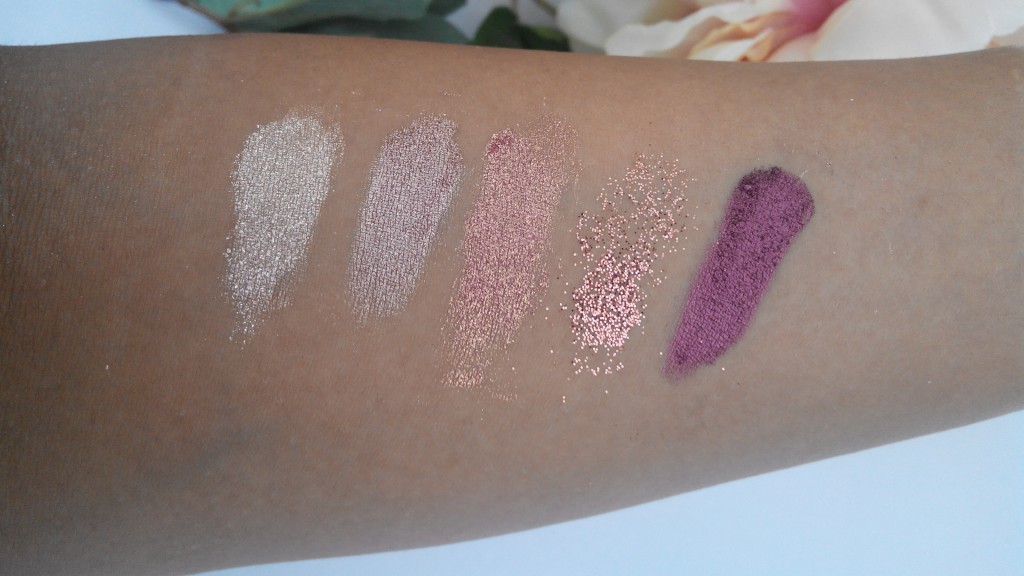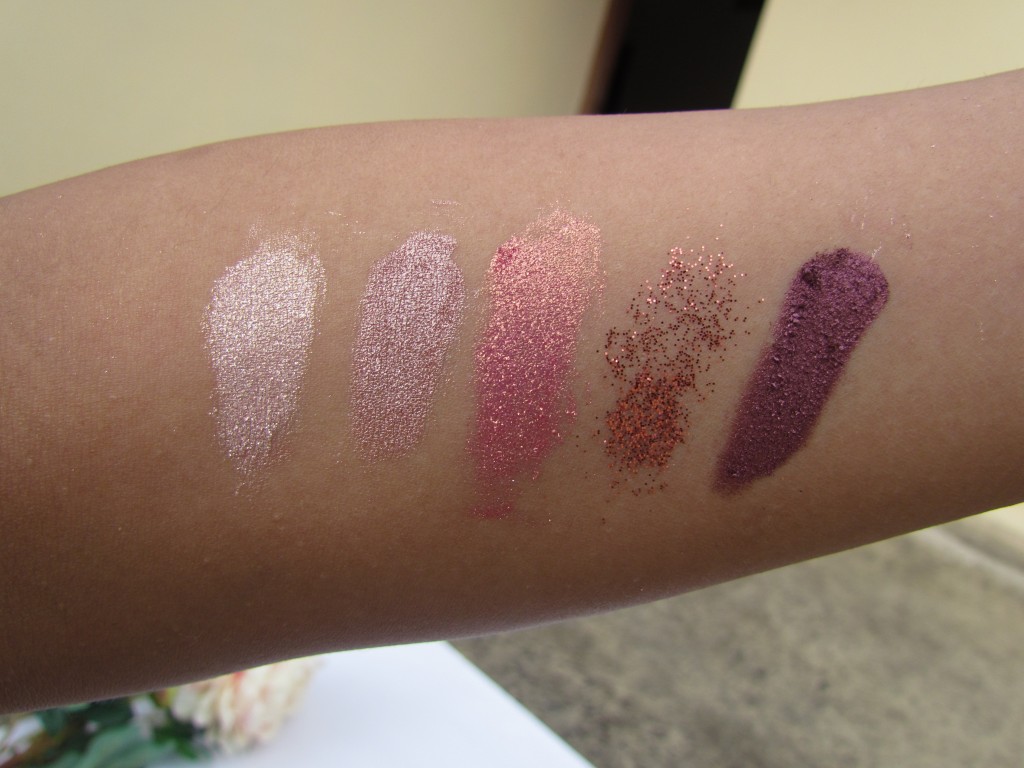 I absolutely love this! These pigments are so fun to use. The colors are gorgeous and have excellent coverage. The colors match great together too. I am really very happy that I own this set. This is a perfect bunch of pigments from MAC that can change the ordinary eye look into something fun and eye catching! But, Sad that this is a LE editiion one. Do check any website to see if its in stock.