I love matte lipsticks a lot and the main problem I found with most of the matte finished lipsticks is that it make the lip area really very dry. Everybody hate chapped lips. We need to scrub the dead layers off our skin to maintain smooth and young-looking skin. The same applies to the lips. We must scrub exterior layer of our lips to make keep smooth and kissable lips. In today's post I going to review the Choco Mint Lip Scrub from Juicy Chemistry.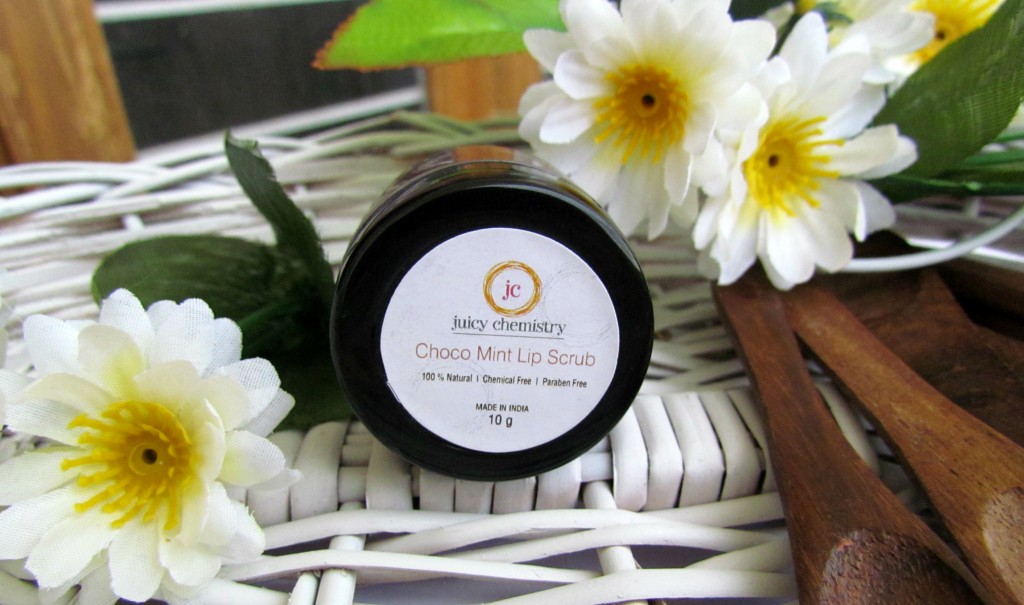 What #JuicyChemistry claim about Lip Butters & Lip Scrubs
Your lips are an important feature of your face and lovely pink, soft lips are desired by everyone. Many a time, our lips get chapped and flaky lips look terrible. So, if you are dreaming of having classic soft lips, then exfoliating lips with a sugar scrub is the key. When you exfoliate your lips with sugar scrub, you will get rid of dull, dry flakes and it will keep your lips looking nourished, even and moist.
Juicy Chemistry's luscious lip scrubs are made with a blend of essential oils, nourishing mango butter that helps avoid sun damage, shea butter, vitamin e, and organic sugar granules. Use it twice a week for gentle exfoliation, followed up with our wonderful lip butters.
Our moist, delicious, lip butters melt on the lips upon application. Made with pure mango butter, essential oils and more, our lip butters protect lips from sun damage and hydrate dry, chapped, lips keeping them nourished and glossy all year round. Choose from- Yummy Orange Candy, Rosy Rose, Tingling Mint, Refreshing Choco-MInt and Fruity Grapefruit!
100 percent Natural. 100 percent Chemical Free. 100 percent Paraben Free.
Rs. 150 for Lip Butter
Rs. 200 for Lip Scrub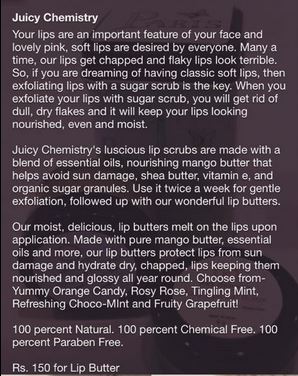 My experience using this lip scrub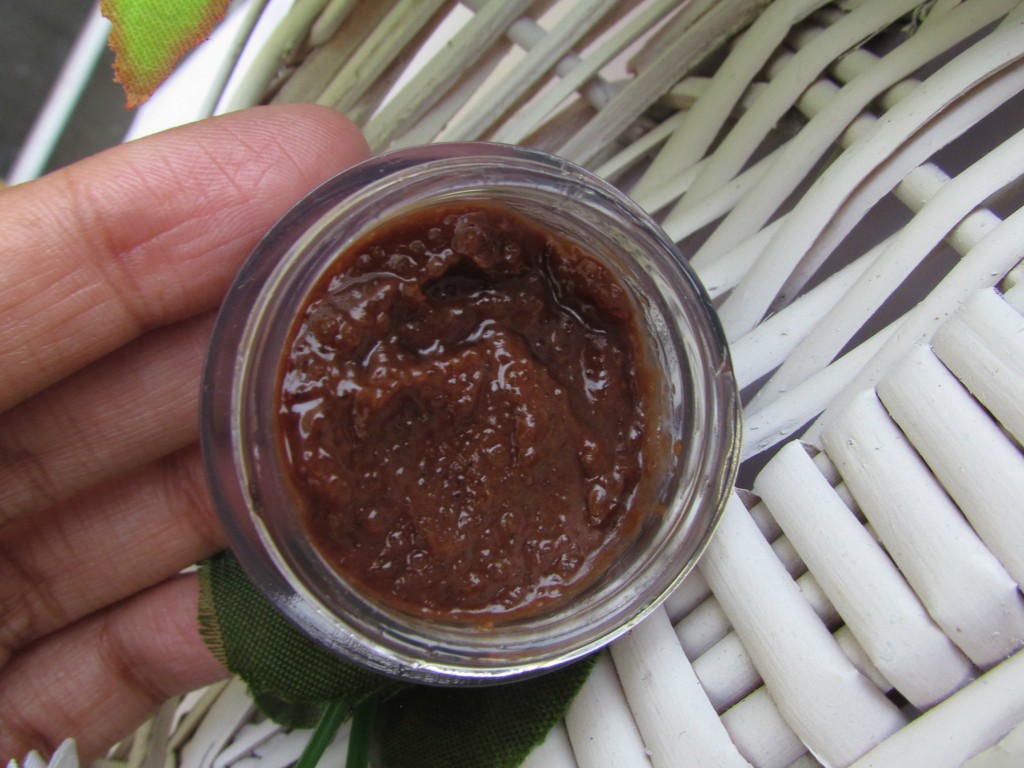 Removing dead surface of your lips brings out new fresh layers, making lips soft, smooth, and yes, kissable! With a smooth surface, lip cosmetics will adhere longer on your lips. This makes lipsticks, lip liner, and lip gloss much more effective and long lasting.. I've found this really lip scrub really awesome to use.
How I use it :
I apply the scrub on my wet lips and then using a baby brush I gently massage and wash off using luke warm water. Use a lip balm afterwards. If you moisturize your lips immediately after washing off the scrub, then the effects should last you a while. I use choco mint lip balm from Juicy Chemistry after scrubbing my lips using this. I follow this twice a week.
Before applying any matte lipsticks, I scrub my lips and make sure my lips are soft and even.. After just a few weeks, I've noticed a big difference in my lips and they're much softer now which means my lipstick is staying longer too without settling into crack line of lips. I like the chocolate "flavor"and the cooling mint feel. For the price you pay, it's awesome! I also have Mojito lip scrub that I love from the same brand.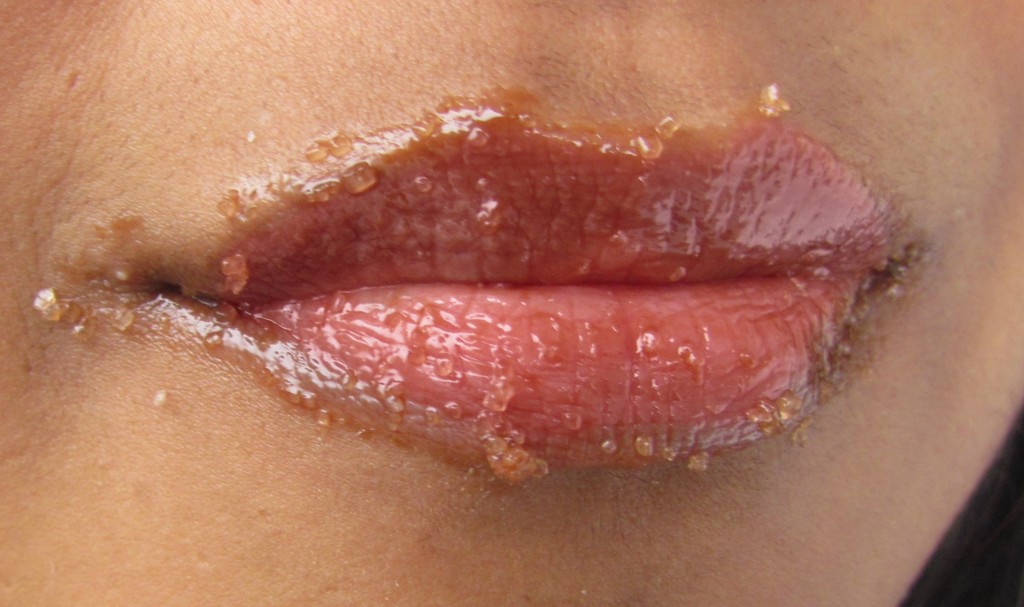 Lip exfoliation makes your lips more moist and retain its moisture longer; helping to prevent cracked lips.If you'll scrub your lips regularly, you'll never have to worry about exposure to wind and cold, and getting chapped lips after. Apply a lip scrub on your lips and get moisturized lips. A must have product. Cheaper than the Lush lip scrub!
How to order : Go to the product catalog here & direct message to Facebook Page- Juicy Chemistry to order
They deliver worldwide
** Product send by brand PR for consideration. However my review remains honest and unbiased to my readers