Use of a good hair oil is important for faster hair growth. Oiling your hair is a natural way to help your hair grow longer, thicker, and faster. A good hair oil nourishes the scalp and help to remove sebum build-up from hair follicles. In today's post, Our guest writer Nids is reviewing a natural hair oil from Juicy Chemistry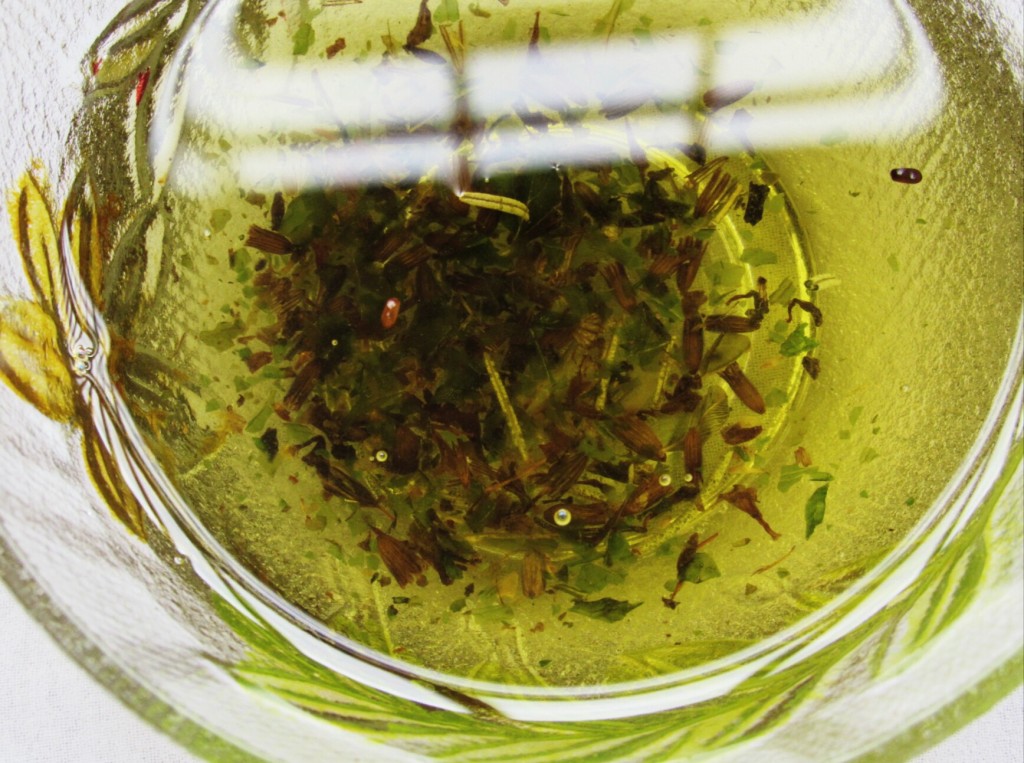 Product Description
Formulated with carefully selected ingredients that penetrate deep in to the hair and scalp , our hair oil is fortified with seven essential oils and 5 carrier oils that feed nourishment directly to the roots of your hair and scalp.
The scalp houses your hair, and if the scalp is unhealthy, then your hair is unhealthy!
– Improves circulation to the scalp and acts a natural cleanser
– Helps sooth dry, itchy scalp and clears it of minuscule dermatitis issues
– Fights scalp infection and dandruff, improves overall scalp health
– Encourages hair growth and strengthens hair follicles for thicker hair strands
– Helps regain lost shine and hair texture
Packaging & Price :Comes in a plastic bottle.
Price: 110 g – 600 INR  or 15 $NZD;  220 g- 1100 INR or 27 $NZD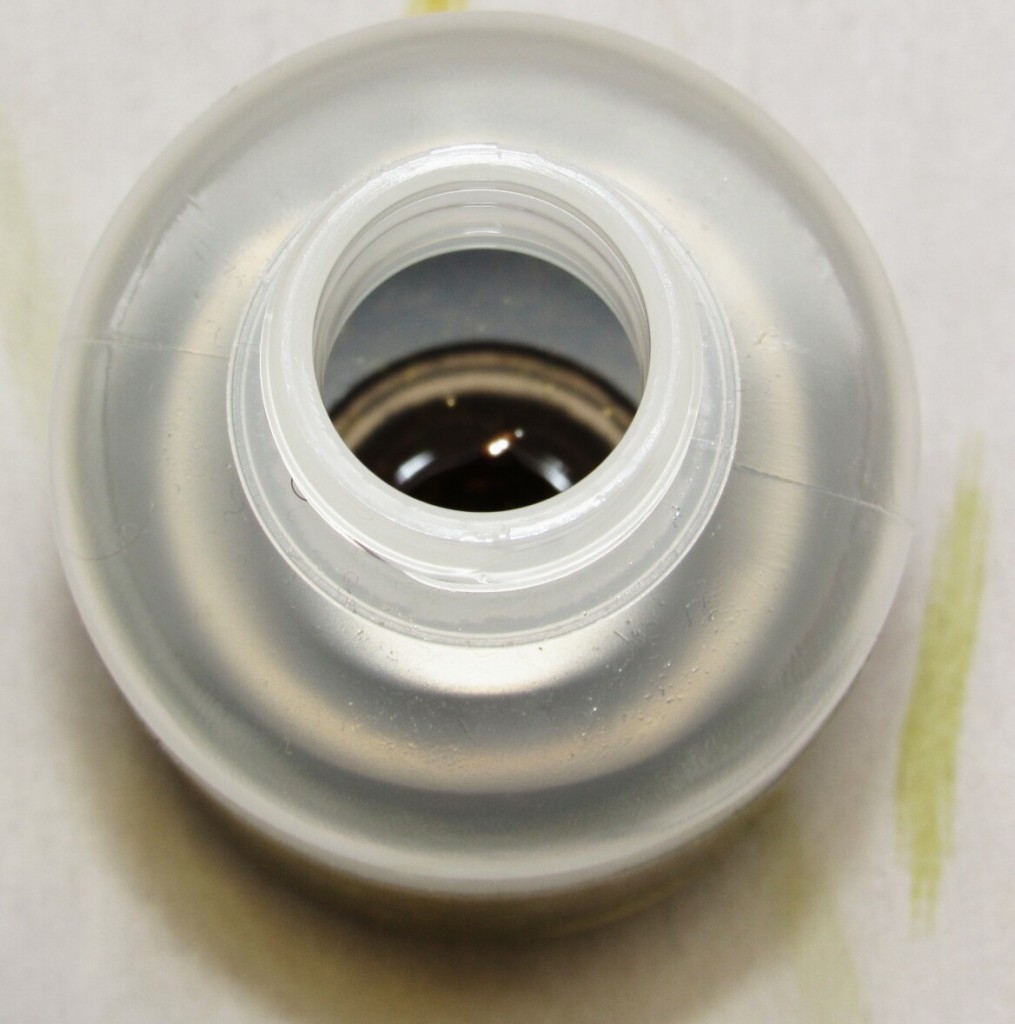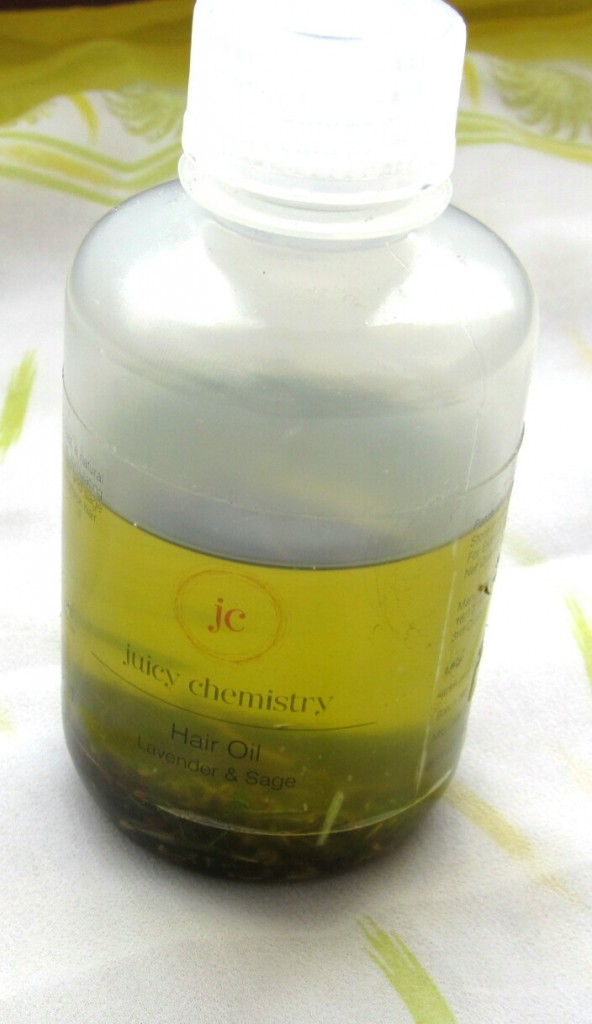 How to Use: The hair oil can be used directly onto the hair and scalp twice a week. You can leave it overnight, or use it couple of hours prior to shampooing your hair.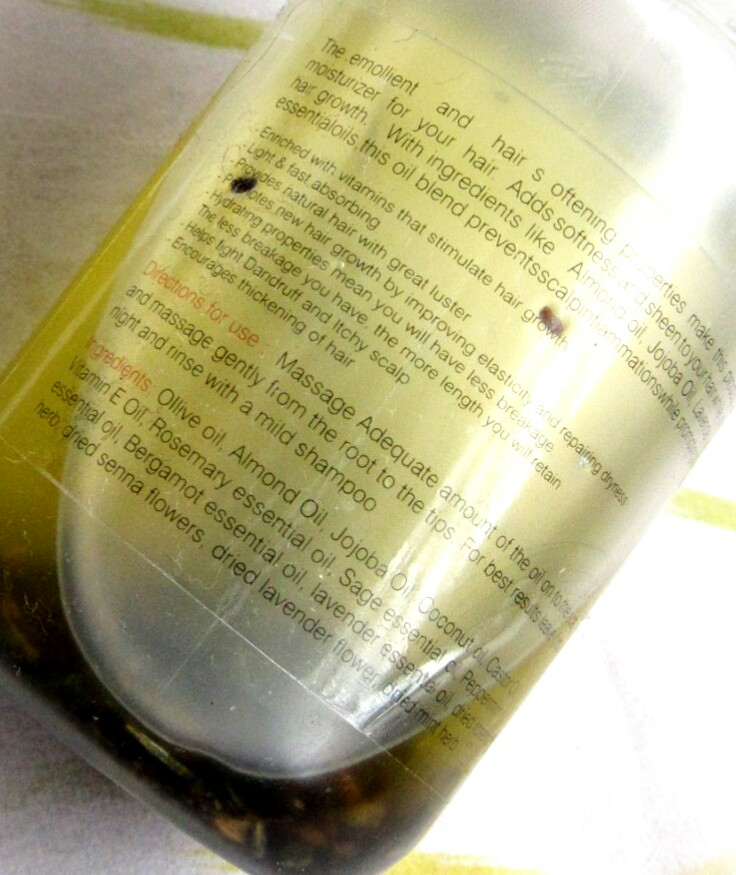 My Views on Juicy Chemistry Lavender & Sage Hair Oil 
Hi everyone. I am writing a review for MHW after quite long. But it's always a pleasure to write for Renji's Makeupholic World blog.
Today's review is about a truly natural product that doesn't contain any sort of preservatives and is made from all herbal ingredients. The product is hair oil from an upcoming brand called Juicy Chemistry. You can check their FB page here and can get all the needed information regarding the brand and their awesome natural products.
The hair oil comes in a transparent plastic bottle with a screw cap. The oil is a mild green in color and you can see the suspensions of many natural ingredients in it. It's difficult to make out all of them but yes, they look herbal and smell truly natural.
The oil is not very thick in texture and therefore applies easily. The scent is truly natural and you won't ever sniff any artificial floral scent therein. That is the sign of this hair oil being made from all natural ingredients and being preservative free at the same time.
I apply this hair oil in generous quantity on my hair and leave it overnight. The oil spreads and gets absorbed by the scalp quickly and doesn't feel sticky at all. You can feel a cooling sensation in your hair and scalp after applying it which is really soothing for mind and senses. The oil is non sticky and won't leave stains on pillow covers even if you apply it generously which is a huge plus. The suspended herbs in the oil do not interfere while applying it. Either they remain on the bottle base or if you get few of those on your hair too, then they get removed while combing the hair.
It is easy to wash off the hair oil using any shampoo. I never found a need to shampoo my hair twice to wash the oil or the smell off. Post wash the hair feel softer and shinier. But as I have dry hair, skipping a conditioner may result in even drier tresses.
Now coming onto the results; my hair is really giving me a tough time these days and I am facing severe dandruff and hair fall issues. Using a natural hair product is just what seems right enough to save my hair from further damage. I expected it to work miraculously well for me but sorry to say that nothing of that sort happened.
Though my dandruff seemed controlled still I could not much see the difference in hair fall. I am now taking some anti-dandruff session which may reduce my dandruff issues and result in better tamed manes. Leaving that aside, I do wish that this hair oil would have worked better on my problematic hair rather than giving the usual oil benefits.
Pros:
• Light weight texture
• Truly herbal
• Has a natural soothing scent
• Non sticky texture
• Gives a cooling sensation to the scalp
• Reusable simple yet travel friendly packaging.
• Easy to wash off the oil from the hair.
• Makes the hair shinier and softer.
Cons:
• Does not work well on problematic hair.
• Did not cater well on dandruff and hair fall issues.
Rating: 3/5
To order : Go tho their Facebook page Juicy Chemistry here for ordering the products. They ship internationally.
Overall, I would definitely recommend this oil to all those who have trouble free scalp/hair as it is a good natural choice for your hair. But otherwise, I didn't find the oil to work that well.
By Contributor : Nids
**Product send by brand. However my review is honest and unbiased as always.