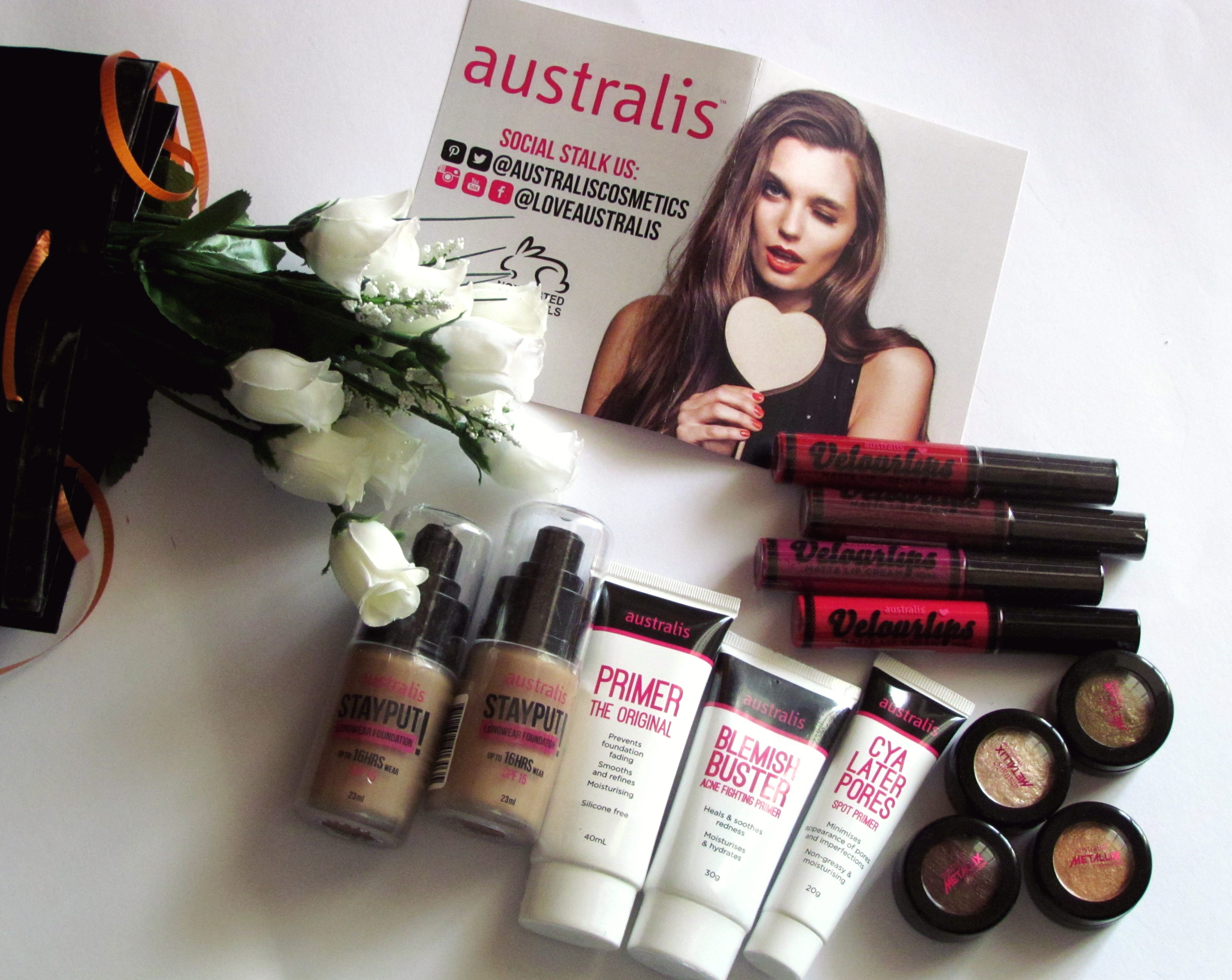 Two weeks back a huge package came in my mail. It was from Australis  Cosmetics. I received a couple of their best sellers.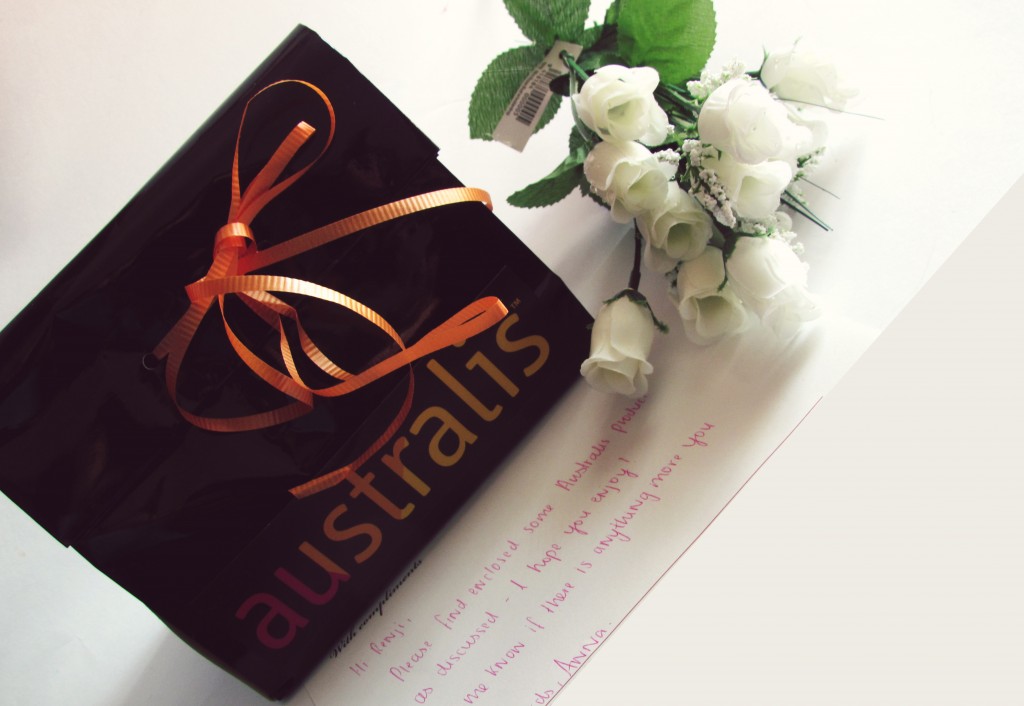 What all I received in my goodie box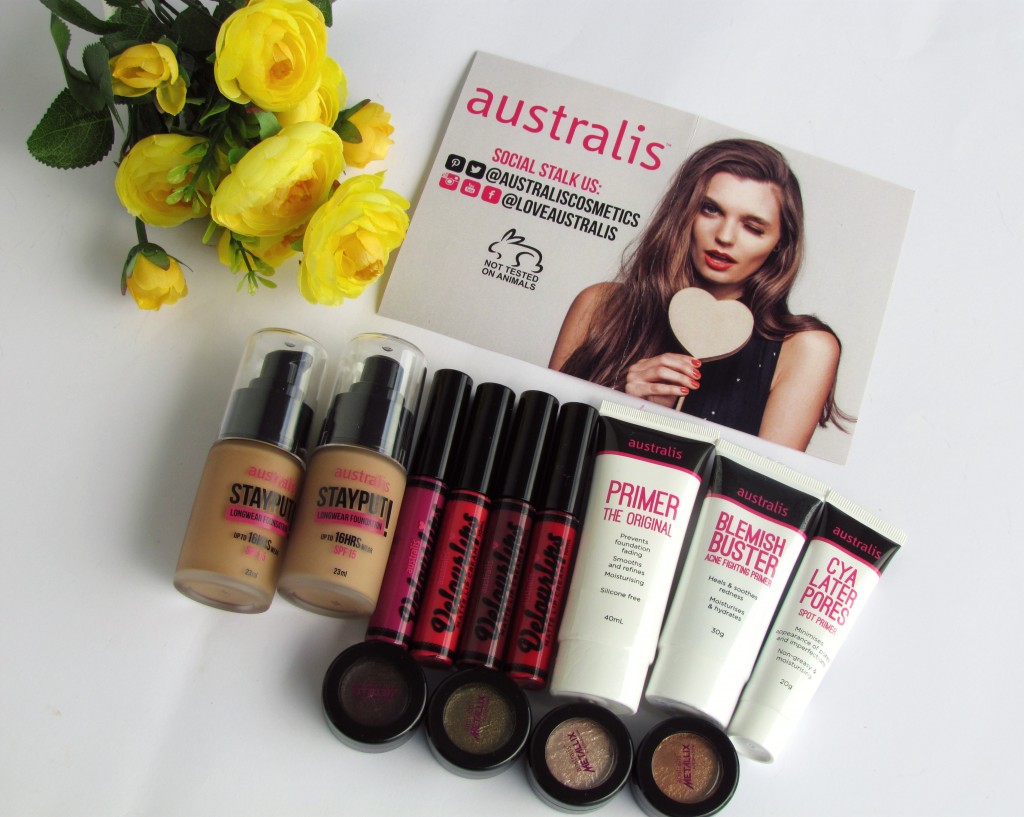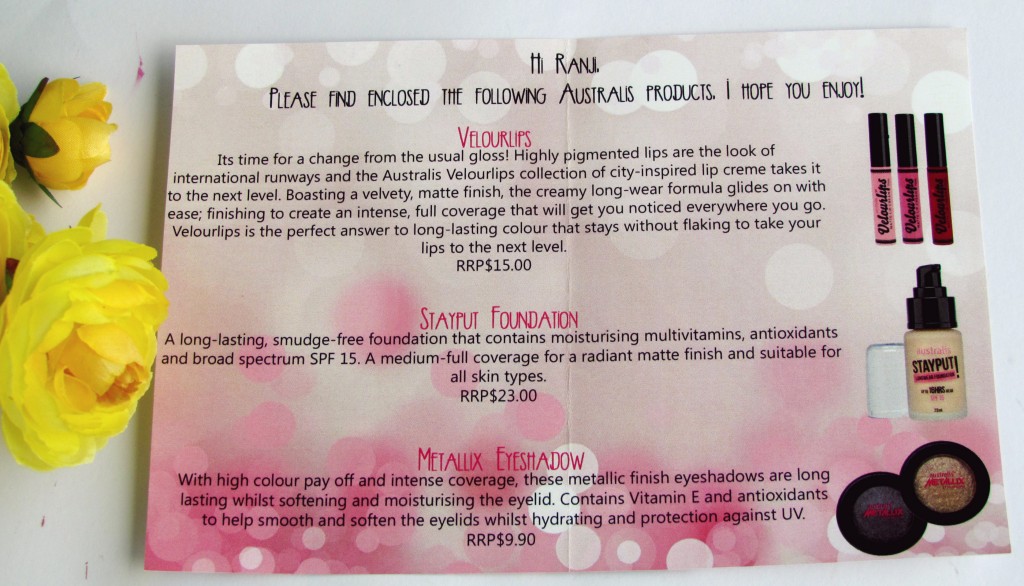 1. Stayput longwear 16hrs foundation – 23 $NZD
A long-lasting, smudge-free foundation that contains moisturising multivitamins, antioxidants and broad spectrum SPF 15. A medium-full coverage for a radiant matte finish and suitable for all skin types. I got the shades- golden tan & natural tan. I used these a lot last week and I loved it. Will do a full review soon.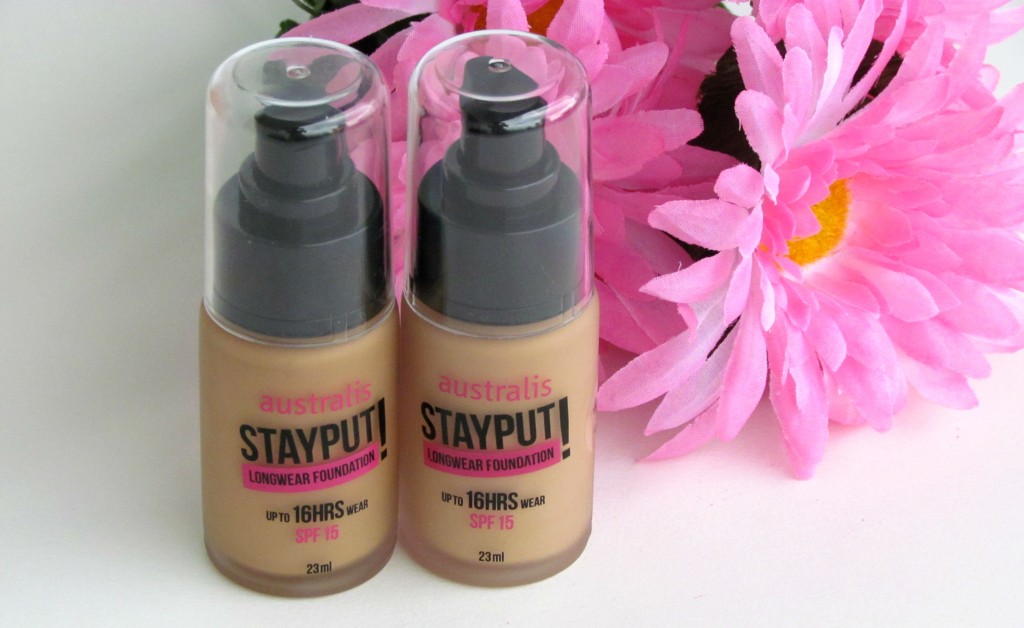 2. Primer The Original – 40ml -19.90 $NZD ; Buy here
The perfect product for a fresher complexion and longer-lasting foundation. Moisture-protective and hydrating formula that creates a smooth skin canvas for perfect make-up application that lasts longer.
3. Primer Blemish Buster – 30g – 19.90 $NZD ; Buy here 
An acne fighting primer to fight and soothe redness. Moisturise and hydrate your skin before your foundation, while also healing and soothing acne and other blemishes.
4. Primer CYA Later Pore – 20g  -21 $NZD ; Buy here
A spot primer that creates a flawless base and smooth complexion. Minimise the appearance of pores and other imperfections with this non-greasy and moisturising primer.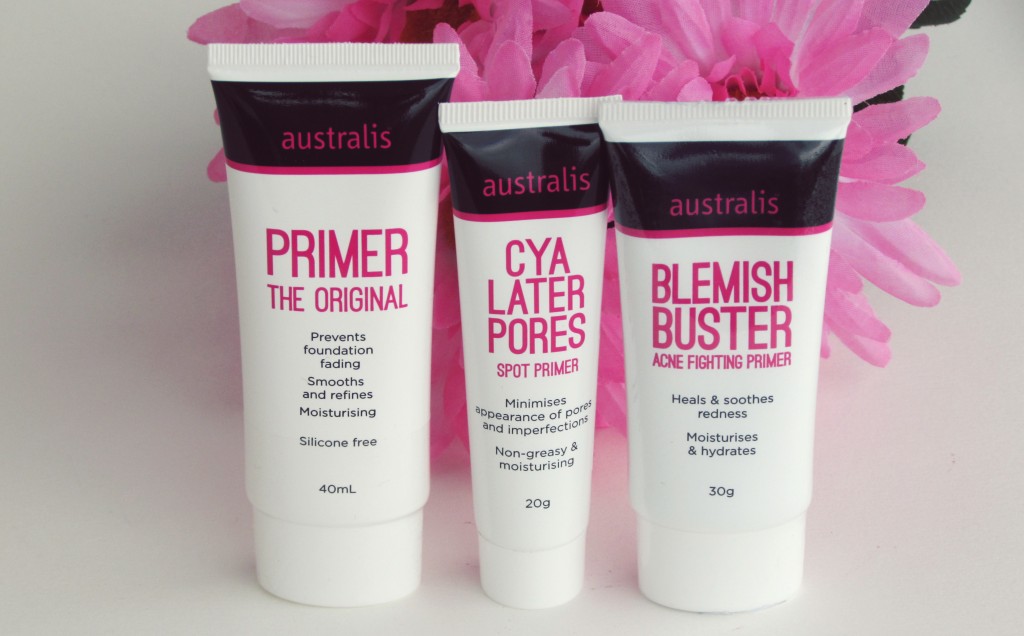 I have emptied my benefit prefessional primer and was searching for an affordable alternative. I used these and I am loving it. Wait for my reviews on these.
5. Velourlips Matte Cream in Ny-cee , BAR-THA-LONA , DOO-BAI ,SHANG-HI! – 15 $NZD each –
Buy here
Highly pigmented lips are the look of the moment, and this lip cream takes it to the next level with its beautiful matte finish! The creamy long-wear formula glides on easily with its doe foot applicator, finishing to a velvety matte look with intense, full coverage colour payoff. Perfect for when you want lasting, matte colour that moves with your lips without flaking.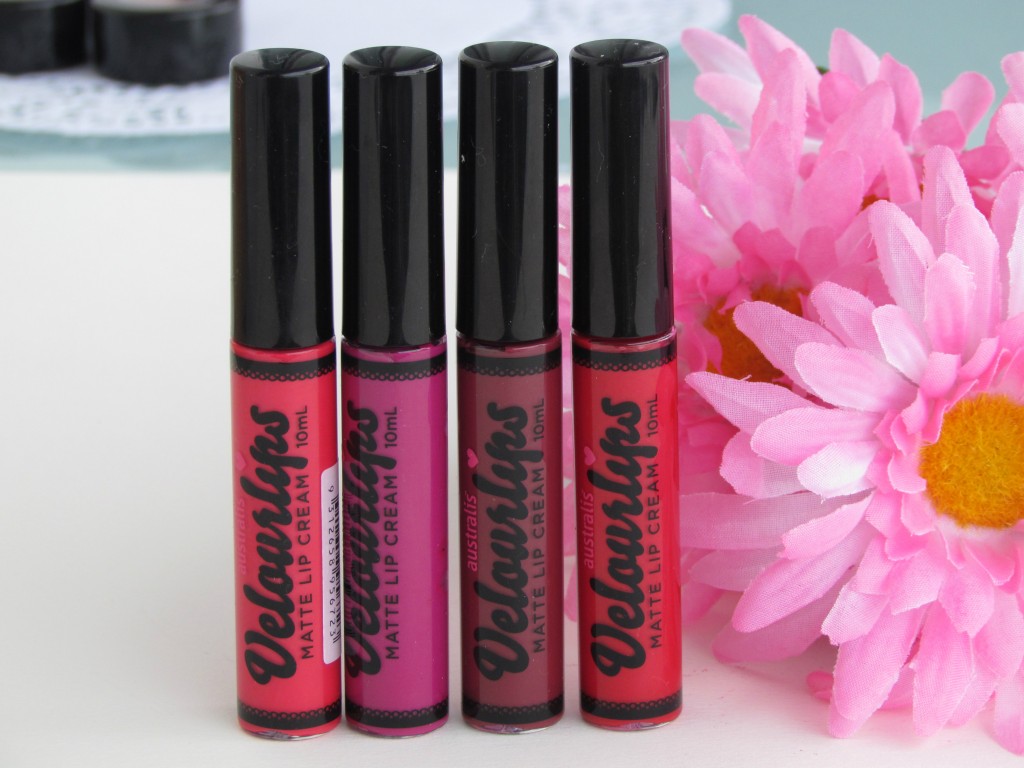 Love the shades I picked, These are matte finished liquid lipsticks. I love the formula and I will review this first from this brand…
6. Metallix Eyeshadows – 9.90 $NZD each – Buy here
Rock out with this brand new eyeshadow formula from australis! With its metallic foil finish, these eyeshadows will make your eyes dazzle like a popstar!
I absolutely love these creamy eye shadows! They're super creamy in consistency and they are highly pigmented and amazing. Similar to Colourpop but a little more creamy and pigmented. More creaminess can mean that they can crease easily, however if you decide to use a teeny weeny bit, then that isn't the case. amazing base for eye shadows as well. These blend like a dream and is a must have product from the brand, Will do few eye looks using these. Wait for my full review on this.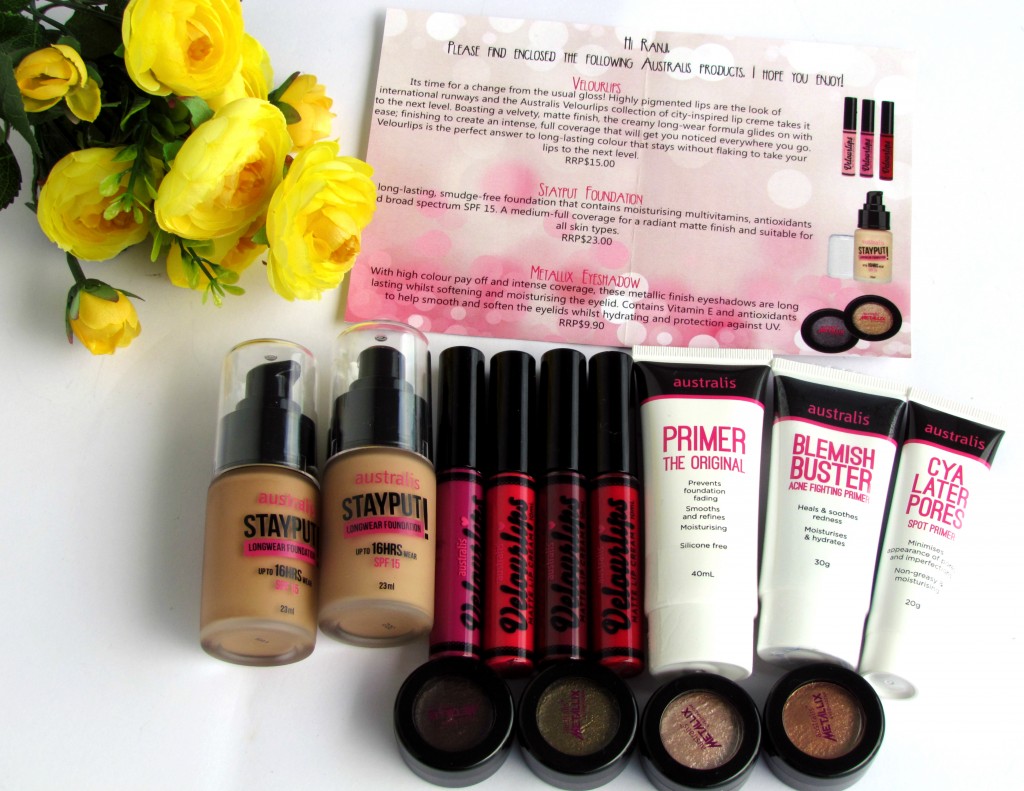 Thanks team Australis! I love the products I received and I look forward to review each one of them.  Australis Cosmetics are available across stores @ Australia & New Zealand. Australis Cosmetics can be purchased from Makeup.co.nz & also Farmers
**Product send by the brand PR, Shades/products chosen by me.