I swear by Zoeva brushes and so you girls can imagine my excitement when I got selected as Zoeva's list of bloggers and was sent this Rose Golden luxury brush set Vol.2 for review along with few other eye shadow palettes. I am not new to Zoeva brushes. I have reviewed the Rose Golden luxury brush set Vol 1 here  and Zoeva Classic Eye set here. I absolutely adore how well the packaging looks and also how good the quality of Zoeva brushes are. I love everything in gold and rose gold. It looks very classy and is very beautiful in the vanity table.
I will be reviewing the Zoeva ROSE GOLDEN LUXURY SET VOL. 2 – POWDER NUDE X ROSE GOLDEN today. Grab a cup of coffee/tea as you view this post. This post is going to be picture heavy.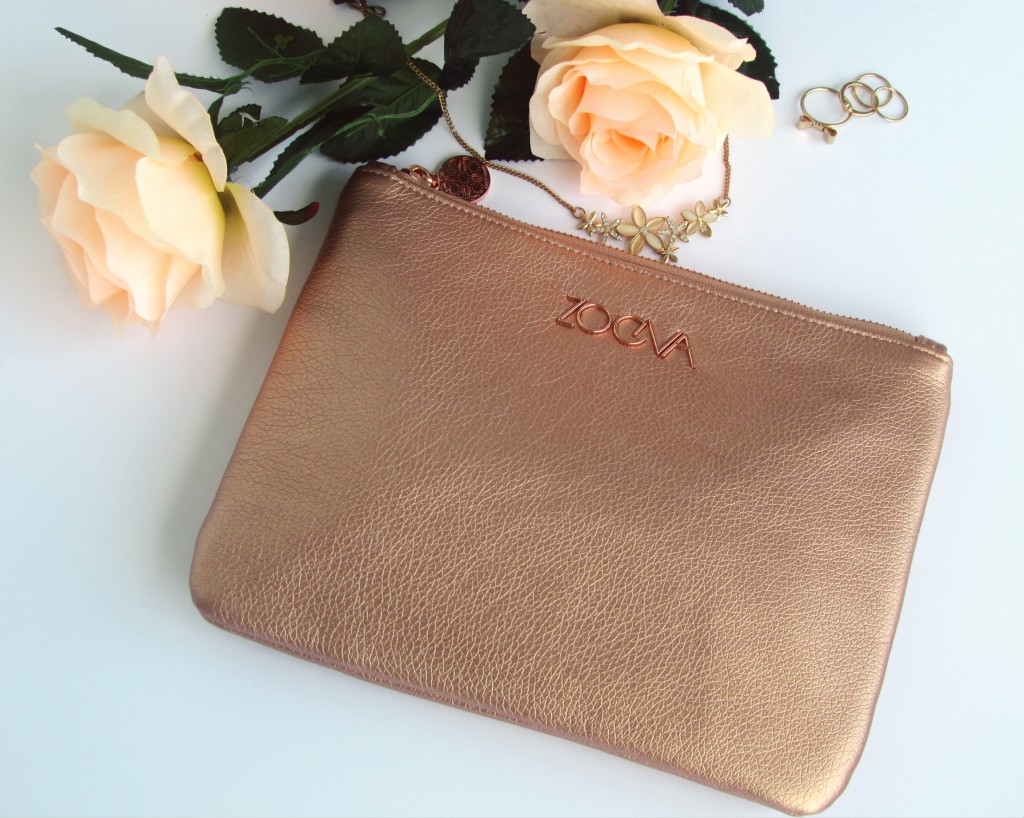 Zoeva ROSE GOLDEN LUXURY SET VOL. 2 – POWDER NUDE X ROSE GOLDEN
-8 essential makeup brushes for face and eyes
-chic, feminine design in powder nude and rose golden
-treat yourself like a princess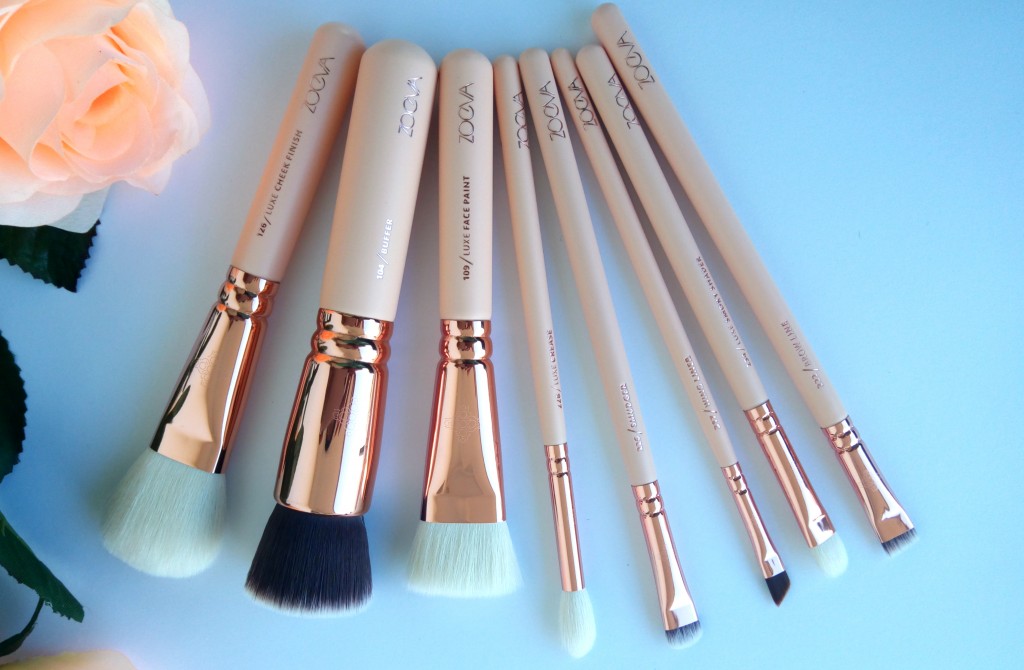 We dream in powder nude and rose gold. The Rose Golden Vol. 2 Collection revives every sleeping beauty. Treat yourself like a princess with the new Rose Golden Vol. 2 Collection and live your modern fairy tale with ZOEVA's new gems. We celebrate the woman awakening the girl within, the one she never lost but has often forgotten. She is her own well-kept secret, but above all, she is a woman in the purest form.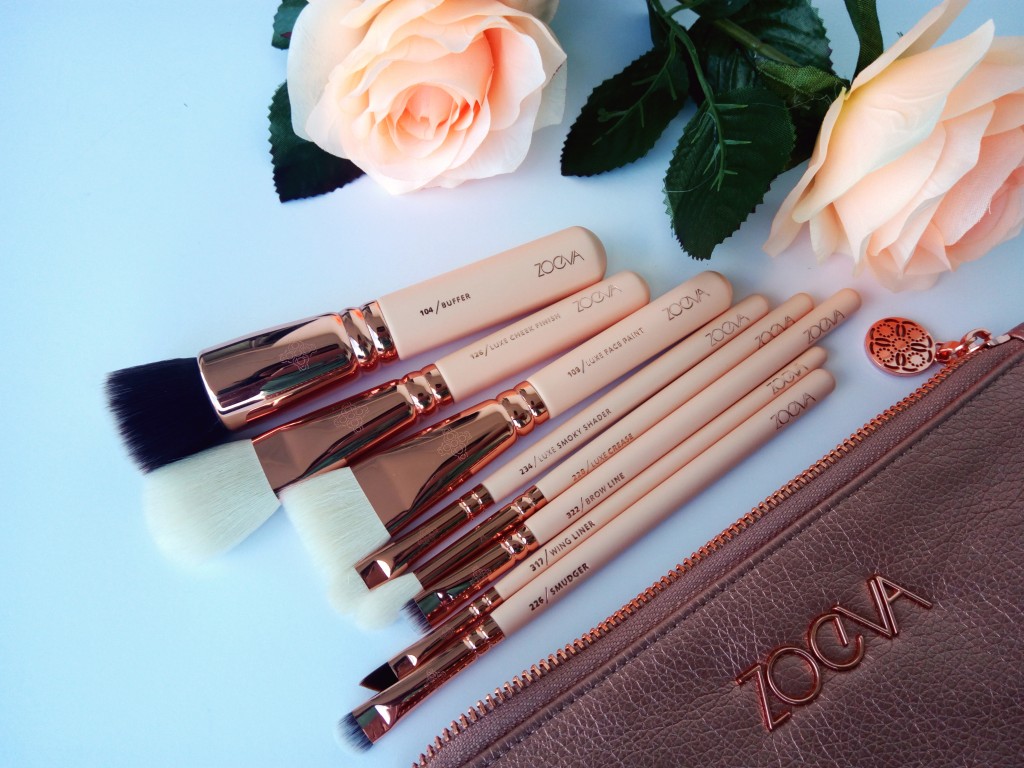 Packaging, Content & Price
8 rose golden brushes + 1 rose golden Brush Clutch Large(Case Size: 24 x 18 cm)
The color combination – cream and rose gold for the Zoeva Rose Golden Collection Vol.2 is stunning, I love the Zoeva logo engraved on the metal part of the brush handle, It makes it look so luxurious. And also the "Rose Golden" label engraved on every brush handle. The quality is amazing, the bristles are incredibly soft, easy to use and well made.
You get 8 brushes and a stunning Large Rose Golden Brush Clutch and a set for 65 Euros/USD $78 / NZD $117
Face
Zoeva 104 Buffer*
Zoeva 109 Luxe Face Paint
Zoeva 126 Luxe Cheek Finish
Eyes
Zoeva 226 Smudger*
Zoeva 228 Luxe Crease
Zoeva 234 Luxe Smoky Shader
Zoeva 317 Wing Liner*
Zoeva 322 Brow Line*
* synthetic taklon hair ; Other brush heads are a mix of Luxe/natural hair
Here is the brush clutch picture; I love the rose gold color. It speaks luxury. The detailing for the zipper etc is awesome! Very well designed. This clutch comes handy while travelling.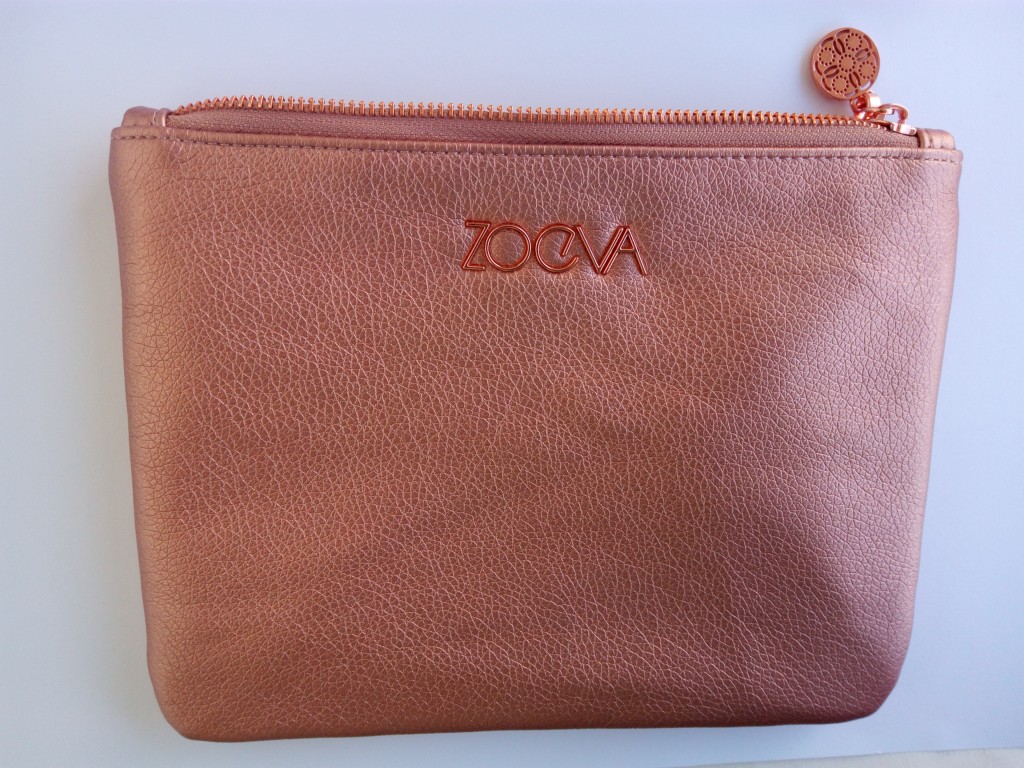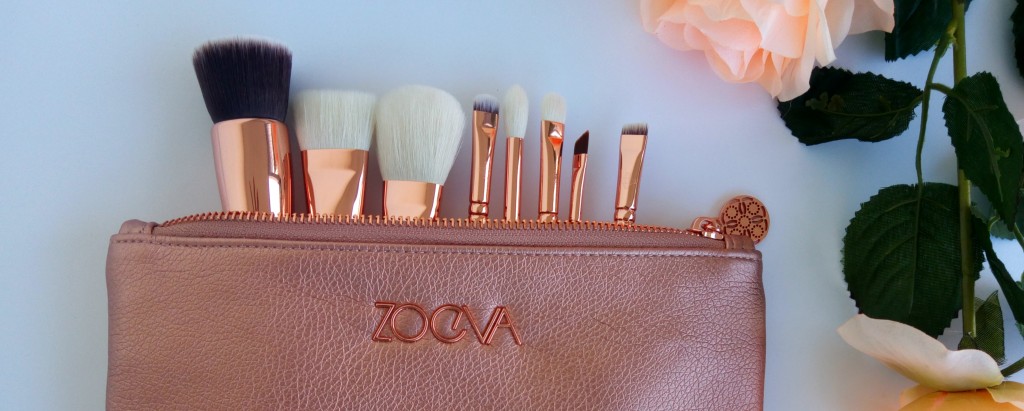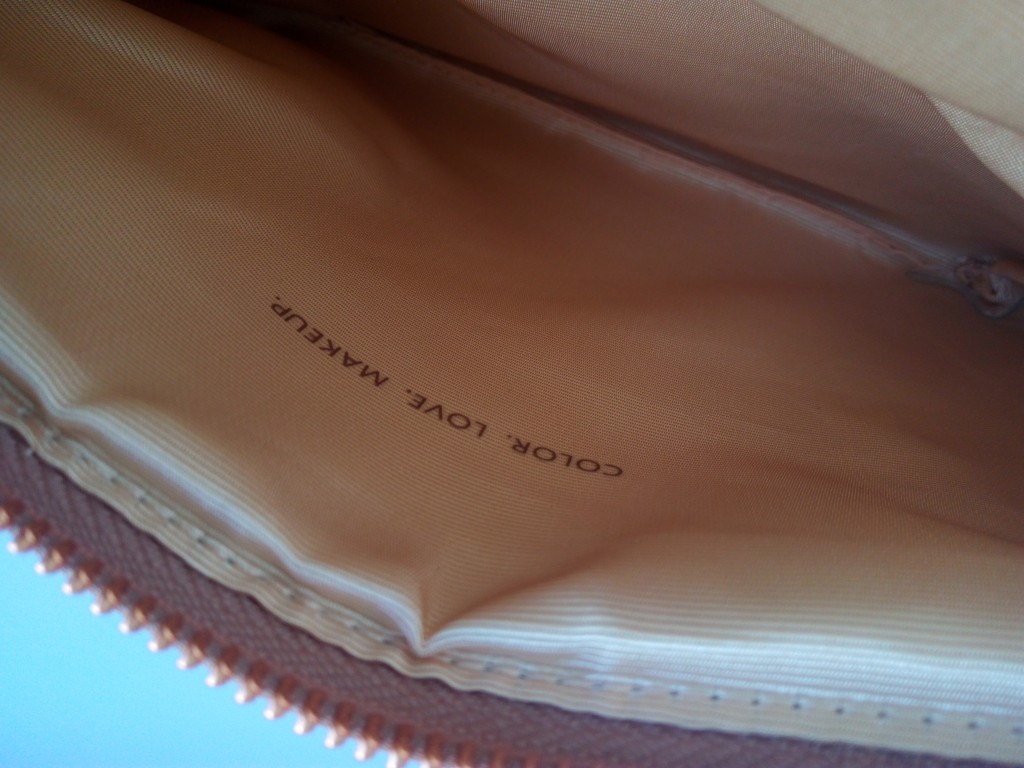 More Pictures of the set
How incredibly gorgeous these are ? I love the powdered nude x rose gold detailing. it looks every bit feminine .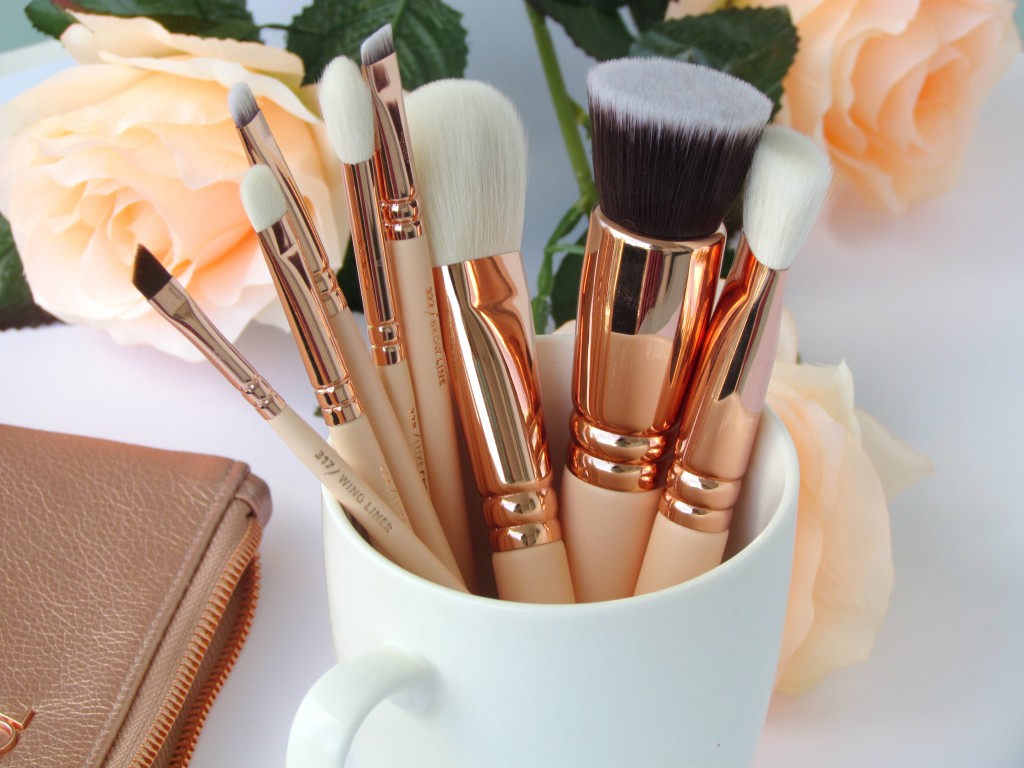 Here's a closer look of all the brushes.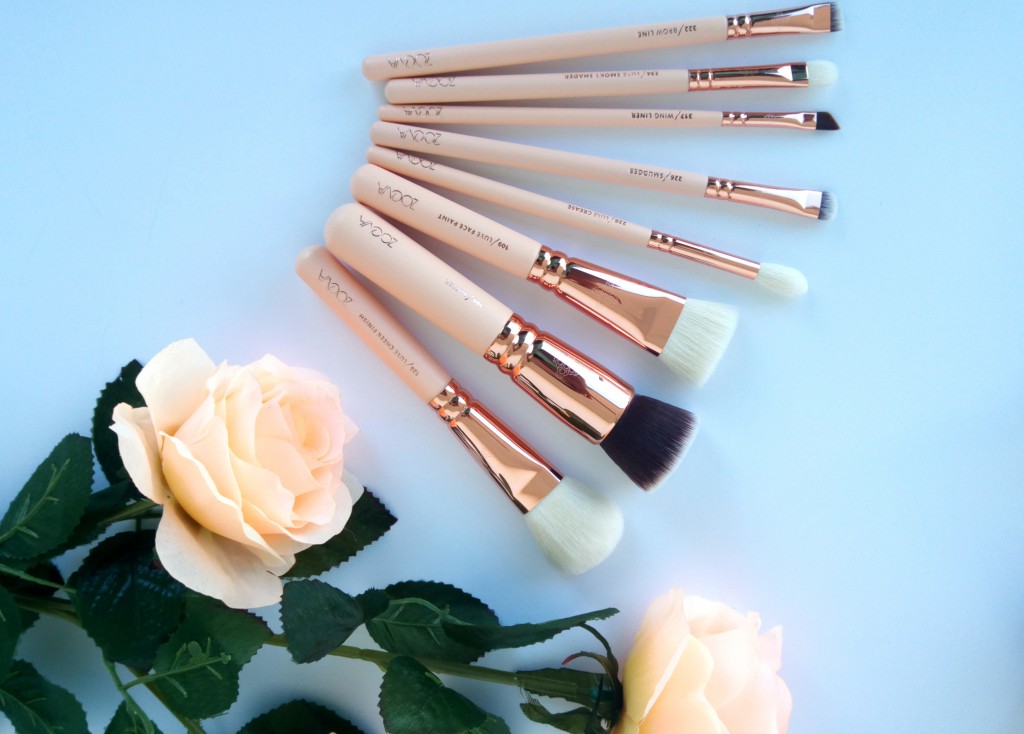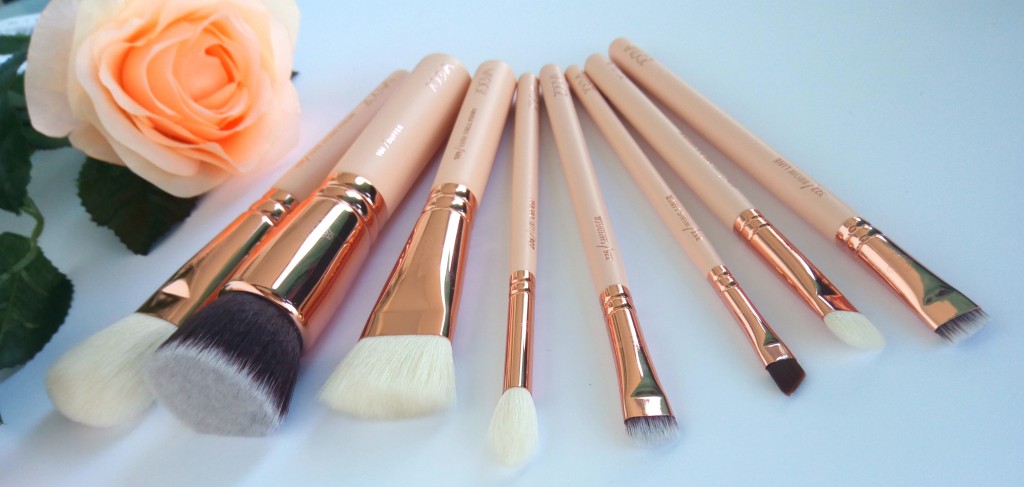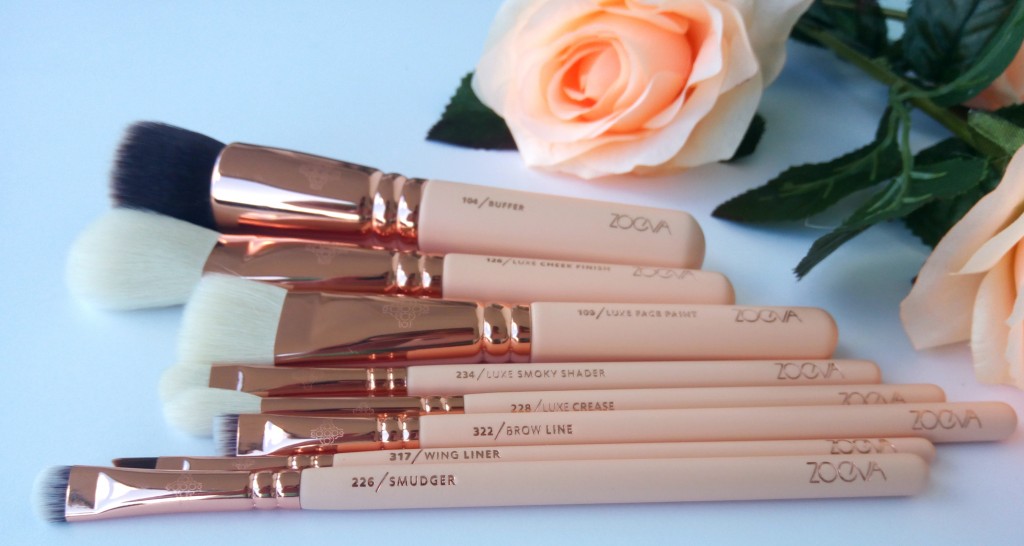 Truly feminine chic!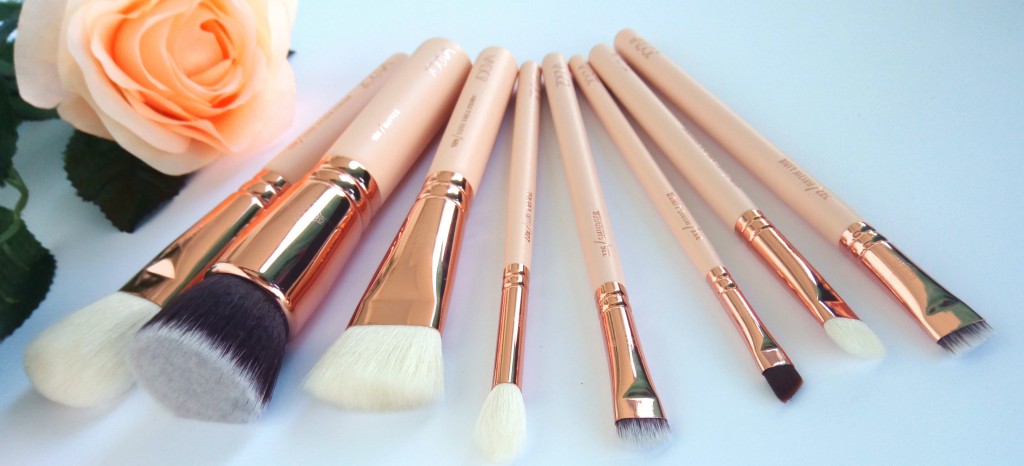 I have never seen such a beautiful brush !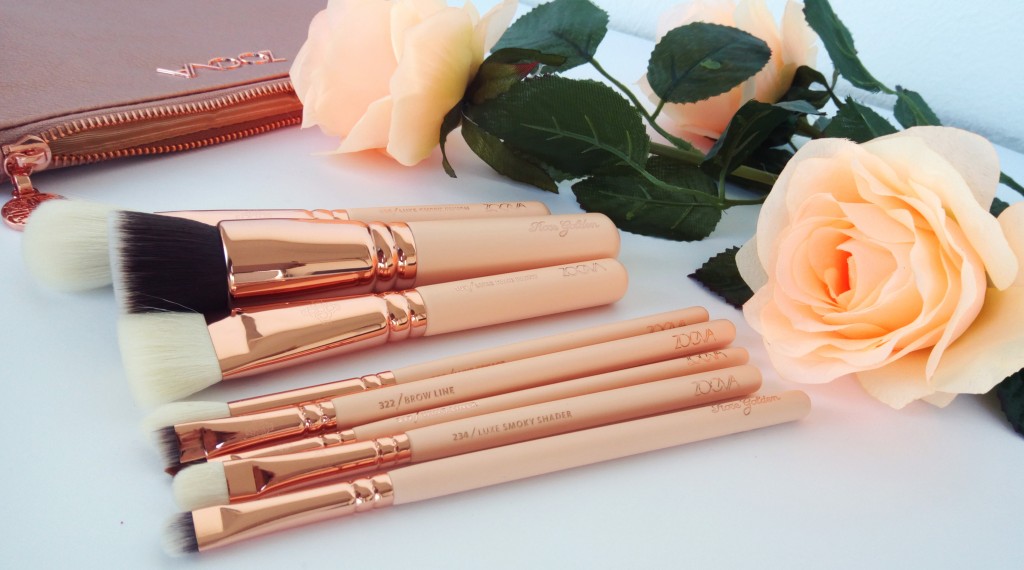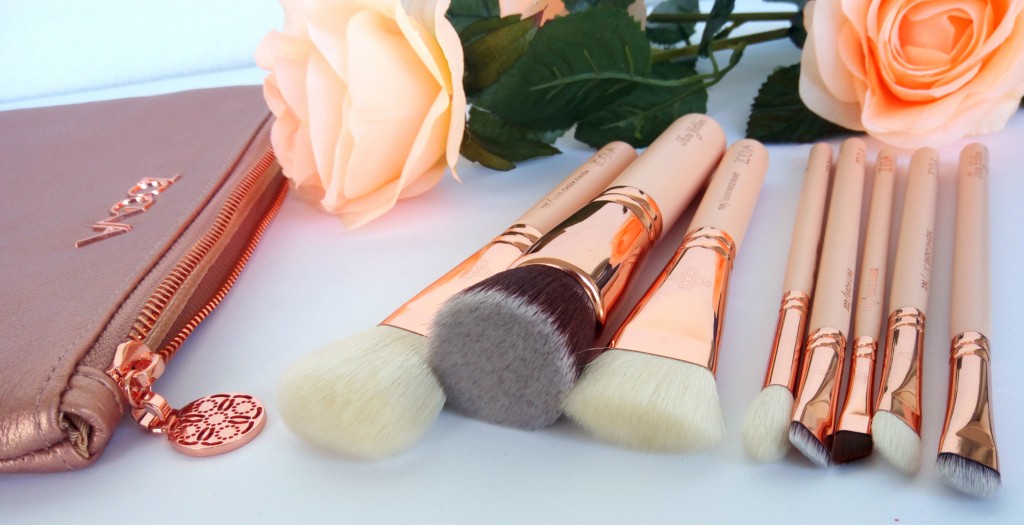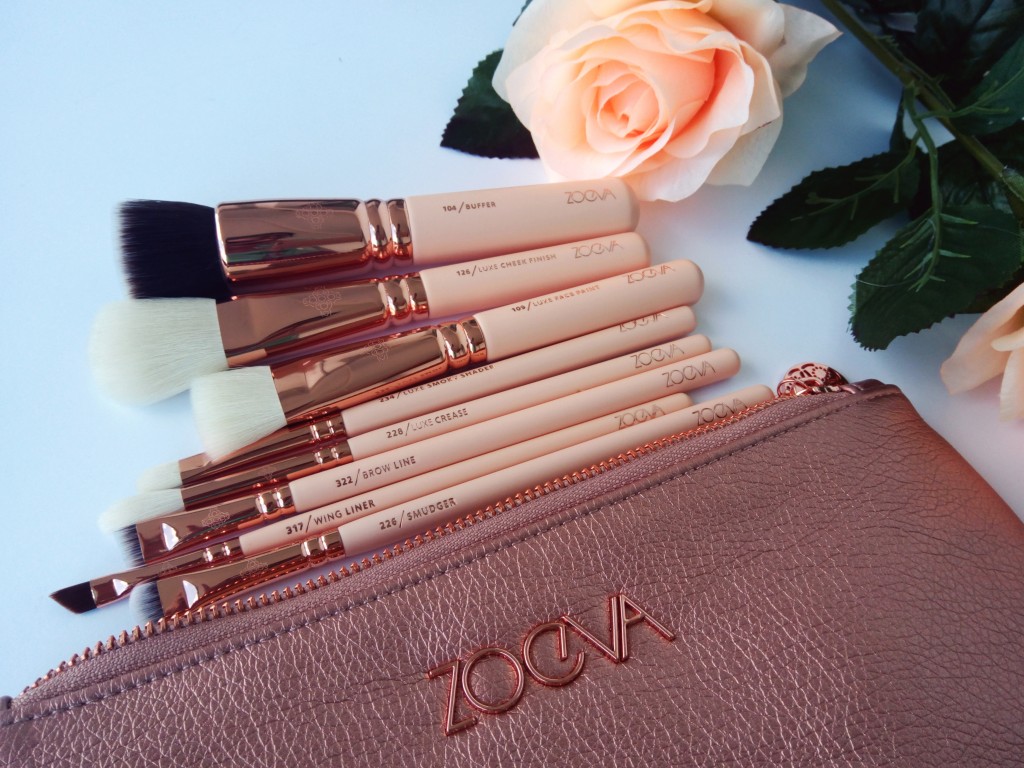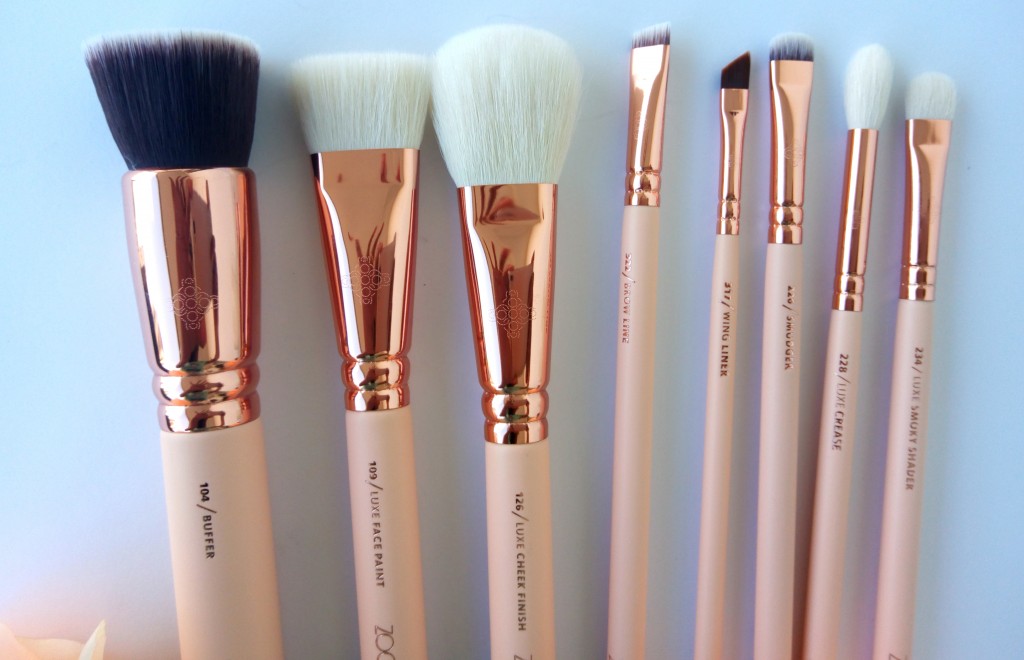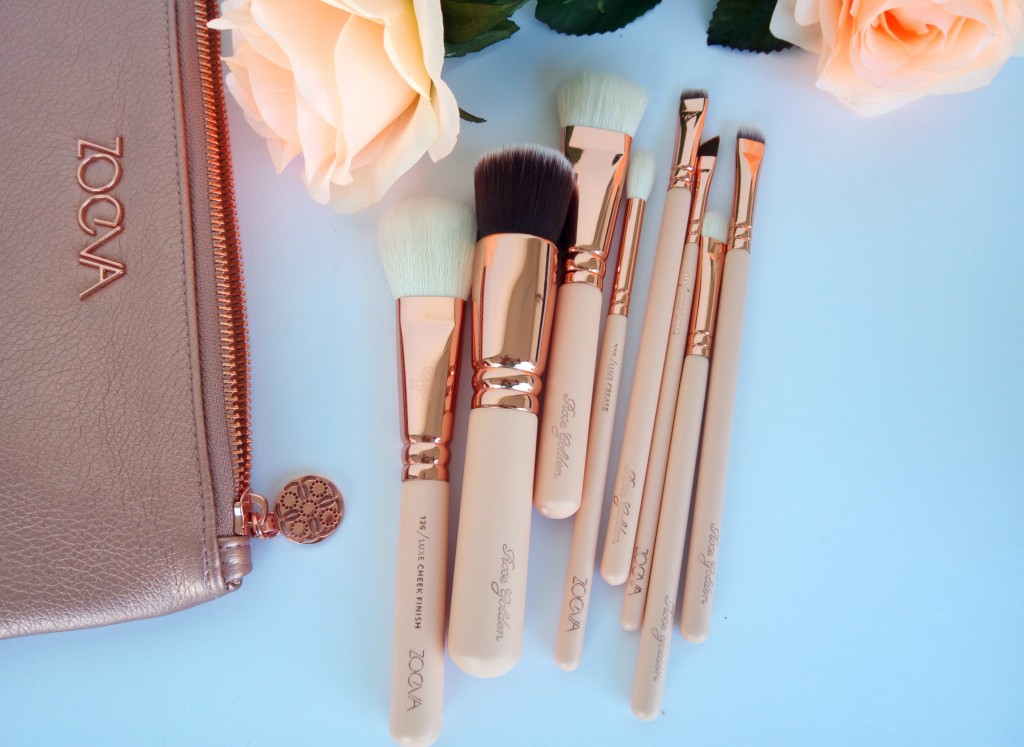 Now, Lets take a look at each of the brush in detail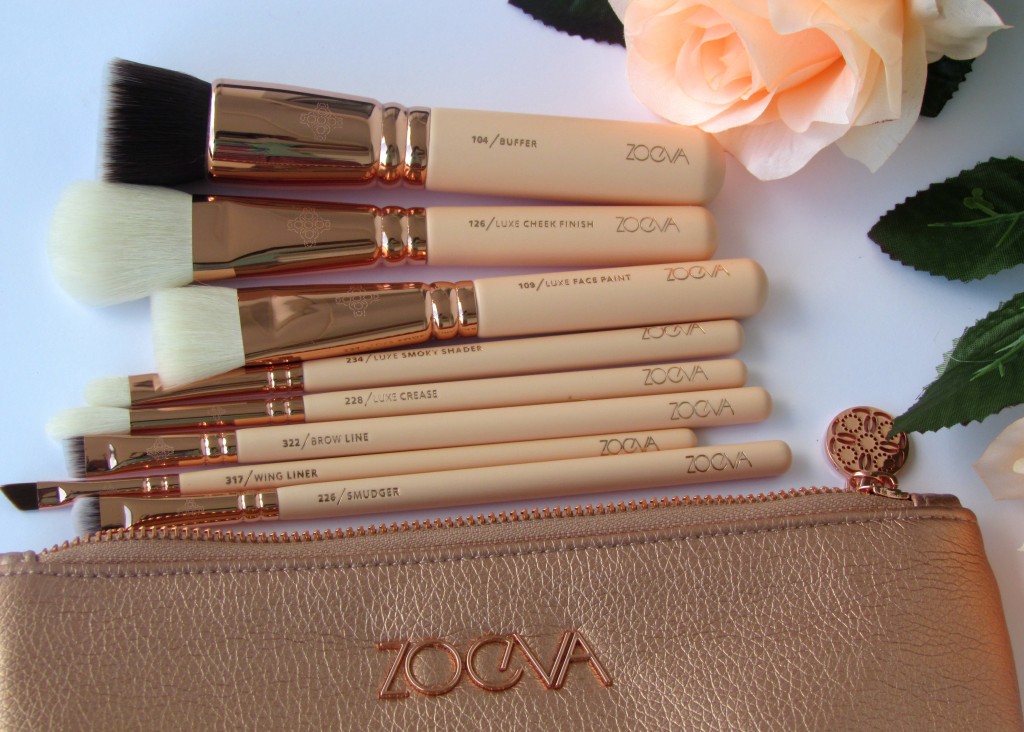 Zoeva POWDER NUDE X ROSE GOLDEN Face Brushes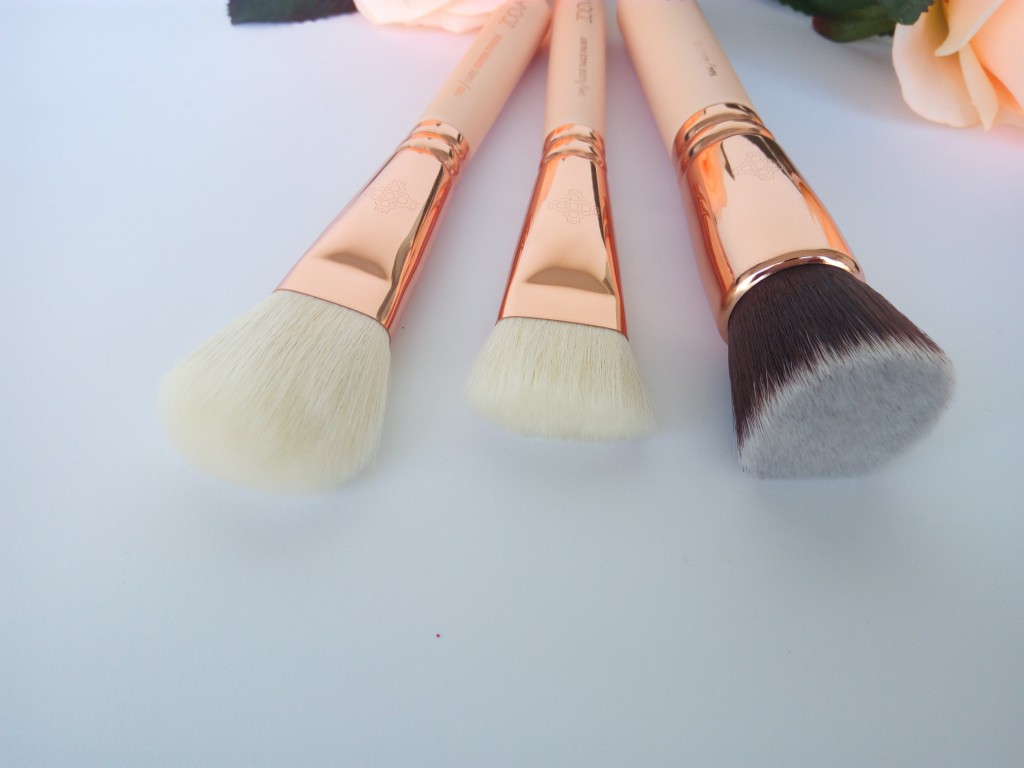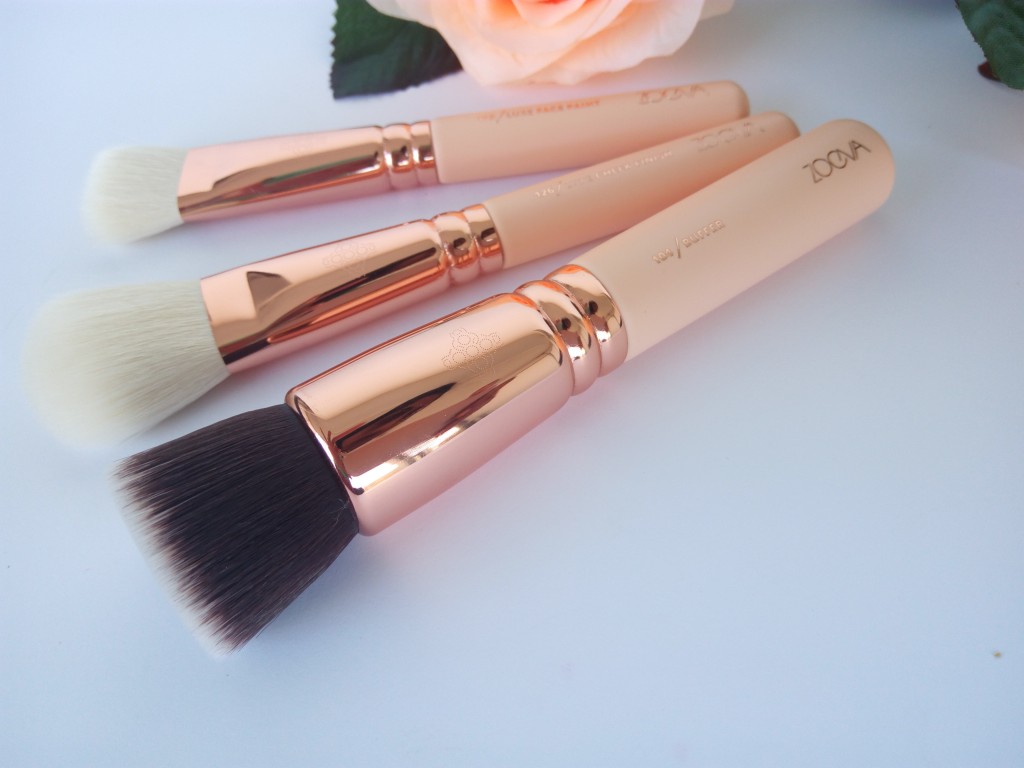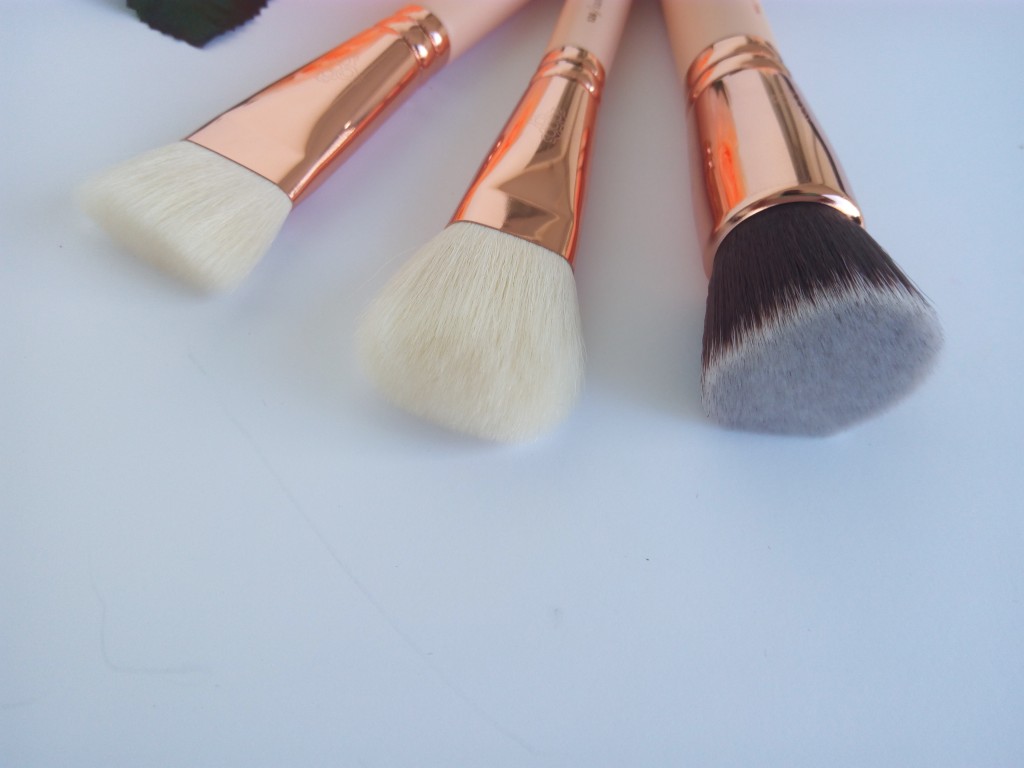 104 Buffer: I already own the individual buffer brush with a black handle. I love it to apply my liquid foundation. Made of synthetic bristles. Denser bristles help apply and blend foundation with ease. The bristle heads of this one are very very soft. THis brush is often compared to the F80 from Sigma. I love this one more. It's very easy to clean and dry. A must have brush from the brand.
109 Luxe Face Paint: A super flat contour brush. The 109 is the synthetic/natural mix again, it is not as dense or soft and flays out a little more. If you are looking for a brush which gives a blended look than a sharp contour, this is perfect. works perfect for powdered products.
126 Luxe Cheek Finish: A paddle brush has bristles which is a mix of synthetic and natural hair. This brush can apply the color very intensely, so be very light handed while using this brush. Initially, when I applied blush using this- I ended up putting more product than what I need. So, use a gentle  hand and apply product in a patting motion. Can be used for powder, blush or bronzer application
Zoeva POWDER NUDE X ROSE GOLDEN Eye Brushes 
226 Smudger: Softly apply and blend eye shadow along the lash line. This is synthetic and is perfect for smudging the shadow/liner on the lower lash line.
228 Luxe Crease: A fluffy crease brush that is perfect for blending. Made of synthetic and natural, One problem I know is these kind of mix brushes loose their shape quickly. I have washed mine 2-3 times now and the bristles are all flayed out. This crease brush is perfect for blending, but not if you require a precise look. I don't mind this as I use angled brush for a precise application and use the fluffy brush for blending only.
234 Luxe Smoky Shader: Apply and blend eyeshadow. I would say for more softer eye looks, you can reach for this. Say color all over lids, etc.
317 Wing Liner: Apply eyeliner with the perfect flick ; A slanted eyeliner brush. Very fine and precise brush. I like it for winged eyeliner look.
322 Brow Line: Apply eyebrow products for perfectly shaped brows; This synthetic angled brow brush is perfect for eyebrows. Perfect to use with powdered/cream brow products. love it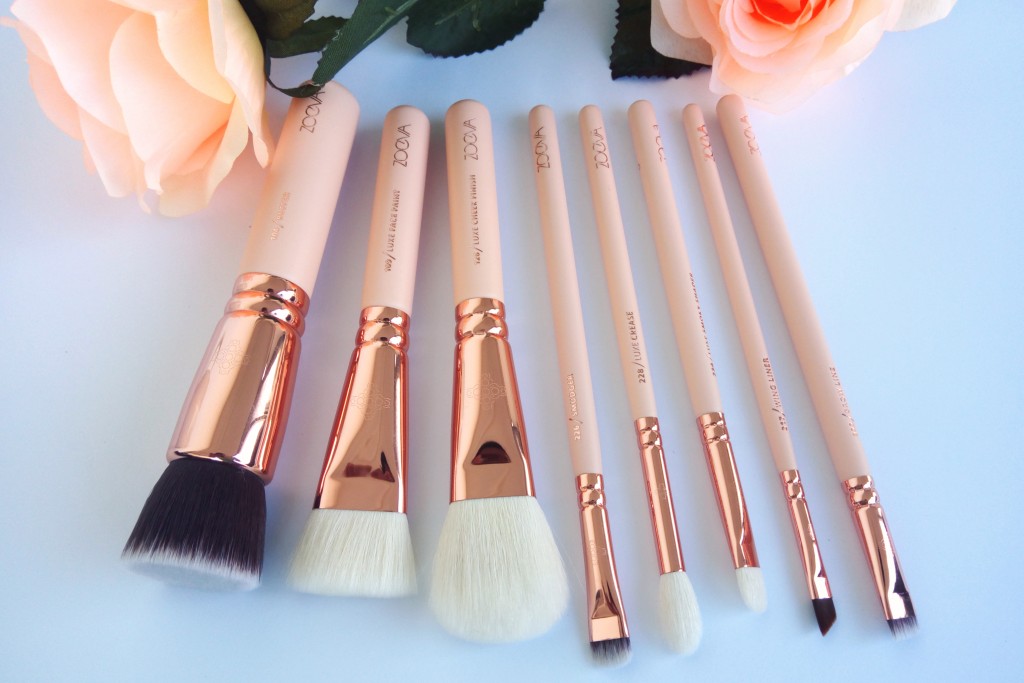 Overall, the first impressions on using this is – They are awesome! incredibly easy to work with. I haven't used these over a prolonged period of time yet and so can't comment on any issues with regards to wear and tear. I am sure these brushes will be my go-to choices on a daily basis from now.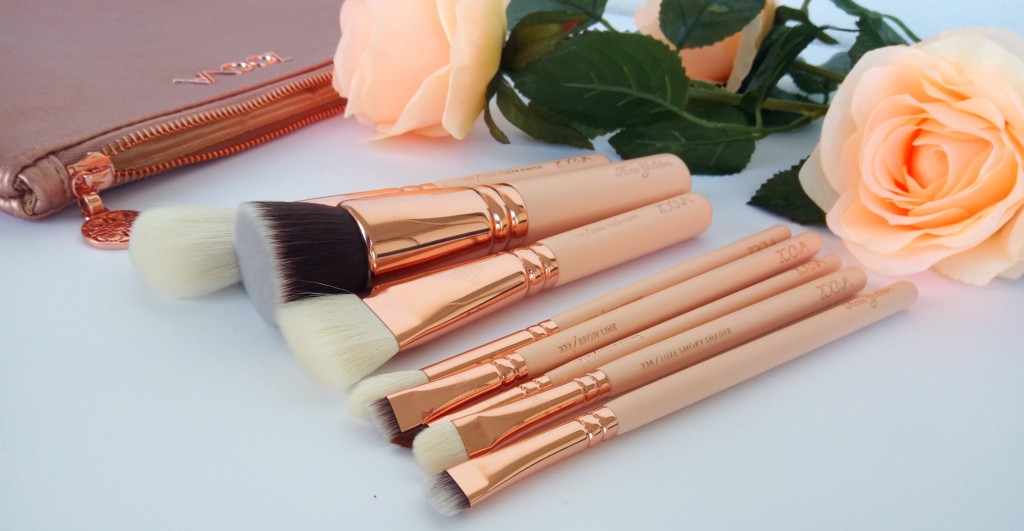 Now, many of you might ask this million dollar question to me – Which among the two sets to buy? Rose Golden Luxury Set Vol1 or this powdered nude x rose gold vol 2 – Let me tell me- Both are dead drop gorgeous! You can read my review on the Rose Golden Luxury set here . Now, coming on to the differences – Price is the same for both the sets
The first version is matte black +rose gold  – Has 8 brushes + a makeup clutch bag
Face: 106 Powder*, 102 Silk Finish*, 110 Face Shape*, 127 Luxe Sheer Cheek, 142 Concealer Buffer*
Eyes: 227 Soft Definer, 231 Petit Crease, 317 Wing Liner*
This one, Zoeva ROSE GOLDEN LUXURY SET VOL. 2 –
Face: 104 Buffer*, 109 Luxe Face Paint, 126 Luxe Cheek Finish
Eyes: 226 Smudger*, 228 Luxe Crease, 234 Luxe Smoky Shader, 317 Wing Liner*, 322 Brow Line*
(* synthetic taklon bristles)
Only brush that is same in both luxury sets is the "317 wing liner". Rest are all different. I use and enjoy both of them.
Now, I know the price would be a whooping factor for many of you. But, let me tell you- considering the total cost – 78 USD- You are getting 8 high end brushes + a makeup clutch ; Comes for less than 9 USD per brush + the bag ; I think its a good deal. And, Zoeva ships worldwide. If you are looking for a good quality brushes, this is for you! A great gift for your loved ones. Now, that the Christmas is around the corner- This is a fabulous gift for yourself as well. I absolutely adore my Zoeva brushes and will buy more from them. I already have Rose Golden Vol 1 complete eye set that I purchased as part of my last birthday haul. I will review it very soon.
Please note – Only buy this product from authentic sources. I would suggest to buy from Zoeva Website directly. They use DHL for shipping and ships worldwide. There are a lot of dupes in ebay, aliexpress , some instagram sale groups etc. Please beware of it. Make sure  you buy from a trusted source. I strongly suggest you to buy from the website directly here. I was really surprised on how fast these arrived considering it as an international shipment; they were with me in a few days after Zoeva shipped it
Do you like Zoeva brushes? Which is your favorite brush set from them? 
** Product send by brand PR. However, my review is honest and unbiased as always.