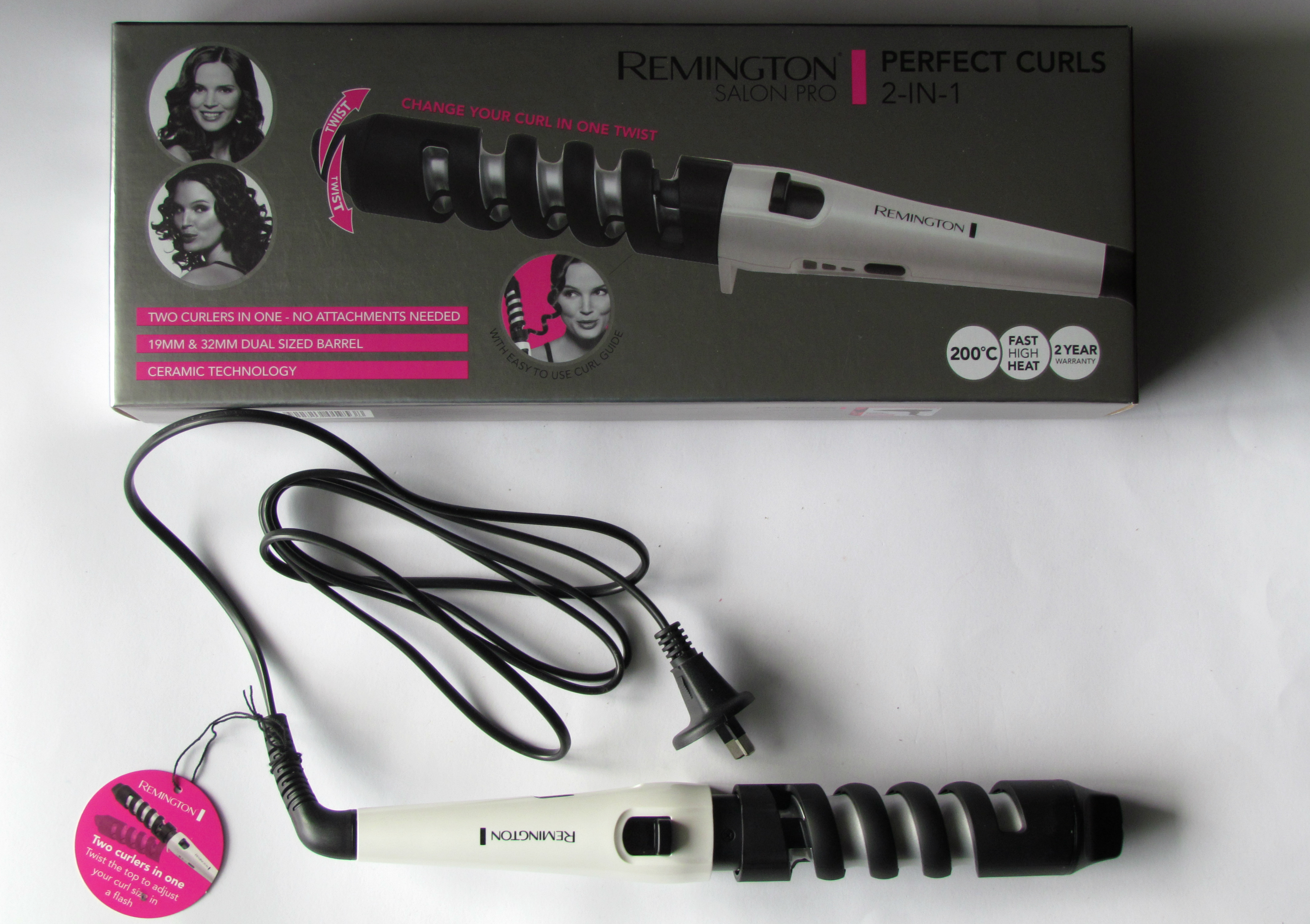 Hi Angels…Today's post is going to be a little different. Though I like curly hair. Never in my life did I attempted to curl my hair. I have a naturally straight hair which is slightly wavy to the ends. I was recently contacted by Remington and was sent this curler for reviewing. I thought it's a great idea to try something that you always wanted to do. This would be an ideal gift. So, In today's Brand Edit , I am featuring this product frpom Remington. From perfecting lady-like curls, to boho waves, become your own in-house curling expert with the Remington Perfect Curls 2-in-1.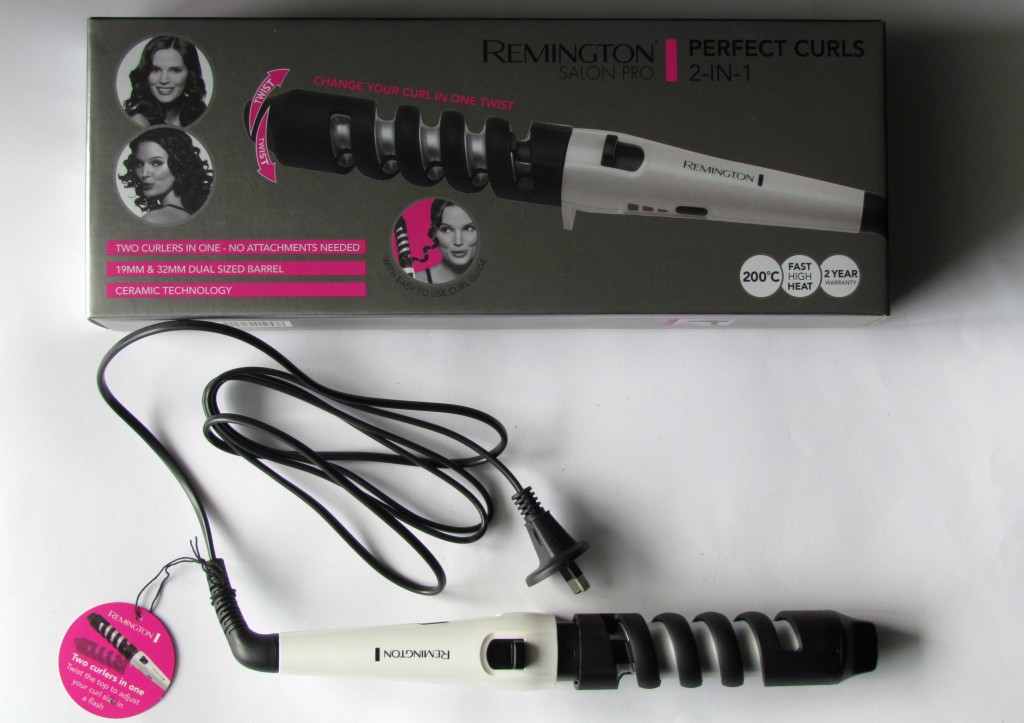 As the name suggest Remington Perfect Curls 2-in-1 has two curlers in one – no attachments needed. Simply twist the top clockwise to adjust to your preferred curl size.
Product Description
Adjust the size of your curls in a flash! The new Remington Perfect Curls 2-in-1 is a perfect solution for those who want to create both tight and loose curls, but without switching between stylers. This innovative curling wand combines a 19mm and a 32mm barrel in one unit. No attachments needed! Safe and easy to use, the protective heat resistant cover cleverly guides the hair and the spring action clip secures it. The 3 temperature settings and high heat to 200 degrees celsius gives total styling control.
3 heat settings
Two curlers in one unit – 19mm and 32mm
1.7m cord
Swivel cord
Manufacturer's 2-year warranty
Remington Perfect Curls 2-in-1 CI63E1AU retails for  RRP $99.99
Before talking about my opinion on the product, Let's take a look at the device. For easy reference, I have marked the key parts of the device. Key Parts Pictured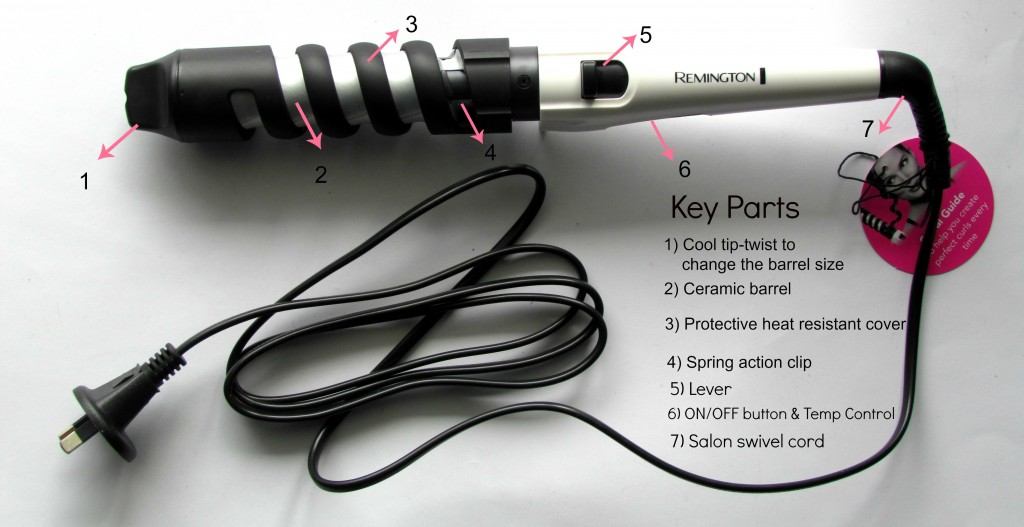 Remington Perfect Curls 2-in-1 is ideal for creating loose curls using the 32 mm barrel and defined curls when set on the 19 mm barrel. Simply clip your hair into place and twist the handle to create defined or loose curls.
Firstly, understanding the ceramic barrels and changing the barrel sizes
Here is a close up of the ceramic barrel, This one below is the 32 mm ceramic barrel
Upon twisting the cool tip twist clockwise (Refer to key parts picture)- You can adjust between the ceramic barrels, 32mm or 199 mm. see the picture below for 19 mm ceramic barrel
After plugging the curler to any household power outlet, Press the ON/OFF button for 3 seconds to turn the device on. The LED indicator will illuminate blue and flash until the selected temperature is reached. To change the temperature, Press the ON/OFF button to scroll through low, medium & high heat temperature settings. To switch off, simply long press ON/OFF for 3 seconds.
Now, as we have talked enough about the parts and how to operate them. Let me talk about the steps to curl your hair.
You will have to comb through your hair and make it tangle free before you start styling. 
Set the curler to the 19 mm barrel for defined curls or the 32 mm barrel for loose curls. Set your preference – adjust the temp settings too. Refer to above steps for changing the barrel size & adjust temperature settings.
To make styling easier, part the hair either in the middle or to the side using section clips or hair claw. In simple words, part your hair to smaller sections on top, sides and back.
Start at the nape of the neck and curl the underneath sections of hair first.
Holding the tong with other hand, push down the lever and secure the bottom of the hair in the spring action clip
When the hair is secured in the clip slowly twist the hair up the length of the wand making sure it follows the spiral casing of the heat resistant cover. (this will be correct when your hair is tangle free and after you secure the section in the spring action clip and when you start to twist)
Hold the hair in the tong for about 10 seconds.
Release the lever on the handle to reveal a perfect curl.
Repeat this step till you finish curling every section you need.
Allow your curls to cool so that curls are fully set. Once cool run your fingers through  your hair to break up the curls.
Finish off with a setting spray.
here is a picture of my hair – Before & After. I really love how natural my curls look. In (1) of collage you can see my before picture. and (4) shows my complete curly wavy hair! 

While this device this extremely useful to get those defined curls. There are few precautions that you should make. First of all. While holding the tong near to your ear and twisting. Make sure you don't burn yourself. Be very careful about touching the ceramic barrel too. It will be very hot and make sure you are not doing it along with kids around you. There are chances that kids tend to touch the hot tong. Also, once you finish curling, make sure you flat lay it on a hard, water resistant surface before packing it.
Here is a video from Remington

The Perfect Curls hair styler from Remington is 2 curlers in 1 – which means  you don't need any extra attachments! With 2 barrel sizes, ceramic technology for even heat distribution and easy to use multiple heat settings &  protective heat resistant cover cleverly guiding the hair and the spring action clip securing it in place, this is all you need to keep those curls looking tip top!
All Remington products come with either a two-year, three-year or five-year manufactures warranty and are available from all leading electrical retailers. This would be an ideal Christmas gift to your friend or loved one. This retails for RRP $99.99 ; It's available for a discounted price on Farmers NZ
** Product sent by brand PR. However my review is honest and unbiased as always