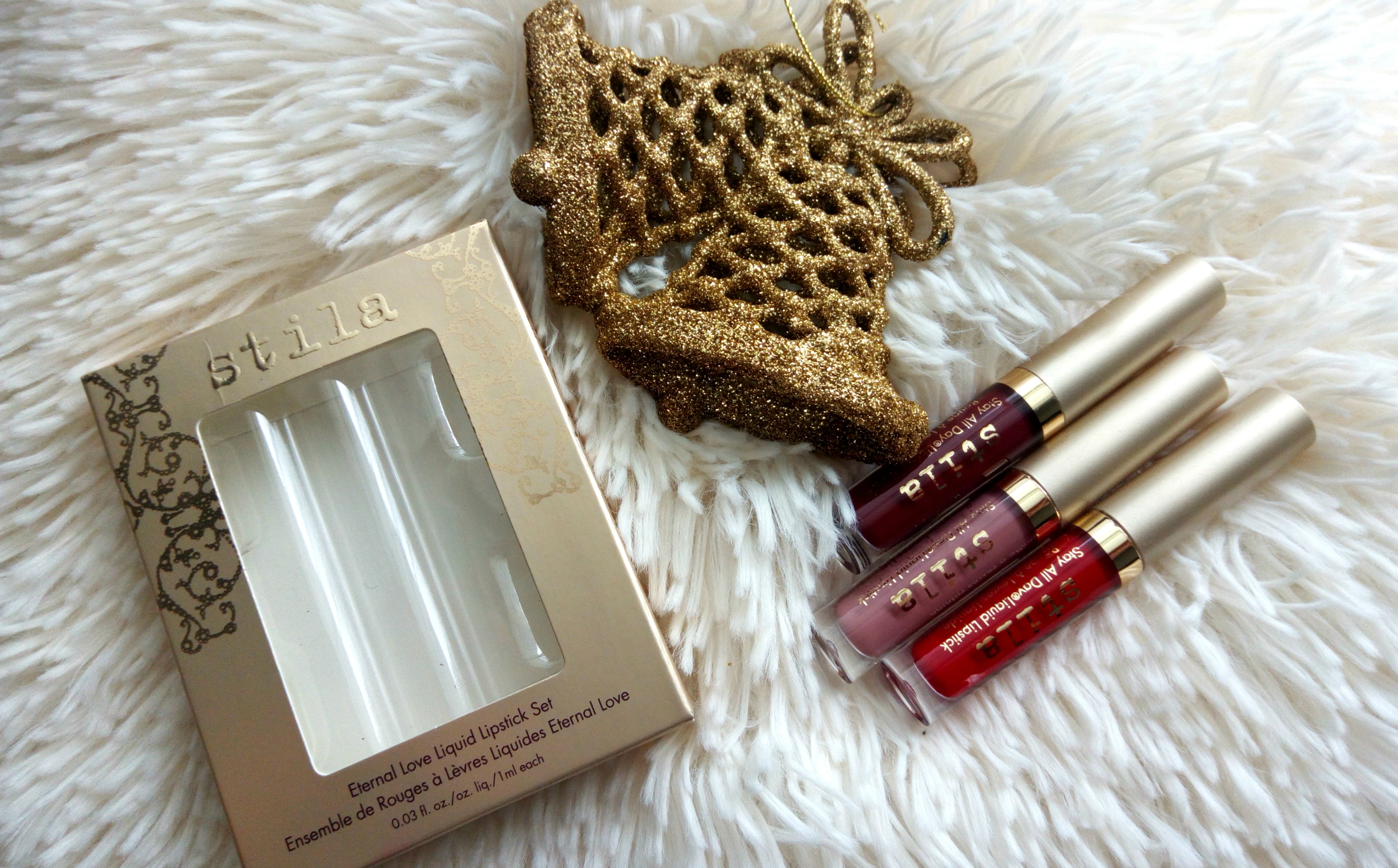 Christmas is just around the corner. In today's count down to Christmas series, I am reviewing a lovely liquid lipstick set from Stila Cosmetics. I really love buying gift sets/ value sets from different brands. It's a great way to try and test the products before buying the full sized ones. Also, Value sets are a great value for money. For the price of 1-2 full sized products, You get to try a bunch of products. For Holiday 2015, Stila Cosmetics introduced this adorable liquid lipstick set featuring three mini Stay All Day Liquid Lipsticks, two of which are brand new colors that will be added to the pre-existing range in 2016. I spotted this set during one such visit to Mecca Cosmetica NZ. This was an impulse buy and I have been loving all three shades lately.
Stila Eternal Love Liquid Lipstick Set is a collection of three travel-sized Stay All Day Liquid Lipsticks to bring a pop of colour to your pout. Three lip shades are included in this set to bring the romance of the Holiday season to life. Includes shades in neutral Baci, bold red Beso and purple Ricco.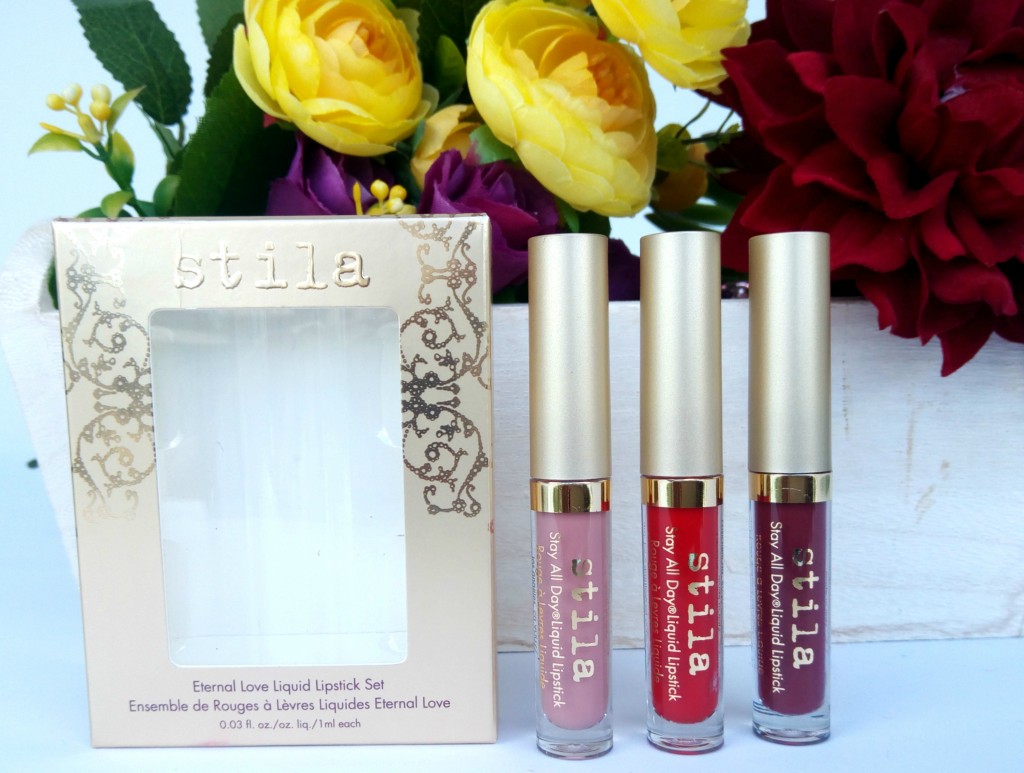 Price – NZD $32.00
Make love last with this power-pout trio of our award-winning Stay All Day® Liquid Lipstick — full-coverage, creamy-matte color that holds tight for hours.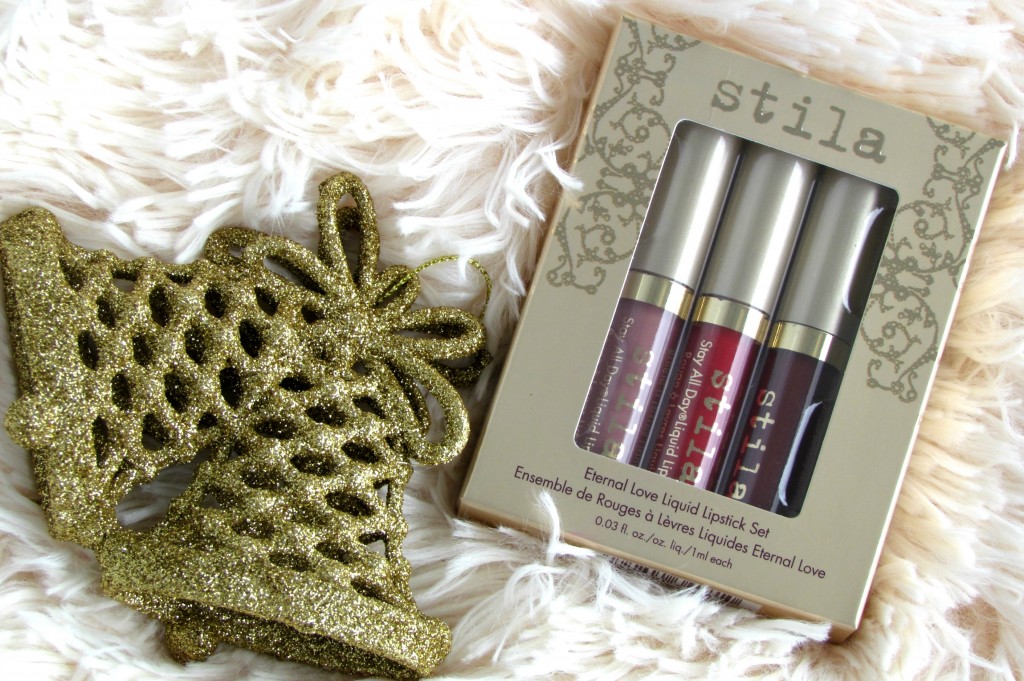 Stay All Day Liquid Lipstick delivers bold, long-lasting color and stays in place for up to 6 hours of continuous wear. Delivering superb comfort and weightless feel, its color-rich formula will not bleed or transfer. Enriched with Vitamin E and avocado oil, Stay All Day Liquid Lipstick also softens lips so they look and feel beautiful.
Shades: Ricco, Beso & Baci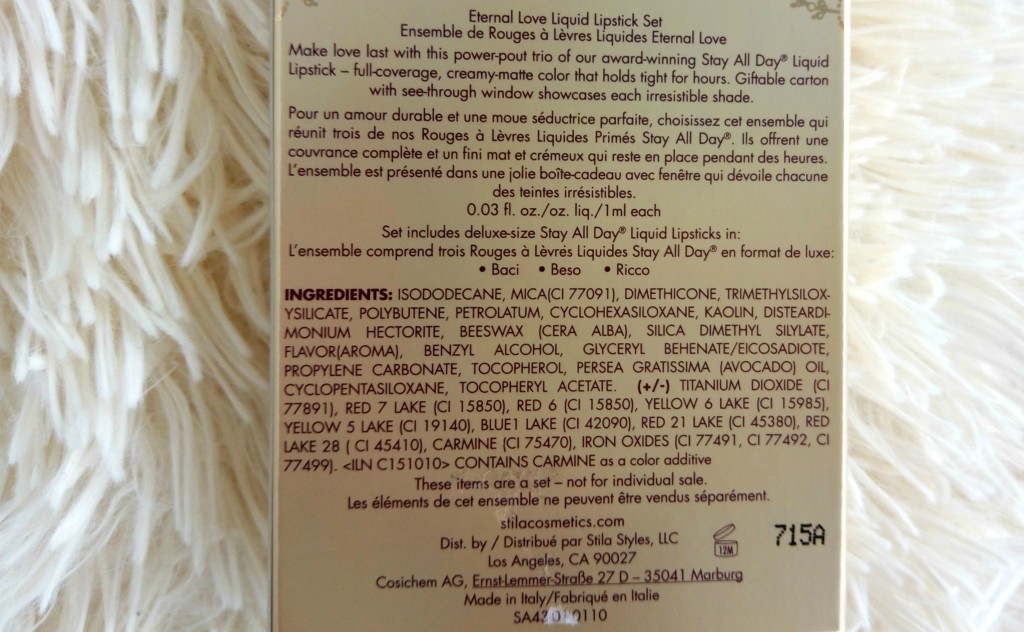 More Pictures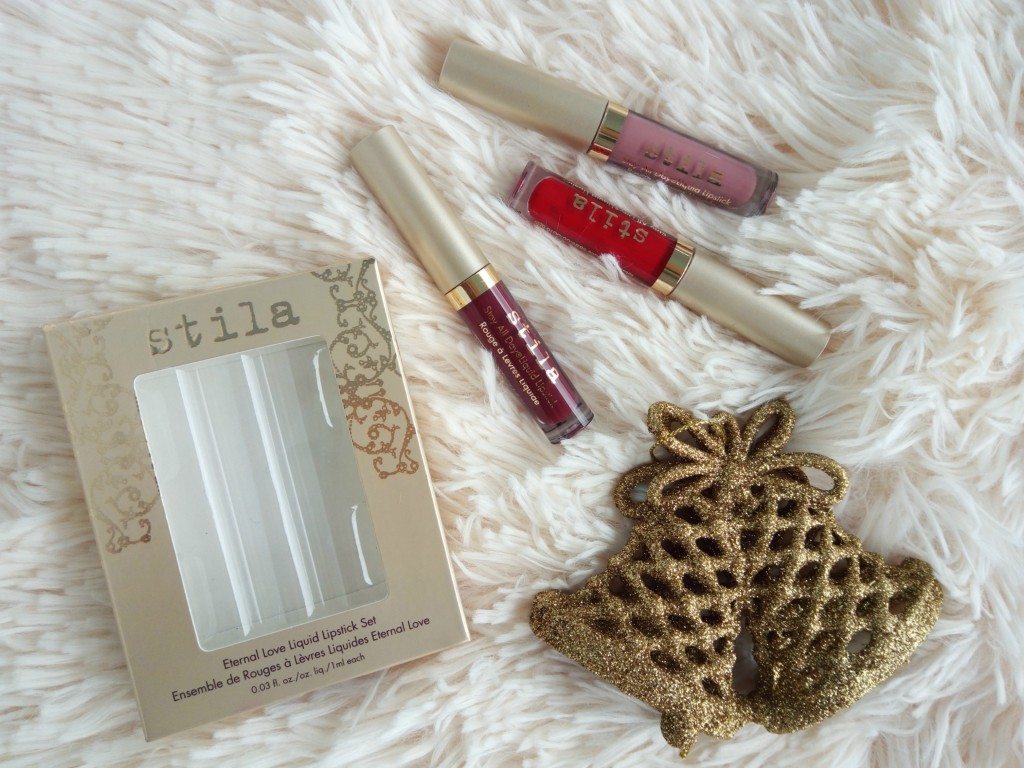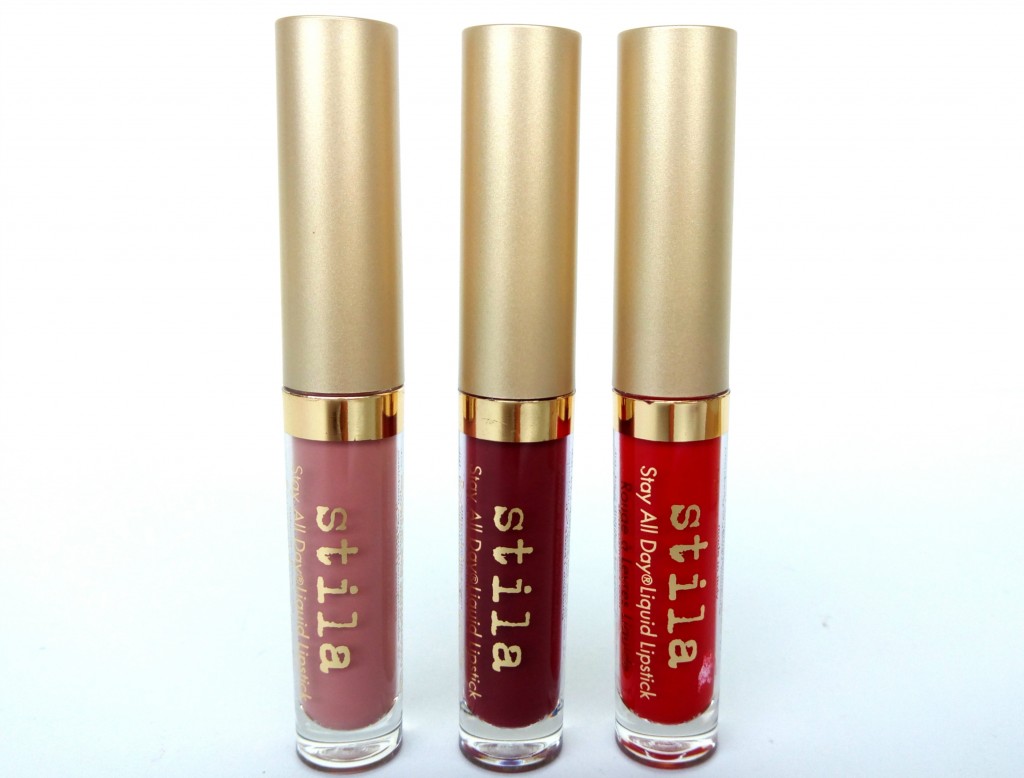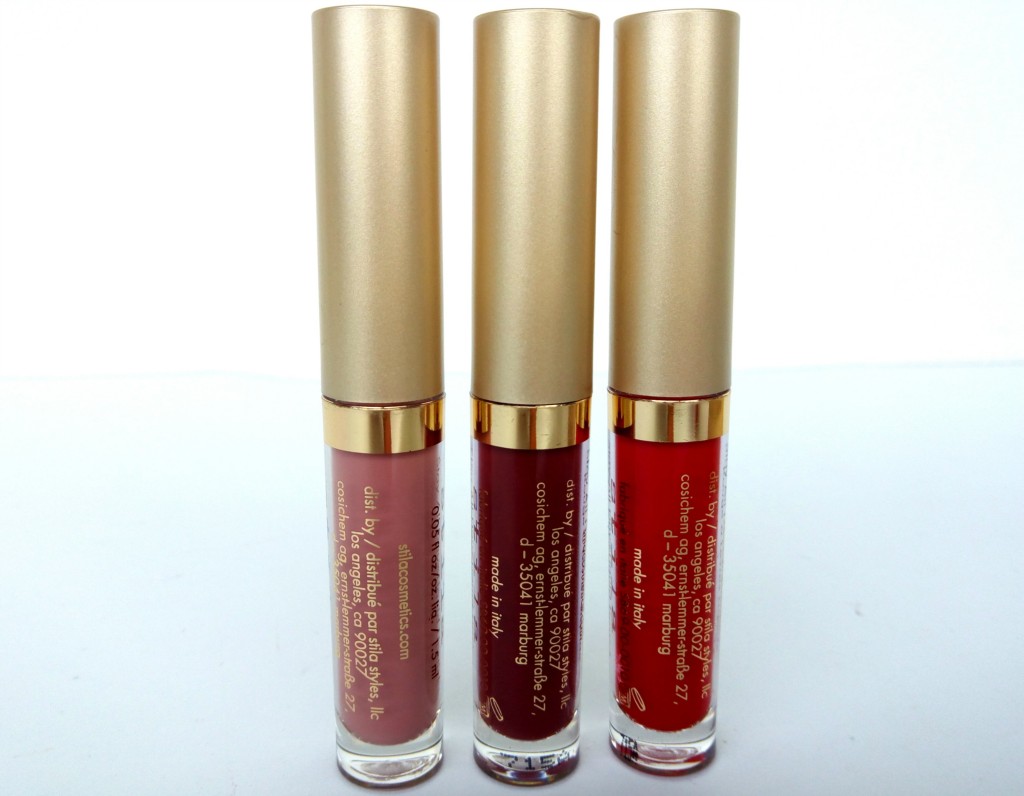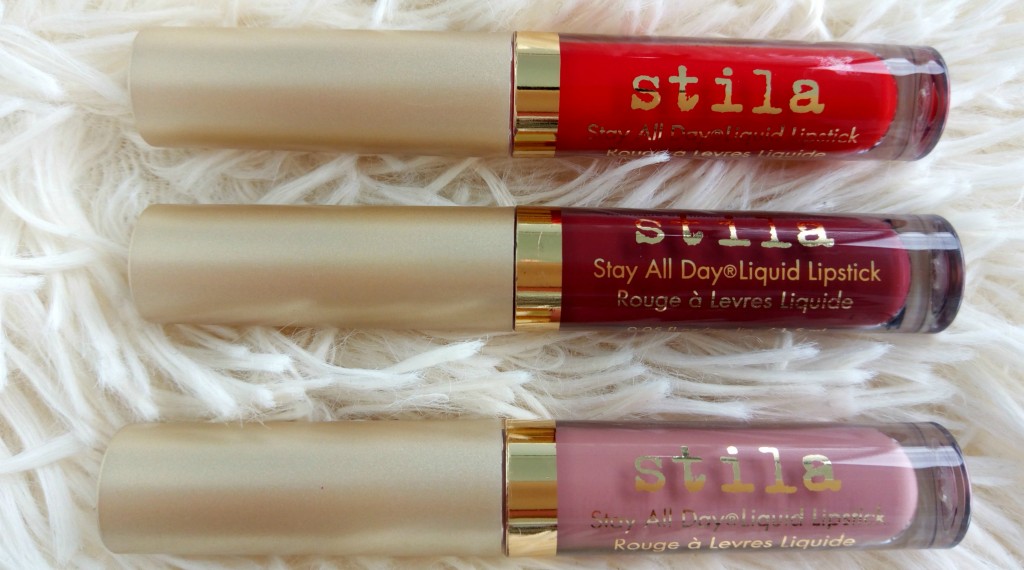 My experience using Stila Stay All day Liquid Lipsticks
These liquid lipsticks come 1.5 ml tubes with gold details. The doe-foot applicators are flattened on ends which is awesome for spreading the lipstick evenly on the lips.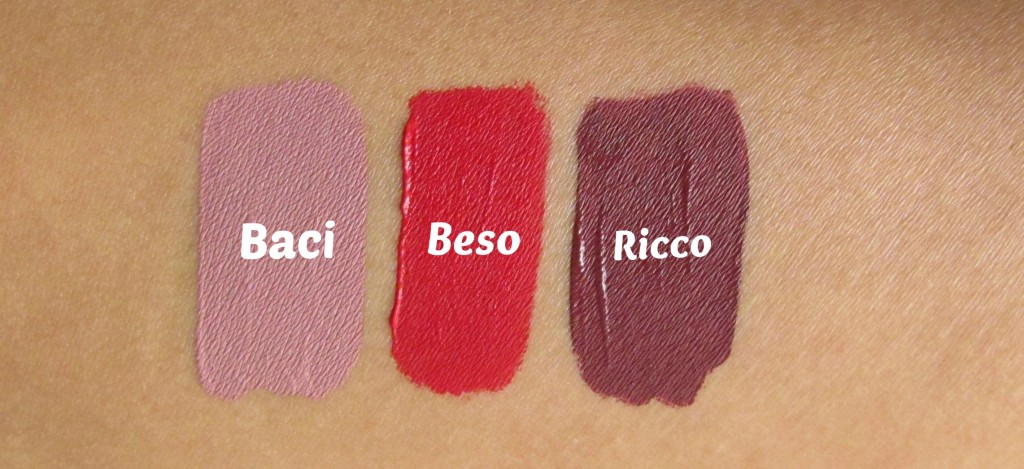 Stila Cosmetics Stay All Day Liquid Lipsticks have a light and creamy texture that applies very smoothly and evenly on to the lips, has a slight vanilla smell to it…(Same as NYX soft matte lip creams). Its really really pigmented. The formula dries very quickly to a matte texture that cling on to the lips. The formulation is slightly drying, so be sure to prep, prime and moisturise your lips before using this to avoid any chapped lips later. It stays on the whole day surviving meals and drinks. Doesn't stain your cups too.
Beso is an existing shade, a bright and vibrant red that suits every skintone.
Baci and Ricco are brand new shades which will be released as full-sized versions in 2016.
Baci  is a n*de mauve shade.
Ricco  is a dark brown-burgundy shade. My personal favorite. Perfect shade for fall.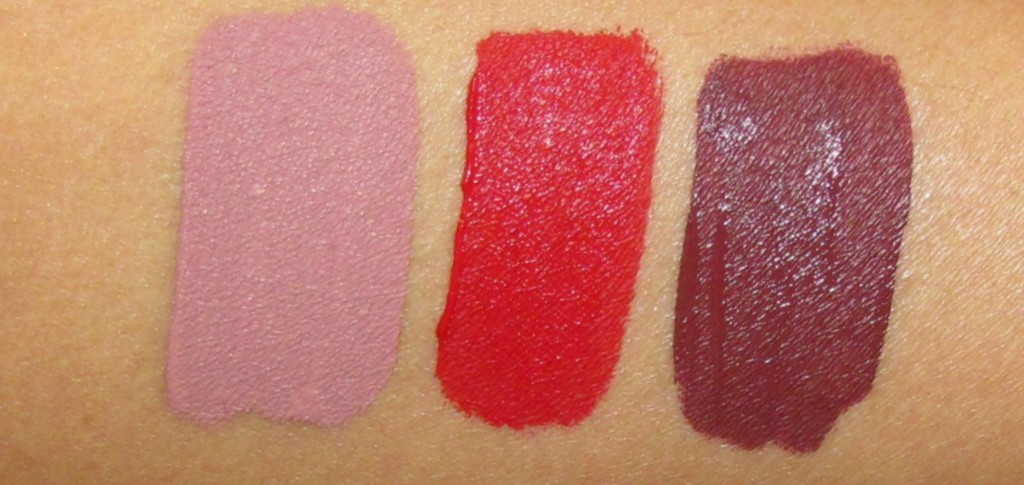 Overall, for NZD $32.00, these are a great value for money. Great as stocking stuffers. If you like to try out different shades before buying the full sized ones- These are excellent. There is also another set with 6 Stay All Day Liquid Lipsticks. The formulation of these lipsticks are excellent. I am really happy with the staying power, pigmentation, packaging etc.