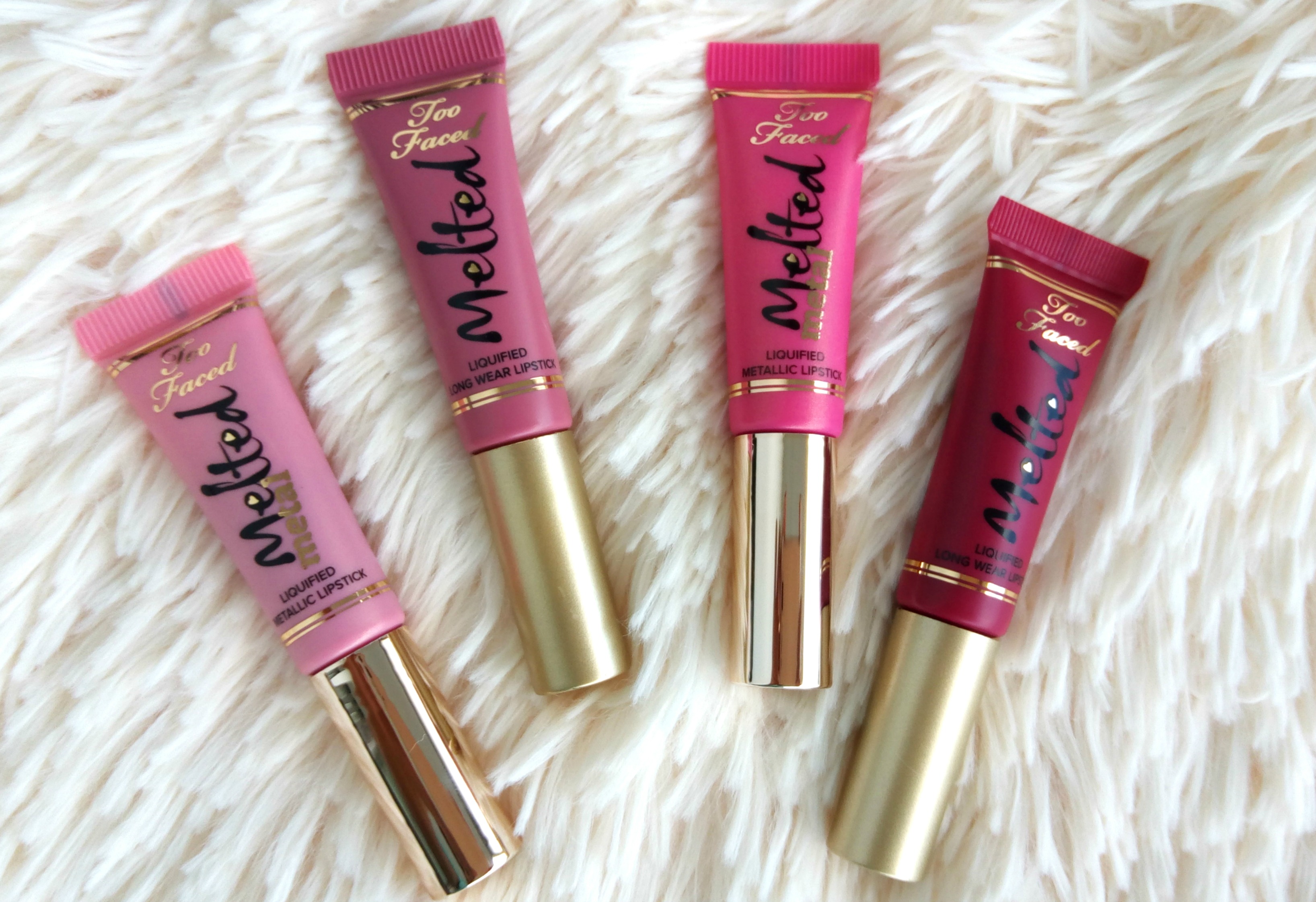 Too Faced Holiday 2015 collection was one of the best holiday collections ever. Too Faced Cosmetics is known for its special edition holiday packaging and for this 2015, it came out with  the girly theme and Paris themed boxes. I was one of the first lucky few who'd grab t all from beautylish. In NZ, we don't have a Too Faced store. Also the Too Faced site doesn't ship here. So, I was super excited when I saw this on the Beautylish website. I couldn't leave behind the wonderful opportunity to grab these beauties without having to buy the full sized ones.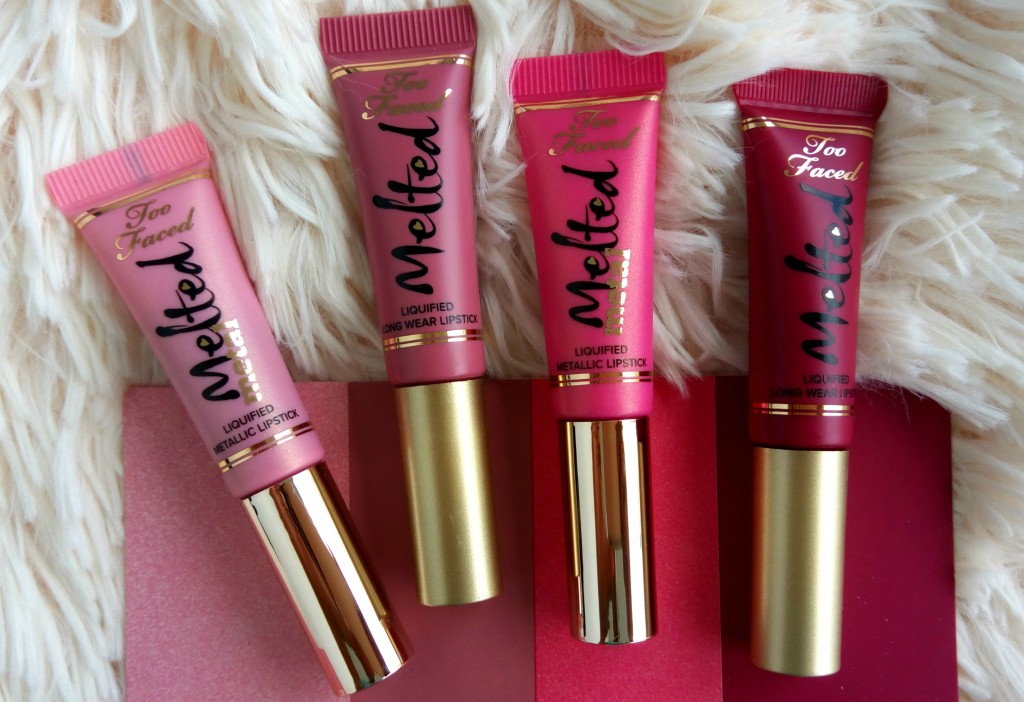 Product Description
Too Faced Melted French Kisses Liquified Lipstick Set – Get your pout in party mode with this set of 4 gorgeous liquified lipstick shades.  Indulge your lips with four clutch-size tubes of Melted Liquified Long Wear Lipstick. Melted Liquified Long Wear Lipstick gives the lasting power of a stain and the intense color of a liquid lipstick in one long-wear formula.
Price – $25.00 from Beautylish; Currently sold out 
What You Get
0.16 fl. oz. Melted Liquified Lipstick – Metallic Peony (metallic warm bright pink)
0.16 fl. oz. Melted Liquified Lipstick – Chihuahua (spiced nude)
0.16 fl. oz. Melted Liquified Lipstick – Metallic Macaron (metallic warm bright pink)
0.16 fl. oz. Melted Liquified Lipstick – Berry (black cherry shade)
Inside the cutest box ever there are 4 deluxe samples (5ml(0.16 fl. oz) each) of Melted Lipsticks in Chihuahua, Berry and Melted Metallic Lipsticks in Peony and Macaron which are the newest addition to the range. Except the shade Chihuahua, all other shades are the same as its outer packaging.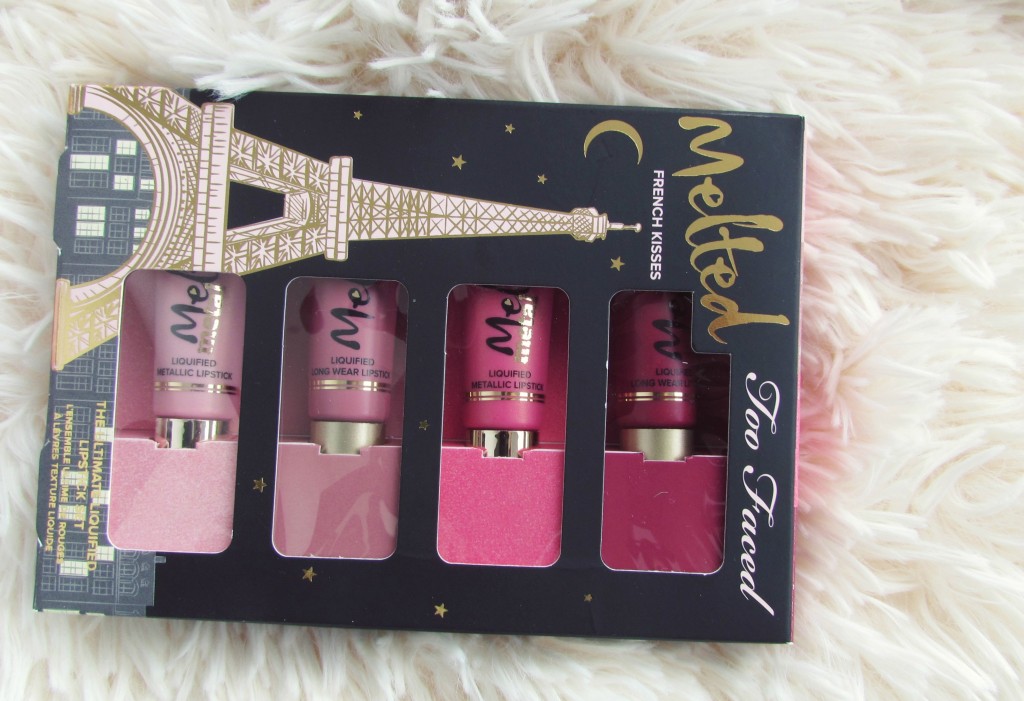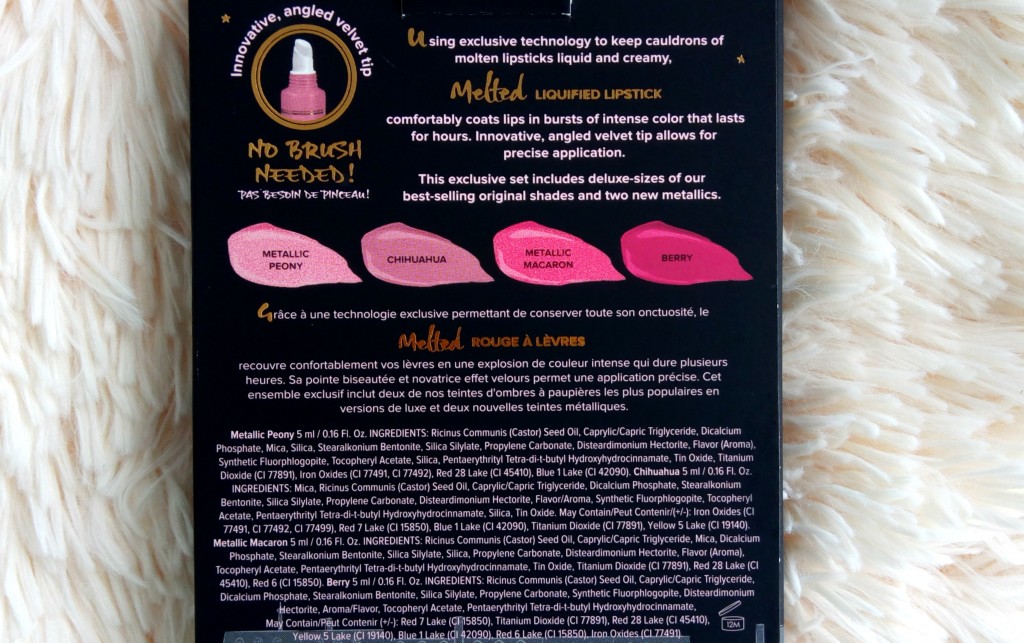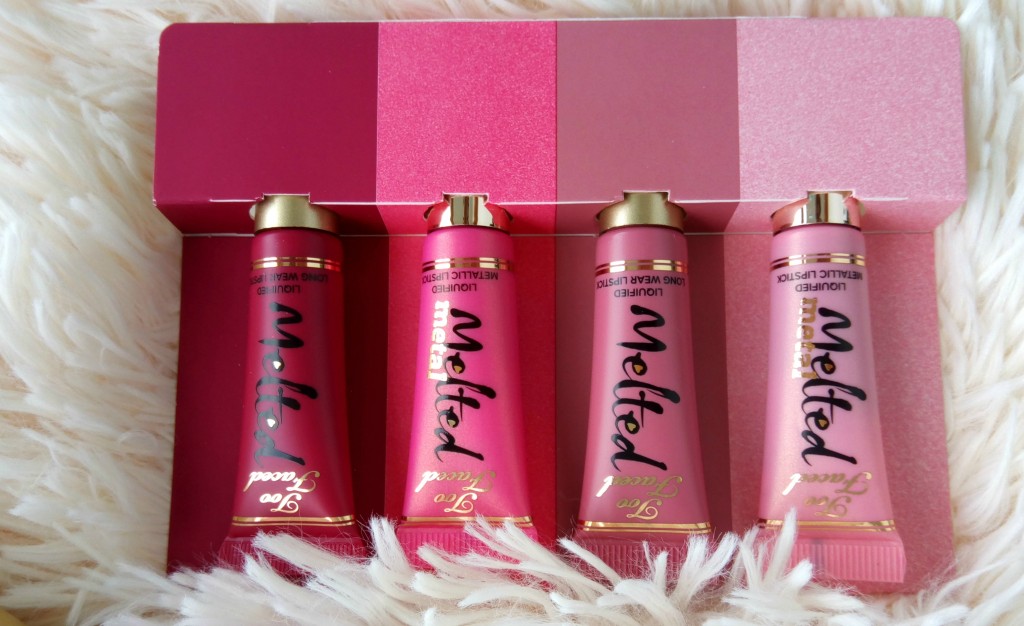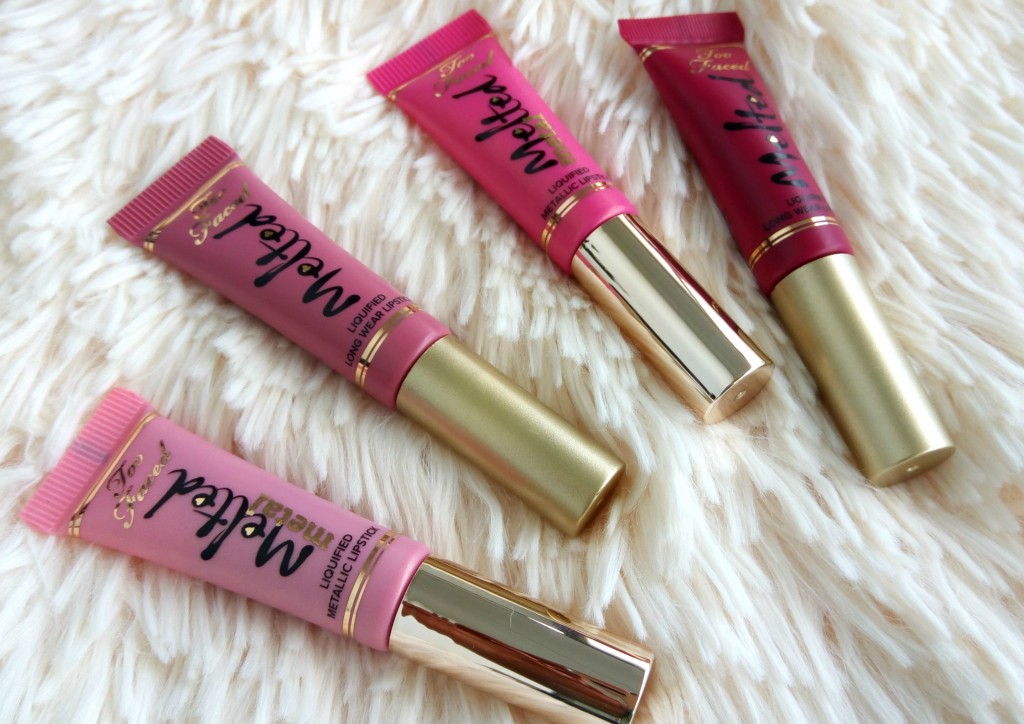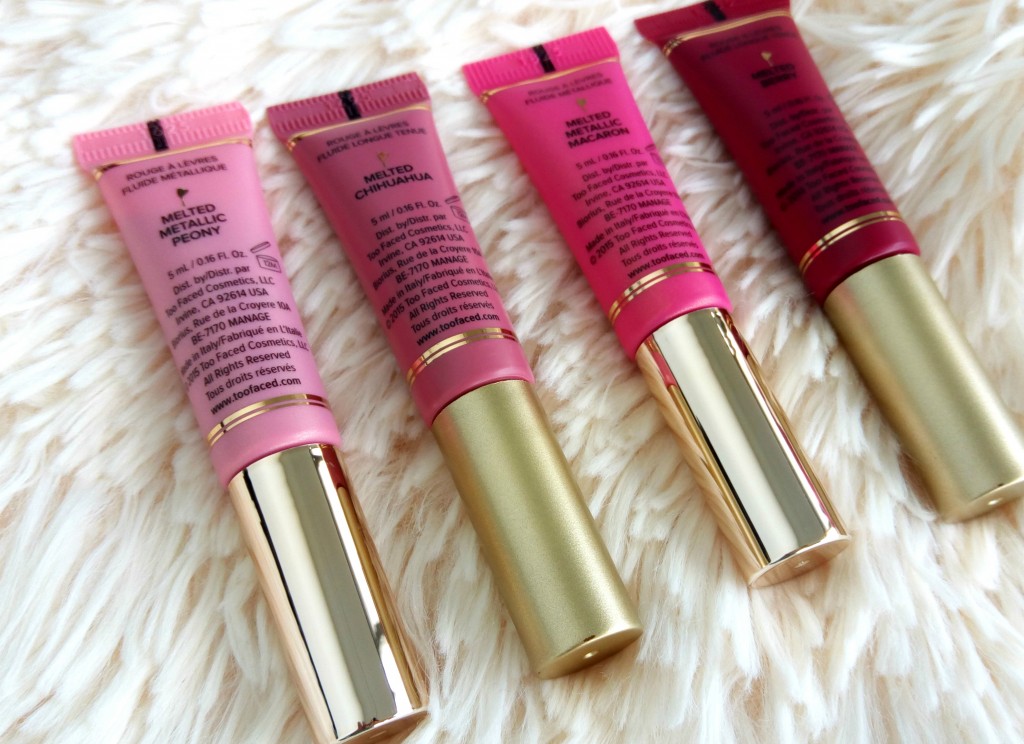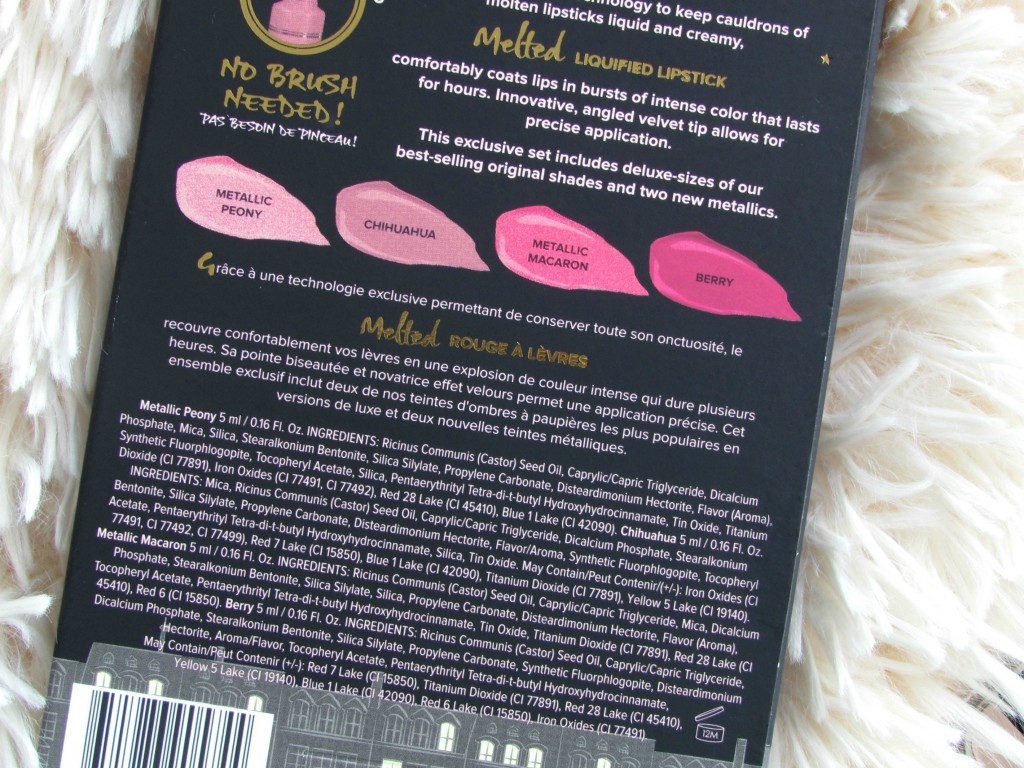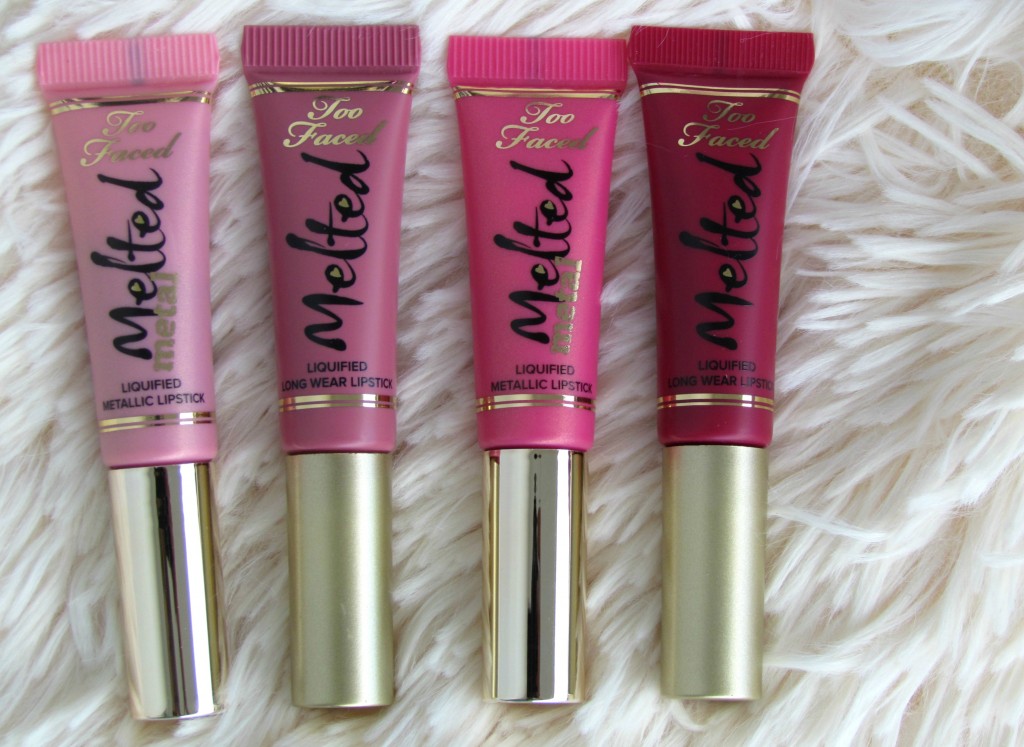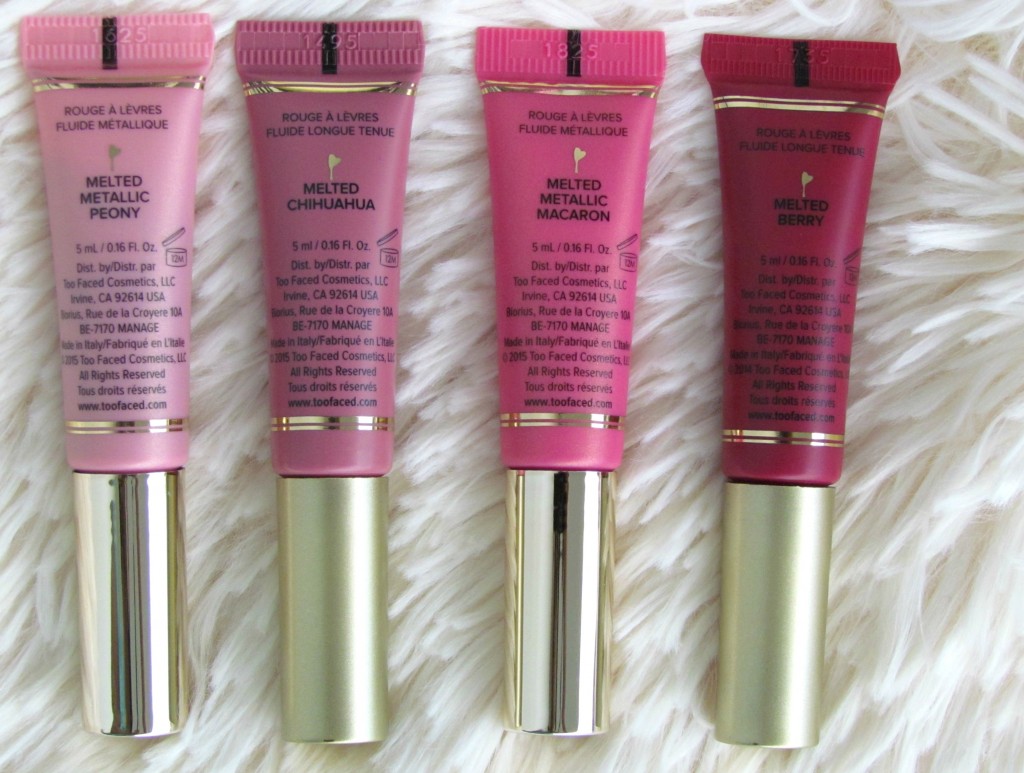 Packaging, Application – All of these lipsticks have a foot doe -like applicator which is perfect to use it directly on your lips. The formula of Melted Lipsticks is between liquid and creamy lipstick, it applies like a liquid one but feels as comfortable as your creamy lipstick in a bullet form. Also, be careful in applying the darker shades directly especially, the shade Berry ; any mistake is much more noticeable.
Pigmentation, Formula – The pigmentation of all these 4 shades is intense and they apply easily on the lips leaving opaque finish in a matter of few swipes. They don't settle in lines or accentuate dry skin and wear off very evenly except for the shade Metallic Peony. Metallic Peony shade settled on the fine lines of my lips.
Longevity – The Melted Metals are a bit sheerer and last a shorter time on the lips then the original Melted Lipsticks which are crazy pigmented and last up to 6 hours. Only drawback I found is- don't expect metallic shades to have the same opaque formula as originals
Pros
Drenches lips with gorgeous pigment
Provides comfortable, flexible and cushiony wear
Provides the lasting power of a stain and the intense color of a liquid lipstick
Allows for a clean, effortless application each time
No brush or liner needed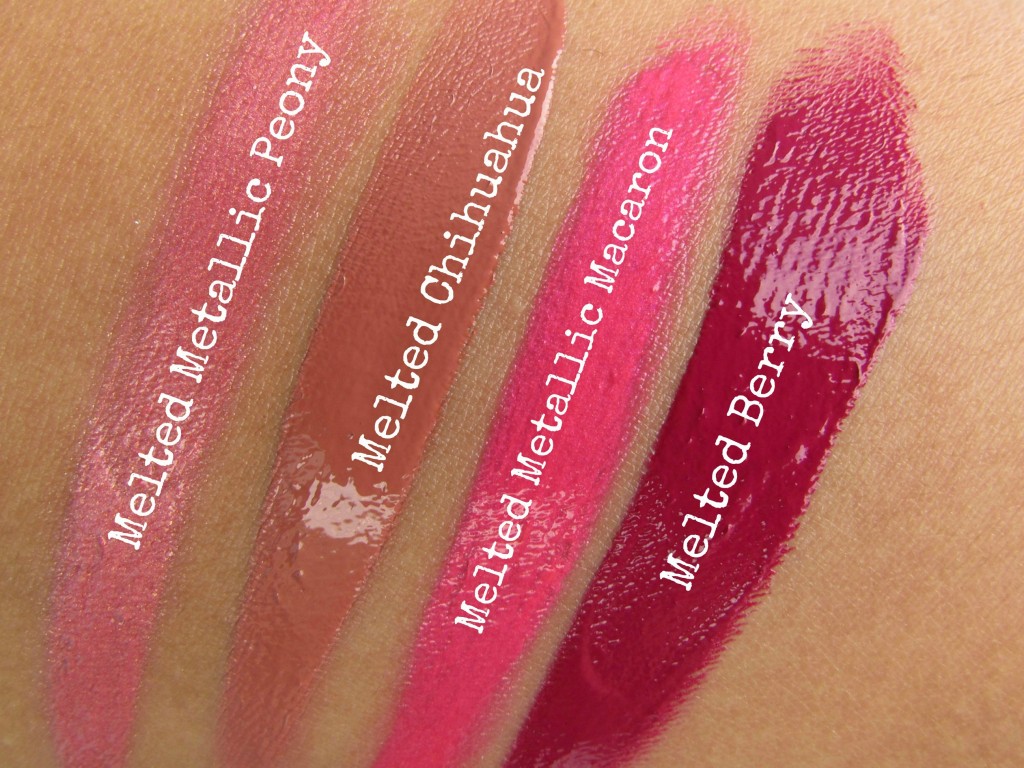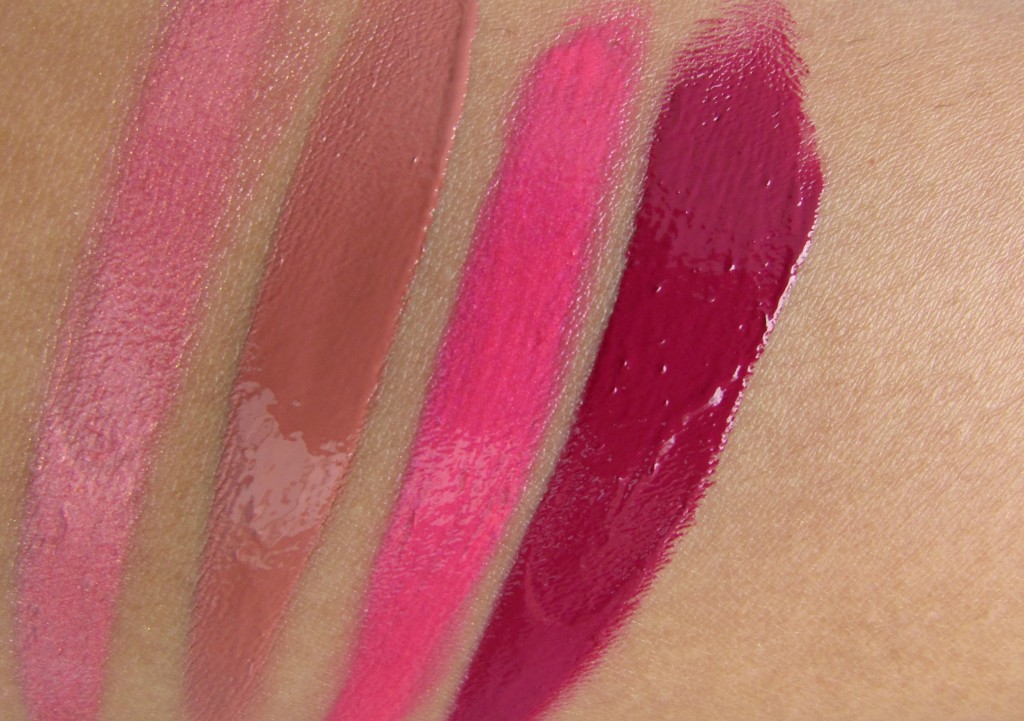 Metallic Peony – nude pink shade with metallic golden sheen, my least favorite from the set. It accentuates the fine lines on my lips
Chihuahua – A very pretty dusty rose nude with brown undertones, excellent pigmentation and coverage
Metallic Macaron – A blue based pink with metallic sheen, A bit sheerer in formula compared to original melted lipsticks.
Berry – My favorite shade- Dark raspberry with purple undertones, intensely pigmented and leaves a stain behind. With this shade I like to use lip liner as it tends to bleed slightly.
Have a look at the LOTDs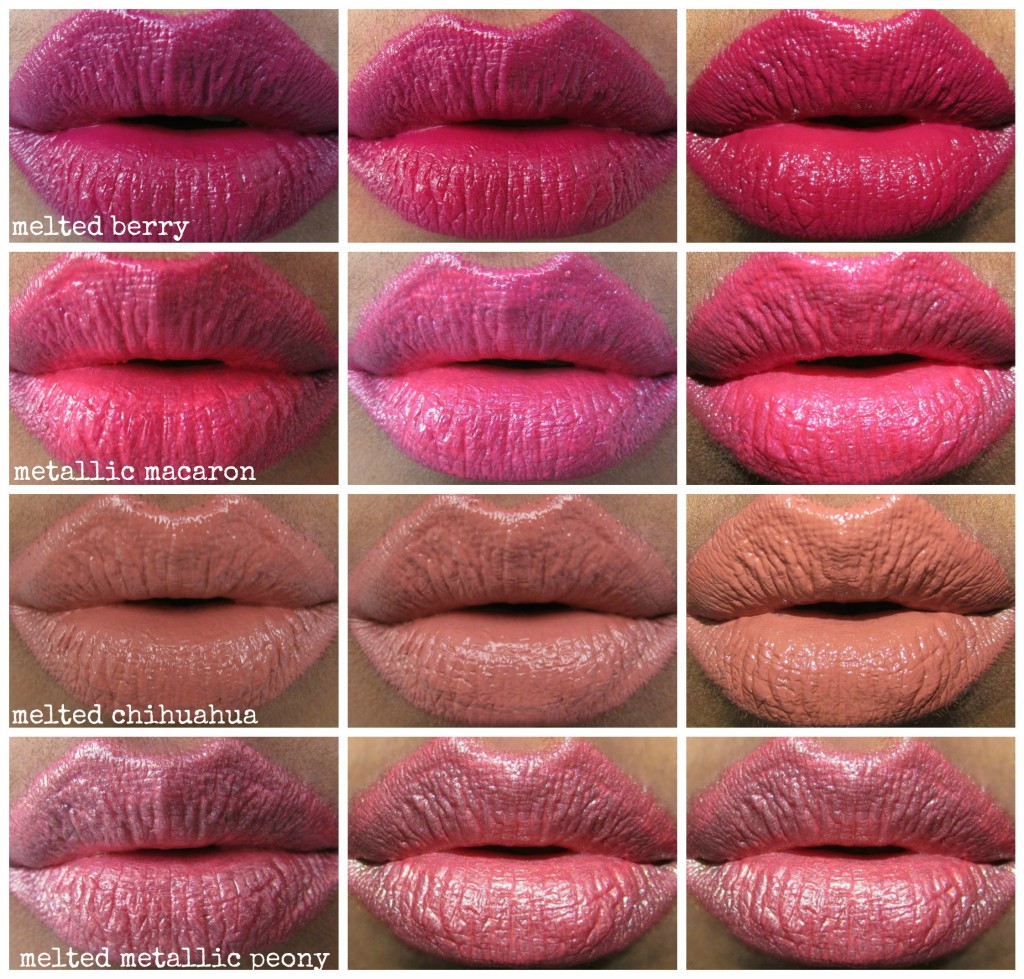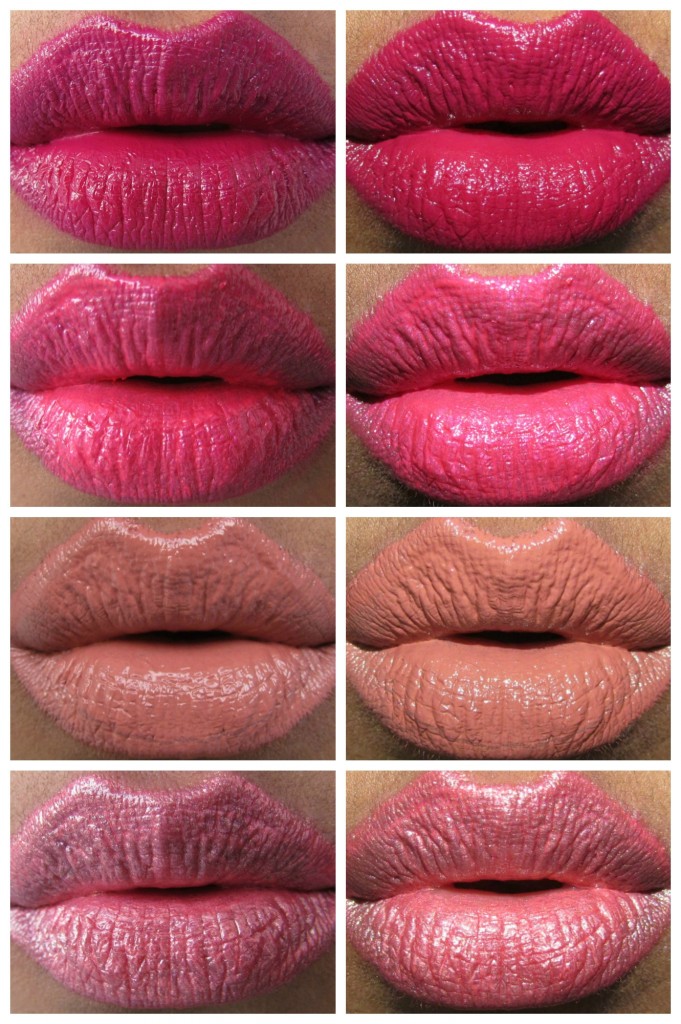 I am really happy about the shades except Metallic Peony. Though I love the metallic sheen on Metallic Macaron, I am not happy about the formula of metallic peony. Also,I wish the shade,Chihuahua matched its outer packaging My favorite shade is berry which is a dark raspberry shade that compliments every skintone. For $25.00, this set is a great value for money.
Have you tried these? Which is your favorite?