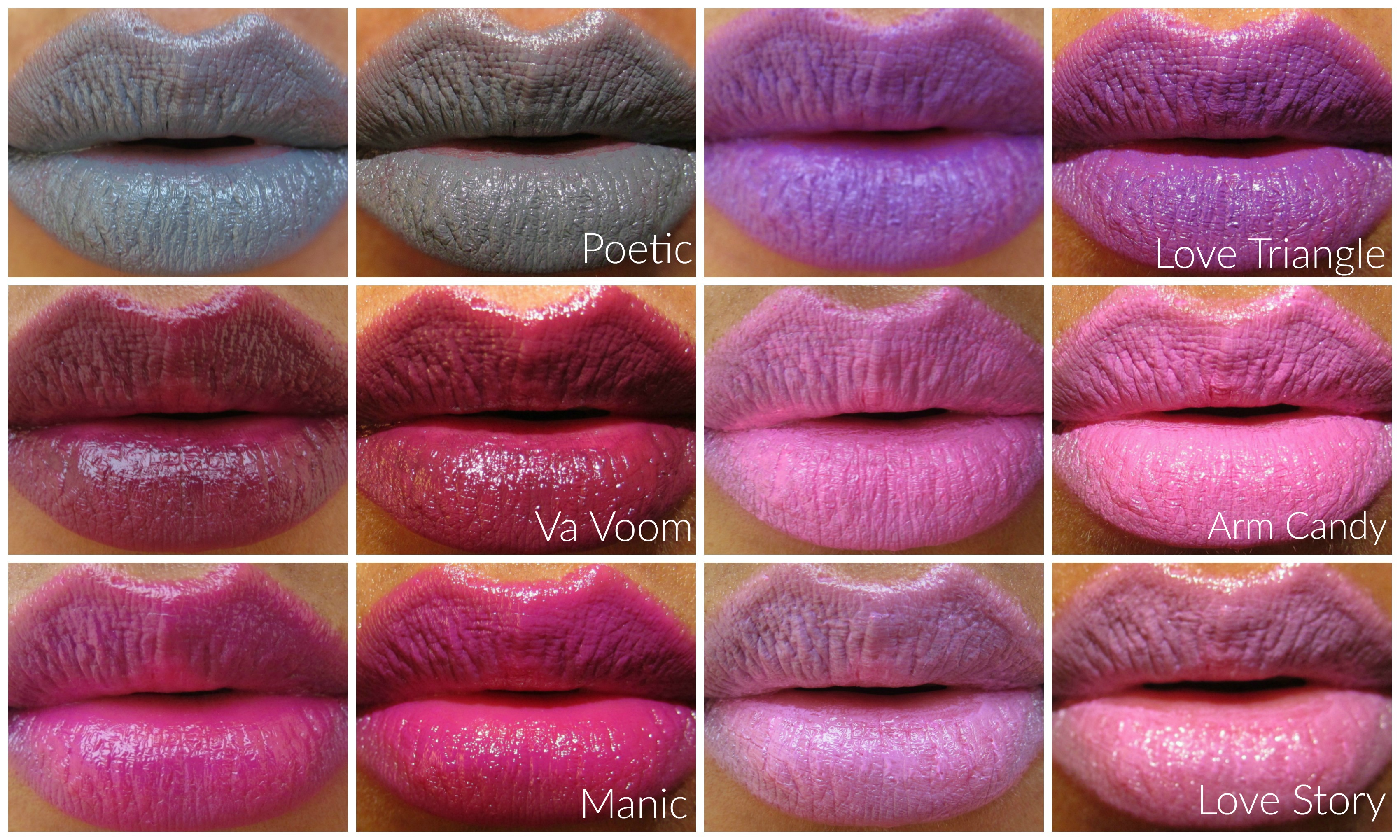 In today's review I am reviewing 12 lip colors – Matte Flat Velvet Lipstick from L.A. Girl Cosmetics. There are a total of 26 shades are rich in pigment and filled with moisture in a flat velvet finish.
L.A. Girl Cosmetics Matte Flat Velvet Lipsticks are enriched with shea butter to hydrate lips and a soft, smooth application, your lips will feel as gorgeous as they look!
Packaging & Price : The lipstick is packaged in a black plastic cylindrical bullet with the shade color on the top of the cap. The color on the lid is exactly the color of the lipsticks. It's so easy to find the shade you want with this kind of packaging. Love it! The retail price in US is USD $4.00 & NZD $12.99 in NZ (for 0.10 oz of product). It is vanilla scented (not strong at all).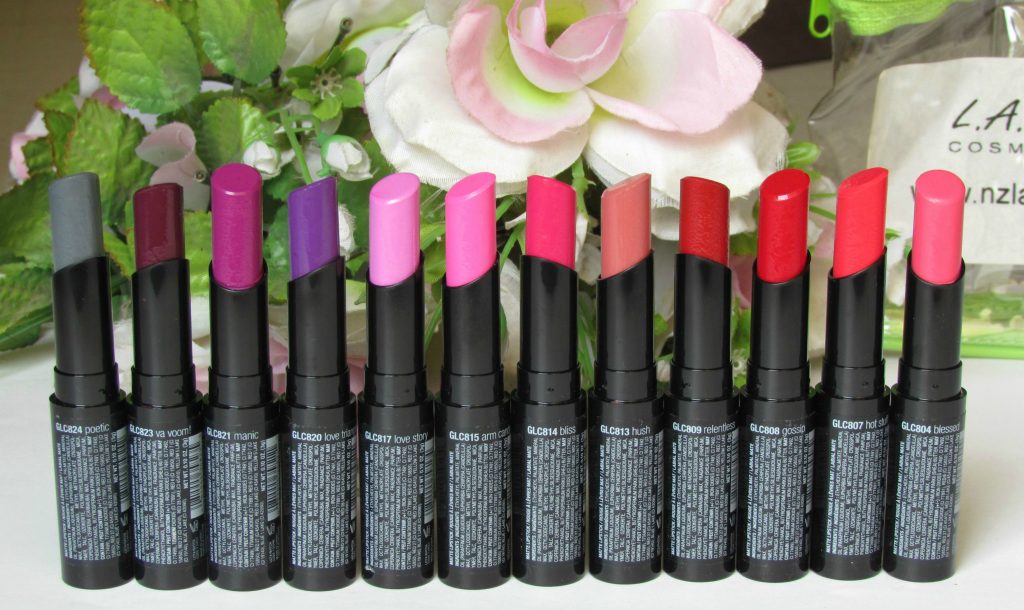 Shade Selection, Pigmentation & Formula:  The shade range is awesome They come in a variety of shades. Everyone can find their matching shade. The formula is velvety smooth and easy to apply (apart from few lighter shades that were difficult to apply on my pigmented lips).  I use a lip brush to apply the shade on the outer corners of the lips and then fill the color directly from the bullet. Within 2-3 swipes I get the desired color payoff. They are comfortable on lips and they are not drying on lips.
The lighter shades required more layers, I am assuming – depending on how pigmented your natural lips are, you might have to layer it multiple times.. lighter shades sat on the lip lines and was a little bit drying too, and I had to use a separate lip balm. The formula felt creamy for the darker shades and it didn't tug on the lips.  Since matte lipsticks accentuate dry areas on the lips it's important to exfoliate your lips before application.
Staying Power –  The staying power is average. But excellent for the price tag. I got about 5 hours of wear if I don't eat or drink anything. They don't survive heavy meals. Ligher shades tend to transfer easily . These definitely don't last as long as a liquid lipstick but they do last longer then most matte lipsticks.
Swatch time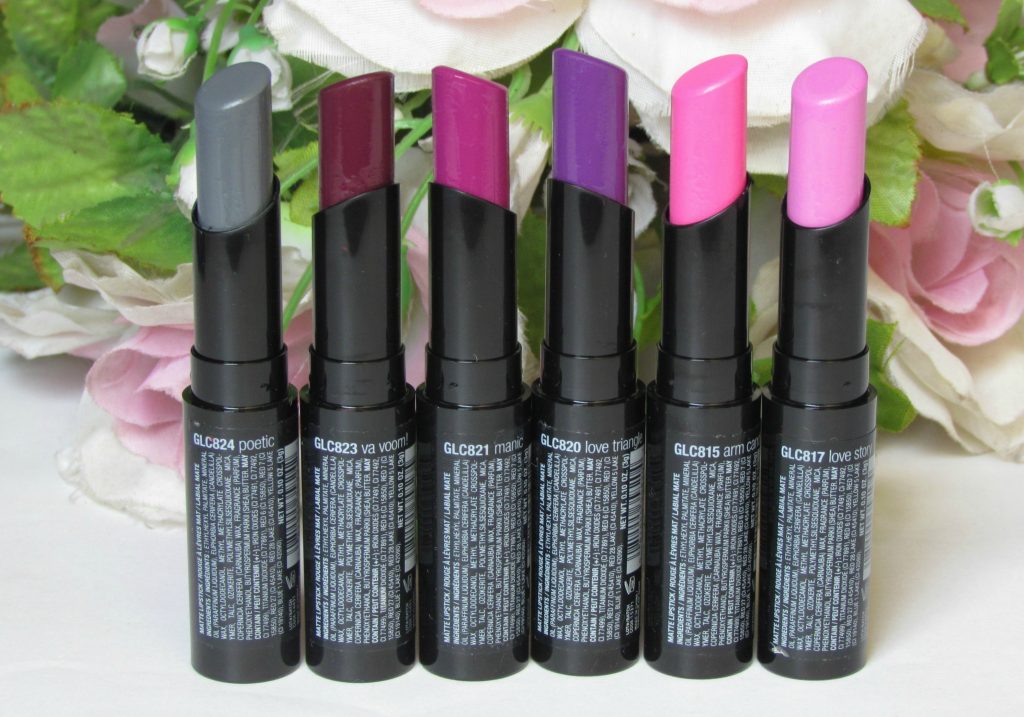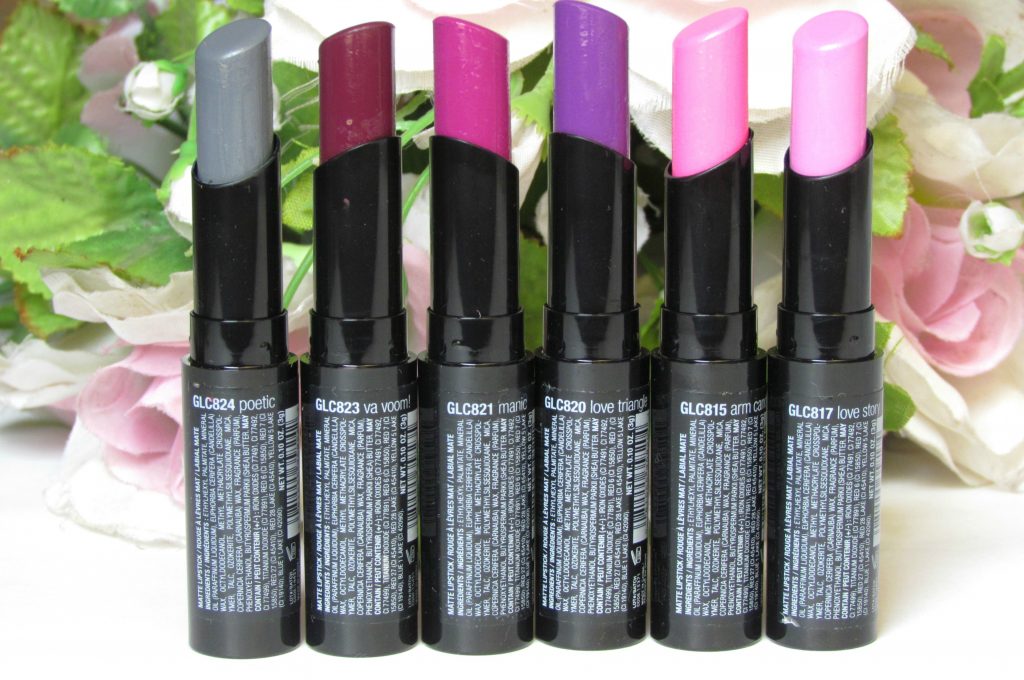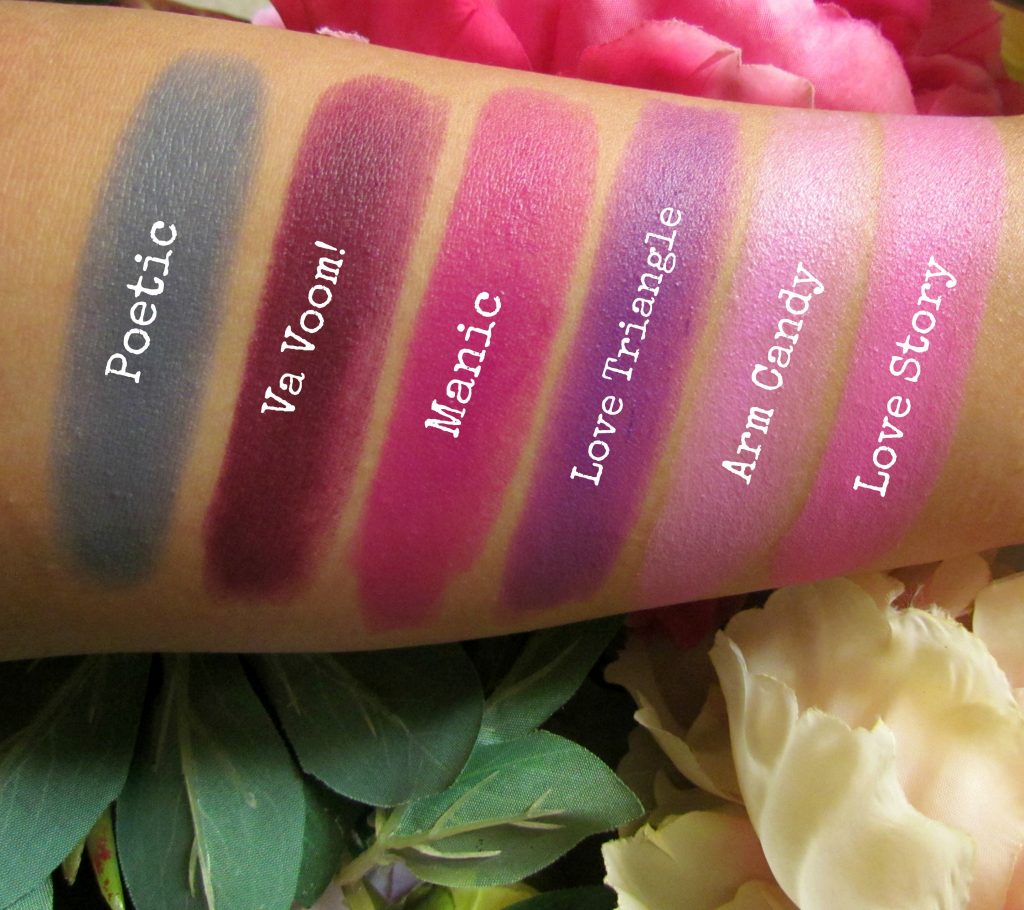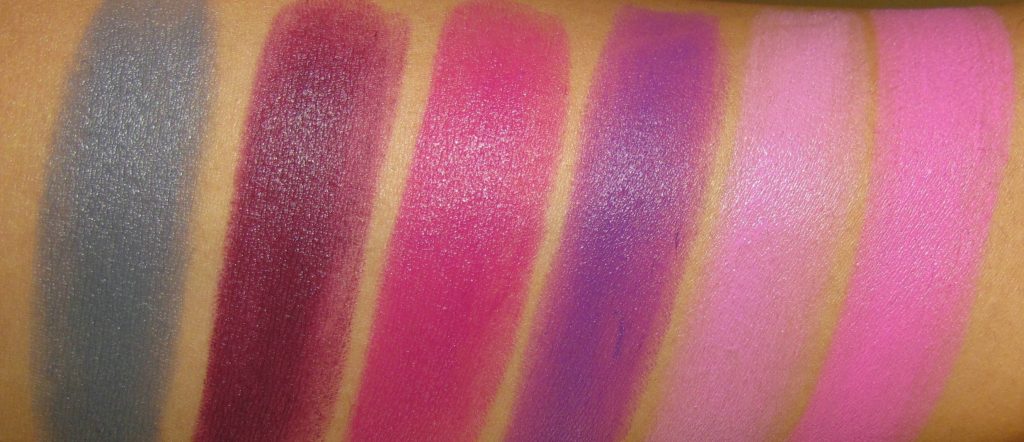 Poetic is a true charcoal shade .It was easy to work with and is highly pigmented. One swipe covered my lip pigmentation and was easy to wear and apply. However, I am not a fan of this shade. I think I cannot carry this shade well. 

Va Voom is one of my favorite shade from the range. It's a dark muted rose pink shade. It's highly pigmented and is so easy to apply. I just had to apply 2 swipes for the picture below and it lasted for a long time, for about 6-7 hours which I loved. it left a beautiful stain too.

Manic is again another deep fuchsia shade that suits every skintone. It is highly pigmented and it don't settle into fine lines of lips. The formula glided easily on lips and was moisturising too.

Love Triangle is a gorgeous regal purple shade that looks awesome on my lips. I love the formula. Again, super velvety and easy to apply. Lasting power is very impressive for this one too.

Arm Candy is not a type of shade that I would wear. It's a pale pink shade. I had to swipe multiple times to get the pigmentation and this one kind of settled onto my fine lines of lips and I found the formula of this one to be really drying.

Love Story is one of my favorite shade from this collection. It's a petal pink shade. I feel the color to be like a wearbale pink shade for most skintones. Highly pigmented, moisturising  too. The formula was super easy to apply and it lasted for about 6 hours on my lips. 

All of the shades above together.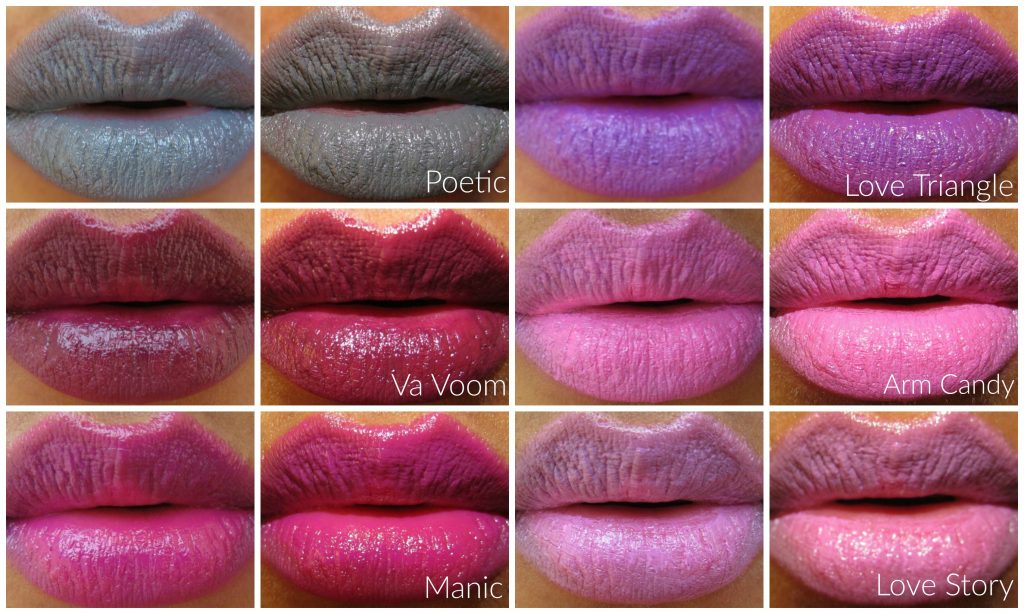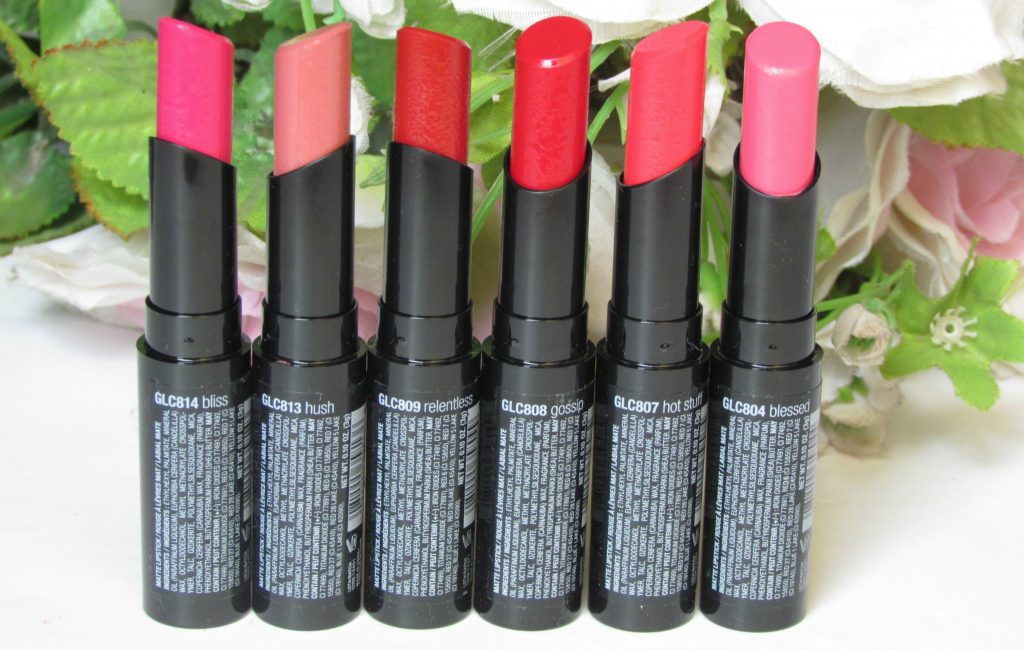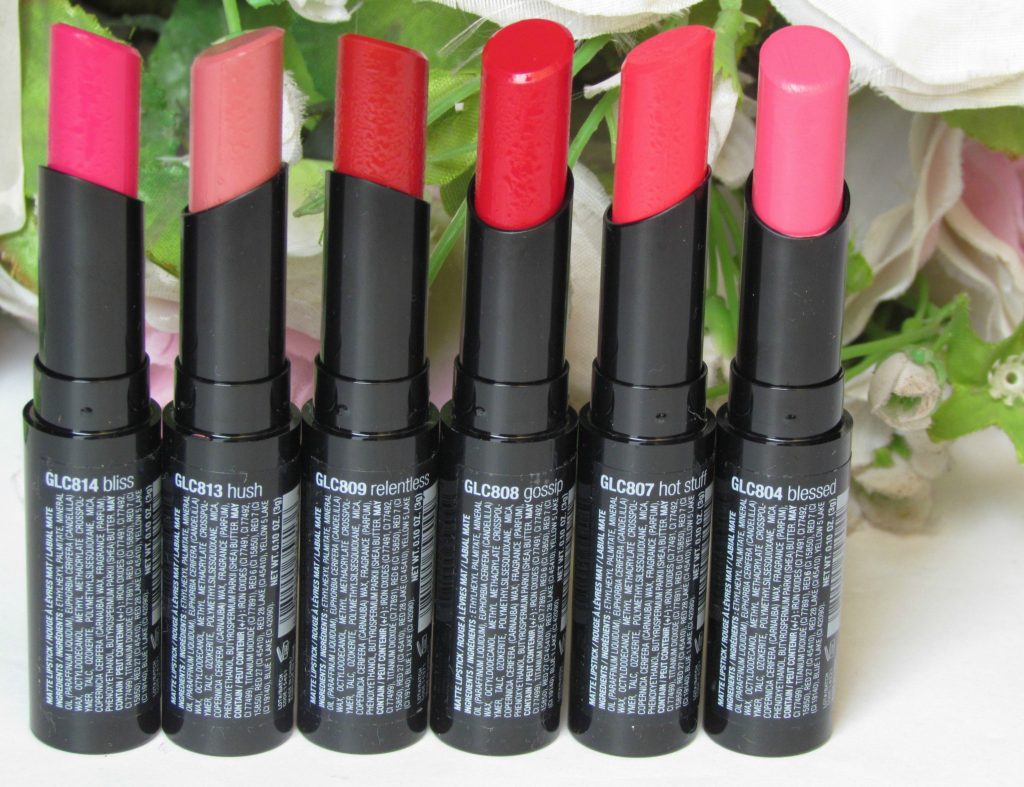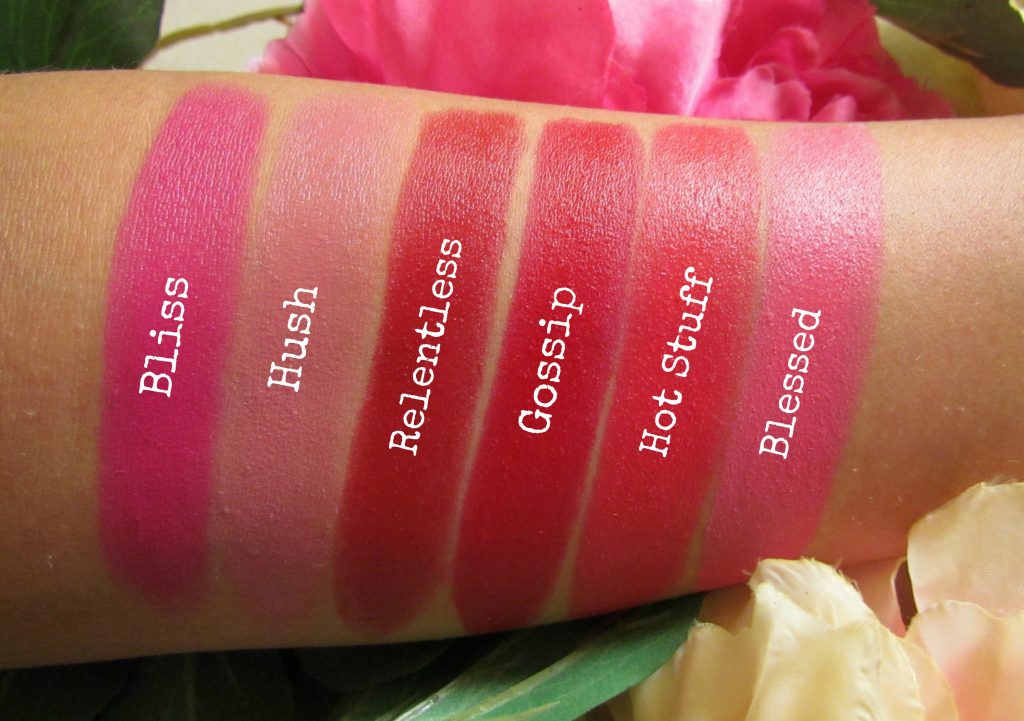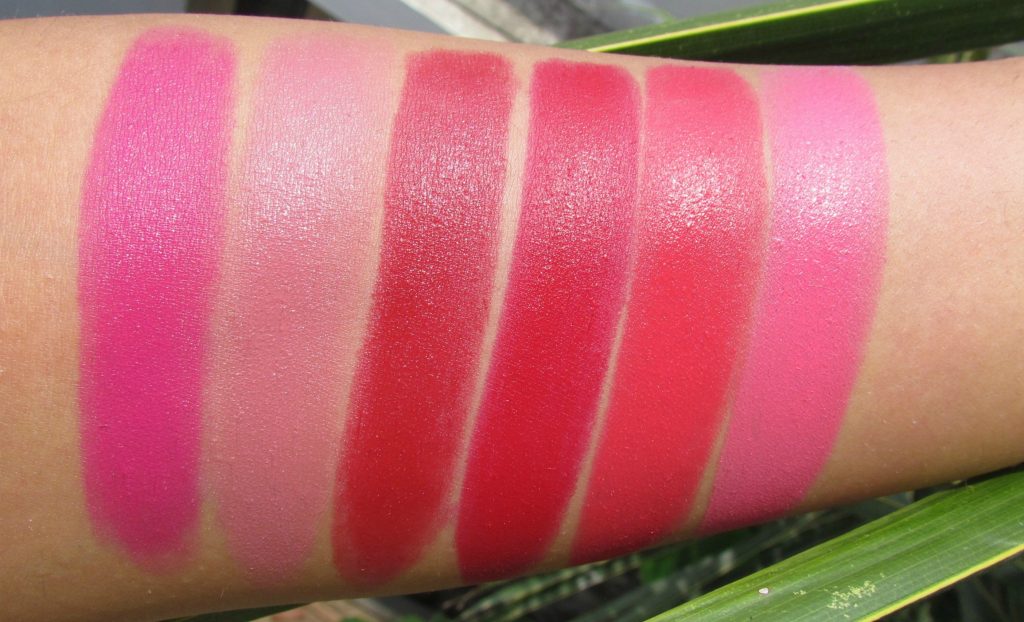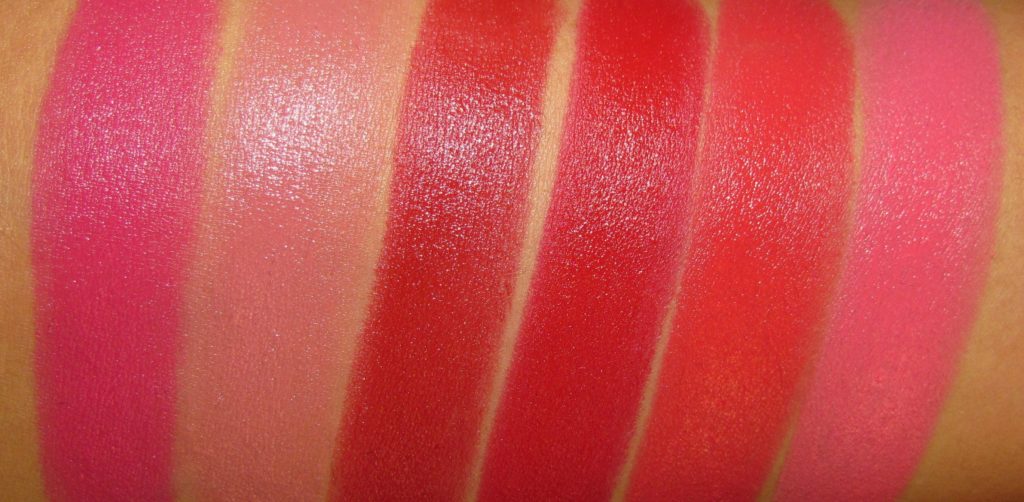 Bliss is a very bold fuchsia shade. But I am not liking the formula of this one. As you can see from the picture. It wasn't even on my lips and it kind of settled on to the dry areas of my lips and it's not hydrating too. 

Hush is a peachy nude shade. A peach toned nude shade. I am not a fan of the formula. It settled on to the dry areas of my lips and the formula, is not hydrating too.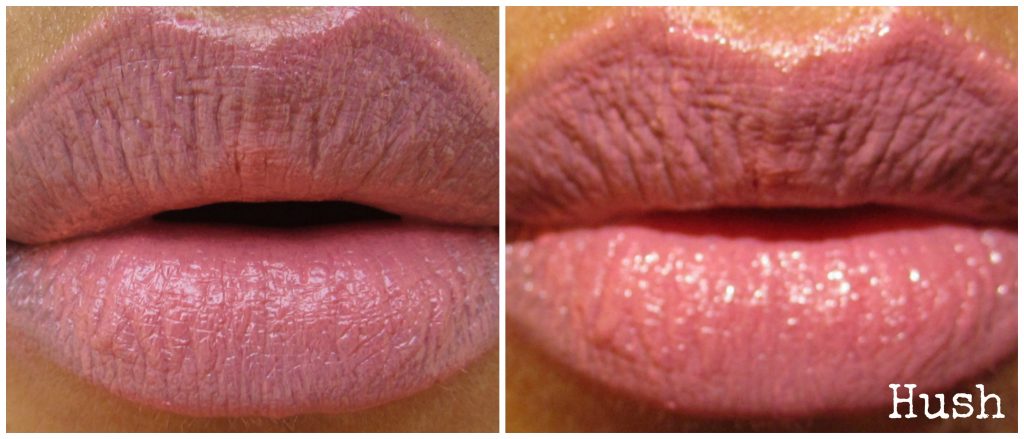 Relentless is a very pretty deep rouge shade that looks super pretty on every skin tone. The formula was easy to apply and it's very moisturising too. It lasted for about 5-6 hours on my lips after which it started to fade. I had to reapply it. It leaves a red tint on lips.

Gossip is one of those cherry red shades that is flattering on every skin tone. I love the formula and the staying power too.

Hof Stuff is a really pretty red+ vibrant coral shade. This has to be my most favorite of all the shades and I love how it brightens the overall complexion. A must have shade!
Blessed is very creamy peachy pink shade. But, it's not very hydrating on my lips. Formula is very creamy.  If you have naturally rosy lips, this shade would be your favorite.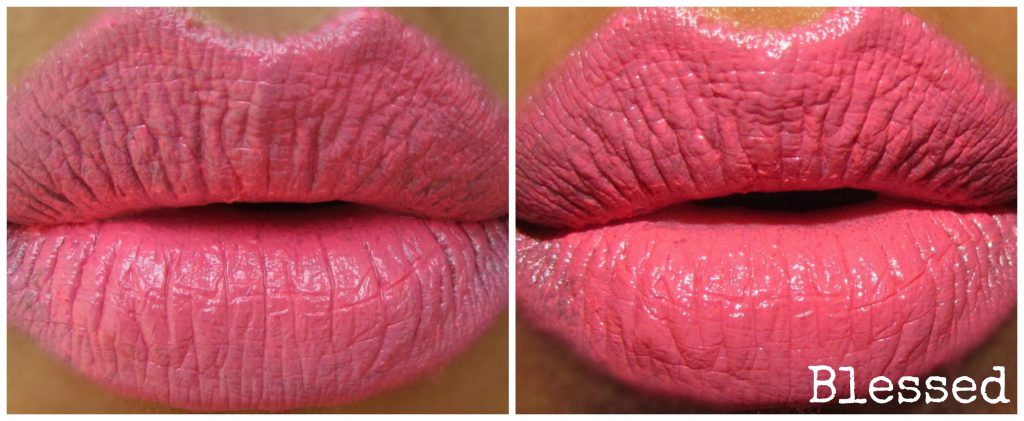 All shades above together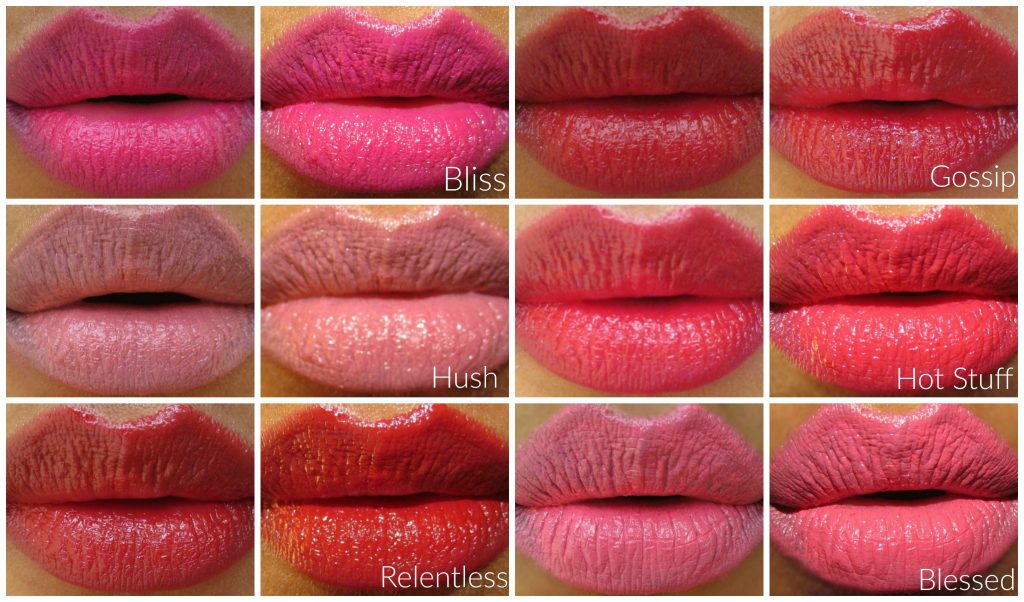 Overall, I would say – The L.A Girl Matte Flat Lipsticks are great for people that want a matte- finish lip color without having to use a liquid lipstick.  With 26 colours in the range you have a greater selection of colours including blue, grey, pinks, reds, corals & black. They are really affordable. They do have some drawbacks like the staying power for the lighter colors. I love the vanilla smell of this.  I look forward to buy more darker shades. They are cruelty free.
Availability
NZ L.A Girl website , L.A Girls US Website, Beauty Bay
 Have you tried any of the L.A Girl Matte Flat Lipsticks ? What's your favorite ?
** Products sent by brand PR. However, my review is honest & unbiased as always.