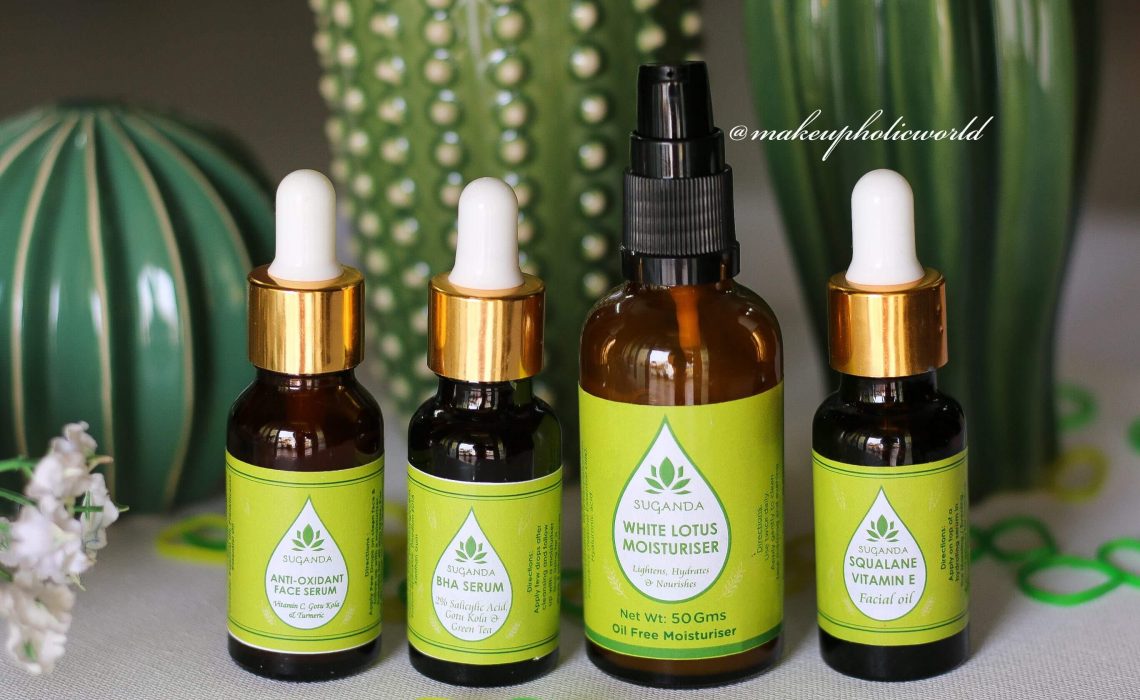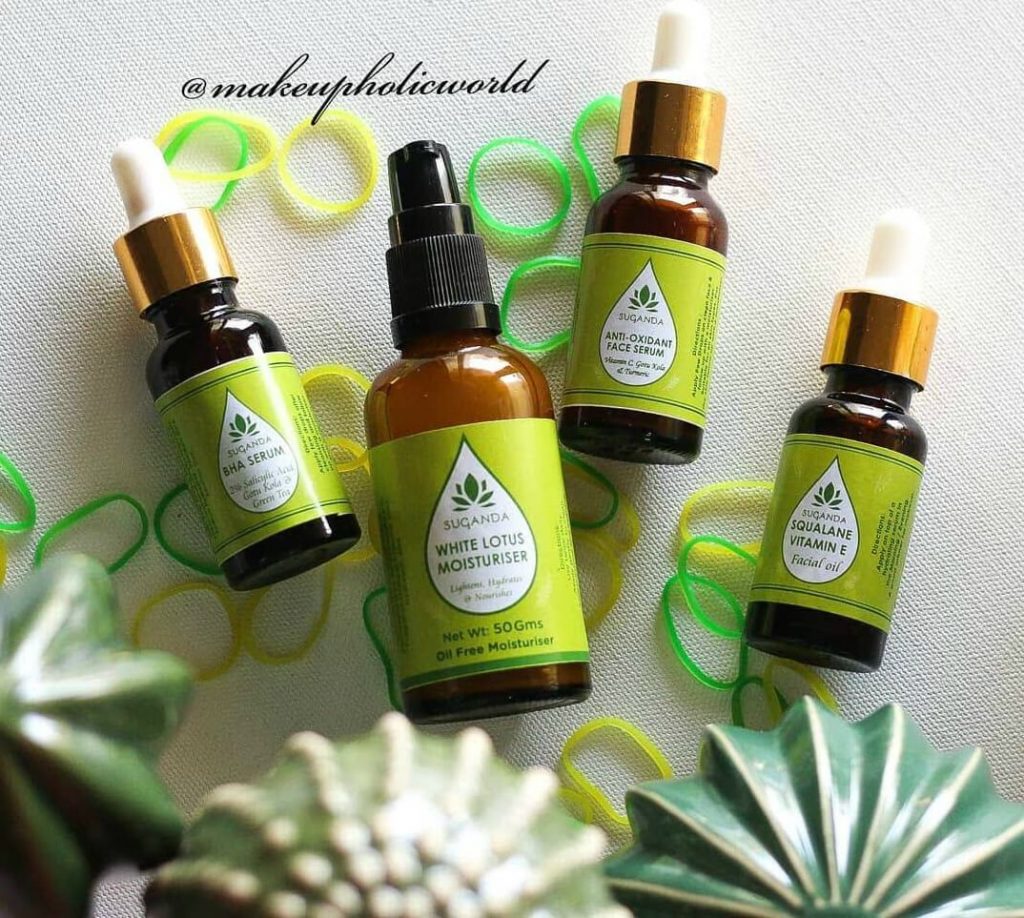 Do you follow a proper skincare routine? Or, Are you someone who prefer to fall asleep every night and not worry too much about what is on your skin? With every other brand claiming their products to be natural, It's quite a leaden task to pick one among the lot. Not long ago Since I heard the story of a mother from India, who began creating soaps and skin care products when her newborn required special products to combat his dry, sensitive skin. Steering clear of harsh chemicals and synthetic perfumes, Suganda products are all natural – free from parebens, petrolatum and SLS. I first heard about Suganda after my friend Krupa featured few products from them. Through her insta story I got introduced to this Indian household brand.
I tried four different products from them and put to test for over a month and in this post I am going to feature each of these product in detail and also how to use them alone or in combination for a problem free skin.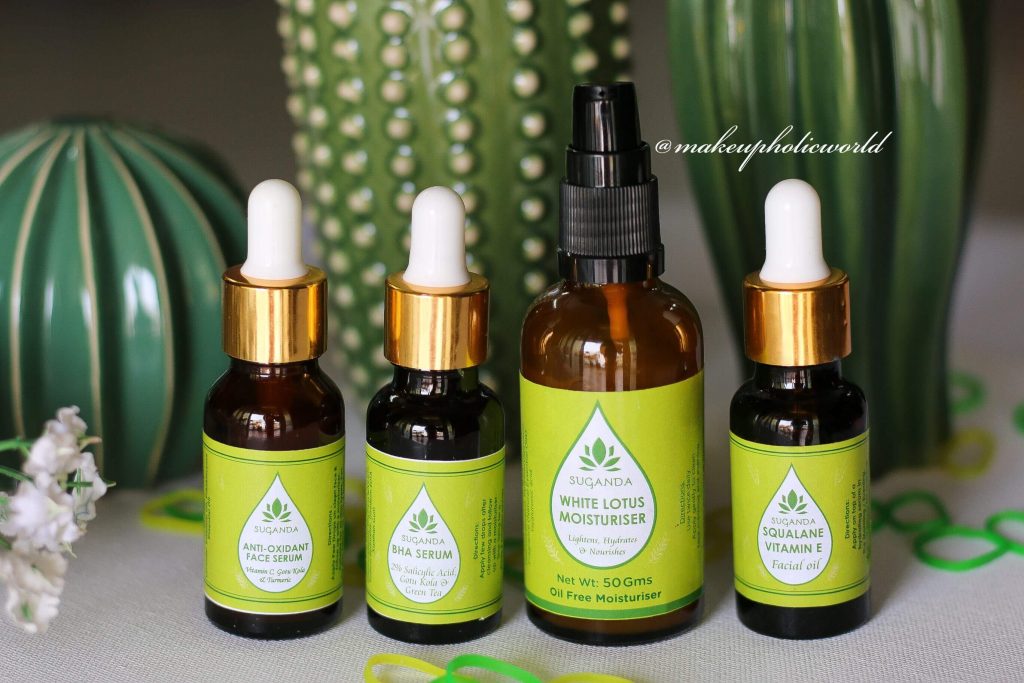 White Lotus Moisturiser – INR 799/$12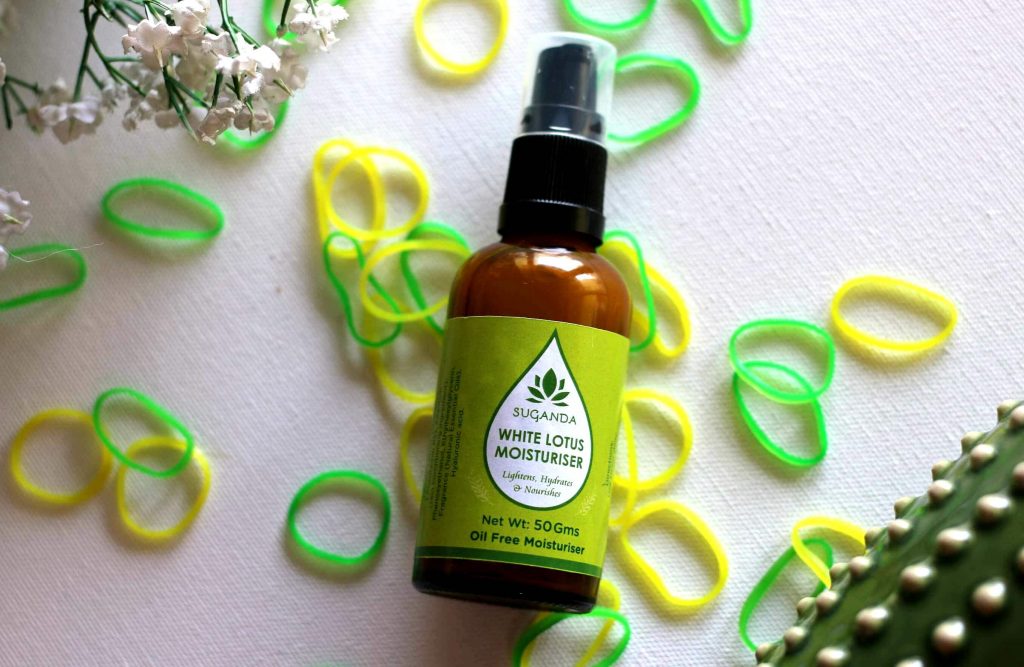 This product is completely light-weight and its a oil free moisturiser. It's very hydrating on skin. If you have oily skin, this is perfect for you. Other skin types will love it too. I can't tell you guys how much I love this wonderful moisturizer that works like a magic !! You need 3-4 pumps of it for face and neck. This is oil free, Silicon free and deeply hydrating.as well Plus it also calms the skin and works well in clearing the dark spots. It has 4% Niacinamide and that itself is great!! It's 29th day I since I have started using this moisturizer and I think forever it's a repurchase for me. highly recommend this.
If you have a Oily, combination skin, You may use it as a Moisturiser and if you have a Dry Skin – use it as a Hydrating Serum.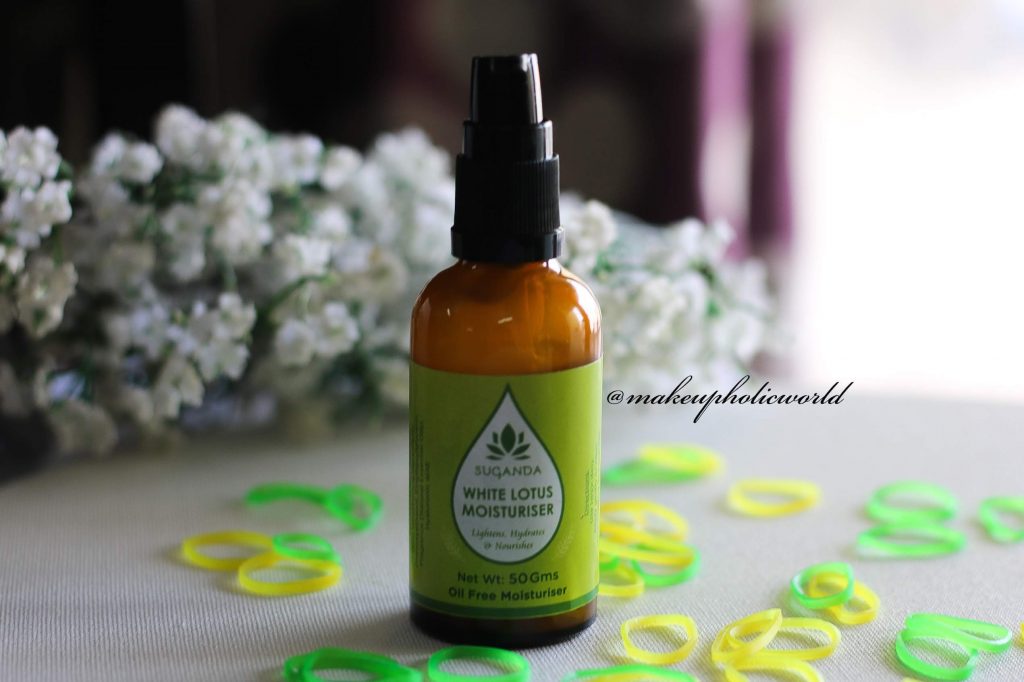 Ingredient Details
Sepicalm VG (White Lotus Extracts)
Sepicalm VG – Inflammation causes darkening of the skin. Sun exposure and pimples cause inflammation that will lead to darkening of the skin. Since Sepicalm VG reduces inflammation it can prevent darkening of the skin due to sun and also pimples.
Vitamin B3 (Niacinamide )
Vitamin B3 is an antioxidant that is highly beneficial to the skin. Anti-oxidants reduce the formation of acne and also helps with degradation of collagen which means delayed wrinkles.
Also studies show that it reduces the occurrence of acne and is as effective as Clindamycin, an antibiotic prescribed for acne
It also increases skin hydration levels
It reduces sun damage, both applied on top and when taken orally.
It also reduces dark spots and lightens the skin
Full Ingredients

Aqua, Vitamin B3, Glycerin, Sodium Palmitoyl Proline, Nymphaea alba flower extract (White Lotus), Panthenol( Provitamin B5), Allantoin (skin conditioning ingredient), Phenoxyethanol, Ethylhexylglycerin, Natural Essential Oils (Rose Geranium, Patchouli, Sweet Orange), Hyaluronic acid.
I love the texture of this moisturizer. It blends super quick onto the skin and it helps nourish the skin. It didn't irritate my sensitive skin. When you apply the moisturizer, You feel a tad sticky feel. But, it fades off in a couple of minutes. I have ordered two more bottles of this moisturizer. For sure, this is a re-purchase for me. You may use this day as well as night for good results. I highly recommend this if you are looking for a light weight moisturizer that gives a natural glow to skin if used regularly. I also helps in clearing out the spots or acne scars that you might have.

Antioxidant Serum – INR 1000 / $15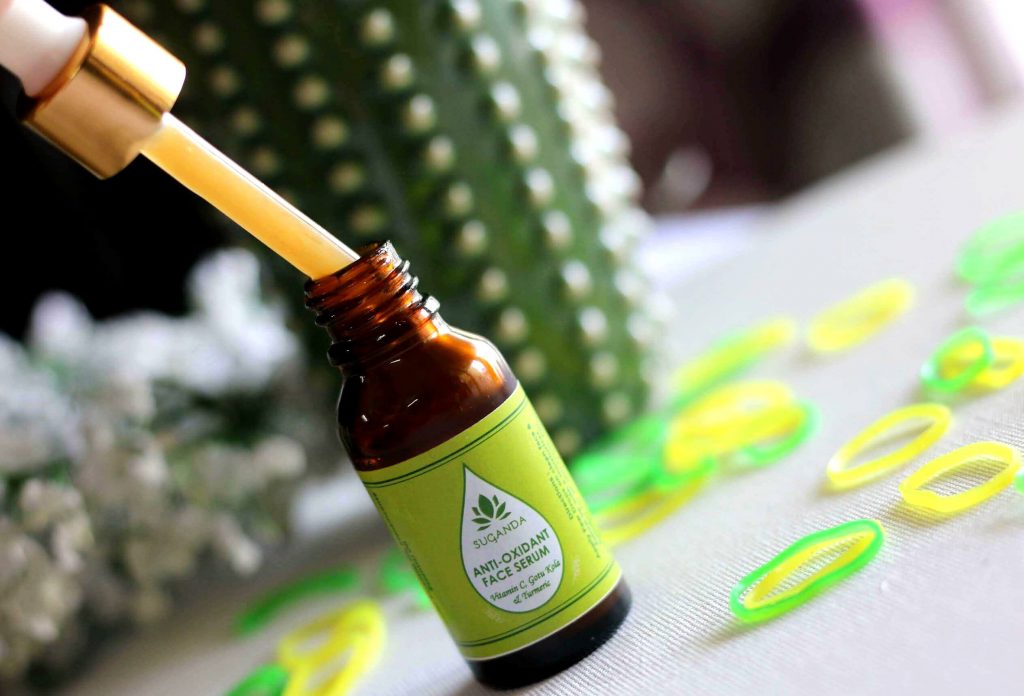 Vitamin C is one of the most effective & proven ingredients in skincare. Suganda Anti-Oxidant Face Serum is a oil-free gel that helps clearing out the skin from scars and blemishes.  Sodium Ascorbyl Phosphate pH 6 is used to make it and that's less irritating and more stable. While traditional vitamin C serums use (L-Ascorbic Acid pH of 4) which can irritate skin and is less stable.
Vitamin C along with other super natural anti oxidants like Curcumin and Gotu Kola is used to make this.
Curcumin is a strong antioxidant and has shown UV-B Protective properties. It helps with tanning due to sun exposure.
Gotu Kola is skin rejuvenator. It helps with refining skin texture. It also helps with Sun Damage.
Frankincense – it is is a powerful astringent, meaning it helps protect skin cells. It can be used to help reduce acne blemishes, the appearance of large pores, prevent wrinkles, and it even helps lift and tighten skin to naturally slow signs of ageing.
Kashmiri Lavender – It tones and revitalises the skin and helps to remove light scarring. It brings about a sense of well being.
Complete Ingredients
Aqua, Sodium Ascorbyl Phosphate( stable vitamin C), Propanediol, Glycerin, Gotu Kola Extracts, Curcumin Extracts, Green Tea Extract, Xanthan Gum, Hyaluronic Acid, Phenoxyethanol, Ethylhexylglycerin, Fragrance (Natural Essential Oils of Lavender, Geranium and Frankincense)
Directions to use
Use it in the mornings to ensure maximum efficiency as it reduces and reverses sun damage. Follow up with a moisturiser.
In the evening use an Exfoliating serum + Moisturiser for glowing skin. 
If you are using both Exfoliating Serum and want to also use Anti Oxidant serum, first apply Exfoliating Serum, wait for 30 min and apply Anti Oxidant Serum
Texture of this serum is non sticky. I have a combination/sentivie skin. I've included this serum in my morning skincare routine and I see a huge difference in the way my face look. Reduced dark spots to a certain extent n brightened the skin. It gets absorbed fast without leaving any oily residue. During pregnancy time, I had burn mark kind of spots here and there on my neck. This product helped me get rid if it after using it for about a month. If you have a oily skin – All you need is few drops of this along with the white lotus moisturizer. You will thank me later. Also, if you have a combination skin and if you are looking for a Vit C serum that is easily available in India; Something that helps reduce scars and spots and give a healthy, clearer skin. Go grab this girls! It's absolutely awesome
BHA Exfoliating Serum – INR 699/$10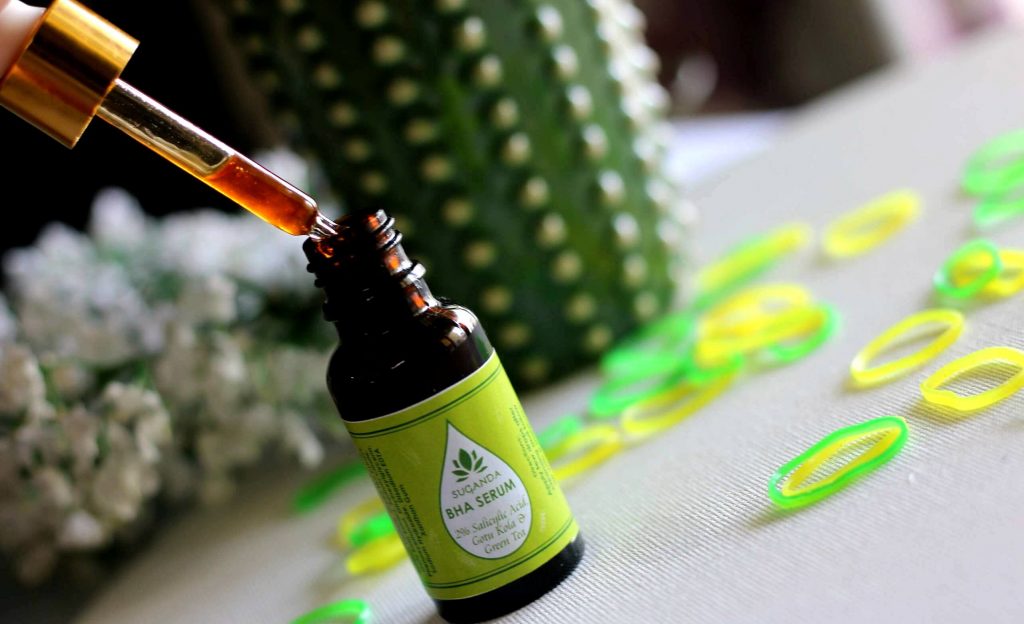 Well, I get a lot of DMs asking me to recommend products that reduce appearance of pores, something that helps textured skin etc. I always recommend people to look out for exfoliants that has salicylic or glycolic acid. Suganda BHA serum is a wonderful combination of 2% Salicylic Acid serum with Gotu Kola And Green Tea.
If you have a sensitive skin and if the exfoliants available in market won't suit your skin much – You might want to give this one a try. pH of the product is around 5. Most acids are only active when their pH is less than 4. And this stings for few people who have sensitive skin or damaged skin barrier. Since Salicylic acid is also proven to exfoliate skin at a skin friendly pH, it is a good exfoliant for sensitive skin who cannot tolerate very low ph products.

Complete Ingredients
Aqua, Propylene Glycol, Glycerin, Green Tea Extract, Gotu Kola Extract, Trimethylglycine, Salicylic Acid,  Sodium Lactate  Xanthan Gum, Phenoxylethanol, Ethylhexylglycerin, Sodium Hydroxide
Directions to use
Apply few drops on your fingertips and tap the product gently all over face on a cleansed face. Follow up with regular Moisturiser. 
Start using every alternate day. Can be used in the morning or evening. 
Note – If you are using both Exfoliating Serum and want to also use Anti Oxidant serum, first apply Exfoliating Serum, wait for 30 min and apply Anti Oxidant Serum
Squalane Vitamin E – INR 750/ $11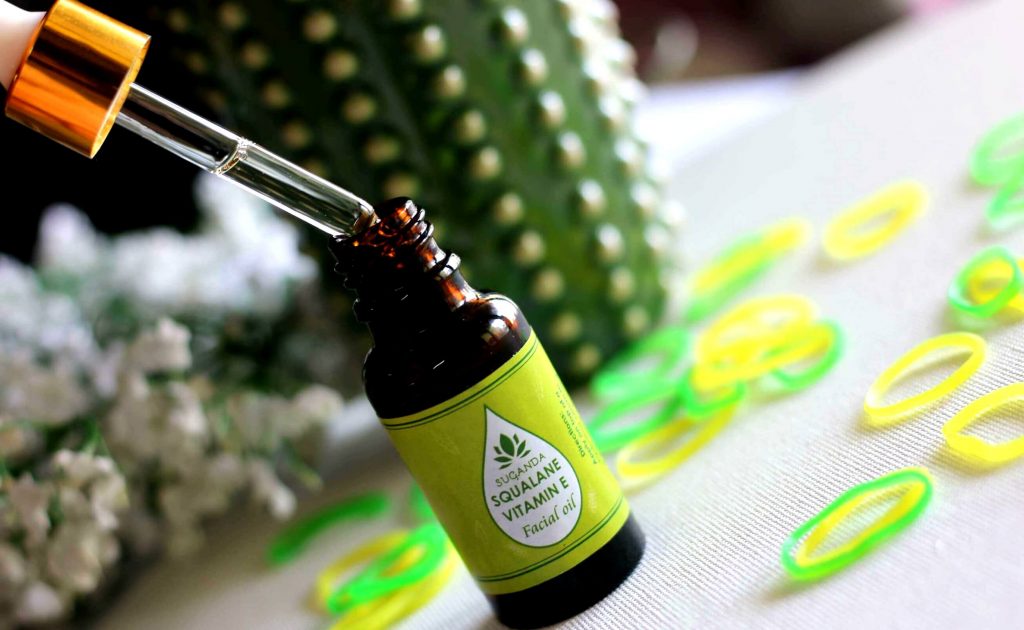 If you are looking for a magic ingredient that moisturizes skin, retains moisture, & balances oil production, Your prayers have been answered. Suitable for all skin types, Squalane softens and smooths dry skin and can even be applied to hair to provide natural heat protection and add shine.

Squalane oil is weightless, hydrating and it replenishes lost-moisture, calms down irritated skin, helps to maintain hydration and leave the skin exceptionally soft. I have been using the Olve squalane from Dr Sheths and I absolutely love it.
Squalane is a non-comedogenic oil and is highly stable oil. What makes Suganda Squalane oil different from others is that – 5% Vitamin E to it to enhance its benefits and to provide more protection when used in daytime. This can be used during daytime. Most Facial Oils are really not suitable for daytime in hot countries like India. Delicate oils undergo oxidation, when exposed to heat, And you don't want that to happen. Vitamin E is an excellent antioxidant to reduce the free radical damage due to sun. Also benefits are more than doubled when used with Anti-Oxidnat serum. As Vitamin C and and Vitamin E have highly synergistic effects.
Directions to use
Take Few drops and apply after using hydrating serum or moisturisers. Also great for blending makeup. Can be used day as well as night.
Note : It can also be applied to hair to increase heat protection, add shine and reduce breakage potential. 
I am always concerned about the various ingredients in moisturizers being comedogenic. During extreme harsh weather conditions, my skin tend to turn dry on certain areas. I just use squalane for the moisture factor. It doesn't oxidise like other oils, While it takes a while to sink into the skin. It does hydrate face really well. This can be used as a lest step of your routine.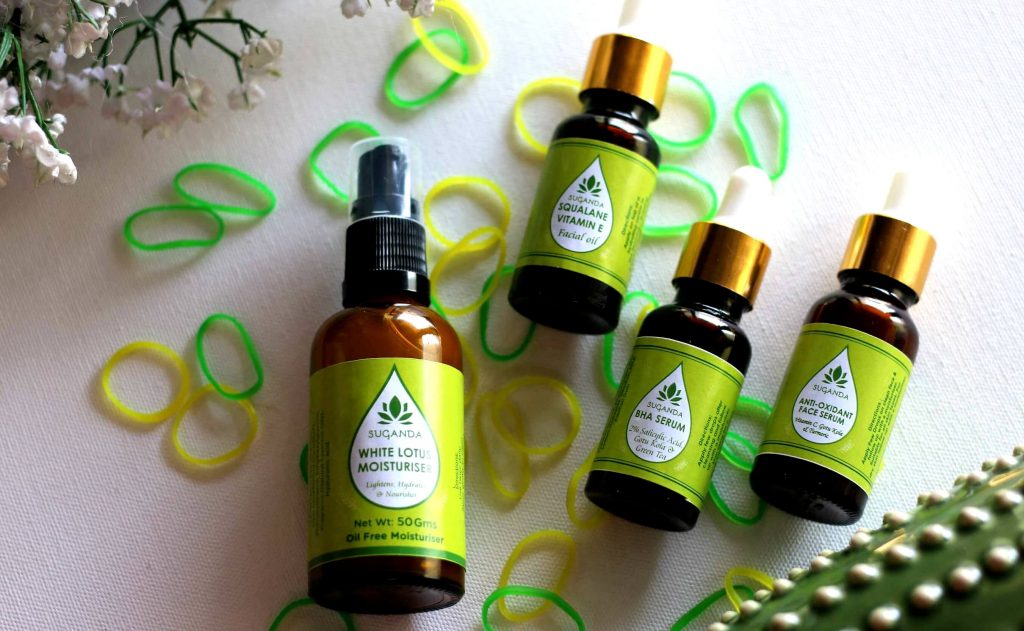 Overall, I am really impressed with all the products I tried from Suganda. My personal favorite is White Lotus Moisturizer. Suganda Skincare products are made of organic proprietary formulations which will help maintain skin in good health and rejuvenate it naturally. Added advantage is they are FREE FROM all harsh chemicals. Suganda products celebrate raw and organic ingredients sourced from all over the world, mixed with essential oils for a refreshingly natural fragrance. Steering clear of harsh chemicals and synthetic perfumes, Suganda products are all natural – free from parabens, petrolatum and SLS.
Availability
You can order their products from their website here Keep an eye on their Instagram page to know when they have a promo going on. They have sales happening from time to time and so you get exclusive coupon codes via their Instagram. Also, for a personal skin consultation, You may get in touch with them via their Instagram