Pat McGrath Labs' 'LuxeTrance' lipstick collection topped my list after I tried out their MatteTrace which is one of the best formula I ever tried. You can checkout my review of MatteTrance here
LuxeTrance collection from PatMcGrath features a luxury cream formulation that laminates lips in a second skin of sensuously saturated colour while offering rich hydration and protection from free radicals.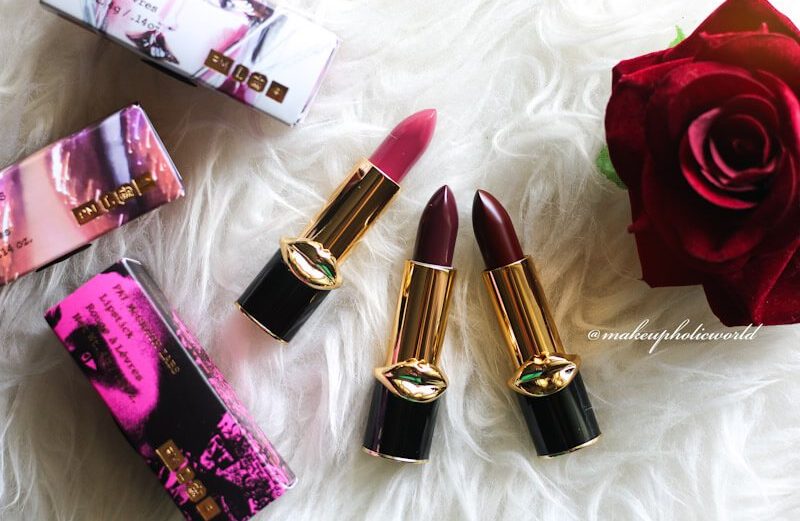 This deluxe formulation glides on and hugs every curve, embracing lips in a silky smooth veil of alluring color while imparting an irresistible satiny sheen. Water Lily extract offers hydrating and protecting properties, while patent-pending biomimetic pigment coatings shield lips against harmful agents, ensuring comfort and intense color payoff. The Formula is designed for lasting wear with excellent adherence and zero bleeding. Submit to your carnal desires and seduce with LuxeTrance™ Lipstick—couture color confidence in a single swipe.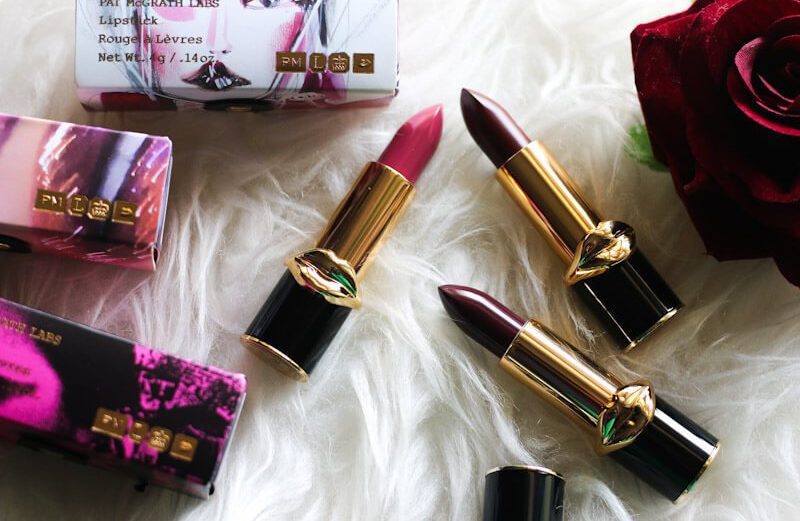 These lipsticks retails for $38.00 each; I got them for 755 INR/$10.00 each during their sale time. However, international Shipping + Customs made it as same MRP though.
The stunning black bullet with a gold lip packaging – It is a luxury in itself! Love them a lot. I have never seen so much detailing for a lipstick packaging. MatteTrance's bullet point remains aligned at the central point of the three-dimensional lips—regardless of which way you twist—a detail McGrath was insistent upon and that took two years to engineer.
Wonderful, isn't it? Imagine, you are putting lipstick straight by looking on to the camera or a mirror or may be in front of someone. All they see is – Either way you twist or the style in which you put on the lipstick – They can see the three dimensional gold adorned lip from front side! Amazing in my opinion. Shade name is printed on the base as well.
I really love the formula of LuxeTrance. I like that it doesn't accentuate fine lines. It applies creamy, glides on easily. If you have dry lips, I suggest you to exfoliate your lips to remove any dead cells, then neutralize lip color with a touch of concealer. Choose a coordinating lipliner and define the lip area. This adds a definition to the lips. You can build the opacity in layers.
For longer-lasting wear, after applying lipstick, gently pull a tissue apart so you end up with two thin sheets. Press one of the sheets against the lips and lightly dust with translucent setting powder.
Now, another important thing to take into account while buying these are website swatches displayed are not accurate to the color you get so I strongly suggest you check blog post swatches etc to make sure the color you order is exactly the one you like.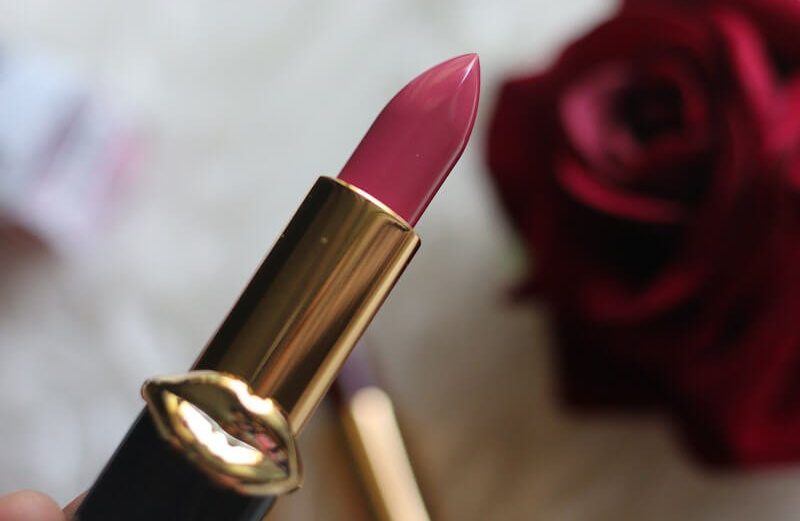 shade ' sorry not sorry' is a beautiful berry pink color. Very moisturizing on lips.
shade 'exxotica' is a dark purple color. I love it too. If you like dark lipsticks. You wouldn't want to miss shades 35mm as well as exxotica.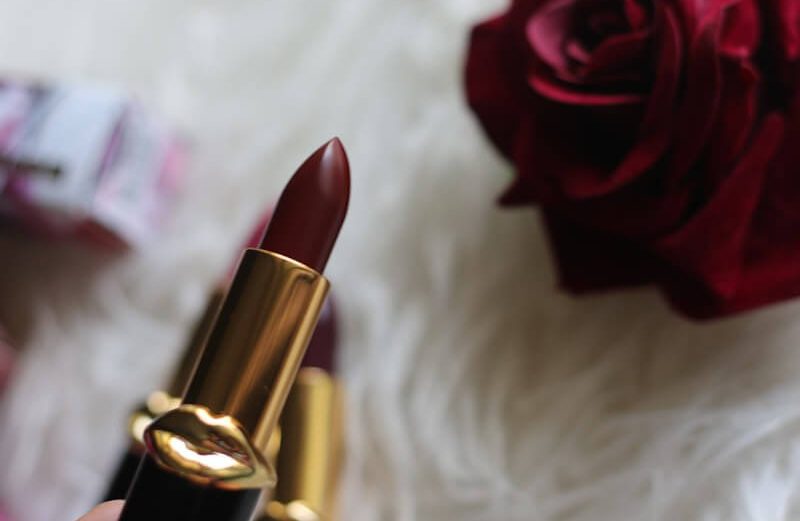 shade '35mm' is a dark burgundy color. My favorite color among these.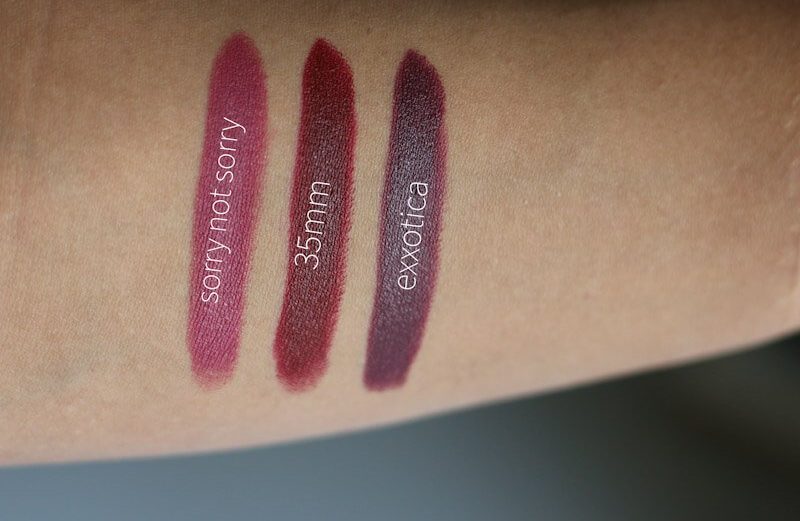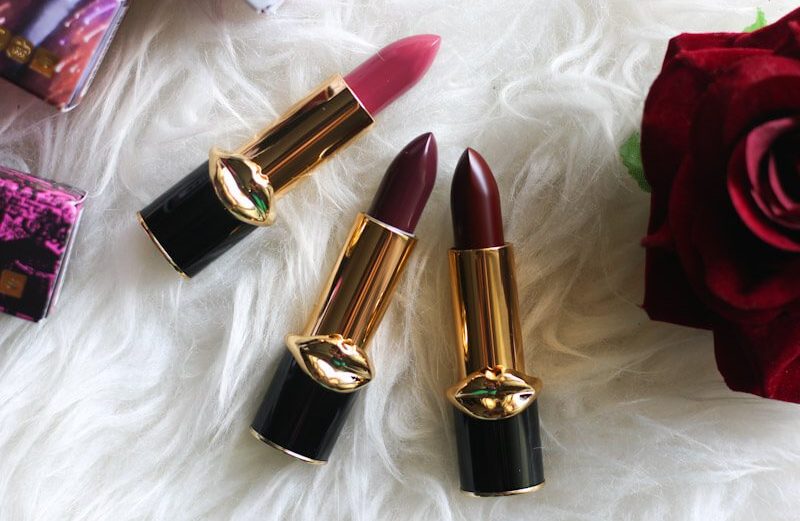 They ship worldwide, India, my package was shipped via DHL. Package reached very quick- in three days or do. Oh ya, customs charges were there.