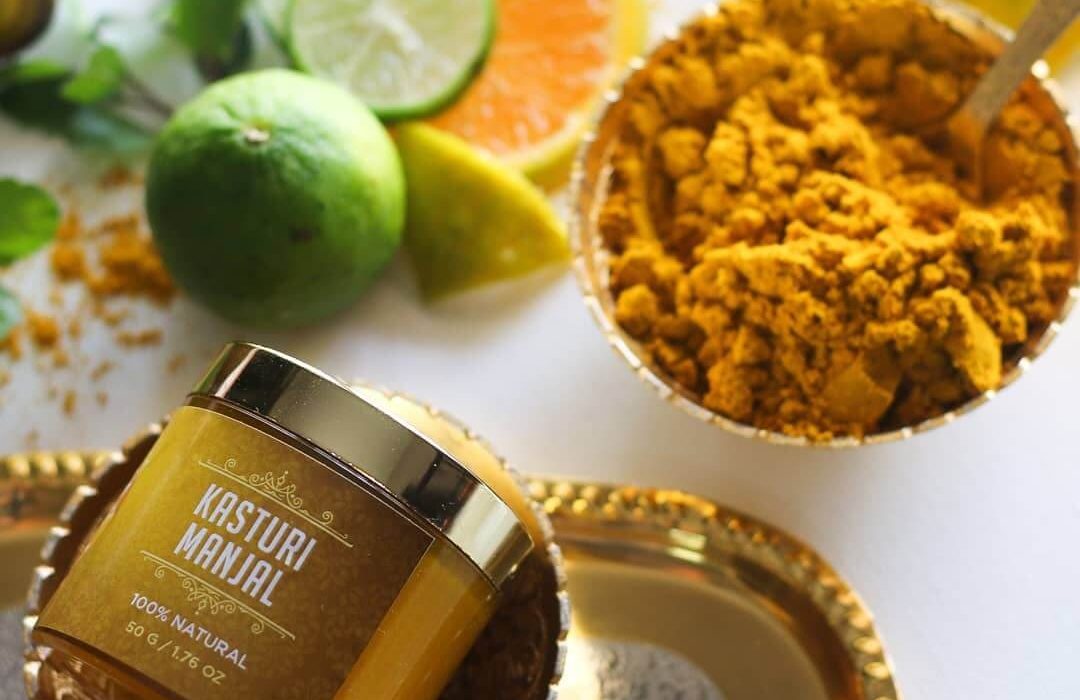 These days, natural skincare remedies are getting popular. When it comes to face pack, majority prefer the natural ingredients as we do not want to use any chemical ladden products on our skin. There comes the significance of Ayurveda.
Ayurveda is a 5,000-year-old system of natural healing that has its origins in the Vedic culture of India It's based on the belief that health and wellness depend on a delicate balance between the mind, body, and spirit.
If you are looking for natural ways to take care of your skin. In today's post, I am introducing to you all, my absolute favorite face pack from Shesha Naturals.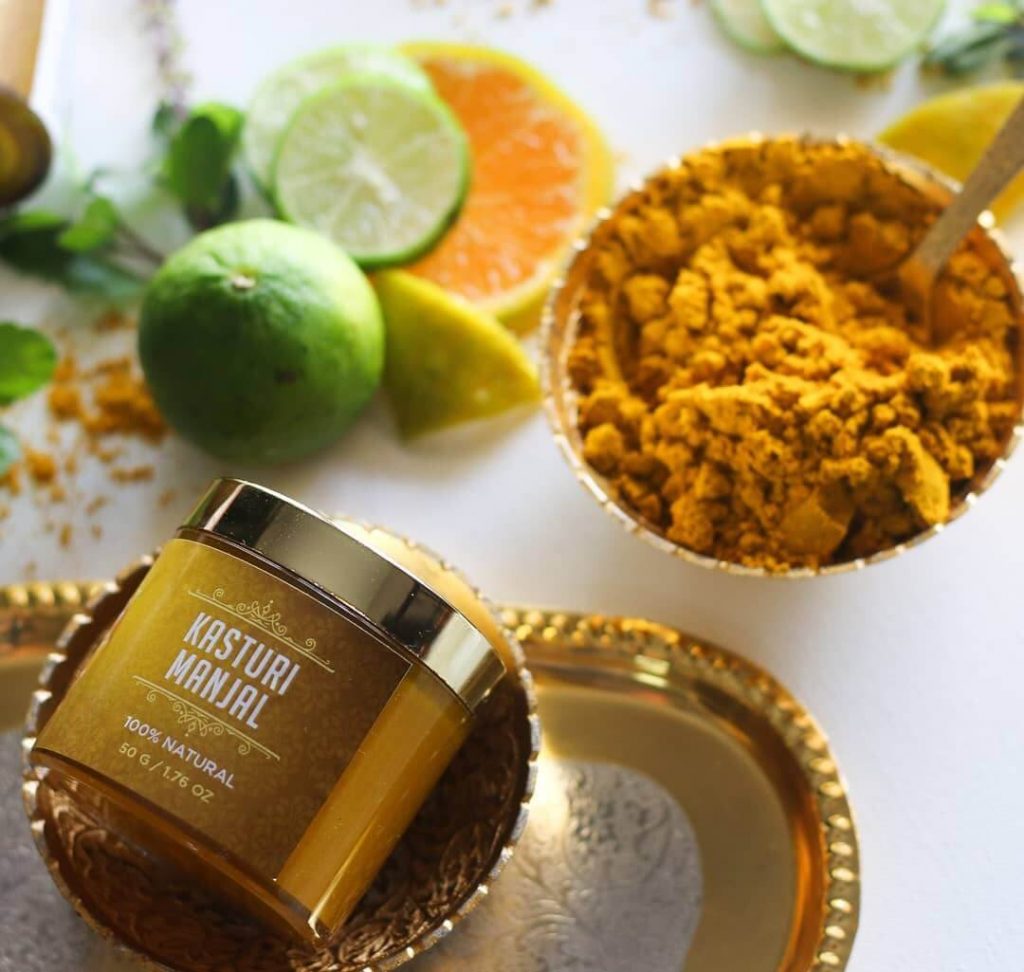 Shesha Naturals Kasturi Manjal is 100% natural organically sourced Curcuma Aromatica (Wild Turmeric powder) along with a unique proportion of ingredients like Pure Orange Peel, Pure Lemon Peel and hand picked Tulsi Leaves. It's manufactured in small batches and it ensures the freshness and quality of the product.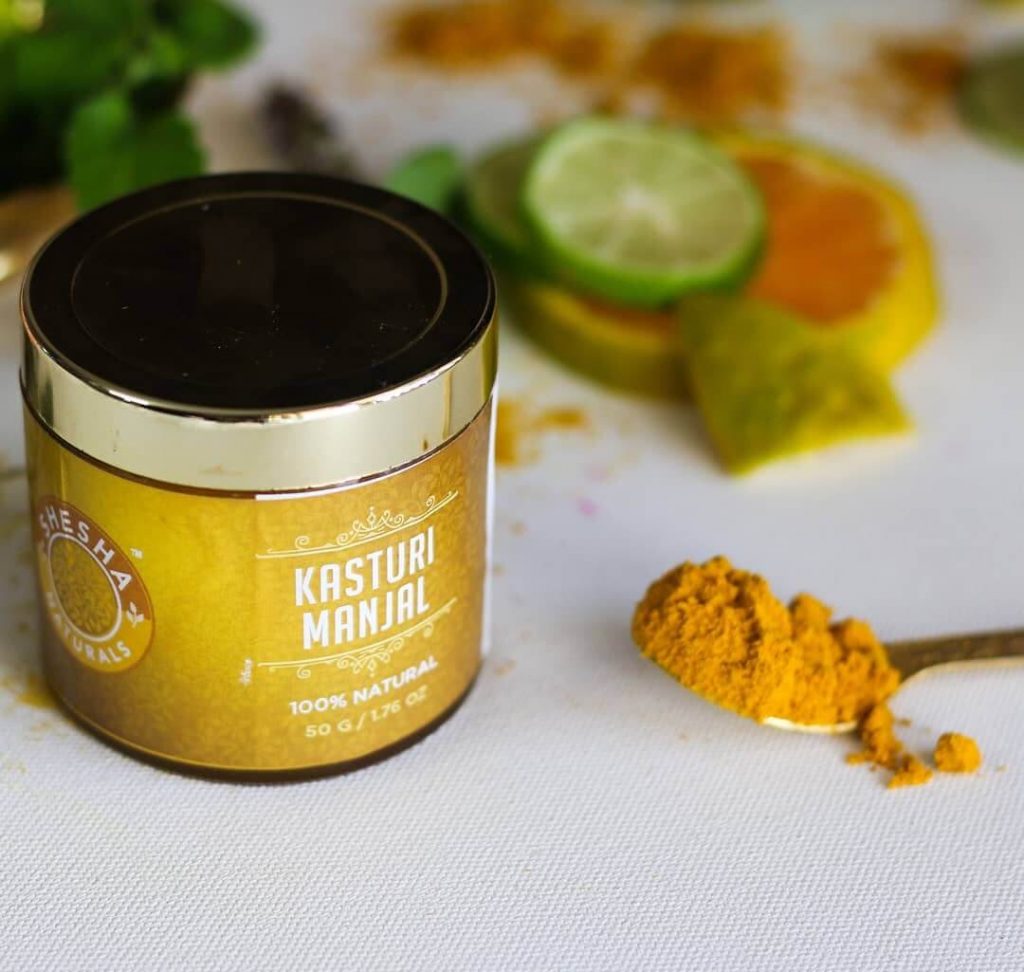 Comes in a round acrylic jar of 50 gm quantity and it retails for INR 395. Use a wooden spoon to scoop out the required product and make sure there is no water contact on the actual jar. It's 100% free from preservatives and so, you got to make sure you store it in a dry place.
What makes Shesha Naturals Kasturi Manjal stand out
Shesha Naturals 100% natural Wild Turmeric/Kasturi Manjal has a unique and natural uplifting aroma. It has anti-bacterial and anti-inflammation properties which are proven to fight against acne causing bacteria. The antioxidant properties of the wild turmeric help in preserving your skin against the harmful UV rays of the sun and helps rejuvenate your skin. Removes dead skin cells and deep cleanse your skin pores and provides a natural radiance and glow to the skin. You can observe increased skin luminosity with regular use and it gives natural glow to your face and skin.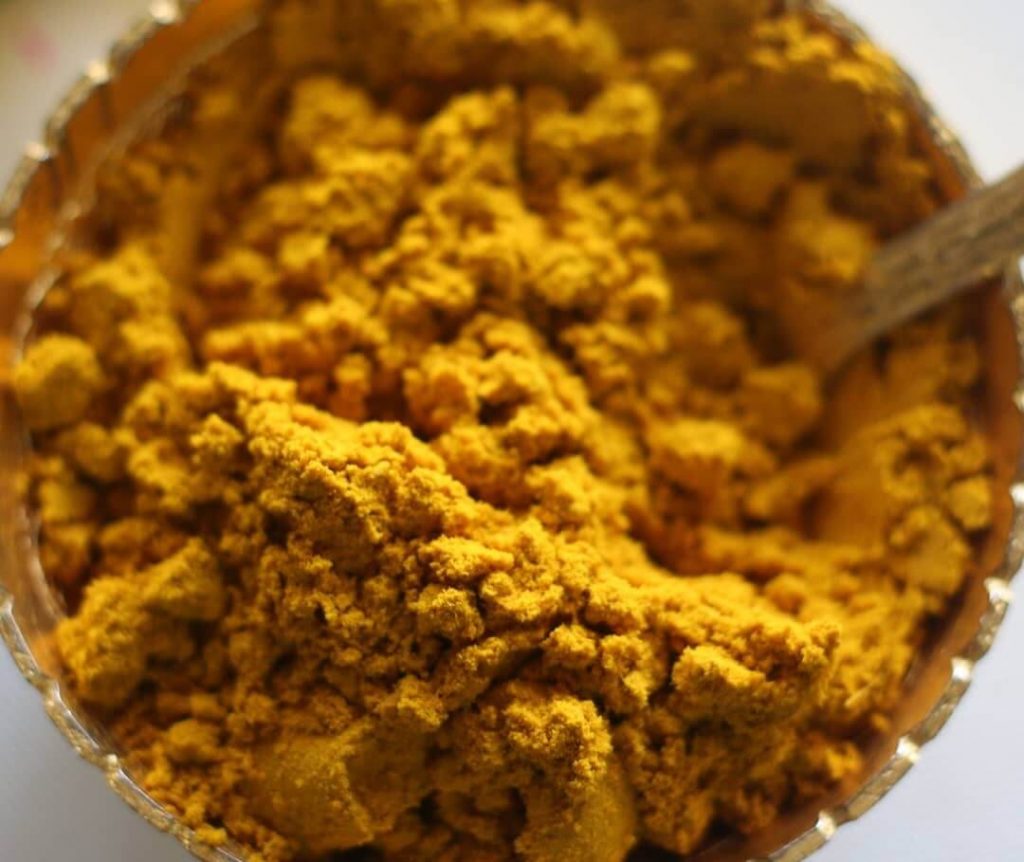 While there are number of methods to use Kasturi Manjal. I like to use it mixed with yogurt. Take required quantity of Shesha Naturals Wild Turmeric Powder and mix it with Yogurt to make a paste. Apply this paste all over face and neck and leave it for 5-10 minutes and Wash off using normal water and feel the natural freshness and glow throughout the day. A slight tingling sensation as soon as you put on the mask is quite normal. When you mix the wild turmeric powder with curd/yogurt, it gives a cooling sensation and tingling feel fades away in a couple of minutes.
You feel the freshness of Turmeric aroma and the smell reminds you of a sacred place like a temple. You feel the face pack getting dried and you can wash off using cold water . Splash water first and then gently scrub in circular motions to wash off the face pack completely. A yellow tint is quite normal and it fades of within 2 washes.
It's highly recommended to use this face pack 2-3 times a week or everyday as desired. Regular use of Shesha Naturals Kasturi Manjal mixed with yogurt or milk helps to deep cleanse the skin and effectively remove skin blemishes and in turn, helps to make the facial skin appear radiant and eve toned than before.
Use at night time and make sure to limit sun exposure as turmeric can make your skin extremely photo sensitive. The face pack won't make your skin dry. However, If you have a extremely dry skin, use a hydrating moisturizer after washing off the pack.
Regular use helps you get rid of facial hair. For acne/spots removal – (new acne marks), Mix wild turmeric and Shesha Naturals virgin coconut oil and apply as a spot treatment on areas and wash off once dried.
Enjoying the face pack session. Feeling really cool on skin. Doesn't stretch skin area at all.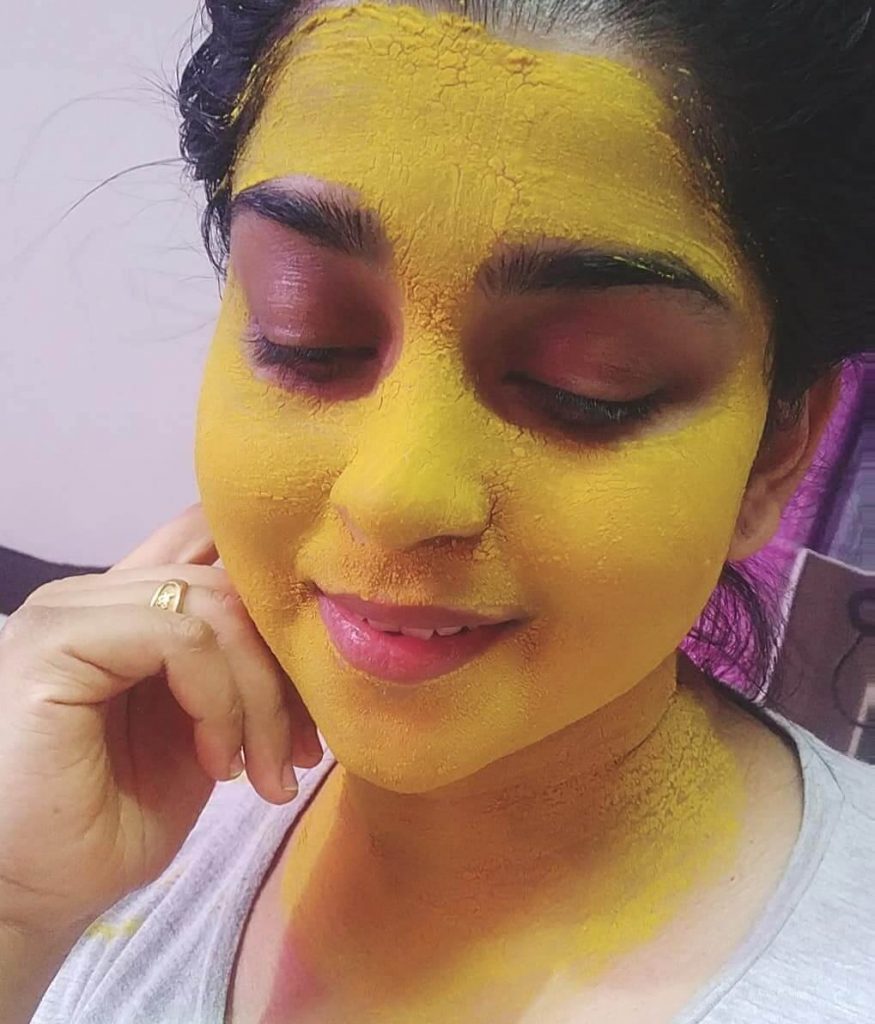 CAUTION : Natural Ingredients can be allergic to some people. Test patch on inner elbow and leave for thirty minutes. Discontinue if irritation occurs.
To make a purchase, Visit here.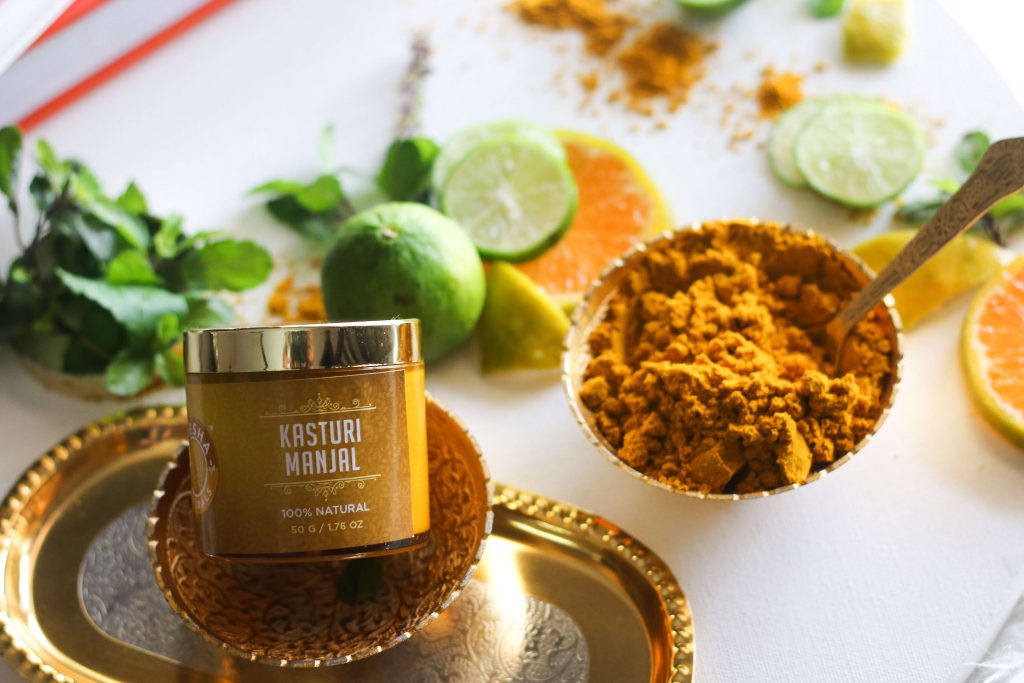 Commonly Asked FAQs
1. Does Wild Turmeric help to reduce facial hair ? How long should I wait to see any noticeable results
The daily use of Kasturi Manjal by making a paste on the face eliminates the hair growth. There are compounds in turmeric that remove unwanted hair as well as inhibit hair growth. When turmeric paste is applied, it adheres to the skin quite tightly. When it is then scrubbed or wiped off, the hair comes along and is removed from the roots. If you do this regularly, the process gradually lessens hair growth not completely if your hair is rather on the thicker side. Use regularly for at least 3 months to see any results on facial hair removal using Wild Turmeric. During old times, It was a bath ritual to apply the paste of Kasturi Manjal to the face and body. The daily use of Kasturi Manjal face pack made by mixing with milk or yogurt helps to deep cleanse the skin.
2. I notice a burning sensation while applying the Kasturi Manjal. Is it normal ?
A slight tingling sensation is normal when applying our Kasturi Manjal to face. This is becasue of the presence of lemon and orange peel. This can be solved if you are mixing Kasturi Manjal with curd/yogurt/milk and using. The tingling sensation won't last longer, hardly 3-5 minutes. Always always patch test before you apply it on entire face. Not all natural ingredients suits everyone.
3. Original Kasturi Manjal is cream in color and will not cause any stain. Why is that Shesha Naturals Kasturi Manjal is yellow in color and leave a stain when applied ?
Shesha Naturals Kasturi Manjal is made of curcuma aromatica ( wild turmeric) along with lemon and orange peel powder + hand picked tulsi leaves. The combination of the ingredients and the zest of orange and lemon gives it the yellow color. here's a picture of our sun dried wild turmeric. You can clearly see the cream color in it. It powders to a slightly Creamy yellow color and combination of other ingredients give it the bright yellow appearance.
Can I use Kasturi Manjal for babies ?
Baby's skin is delicate and so, Kasturi Manjal (curcuma aromatica) or be it any other natural ingredient too, I will never recommend to use on small baby 's skin. I don't recommend using Kasturi Manjal for babies. However, If its 6+ year old baby, /you can use Kasturi Manjal as bathing powder.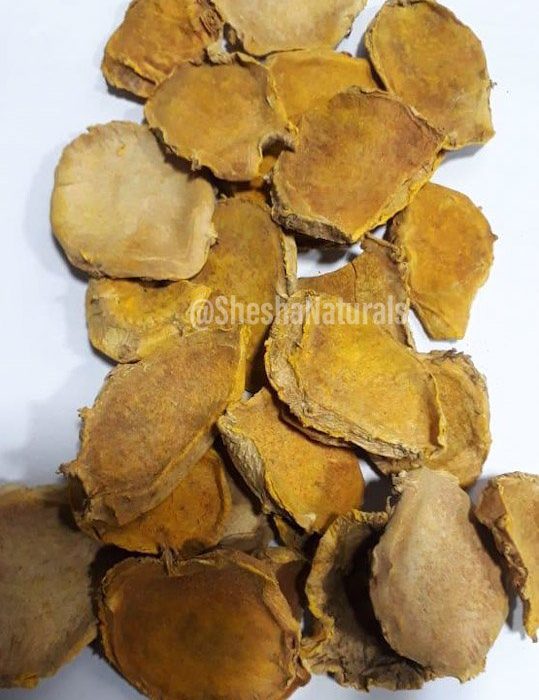 The combination of Shesha Naturals sun-dried finely milled Kasturi Manjal along with Pure Orange Peel and Lemon Peel along with the zests of lemon and orange and hand picked tulsi leaves gives the yellow color to Shesha Naturals Kasturi Manjal. No artificial colors or preservatives are added and so make sure it's stored in a cool place and used within 6 months of opening. If it's unopened a jar can stay fresh upto 24 months provided its stored in a dark place without any moisture contact.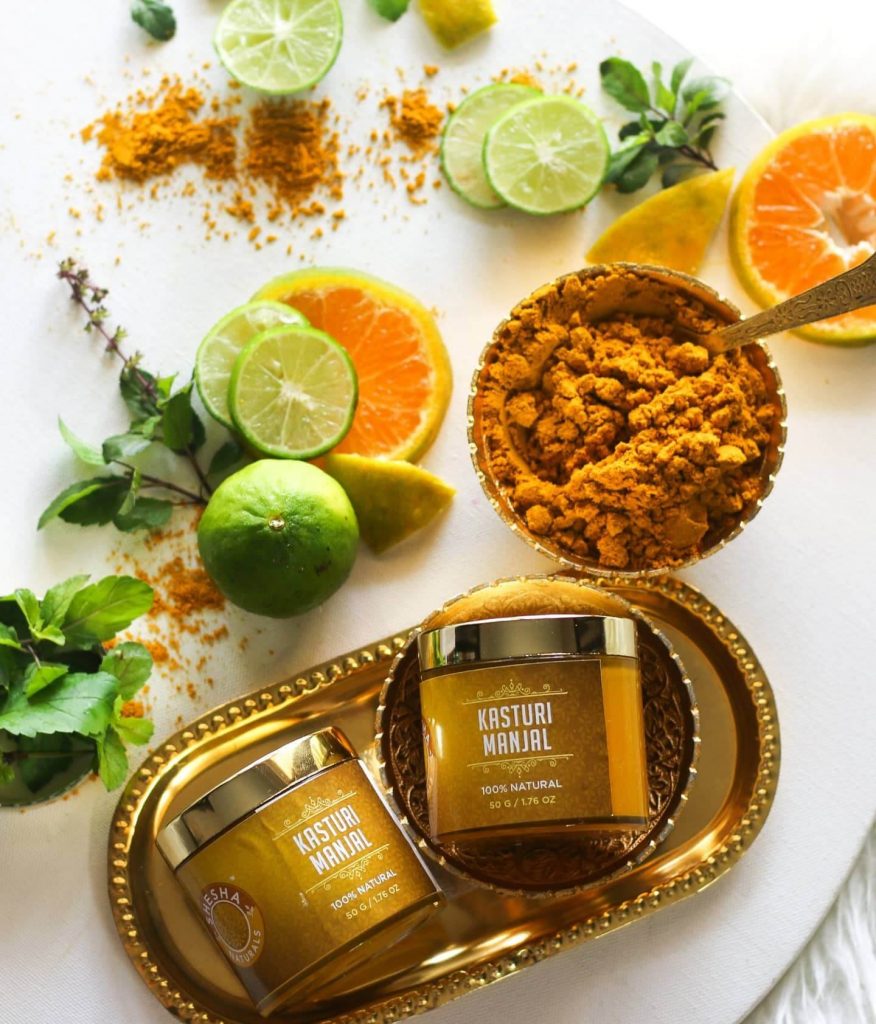 What's your favorite natural face pack ? Tell me the ways you love to use Kasturi Manjal ?