If you have been following me since long, You would have already read my post about Kumkumadi Thailam. If you understand Ayurveda and if you are fascinated by the ways herbs and natural ingredients work, Then Kumkumadi Thailam would be as interesting. Ayurveda too, has different text references that mention a magic potion of several herbs and natural ingredients infused together to one powerful skin potion. Ayurveda's gift to mankind – Ashtanga Hrudayam, the "Heart or Essence of all the Eight Branches of Ayurveda," is one of the primary root texts of Ayurveda. Let's learn in detail about Kumkumadi Thailam. The name "Kumkumadi" comes from its main ingredient – Saffron, which is known as 'Kumkuma' in Sanskrit.
Often described as – 'Miraculous Elixir' ; It's often said, Applying this magic potion at night will transform your face.
In this Post, we'll take a look at the benefits of Kumkumadi thailam, its ingredients, directions to use, and also answering some of the commonly asked questions about its usage.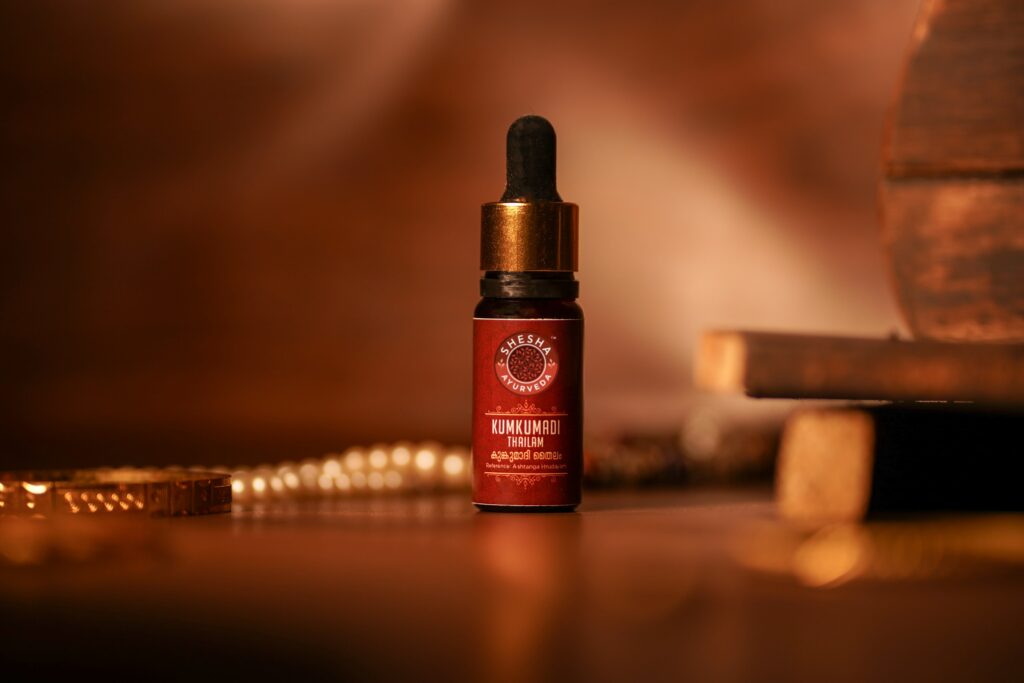 What is Kumkumadi Thailam?
Kumkumadi Thailam or Kumkumadi Oil is an Ayurvedic concoction of powerful herbs that helps with various skin concerns Mainly Skin Brightening thereby evening out skintone, taking away dryness and acne left over scars or marks on the skin etc. This oil, can be used by almost all skin types except for those who have active acne.
Not every Kumkumadi that you see in the market are actually authentic. As a consumer always be aware of the ingredients. Different Ayurvedic references mention different formulation methods for Kumkumadi Thailam. In this article, We will be mainly focusing on the Ashtanga Hrudayam, Which is the most powerful and primary root text of Ayurveda. We will take a look at the ingredients at a later part of this article.
How to Use Kumkumadi Thailam for maximum benefits. The #KumkumadiRoutine
Cleanse – Hydrate _ Repair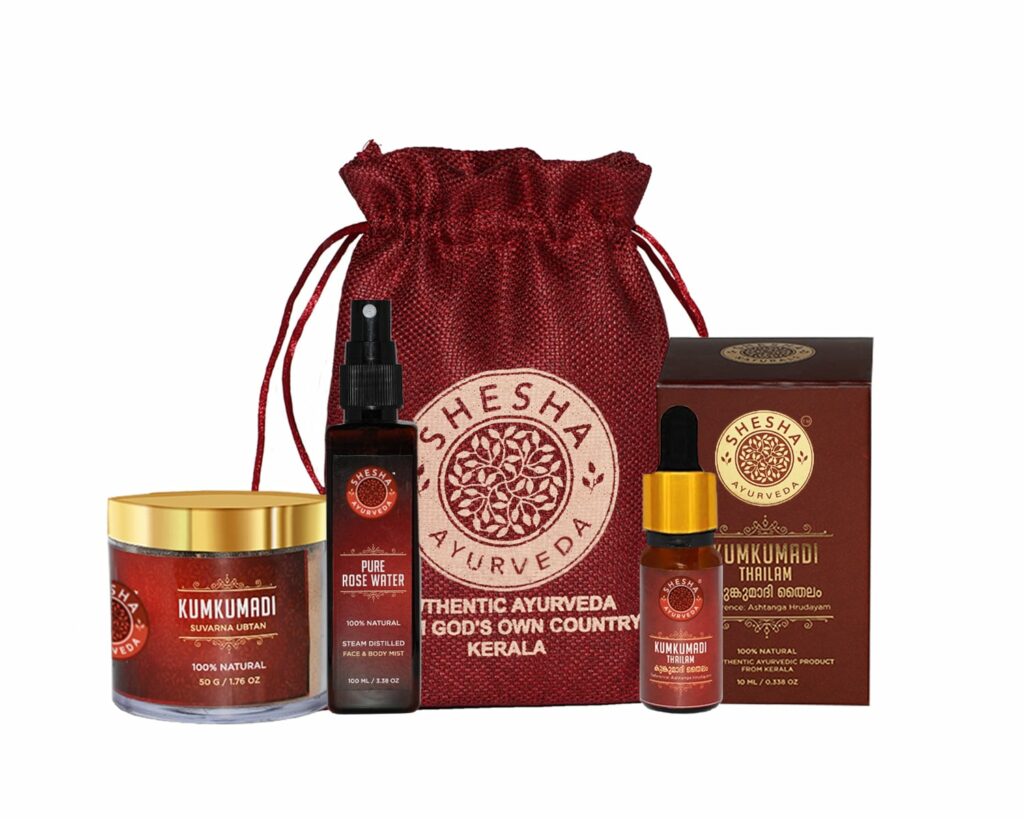 CLEANSE
Make sure your face is deep cleansed and any last traces of makeup/ sunscreen etc is removed. Use a deep cleanser face pack such as Kumkumadi Suvarna Ubtan as a face pack and wash off once its dried. Pat face dry
HYDRATE
Damp your face by spiritzing Shesha Ayurveda Pure Rose Water.
REPAIR
Take 3 drops of Kumkumadi Thailam and massage gently on your damp skin until it gets absorbed. For best results, allow Kumkumadi Thailam to work overnight. Wash it next morning with a mild natural cleanser or Tejaswini Soap Free Face Wash powder.

NOTE : Kumkumadi Thailam is recommended for night use (PM routine) only and should not be applied during the daytime. During daytime, Avoid sun exposure if possible or use a good SPF50 + sunscreen if you step out of house.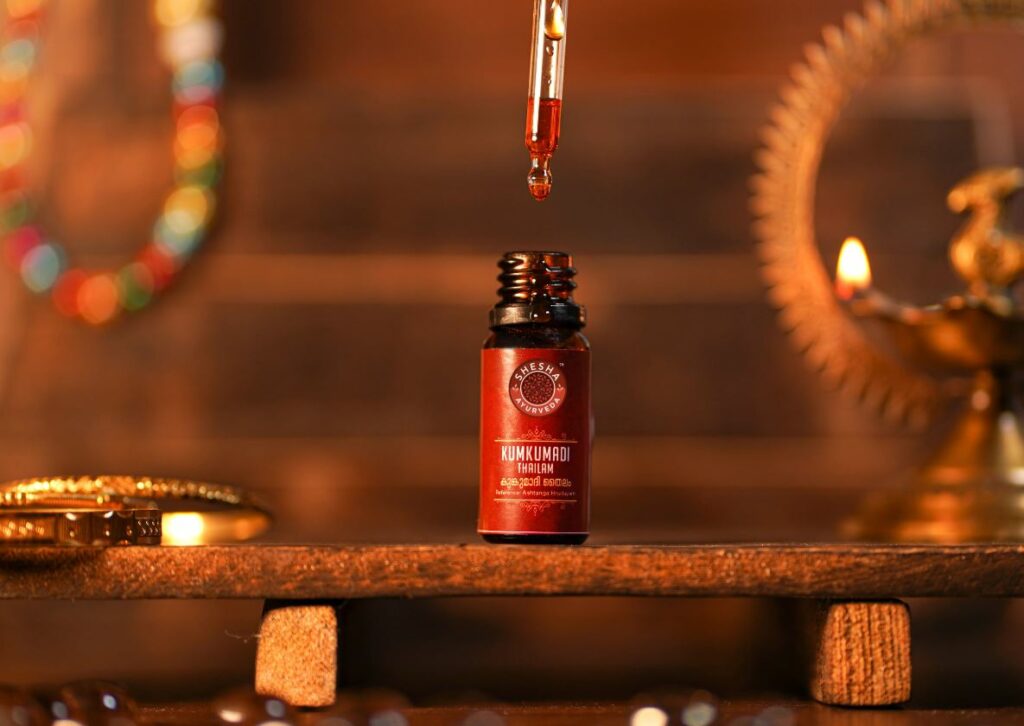 What is Kumkumadi Thailam made of ? Ingredients
Shesha Ayurveda KUMKUMADI THAILAM is a traditional Authentic Ayurvedic formulation made with finest and rarest ingredients including pure saffron ( Kumkuma),Usiira, Kaliya ( Vana Haridra), Laksha ( decocn too), Yashtyahwa, Chandana, Nyagrodhapada, Patmaka, Patmakesara, Neelopala, Manjistha ( decocn. too), Patanga, Yastimadhuka, Ajasheera (goats milk) in a sesame oil base. *Not Vegan | Contains Goat's Milk
It helps to improve skin texture and helps with skin brightening. Kumkumadi Thailam helps to even out skin tone, fades acne marks and scars thereby making skin blemish free and youthful. It helps to reduce non hereditary under eye dark circles, pigmentation spots with regular use.
FREE FROM: – COLORS, CHEMICALS, FRAGRANCES, PRESERVATIVES, SULPHATES, PARABENS etc.
Benefits of using Kumkumadi Thailam
This magic potion helps improve skin texture and helps with skin brightening with regular use. Helps even out skin tone, fades acne marks & scars thereby making skin blemish free and youthful. It helps to reduce non hereditary under eye dark circles, pigmentation spots with regular use.
100% Authentic Ayurvedic formulation
Reference: Ashtanga Hrudayam
Evens out skintone with regular use
Repairs skin
Brighten overall complexion
Helps to reduce pigmentation, blemishes & non-hereditary dark circles.
Caution : natural ingredients can be allergic to some people. Test patch on the back of your ear and leave for at least 24 hours. Discontinue if irritation occurs.
Note: Store in a cool and dry place. You might notice very little amount of sediment, this is completely normal considering the raw nature of the product.
Common FAQs on Kumkumadi Thailam
CAN I APPLY KUMKUMADI THAILAM DURING DAY TIME?
Due to the presence of original Saffron, KUMKUMADI THAILAM is not suitable for use at daytime. If used during the daytime, higher chances of getting tanned. Always make sure you apply sunscreen even if you stay indoors.
WILL KUMKUMADI THAILAM SUIT DRY SKIN?
KUMKUMADI THAILAM has Sesame oil as the base oil. Because of its Vata pacifying nature, it's useful for dry skin. You can definitely use it even if you have a dry skin. Make sure to use it as per the directions mentioned.
WILL KUMKUMADI THAILAM SUIT OILY SKIN?
Yes, KUMKUMADI THAILAM is suitable for oily skin. It's a myth that oily skinned people shouldn't be using face oils/thailams on face. You can leave the product for certain time and wash off with using mild cleanser or Tejaswini Face Wash Powder during a night routine.
IS KUMKUMADI THAILAM SUITABLE FOR ACNE-PRONE SKIN?
KUMKUMADI THAILAM is NOT SUITABLE for acne-prone skin. Please checkout our KASTURI MANJAL (MUSK TURMERIC) ; It's for all skin types.
IS KUMKUMADI THAILAM SUITABLE FOR SENSITIVE SKIN?
For sensitive skin, patch test is a must. You never know whether the ingredients are suitable for your skin type. So, Start with lesser drops. Mix it with your night cream and apply and see how your skin reacts to it. Always make sure, you hydrate your face using our Pure Rose Water before applying the KUMKUMADI THAILAM
WILL KUMKUMADI THAILAM SUIT COMBINATION SKIN?
Yes. It suits combination skin. Use as per the Directions
SHOULD I USE KUMKUMADI THAILAM POST NIGHT CREAM AS A LAST STEP OR BEFORE NIGHT CREAM
Start by using KUMKUMADI THAILAM and your night cream on alternate nights. You can use KUMKUMADI THAILAM alone without mixing it with your night cream as well. See, how your skin tolerates it.
HOW LONG DOES IT TAKE FOR KUMKUMADI THAILAM TO START SHOWING RESULTS?
Apply the KUMKUMADI THAILAM regularly for at least three to four weeks continuously to see the results.
CAN KUMKUMADI THAILAM BE USED FOR BABIES
No, Kumkumad Thailam is NOT to be used for babies
What is the best way to use Kumkumadi Thailam for maximum benefits
Take a few drops of the Kumkumadi Thailam in the hands and apply the oil on the face or directly target the problematic areas of our face.
Do a gentle massage with fingers for at least 5 – 8 minutes. A gentle massage enhances the absorption of the Kumkumadi Tailam.
Note: Washing off the thailam reduces the effects, It's recommended to leave Kumkumadi Thailam on your skin for at least 3 hours. People with oily skin should leave it for at least 1 hour and then they can wash the face. People with dry skin should let Kumkumadi Thailam remain on face for at least 3 hours. You may use it just before sleeping and leave its application overnight for good results. To treat blemishes, scars, hyper pigmentation and marks, it's advisable to be applied before sleep and leave it overnight.

To get maximum benefits, use it in the way it's suggested to use. Never mix potent Ayurvedic products with chemical formulations. Please understand that it's an Ayurvedic treatment product and not just a beauty oil . This is not something to mix with your foundation etc or as a primer. It's not formulated to do that. I particularly wanted to write this post as I was seeing a lot of videos on social media where people were seen using Kumkumadi Thailam before applying makeup etc. Please don't do this – Authentic Ayurvedic Formulations are to be used alone and not to be mixed with your foundation/makeup etc.
Let me know if you have any doubts about Kumkumadi Thailam, It's usage etc.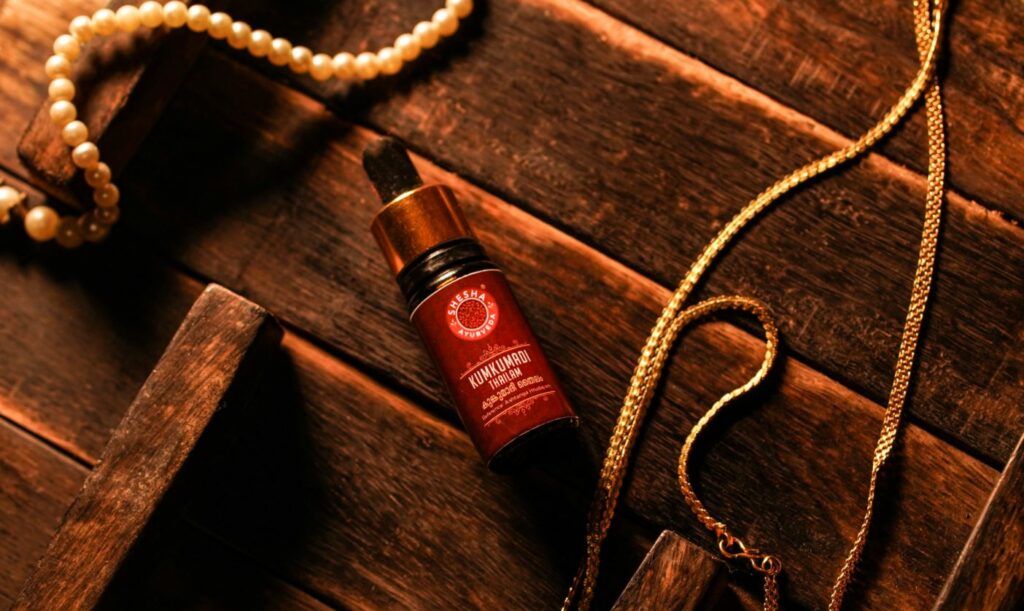 Buy Kumkumadi Thailam Online from Shesha Ayurveda