So, you reached your 30s and your skin behaves differently as compared to before. If yes, then it's the time to change your skincare routine and follow it according to what your skin wants at 30s. When you are at this age, skin reduces the collagen production and loses its firmness and elasticity. Due to this, wrinkles, fine lines and dullness start appearing on the skin.
No need to start panicking about these changes, you only need to know the right treatments. So, while these changes are going on, you can still preserve your skin's glow and youth. At this age, the body is also going through a lot of hormonal changes, because of that skin appearance changes. So, for the same glow as in your 20s, you need to follow these anti-aging routines and treatments.
Cleansing
Having a clean and clear face is most important for your skin. Whether you are 30 plus or just a beginner you have to begin your day with washing your face and end up with washing as well. Always go for a gentle cleanser if you want to clean your face thoroughly. Choose a face wash according to your skin type – oily, normal, acne prone, combination and dry skin. Cleanser cleans the dirt and pollution substance from your skin, leaves it soothed and smooth.
Exfoliating
Exfoliating helps with cellular turnover which keeps your skin young, healthy and glowing. As we age, these cells reduce turnover results in dry, dull and aged skin. We should always exfoliate twice a week to keep the cellular turnover. Exfoliation before sleeping is the best time because at night skin repairs and it helps to provide proper maintenance.
Chemical exfoliation is great skincare treatment like AHA and BHA. Some popular exfoliators are glycolic acid, salicylic acid and lactic acid.
Toning
People believe in not using a toner but toner is a must have skincare product that helps to penetrate the next step and to absorb it well. A good toner cleanses the skin deeply, maintains pH level and absorbs the treatments and moisturizers so that anti-aging treatments work deep into the skin and removes fine lines and wrinkles. Do not use the toner with alcohol based products otherwise it will irritate the skin and not even hydrate the skin.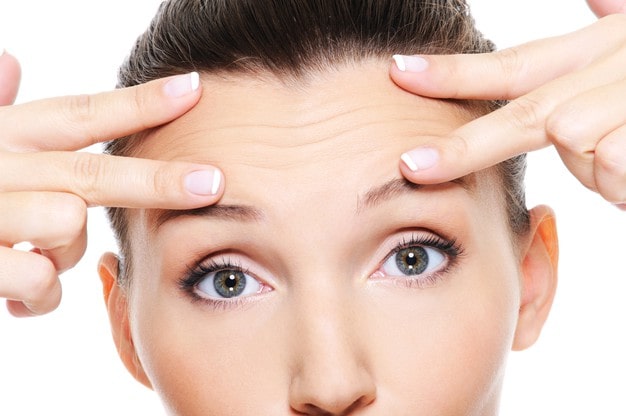 Serums – Must have anti-aging treatments
Cleansing, exfoliating and toning is the basic thing but the most important treatments which every person above 30 should include in their routine is serum. Hundreds of serums are available out there and the problem comes with how to choose the best one. So here are the major ingredient based serums that found to be most effective for 30+ and you can try any of these.
Vitamin C
Vitamin C is also known as ascorbic acid. It removes the dullness, and works as a great product in your morning skincare routine. Vitamin C is a powerful antioxidant that helps to reduce the free radicals and pollutants to brighten up the complexion. Thereby it minimizes the wrinkles and aging signs.
Retinol
Retinol is the must for 30+. When you reach your 30s, just start with retinol based cream or serum and you don't need any other product. Research has proved that it is a must in your 30s. This highly encourages the reduction of wrinkles, dullness, dryness, sun damage and acne. It works wonders if included in night skincare.
Hyaluronic acid
Aging means lack of moisture and dehydration and your skin needs more and more moisture. For this, hyaluronic acid is loaded with hydration properties and deeply moisturizes the skin. Use a hyaluronic acid based serum daily to give a dose of hydration to your skin. It reduces the aging symbols and makes it glowing.
Moisturizing
As you have read that serums hydrate the skin and nourish it as well. Though your skin needs hydration that only moisturizer can provide. Even after using hyaluronic acid or retinol serum you need to lock into moisture and this is clearly written on the serums too. Do take a light and gentle moisturizer and use it after the serum. Moisturizers depend on the skin types so choose it wisely. To maintain healthy glowing skin follow up with moisturizer.
Eye treatments
Skin around the eyes is more delicate than other body parts and they need extra hydration and specified products. They are the first part that starts showing the wrinkles and fine lines. Now, many creams and serums are available out there specifically for the under eye area. Whether it's a serum or cream the ultimate goal is hydration and refreshment around the eye area. This is highly recommended for 30 around women to reduce fine lines around the eyes.
Sun protection
Exposure to harmful rays of sun is a reason for aging and wrinkles. Not only wrinkles, but sun exposure causes skin cancer, photo damage and harm to the skin. Make sure to include a sunscreen with 40 SPF in your morning skincare routine. When heading out, never forget to apply it and carry it in your bag for reapplying purposes. If you are makeup junkie and love to do makeup so in this case you can apply the sunscreen under your makeup. Sunscreen ensures to protect our skin from damage and thereby wrinkles. You need to apply the sunscreen after every 2 -3 hours or check out the directions labeled on it.
Bottom line
So, these are the best anti-aging treatments for 30 around women. This is a kind of routine which you need to follow in the same way– cleansing, exfoliating, toning, serum, eye protection, moisturizer and sunscreen. The anti aging treatments that you have to work on your skin daily and protects the skin in the long run. All women want to look young and have glowing skin so these treatments are going to help you for sure. Before choosing any products check out its details and must look out for the right ingredients and chemical free products. Natural is all we and our skin want.
Image reference- freepik