Hi beauty bees!! hope you all rocked the weekend!
Though Saturday was a rest day for me! Sunday was awesome! I wanted to share this blog post about my currently loving body butter

 Nyassa Shea Body Butter
What Nyassa claim about Shea Body butter
Nothing helps like Shea Butter, if you have bruised skin. Like all butters, it is an excellent moisturizer and is high in vitamin A & E. Nyassa's Shea Body Butter is fortified with saffron – a natural antioxidant that fights skin blemishes – to give you the ideal product for healthy, younger looking skin.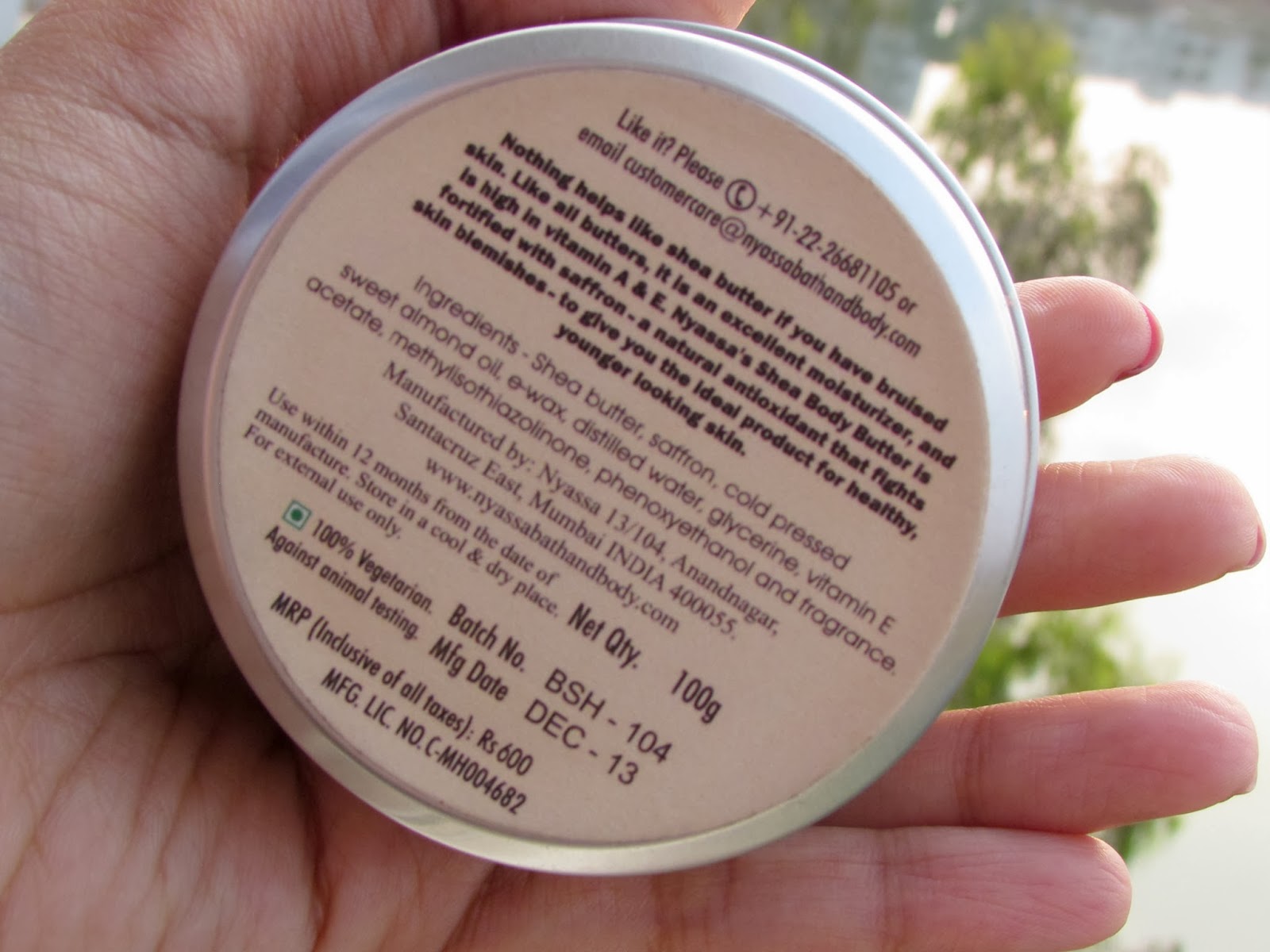 Packaging & Price
Qty: 100 g; Price: 600 Rs; Buy it here  
Comes in a round metal tin as shown above.
Ingredients listed in the above picture.
My take on Nyassa Shea Body Butter
I am a body butter lover! I always tried only TBS/ L'Occitnane….
This body butter applies smoothly without leaving your skin greasy. It had a fresh fragrance that soothes and relaxes you…The consistency is very creamy with Saffron in it…As it has all natural ingredients, it can be used by all skin types. Especially in winters, this cream helps body moisturized all the time! I use this everyday morning after my body bath. I use it all over my body, and dry areas like feet, elbows etc….its a must try product from Nyassa. Highly recommend this product
I will surely repurchase it when I finish this tin..Totally recommend for people who are looking for a natural product!! Great work by Nyassa!! I was gifted this product directly from Nyassa director, Ishween 🙂 You can read about the Nyassa Event which I attended here 
Pros
blends easily

suited for all skin types as it has all natural ingredients

makes skin soft and supple

adds extra moisture

Note: Product Send by PR/Brand for consideration/ review purpose…My review remains honest as always….Please refer to my PR/Disclosure Policy..

Bye dearies!!!
Happy Monday Everyone!