KÉRASTASE'S CELEBRATES ITS 50th ANNIVERSARY WITH THE LAUNCH OF COUTURE STYLING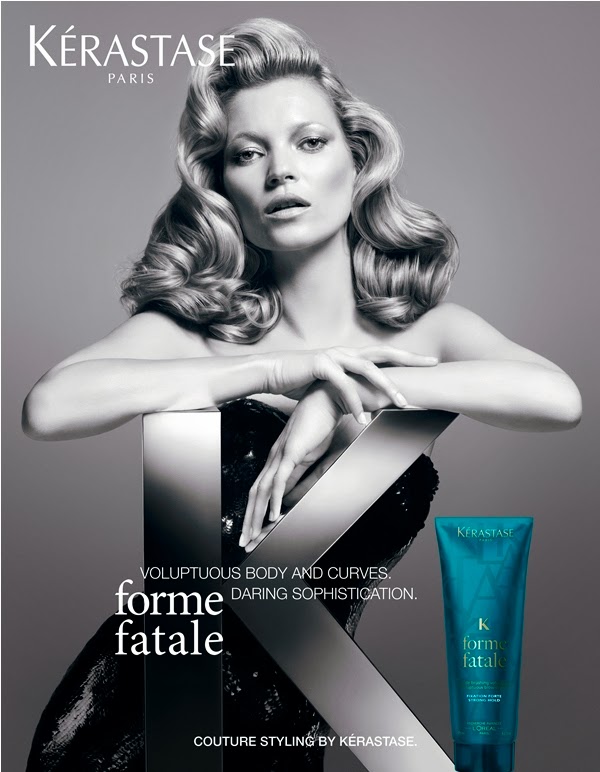 Born in the luxury environment of Paris in 1964, Kérastase has been the worldwide leader in professional luxury hair care. In India, Kérastase was launched in 2005 and is present in the most luxury salon spaces across the country. Today Kérastase is present in 23 cities across India.
The year 2014 marks an important milestone in Kérastase history, the celebration of 50 years of hair care excellence for this iconic brand! Since 1964, Kérastase has offered customised solutions tailor-made to suit every individual's hair and scalp needs. The products help in nourishing, protecting and enhancing the hair fibre, and at the same time caring for the scalp. This is the Kérastase notion of the "Art of Perfect Hair", since 1964. In 2014, to advance even further, Kérastase creates a whole new category in its range with the launch of "Couture Styling" in January 2014. For the launch, Kérastase associates with an iconic spokesperson and brand ambassador, Kate Moss. The British Top Model, who has been an ambassador to many fashion and beauty brands, will for the first time represent the image of a luxury hair-care brand. The Kérastase expertise in hair care and Kate's audacious glamour will change the way styling is perceived, celebrating beautifully styled hair with freedom of movement and the pleasure of high tech, sensual textures.
About her experience with the Kerastase products, brand ambassador, Kate Moss quotes, "Kérastase products are fantastic! I have been using them for years. The new "Couture Styling" range has some really great products!" Kate Moss for Kerastase, that's 2K's apart.
Master hairdresser Luigi Murenu is the Artistic director for Couture Styling and in his skillful hands, the new Kérastase icon has never been so flamboyant. Kérastase choses Luigi Murenu because he is the uncontested master of customised hairstyles that display sophisticated dynamism and a unique look executed with precision.
With 2,300 tests conducted worldwide, the Kérastase styling products are avant-garde formulations, a range of 6 unique products with an alliance of fusion hold and freedom of movement for highly personalised hairstyles. With Kerastase Couture Styling, it is no longer about styling practices proven harmful to beauty and to the health of hair fibre. It's no longer about stiff volumes, sculpted locks and overblown style effects… it's about designing highly customised hairstyles with perfect finishes that assert every woman's unique, remarkable personality. It's about ensuring hold and freedom of movement that is both sensual and lasting.
The products of Kérastase Couture Styling offer high performance and a clean touch without residue. They are empowered with a new generation of microfilm fixative polymers enveloping the hair fibre with an extensible mesh to give a hold without freezing the hair. Inspired by skincare textures, the products are delicate, easy to apply, and weightless to touch, leaving no residue in the hair. The products also have essential care qualities like UV filters for protection from the sun, antioxidant vitamin E and a heat-protective agent called Xylose, a sugar which is naturally found in wood. They also have the capacity to neutralise frizz and maintain the hairstyle.
The Kérastase Couture Styling range can be classified on the basis of function as the Construction Range and the Finishing Range. The Construction range is a collection of four products which can be used to create or construct the style. These amazing products infuse the hair for a glamorous, yet subtle effect. The products of the Finishing range are used to perfect the look. A profusion of performances, the finishing range offers the styling effect every woman desires.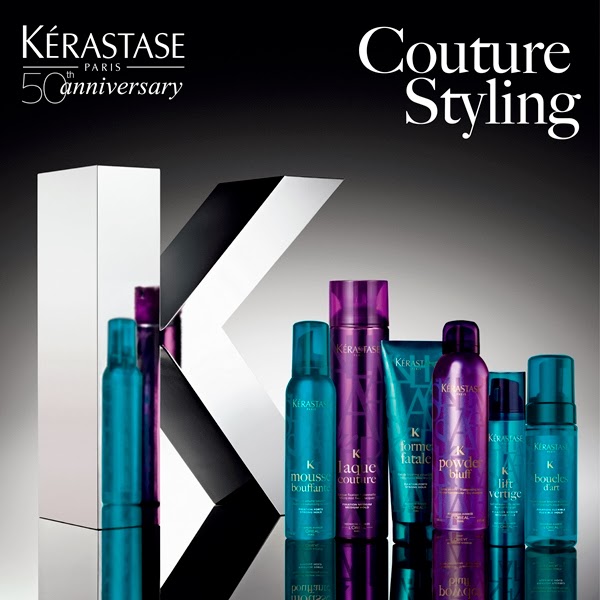 CONSTRUCTION: THE DESIGNER RANGE
1.

Lift Vertige:

Root uplifting Gel- Volume pushed to new heights with Lift Vertige. At the root of this high-performance product is a simple formula: lift, suppleness, elevation. This formula can deliver volume at the roots, without a frozen stiff look. 1800 INR (75ml)
2.

Forme Fatale:

Irrestible Blow Dry Gel – This is an innovative blow dry gel with a fine texture and golden micro-particles, which perfectly shape the hair to give it the desired style. It creates looks with long-lasting shape and hold. (1500 INR for 125ml)
3.

Mousse Bouffante:

Lush Volumising Mousse – Mousse Bouffante instantly transforms hair with a glamorous dose of volume. It gently envelopes the fibre and thickens fine hair, while still enabling the hair to move freely for a stunning look that subtly makes a statement. (1800 INR for 150ml)
4.

Boucles d'Art:

Curl Designer Aqua-Mousse – The product's texture is so meltingly soft that just a small amount can define either simple waves or cascades of voluptuous curls. The style can be easily revised for somewhat looser curls. Just strong enough to add body without weighing down the hair. (1800 INR for 150ml)
FINISHING: THE PERFECTOR RANGE
1.

Powder Bluff

:

The texturising dry shampoo – An energizing innovative effect: a styling powder that cleanses the hair absorbs excess oil on the scalp and gives volume and density to the hair. Fine and invisible, this powder blends with the hair, leaving no residue and gently texturises the hair for a fresh feel and look. It is a handy product to carry around in your handbag and touch up your hairstyle on the go. (1500 INR for 200ml)
2.

Laque Couture:

Fixing Lacquer – With its unprecedented sensuality, this product illuminates the hair fibre with gorgeous shine. Laque Couture is a styling essential with an innovative formula: a microspray designed to diffuse a mist that sets the hair without making it stiff. For hair that is lively, vibrant and radiant. (2300 INR for 300ml)
The Kerastase Couture Styling products are available in Kerastase salons across India.