Hiya girls….How are you all? Hope you guys are all doing awesome!! I am going to review this wonderful  palette. I just can't stop myself from experimenting with it…this is my favorite palette at the moment.  Its Too Faced Chocolate Bar Palette which is part of the spring collection.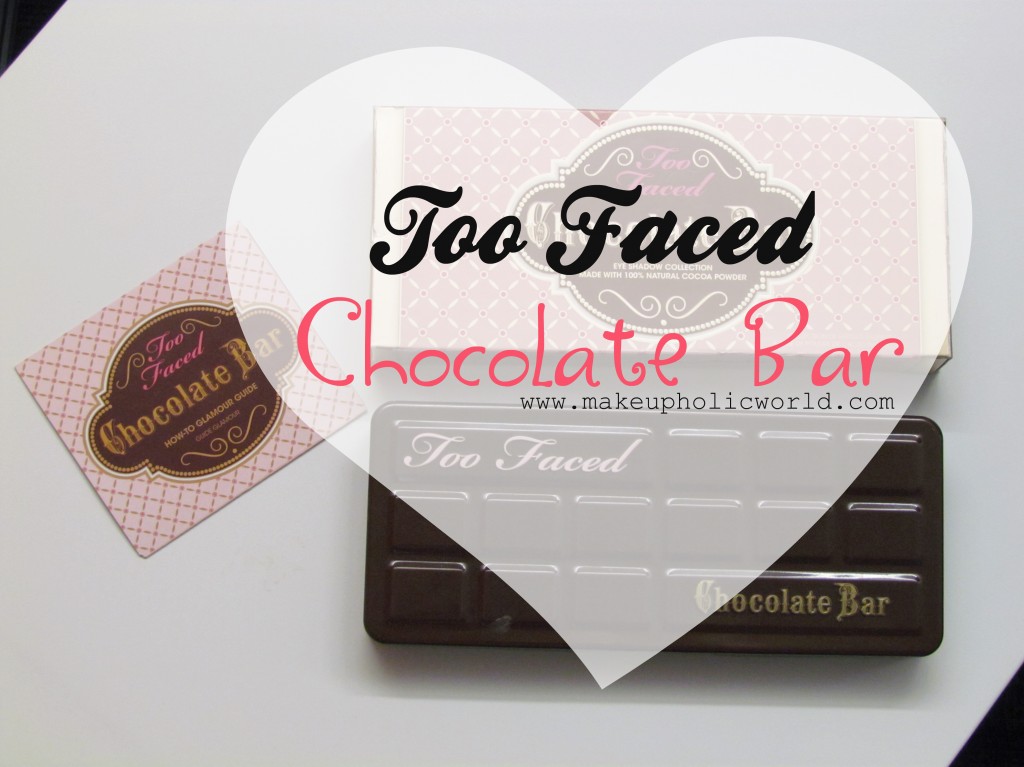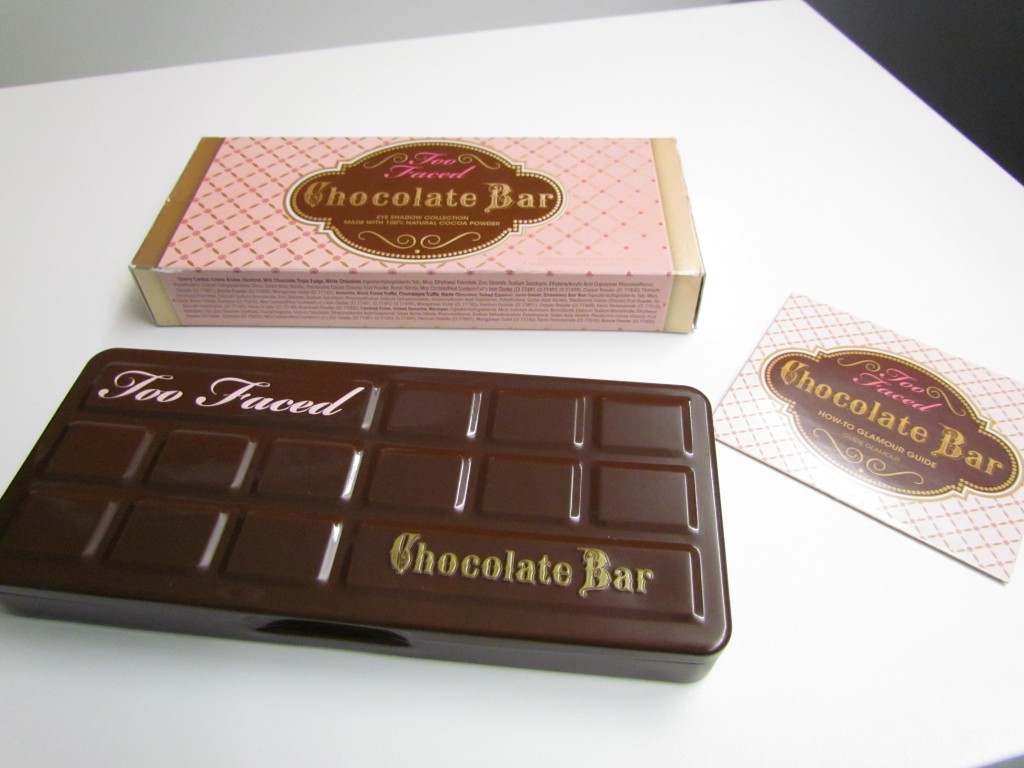 What it is:
A sweetly tempting array of 16 matte and shimmer shadows scented with real chocolate. 

What it does:
This beautiful assortment of chocolate-inspired shades were formulated using real cocoa powder. Encased in a playful chocolate bar tin, the rich selection of the perfect browns, neutrals, and little pops of color appeal to every candy lover.

Packaging & Price:
– Price: 49 $; 
-0.03 oz x 14 Eye Shadows in Gilded Ganache, Milk Chocolate, Black Forrest Truffle, Triple Fudge, Salted Caramel, Marzipan, Semi-Sweet, Strawberry Bon Bon, Candied Violet, Amaretto, Hazelnut, Crème Brulee, Haute Chocolate, Cherry Cordial
– 0.10 oz x 2 Eye Shadows in White Chocolate, Champagne Truffle 
– How To Glamour Guide 

What it is formulated WITHOUT:
– Parabens
– Sulfates 
– Phthalates 

What else you need to know:
Too Faced Co-founder and Creative Director Jerrod Blandino learned of the healing properties of cocoa while getting a chocolate facial in Maui. With Chocolate Bar he created a first-of-its-kind palette that combines the healing benefits of chocolate with richly pigmented, velvety smooth shadows. Chocolate has been used for centuries for its soothing properties and to protect, condition, and heal skin that has been damaged by sun and wind. Studies have shown that the scent of cocoa powder can increase memory and brain power. (Note: All information taken from brand website)
More Pictures of the palette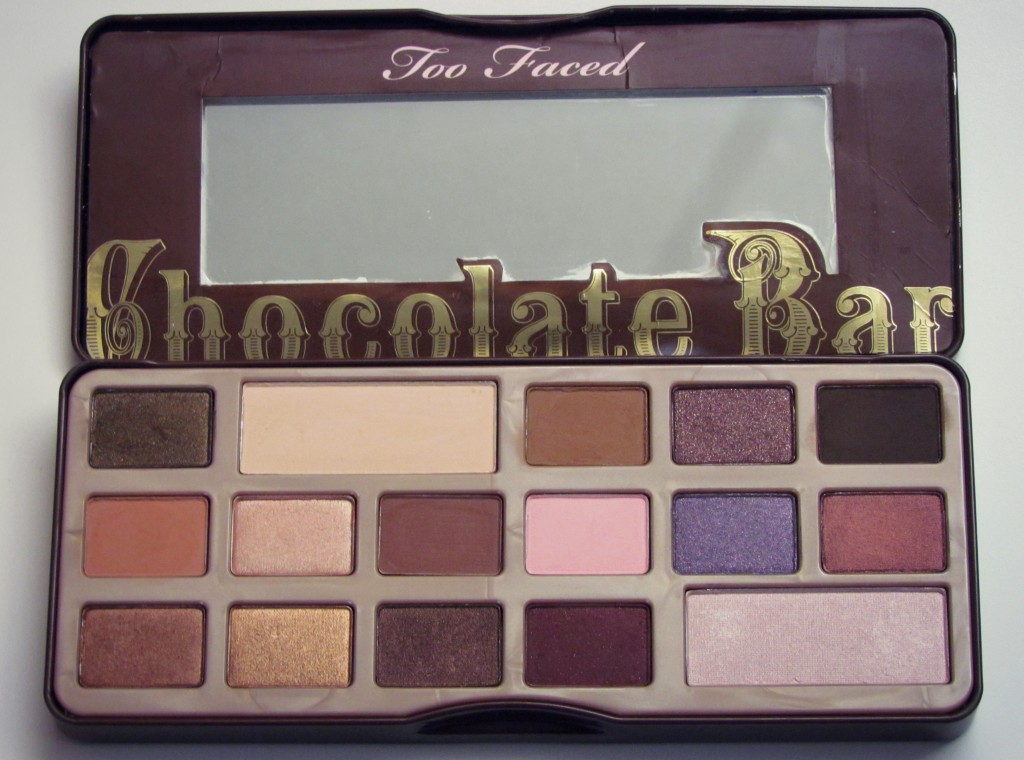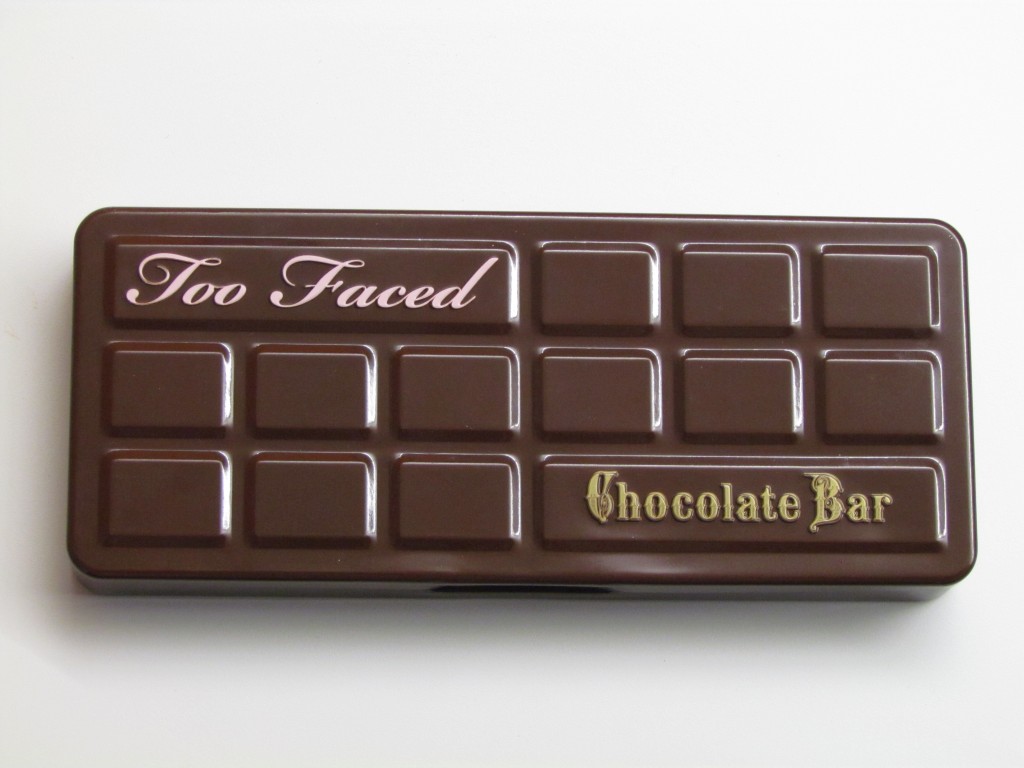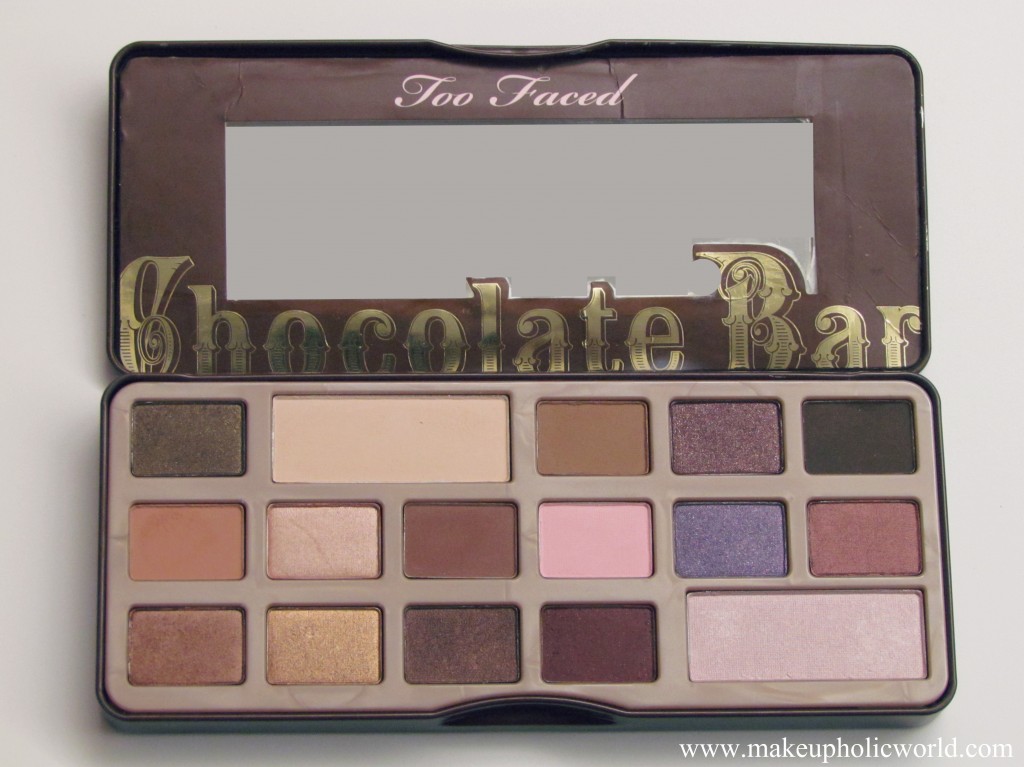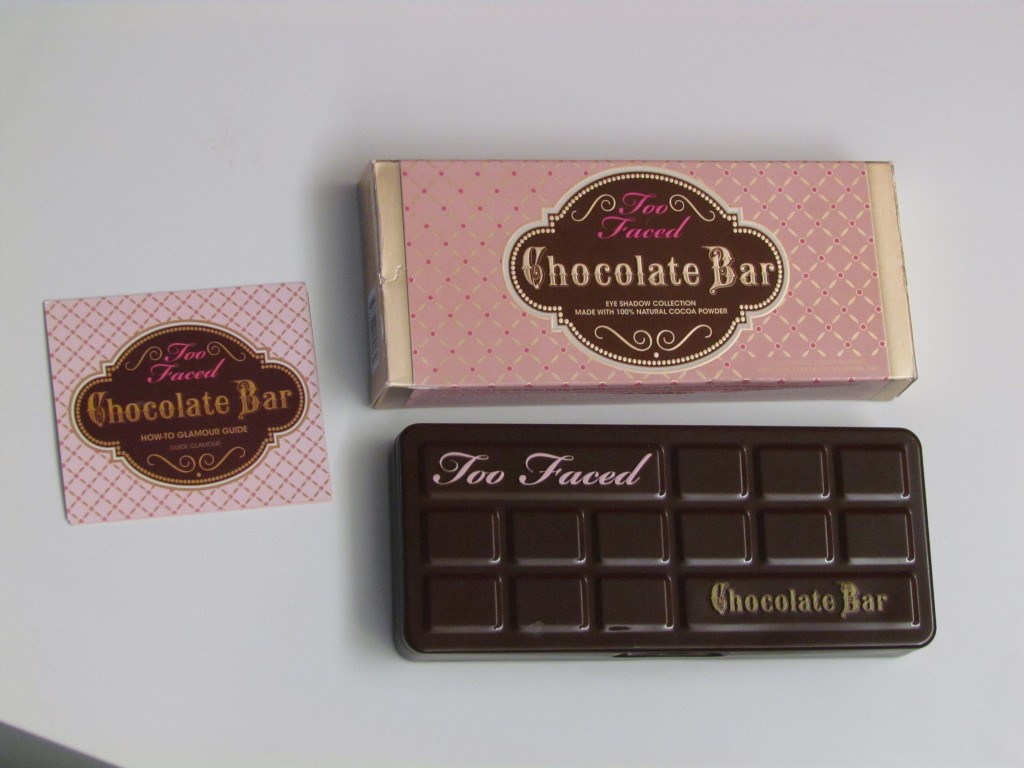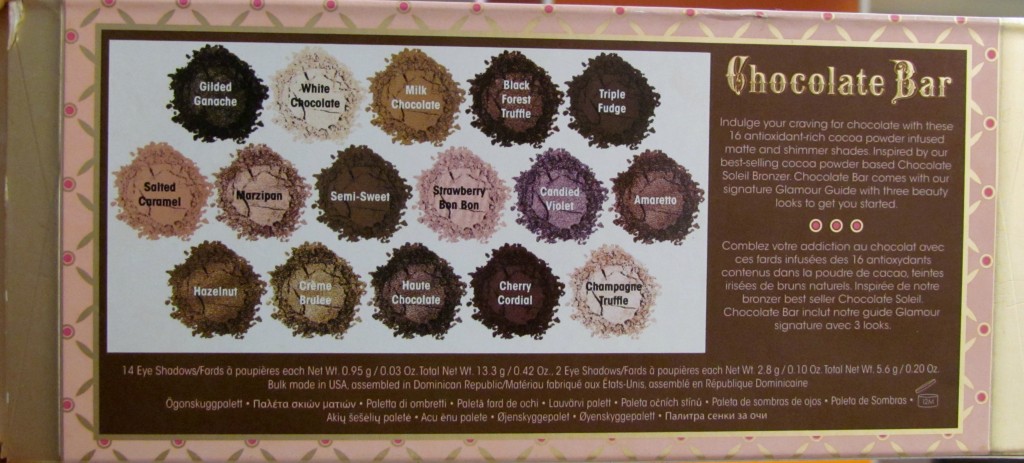 How To Glamour Guide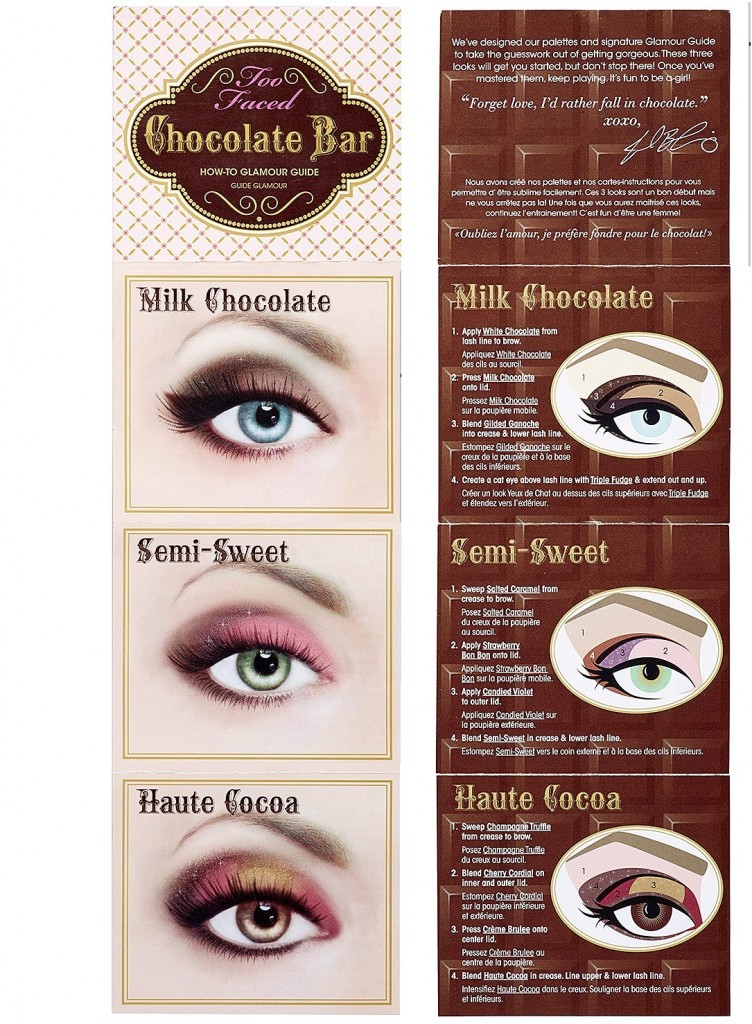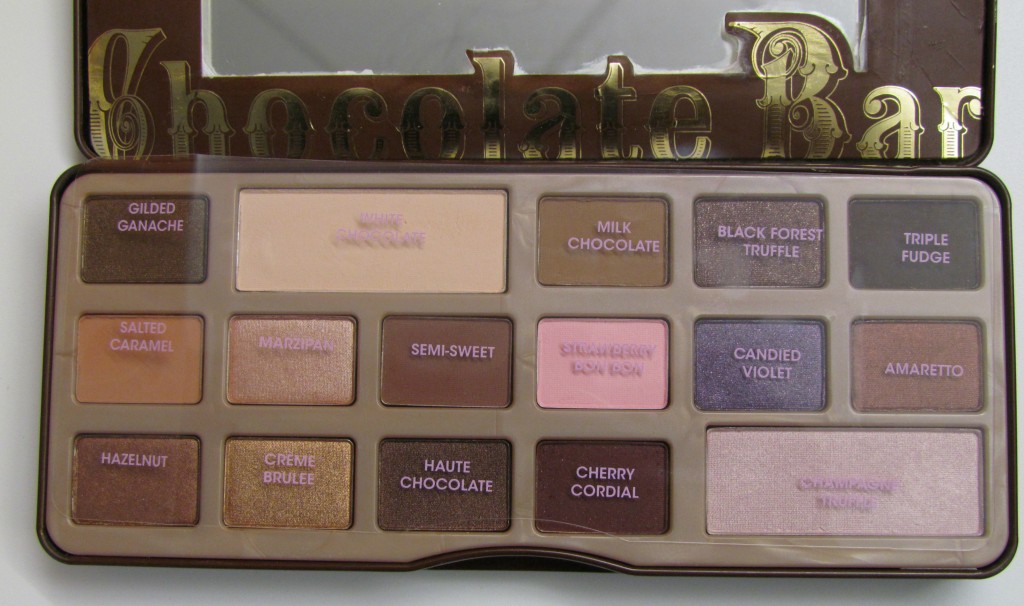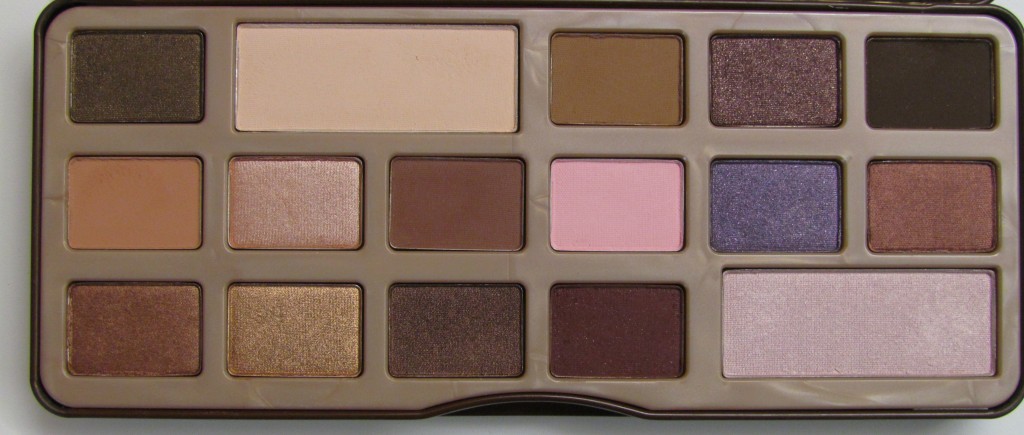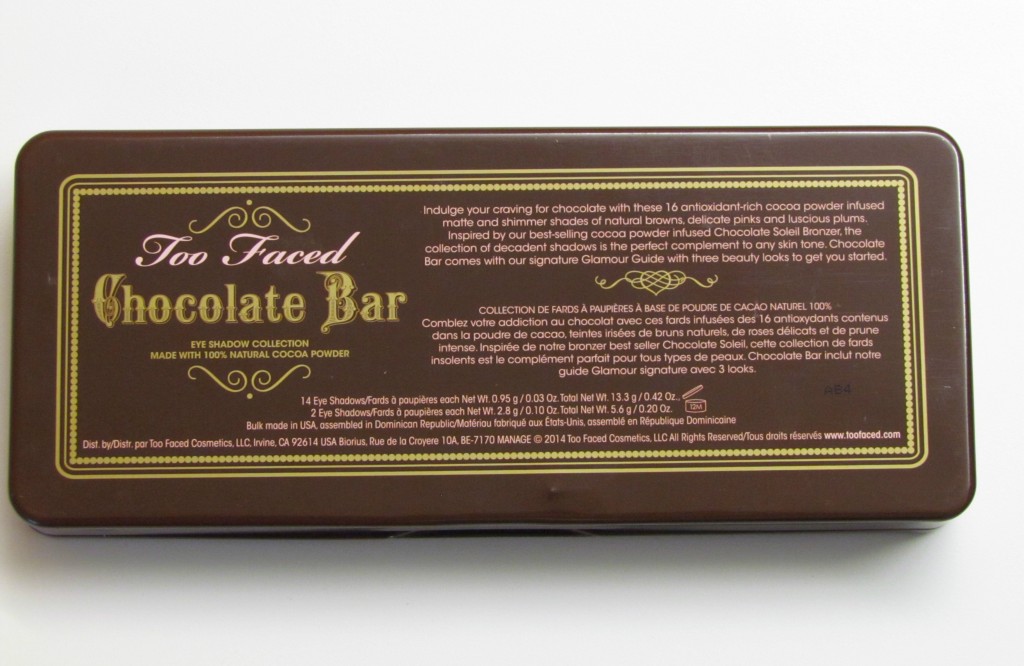 My opinion about the palette 
The interesting thing about the palette is that it looks like a chocolate bar and it is actually made of cocoa powder and it has a chocolate smell to it which is wonderful! Its kind of new to me…Scented eye shadow concept. The scent doesn't stay once you apply the colors though. You can read in this post here to know how I fixed the mirror of this..mirror came cracked during transit.
There are 16 colors out of which 2 are highlighters (double sized). Palette comes with a mirror attached to it. Its a magnetic box and comes with a insert which has shade names.The texture of the shadow varies from shade to shade, sparkly,shimmery,matte,satin. Altogether a nice range of mostly neutral shades. I just love the shades. All of the shades are really pigmented and this palette can be used for creating multiple looks. Buttery smooth shades which are not chalky at all…All of the shades blends effortlessly and don't need a primer too. I have only tried a few of the colors, but so far I'm pleased.
A good mix of mattes and shimmers. The candid violet color looks just beyond AMAZINGLY BEAUTIFUL in the crease. You'll have fun with this palette.
Enjoy the swatches 🙂 Picture Credits :  Vicky 🙂 , My colleague…Of course all these pictures were taken during a break time @ office 🙂 hehehe 


Now, Its time for a look which I created using this palette 🙂
Pros
-Superb Pigmentation
-great chocolate smell
-no fallouts
-easy to blend and apply
-very versatile
-no parabens or sulfates or phthalates 
Cons
Wish it came with a brush or something for the nearly $50 price point, but whatever. I love it! The only complaint I have about this palette is the shadow name insert. I wish the names were actually printed on the packaging like Urban Decay….
Overall I love this palette and if you ask me This or naked 3; My answer would be this 🙂
Much Love
XOXO