Hi girls….Today I am unboxing the Memebox Floral +Tropical Fruits + Sweet Shop. I decided to go for this bundle box. The good thing about bundle boxes is that, your order gets automatically upgraded to express shipping. Lets move on to the unboxing post. Do comment on which is your favorite product 🙂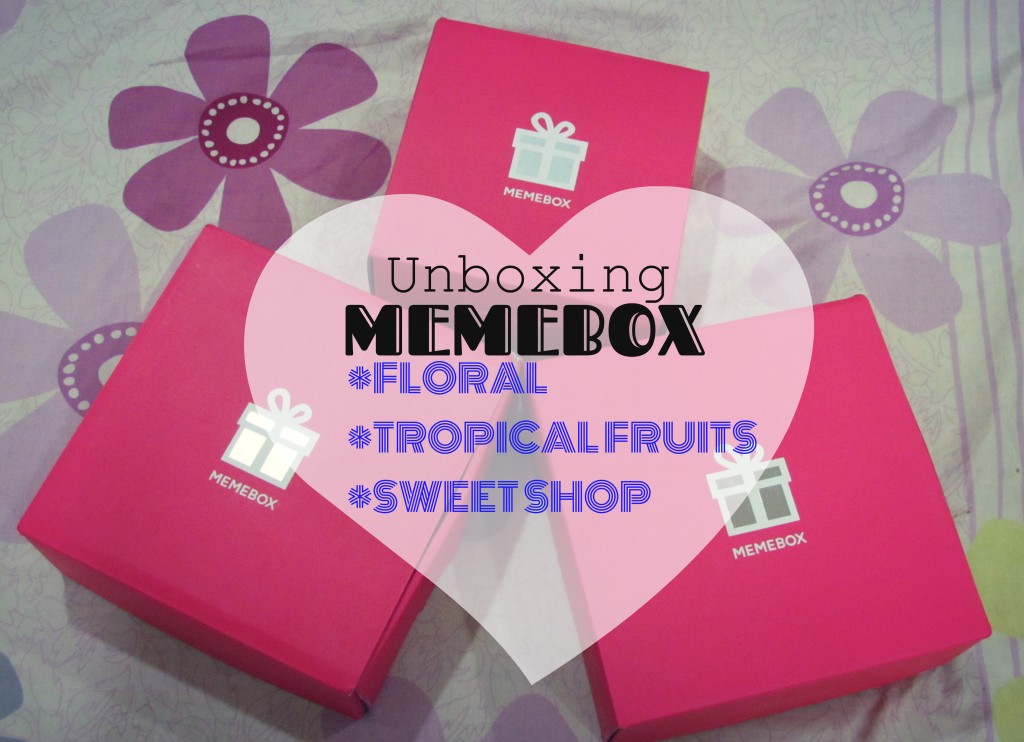 Here comes my memeboxes. So, I ordered this bundle and it came through India post within 2 days of shipment. I never had to pay any customs so far 🙂 *touchwood!
MEMEBOX Scent Box – Floral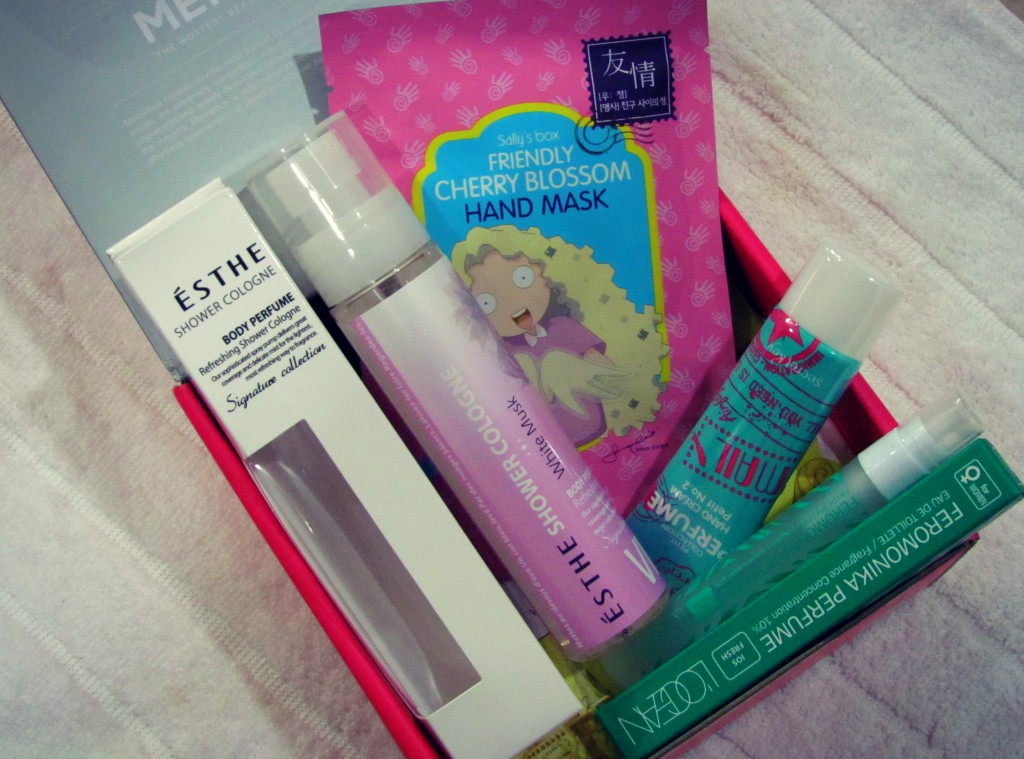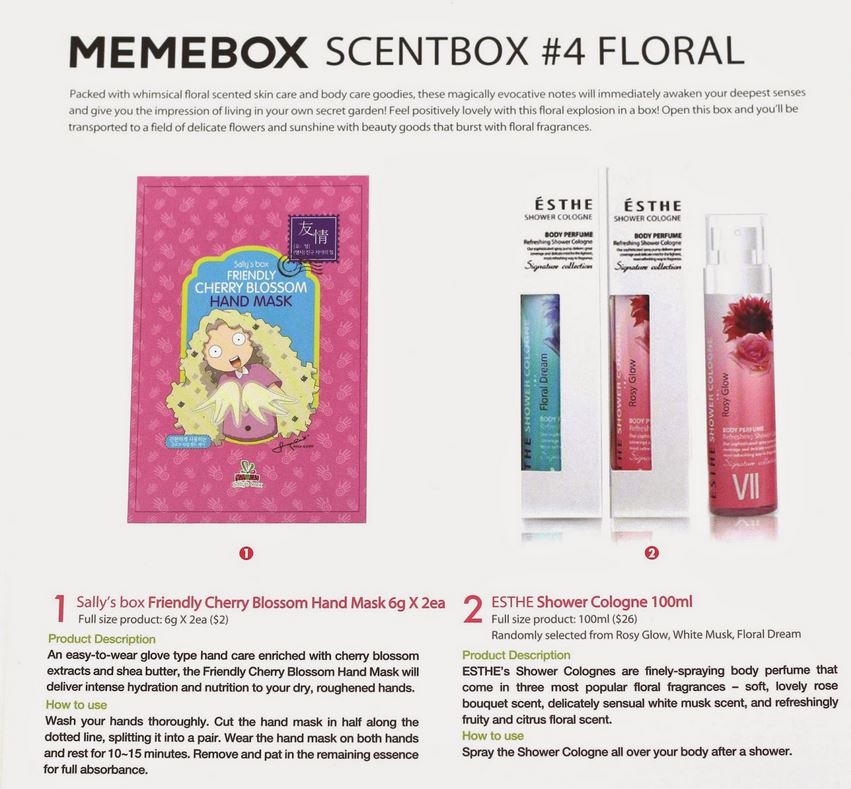 1. ESTHE Shower Cologne 100 ml (White Musk): This is basically a body spray. The scent is a little too old-fashioned for me. – Value: $26 (unavailable)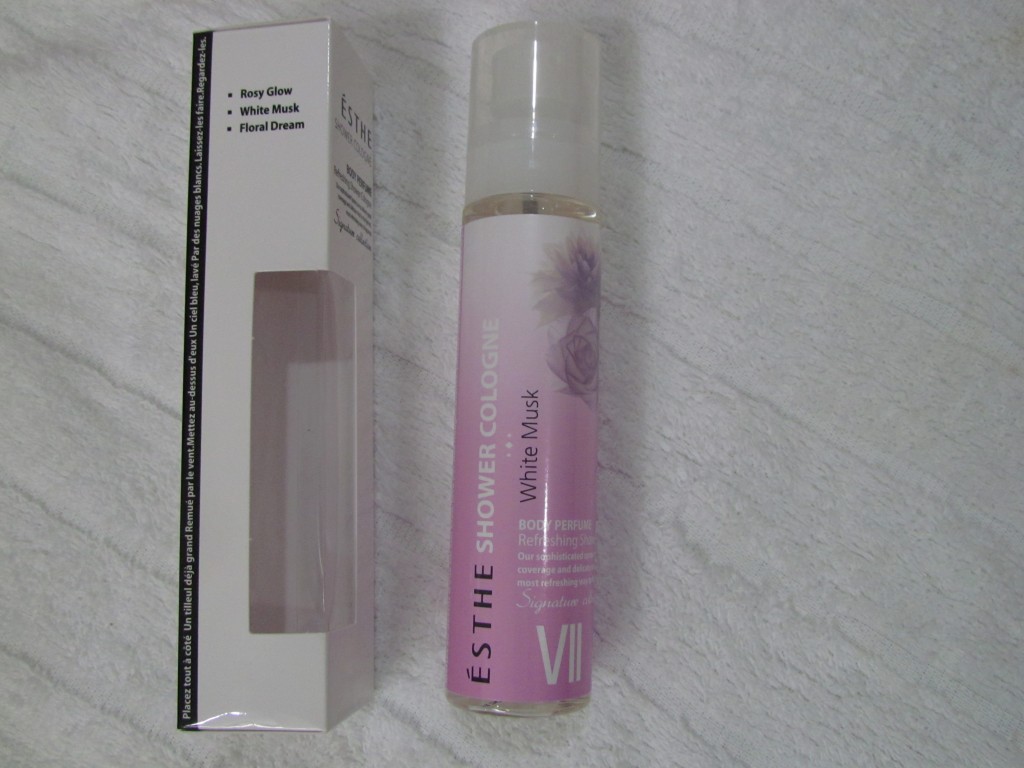 2. Sally's box Friendly Cherry Blossom Hand Mask (6 g each)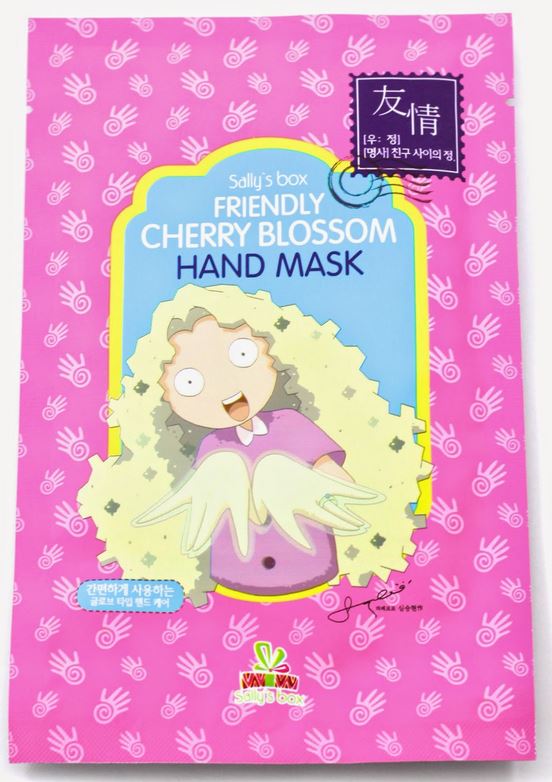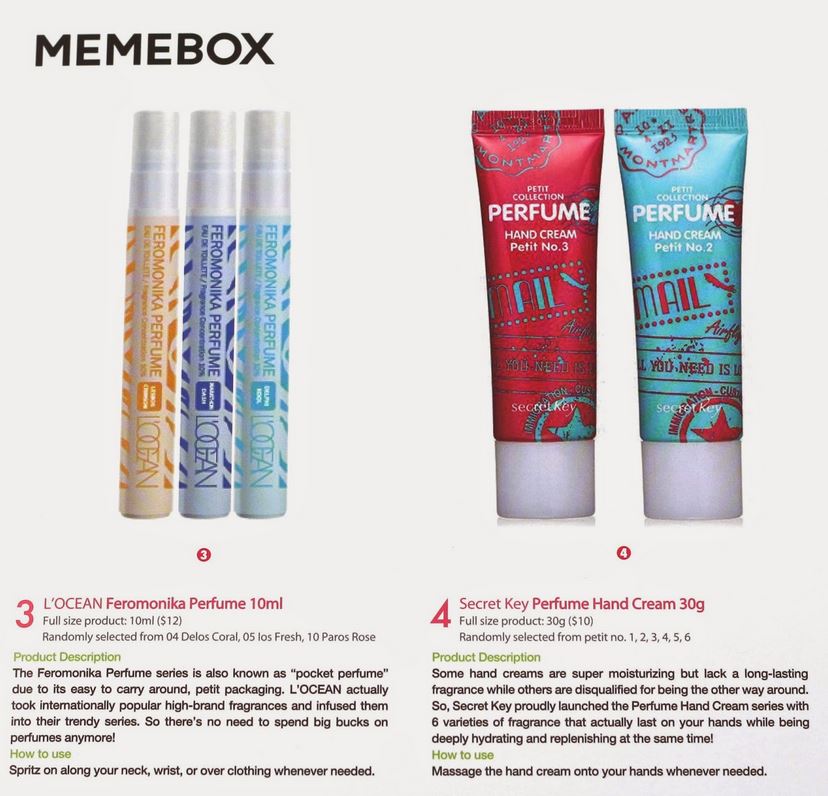 3. Secret Key Perfume Hand Cream 30 g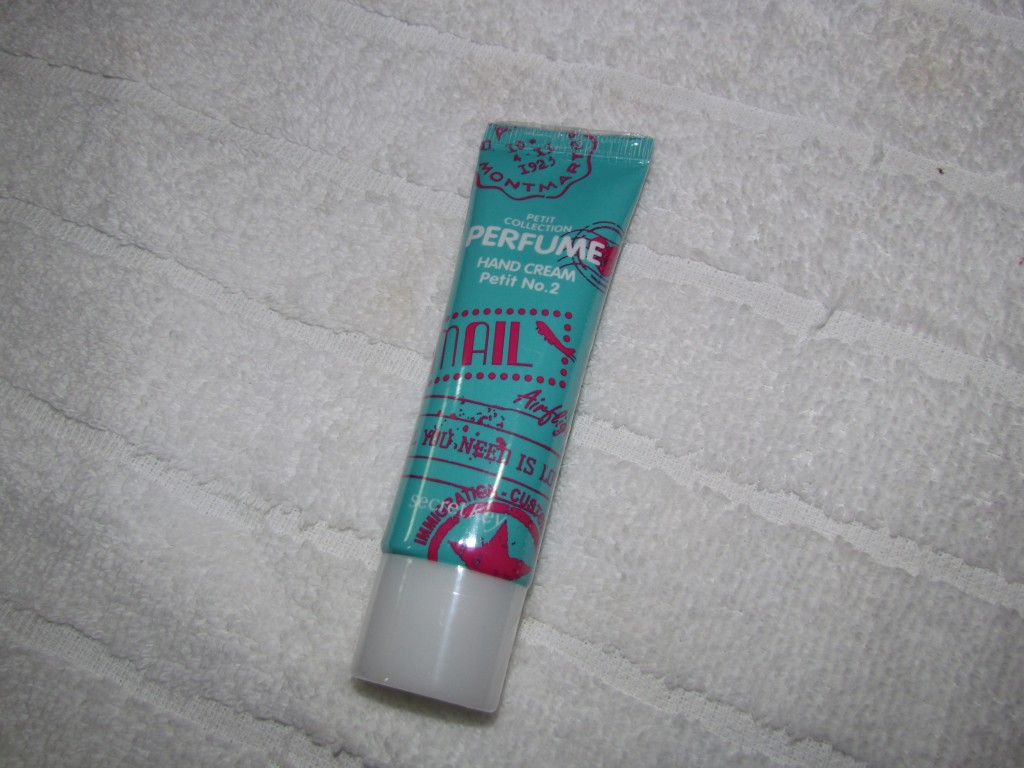 4. L'OCEAN Feromonika Perfume 10 ml : Another perfume. This definitely smells better than the first, but it's a lot smaller. I probably still wouldn't have picked this scent if I had my choice. – $12 (unavailable)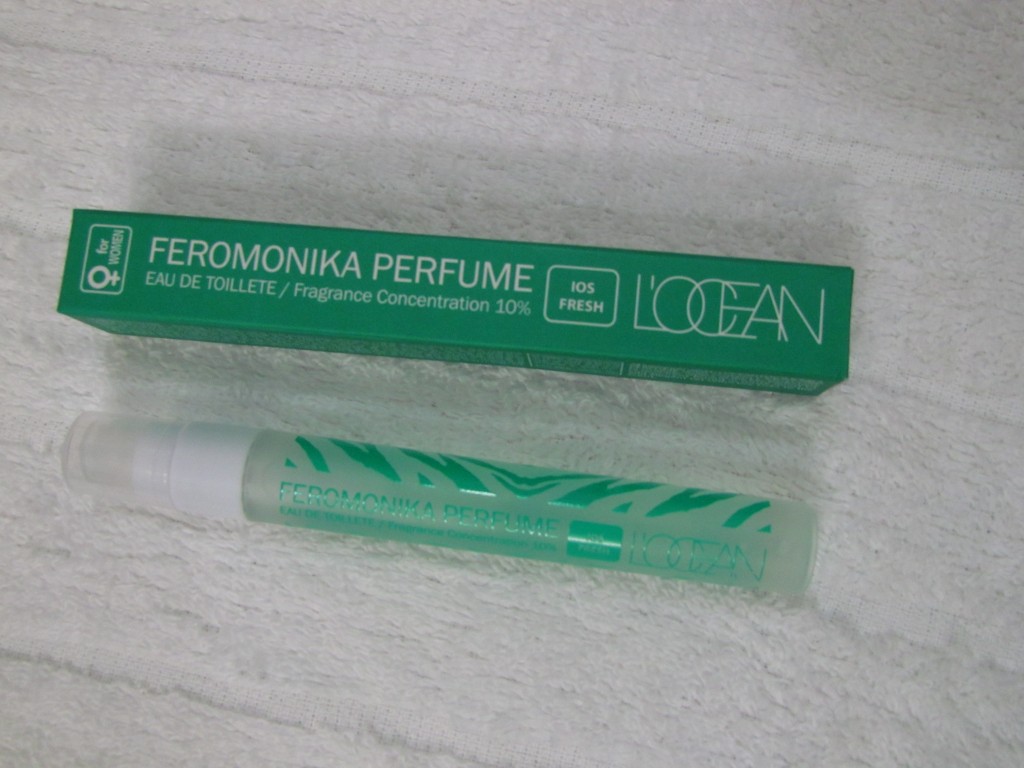 MEMEBOX SCENTBOX – FLORAL full set : Excited about perfumes. and the hand mask 🙂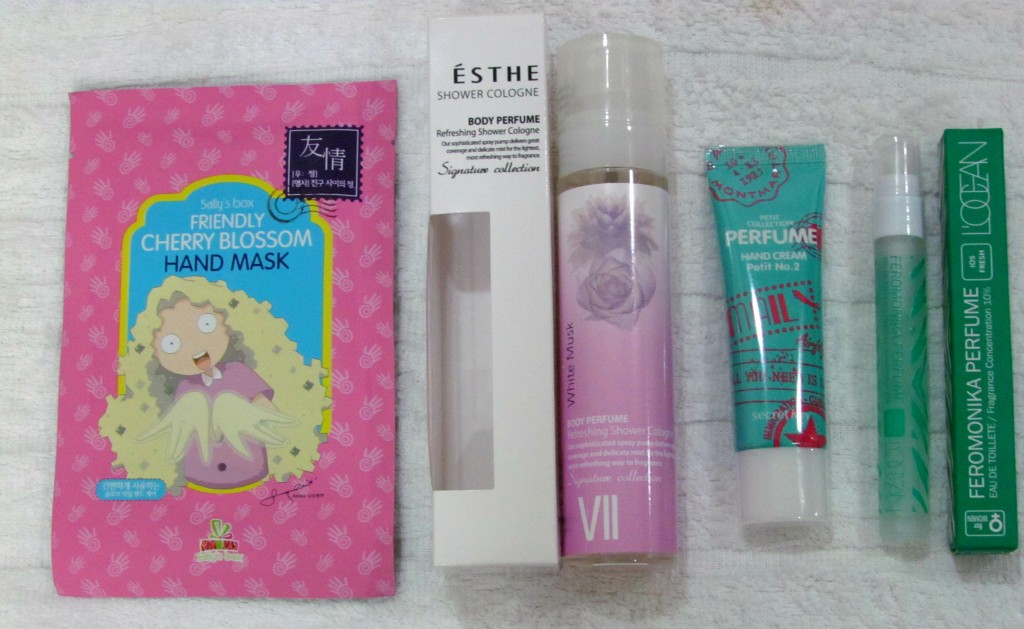 MEMEBOX SCENTBOX – SWEET SHOP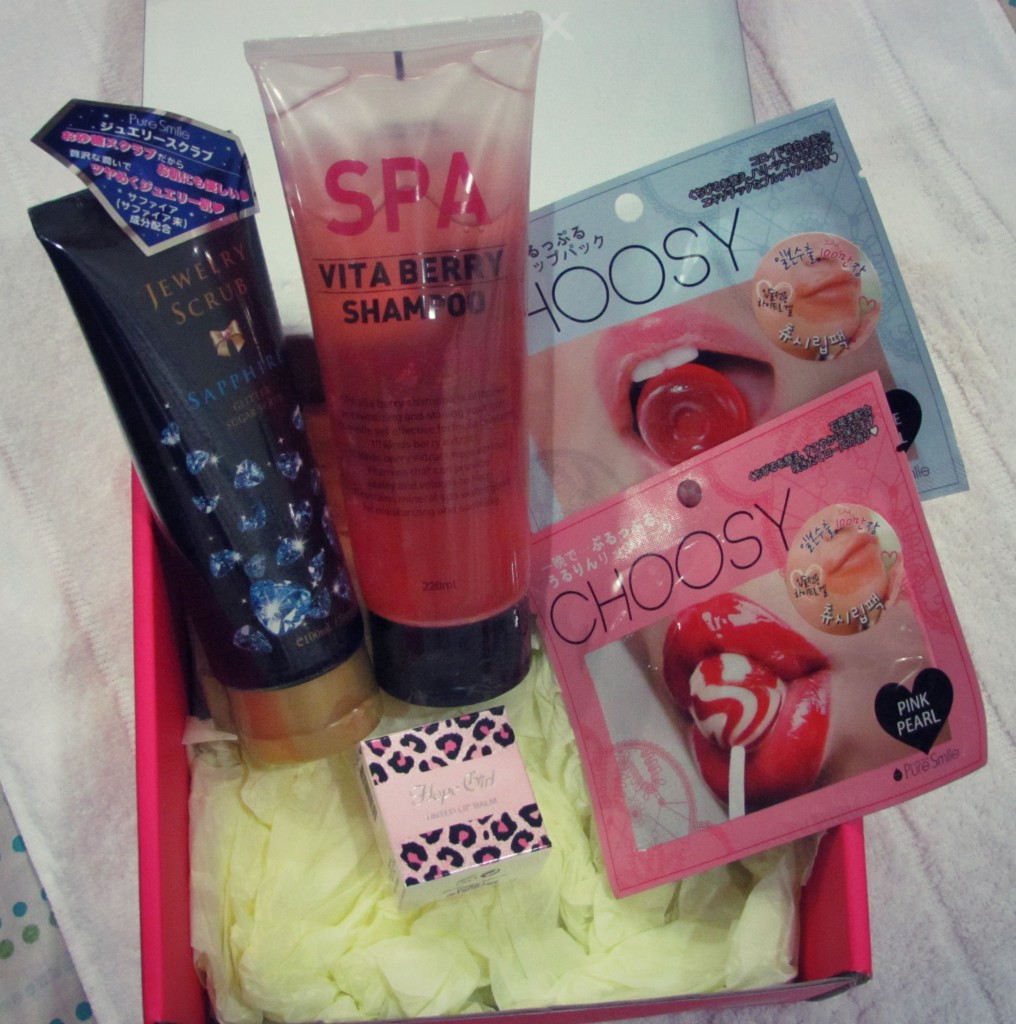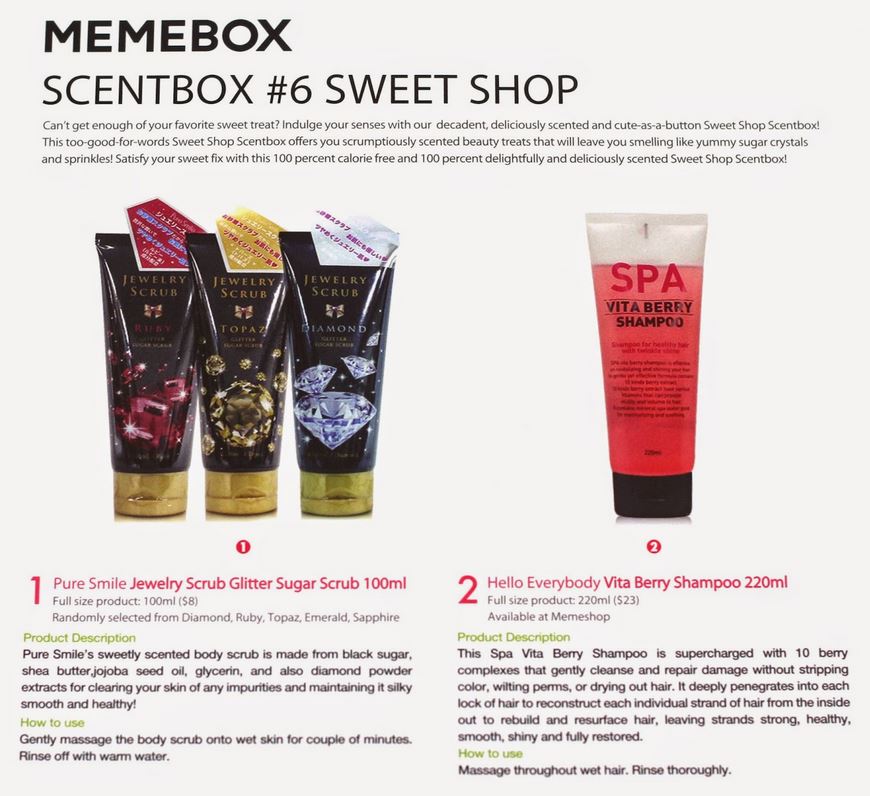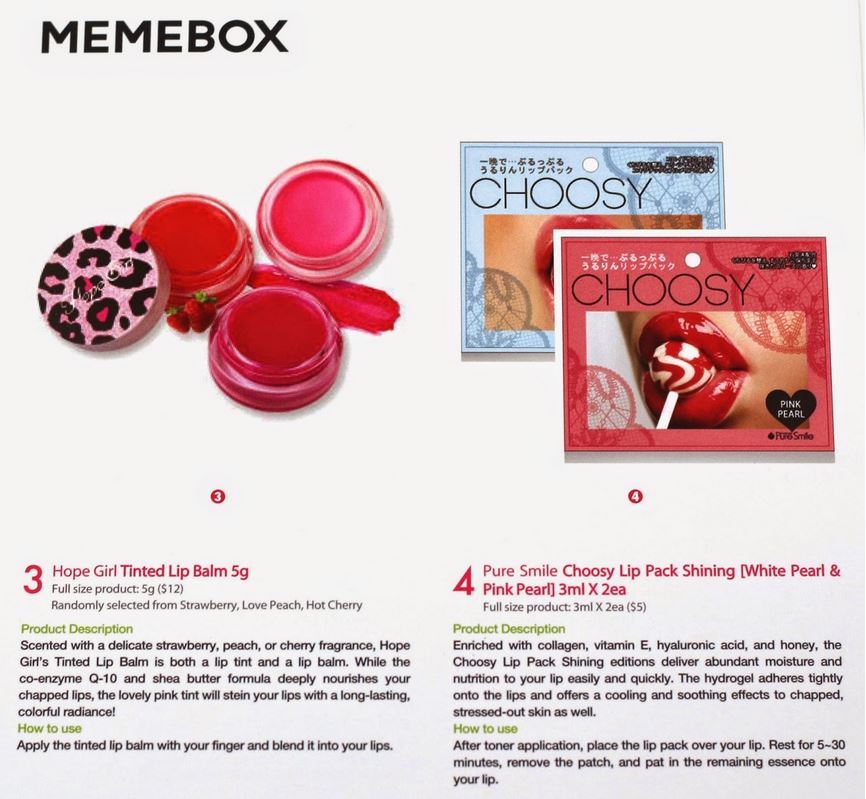 1. Pure Smile Jewelry Scrub Glitter Sugar Scrub in Sapphire – (100ml full size/$8)
2.Hello Everybody Vita Berry Shampoo – (220ml full size/$23) :A shampoo that smell really fruity.  I love the berry scent. Made my hair so fluffy, soft and shiny! Absolutely love this one 🙂
3.Hope Girl Tinted Lip Balm in Strawberry – (5g full size/$12)
4.Pure Smile Choosy Lip Pack Shining in White Pearl and Pink Pearl – (3ml x 2ea/$5)
MEMEBOX SCENTBOX _ SWEETSHOP full set : Love the shampoo and excited to try the scrub. other two stuffs are useless.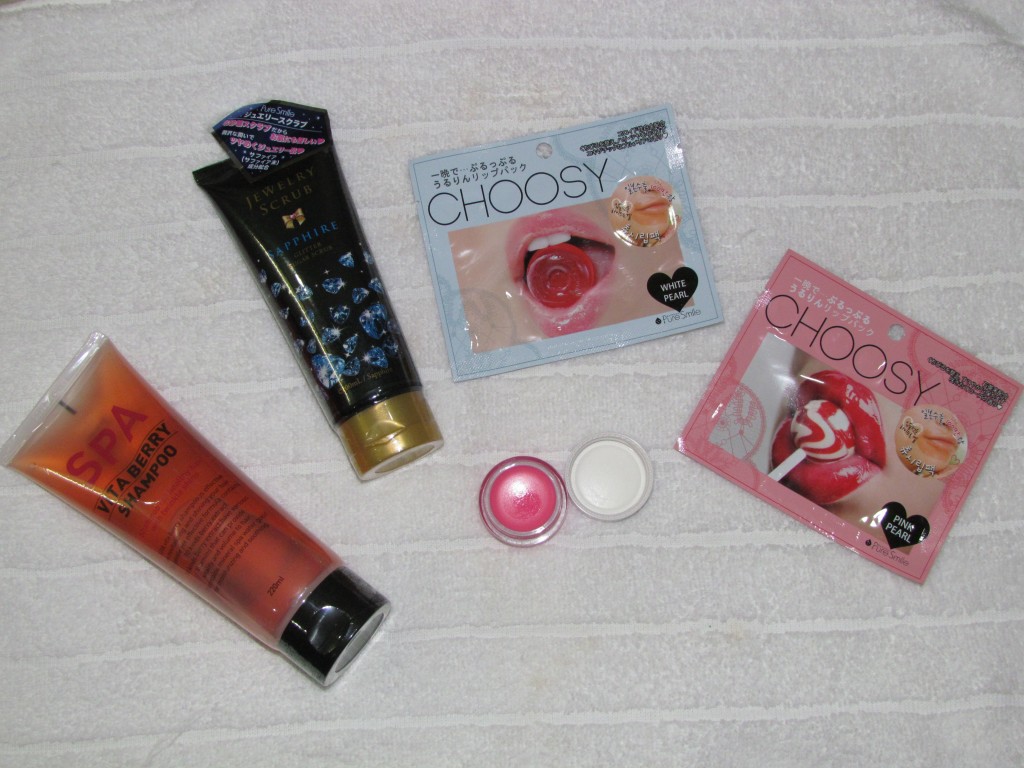 MEMEBOX TROPICAL FRUITS BOX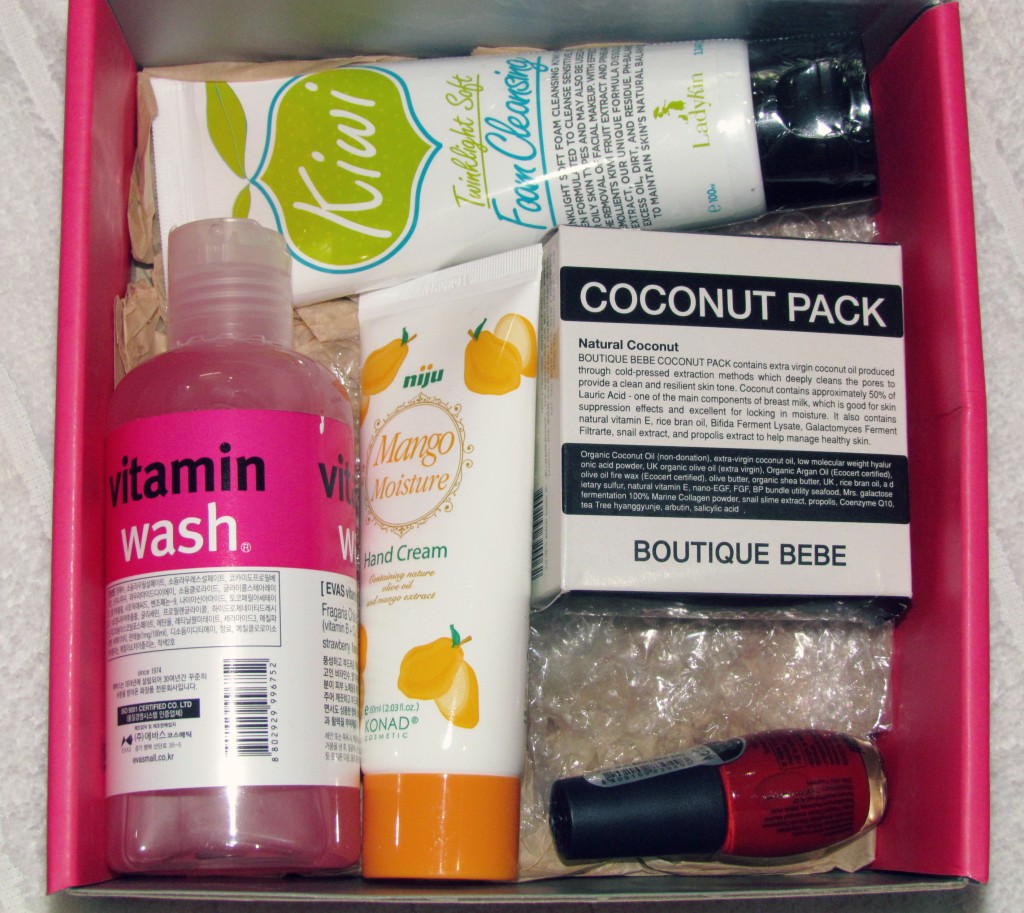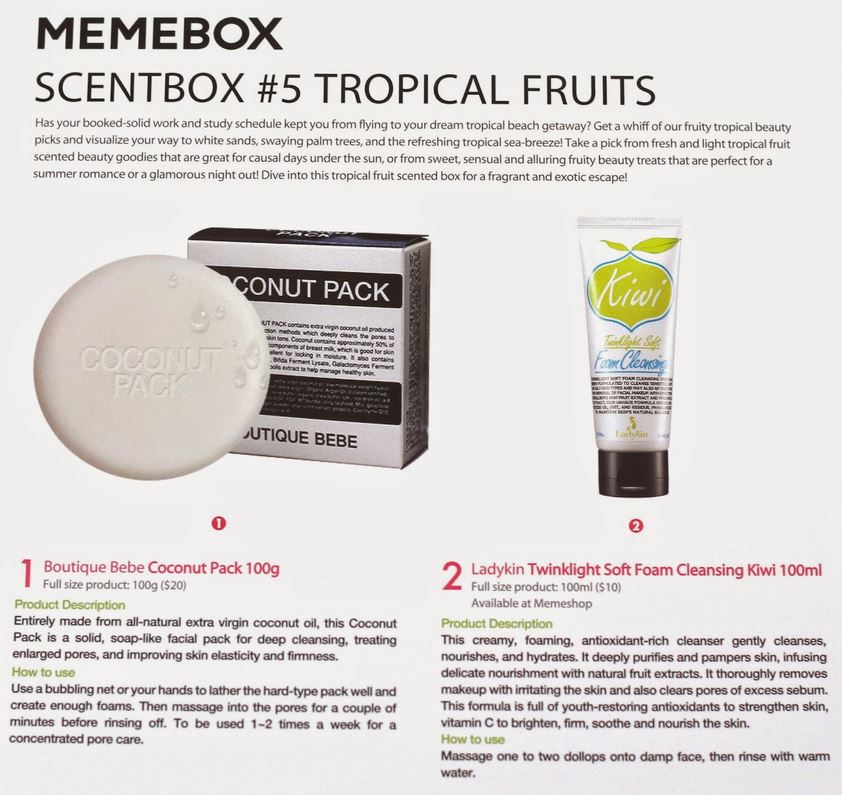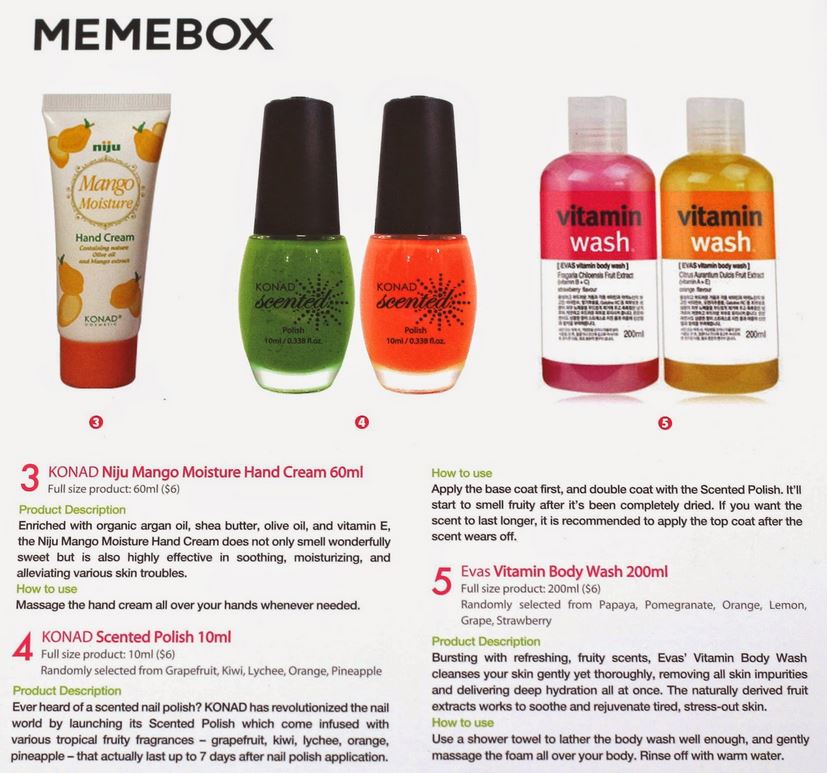 1 ) Boutique Bebe Coconut Pack – (100g full size/$20) *Ingredients listed in English*
Product description: "Entirely made from all-natural extra virgin coconut oil, this Coconut Pack is a solid, soap-like facial pack for deep cleansing, treating enlarged pores, and improving skin elasticity and firmness."
How to use: "Use a bubbling net or your hands to lather the hard-type pack well and create enough foam. Then massage into the pores for a couple of minutes before rinsing off. To be used 1-2 times a week for a concentrated pore care."
My view: Absolutely smells like pure coconut, and it's wrapped in plastic inside the outer packaging. Pretty strong scent to be getting through so many layers! I like coconut so this will totally get used. I've never seen a face pack in soap bar form, so it's a product I'm so interested to try.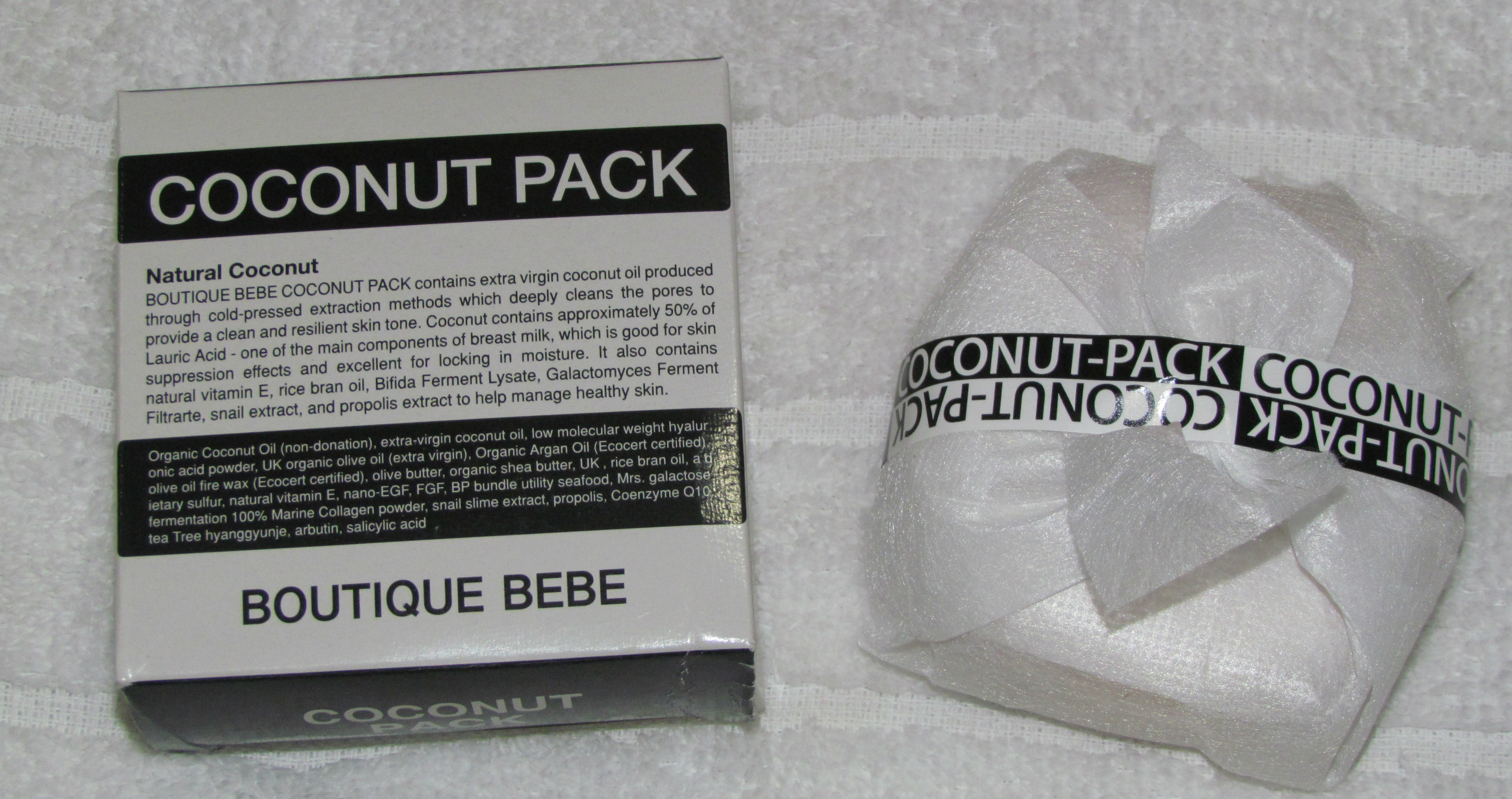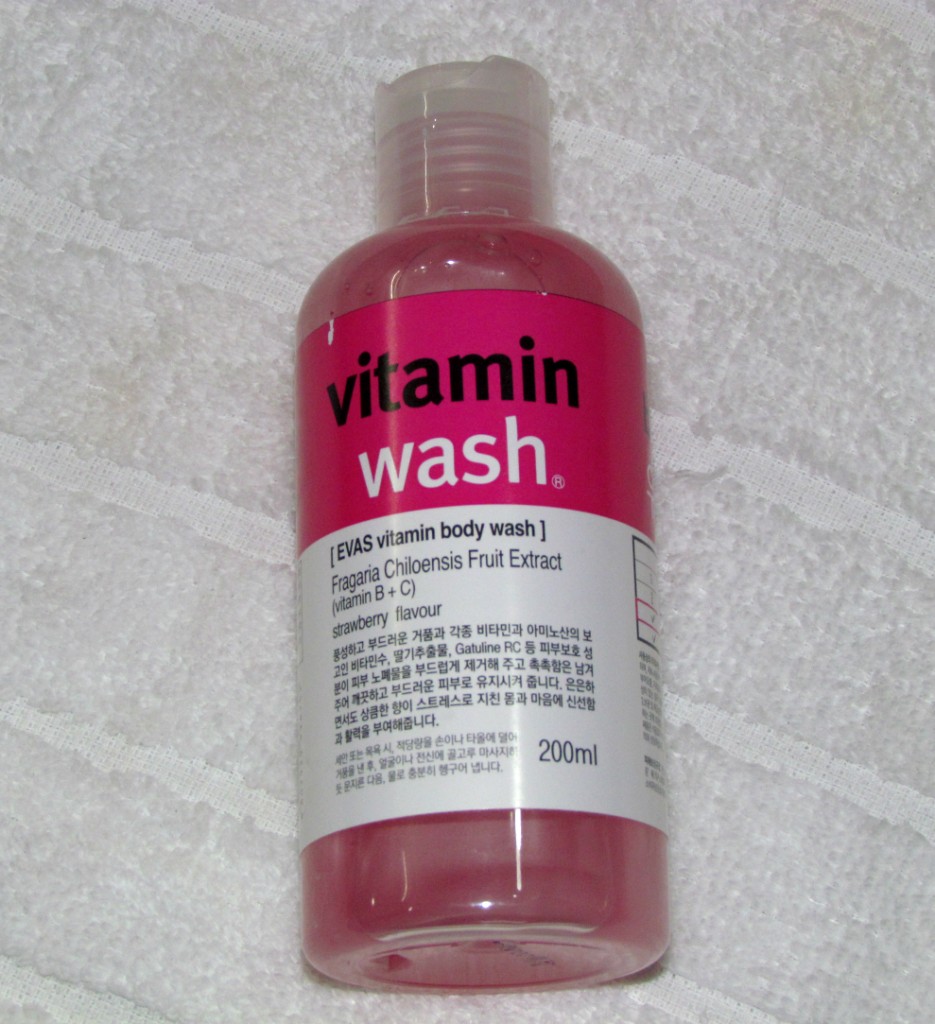 2. Ladykin Twinklight Soft Foam Cleansing Kiwi – (100ml full size/$10)
Product description: "This creamy, foaming, antioxidant-rich cleanser gently cleanses, nourishes, and hydrates. It deeply purifies and pampers skin, infusing delicate nourishment with natural fruit extracts. It thoroughly removes makeup without irritating the skin and also clears pores of excess sebum. This formula is full of youth-restoring antioxidants to strengthen skin, vitamin C to brighten, firm, soothe and nourish the skin."
How to use: "Massage one to two dollops onto damp face, then rinse with warm water."
Its a fully sealed tube. I have lot other cleansing foams to finish. Once I finish my current one,  I might try this…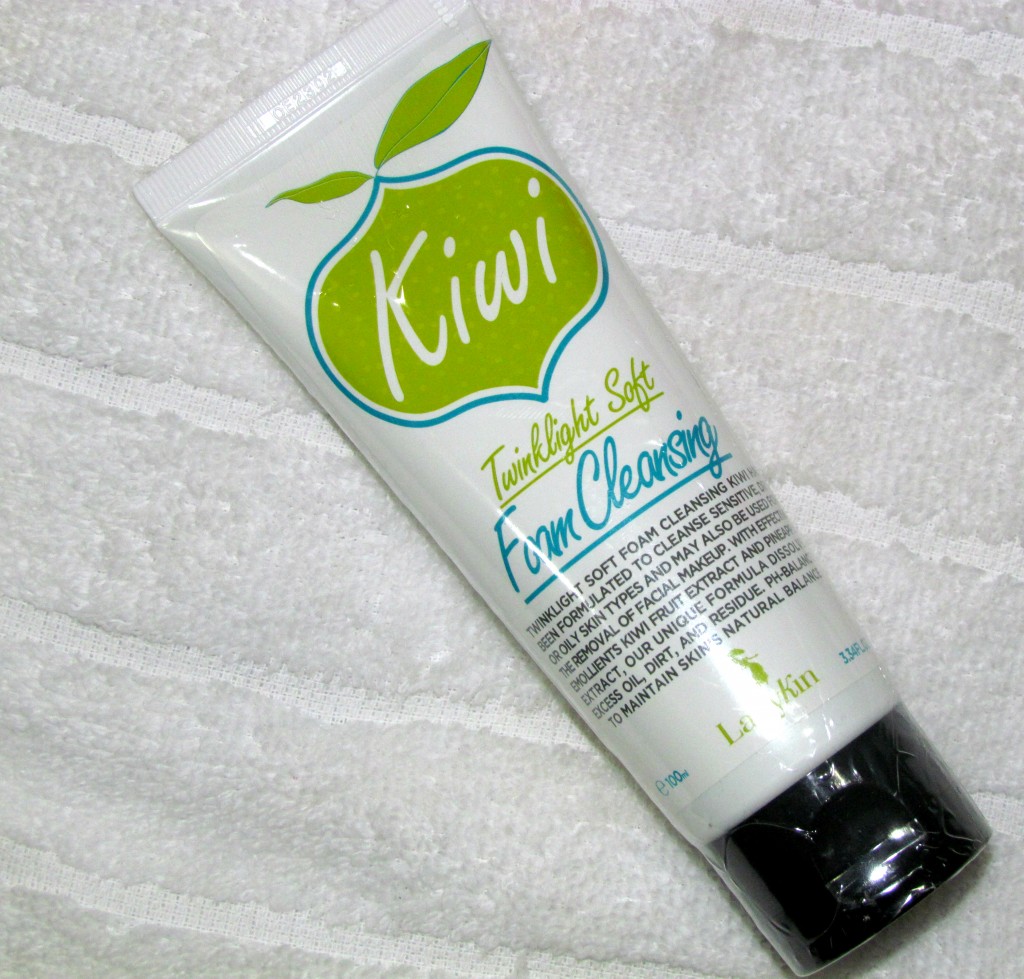 3. Konad Niju Mango Moisture Hand Cream – (60ml full size/$6) *Ingredients listed in English*
Product description: "Enriched with organic argan oil, shea butter, olive oil, and vitamin E, the Niju Mango Moisture Hand Cream does not only smell wonderfully sweet but is also highly effective in soothing, moisturizing, and alleviating various skin troubles."
How to use: "Massage the hand cream all over your hands whenever needed."
Again, a sealed product. I will share my views when  I start using it 🙂 But, must say, I am a big fan of handcreams…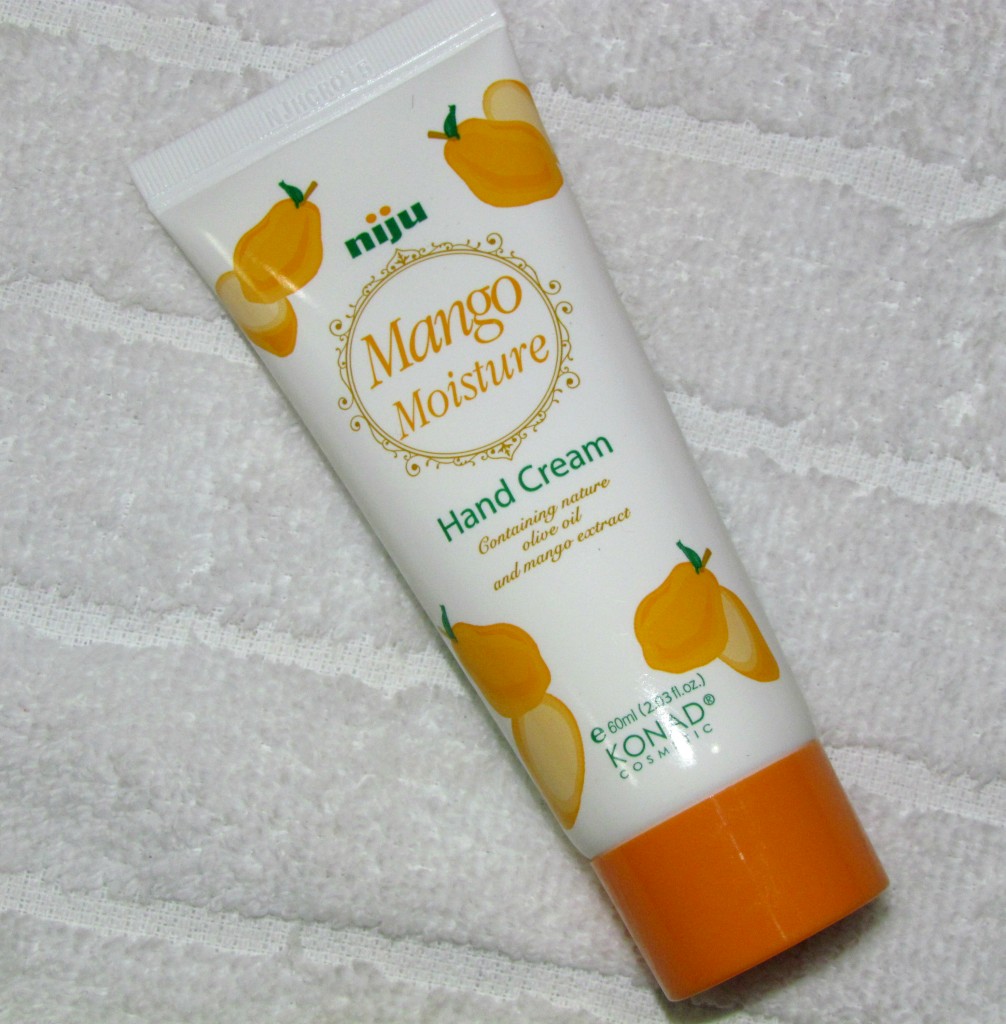 4. Konad Scented Polish in  (10ml full size/$6) *Ingredients listed in English*
Product description: "Ever heard of a scented nail polish? (Why yes I have…) Konad has revolutionized the nail world by launching its Scented Nail Polish which come infused with various tropical fruity fragrances – grapefruit, kiwi, lychee, orange, pineapple – that actually last up to 7 days after nail polish application."
How to use: "Apply the base coat first, and double coat with the Scented Polish. It'll start to smell fruity after it's been completely dried. If you want the scent to last longer, it is recommended to apply the top coat after the scent wears off."
Haven't tried yet!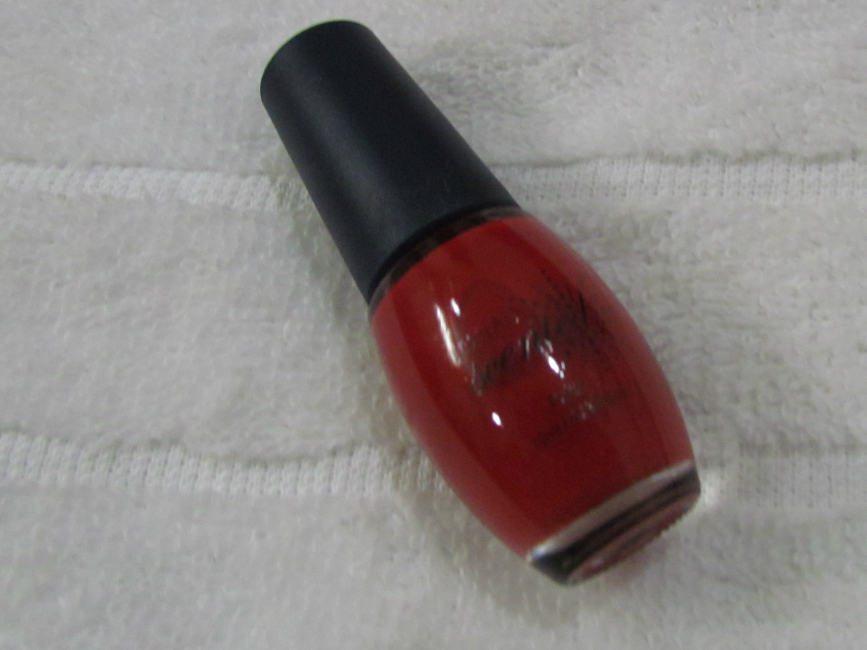 The full set : MEMEBOX TROPICAL FRUITS BOX : This is my favorite box 🙂 I love all the products in it …Most excited for coconut pack!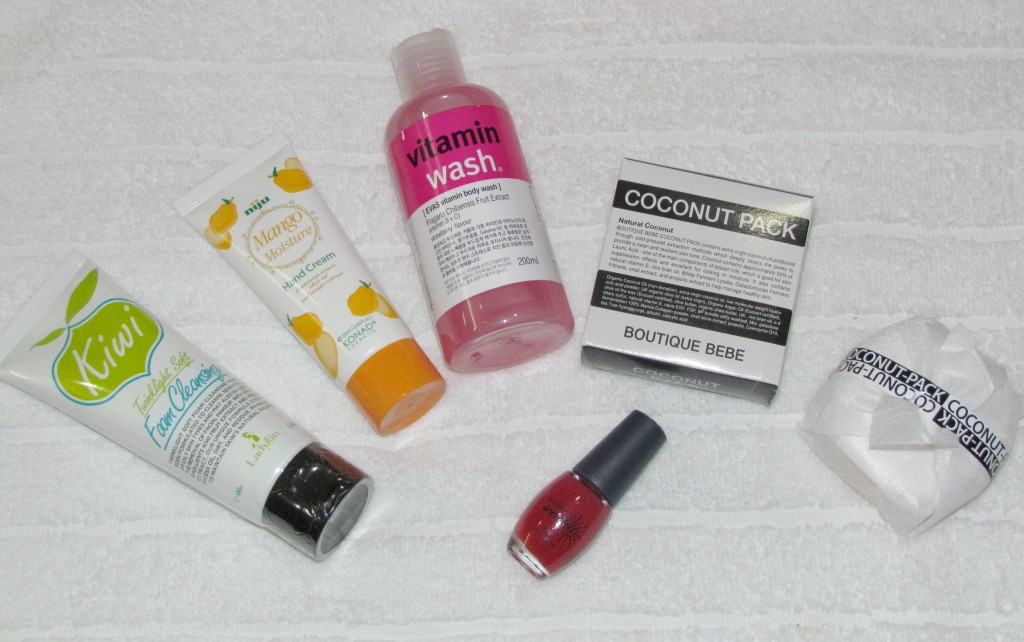 Use the following codes to get savings on your purchases:
Get 10% off orders above $100: 10%OFF$1004U

$5 off on entire order when purchasing over 3 Memeboxes: MEMEBUNDLE3

$8 off on entire order when purchasing over 4 Memeboxes: MEMEBUNDLE4
Hope you guys enjoyed the unboxing post. Which is your favorite product from this bundle.