Hello my beauties,
I am so happy to review my first ever UD palette on one of my favorite blog. The happiness is similar to when a kid gets her first Barbie doll to play with.  I love each and everything about this palette!! Generally UD palettes are costly and for a novice like me it's too much to spend on a palette.  When the whole world was after vice 3, I brought this baby home to play with. I prefer neutral shades but sometimes smoking is so easy :P.  It has brown, purple, blue, green, black exactly what I always look for.  Let's get started…



What Company Claims:
Urban Decay Smoked Palette revolutionizes the classic smokey eye look and includes 10 decadent eye shades to create an array of looks from chic and sultry day looks to all-out night time glam.
Smoked Palette introduces exciting hues to the chic smokey eye look and allows you to add a hint of sultry, smudgy colour during the day or commit to full-on smokey glamour for an after dark look. Complete with a full size 24/7 Glide on Eye Pencil in pure matte black and the renowned Primer Potion so your eye shadow stays smudge and crease free all day long.
Complete with a comprehensive, step by step guide to create 12 of the hottest smokey eye looks, written by Urban Decay founder, Wende Zomnir, Smoked Palette is a must-have for both smokey-eye pros and shadow newbies. Palette also includes: 24/7 Glide On Pencil in Perversion 1.2g – A classic matte black eyeliner. Eye Shadow Primer Potion in Original – Enhances your eye shadow for a crease-free, smudge-free finish.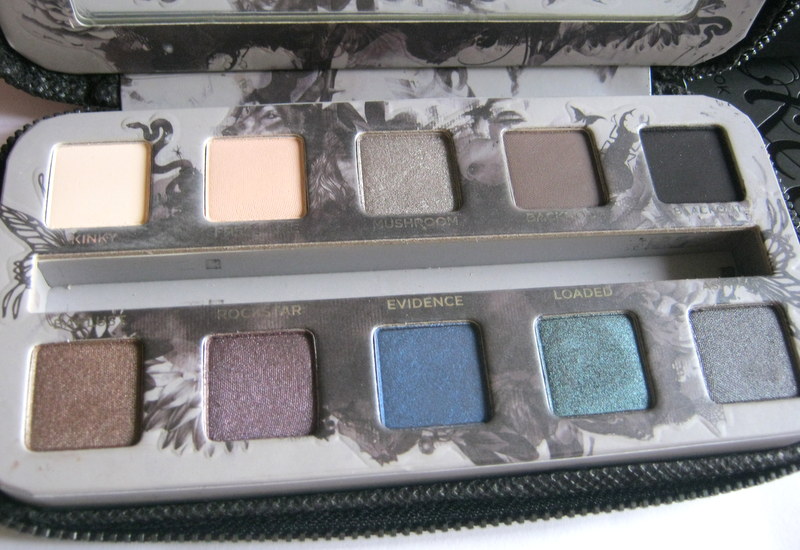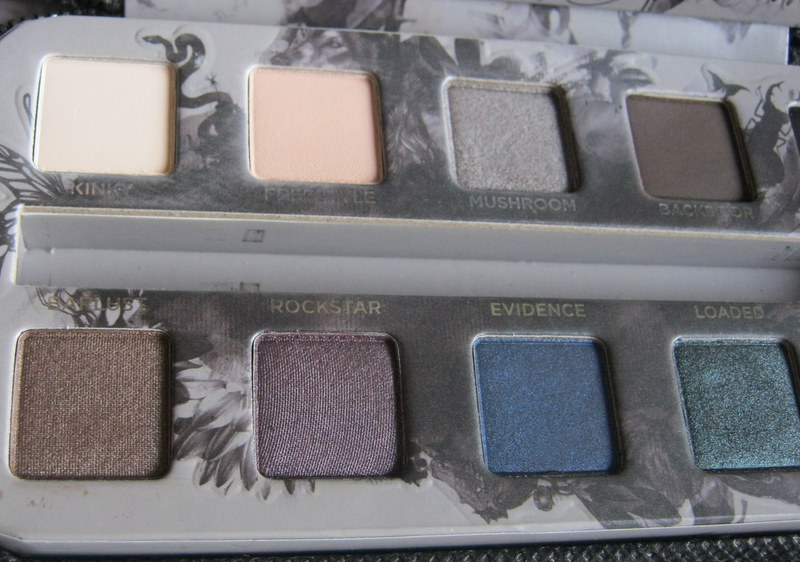 Price: $49 USD (I brought it at discounted price during Black Friday sale)
UD smoked palette Include 4 matte shades and 6 shimmery shade. They include:
Kinky – light natural beige with a matte finish. It is very smooth and soft to touch. Has a nice colour pay off. I find it easy to blend and go on smooth but has minimum amount of fall out. Can be applied all over eyelid and brow bone area. Exclusive and new shade to this palette.
Freestyle – Medium tan with a matte finish. It looks like light peach brown to me and has matte finish. It also has good colour pay off with min amount of fall out. Very nice transition shade.-Exclusive and new shade to this palette.
Mushroom – It is a warm grayish brown with shimmer and has taupe undertones. I am in love with this shade. The texture is extremely soft and silky, buttery smooth and easily blendable with no fall out. I have created an EOTD with this look below.. J It is very pigmented and dense. –Permanent Shade.
Backdoor – It is a dark gray brown shade with matte finish. This is also new shade to this palette, beautiful for contouring outer V and lower lashline. Backdoor also has minimum amount of fall out but the intensity of the colour is wonderful.
Blackout – It is again an intense blackest black shade with matte finish. The richest black I have seen so far. I don't see any fall out for this. It goes on easy and blendable.
Barlust – It is deep golden brown shimmery shade with red undertone. The texture is smooth as butter. I enjoy using this kind of texture which blends easily, gives extremely rich colour pay off with no fall out. This is again a new and exclusive shade to this palette.
Rockstar – This shade is another favorite of mine. I love purple eye shadows and it is a deep purple with shimmers. It is a permanent shade and has buttery smooth texture with no fall out.
Evidence – A deep navy blue shade with shimmer, it also has a subtle metallic sheen to it. The texture of this shade is slightly dry and rough than others however it gives good colour pay off. No fall out and permanent shade.
Loaded – This shade is OMG- wonderful and sexy at the same time.. Another fav of mine.. It is a deep metallic emerald green. It looks dark more of a blackened green on eyelid if packed on too much. The texture is similar to Mushroom- very smooth and buttery with no fall out. This is part of the permanent range.
Asphalt – It is a shimmering gunmetal medium –dark grey. The colour pay off is medium to buildable with no fall out however the texture of the shade is less smooth than the others. This is a new and exclusive shade to this palette.
Swatches, EOTD
Rating: 4.8/5 <3 <3
 Overall, I thoroughly enjoy each and every shades in this palette.  The packaging comes zipped inside this sleek, mirrored case, quite protected and handy. I liked the packaging is very travel friendly. The incredible pigmentation and long lasting staying power which I never had any experience with any other eye shadows so far. While the shimmer shades are the stars, the mattes give slight fall out. "Each velvety eye shadow features Urban Decay's new formula with the proprietary Pigment Infusion System for richer, smoother colour, incredible texture, blendability and long-lasting wear".  Hats off UD- Now I know why everyone is crazy about urban decay eye shadow they are worth every penny and I highly recommend it. Going to create more room for UD eye shadows now 😀 😛
By Contributor – Sushmita M J