Girls…Today I am reviewing Za True White Plus 2-Way Foundation. The Za India PR team was so sweet enough to customize it with my name engraved on the case, which is omg!! fabulous and special #LoveBeingBeautyBlogger #FeelsSpecial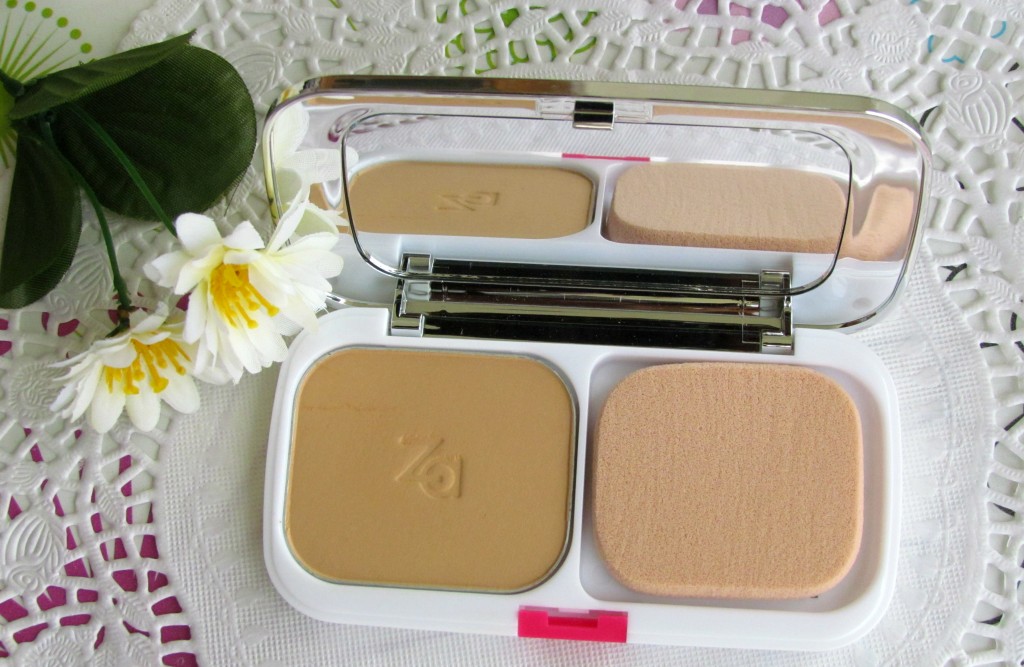 What does Za claim about this 2-way Foundation
This compact light-weight powdery foundation minimizes the appearance of dark spots giving a pearly, radiant finish. Its Vitamin C ingredients diminish melanin formation while the SPF 20-PA++ protect skin from UVA and UVB.
Can be used wet or dry for flawless and radiant, pearly-white finish without clogging the pores.
Available in 4 shades to suit Indian skin tones.
Packaging & Price
For First Time Purchase: You need to buy the compact case and refill separately. After which you can buy the refill alone too (comes in a transparent packaging which you can travel with)..
Compact case: 400 INR
Refill: 550 INR for 9g (comes with a sponge applicator)
How to use
For dry use, take foundation evenly on the sponge and smooth over face and neck by moving from centre of the face outwards.
For wet use, dampen the sponge and squeeze tightly; take foundation evenly on the sponge and smooth over face and neck by moving from centre of the face outwards.
More Pictures of the product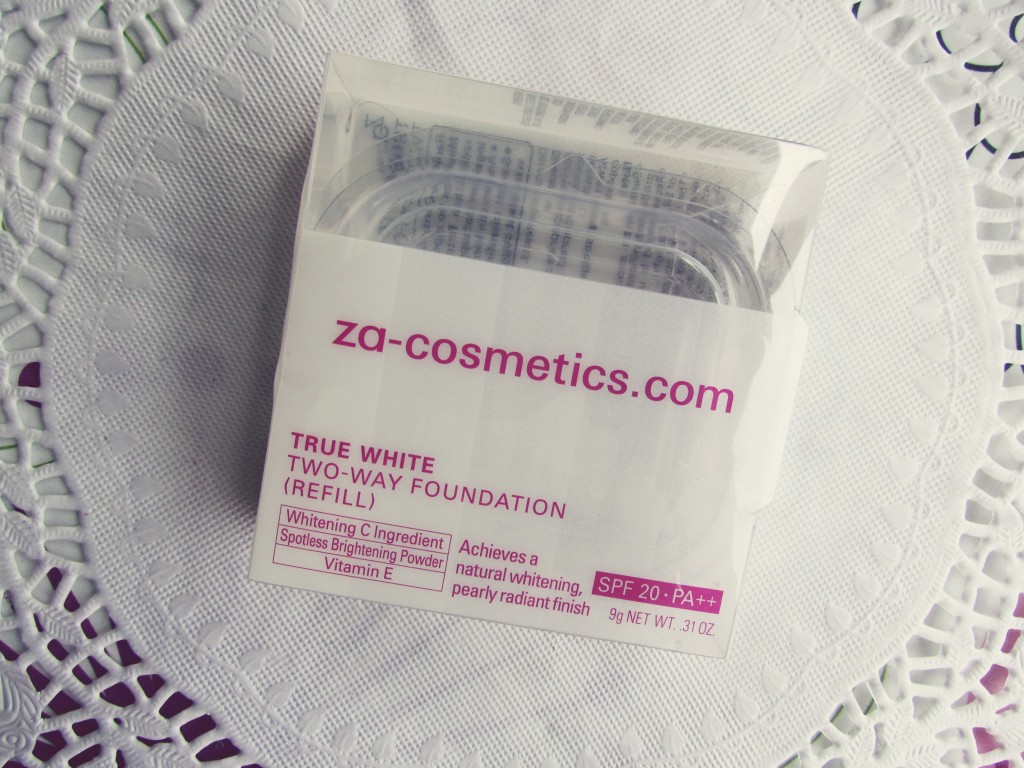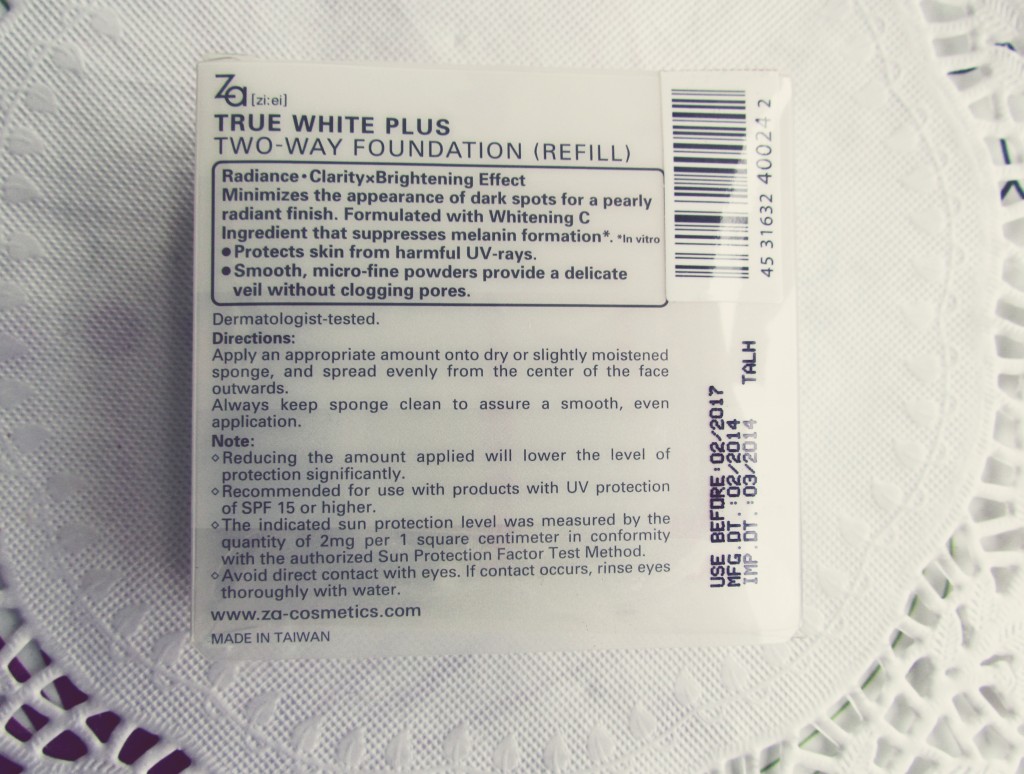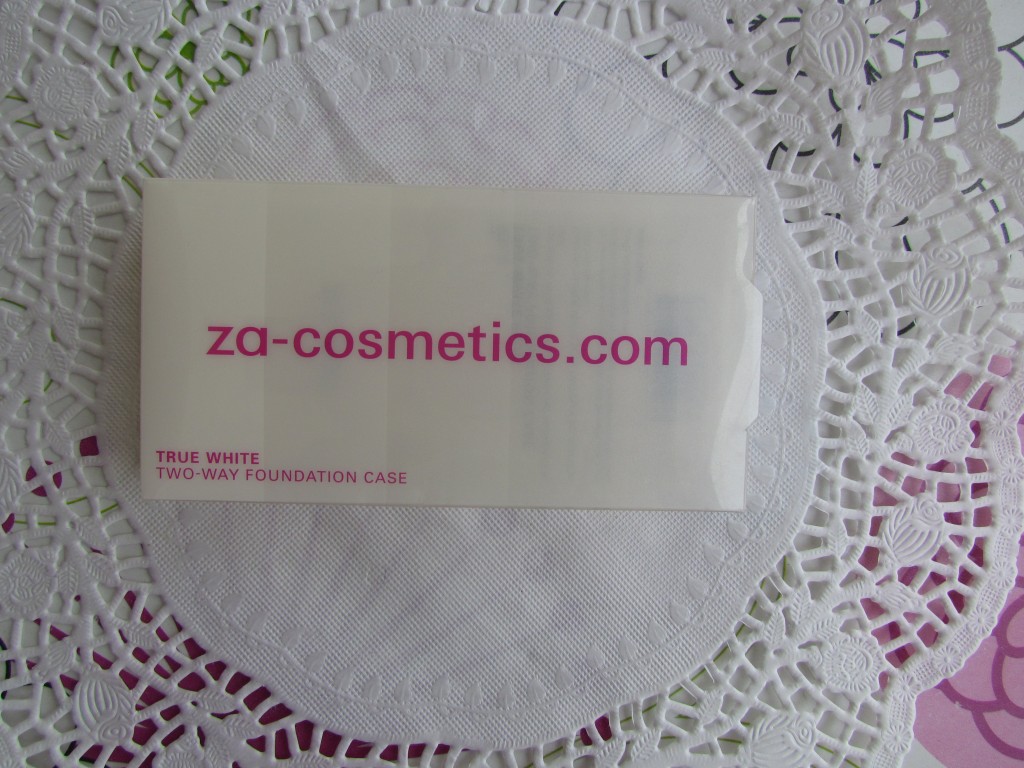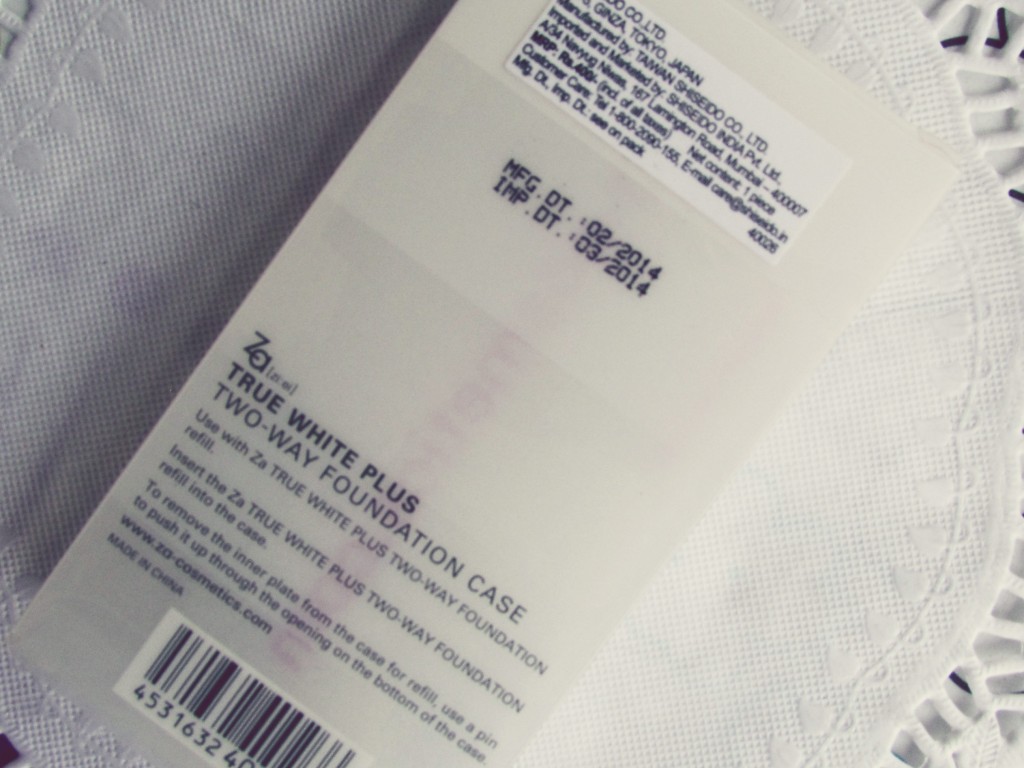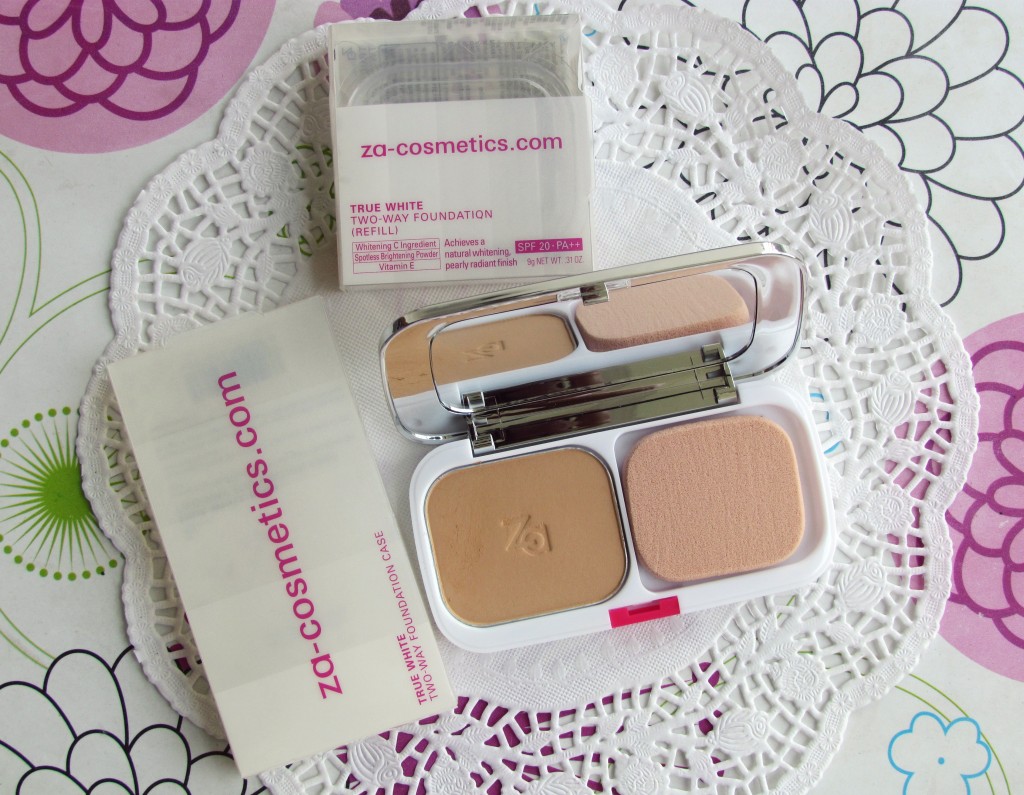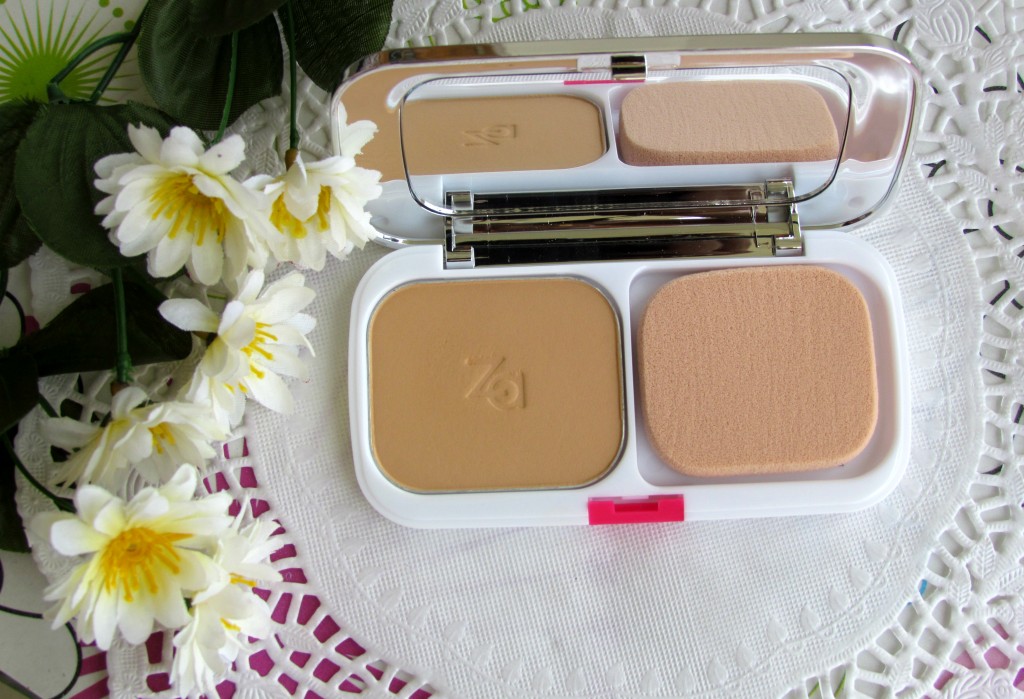 My experience using Za True White Plus 2-Way Foundation
Comes in a stunning chrome silver and is a fingerprint magnet – gorgeously packaged product. It wouldn't be so beautiful if it were matte. The compact is empty- What makes is speacial is that -it has my name engraved on it. I got the  True White Plus 2-Way Foundation refill in shade #22. Refill comes with a sponge too. To fit the refill into the compact. Just peel off the sticker underneath the refill plate, and slot it in!
I use my Real Techniques buffing brush or ELF studio powder brush to apply this. he 4 shades available in India- #22 is the only shade with strong yellow tones to it. However, I still feel the shade range is quite bad considering Indian market.
Now, before writing about my experience using it- Let me confess- I use this not as a foundation- But, as a setting powder. The texture of the product is very soft. no gritty or powdery feel upon application. FOr my NC40 skintone- its a right match. though its a little lighter in the case- It blends and helps eliminate shine on my T Zone area. I don't believe in any brightening claim – so, not commenting on that. I apply my regular foundation and set it using this compact. It has SPF to it. It gives a light-medium coverage. As  I use it as a setting compact powder- the staying power is about 6 hours after which one needs to touchup.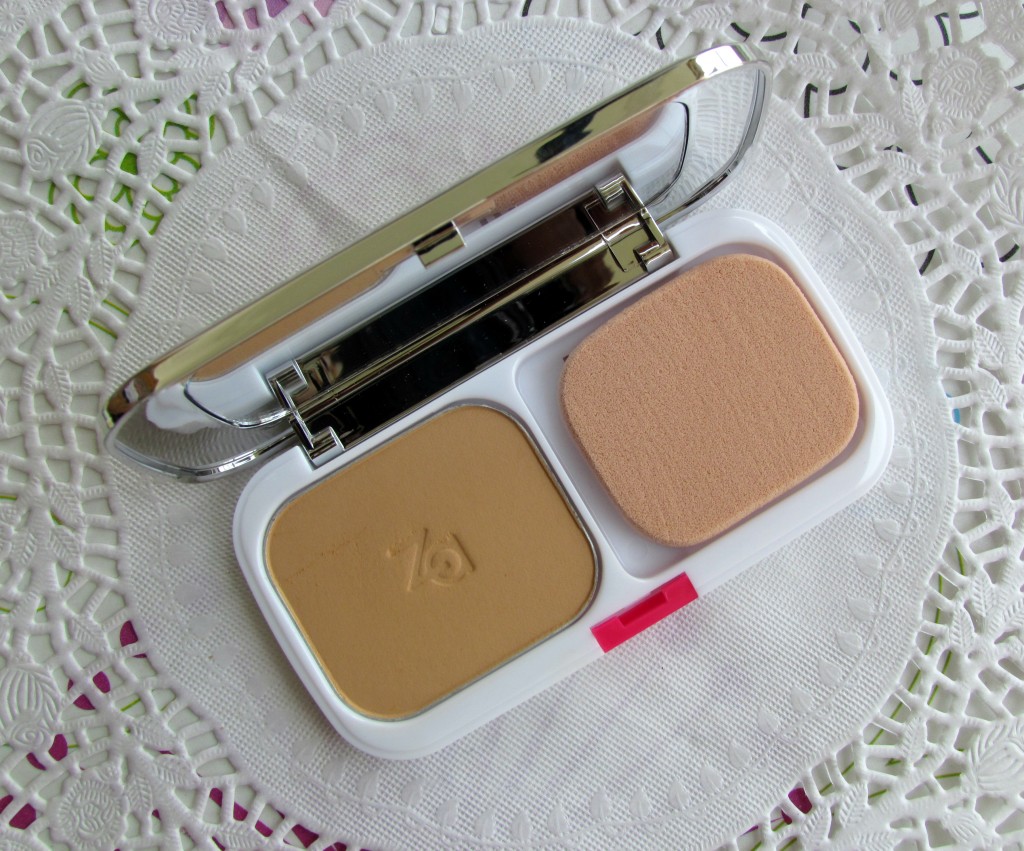 See below, how the  swatches look in natural daylight.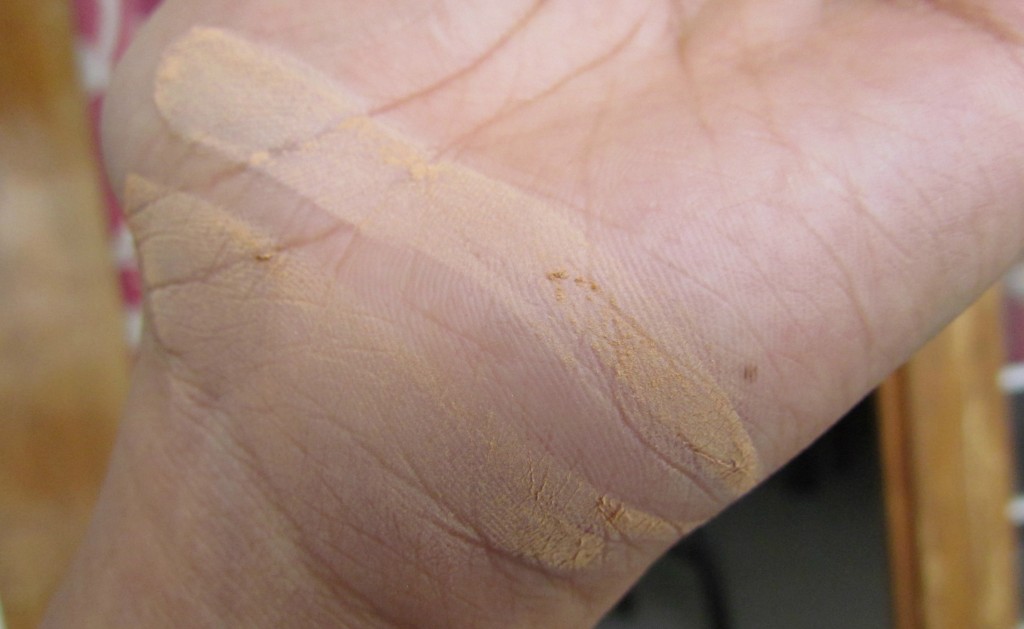 And here's me wearing it on top of Za India Foundation.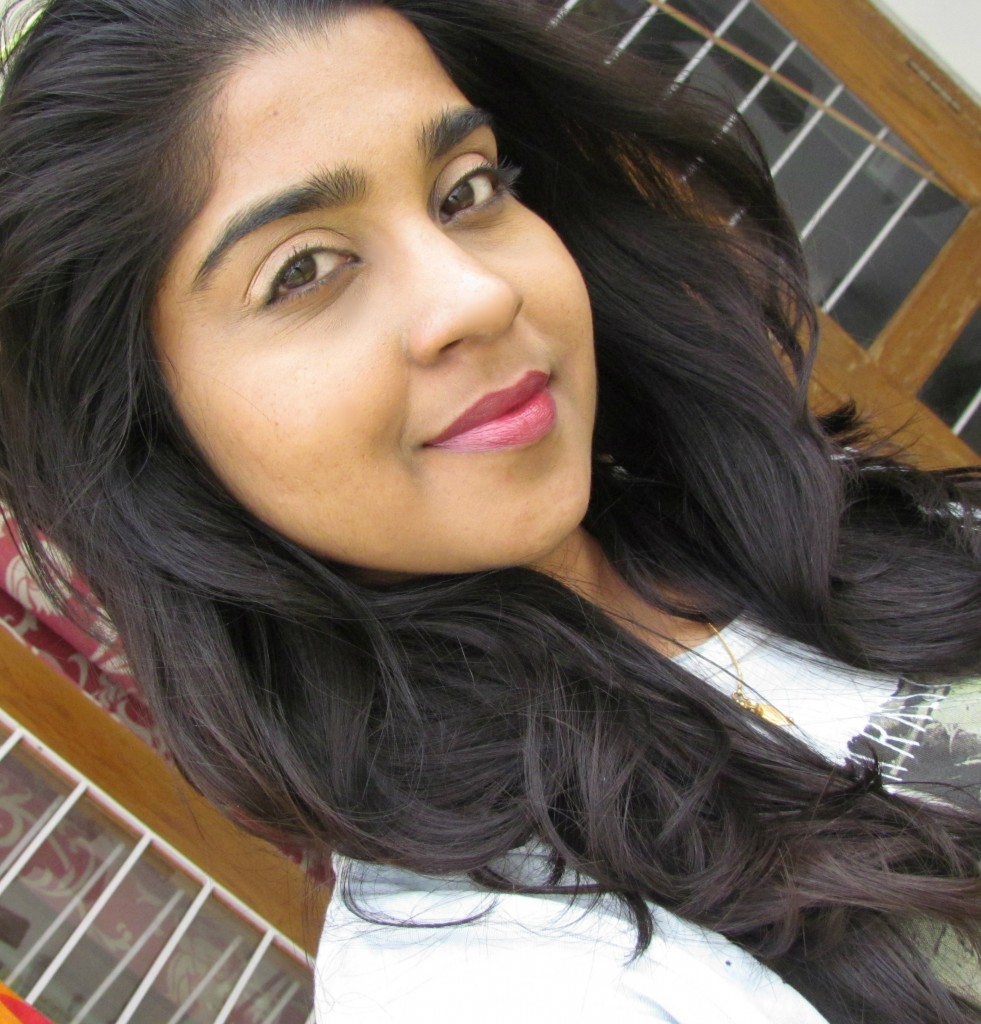 Pros
Soft and easy to apply
Eliminates shine on my T Zone area
no irritation on skin
Contains SPF, so good for daytime use. I use this as a setting powder.
Engraving your name on the case is a great and cute idea 🙂 I love it…never seen any other brands offering this.
product is budget friendly! Will fit  shiseido compact refills too
Comes with an sponge too! Its of no use to me. I prefer using a brush
Cons
Overall, a budget friendly compact. Helps hide minor flaws. You can opt for this if you are looking for a budget friendly day time compact to set your foundation. If you already have a flawless skin and is below NC40. You might love this as a foundation too. A great gift to your loved ones- the option of engraving name on the compact makes it special.
Have you tried Za True White Plus 2-Way Foundation.What are your thoughts on it ?  
**Product send by brand PR for consideration. However, my review remains honest and unbiased as always.