If a lipstick name itself describe the lipstick shade then I think it makes someone job easy….Yes,  I am talking about the recent launch of Mac lipstick "Damn Glamorous" from Mac matte lip collection. When it comes about red lipstick I am seriously a mad one who can't stop herself to grab a red lipstick from every collection of Mac. And I believe a girl look best in a red lipstick, so "wear red lipstick like an attitude" is the most common phrase among red lipstick lover and is the biggest excuse for myself to grab more than one red lipstick every time!!!



Packaging & Price: Price: 1450 INR ; The lipstick comes in usual black case packaging for which it is although limited edition but priced same as regular line of lipsticks of Mac.  Mac damn glamorous is a limited edition lipstick that launched just in this November 2014 along with 7 other beautiful shades. All the shades are limited edition and was never launched before.

What MAC has to say about this collection
The Matte Lip is here to stay. Create a standout look with the fashion-forward new shades of our iconic matte lipstick. Vibrant hues like fuchsia Velvet Violet and La Vie En Rouge are a bold contrast to the rich burgundy of Fashion Revival and nude of Styled in Sepia. For the best in colour intensity, Pro Longwear Lip Pencils in super-saturated shades to make a modern statement. Go for the cool rouge of Trust in Red or boost it up with new Bespoken For, a dark, creamy plum. For a polished finish, accent with the soft, pinky hues of Pro Longwear Blush – long-lasting colour that's purely fabulous.
Mac Damn Glamorous is described by Mac as a matte pink red. There are some shades which are so versatile that it will suit anyone, only one has to be just confident to wear it and Mac damn Glamorous is the one shade. It may look usual red lipstick on tube but when I wear it on my lips I must say it is just "Damn Glamorous"….see the lipstick itself described its feature…
The texture is matte but still it glides smoothly on lips. No dragging or pulling of my lips. The lipstick is undoubtedly quite pigmented one and it stays pretty 6 hours on my lips without any fading and yes it can survive heavy meal. The shade is just perfect for this wedding season. What I like mostly about this lipstick is it instantly brighten up my face and I just need a bit of mascara with flush of pink on my cheeks along with this lipstick and I am done.
More Pictures , Swatches, LOTDs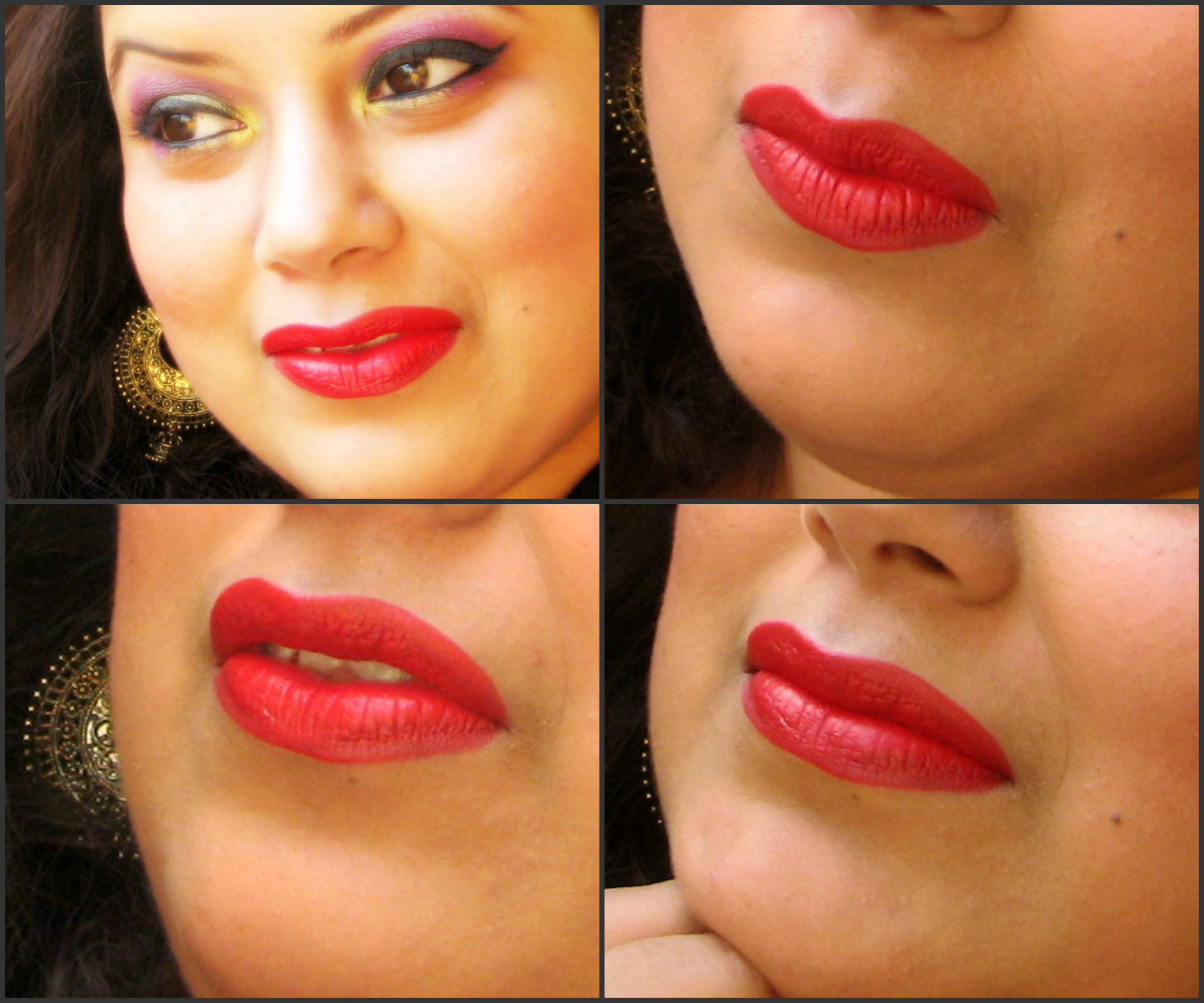 Pros
Regular packaging so being limited edition it is not overpriced as like other limited edition collections.
Stays pretty 6 hours.
No tugging or pulling of lips while applying lipstick.
The vanilla scent.
Versatile shade will suit everyone.
Pretty gorgeous shade.
Cons
Limited edition
Already it is out of stock in most of the Mac stores
My Rating – 4.5/5
My recommendation:  Mac Damn Glamorous is a pretty gorgeous shade that I will say "must have" in ur kitty so if you are lucky enough that your nearest store still have it then grab it but if it is already out of stock then one has to grab dupe shade of this lipstick and Mac has pretty gorgeous other red shades too…
By Contributor: Samannita
Girls, Find your favorite MAC Lipstick reviews here 🙂