Hi friends….Today I am reviewing under eye cream from Aroma Magic….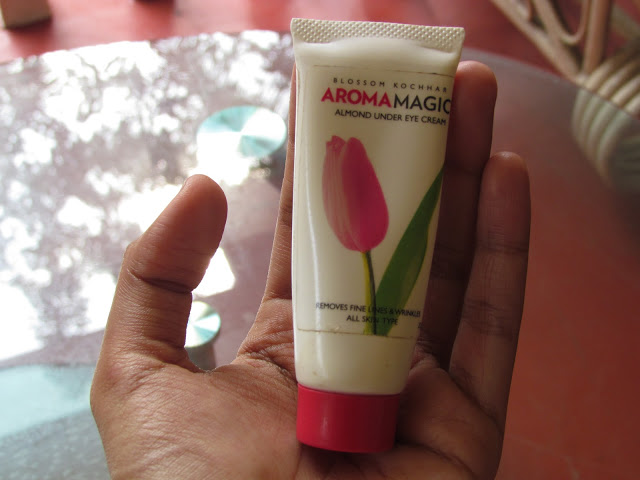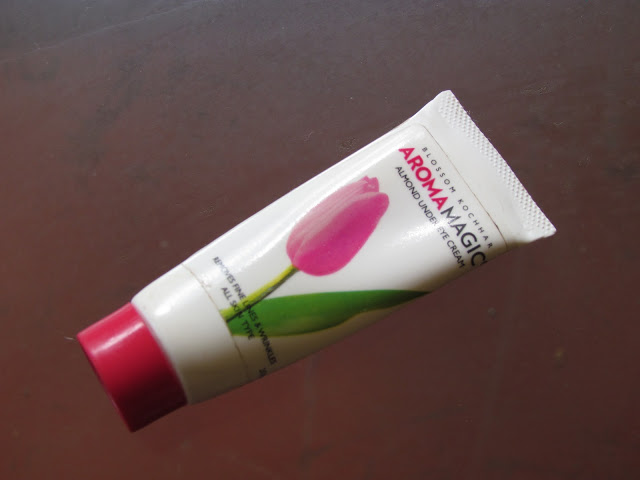 What Aroma Magic claim about their Almond Eye Cream
Removes Fine Lines & Wrinkles using extracts of Lemon Peel, Almond, Bach and pure essential oils of Rose, Carrot and Lavender.
Vitamin A and C give excellent tone nourishment, suppleness, minimize wrinkles and rings around the eyes.
Packaging and Price
Comes in a tube of 20g; Price: 115 INR
Directions for use  
Gently pat the cream around the eyes with finger tips and wipe off with damp cotton after 20 minutes.
About Aroma Magic:
Aroma Magic specializes in oils and cosmetic products based on Aromatherapy concept. The Aromatherapy cosmetics are natural products, very distinct from the Herbal field, presenting a rare synergy of Aromatherapy and Phytotherapy. Essential oils are integral to all the products and these help to provide physical and psychological well being apart from skin, hair and body care benefits.
For over 40 years Dr. Blossom Kochhar has committed herself in creating innovative products and providing training to Beauticians and Spa experts in India and abroad. Today Blossom Kochhar Beauty Products Private Limited is an industry leader in Aromatherapy products.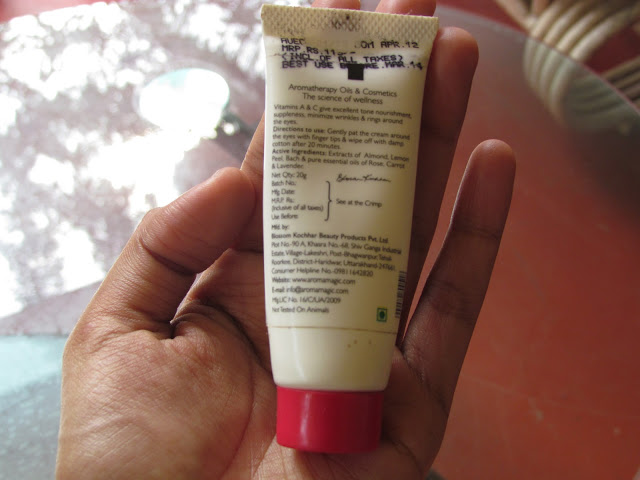 My opinion about Aroma Magic Under Eye Cream
I have dark circles under my eyes and I have been using Annemarie borlind since one year from now….I have heard a lot of good reviews about this product from my Indian blogger friends and sop, I decided to buy this one…I can't say that this have visibly reduced the dark circles problem, But, I see that this have removed the puffiness under my eyes and have reduced the fine lines under the eyes,..The texture is thick, creamy and it blends really well…Only a Pea sized amount is required for both the eyes..I use it every morning and wipe it off after 20 minutes and I follow  my Annemarie borlind cream. This have not caused any irritation on my eye area..If you suffer from light dark circles, you can try this out, However, This won't reduce the severe dark circles problem, This is good for the reduction of fine lines under the eye area….Its cheaper too, you can give this a try and see for yourself, whether it works for you…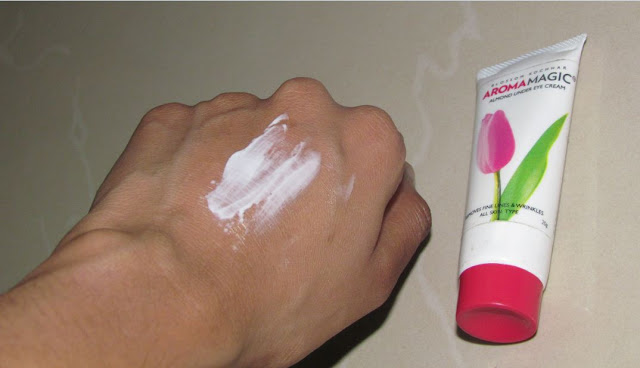 Pros
immediate results
moisturises under eye area
helps minimize fine lines.
one tube lasts for 2-3 months
no irritation on eye area ,no stinging sensation, blends in easily and easy to wipe off
Cons
doesn't work as  regular under eye cream, has to be removed after 20 mins & also it won't remove heavy dark circles
Hope you liked the review..This is a good cream for wrinkles and fine lines around the eyes…
Which eye cream do you use? Have you tried Aroma Magic Under Eye Cream…Do you like it???