Hi dearies…Sorry for not updating the blog since a week! I have been really busy with family stuffs and job, Now, I am back wd lots of amazing stuffs to share with you all…If you are a regular follower of my blog, You would know huv badly I'm in luv with Body Shop products, Here, In Hyderabad, Summer is in its full swing…I love to use Body Shop products a lot in summers:) 
 Today  I am reviewing a cleansing lotion from Body Shop; 

The Body Shop Cleansing Milk
To know whether I liked this, Keep Reading….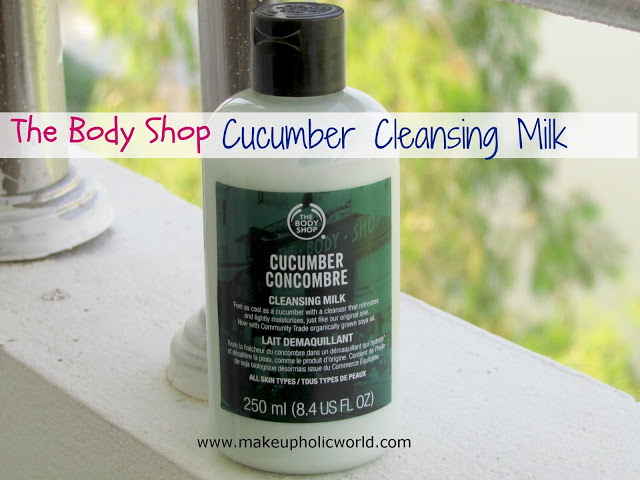 What does Body Shop claim about Cucumber cleansing milk
A beauty classic returns. This gentle cleansing milk refreshes skin as it wipes away make-up and the grime of the day.
 Packaging & price
Qty: 250 ml; Price: Around 7$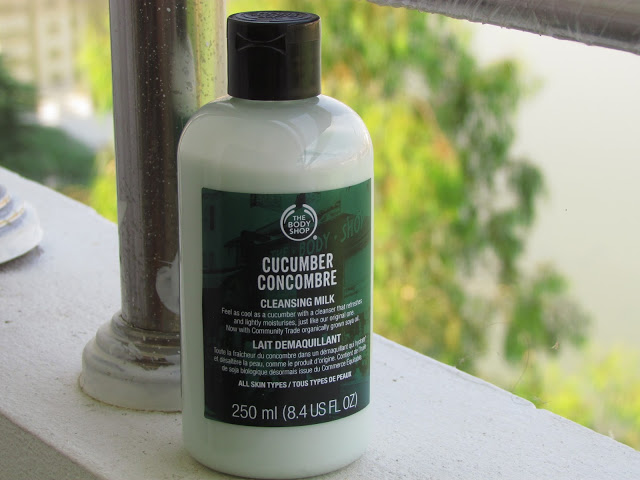 Ingredients
Aqua (Solvent/Diluent), Glycerin (Humectant), Caprylic/Capric Triglyceride (Emollient), Cetyl Alcohol (Emulsifier), Stearic Acid (Emulsifier), Triethanolamine (pH Adjuster), Glycine Soja Oil (Emollient/Skin Conditioner), Benzyl Alcohol (Preservative), Lanolin (Emollient), Phenoxyethanol (Preservative), Cucumis Sativus Juice (Natural Additive), Parfum (Fragrance), Hexyl Cinnamal (Fragrance Ingredient), Geraniol (Fragrance Ingredient), Butylphenyl Methylpropional (Fragrance Ingredient), Citronellol (Fragrance Ingredient), Linalool (Fragrance Ingredient), Hydroxycitronellal (Fragrance Ingredient), Benzyl Salicylate (Fragrance Ingredient), CI 61570 (Colour), CI 19140 (Colour).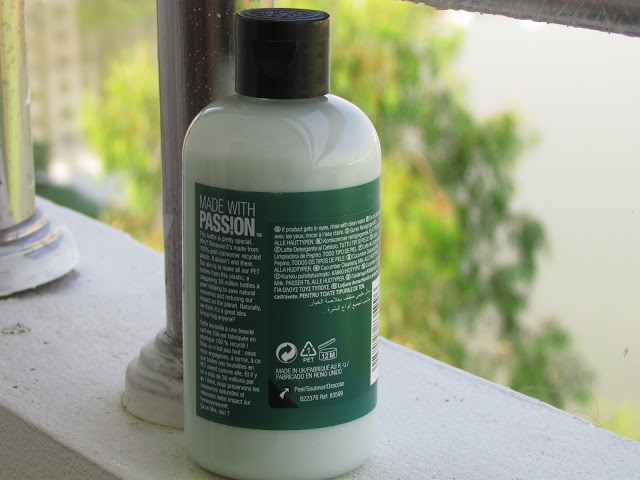 Massage a small amount into skin and wipe away with a cotton wool pad. If product gets into eyes, rinse with clean water.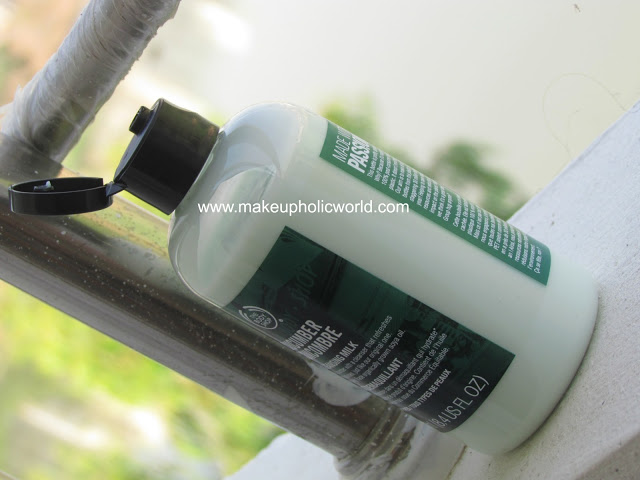 My experience with Body Shop Cucumber Cleansing Milk
This cleansing milk and the Cucumber toner is my absolute favourites and I can't rave enough of them 🙂 I really really love huv easily and effortlessly It removes all the impurities and makeup from my face and neck:) Its very gentle and delicate on the skin and it smells nice too:) Ever since I started my job again, I was so lazy about my daily CTM routine..But, When I started using this, I realised huv easy it is and now, I am completely liking this and there's not a single day when I am not using this..:) You can see the swatch of it below…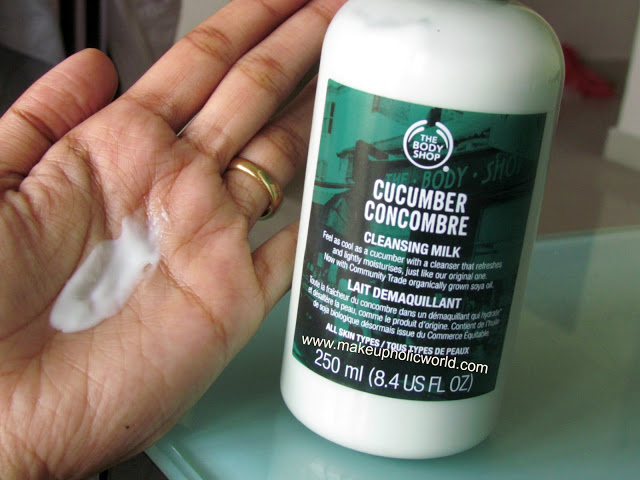 I apply it directly onto my face and give a gentle massage and wipe it off using a cotton pad:) and then do wash it off using luke warm water 🙂 I follow with applying Cucumber toner onto my face:) It leaves my skin really smooth and moisturised…I have a combination skin which is oily towards all areas except my nose, chin and forehead …I feel its goo for my skin…Its quite runny in consistency and you just need very lil quantity for the entire face..One best thing which I love about this is that it has the amazing cucumber smell and it doesn't irritate your sensitive skin unlike some other cleansing lotions in the market. one saddest thing about this product is that they discontinued this product 🙁 I bought this from UK, after reading good reviews about it…I don't think I can repurchase this item…wish I could… :/ 
if body shop brings it back, I would be so glad 🙂
You can read my review about Body Shop Cucumber Toner here

My final words…This is one among my favourite Facial cleansers at the moment…
Other favourite product is Forest Essentials Kashmiri Saffron cleanser which I will review soon:) 

Have you tried Body Shop Cucumber Cleansing Milk or Cucumber Toner? If yes, whats your opinion about it ?